Aces, thank you for your patience while we correct some technical difficulties with the UE Spirit Week Online Scavenger Hunt. If you tried to find the fact earlier, and could not find it, we apologize, it was not yet posted.
The daily Spirit Week fact is now up and available to find! Thank you again for your patience. Here is Clue #3 again. Happy hunting!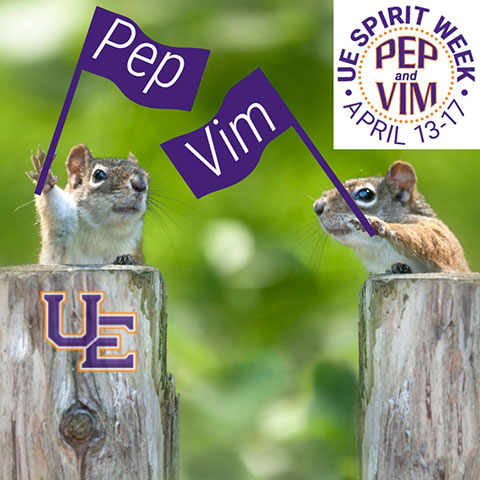 UE Spirit Week Fact: Did You Know… Did you know that Dr. William L. Ridgway left a gift of $39 million to UE after his passing in 2012? The lifetime trustee is UE's largest individual donor, with total lifetime giving of $52.6 million.
UE Spirit Week Online Scavenger Hunt
Thank you for following us virtually around UE this week as part of UE Spirit Week! Keep playing along daily to learn more about philanthropy at UE. Be sure to like and follow the UE Alumni Association @UEAlumni on Facebook, Twitter, and Instagram all week for more Spirit Week fun.
Follow the clue below to find today's UE Spirit Week fact located somewhere on the University of Evansville's website. Once you find the daily fact, you'll see a link to enter the UE Spirit Week drawing for a chance to win prizes!
Each day this week, April 13-17, a new clue is released in AceNotes. Find the fact every day to learn more about how philanthropy has shaped UE's campus. You may enter the UE Spirit Week drawing once per day.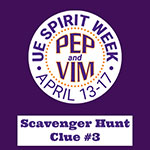 Clue #3:
"Find today's philanthropy fact with Gregory the lion at a magical Manor across the pond, where many students visit for a semester at a time! "
Flood Social Media With Love for UE!
All this week we encourage you to participate in UE Spirit Week by sharing your love for UE. Fill up your friends' news feeds with purple! Each day we encourage you to share one of these messages on your social media:
"Why You Heart UE"
"How You've Been Impacted by Philanthropy at UE"
"Why You Give Back to UE"
When sharing, be sure to make your post public, tag the UE Alumni Office @UEAlumni, and use the hashtags #UEPepandVim and #FortheAces. Like and follow the University of Evansville Alumni Association on Facebook, Twitter, and Instagram to get all of the updates on UE Spirit Week and Pep and Vim!
Comments or questions? Please contact the Office of Alumni and Parent Relations at 812-488-2586 or alumni@evansville.edu.