| | |
| --- | --- |
| AceNotes Today | Tuesday, April 14, 2020 |
Pep and Vim Week - Find the Golden Squirrel
Pep the Golden Squirrel has been kidnapped, and we need the help of UE employees to find him! Join the UE Employees - Positively Purple Facebook group to see the search unfold every afternoon.
If you've never met Pep, here is a quick walk through his story: Pep the Golden Squirrel made his University of Evansville debut on Friday, April 13, 2019 during Pep and Vim's inaugural campus Penny Wars. What Pep did not know was how desirable he would be!
All day long on Pep and Vim 2019, UE's four schools and colleges, along with the staff and administrators, fought to win Pep by placing money in their respective jars outside of Ridgway University Center. In the end, Dean Lutgring was awarded the prized Golden Squirrel in honor of the Ridgway College of Arts and Sciences at Purplepalooza that evening.
Dean Lutgring and his prized Golden Squirrel enjoyed a year of togetherness, at times gloating to others about his school's victory at the Pep and Vim Penny Wars in 2019. They spent their days enjoying their newly refurbished home in Hyde Hall and took long walks in the front oval together.
Until tragedy struck, and Pep mysteriously disappeared. The kidnappers have left hints as to Pep's whereabouts, but every time the Alumni and Development staff go to get him, he's nowhere to be found. We need the help of our faculty, staff, and administrators to help find Pep so he can return to Dean Lutgring's (or maybe another worthy school's) office at the end of the week. Follow along on the UE Employees - Positively Purple Facebook page for this spirit week adventure!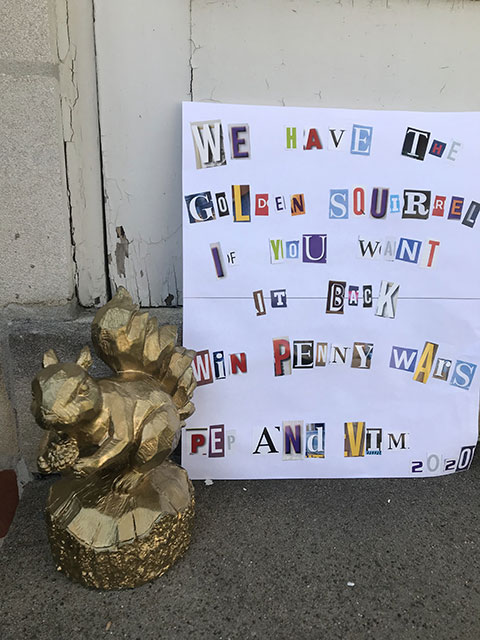 UE Spirit Week Online Scavenger Hunt – Clue Two Revealed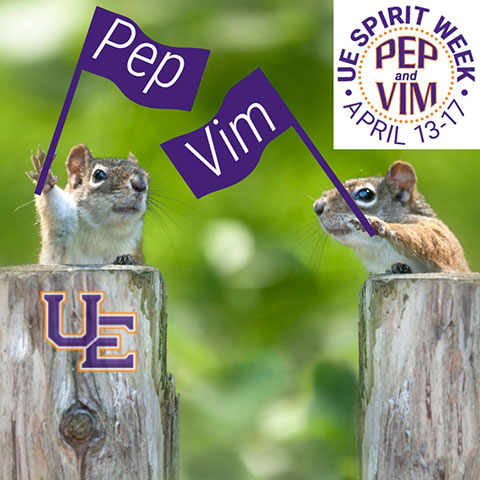 UE Spirit Week Fact: Did You Know… the Bower-Suhrheinrich Library was renovated in 2015? Improvements included group study spaces, technology upgrades, and research and study support services.
UE Spirit Week Online Scavenger Hunt
Pep and Vim is coming up on Friday! As we lead up to the big day, continue to play along in the UE Spirit Week Online Scavenger Hunt. Follow the clue below to find the next UE Spirit Week fact located somewhere on the University of Evansville's website. Once you find the daily fact, you'll see a link to enter the UE Spirit Week drawing for a chance to win prizes!
Each day this week, April 13-17, a new clue is released in AceNotes. Find the fact every day to learn more about how philanthropy has shaped UE's campus. You may enter the UE Spirit Week drawing once per day.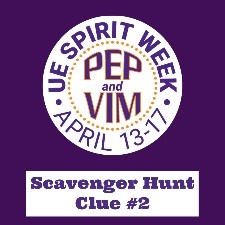 Clue #2:
"Our next fact can be found a Stone's throw away, where you can learn about advanced physical therapy! "
Flood Social Media With Love for UE!
All this week we encourage you to participate in UE Spirit Week by sharing your love for UE. Fill up your friends' news feeds with purple! Each day we encourage you to share one of these messages on your social media:
"Why You Heart UE"
"How You've Been Impacted by Philanthropy at UE"
"Why You Give Back to UE"
When sharing, be sure to make your post public, tag the UE Alumni Office @UEAlumni, and use the hashtags #UEPepandVim and #FortheAces. Like and follow the University of Evansville Alumni Association on Facebook, Twitter, and Instagram to get all of the updates on UE Spirit Week and Pep and Vim!
Comments or questions? Please contact the Office of Alumni and Parent Relations at 812-488-2586 or alumni@evansville.edu.
Solution Station Wednesday: How can we help?
We've all been through a big change this semester. Do you have questions, concerns, or needs that we can help with? How are you adjusting to online classes? Are you unsure about where to get assistance for a problem you're having, now that there's no way to walk into an office for help?

The Solution Station is online via ZOOM and we're ready to give you the help and information you need. If we don't know the answer, we'll find it!

Wednesday: 12:00 p.m. - 1:00 p.m. (Central Time)

Zoom ID: 856-620-3357
Zoom Link: https://zoom.us/j/8566203357
Chad Hart
ch299@evansville.edu
2020-21 Margery Florence Kahn Scholarship Application now Available
It was the desire of the donor, Margery Florence Kahn, that her scholarship be awarded to "dedicated and conscientious students who exhibit a true passion for their chosen fields of study, and who, in the opinion of the members of the University of Evansville faculty, are likely to bring the same enthusiasm into the performance of their jobs or the practice of the professions which they will pursue following graduation."
All University of Evansville full-time undergraduate students who will be juniors or seniors in 2020-21 may apply. An essay of about 300 words must accompany the application, along with two to five faculty recommendation letters.
Download the Applications and Faculty Recommendation forms.
Completed applications and recommendation letters should be returned to the Office of Student Financial Services by May15th via email to Amanda Wood at aw505@evansville.edu.
Questions may be directed to the Office of Student Financial Services via email aw505@evansville.edu or by phone at (812) 488-2364.
Amanda Wood
aw505@evansville.edu
Accepting Applications for '20-'21 I-House Coordinators
The application is now available for next academic year's I-House Coordinators! I-House (International House) is a weekly presentation and event series that brings cultural education and conversation to the campus community. I-House is student-run by a team of two coordinators who work with the Assistant Director of Cultural Engagement and International Services and the Center for Diversity, Equity, and Inclusion. Including country presentations, panel discussions, special events, and presentations offering insights to diverse perspectives of American life, I-House has evolved to engage the wide diversity of UE's community beyond just its international community. We are searching for two dynamic new coordinators to bring creative ideas and growth to the program who will work consistently each week to run the events and recruit presenters and other contributors.
Applications are due at 5:00 p.m. on Friday, April 17, 2020. Find the application in the Forms section of UEngage or at this direct link: https://uengage.evansville.edu/submitter/form/start/401635.
Direct any questions to Megan Sicard, ms331@evansville.edu.
UE Appoints Beverly Brockman as New Schroeder Family Dean of Business
Beverly Brockman, PhD, has been appointed Schroeder Family Dean of the Schroeder Family School of Business Administration (Schroeder School) at the University of Evansville.
The appointment comes at the end of a nationwide search conducted by WittKieffer, an internationally prominent search firm, and a committee chaired by Martha Stilwell, Interim Associate Dean of the Schroeder School. The search committee included faculty, administrator, student, and trustee representatives.
"We are very happy to welcome Dr. Beverly Brockman as our next Schroeder Family Dean," said Stilwell. "Dr. Brockman has an impressive academic record in both teaching and research, as well as administrative experience at an AACSB-accredited school. In addition, she has the visionary and leadership capabilities necessary to continue moving the Schroeder School forward in fulfilling our mission of preparing globally aware business professionals. We believe her passion for experiential learning and interdisciplinary collaboration are a great fit for UE, and we look forward to working with Dr. Brockman to continue providing a top-ranked business education at a small, private university."
Brockman comes to UE with more than 20 years of experience in higher education. Most recently, she has served at the University of Tennessee at Chattanooga (UTC) as the George Lester Nation Centennial Professor of Entrepreneurship. In addition, for the past nine years, she has served as Department Head for the Marketing & Entrepreneurship Department in the Rollins College of Business at UTC.
Brockman earned her PhD in marketing from the University of Alabama and her master's and bachelor's degrees from the University of Kentucky.
Coming to UE, Brockman brings with her experience in innovation and entrepreneurship, including establishing Solution Scholars, a self-sustaining interdisciplinary business research student consulting venture. While at UTC, she also oversaw the establishment of UTC Research Services and worked with a team to establish the Center for Innovation and Entrepreneurship, helping to develop the center into a stand-alone, self-sustaining unit.
Throughout her years of experience, Brockman has been nominated or received many awards, including the Carolyn Thompson and Roger Brown UTC Community Engagement Award, Deans Merit Award, Max Finley Merit Award, and Faculty Development Grant.
"I am very excited about my upcoming move to UE! It presents a tremendous opportunity for personal growth, as well as a chance to contribute to higher education in a different way than I have in the past," said Brockman. "There are some wonderful opportunities to build on the strong programs already in place in the Schroeder Family School of Business. For example, I think there are opportunities for distinct program development in entrepreneurship, connecting with UE's Center for Innovation and Change, and leveraging its 'Ashoka Changemaker Campus' designation."
The Schroeder Family School of Business Administration currently educates 250 students in seven programs of study, including accounting, finance, global business, logistics and supply chain management, marketing, management, and economics. The AACSB-accredited business school is ranked #4 among small, private schools by U.S. News & World Report with the Finance and Accounting programs ranked #2 and #3, respectively. The Class of 2019 achieved 100% placement in graduate school or full-time employment by September 30, 2019, and earned an average starting salary of $49,720.
To learn more about the Schroeder Family School of Business Administration at UE, visit www.evansville.edu/majors/business.
The Confident You Lunch and Learn - now virtual
The office of Counseling and Health Education is continuing our spring lunch and learn series virtually!
April's lunch and learn topic is "Confident You" and it all about improving our self-confidence. Click this link to a watch a prerecorded YouTube video session: https://youtu.be/aGgIEU1YKRU.
Jennifer Hargus
jh693@evansville.edu
2020-21 Dr. Marvin E. Hartig Memorial Scholarship
Family, friends and loved ones of the late Dr. Marvin E. Hartig are pleased to announce the application process for the Dr. Marvin E. Hartig Memorial Scholarship. This scholarship is dedicated to the loving memory of Dr. Hartig, Dean of Evansville College's Evening College in 1967, and administrator for the Center for Advanced Study, director of the Evansville chapter of the American Institute of Banking (AIB), and the international student advisor. In 1974, Dr. Hartig was appointed Dean of Academic Services. He retired in 1984 after serving his alma mater for thirty-five years and passed away in 2007.
This scholarship will be awarded annually to a deserving sophomore student. Preference will be given to a student working while being enrolled as a full-time student. International students are encouraged to apply.
Download the Dr. Marvin E. Hartig Memorial Scholarship application.
Deadline: Please return all materials to the Office of Student Financial Services by May 1, 2020. Application and essay can be submitted via email to:
Amanda Wood, administrative assistant to the Office of Student Financial Services, at aw505@evansville.edu.
The decision will be announced on Monday, June 29, 2020.
Questions: Amanda Wood, administrative assistant to the Office of Student Financial Services, at aw505@evansville.edu or 812-488-2364.

2019-20 Senior Awards Recipients of LPS Department
The LPS (Law, Politics, and Society) Department is very happy to announce four recipients of the 2019-20 Senior Awards.
* The 2019-20 Hanns G. Pieper Senior Research Award of Sociology and Criminal Justice
– Rebecca E. Olson from Crystal Lake, Illinois, Sociology and Ethnic & Social Change Major, Social Human Services Minor
* The 2019-20 Arthur B. Aarstad Scholar Award for the Outstanding Senior in Political Science
– Emily D. Schuster from Wylie, Texas, Political Science and Communication Major, French Milnor
* The 2019-20 Wesley T. Milner Distinguished Senior Award of the International Studies
– Megan E. Smith from Shelbyville, Indiana, International Studies Major, Spanish and Business Administration Minor
– Maegan E. Scheib from Indianapolis, Indiana, International Studies and French Major, Russian Studies and Music Studies Minor
The awards are named for former professors of Law, Politics, and Society Department in honor of their dedication in the programs at the UE for long times.

Young Kim
yk28@evansville.edu
Men's Basketball to Open 20-21 Season at Purdue
For the first time since 2005, the University of Evansville and Purdue University men's basketball teams will meet on the hardwood. The schools will face each other on November 10, 2020 inside Mackey Arena in West Lafayette, Ind.

It will mark the season opener for the 2020-21 campaign for the Purple Aces. The start time and potential television coverage will be announced at a later date.

This will mark the 15th meeting between the programs. In the last game, Evansville earned a 75-69 win over the Boilermakers at Roberts Stadium on December 3, 2005. Over the last nine matchups, the Aces have picked up five victories.

Of the 14 previous meetings, nine of them have been in Evansville with four taking place in West Lafayette. The 2004 meeting was inside Canseco Fieldhouse (now Banker's Life Fieldhouse in Indianapolis). UE is 5-4 in the nine home meetings and 0-5 in the other contests.
Contribute to AceNotes
To have content considered for inclusion in AceNotes, please submit a Marketing Request Form. Deadline for submission to AceNotes is 10:00 a.m. on the requested date of publication. Only articles concerning UE related/sponsored activities will be accepted. Articles submitted to AceNotes may be edited for length and clarity. Submitter contact information is at the end of each article.