| | |
| --- | --- |
| AceNotes Today | Monday, April 6, 2020 |
Distribution Services Mail/Package Update
Since learning about the positive COVID-19 test result, effective immediately Mail and Package Pick-up is changing to a Scheduled Appointment Pick-up basis only. Appointments will be staggered every (10) ten minutes from 8:00 a.m. – 9:30 a.m. on Mondays and Thursdays. Mail will be bundled by appointment and placed in the hall outside of the Mail room for pickup at the scheduled appointment. To request an appointment, please email mailpickup@evansville.edu at least 24 hours in advance with a preferred date and time you would like to schedule a pickup. We will respond promptly with availability. Your patience is appreciated during this time of adjustment.
For questions, contact distributionservices@evansville.edu anytime Monday – Friday, 8:00 a.m. – 5:00 p.m.


Pep & Vim is Still On April 17
During this time of great uncertainty, we find comfort in staying connected with our communities. Because of that, we are moving forward with Pep and Vim, UE's annual day of giving, on Friday, April 17.
The impact of the coronavirus has been felt all around the world, and the University of Evansville is no exception. Our administration has developed policies around keeping our students safe and ensuring the safety of our faculty and staff. These policies come at a cost, both known and unknown.
If you can give, please do. Every gift, no matter the size, counts toward our goal of 1,854 gifts to unlock the Alumni Board's gift of $25,000. When making a gift, please select UE's area of greatest need (unrestricted). Trust the University to use the funds where they are needed most.
So, on Pep and Vim, Friday, April 17, stay in your places with the Aces and share that UE purple spirit!
Alexandra M Amick
aa308@evansville.edu
Important Voucher Request Process Changes
To facilitate remote work for Accounting staff, we will be implementing some immediate changes to our voucher request process. Please forward this to personnel in your areas who are responsible for entering vouchers in WebAdvisor.
1. Voucher request must be submitted through WebAdvisor as normal. Once complete, you will need to save a PDF copy of the voucher screen to submit with your documentation.
2. Any invoices, receipts or other documentation should be submitted as one PDF with the voucher page as the first page. This is very important because of the large volume of emails and trying to manage them remotely. All full-time employees have access to download any Adobe creative product using your university credentials. https://helpx.adobe.com/download-install/using/sign-in-activate-creative-cloud.html NOTE: If you need to save the voucher screen as a PDF, you can right click and select print….select "Save as PDF" as the printer.
3. With a PDF application installed, you can combine files to create a single PDF without a scanner. https://acrobat.adobe.com/us/en/acrobat/how-to/merge-combine-pdf-files-online.html If you have problems with the PDF software, you can put in a request at help@evansville.edu and they will assist you.
4. Send an email to accountspayable@evansville.edu with the combined PDF file attached. The PDF must include the voucher and any backup documentation. Vouchers without proper supporting documents will not be processed.
5. Enter VOUCHER NUMBER and Payee in the subject line of the email.
6. Please retain all original copies of documents submitted. While we are taking copies at this time, you may be asked to submit original documents once we return to campus.
Please follow all of these instructions carefully. Any requests that do not have the proper approvals and or documentation cannot be processed. At this time, we are only able to process one check run per week while working remotely so there may be a delay in your payment being processed if this procedure is not followed.
Fall 2020 CHNG 310-06 Registration
Sunsteps is an ongoing changelab that will be continued next semester and potentially a semester after that. The aim of this class is to improve areas of the downtown Evansville riverfront particularly the steps. It includes planning, obtaining approval and executing parts of the improvements. Students in this class will continue the work of envisioning, designing, and implementing a vision to help make the Evansville riverfront steps meaningful, sustainable, comfortable, and inspiring. If you are interested in registering and have any questions, please feel free to contact me at ao90@evansville.edu.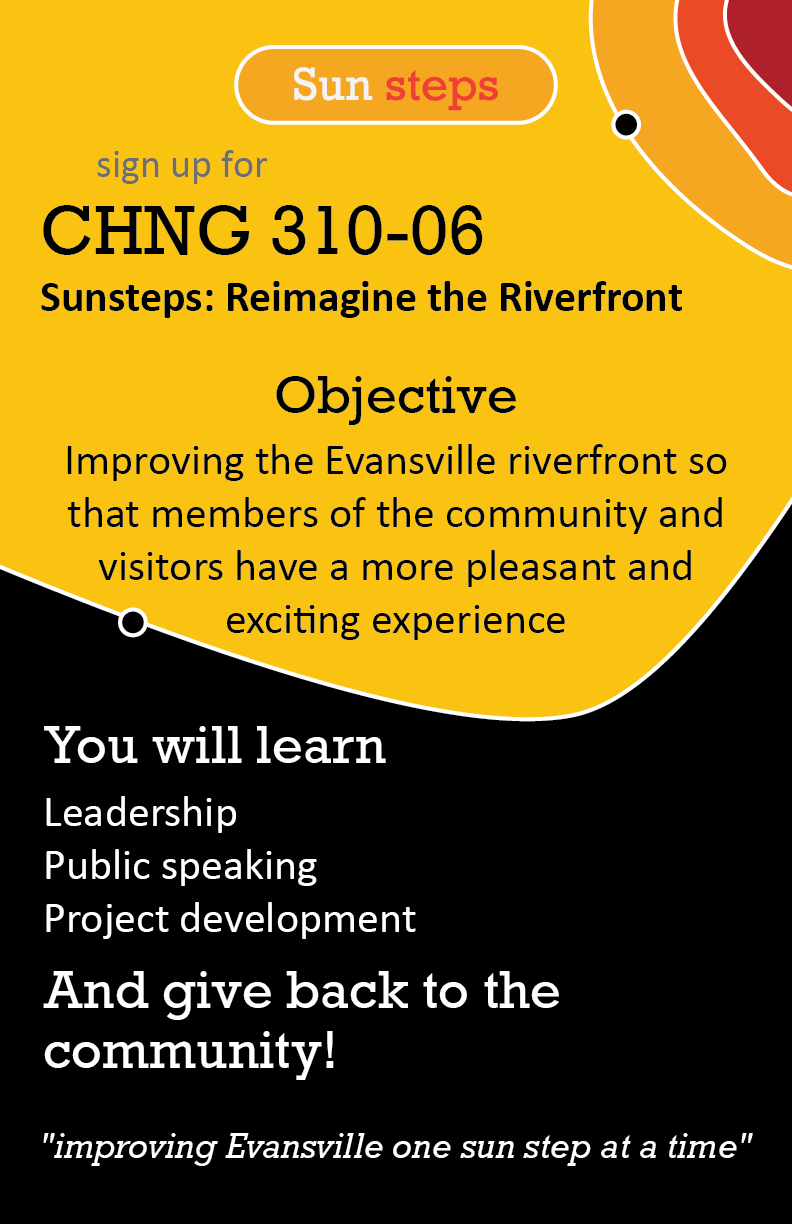 Anazuo Ohieku-Ajanaku
ao90@evansville.edu
Sociology Classes Offered Online in Both Summer Sessions
Looking for General Education or elective courses? Three Sociology classes will be offered during the upcoming summer sessions! All of the following will be offered online:
SOC 105- Introduction to Sociology
Summer Session I (May 18 - June 19) with Dr. Gray
(Satisfies Outcome 9 for General Education)
SOC 350- Popular Culture
Summer Session I (10-week; May 18 - July 24) with Dr. Plikuhn
(Satisfies a Gender and Women's Studies elective)
SOC 230- Social Problems in the Modern World
Summer Session II (June 22 - July 24) with Dr. Plikuhn
(Satisfies Outcome 9 for General Education)
Refunds Currently Processed via Direct Deposit Only
Due to COVID-19, refunds will be processed via direct deposit only at this time. Students anticipating a refund (for housing, meal plans, or from excess financial aid), are encouraged to confirm or enter bank account information within WebAdvisor.
Once logged in to WebAdvisor, select Students. From the Students menu, go to Financial Information and select Bank Information. Enter your bank's routing number and your personal account (savings or checking) number.
Refunds will be direct deposited into the bank account that is entered.
Note: Due to offices working remotely at this time, students receiving refunds via paper check should be aware that the check writing process might be delayed up to 90 days.
Amy Sowders
as560@evansville.edu
TIAA Individual Counseling Appointments
You can get financial advice without leaving the office.
No matter where you are in life—just getting started or planning for retirement—a session with Tim Stout can help you create a plan for your goals. And, it's at no additional cost as a part of your retirement plan. You'll get answers to these questions and more:
Am I invested in the right mix of investments to help meet my goals?
Am I saving enough to create the retirement income I need?
How do I take income from my retirement account once I stop working?
Phone or Virtual Counseling Sessions
Wednesday, April 15, 2020, 10:30 a.m. - 4:45 p.m. CT
Thursday, April 16, 2020, 9:00 a.m. - 3:15 p.m. CT
RSVP today, as space is limited. Register for one of the sessions at http://www.TIAA.org/schedulenow or call 800-732-8353, weekdays, 8 a.m. to 8 p.m. (ET).
ES 103 Offered Online During Summer 2
Environmental Studies 103 (ES 103 - Fundamentals of Environmental Science) will be offered ONLINE during Summer Session 2. This course fulfills the non-lab-science requirement for Gen Ed Outcome 8. The course will begin June 22 and run through July 24. Course description: Introduces interdisciplinary nature of problems relating to the human environment, including social, political, and economic aspects. Contact Dr. Aldred at ka59@evansville.edu with questions!
Katie Aldred
ka59@evansville.edu
ES103 (General Education Outcome 8) offered online in Summer Session I
Do you need a course to fulfill General Education Outcome 8 (Scientific Literacy)? Consider taking ES103: Fundamentals of Environmental Science in Summer Session I. This course will examine the interdisciplinary nature of problems relating to the human environment, including the scientific, social, political, and economic aspects of environmental issues. Please contact Dr. Joyce Stamm at js383@evansville.edu with any questions.
Joyce Stamm
js383@evansville.edu
UE Telephone Directory Update
We are in the process of updating the telephone directory that lists the academic departments and administrative offices in alphabetical order. If you have not received the information this week for updating the directory, please email publications@evansville.edu.
Advising and Registration Dates
Advising: begins on March 30 Please schedule an appointment your advisor.
Registration: begins on April 6
Monday, April 6: Graduates, Seniors
Tuesday, April 7: Honors and Juniors
Wednesday, April 8: Sophomores
Thursday, April 9: Freshman
Health Center: How to Schedule an Appointment
Scheduling an appointment with the UE Health Center is easy. Employees and students, please call the clinic at 812-488-2033 Monday-Friday 8am-5pm for your health care needs, including all refill requests. Please note, we are not open for walk-in appointments at this time.
Please visit the UE coronavirus webpage for the university's response to the Coronavirus and updated information.

Tara Ulrich
tu19@evansville.edu
Reeves Foundation Scholarship
The Reeves Foundation was established in 1966 under terms of the Last Will and Testament of Mrs. Isabel B. Reeves, wife of Judge Ollie C. Reeves, who both resided for many years in Vanderburgh County and firmly believed in the attainment of higher education. Through their frugal efforts and generosity, this scholarship fund has been established to perpetuate their belief.
Applicants must be residents of Vanderburgh County in Indiana and applications are being accepted until May 1, 2020.
Download the Reeves Foundation Scholarship application.
Application and essay requirement can be submitted via mail to:
The University of Evansville
Office of Student Financial Services
1800 Lincoln Avenue
Evansville, IN 47722


2020-21 Dr. Marvin E. Hartig Memorial Scholarship
Family, friends and loved ones of the late Dr. Marvin E. Hartig are pleased to announce the application process for the Dr. Marvin E. Hartig Memorial Scholarship. This scholarship is dedicated to the loving memory of Dr. Hartig, Dean of Evansville College's Evening College in 1967, and administrator for the Center for Advanced Study, director of the Evansville chapter of the American Institute of Banking (AIB), and the international student advisor. In 1974, Dr. Hartig was appointed Dean of Academic Services. He retired in 1984 after serving his alma mater for thirty-five years and passed away in 2007.
This scholarship will be awarded annually to a deserving sophomore student. Preference will be given to a student working while being enrolled as a full-time student. International students are encouraged to apply.
Download the Dr. Marvin E. Hartig Memorial Scholarship application.
Deadline: Please return all materials to the Office of Student Financial Services by May 1, 2020. Application and essay can be submitted via email to:
Amanda Wood, administrative assistant to the Office of Student Financial Services, at aw505@evansville.edu.
The decision will be announced on Monday, June 29, 2020.
Questions: Amanda Wood, administrative assistant to the Office of Student Financial Services, at aw505@evansville.edu or 812-488-2364.

Contribute to AceNotes
To have content considered for inclusion in AceNotes, please submit a Marketing Request Form. Deadline for submission to AceNotes is 10:00 a.m. on the requested date of publication. Only articles concerning UE related/sponsored activities will be accepted. Articles submitted to AceNotes may be edited for length and clarity. Submitter contact information is at the end of each article.