| | |
| --- | --- |
| AceNotes Today | Friday, April 3, 2020 |
Distribution Services Mail/Package Update
Since learning about the positive COVID-19 test result, effective immediately Mail and Package Pick-up is changing to a Scheduled Appointment Pick-up basis only. Appointments will be staggered every (10) ten minutes from 8:00 a.m. – 9:30 a.m. on Mondays and Thursdays. Mail will be bundled by appointment and placed in the hall outside of the Mail room for pickup at the scheduled appointment. To request an appointment, please email mailpickup@evansville.edu at least 24 hours in advance with a preferred date and time you would like to schedule a pickup. We will respond promptly with availability. Your patience is appreciated during this time of adjustment.
For questions, contact distributionservices@evansville.edu anytime Monday – Friday, 8:00 a.m. – 5:00 p.m.


Pep & Vim is Still On April 17
During this time of great uncertainty, we find comfort in staying connected with our communities. Because of that, we are moving forward with Pep and Vim, UE's annual day of giving, on Friday, April 17.
The impact of the coronavirus has been felt all around the world, and the University of Evansville is no exception. Our administration has developed policies around keeping our students safe and ensuring the safety of our faculty and staff. These policies come at a cost, both known and unknown.
If you can give, please do. Every gift, no matter the size, counts toward our goal of 1,854 gifts to unlock the Alumni Board's gift of $25,000. When making a gift, please select UE's area of greatest need (unrestricted). Trust the University to use the funds where they are needed most.
So, on Pep and Vim, Friday, April 17, stay in your places with the Aces and share that UE purple spirit!
Alexandra M Amick
aa308@evansville.edu
E-nternational Food Festival details and Virtual Concert link
Today is the day! Join International Club for the one and only E-nternational Food Festival. Follow the club on Facebook (UE International Club) and Instagram (@ueinternationalclub) for the videos, recipes, and virtual concert!
Don't miss Phillip-Michael Scales performing a private livestream exclusively for UE! The ~1 hour show begins at 6:00 p.m. - https://youtu.be/Bmq4gxmDv-o. Carry out an international meal or turn it on in your kitchen while you make dinner. We know you could watch any number of livestreams, but check out a new artist and be part of the UE international community!
Want to submit a video of you preparing a dish? Let IC know by emailing xb4 or at208. We'll keep posting them the next week or two as long as videos keep rolling in. You're cooking more than ever anyway; share it with everyone!
Megan Sicard
ms331@evansville.edu
Fall 2020 CHNG 310-06 Registration
Sunsteps is an ongoing changelab that will be continued next semester and potentially a semester after that. The aim of this class is to improve areas of the downtown Evansville riverfront particularly the steps. It includes planning, obtaining approval and executing parts of the improvements. Students in this class will continue the work of envisioning, designing, and implementing a vision to help make the Evansville riverfront steps meaningful, sustainable, comfortable, and inspiring. If you are interested in registering and have any questions, please feel free to contact me at ao90@evansville.edu.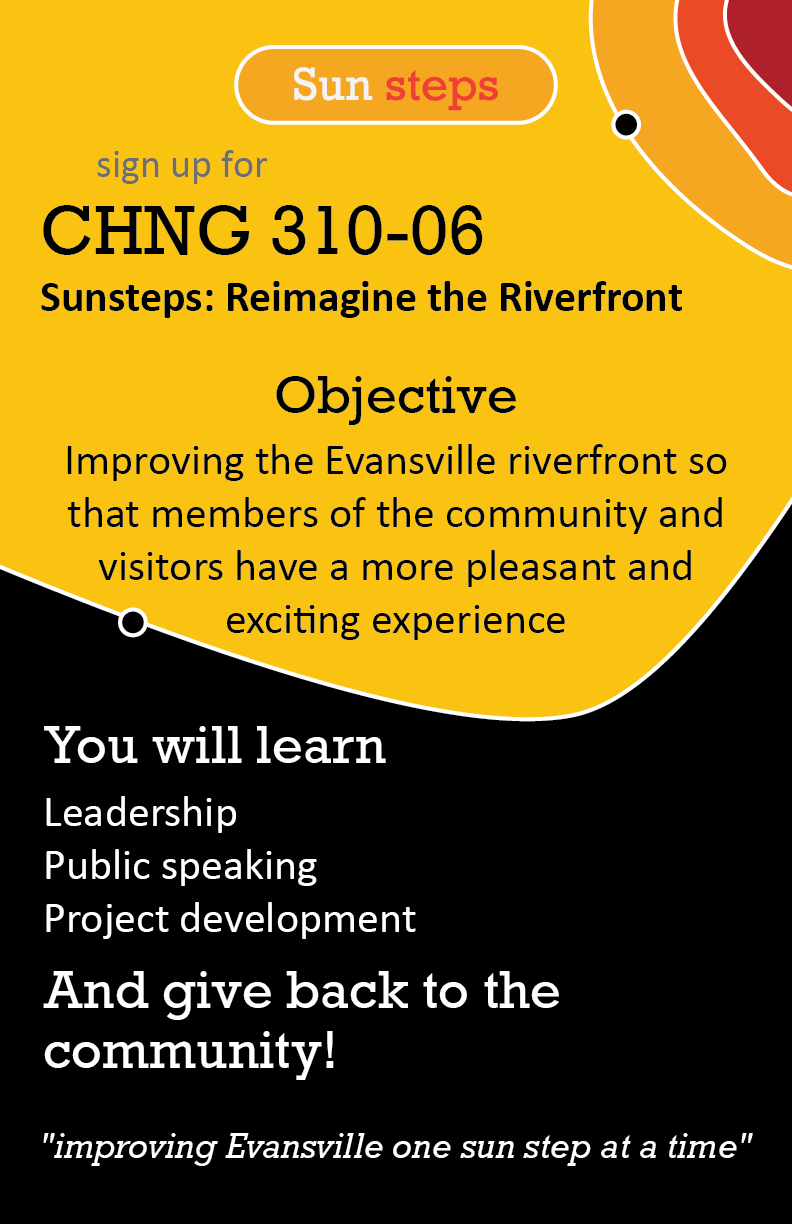 Anazuo Ohieku-Ajanaku
ao90@evansville.edu
Sociology Classes Offered Online in Both Summer Sessions
Looking for General Education or elective courses? Three Sociology classes will be offered during the upcoming summer sessions! All of the following will be offered online:
SOC 105- Introduction to Sociology
Summer Session I (May 18 - June 19) with Dr. Gray
(Satisfies Outcome 9 for General Education)
SOC 350- Popular Culture
Summer Session I (10-week; May 18 - July 24) with Dr. Plikuhn
(Satisfies a Gender and Women's Studies elective)
SOC 230- Social Problems in the Modern World
Summer Session II (June 22 - July 24) with Dr. Plikuhn
(Satisfies Outcome 9 for General Education)
I-House: My-House (Life of UE students around the world)
Dear Aces!
We hope you're healthy, safe, and able to adjust to the new changes. Although we are going through a tough time, the show must go on! For the end of the semester, the I-House team has decided to introduce "My House", where UE students can show their life back home or talk about a unique traditional practice. We will be posting the videos on UE I-House's Youtube channel. For our first episode, we have Kristy Kupfer giving us a tour of her house in Johannesburg, South Africa. If you would like to participate, you can email ht70@evansville.edu and we can post your video!
First episode: https://www.youtube.com/watch?v=bxDlREZZz7A&t=15s
Hussam Taj
ht70@evansville.edu
Refunds Currently Processed via Direct Deposit Only
Due to COVID-19, refunds will be processed via direct deposit only at this time. Students anticipating a refund (for housing, meal plans, or from excess financial aid), are encouraged to confirm or enter bank account information within WebAdvisor.
Once logged in to WebAdvisor, select Students. From the Students menu, go to Financial Information and select Bank Information. Enter your bank's routing number and your personal account (savings or checking) number.
Refunds will be direct deposited into the bank account that is entered.
Note: Due to offices working remotely at this time, students receiving refunds via paper check should be aware that the check writing process might be delayed up to 90 days.
Amy Sowders
as560@evansville.edu
TIAA Individual Counseling Appointments
You can get financial advice without leaving the office.
No matter where you are in life—just getting started or planning for retirement—a session with Tim Stout can help you create a plan for your goals. And, it's at no additional cost as a part of your retirement plan. You'll get answers to these questions and more:
Am I invested in the right mix of investments to help meet my goals?
Am I saving enough to create the retirement income I need?
How do I take income from my retirement account once I stop working?
Phone or Virtual Counseling Sessions
Wednesday, April 15, 2020, 10:30 a.m. - 4:45 p.m. CT
Thursday, April 16, 2020, 9:00 a.m. - 3:15 p.m. CT
RSVP today, as space is limited. Register for one of the sessions at http://www.TIAA.org/schedulenow or call 800-732-8353, weekdays, 8 a.m. to 8 p.m. (ET).
ES 103 Offered Online During Summer 2
Environmental Studies 103 (ES 103 - Fundamentals of Environmental Science) will be offered ONLINE during Summer Session 2. This course fulfills the non-lab-science requirement for Gen Ed Outcome 8. The course will begin June 22 and run through July 24. Course description: Introduces interdisciplinary nature of problems relating to the human environment, including social, political, and economic aspects. Contact Dr. Aldred at ka59@evansville.edu with questions!
Katie Aldred
ka59@evansville.edu
ES103 (General Education Outcome 8) offered online in Summer Session I
Do you need a course to fulfill General Education Outcome 8 (Scientific Literacy)? Consider taking ES103: Fundamentals of Environmental Science in Summer Session I. This course will examine the interdisciplinary nature of problems relating to the human environment, including the scientific, social, political, and economic aspects of environmental issues. Please contact Dr. Joyce Stamm at js383@evansville.edu with any questions.
Joyce Stamm
js383@evansville.edu
UE Telephone Directory Update
We are in the process of updating the telephone directory that lists the academic departments and administrative offices in alphabetical order. If you have not received the information this week for updating the directory, please email publications@evansville.edu.
Online Drop-In Academic Peer Coaching Now Available
Now more than ever, time management, study strategies, test preparation, organization, and school-life balance habits are important concepts to master. If you've found yourself struggling since the transition to online instruction and you want someone to help you, the Success Lab Academic Peer Coaches are now available for drop-in coaching through Zoom!
Go here to see the online drop-in peer coaching schedule: https://www.evansville.edu/advising/academic-success-lab.cfm
Working with an academic coach can help get your academic life back into balance.
Individual coaching is still available as well.
Chad Hart
ch299@evansville.edu
Department of Music Presents Concerts Online
The University of Evansville's Department of Music will be presenting recorded concerts online for community members to enjoy free of charge.
During the semester, UE's Department of Music hosts more than 90 concerts on campus and around the community. These concerts feature students, faculty, alumni, guests, and friends of the University. Under the current shelter-in-place guidelines and during the month of April, the department will release a UE concert recorded during a recent academic year.
"The power of music can help us cope with difficult times and bring us some peace," said Dennis Malfatti, professor of music, director of choral activities, and department co-chair. "Although UE cannot host concerts for the time being, the Department of Music is pleased to share with the UE community recordings of recent concerts."
Listen online to the first in this series: A University Choir concert from October 30, 2018.
Check the department's Facebook page or visit the concert series web page each week for a new concert.
Outcome 4 and WAtC: Online for Summer 2
REL 120 Religion in America is offered online during summer 2. This course fulfills both Outcome 4 and WAtC (Writing Across the Curriculum). This course broadly examines religion and American culture, considering especially issues in religious diversity with regard to the intersection of religion with American politics and cultural debates. Also offered online is REL 130 Christian Thought (Outcome 4). This course introduces themes of Christian thought, paying particular attention to the response of the Christian faith to the modern world with respect to contemporary social and political issues.
Dr. Valerie Stein
vs9@evansville.edu
Advising and Registration Dates
Advising: begins on March 30 Please schedule an appointment your advisor.
Registration: begins on April 6
Monday, April 6: Graduates, Seniors
Tuesday, April 7: Honors and Juniors
Wednesday, April 8: Sophomores
Thursday, April 9: Freshman
Summer Online Spanish Offerings
Due to the Coronovirus pandemic, the Department of Foreign Languages and Cultures will be offering Spanish 111, 112, 211, 312 online during the first summer session (May 18, 2020).
Reeves Foundation Scholarship
The Reeves Foundation was established in 1966 under terms of the Last Will and Testament of Mrs. Isabel B. Reeves, wife of Judge Ollie C. Reeves, who both resided for many years in Vanderburgh County and firmly believed in the attainment of higher education. Through their frugal efforts and generosity, this scholarship fund has been established to perpetuate their belief.
Applicants must be residents of Vanderburgh County in Indiana and applications are being accepted until May 1, 2020.
Download the Reeves Foundation Scholarship application.
Application and essay requirement can be submitted via mail to:
The University of Evansville
Office of Student Financial Services
1800 Lincoln Avenue
Evansville, IN 47722


Congratulations Alumna Brittani Carroll
University of Evansville alumna Brittani Carroll was awarded the National Science Foundation Graduate Research Fellowship to fund her research and graduate studies at Duke University. Brittani is a 2018 graduate of the Electrical Engineering and Computer Science department currently doing research on Fully Printed Prothrombin Time Biosensor. The objective for this research is to explore creating an alternative point-of-care device that offers an at-home, a low-cost, facile, and accurate surveillance of PT/INR through a fully printed, impedimetric biosensor.
Our congratulations go out to you Brittani!
Vicky Hasenour
vh12@evansville.edu
Contribute to AceNotes
To have content considered for inclusion in AceNotes, please submit a Marketing Request Form. Deadline for submission to AceNotes is 10:00 a.m. on the requested date of publication. Only articles concerning UE related/sponsored activities will be accepted. Articles submitted to AceNotes may be edited for length and clarity. Submitter contact information is at the end of each article.