| | |
| --- | --- |
| AceNotes Today | Thursday, April 2, 2020 |
TIAA Individual Counseling Appointments
You can get financial advice without leaving the office.
No matter where you are in life—just getting started or planning for retirement—a session with Tim Stout can help you create a plan for your goals. And, it's at no additional cost as a part of your retirement plan. You'll get answers to these questions and more:
Am I invested in the right mix of investments to help meet my goals?
Am I saving enough to create the retirement income I need?
How do I take income from my retirement account once I stop working?
Phone or Virtual Counseling Sessions
Wednesday, April 15, 2020, 10:30 a.m. - 4:45 p.m. CT
Thursday, April 16, 2020, 9:00 a.m. - 3:15 p.m. CT
RSVP today, as space is limited. Register for one of the sessions at http://www.TIAA.org/schedulenow or call 800-732-8353, weekdays, 8 a.m. to 8 p.m. (ET).
ES 103 Offered Online During Summer 2
Environmental Studies 103 (ES 103 - Fundamentals of Environmental Science) will be offered ONLINE during Summer Session 2. This course fulfills the non-lab-science requirement for Gen Ed Outcome 8. The course will begin June 22 and run through July 24. Course description: Introduces interdisciplinary nature of problems relating to the human environment, including social, political, and economic aspects. Contact Dr. Aldred at ka59@evansville.edu with questions!
Katie Aldred
ka59@evansville.edu
ES103 (General Education Outcome 8) offered online in Summer Session I
Do you need a course to fulfill General Education Outcome 8 (Scientific Literacy)? Consider taking ES103: Fundamentals of Environmental Science in Summer Session I. This course will examine the interdisciplinary nature of problems relating to the human environment, including the scientific, social, political, and economic aspects of environmental issues. Please contact Dr. Joyce Stamm at js383@evansville.edu with any questions.
Joyce Stamm
js383@evansville.edu
UE Telephone Directory Update
We are in the process of updating the telephone directory that lists the academic departments and administrative offices in alphabetical order. If you have not received the information this week for updating the directory, please email publications@evansville.edu.
Online Drop-In Academic Peer Coaching Now Available
Now more than ever, time management, study strategies, test preparation, organization, and school-life balance habits are important concepts to master. If you've found yourself struggling since the transition to online instruction and you want someone to help you, the Success Lab Academic Peer Coaches are now available for drop-in coaching through Zoom!
Go here to see the online drop-in peer coaching schedule: https://www.evansville.edu/advising/academic-success-lab.cfm
Working with an academic coach can help get your academic life back into balance.
Individual coaching is still available as well.
Chad Hart
ch299@evansville.edu
Not Canceled! E-nternational Food Festival This Week
The International Club proudly presents an e-version of the spring International Food Festival -- the E-nternational Food Festival! With cooking videos, the sharing of the recipes we would have cooked, and a virtual concert with our event entertainer, Phillip-Michael Scales, the event packs the spirit of the event into our social media platforms. Find us on Facebook (UE International Club) and Instagram (@ueinternationalclub) to follow along.
Here's how you can participate:
1. Cook a meal or order international takeout and tune in to our virtual concert Friday, April 3rd at 6pm. The link will be distributed on our social media and in AceNotes Friday. (A little preview: https://www.youtube.com/watch?v=UNSkdXBG0_Q)
2. Follow along on Facebook and Instagram for access to our recipes.
3. Submit and watch cooking videos! Show us your cooking skills (or practice a new recipe), and we'll share with our followers. Videos should be no more than 10 minutes long. They'll start posting Friday, and we'll post daily through the weekend and hopefully next week. Contact Bi (xb4) or Anh (at208) for more details. Sign up here: https://docs.google.com/forms/d/e/1FAIpQLSelgPttN6u7L_7VUF0ie0OeVFeYlzUt0x-P_XOxh65OfytCtg/viewform?usp=sf_link
Megan Sicard
ms331@evansville.edu

Department of Music Presents Concerts Online
The University of Evansville's Department of Music will be presenting recorded concerts online for community members to enjoy free of charge.
During the semester, UE's Department of Music hosts more than 90 concerts on campus and around the community. These concerts feature students, faculty, alumni, guests, and friends of the University. Under the current shelter-in-place guidelines and during the month of April, the department will release a UE concert recorded during a recent academic year.
"The power of music can help us cope with difficult times and bring us some peace," said Dennis Malfatti, professor of music, director of choral activities, and department co-chair. "Although UE cannot host concerts for the time being, the Department of Music is pleased to share with the UE community recordings of recent concerts."
Listen online to the first in this series: A University Choir concert from October 30, 2018.
Check the department's Facebook page or visit the concert series web page each week for a new concert.
Outcome 4 and WAtC: Online for Summer 2
REL 120 Religion in America is offered online during summer 2. This course fulfills both Outcome 4 and WAtC (Writing Across the Curriculum). This course broadly examines religion and American culture, considering especially issues in religious diversity with regard to the intersection of religion with American politics and cultural debates. Also offered online is REL 130 Christian Thought (Outcome 4). This course introduces themes of Christian thought, paying particular attention to the response of the Christian faith to the modern world with respect to contemporary social and political issues.
Dr. Valerie Stein
vs9@evansville.edu
Economics 101/102 (Online) in Summer I
Do you need a non-major course to fulfill one of your general education requirements for outcome 9? Then take Economics 101 (Principles of Macroeconomics) and/or Economics 102 (Principles of Microeconomics) online during the first summer session from May 18 to June 19.
For more information, contact Dr. Omer Bayar (ob19).

Omer Bayar
ob19@evansville.edu
Summer Online Spanish Offerings
Due to the Coronovirus pandemic, the Department of Foreign Languages and Cultures will be offering Spanish 111, 112, 211, 312 online during the first summer session (May 18, 2020).
2020-21 Dr. Marvin E. Hartig Memorial Scholarship
Family, friends and loved ones of the late Dr. Marvin E. Hartig are pleased to announce the application process for the Dr. Marvin E. Hartig Memorial Scholarship. This scholarship is dedicated to the loving memory of Dr. Hartig, Dean of Evansville College's Evening College in 1967, and administrator for the Center for Advanced Study, director of the Evansville chapter of the American Institute of Banking (AIB), and the international student advisor. In 1974, Dr. Hartig was appointed Dean of Academic Services. He retired in 1984 after serving his alma mater for thirty-five years and passed away in 2007.
This scholarship will be awarded annually to a deserving sophomore student. Preference will be given to a student working while being enrolled as a full-time student. International students are encouraged to apply.
Download the Dr. Marvin E. Hartig Memorial Scholarship application.
Deadline: Please return all materials to the Office of Student Financial Services by May 1, 2020. Application and essay can be submitted via email to:
Amanda Wood, administrative assistant to the Office of Student Financial Services, at aw505@evansville.edu.
The decision will be announced on Monday, June 29, 2020.
Questions: Amanda Wood, administrative assistant to the Office of Student Financial Services, at aw505@evansville.edu or 812-488-2364.

Congratulations to Brooksie Smith
The Center for Innovation & Change would like to congratulate Program Coordinator Brooksie Smith on finishing her Bachelor of Science Degree in UE's Organizational Leadership program! While working full-time for two departments, she managed to finish her degree and simultaneously enroll in UE's Master of Leadership program. Her work ethic, positive attitude, and contributions on campus are so appreciated. Cheers, Brooksie! And good luck in the Masters program!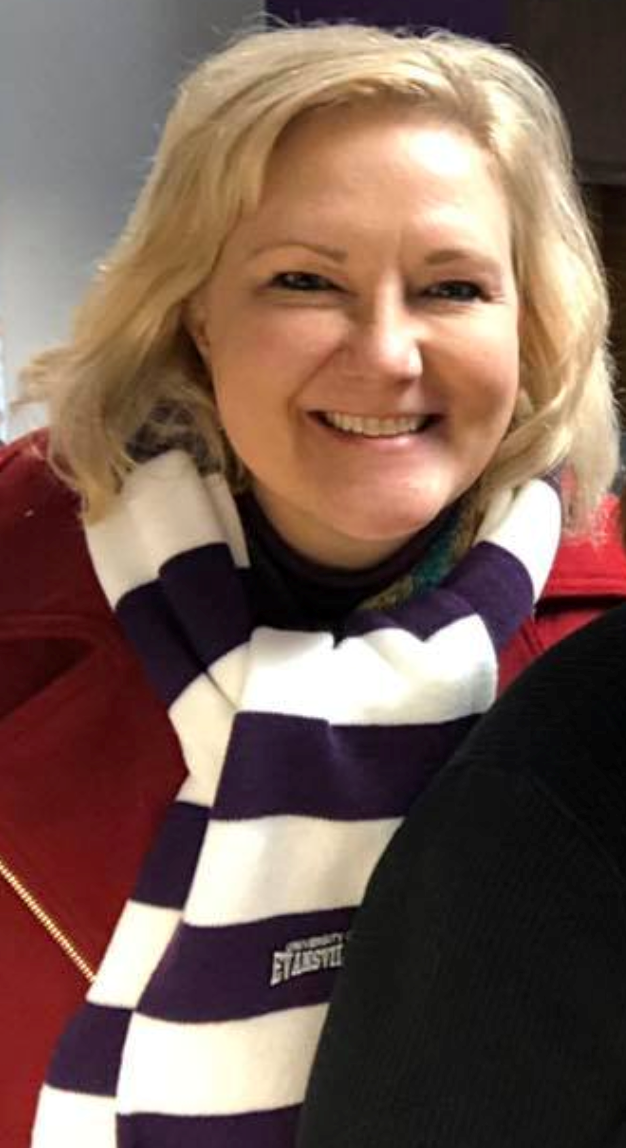 Erin Lewis
el131@evansville.edu
Congratulations Alumna Brittani Carroll
University of Evansville alumna Brittani Carroll was awarded the National Science Foundation Graduate Research Fellowship to fund her research and graduate studies at Duke University. Brittani is a 2018 graduate of the Electrical Engineering and Computer Science department currently doing research on Fully Printed Prothrombin Time Biosensor. The objective for this research is to explore creating an alternative point-of-care device that offers an at-home, a low-cost, facile, and accurate surveillance of PT/INR through a fully printed, impedimetric biosensor.
Our congratulations go out to you Brittani!
Vicky Hasenour
vh12@evansville.edu
Contribute to AceNotes
To have content considered for inclusion in AceNotes, please submit a Marketing Request Form. Deadline for submission to AceNotes is 10:00 a.m. on the requested date of publication. Only articles concerning UE related/sponsored activities will be accepted. Articles submitted to AceNotes may be edited for length and clarity. Submitter contact information is at the end of each article.