| | |
| --- | --- |
| AceNotes Today | Tuesday, March 10, 2020 |
Avoid the Spread of Germs
The University has formed a Task Force to discuss the rapidly evolving concern regarding the coronavirus. We wanted to share that the best way to prevent illness is to avoid being exposed to the coronavirus. The CDC always recommends everyday preventive actions to help prevent the spread of respiratory diseases, including:
• Avoid close contact with people who are sick.
• Avoid touching your eyes, nose, and mouth.
• Stay home when you are sick.
• Cover your cough or sneeze with a tissue, then throw the tissue in the trash.
• Clean and disinfect frequently touched objects and surfaces using a regular household cleaning spray or wipe.
• Wash your hands often with soap and water for at least 20 seconds, especially after going to the bathroom; before eating; and after blowing your nose, coughing, or sneezing. For information about handwashing, see CDC's Handwashing website.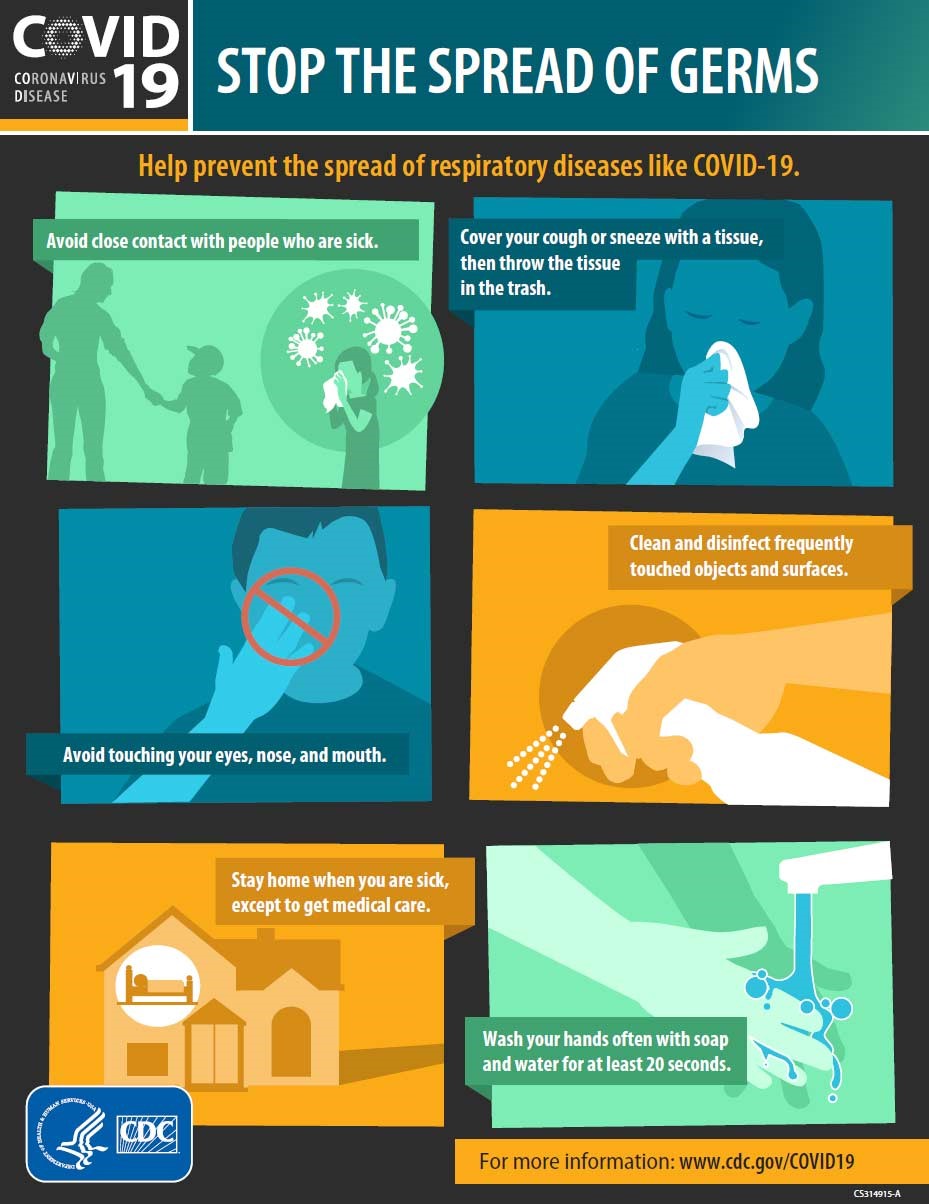 Final Health Risk Assessment Event
For those enrolled in the university's HSA Medical Plan and have not completed a Health Risk Assessment for this benefit year, please schedule your HRA today! The deadline is March 31st!
March 11th 7:30-10:30AM - Held in the Employee Health Clinic
Those who do not complete this screening will be subject to an increase in your medical premiums for the 2020-2021 benefit year.
To Schedule please click the link below.
1. https://booknow.appointment-plus.com/b1zkk4c6/
2. Select Wellness Screening/HRA
3. Select University of Evansville
3. Scroll and Click on March 11th
4. Select your desired appointment time
5. Enter in your personal information
Please remember an 8-10 hr. fast is required for this appointment. Water and black coffee are allowed during your fasting period. Please take all maintenance medications as long as they are not required to be taken with food. Please email ac375@evansville.edu with questions.
Ashley Chipps
ac375@evansville.edu
Tiffany Griffith Presents at Conference
Dr. Tiffany Griffith presented a paper on role-playing in first-year seminar and writing programs at the 51st Annual Northeast Modern Language Association Convention in Boston.
Tiffany Griffith
tg35@evansville.edu
UE Electrical Engineering Students Participated in the Indiana Autonomous Day 2020
A team of electrical engineers showcased their senior design, D.E.L.T.A. Scooter, at the annual Indiana Autonomous Day on Tuesday, March 3, 2020 in Odon, Indiana. The team consists of seniors, Darren Reuter, Donnie Croxton, and Kevin Yeung. University of Evansville's electrical engineering students presented their project through videos of the scooter in action impressing many attendees at the show. The D.E.L.T.A. scooter is a semi-autonomous scooter designed to help people with disabilities. The Indiana Autonomous Day 2020 showcases the future of autonomous technologies in displays, workshops and live demonstrations.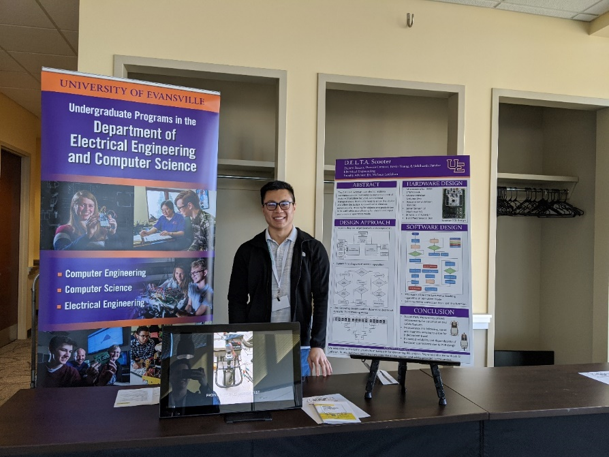 Vicky Hasenour
vh12@evansville.edu
Campus is Invited: UE Connect Lunch & Learn - Financial Empowerment
The Office of Alumni and Parent Relations and the Center for Career Development welcome the campus community to join them at the next UE Connect Lunch and Learn - Financial Empowerment. Ben Joergens with Old National Bank discusses learning how to set smart financial goals, the basics of banking and budgeting, how to save money and utilize credit to your advantage. Registered attendees will receive a complimentary lunch.
Thursday, March 19, 2020
12:15 - 1:15 p.m.
Eykamp Hall, Ridgway University Center
Register at www.uealumnionline.com/Lunchandlearnfinance20.
If you have any questions, please contact Nichole Coffey at ns50@evansville.edu or 812-488-2900.


Flash Panel Discussion: A Critical Discussion on UET Theatre's COLUMBINUS
COLUMBINUS is not a play but rather a theatrical conversation. The UE Department of Theatre and the Center for Diversity, Equity, and Inclusion invite you to join in the conversation by attending two events, Monday, Mar. 16, at 5:00 p.m., in SOBA 170, for a pre-show Flash Panel, and Tuesday, Mar. 31, at 5:00 p.m., in SOBA 162, for a post-show Flash Panel.
The topic for both Flash Panels will be an in-depth critical discussion of UET's COLUMBINUS. These conversations aim to foster an environment where challenging themes, such as sexual violence, gun violence, homicide, suicide, self-harm, and racially and homophobic language are openly discussed as they relate to our campus community and the broader American milieu.
Sharla Cowden
sc75@evansville.edu
UE and ProRehab Sports Residency Faculty Conduct Performance Testing at NFL Combine
University of Evansville and ProRehab sports physical therapy resident Dr. Ace Adamson and associate professor Dr. Phil Plisky performed testing at the NFL Combine in Indianapolis using tests researched by UE DPT faculty members. "It was exciting and a great honor to be part of this big day in the lives of the players," Plisky said of the event. Adamson said, "It was incredible to see what I've learned in the sports residency and used in the clinic daily being applied at the highest level of sport."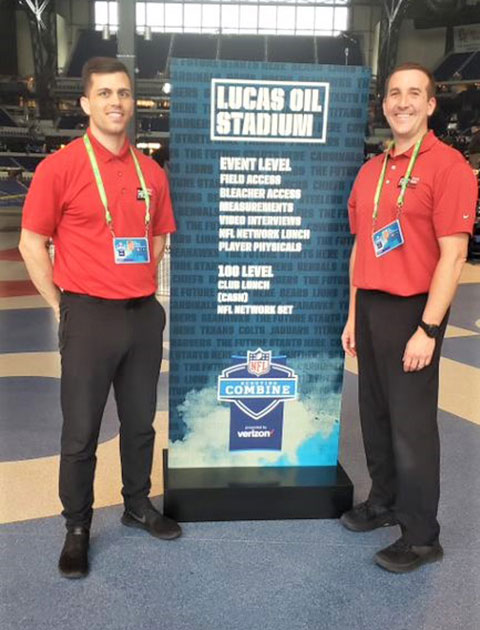 Jennifer Simon
js698@evansville.edu
Tackle for a Cure - Flag Football Teams Needed
Zeta Tau Alpha presents "Tackle for a Cure", a flag football tournament to benefit Breast Cancer Education and Awareness! The tournament will take place on Sunday, March 22nd from 11AM until around 3PM. Entry is $30 for a team of 7-11 players. Contact Sydney Richter (sr258) or Morgan caylor (mc354) for details or entry!
Sydney Richter
sr258@evansville.edu
Someplace Else: Paintings by Erika Navarrete Art Exhibit
Krannert Gallery March 1 - April 5, 2020
Reception: Thursday, March 5, 6:30pm
Bring a Friend!
Krannert Gallery, located in Krannert Hall of Fine Arts
Gallery Hours
Monday - Saturday: 8:00a.m. - 8:00 p.m.
Sunday: Noon - 8:00 p. m.
Corliss Chastain
cc270@evansville.edu
Eykamp Prize: Call for Nominations
The Eykamp Prize was established by Richard and Rita Eykamp in 2015 to honor Faculty Achievement at the University of Evansville. Recipients of the prize will receive a one-time award of $10,000 in recognition of extraordinary contributions to the University of Evansville as University Citizens. Examples of such contributions include deep and successful involvement in recruiting students; expanding the number, scope, and competitiveness of grant funding for their department; bringing positive public awareness to the University through scholarship, knowledge, and understanding of their discipline. Up to two prizes a year may be awarded.
Nominations for the Eykamp Prize may come from any member of the University of Evansville Community. Nominees should be tenured or tenure-track faculty members at the University of Evansville who have not received the award in the previous five years. Nominations can be submitted in writing or via e-mail to Michael Austin, Executive Vice President for Academic Affairs/Provost, at ma352@evansville.edu by March 13, 2020. Nominations should include the name of the faculty member and a brief statement of the reasons that he or she is being nominated.
Recipients of the Eykamp Prize will be selected by an Awards Committee, appointed by the EVPAA/Provost that includes members of the faculty and staff, academic administrators, and at least one member of the Board of Trustees. Awards will be announced and presented at the May Commencement Ceremony.
Previous Recipients: 2016 – Dr. Mark Valenzuela; 2017 – Dr. Lora Becker; 2018 – Dr. David Dwyer; and 2019 – Dr. Kristy Miller.
Paula Heldt
ph28@evansville.edu
Evansville opens German American Bank Field Tuesday against Indiana
The culmination of hard work and generous partnerships will be realized on Tuesday when the University of Evansville baseball team opens German American Bank Field at Charles H. Braun Stadium with a 6 PM showdown with Indiana.

Evansville vs. Indiana | March 10
Date | Time
Tues., March 10 | 6 PM

Location German American Bank Field at Charles H. Braun Stadium | Evansville, Ind.
Know Your Opponent
Indiana enters the weekend with an 8-5 record and most recently took a game from San Diego in a three-game series last weekend. The Hoosiers are 1-0 in midweek contests with a 17-2 win over Purdue last Wednesday. Indiana holds a 22-16 advantage in the series with the Aces as the Hoosiers have won six-straight matchups.
The Debut of GAB Field
Tuesday night's matchup with Indiana represents the first game played at the newly renovated German American Bank Field at Charles H. Braun Stadium. Included in the renovations are a full Astroturf field, padded walls through- out the entire stadium with new fence lines down the first and third base lines, dugout and bullpen renovations as well as a new LED scoreboard. Representatives from German American Bank and the University of Evansville will be on hand to throw out first pitches to celebrate opening day.
Brinkley Takes Control
Getting his chance to start for the Aces, junior Mason Brinkley made the most of his opportunity this weekend. Against College of Charleston, Brinkley went 8-for-13, including a 7-10 stretch to close the weekend. Brinkley now leads the Aces in batting average, hitting .400 on the year.
Late Game Slip
It was again the late innings that haunted the Aces this weekend. Twice in Evansville's three game series at College of Charleston did Evansville take a lead into the seventh inning before eventually falling to the Cougars.
Solid Starting Pitching
The Aces got three strong outings from their starters this weekend against College of Charleston. Evansville's starters went a combined 16 innings, allowing just four earned runs and striking out eight.
Barela Earns MVC Newcomer Award as Aces Prep for Home Opener
Sophomore Alyssa Barela was named the Missouri Valley Conference Newcomer of the Week as the University of Evansville softball team is set for its home opener against Purdue Fort Wayne on Tuesday at 1 p.m. inside Cooper Stadium.

Barela is coming off one of the biggest performances of the season for the Purple Aces as she recorded five RBI in a win over Big 10 foe Illinois on Sunday. Barela batted .385 in the Red & Black Challenge in Louisville, posting five hits in 13 at-bats. She had a team-best seven RBI while walking twice. In Friday's win over Oakland, Barela went 2-3 with two RBI.

Despite going 0-2 in the rematch versus the Grizzlies, Barela walked twice. Her top performance was a 2-4 game against the Fighting Illini where she posted five RBI. She hit her third home run of the season to lead UE to a 9-1 win. In the finale against Louisville, she had a hit in two at-bats.

Her efforts helped the Aces win three out of five games in the tournament with the other two victories coming against Oakland. Haley Woolf also had a strong weekend. The sophomore batted .385 with two home runs, five RBI and accumulated 13 total bases. She had five hits in 13 at-bats while adding three runs, two doubles and two walks. In Saturday's win over Oakland, Woolf was 2-3 with a home run, two RBI and two runs scored. She added her second home run of the day in the final game of the day against Northwestern. Woolf added two more hits and two more runs batted in on Sunday in UE's win over Illinois.

Purdue Fort Wayne will mark the first home opponent. The Mastodons stand at 3-18 on the season, but are coming off of their top weekend of the season. At the Governors Classic in Clarksville, Tenn., they picked up two wins, defeating Bradley and UMass Lowell.

They are led by Alaina White, who is batting .321 through their 21 games. Her OPS of .817 is also tops on the squad. Madeline Swart checks in with a .308 average and a team-best 27 total bases.
Contribute to AceNotes
To have content considered for inclusion in AceNotes, please submit a Marketing Request Form. Deadline for submission to AceNotes is 10:00 a.m. on the requested date of publication. Only articles concerning UE related/sponsored activities will be accepted. Articles submitted to AceNotes may be edited for length and clarity. Submitter contact information is at the end of each article.