| | |
| --- | --- |
| AceNotes Today | Friday, March 6, 2020 |
Upcoming Parking Restrictions in Lot "C"
Parking in Lot "C" will be restricted from March 7th-March 15th. The parking spots on the east side of the lot that run parallel to Weinbach will be blocked off to allow for storage of Grounds Crew equipment. The crew will be landscaping the area as part of the Weinbach Ave improvements. Please remove all vehicles from the impacted area by 6:00pm on March 6th.
Jason Cullum
jc647@evansville.edu
Avoid the Spread of Germs
The University has formed a Task Force to discuss the rapidly evolving concern regarding the coronavirus. We wanted to share that the best way to prevent illness is to avoid being exposed to the coronavirus. The CDC always recommends everyday preventive actions to help prevent the spread of respiratory diseases, including:
• Avoid close contact with people who are sick.
• Avoid touching your eyes, nose, and mouth.
• Stay home when you are sick.
• Cover your cough or sneeze with a tissue, then throw the tissue in the trash.
• Clean and disinfect frequently touched objects and surfaces using a regular household cleaning spray or wipe.
• Wash your hands often with soap and water for at least 20 seconds, especially after going to the bathroom; before eating; and after blowing your nose, coughing, or sneezing. For information about handwashing, see CDC's Handwashing website.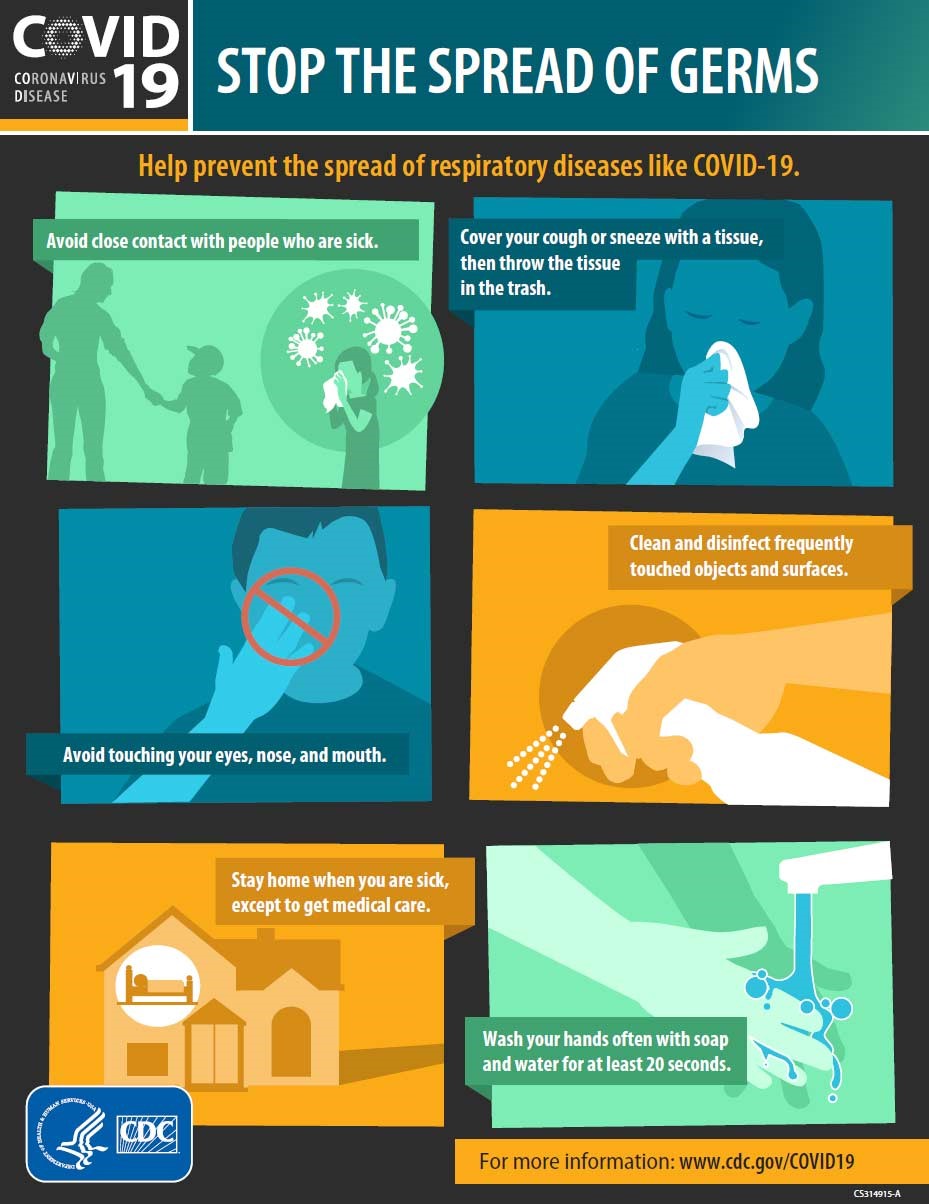 Holly Smith Appointed Senior Director of Marketing and Communications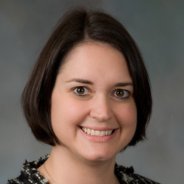 We are pleased to announce the appointment of Holly Smith as the new senior director of marketing and communications at the University of Evansville.
In this new role, she will be charged with developing and leading a strategic direction for University's marketing efforts, serving as senior director over the University relations, content development, and content design areas.
"Holly brings a wealth of experience and dynamic leadership to this position," noted interim vice president for enrollment and marketing, Jill Griffin. "She is no stranger to UE, having experienced the University from the vantage point of an undergraduate, a graduate student, and an adjunct professor. She knows us well and is passionate about the kind of education UE provides."
"I am truly excited about the opportunity to lead the marketing strategy at the University. I have a breadth of experience including digital marketing, market research, and analytics," Smith said. "I welcome the opportunity to represent the jewel of the community and share its unique value proposition."
Smith's extensive experience in marketing and strategic planning spans many years and multiple industries. She joins us from her most recent role as vice president of marketing at Heritage Federal Credit Union. Prior to her role in the banking industry, she worked for nearly 20 years in healthcare marketing and was previously employed at St. Vincent Health at the director of marketing, strategic planning and printing services; Cincinnati Children's Hospital as a marketing coordinator and strategic planning analyst; and St. Elizabeth Healthcare as a market analyst. She has the unique perspective of working directly in a marketing team at organizations, but also within an advertising agency. She was a senior account executive at Ten Adams. Smith is currently an adjunct professor at the University teaching marketing in the Public Service Administration program.
She is very active in the community and serves on the Board of Directors for the Children's Museum of Evansville and the Evansville Police Foundation and their respective Marketing Committees. She also serves as a member of the St. Vincent Ziemer's Society, Vanderburgh County Women's Fund, and A Network of Evansville Women.
Smith attended her first two years of college at UE and transferred to Indiana University to complete her first BS in kinesiology with a specialization in athletic training and a minor in psychology followed by a BS in marketing at the University of Southern Indiana. She earned her MBA from the University of Evansville in 2012.
UE Electrical Engineering Students Participated in the Indiana Autonomous Day 2020
A team of electrical engineers showcased their senior design, D.E.L.T.A. Scooter, at the annual Indiana Autonomous Day on Tuesday, March 3, 2020 in Odon, Indiana. The team consists of seniors, Darren Reuter, Donnie Croxton, and Kevin Yeung. University of Evansville's electrical engineering students presented their project through videos of the scooter in action impressing many attendees at the show. The D.E.L.T.A. scooter is a semi-autonomous scooter designed to help people with disabilities. The Indiana Autonomous Day 2020 showcases the future of autonomous technologies in displays, workshops and live demonstrations.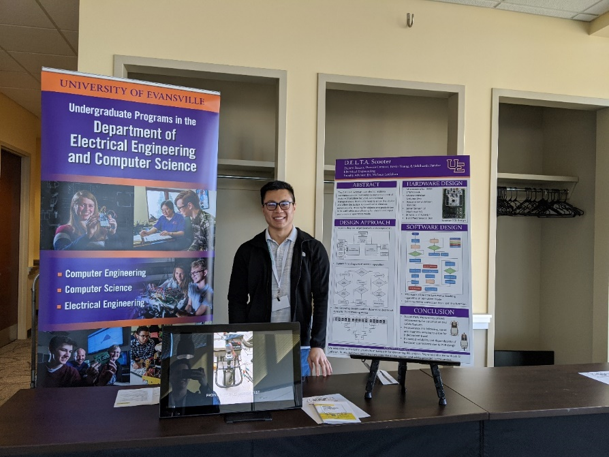 Vicky Hasenour
vh12@evansville.edu
Campus is Invited: UE Connect Lunch & Learn - Financial Empowerment
The Office of Alumni and Parent Relations and the Center for Career Development welcome the campus community to join them at the next UE Connect Lunch and Learn - Financial Empowerment. Ben Joergens with Old National Bank discusses learning how to set smart financial goals, the basics of banking and budgeting, how to save money and utilize credit to your advantage. Registered attendees will receive a complimentary lunch.
Thursday, March 19, 2020
12:15 - 1:15 p.m.
Eykamp Hall, Ridgway University Center
Register at www.uealumnionline.com/Lunchandlearnfinance20.
If you have any questions, please contact Nichole Coffey at ns50@evansville.edu or 812-488-2900.


Flash Panel Discussion: A Critical Discussion on UET Theatre's COLUMBINUS
COLUMBINUS is not a play but rather a theatrical conversation. The UE Department of Theatre and the Center for Diversity, Equity, and Inclusion invite you to join in the conversation by attending two events, Monday, Mar. 16, at 5:00 p.m., in SOBA 170, for a pre-show Flash Panel, and Tuesday, Mar. 31, at 5:00 p.m., in SOBA 162, for a post-show Flash Panel.
The topic for both Flash Panels will be an in-depth critical discussion of UET's COLUMBINUS. These conversations aim to foster an environment where challenging themes, such as sexual violence, gun violence, homicide, suicide, self-harm, and racially and homophobic language are openly discussed as they relate to our campus community and the broader American milieu.
Sharla Cowden
sc75@evansville.edu
UE and ProRehab Sports Residency Faculty Conduct Performance Testing at NFL Combine
University of Evansville and ProRehab sports physical therapy resident Dr. Ace Adamson and associate professor Dr. Phil Plisky performed testing at the NFL Combine in Indianapolis using tests researched by UE DPT faculty members. "It was exciting and a great honor to be part of this big day in the lives of the players," Plisky said of the event. Adamson said, "It was incredible to see what I've learned in the sports residency and used in the clinic daily being applied at the highest level of sport."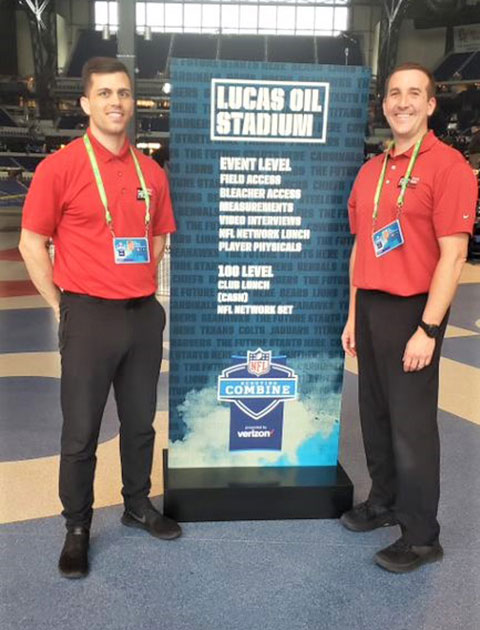 Jennifer Simon
js698@evansville.edu
Women Stepping Up Features Dr. Jessica Lofton
Women Stepping Up features Dr. Jessica Lofton in its WEDnesday Woman article. Dr. Lofton is an Assistant Professor in Mechanical Engineering in the College of Engineering and Computer Science. Stepping Up is a non-partisan, non-profit effort that celebrates women in the Tri-State of every race, class and ethnic background who have made historic contributions to the growth and strength of the Evansville community.
http://steppingupevv.com/dr-jessica-lofton/
Kimberly Higgins
kh209@evansville.edu
Writing Center to Close at Noon on Friday
The Writing Center will be closing at noon on Friday and will re-open the Monday after Spring Break. If you already have an appointment scheduled during that time, please make accommodations to stop by earlier!
Katie Mullins
kd60@evansville.edu
Fitness Center Spring Break Hours
The Fitness Center Spring Break Hours:
March 6th (Friday) 6:30 am - 7:00 pm
Closed Sat/ Sun
March 9th - 13th (Monday- Friday) 8:00 am - 6:00 pm
Closed Sat/ Sun
Drag Show Performers Call Out
Are you interested in performing? Are you interested in drag? If so, we have the perfect event for you!! U.E. P.R.I.D.E.'s annual drag show will be held on Saturday, April 4th; if you or someone you know is interested in performing for this event, email us at uepride@gmail.com to let us know.
We look forward to hearing from you and to see you perform! If you have any questions, feel free to let us know!
**No experience needed; just a willingness to try something new and perform!**
Sarah Weithers
sw266@evansville.edu
Andiron Lecture Series 2020-2021 Call for Papers
UE faculty and administrators as well as members of the Evansville community are invited to submit an abstract for papers on any aspect of their research or expertise for the 2020-2021 Andiron Lectures Series. All disciplines and fields of study are welcome to submit proposals.
Please send the following by email:
A 50-word abstract with, Name, Academic Affiliation/ Occupation, Paper title, and Contact Information
to: Annette Parks at ap3@evansville.edu with a CC to Cheryl Emmons at ce36@evansville.edu. Cheryl Emmons will forward these to the Andiron Lecture Committee for consideration.
Nominations for off-campus speakers can be sent by email to Annette Parks at ap3@evansville.edu with a Cc to Cheryl Emmons at ce36@evansville.edu ; she will forward them to the Andiron Lecture committee for consideration.
Please note that if you have already agreed to present an Andiron Lecture for the 2020-21 series, Annette Parks at ap3@evansville.edu needs a title and a paragraph of biography for the series flyer with a Cc to Cheryl Emmons at ce36@evanville.edu when it is convenient for you to provide them.
Nicholas Messer Receives Employee Excellence Award for March 2020
Nick has gained appreciation around campus for his efficiency as a Desktop Support Coordinator with OTS. He is kind and helpful in all of his efforts to keep employee computers running properly, supporting in-class tech set up and equipment for large meetings.
Nick is known to be willing to assist others, very dependable and always timely in responding to the needs of the campus. The positive attitude that he daily shows along with his technical expertise does not go unnoticed. He is a great collaborator and easily works with the demands of multiple areas each day. Nick is one of a kind and an excellent addition to UE!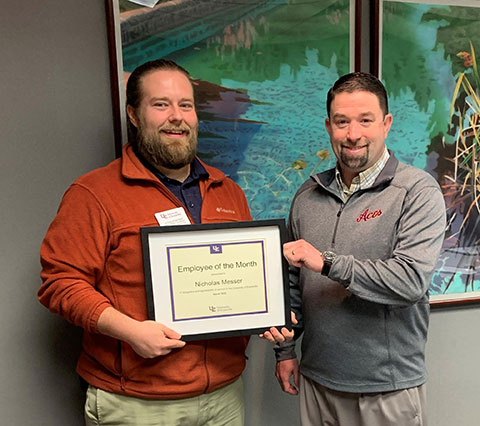 UE Bass Fishing Club Nets Big Finish at Nationals
UE Bass Fishing Club pulled off an incredible 7th place finish in the 2020 FLW College Bass Fishing National Championship this past weekend on the Harris Chain of Lakes in Florida. Senior fisherman, Blake Knies and Noah Whalen fished hard all 3 of days of their final fishing tournament to place within the top ten out of a total 156 teams invited to the tournament. Congratulations to Bass Fishing Club, the seniors on their successful career with Bass Fishing, and best of luck in their future fishing endeavors.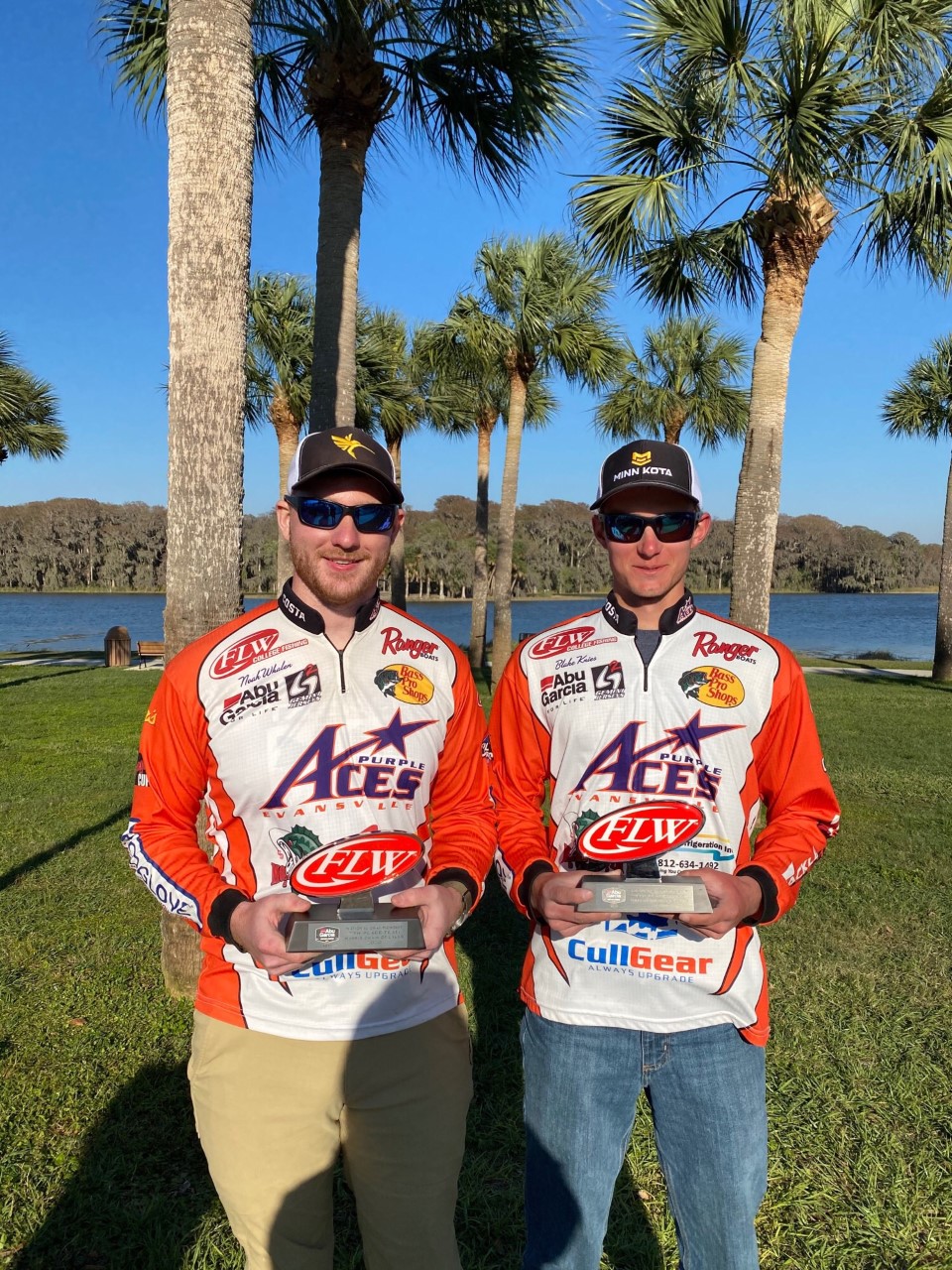 Many Thanks from Kevin Smith
I would like to thank the campus community from the bottom of my heart, for all of the cards, thoughts, prayers, emails, flowers, and food that was sent to me during my mother's passing. I will never forget your kindness.
With many thanks, Kevin Smith, WFF.
Riley Scores 17 Points in Final College Game
In his final game wearing a University of Evansville uniform, senior K.J. Riley led the Purple Aces with 17 points as Valparaiso advanced to the quarterfinals of the State Farm Missouri Valley Conference Tournament with a 58-55 win on Thursday evening inside the Enterprise Center.
"Hard fought game, it is an example of what these guys have shown since I have been here. They just keep fighting," UE head men's basketball coach Todd Lickliter exclaimed following the game. "Does it build character? No, it reveals character. If you came to one of our practices, you would not know what our record was; they always came in with a good attitude and worked hard. They are a pleasure to coach."
"Tonight was a great basketball game, both teams played well, our teams are both very even," he continued. "There were a few bounces that did not go our way. I am proud of the way we came out and fought throughout the entire game."
Riley hit six shots to go along with four free throws. Noah Frederking had a solid night, tallying 13 points and three steals. Sam Cunliffe scored 10. Jawaun Newton led the Aces with a career-high eight rebounds.
Valparaiso knocked down its first four shots of the game to take an 8-4 lead in the opening four minutes. Evansville took its first lead when Noah Frederking connected on a triple to make it a 9-8 contest. The Crusaders went back in front on a field goal make by Donovan Clay and extended the lead to seven (19-12) at the 11:28 mark.
After the Aces got within four points, Valpo pushed its lead to double figures when a 10-3 run stretched their lead to 29-18 inside of five minutes remaining in the half. UE went 1-for-8 over the span of five minutes while turning it over three times. A quick 6-0 spurt got Evansville right back in the game as K.J. Riley, Jawaun Newton and Frederking each hit a field goal.
That rally by UE cut the deficit to six points when the teams entered the locker room at halftime with the Crusaders holding a 31-25 lead. In the opening 20 minutes, 22 out of the Crusader's 31 tallies came inside the paint while UE knocked down two triples while Valpo went 0-7. Riley tied for the game high with nine points in the period.
A tenacious Evansville bunch continued to claw its way back when the second half got underway. Riley reached double figures for the 11th time in 12 games when the first basket of the second half got his squad within four. At the 14:11 mark, Sam Cunliffe found his outside shot, putting one in that cut the VU edge to just one points – 37-36.
Jawaun Newton capped off the comeback when his and-one with 11:38 on the clock gave the Aces a 41-39 lead. The back-and-forth action played out over the ensuing minutes with Valparaiso going back in front by a 45-43 score with 8:31 left, but on the other end, it was Evan Kuhlman dialing it up from long range to give the Aces a 46-45 edge.
When the Crusaders inched back in front on a drive to the basket by Eron Gordon, Frederking made an outstanding defensive play before giving his team the lead. The junior forced a steal under the basket and turned it into a floater that gave the Aces another 1-point edge. As the clock went under three minutes, Valpo wrestled a 53-50 edge on a second-chance jumper by Daniel Sackey.
The score remained 53-50 in favor of Valpo when the game entered the final minute. Riley connected on his sixth field goal of the evening with 55 ticks remaining to get UE within one. Unfortunately, the next trip down the floor for the Crusaders turned into an and-one that gave VU a 4-point edge, the largest lead either team would enjoy since the Crusaders held a 37-33 lead at the 15:49 mark of the second half.
Shamar Givance was fouled with 26 seconds remaining and knocked down both free throws to cut the gap to a pair. Following a missed free throw by Valpo, the Aces regained possession with Riley hitting one free throw. On the inbound play, the Crusaders quickly took it up the floor for a dunk that put them up by a 58-55 tally with four seconds left. Evansville had one more shot, but could not convert as the Crusaders finished with the win.
Donovan Clay paced Valparaiso with 16 points and seven caroms. VU shot 45.5% on the night while the Aces finished at 38.5%. The Crusaders also edged UE by a 34-33 final in total rebounds.
Evansville's lone senior was K.J. Riley. The Bronx native forever etched his name in the UE record book. He leaves the program with 440 free throw makes and 1,062 points. His final free throw tally is 8th in UE history while his point total is 43rd in the recrd book.
"K.J. is special. He is really a guy who leads by example. He was always at practice, prepared and paid attention," Coach Lickliter added. "He was not alone; he had really good teammates. I really believe that when you look at the final scores, you can see that there is a foundation that has been laid. If you look at the improvement that has been made, it is really impressive. I can't wait to get back to work with these guys."
Aces Battle, but Fall to Illinois State, 68-51
Hanging with the Redbirds for much of the contest, the University of Evansville women's basketball team dropped a home contest to Illinois State, 68-51, on Thursday evening inside Meeks Family Fieldhouse.
Three Aces finished in double-figures led by freshman Abby Feit (16 points) and sophomore A'Niah Griffin (15 points), while sophomore Anna Newman tallied 10 points. Juliunn Redmond paced the Redbirds, scoring 18 points off the bench for Illinois State.
Evansville was game for the battle early in the game, but the Redbirds controlled the second half to secure the win.
Despite trailing by as many as nine in the first quarter, the Aces were resilient, battling back in the second quarter, eventually tying the game at the half. Evansville out-scored the Redbirds, 16-10 in the second period, the lowest point total in a quarter for Illinois State since the first quarter against Valparaiso on Feb. 16.
It was a quick start to the second half that helped propel the Redbirds. Illinois State scored the first six points coming out of the break, forcing an Evansville timeout. The Aces again showed its fight as Evansville got back within one just under the five minute mark on a layup by redshirt junior Jada Poland. After Poland's bucket, the Redbirds held the Aces to just two points over the final four minutes and secured a 51-44 lead heading into the fourth.
Illinois State dominated much of the final 10 minutes as the Redbirds out-scored the Aces, 17-7, in the quarter. In the fourth quarter, the Aces cut their deficit to single digits twice, but could draw no closer than eight as the Redbirds captured the 68-51 win.
Evansville closes out its regular season on Saturday when it will recognize senior Kaylan Coffman on Senior Day against Bradley at 1 PM inside Meeks Family Fieldhouse.
Aces Take Win Streak on the Road for Weekend Series at College of Charleston
Holding a four-game winning-streak, the University of Evansville baseball team puts it on the line during a three-game series at College of Charleston on Friday, Saturday, and Sunday in Mt. Pleasant, S.C.

Evansville at College of Charleston | March 6-8
Date | Time Fri., March 6 | 3 PM
Sat., March 7 | 1 PM
Sun., March 8 | Noon

Location Baseball Stadium at Patriots Point | Mt. Pleasant, S.C.
March 6-8 Evansville at College of Charleston
Know Your Opponent
College of Charleston enters the weekend with an 8-2 record and is most recently coming off a series win over Xavier and an 11-2 victory against No. 21 Clemson on Wednesday night. The Cougars are used to playing at home this season, playing 9 of their 10 games so far at their home ballpark.
Win Streak Grows
Evansville's win over UT Martin on Wednesday night pushed the Aces' win streak to four, its longest win streak since an eight-game spree from March 24 to April 6 last season.
Brinkley off the Bench
Junior Mason Brinkley delivered in a big way on Wednesday night. Brinkley came in as a pinch hitter for Craig Shepherd in the top of the seventh inning and broke a 1-1 tie with a two-run single down the line that gave Evansville a 3-1 lead.
Starters Lead the Way
As a staff, the Aces' starters were solid all weekend long. Of 27 possible innings, Evansville's starting pitchers pitched 17 innings, and allowed just five hits and three earned runs, while striking out 19.
Patience Pays Off
The Aces have showcased their patience at the plate this season, including on Wednesday night at UT Martin. Evansville was out-hit by the Skyhawks, 11-4, but the Aces earned seven walk to just two for UT Martin. On the season, Evansville batters have drawn 59 walks, second-best in the MVC and in the top 75 in the nation.
UE Softball Travels to Red & Black Challenge
The final non-conference tournament is set for this weekend when the University of Evansville softball team travels to Louisville for the Red & Black Challenge. Over the 3-day event, the Purple Aces will take on Northwestern, Illinois and Louisville in single games while facing Oakland twice.
UE is coming off of a 2-2 trip to Memphis for last weekend's Blue City Classic, which pushed the Aces record to 8-9 for the year. In Friday's 6-4 win over North Alabama, Jessica Fehr and Eryn Gould posted two hits apiece while Alyssa Barela hit a bases clearing single to lead the offense. Izzy Vetter was credited with the win, throwing three scoreless innings of relief while striking out five.
Haley Woolf was the star of the show in Saturday's opening game against Northern Illinois. The sophomore belted three home runs as the Aces finished with a 12-3 win. Woolf was 3-4 with seven RBI and three runs scored. Lindsay Renneisen also knocked in three runs. Emily Lockhart picked up the win while Erin Kleffman earned the save.
After beginning the weekend with a 2-0 mark, Evansville fell in its final two games, starting with a 13-3 defeat at the hands of Northwestern State. Sunday's game against Memphis saw the teams swap the lead in the late innings. UE held a 6-2 lead entering the bottom of the fourth before the Tigers scored three runs in both the fourth and fifth frames on their way to the 8-7 win. Fehr added three RBI in the game while posting two hits. Katie McLean and Gould also had two hits.
This weekend, the action begins on Friday with a 1:30 p.m. CT game against Oakland. The Grizzlies are 7-6 through the opening three weekends. Two weeks ago, Oakland enjoyed a 3-2 weekend at the Citrus Classic in Orlando where they defeated Clemson, Villanova and Stetson. Sidney Rayba has a team-best .333 batting average.
Friday continues with a 3:45 p.m. game against Northwestern, who sit at 8-11. The Wildcats have played one of the most challenging schedules in the country with nine of their 19 games coming against ranked opponents. On February 15, they earned a 6-2 win over #5 Florida State. Leading their offense is Gracie Huff, who is batting .308.
Just one game is on the docket for Saturday with UE matching up against Oakland for the second time at 3:45 p.m. Two games will take place on Sunday, beginning at 12:30 p.m. against Illinois. The Fighting Illini have a record of 8-9 but defeated a pair of ranked squads in the season opener. They defeated #21 Ole Miss on Feb. 8 before taking down #23 Auburn less than 24 hours later. Avrey Steiner is batting .382 on the season while reaching base 41.4% of the time.
Evansville wraps up the weekend against Louisville, who enter the tournament with a 7-12 record. The Cardinals have some momentum on their side as they defeated 10th-ranked Oregon by a 4-3 final last weekend. They are led by Cassady Greenwood, who is hitting .447.
Evan Kuhlman Earns MVC Scholar-Athlete Recognition
University of Evansville junior Evan Kuhlman has been named a 2020 Missouri Valley Conference Scholar-Athlete Honorable Mention in an announcement by the league on Thursday.
Kuhlman is playing the best basketball of his Purple Aces career. He has made the start in each of the last 11 games, posting 9.5 points and 4.5 rebounds while playing 30.7 minutes per game over that span.

Those numbers have eclipsed his season averages, which stand at 5.0 PPG, 2.9 RPG and 18.2 minutes. On February 16 at Drake, Kuhlman had the top game of his career, scoring 17 points while hitting five of his nine 3-point tries. In the home game against SIU, Kuhlman recorded a career mark of seven blocks, just one shy of the program record.
He has six double digit games in his last nine outings; he did not score more than seven points in his first 15 contests. In the classroom, the native of Liberty Township, Ohio is a Finance major with a 3.22 GPA.
Club Volleyball Continues Improvement at 2020 MWPVC East Regional
UE Club Volleyball team has hit the ground running as they begin traveling to compete against different Universities and different tournaments for their 2019-2020 season. This past weekend the Club traveled to St. Louis University to compete in the 2020 MWPVC East Regional. The girl's started the weekend off hot winning 3 of their 4 games during Pool play which led them into the Gold Bracket where they would play an experienced Truman State team. They fell short in this final match, finishing their weekend at 3 wins and 2 losses. Club Captain, Megan Fulhorst, stated she was very proud of her team's effort and outcome from the weekend. "I saw so much improvement in our team and we all worked really hard! This tournament was amazing, we played really well together." Keep up the hard work and best of the luck with the remained of your season!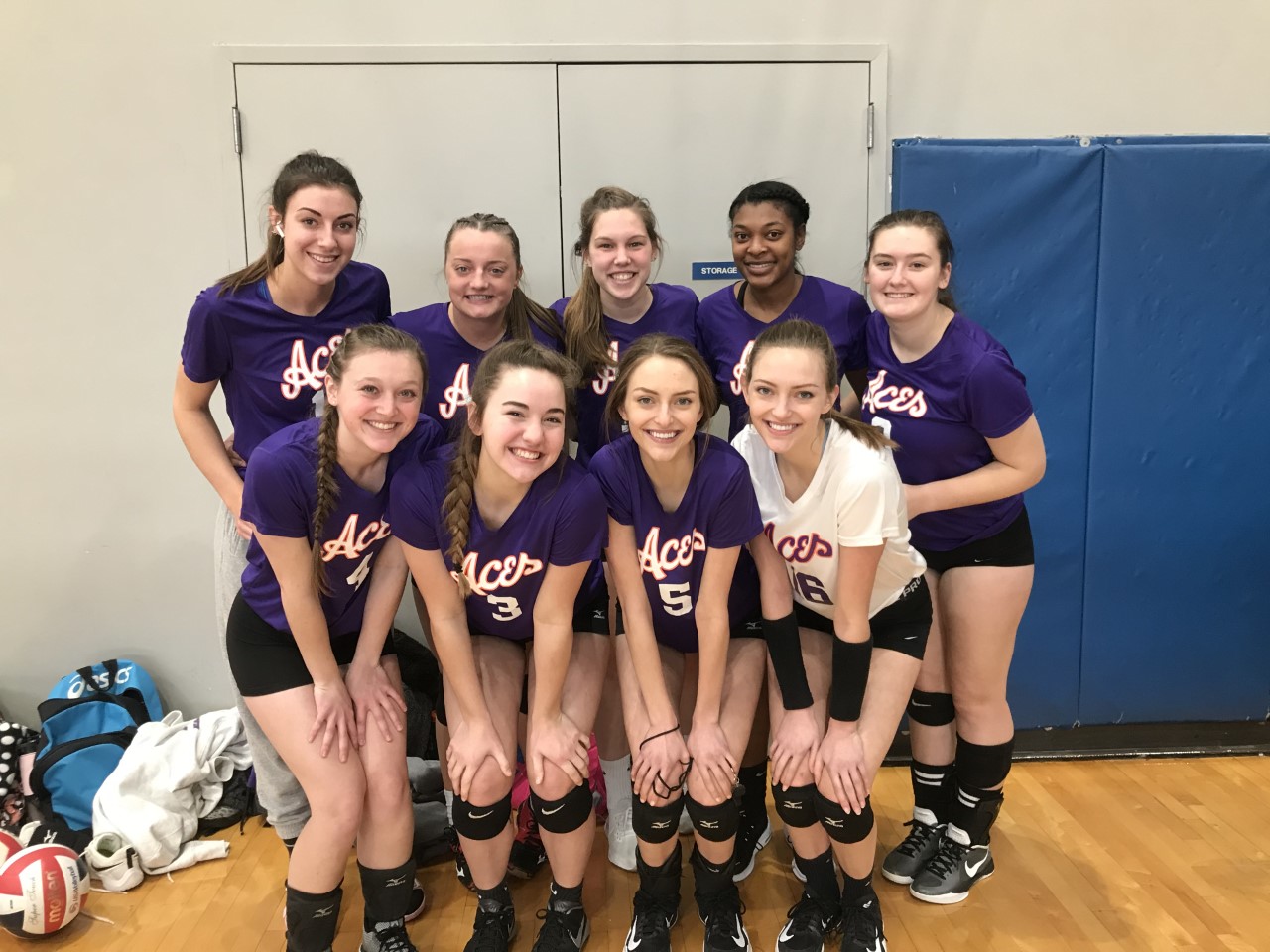 Drew Hawkins
ah519@evansville.edu
Contribute to AceNotes
To have content considered for inclusion in AceNotes, please submit a Marketing Request Form. Deadline for submission to AceNotes is 10:00 a.m. on the requested date of publication. Only articles concerning UE related/sponsored activities will be accepted. Articles submitted to AceNotes may be edited for length and clarity. Submitter contact information is at the end of each article.