| | |
| --- | --- |
| AceNotes Today | Thursday, March 5, 2020 |
Upcoming Parking Restrictions in Lot "C"
Parking in Lot "C" will be restricted from March 7th-March 15th. The parking spots on the east side of the lot that run parallel to Weinbach will be blocked off to allow for storage of Grounds Crew equipment. The crew will be landscaping the area as part of the Weinbach Ave improvements. Please remove all vehicles from the impacted area by 6:00pm on March 6th.
Jason Cullum
jc647@evansville.edu
Avoid the Spread of Germs
The University has formed a Task Force to discuss the rapidly evolving concern regarding the coronavirus. We wanted to share that the best way to prevent illness is to avoid being exposed to the coronavirus. The CDC always recommends everyday preventive actions to help prevent the spread of respiratory diseases, including:
• Avoid close contact with people who are sick.
• Avoid touching your eyes, nose, and mouth.
• Stay home when you are sick.
• Cover your cough or sneeze with a tissue, then throw the tissue in the trash.
• Clean and disinfect frequently touched objects and surfaces using a regular household cleaning spray or wipe.
• Wash your hands often with soap and water for at least 20 seconds, especially after going to the bathroom; before eating; and after blowing your nose, coughing, or sneezing. For information about handwashing, see CDC's Handwashing website.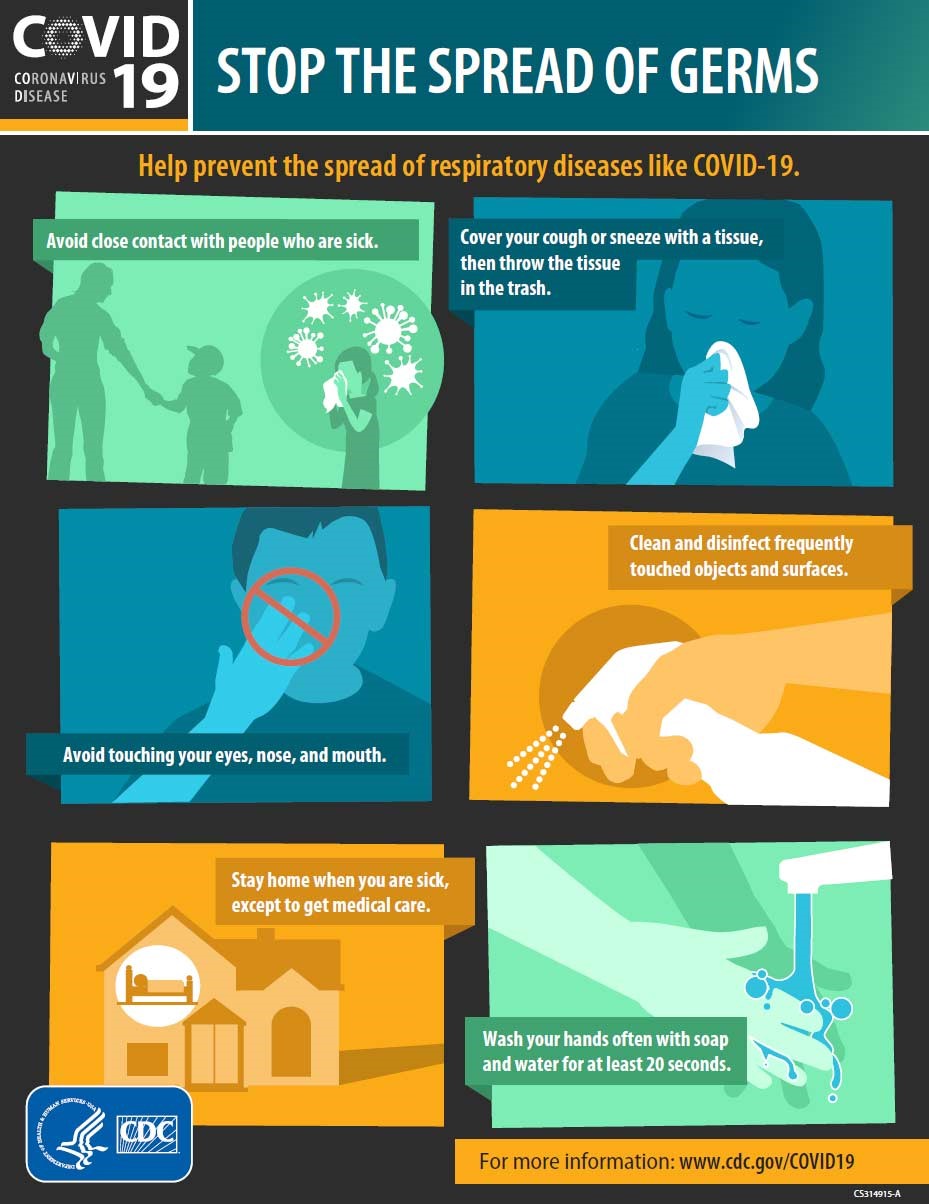 Holly Smith Appointed Senior Director of Marketing and Communications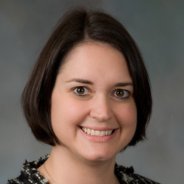 We are pleased to announce the appointment of Holly Smith as the new senior director of marketing and communications at the University of Evansville.
In this new role, she will be charged with developing and leading a strategic direction for University's marketing efforts, serving as senior director over the University relations, content development, and content design areas.
"Holly brings a wealth of experience and dynamic leadership to this position," noted interim vice president for enrollment and marketing, Jill Griffin. "She is no stranger to UE, having experienced the University from the vantage point of an undergraduate, a graduate student, and an adjunct professor. She knows us well and is passionate about the kind of education UE provides."
"I am truly excited about the opportunity to lead the marketing strategy at the University. I have a breadth of experience including digital marketing, market research, and analytics," Smith said. "I welcome the opportunity to represent the jewel of the community and share its unique value proposition."
Smith's extensive experience in marketing and strategic planning spans many years and multiple industries. She joins us from her most recent role as vice president of marketing at Heritage Federal Credit Union. Prior to her role in the banking industry, she worked for nearly 20 years in healthcare marketing and was previously employed at St. Vincent Health at the director of marketing, strategic planning and printing services; Cincinnati Children's Hospital as a marketing coordinator and strategic planning analyst; and St. Elizabeth Healthcare as a market analyst. She has the unique perspective of working directly in a marketing team at organizations, but also within an advertising agency. She was a senior account executive at Ten Adams. Smith is currently an adjunct professor at the University teaching marketing in the Public Service Administration program.
She is very active in the community and serves on the Board of Directors for the Children's Museum of Evansville and the Evansville Police Foundation and their respective Marketing Committees. She also serves as a member of the St. Vincent Ziemer's Society, Vanderburgh County Women's Fund, and A Network of Evansville Women.
Smith attended her first two years of college at UE and transferred to Indiana University to complete her first BS in kinesiology with a specialization in athletic training and a minor in psychology followed by a BS in marketing at the University of Southern Indiana. She earned her MBA from the University of Evansville in 2012.
Final Health Risk Assessment Event
For those enrolled in the university's HSA Medical Plan and have not completed a Health Risk Assessment for this benefit year, please schedule your HRA today! The deadline is March 31st!
March 11th 7:30-10:30AM - Held in the Employee Health Clinic
Those who do not complete this screening will be subject to an increase in your medical premiums for the 2020-2021 benefit year.
To Schedule please click the link below.
1. https://booknow.appointment-plus.com/b1zkk4c6/
2. Select Wellness Screening/HRA
3. Select University of Evansville
3. Scroll and Click on March 11th
4. Select your desired appointment time
5. Enter in your personal information
Please remember an 8-10 hr. fast is required for this appointment. Water and black coffee are allowed during your fasting period. Please take all maintenance medications as long as they are not required to be taken with food. Please email ac375@evansville.edu with questions.
Ashley Chipps
ac375@evansville.edu
Women Stepping Up Features Dr. Jessica Lofton
Women Stepping Up features Dr. Jessica Lofton in its WEDnesday Woman article. Dr. Lofton is an Assistant Professor in Mechanical Engineering in the College of Engineering and Computer Science. Stepping Up is a non-partisan, non-profit effort that celebrates women in the Tri-State of every race, class and ethnic background who have made historic contributions to the growth and strength of the Evansville community.
http://steppingupevv.com/dr-jessica-lofton/
Kimberly Higgins
kh209@evansville.edu
Writing Center to Close at Noon on Friday
The Writing Center will be closing at noon on Friday and will re-open the Monday after Spring Break. If you already have an appointment scheduled during that time, please make accommodations to stop by earlier!
Katie Mullins
kd60@evansville.edu
RSA Bingo - March Madness
Join RSA for March Madness Bingo on March 5 at 9pm in Rademacher's! There will be food and great prizes, including exclusive Aces merchandise and a month's subscription to YouTube TV!
Lily Renfro
lr156@evansville.edu
Fitness Center Spring Break Hours
The Fitness Center Spring Break Hours:
March 6th (Friday) 6:30 am - 7:00 pm
Closed Sat/ Sun
March 9th - 13th (Monday- Friday) 8:00 am - 6:00 pm
Closed Sat/ Sun
Tackle for a Cure - Flag Football Teams Needed
Zeta Tau Alpha presents "Tackle for a Cure", a flag football tournament to benefit Breast Cancer Education and Awareness! The tournament will take place on Sunday, March 22nd from 11AM until around 3PM. Entry is $30 for a team of 7-11 players. Contact Sydney Richter (sr258) or Morgan caylor (mc354) for details or entry!
Sydney Richter
sr258@evansville.edu
Andiron Lecture Series 2020-2021 Call for Papers
UE faculty and administrators as well as members of the Evansville community are invited to submit an abstract for papers on any aspect of their research or expertise for the 2020-2021 Andiron Lectures Series. All disciplines and fields of study are welcome to submit proposals.
Please send the following by email:
A 50-word abstract with, Name, Academic Affiliation/ Occupation, Paper title, and Contact Information
to: Annette Parks at ap3@evansville.edu with a CC to Cheryl Emmons at ce36@evansville.edu. Cheryl Emmons will forward these to the Andiron Lecture Committee for consideration.
Nominations for off-campus speakers can be sent by email to Annette Parks at ap3@evansville.edu with a Cc to Cheryl Emmons at ce36@evansville.edu ; she will forward them to the Andiron Lecture committee for consideration.
Please note that if you have already agreed to present an Andiron Lecture for the 2020-21 series, Annette Parks at ap3@evansville.edu needs a title and a paragraph of biography for the series flyer with a Cc to Cheryl Emmons at ce36@evanville.edu when it is convenient for you to provide them.
Someplace Else: Paintings by Erika Navarrete Art Exhibit
Krannert Gallery March 1 - April 5, 2020
Reception: Thursday, March 5, 6:30pm
Bring a Friend!
Krannert Gallery, located in Krannert Hall of Fine Arts
Gallery Hours
Monday - Saturday: 8:00a.m. - 8:00 p.m.
Sunday: Noon - 8:00 p. m.
Corliss Chastain
cc270@evansville.edu
Eykamp Prize: Call for Nominations
The Eykamp Prize was established by Richard and Rita Eykamp in 2015 to honor Faculty Achievement at the University of Evansville. Recipients of the prize will receive a one-time award of $10,000 in recognition of extraordinary contributions to the University of Evansville as University Citizens. Examples of such contributions include deep and successful involvement in recruiting students; expanding the number, scope, and competitiveness of grant funding for their department; bringing positive public awareness to the University through scholarship, knowledge, and understanding of their discipline. Up to two prizes a year may be awarded.
Nominations for the Eykamp Prize may come from any member of the University of Evansville Community. Nominees should be tenured or tenure-track faculty members at the University of Evansville who have not received the award in the previous five years. Nominations can be submitted in writing or via e-mail to Michael Austin, Executive Vice President for Academic Affairs/Provost, at ma352@evansville.edu by March 13, 2020. Nominations should include the name of the faculty member and a brief statement of the reasons that he or she is being nominated.
Recipients of the Eykamp Prize will be selected by an Awards Committee, appointed by the EVPAA/Provost that includes members of the faculty and staff, academic administrators, and at least one member of the Board of Trustees. Awards will be announced and presented at the May Commencement Ceremony.
Previous Recipients: 2016 – Dr. Mark Valenzuela; 2017 – Dr. Lora Becker; 2018 – Dr. David Dwyer; and 2019 – Dr. Kristy Miller.
Paula Heldt
ph28@evansville.edu
UE Bass Fishing Club Nets Big Finish at Nationals
UE Bass Fishing Club pulled off an incredible 7th place finish in the 2020 FLW College Bass Fishing National Championship this past weekend on the Harris Chain of Lakes in Florida. Senior fisherman, Blake Knies and Noah Whalen fished hard all 3 of days of their final fishing tournament to place within the top ten out of a total 156 teams invited to the tournament. Congratulations to Bass Fishing Club, the seniors on their successful career with Bass Fishing, and best of luck in their future fishing endeavors.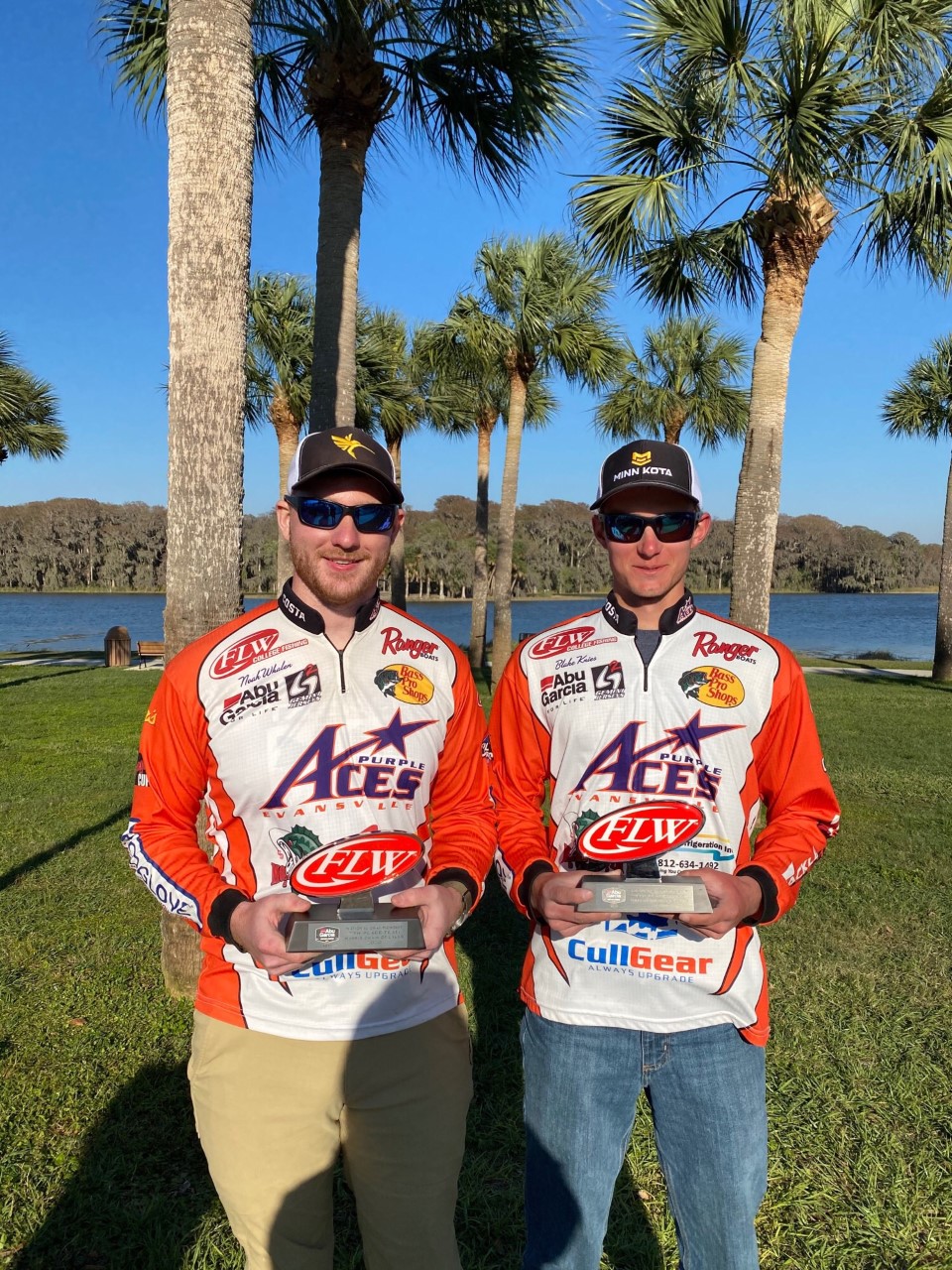 Many Thanks from Kevin Smith
I would like to thank the campus community from the bottom of my heart, for all of the cards, thoughts, prayers, emails, flowers, and food that was sent to me during my mother's passing. I will never forget your kindness.
With many thanks, Kevin Smith, WFF.
Seventh-inning Spree Sends Aces Past Skyhawks
Using a big seventh inning, the University of Evansville baseball team found its offense late to push past UT Martin, 5-3, in a midweek matchup in Martin, Tenn. on Wednesday evening.
An offensive spree in the seventh inning helped the Aces build an advantage that the Skyhawks could not overcome on Wednesday.
Tied at one, senior Troy Beilsmith opened the stanza by earning a walk and eventually advancing to second on a wild pitch. Freshman Brent Widder then took advantage of a defensive mistake by UT Martin and reached on an error.
Patient as he has been much of the season, senior Ben Komonosky then drew a walk to load the bases for Evansville with no outs. Junior Mason Brinkley got an opportunity in the seventh, coming in as a pinch hitter for senior Craig Shepherd. Brinkley took a first-pitch strike before fouling-off a pitch and taking a ball to run the count to 1-2. On the next pitch, Brinkley ripped a double down the left-field line, scoring Beilsmith and Widder and providing the Aces with their first lead.
Evansville was not done offensively as junior Tanner Craig delivered an RBI single with one out and sophomore Danny Borgstrom recorded a sacrifice fly to help the Aces earn a 5-1 lead.
The Skyhawks would not go away without a fight as UT Martin answered with two runs in the bottom half of the seventh to close within two runs.
In the final two innings, Evansville had to fend off the Skyhawks, who opened each of the eighth and ninth innings with a runner on with no outs, but the Aces pitching came up strong in important moments. The ninth inning saw UT Martin earn a walk to lead-off the inning, but freshman pitcher Jace Kressin locked-down to close-out the game, inducing a fly-out and striking-out a pair, including a game-ending K to secure his second collegiate save.
Evansville is quickly back on the road this weekend for a three-game set against the College of Charleston on Friday, Saturday, and Sunday in Charleston, S.C.
Club Volleyball Continues Improvement at 2020 MWPVC East Regional
UE Club Volleyball team has hit the ground running as they begin traveling to compete against different Universities and different tournaments for their 2019-2020 season. This past weekend the Club traveled to St. Louis University to compete in the 2020 MWPVC East Regional. The girl's started the weekend off hot winning 3 of their 4 games during Pool play which led them into the Gold Bracket where they would play an experienced Truman State team. They fell short in this final match, finishing their weekend at 3 wins and 2 losses. Club Captain, Megan Fulhorst, stated she was very proud of her team's effort and outcome from the weekend. "I saw so much improvement in our team and we all worked really hard! This tournament was amazing, we played really well together." Keep up the hard work and best of the luck with the remained of your season!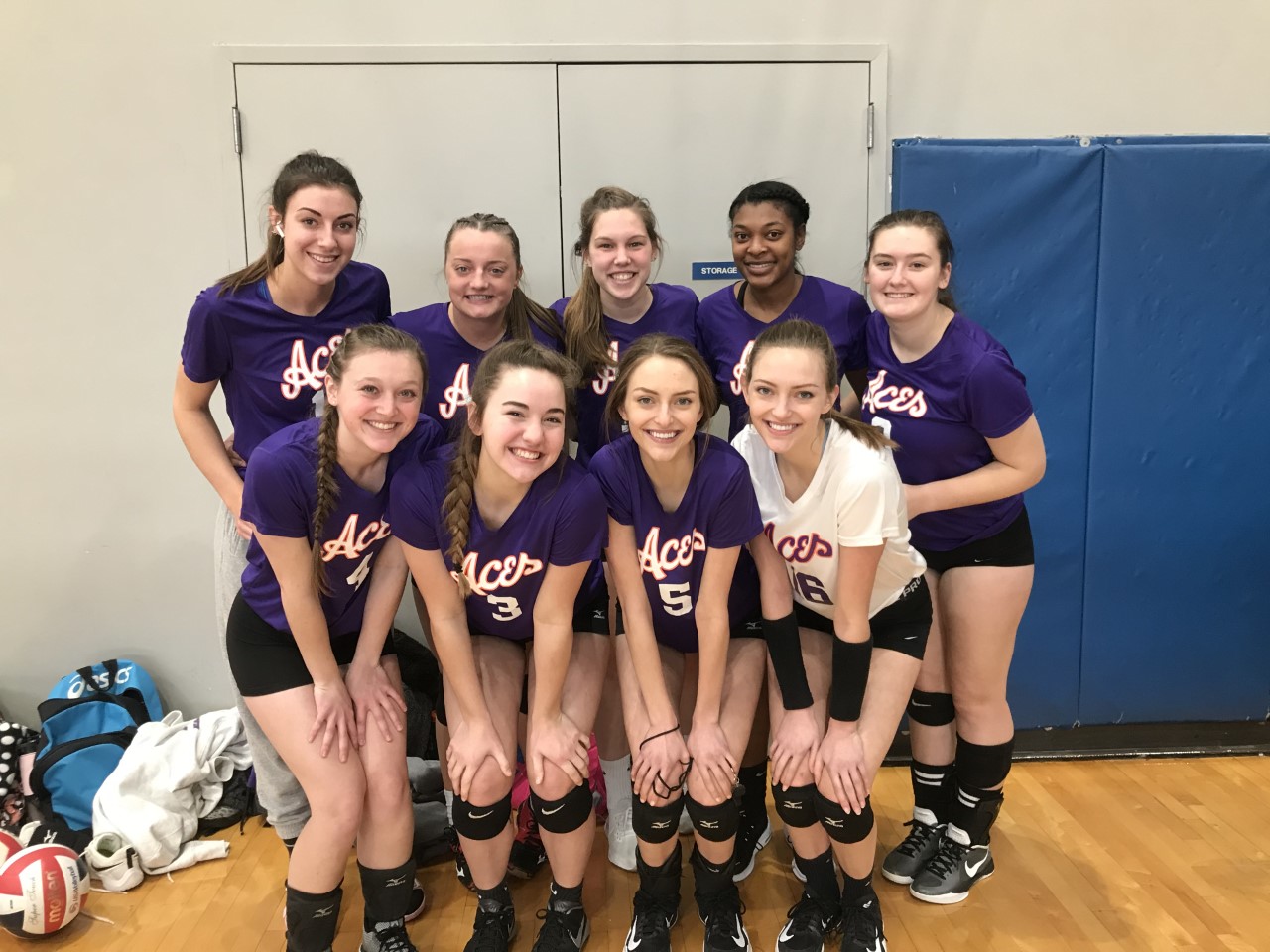 Drew Hawkins
ah519@evansville.edu
Contribute to AceNotes
To have content considered for inclusion in AceNotes, please submit a Marketing Request Form. Deadline for submission to AceNotes is 10:00 a.m. on the requested date of publication. Only articles concerning UE related/sponsored activities will be accepted. Articles submitted to AceNotes may be edited for length and clarity. Submitter contact information is at the end of each article.