| | |
| --- | --- |
| AceNotes Today | Wednesday, March 4, 2020 |
Upcoming Parking Restrictions in Lot "C"
Parking in Lot "C" will be restricted from March 7th-March 15th. The parking spots on the east side of the lot that run parallel to Weinbach will be blocked off to allow for storage of Grounds Crew equipment. The crew will be landscaping the area as part of the Weinbach Ave improvements. Please remove all vehicles from the impacted area by 6:00pm on March 6th.
Jason Cullum
jc647@evansville.edu
Avoid the Spread of Germs
The University has formed a Task Force to discuss the rapidly evolving concern regarding the coronavirus. We wanted to share that the best way to prevent illness is to avoid being exposed to the coronavirus. The CDC always recommends everyday preventive actions to help prevent the spread of respiratory diseases, including:
• Avoid close contact with people who are sick.
• Avoid touching your eyes, nose, and mouth.
• Stay home when you are sick.
• Cover your cough or sneeze with a tissue, then throw the tissue in the trash.
• Clean and disinfect frequently touched objects and surfaces using a regular household cleaning spray or wipe.
• Wash your hands often with soap and water for at least 20 seconds, especially after going to the bathroom; before eating; and after blowing your nose, coughing, or sneezing. For information about handwashing, see CDC's Handwashing website.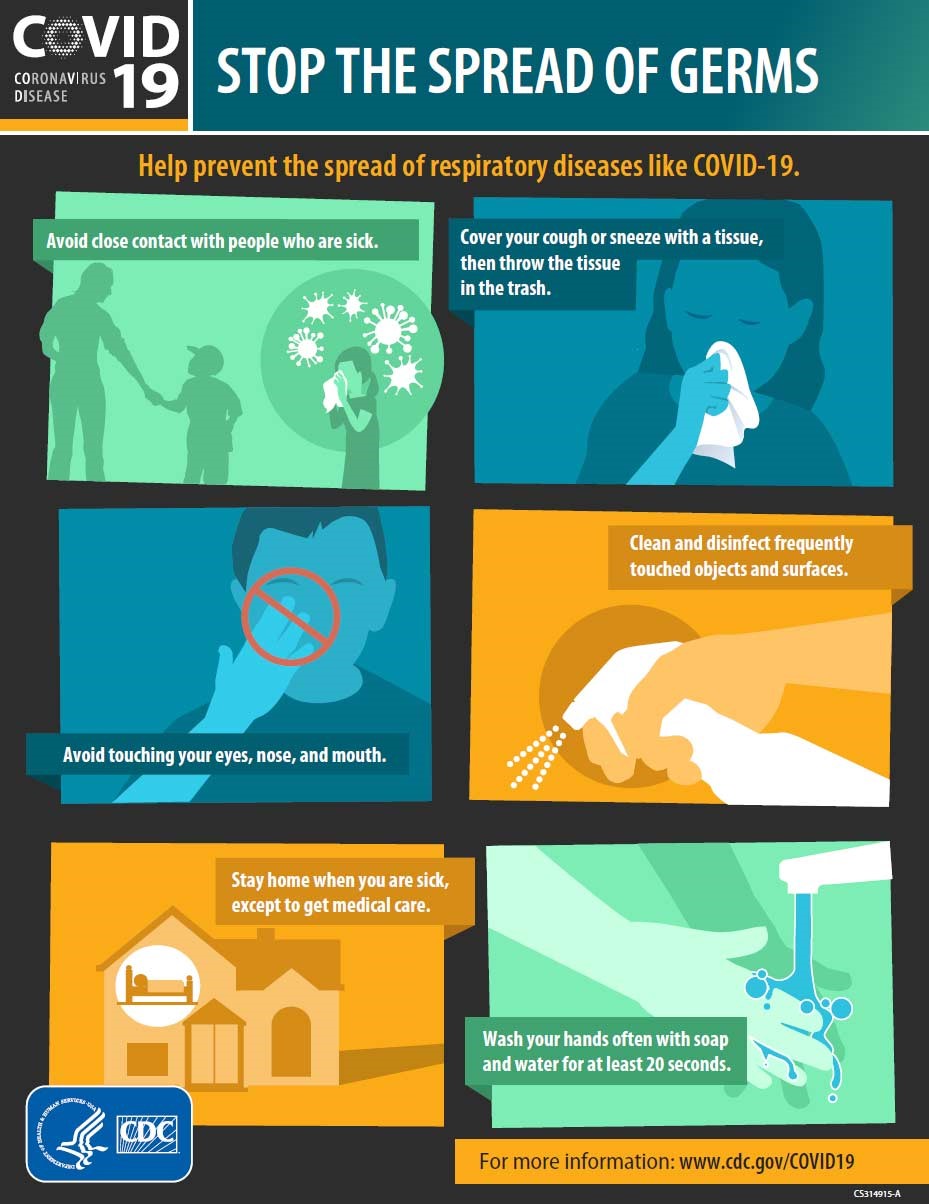 Holly Smith Appointed Senior Director of Marketing and Communications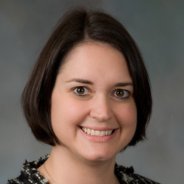 We are pleased to announce the appointment of Holly Smith as the new senior director of marketing and communications at the University of Evansville.
In this new role, she will be charged with developing and leading a strategic direction for University's marketing efforts, serving as senior director over the University relations, content development, and content design areas.
"Holly brings a wealth of experience and dynamic leadership to this position," noted interim vice president for enrollment and marketing, Jill Griffin. "She is no stranger to UE, having experienced the University from the vantage point of an undergraduate, a graduate student, and an adjunct professor. She knows us well and is passionate about the kind of education UE provides."
"I am truly excited about the opportunity to lead the marketing strategy at the University. I have a breadth of experience including digital marketing, market research, and analytics," Smith said. "I welcome the opportunity to represent the jewel of the community and share its unique value proposition."
Smith's extensive experience in marketing and strategic planning spans many years and multiple industries. She joins us from her most recent role as vice president of marketing at Heritage Federal Credit Union. Prior to her role in the banking industry, she worked for nearly 20 years in healthcare marketing and was previously employed at St. Vincent Health at the director of marketing, strategic planning and printing services; Cincinnati Children's Hospital as a marketing coordinator and strategic planning analyst; and St. Elizabeth Healthcare as a market analyst. She has the unique perspective of working directly in a marketing team at organizations, but also within an advertising agency. She was a senior account executive at Ten Adams. Smith is currently an adjunct professor at the University teaching marketing in the Public Service Administration program.
She is very active in the community and serves on the Board of Directors for the Children's Museum of Evansville and the Evansville Police Foundation and their respective Marketing Committees. She also serves as a member of the St. Vincent Ziemer's Society, Vanderburgh County Women's Fund, and A Network of Evansville Women.
Smith attended her first two years of college at UE and transferred to Indiana University to complete her first BS in kinesiology with a specialization in athletic training and a minor in psychology followed by a BS in marketing at the University of Southern Indiana. She earned her MBA from the University of Evansville in 2012.
2019 1095-C's Processed
1095-C forms have been processed for benefit eligible employees. If you have provided consent for electronic 1095-C's, you can view/print your 1095-C for your records now.
Simply log into Self-Service, and go to "Tax Information".
Click the option "1095-C Information" and then click on "2019 1095-C Statement".
1095-C's have been mailed for those employees who did not provide their electronic consent.
If you have any questions, please contact Dawn Bury at ext. 2159 or db287@evansville.edu.
Decades Fashion Show
On April 4, 2020, Students of Color and Empowerment and Kappa Alpha Psi Fraternity, Inc, will be hosting a fashion-based competition show benefiting St.Judes Children's Research Hospital. The theme is Decades, in which popular fashion trends from the 1950s-2000s will be highlighted.
If you are interested in participating as a model or volunteer email ls292@evansville.edu for more information.
Lindsay Sullivan
ls292@evansville.edu
Sexual Assault Survivor Art Installation
The Office of Counseling Services and Health Education is hosting the "What Were You Wearing?" sexual assault survivor art installation. The display will be held Monday March 2-Thursday March 5 upstairs in Ridgway in the hall outside the Student Life suite. The goal of the display is to have viewers see themselves reflected in the stories and outfits. This then moves us away from blaming the victim, as can sometimes happen. It is our hope that survivors who view the display feel heard, validated, and believed.
This installation originated in 2013 and was inspired by the poem, What I was Wearing. It has since been displayed at campuses all over the US.
The installation does contain short descriptions of assault. Please utilize self-care as needed and contact the Office of Counseling Services for support at 812-488-2663.
Jennifer Hargus
jh693@evansville.edu
Fitness Center Spring Break Hours
The Fitness Center Spring Break Hours:
March 6th (Friday) 6:30 am - 7:00 pm
Closed Sat/ Sun
March 9th - 13th (Monday- Friday) 8:00 am - 6:00 pm
Closed Sat/ Sun
I-House: Fight like a girl (Panel Discussion of International Women's Rights)
Dear Aces! As we know this year marks the 100th anniversary of the passage of the 19th Amendment, guaranteeing and protecting women's constitutional right to vote and Women's Day is on this Sunday, I-House is having a panel discussion of International Women's Rights.
Dr. Annette Parks (Associate Professor of History) will be moderating the discussion by the panel of UE students from all around the world. The students will be discussing their experience as a Women in their culture and background and the challenges they faced as a Women and how to overcome them. There will also be a giveaway of a book called "Colonize This! Young Women of Color on Today's Feminism" by Daisy Hernández and Bushra Rehman.
The event will be happening on Wednesday (March 4th) on Class of '59 Gallery and Lounge at 7 pm! We hope to see you there!
Hussam Taj
ht70@evansville.edu
Newman Catholic Club Events This Week
Newman Night:
Come to our weekly Newman Night for dinner and discussion! One of our seminarians will be giving a talk this week. Discussion starts at 5pm at Newman Center with a delicious dinner to follow!
Small Group:
Join or try out a small group this Wednesday or Thursday at Newman Center! Wednesdays are with Annie at 7pm discussing the topic of Cultivating Fruits of the Spirit. Thursdays are with Michaela and Lesley at 8:30pm discussing How To Build Your Spiritual Armor.
Men's Group:
Join or try out the Men's Group! Wednesdays at 7pm at Newman Center.
Rosary Group:
Come and pray the Rosary with us! Every Wednesday at noon in Library Room 208. No experience needed!

Kathryn Williams
kw354@evansville.edu
Solution Station Wednesday: Are You Ready For Midterms?
Are you ready for midterms?
How are classes going? Have you been getting the grades you need to? Starting to get worried? It might be time to try something new!
Stop by the Solution Station table in Ridgway this Wednesday to hear about what you can do (and what help you can get!) to get ready for midterms. There will also be candy!
Wednesday: 11:00 a.m. - 1:00 p.m.
Chad Hart
ch299@evansville.edu

Drag Show Performers Call Out
Are you interested in performing? Are you interested in drag? If so, we have the perfect event for you!! U.E. P.R.I.D.E.'s annual drag show will be held on Saturday, April 4th; if you or someone you know is interested in performing for this event, email us at uepride@gmail.com to let us know.
We look forward to hearing from you and to see you perform! If you have any questions, feel free to let us know!
**No experience needed; just a willingness to try something new and perform!**
Sarah Weithers
sw266@evansville.edu
UE Faculty, Alumni, & Sports Residents Lead Performance Testing at MLB Spring Training
University of Evansville and ProRehab sports physical therapy residents and faculty members recently performed the preseason screening of the St. Louis Cardinals Major League Baseball team in Jupiter, Florida.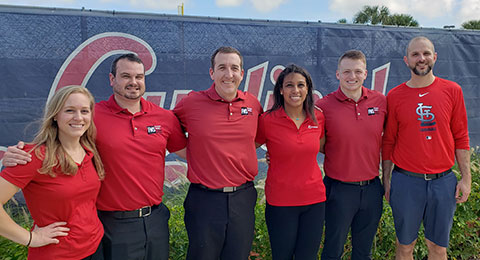 The team was led by Dr. Phil Plisky '98, Associate Professor of Physical Therapy, and Assistant Professor of Physical Therapy Dr. Kyle Matsel '11, as well as current sports residents Drs. Risa Ricard UE '19, Ace Adamson , and Jonathan Kirsch. The team also included Logan Blair (UE '17, Sports Residency '18) and Danielle Honnette (Sports Residency '16). They were invited by UE alum and former PT faculty member Dr. Robert Butler '09 who is the Director of Performance and Thomas Knox (' 09, Sports Residency '10), Assistant Director of Performance.

Jennifer Simon
js698@evansville.edu
Wellness Wednesday Lunch and Learn
The Office of Health Education is hosting its 2nd Wellness Wednesday Lunch and Learn of the Spring semester!
This week's topic is "Spring into Action." In this session you will learn the effects physical activity has on the brain and it's ability to affect our mood. A representative from the fitness center will also be present to make you aware of everything they have to offer!
Come to Eykamp 254 from 12-1pm! Bring your lunch and join the discussion!
Jennifer Hargus
jh693@evansville.edu
UE Bass Fishing Club Nets Big Finish at Nationals
UE Bass Fishing Club pulled off an incredible 7th place finish in the 2020 FLW College Bass Fishing National Championship this past weekend on the Harris Chain of Lakes in Florida. Senior fisherman, Blake Knies and Noah Whalen fished hard all 3 of days of their final fishing tournament to place within the top ten out of a total 156 teams invited to the tournament. Congratulations to Bass Fishing Club, the seniors on their successful career with Bass Fishing, and best of luck in their future fishing endeavors.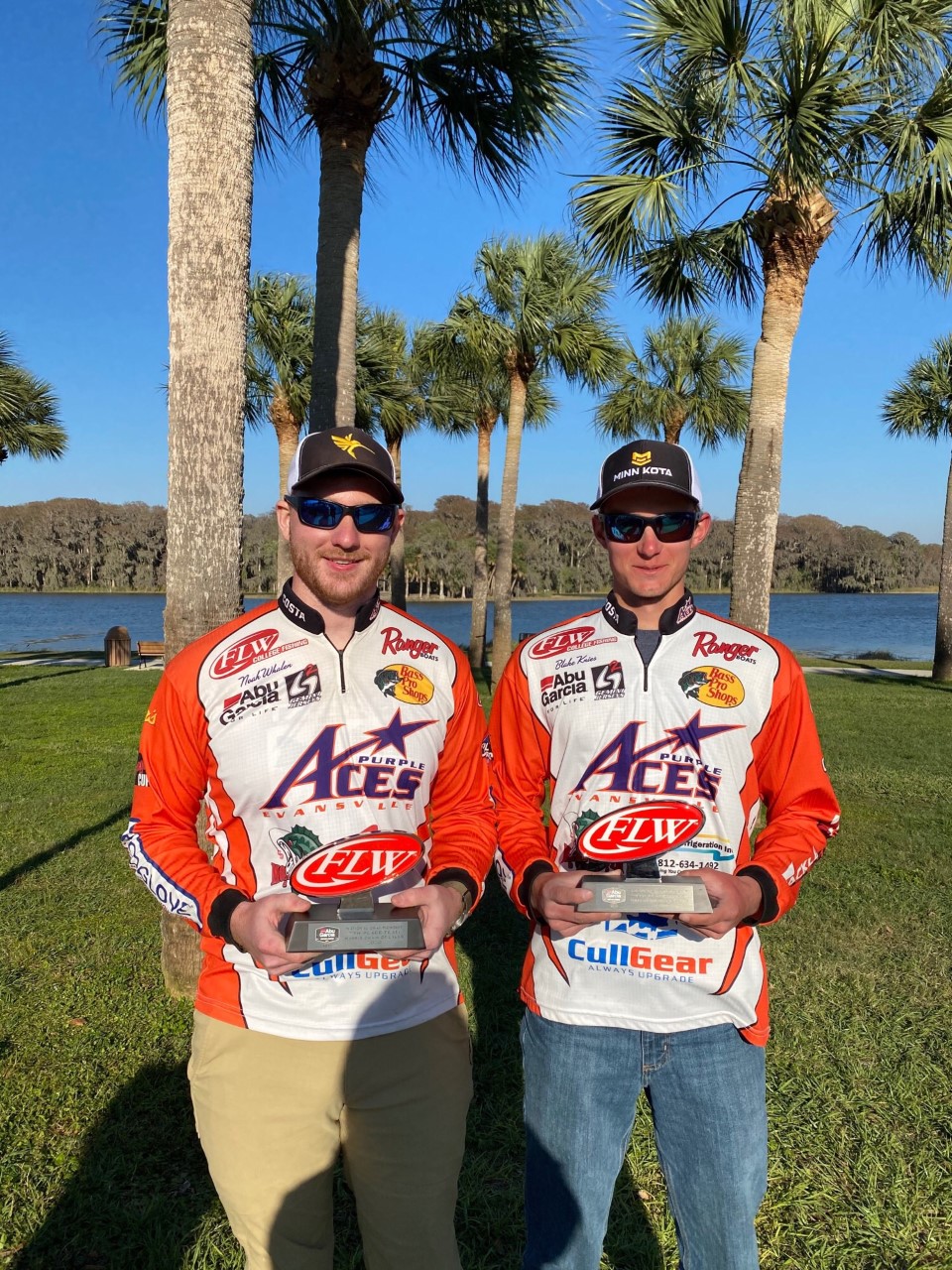 Nerd Wars Champions Crowned
The Honors Activity Board wishes to thank everyone who attended Nerd Wars last Tuesday, February 25. The event was a great success and lots of fun for all team participants and spectators. Twenty-three teams of students, faculty, administrators and staff battled in the trivia competition. The overall champion, taking home the coveted Nerd Wars trophy, was the faculty team of Dr. Daniel Byrne, Dr. Kristie Hochwender, Dr. Ann Powell, Dr. John Stamm, and Dr. Joyce Stamm. The winning student team was ChiO Dream Team Extreme with members Katelyn Brannam, Alexa Butler, Tessa Hemmerlein, Jessica Miller, and Maddie Roche. Congratulations!
The Honors Activity Board raised a total of $623 in proceeds at this event which will benefit HACER, the Honors Program's community service initiative.
Thanks to all for a fun evening, and we'll see you again next year!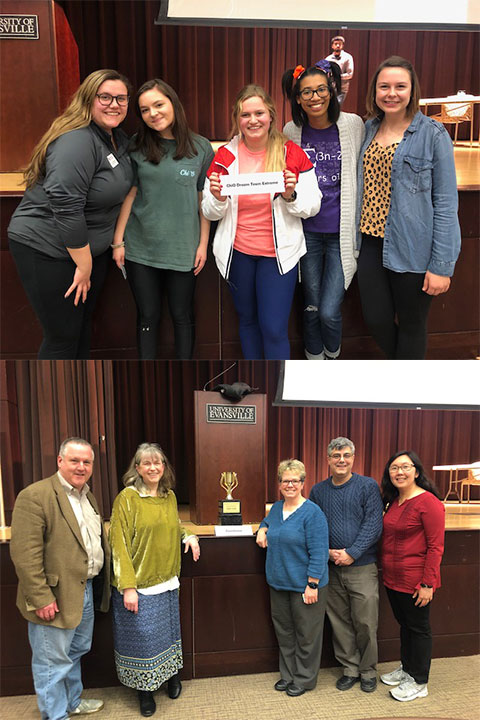 Jayme Williams
jw504@evansville.edu
Many Thanks from Kevin Smith
I would like to thank the campus community from the bottom of my heart, for all of the cards, thoughts, prayers, emails, flowers, and food that was sent to me during my mother's passing. I will never forget your kindness.
With many thanks, Kevin Smith, WFF.
Club Volleyball Continues Improvement at 2020 MWPVC East Regional
UE Club Volleyball team has hit the ground running as they begin traveling to compete against different Universities and different tournaments for their 2019-2020 season. This past weekend the Club traveled to St. Louis University to compete in the 2020 MWPVC East Regional. The girl's started the weekend off hot winning 3 of their 4 games during Pool play which led them into the Gold Bracket where they would play an experienced Truman State team. They fell short in this final match, finishing their weekend at 3 wins and 2 losses. Club Captain, Megan Fulhorst, stated she was very proud of her team's effort and outcome from the weekend. "I saw so much improvement in our team and we all worked really hard! This tournament was amazing, we played really well together." Keep up the hard work and best of the luck with the remained of your season!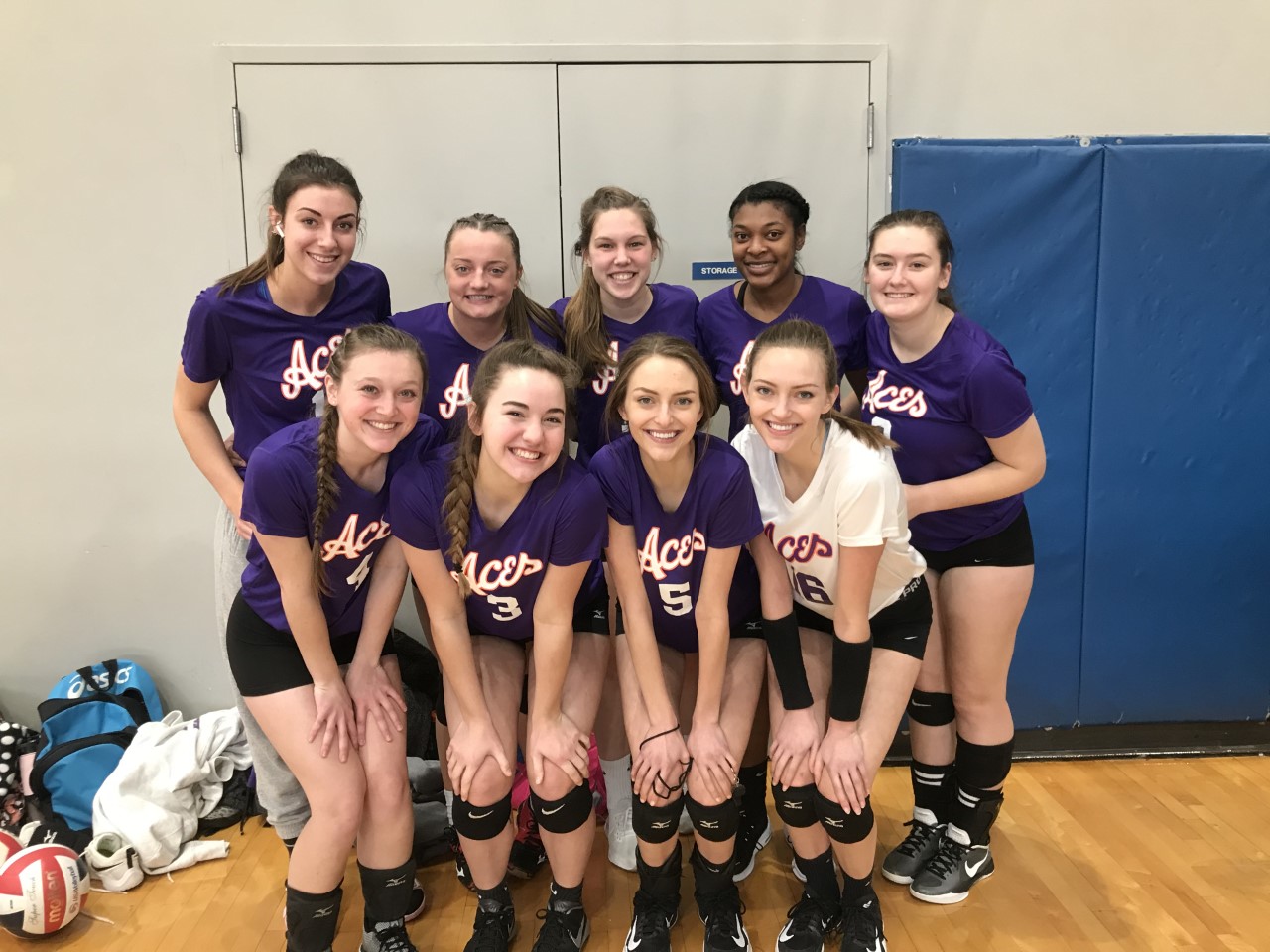 Drew Hawkins
ah519@evansville.edu
UE Volleyball Announces 2020 Camp Schedule
University of Evansville head volleyball coach Fernando Morales and his staff have announced the schedule for their 2020 camps. Five camp sessions are available and provide opportunities for volleyball players in kindergarten through 12th grade.
"Come live the full experience of a NCAA division 1 volleyball program. Practice and train with them and like them," Morales exclaimed about the camp experience. "The Evansville Aces had a historic season in 2019 reaching the MVC conference tournament for the first time in 11 years and having a winning season for the first time in 10 years. Join them as they start preparation for the 2020 season trying to build up from last season's great experience."
To register for the camps, please visit www.acesvolleyballcamps.com. All camps will be held at Meeks Family Fieldhouse on the UE campus. If there are any questions, please contact volleyball@evansville.edu.
The 2020 camp sessions consist of:
All-Skills Camp (K-6th grade)
- Date and Time of Clinics/Camps: July 16-17th at 8am-12pm
- Cost of Clinics/Camps: $120
- Specific Grades/Ages/Gender for Camps/Clinics: (K-6th grade)
Camp Descriptions: This camp will be focused on teaching players entering Kinder to 8th grade the essential volleyball skills in order to become mechanically efficient by emphasizing on technical training. The main goal is to give individual attention to each camper. For each camp, participants will be placed into groups of similar experience and skill, making sure that all campers are able to maximize their potential in accordance to their development phase and age. Open to any and all entrants (limited only by number, age, grade level and/or gender).
College Prep Camp (9th-12th grade)
- Dates: July 16-17th at 1-6pm
- Price: $135
This camp is designed for high school players aspiring to play at the college level. Advanced individual skills and elite game-like drills will be the main focus of this camp. The main goal is to give individual attention to each camper AND PROVIDE THEM WITH A COLLEGE-LEVEL PERSPECTIVE OF THE GAME. For each camp, participants will be placed into groups of similar experience and skill, making sure that all campers are able to maximize their potential in accordance to their development phase and age. Open to any and all entrants (limited only by number, age, grade level and/or gender).
All-Skills Camp (7th-12th grade):
- Dates: July 18-19th at 8am-12pm
- Price: $120
This camp will be focused on teaching players entering 9th to 12th grade the essential volleyball skills in order to become mechanically efficient by emphasizing on technical training. The main goal is to give individual attention to each camper. For each camp, participants will be placed into groups of similar experience and skill, making sure that all campers are able to maximize their potential in accordance to their development phase and age. Open to any and all entrants (limited only by number, age, grade level and/or gender).
Serving, Passing, Digging Camp (6th-12th grade):
- Dates: July 18th at 1-4pm
- Price: $65
This camp is designed for players looking to improve their serve-receive, defense, and serving skills through technical and tactical focus. Campers will receive a high volume of repetitions through individual and small group drills. Open to any and all entrants (limited only by number, age, grade level and/or gender).
Setting Camp (6th-12th grade):
- Dates: July 19th at 1-4pm
- Price: $65

This camp is designed for fundamental skill development at the setting position. Setters will focus on technical/tactical aspects through position-specific training and high volume of repetitions. Open to any and all entrants (limited only by number, age, grade level and/or gender).
Men's Basketball Opens Arch Madness on Thursday
Arch Madness is up next for the University of Evansville men's basketball team with the Purple Aces opening up the tournament on Thursday evening with an 8:35 p.m. game against Valparaiso at the Enterprise Center in St. Louis. The game will be career on the MVC TV Network and the Purple Aces Radio Network; fans in Evansville will be able to watch on Fox Sports Midwest.
Setting the Scene
- UE enters the 2020 State Farm MVC Tournament as the #10 seed and is pitted against 7th-seeded Valparaiso
- The Crusaders took both games in the regular season by a total of four points; the Aces dropped an 81-79 overtime game on January 4 before losing the road match at the ARC by a 67-65 final on Jan. 26
- In the road game, UE overcame an 18-point deficit to get within two in the final minutes
- Sam Cunliffe averaged 15.5 points in the two meetings against the Crusaders while K.J. Riley scored 12 points in each game
- Evansville and Valpo have met one other time on a neutral floor and, interestingly enough, came in the St. Louis area
- In the 1999 Hoop and Quill Tournament in St. Charles, Mo., the Aces picked up a 71-66 win
Arch Madness
- For the sixth time since joining the conference for the 1994-95 campaign, the Aces are the #10 seed
- The Aces are 0-5 as that seed in the MVC
- UE has lost three in a row at Arch Madness and stand at 9-25 all-time at the event
- This year marks the 11th time since 2002 that UE has been seeded 8th or lower
Last Time Out
- Senior K.J. Riley shined in his final home game scoring 18 points with the Aces dropping a 71-60 game to Illinois State on Saturday
- Sam Cunliffe and Evan Kuhlman each finished with 10 points
- The Aces once again rallied from a double figure deficit; UE trailed by 14 in the first half but came bak to take a 48-46 lead with 8:14 remaining
- With the loss, UE finished 0-18 in conference play; Evansville is the fourth team since 1970 to go winless in the MVC
- The last team to do so was Drake in 1997-98; the Bulldogs were also 0-18 in 1996-97
K.J. 1K
- In his final performance at the Ford Center, K.J. Riley put forth another workmanlike effort, leading the Aces with 18 points while hitting 10 out of 12 free throws
- Riley increased his free throw totals to 153 makes on 189 attempts; those rank 13th and 22nd in the NCAA, respectively
- He has 10 double digit scoring efforts in his last 11 games
- In the first half of the Feb. 20 game at SIU, senior Riley reached the 1,000-point mark for his career becoming the 50th player in program history to do so
Putting up the Numbers
- For the sixth time in the last nine games, junior Evan Kuhlman reached double figures in scoring, chipping in 10 points in the regular season finale on Saturday
- Kuhlman hit four of his eight attempts in the game while adding three assists, three rebounds and two blocks
- Since going 2-for-8 from the field in the home game against SIU, Kuhlman has hit 28 of his last 58 attempts (48.3%)
- He has scored eight or more in seven of the Aces last nine games
- Kuhlman set his career mark with 17 points at Drake on Feb. 16 draining six of his 12 attempts overall and was 5-of-9 from outside
Scouting the Opponent
- Valparaiso finished the regular season with a 16-15 record and were an even 9-9 in the MVC on their way to taking the #7 seed for Arch Madness
- The Crusaders dropped a 71-58 decision at Indiana State on Saturday but are still on a nice streak winning four of their last six games
- Javon Freeman-Liberty leads the Crusaders with 19.3 points per game; he was second in the conference
- He also leads the team in steals and rebounds (6.0/game); his 65 steals ranks 13th in the nation
- Ryan Fazekas has posted 11.3 PPG and is a 51.4% shooter from outside
Contribute to AceNotes
To have content considered for inclusion in AceNotes, please submit a Marketing Request Form. Deadline for submission to AceNotes is 10:00 a.m. on the requested date of publication. Only articles concerning UE related/sponsored activities will be accepted. Articles submitted to AceNotes may be edited for length and clarity. Submitter contact information is at the end of each article.