| | |
| --- | --- |
| AceNotes Today | Monday, March 2, 2020 |
2019 1095-C's Processed
1095-C forms have been processed for benefit eligible employees. If you have provided consent for electronic 1095-C's, you can view/print your 1095-C for your records now.
Simply log into Self-Service, and go to "Tax Information".
Click the option "1095-C Information" and then click on "2019 1095-C Statement".
1095-C's have been mailed for those employees who did not provide their electronic consent.
If you have any questions, please contact Dawn Bury at ext. 2159 or db287@evansville.edu.
Final Health Risk Assessment Event
For those enrolled in the university's HSA Medical Plan and have not completed a Health Risk Assessment for this benefit year, please schedule your HRA today! The deadline is March 31st!
March 11th 7:30-10:30AM - Held in the Employee Health Clinic
Those who do not complete this screening will be subject to an increase in your medical premiums for the 2020-2021 benefit year.
To Schedule please click the link below.
1. https://booknow.appointment-plus.com/b1zkk4c6/
2. Select Wellness Screening/HRA
3. Select University of Evansville
3. Scroll and Click on March 11th
4. Select your desired appointment time
5. Enter in your personal information
Please remember an 8-10 hr. fast is required for this appointment. Water and black coffee are allowed during your fasting period. Please take all maintenance medications as long as they are not required to be taken with food. Please email ac375@evansville.edu with questions.
Ashley Chipps
ac375@evansville.edu
Federal Loan Repayment Counseling Session Required for Students Graduating or Transferring
Students who have used Federal Direct (subsidized/unsubsidized) Loans or the Grad PLUS Loan and plan to graduate in the spring or summer (or transfer after the spring semester) are required to attend a Loan Repayment Counseling Session. The Office of Student Financial Services will hold the first session of the semester on Mon., 3/2 @ 6:00 pm in Eykamp 252. Additional sessions will be held on 4/30 @ 2:00 pm and 5/8 @ 11:30 am.
Amy Sowders
as560@evansville.edu
Decades Fashion Show
On April 4, 2020, Students of Color and Empowerment and Kappa Alpha Psi Fraternity, Inc, will be hosting a fashion-based competition show benefiting St.Judes Children's Research Hospital. The theme is Decades, in which popular fashion trends from the 1950s-2000s will be highlighted.
If you are interested in participating as a model or volunteer email ls292@evansville.edu for more information.
Lindsay Sullivan
ls292@evansville.edu
Sexual Assault Survivor Art Installation
The Office of Counseling Services and Health Education is hosting the "What Were You Wearing?" sexual assault survivor art installation. The display will be held Monday March 2-Thursday March 5 upstairs in Ridgway in the hall outside the Student Life suite. The goal of the display is to have viewers see themselves reflected in the stories and outfits. This then moves us away from blaming the victim, as can sometimes happen. It is our hope that survivors who view the display feel heard, validated, and believed.
This installation originated in 2013 and was inspired by the poem, What I was Wearing. It has since been displayed at campuses all over the US.
The installation does contain short descriptions of assault. Please utilize self-care as needed and contact the Office of Counseling Services for support at 812-488-2663.
Jennifer Hargus
jh693@evansville.edu
Veterans Affairs Open House
The Student Veterans Organization will host an open house on Monday, March 2, 2020, from 11-3 pm at the Major General Verna Fairchild Lounge located on the 4th floor of the Bower-Suhrheinrich Library. Question: Contact Tracey Folden at tf91@evansville.edu.
Tracey Folden
tf91@evansville.edu
Andiron Lecture March 4, 2020 by Roberta Heiman (Votes for Women - and Then What)
Roberta Heiman's career in journalism spanned 42 years, most of it in Evansville. Her work as an investigative reporter won state and national awards for shedding light on community issues as varied as air pollution and jail overcrowding, the failed child welfare system and medical malpractice. In retirement she has tackled another issue – the fact that women's contributions to our community have been left out of local history books, which of course, were written by men. She was instrumental in creating "Herstory," a play about women in 20th Century Evansville, and she has written extensively about Albion Fellows Bacon, Dr. Stella Boyd and other local heroines in history (including women in UE's history.) In addition, she resurrected the Southwestern Indiana League of Women Voters, which had disbanded in the 1990s, and she was among the founders of Women Stepping Up, which encourages and helps prepare women to seek elective office and be active civically. In 2013 she was a recipient of the Torchbearer Award by the Indiana Commission for Women. She attended Purdue University.
Much has been written about the beginning and end of the women's suffrage movement – the historic Seneca Falls convention in 1848 and the dramatic ratification of the 19th Amendment in 1920. But we know little about the seven decades in between, when the battle for the right to vote was fought by women across the country, in hometowns like Evansville and Newburgh where the idea was radical, indeed. Who were the local suffragists? What did they do, and how did the community respond? Local history books make almost no mention of them. To find the answers, retired journalist Roberta Heiman searched through 150 years of Evansville newspapers to uncover the story in time for 2020, the 100th anniversary of "the biggest expansion of democracy in United States history."

The lecture begins at 4:00 p.m.
Wednesday, March 4, 2020
Eykamp Hall (Room 252), Ridgway University Center
A social gathering with beverages begins at 3:45 p.m.
For further information, call Annette Parks at 812-488-1070
or the William L. Ridgway College of Arts and Sciences at 812-488-2589
Votes for Women – and Then What - By Roberta Heiman 2013 Recipient of the Torchbearer Award by the Indiana Commission for Women
Votes for Women – and Then What
By Roberta Heiman
2013 Recipient of the Torchbearer Award
by the Indiana Commission for Women
Much has been written about the beginning and end of the women's suffrage movement – the historic Seneca Falls convention in 1848 and the dramatic ratification of the 19th Amendment in 1920. But we know little about the seven decades in between, when the battle for the right to vote was fought by women across the country, in hometowns like Evansville and Newburgh where the idea was radical, indeed. Who were the local suffragists? What did they do, and how did the community respond? Local history books make almost no mention of them. To find the answers, retired journalist Roberta Heiman searched through 150 years of Evansville newspapers to uncover the story in time for 2020, the 100th anniversary of "the biggest expansion of democracy in United States history."
The lecture begins at 4:00 p.m.
Wednesday, March 4, 2020
Eykamp Hall (Room 252), Ridgway University Center
A social gathering with beverages begins at 3:45 p.m.
For further information, call Annette Parks at 812-488-1070
or the William L. Ridgway College of Arts and Sciences at 812-488-2589
Submitted by Cheryl Emmons ce36@evansville.edu.
Newman Catholic Club Events This Week
Newman Night:
Come to our weekly Newman Night for dinner and discussion! One of our seminarians will be giving a talk this week. Discussion starts at 5pm at Newman Center with a delicious dinner to follow!
Small Group:
Join or try out a small group this Wednesday or Thursday at Newman Center! Wednesdays are with Annie at 7pm discussing the topic of Cultivating Fruits of the Spirit. Thursdays are with Michaela and Lesley at 8:30pm discussing How To Build Your Spiritual Armor.
Men's Group:
Join or try out the Men's Group! Wednesdays at 7pm at Newman Center.
Rosary Group:
Come and pray the Rosary with us! Every Wednesday at noon in Library Room 208. No experience needed!

Kathryn Williams
kw354@evansville.edu
Solution Station Wednesday: Are You Ready For Midterms?
Are you ready for midterms?
How are classes going? Have you been getting the grades you need to? Starting to get worried? It might be time to try something new!
Stop by the Solution Station table in Ridgway this Wednesday to hear about what you can do (and what help you can get!) to get ready for midterms. There will also be candy!
Wednesday: 11:00 a.m. - 1:00 p.m.
Chad Hart
ch299@evansville.edu

Drag Show Performers Call Out
Are you interested in performing? Are you interested in drag? If so, we have the perfect event for you!! U.E. P.R.I.D.E.'s annual drag show will be held on Saturday, April 4th; if you or someone you know is interested in performing for this event, email us at uepride@gmail.com to let us know.
We look forward to hearing from you and to see you perform! If you have any questions, feel free to let us know!
**No experience needed; just a willingness to try something new and perform!**
Sarah Weithers
sw266@evansville.edu
UE Faculty, Alumni, & Sports Residents Lead Performance Testing at MLB Spring Training
University of Evansville and ProRehab sports physical therapy residents and faculty members recently performed the preseason screening of the St. Louis Cardinals Major League Baseball team in Jupiter, Florida.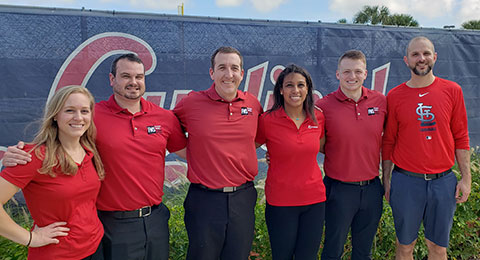 The team was led by Dr. Phil Plisky '98, Associate Professor of Physical Therapy, and Assistant Professor of Physical Therapy Dr. Kyle Matsel '11, as well as current sports residents Drs. Risa Ricard UE '19, Ace Adamson , and Jonathan Kirsch. The team also included Logan Blair (UE '17, Sports Residency '18) and Danielle Honnette (Sports Residency '16). They were invited by UE alum and former PT faculty member Dr. Robert Butler '09 who is the Director of Performance and Thomas Knox (' 09, Sports Residency '10), Assistant Director of Performance.

Jennifer Simon
js698@evansville.edu
This Week in Music (March 2-8)
First Tuesday Concert Series, March 3
University Choir
7:30 p.m., Neu Chapel
Free Admission
The University Choir will present a concert featuring Minnesota composer Jeffrey Van's "A Procession Winding Around Me." Scored for choir and acoustic guitar, the work is a haunting setting of Civil War poems by Walt Whitman. Guest speaker Dr. Mark Cirino, Chair of the Department of English, will guide the audience through Walt Whitman's vivid poetry. The performance will also feature Assistant Professor of Music, Demian Kogutek, as guitar soloist with the choir. The concert will culminate in a call for peace with J.S. Bach's "Dona nobis pacem" from his Mass in B Minor.
Kristen Strandberg
ks532@evansville.edu


Diversity Coffee Break ft. UETAOC
Diversity Coffee Break is a fun and engaging event that is held at the Diversity House every Monday from 3-4. We have free coffee/tea and friendly discussion about many different clubs/orgs on campus and areas of diversity. The special guests for Monday, March 2 will be UET Artist of Color! Join us Monday to learn more about UETAOC! Hope to see you there!
If you would like to represent your group or organization at Diversity Coffee Break, please email me for more info!
HarMonee Baltzell
hb119@evansville.edu
Entrepreneurship Club Game Night Changed to March 2nd
Join the Entrepreneurship Club on Monday, March 2nd for GAME NIGHT! Get to know your fellow club members and invite a friend to help grow the club!
Some games will be provided, but if you have a favorite bring it along. Pizza, drinks and dessert will all be covered.
When: March 2nd at 5:00 pm
Where: SOBA Room 250
Please RSVP to Rebecca Oates at ro32@evansville.edu.
Club is open to all majors.

Rebecca Oates
ro32@evansville.edu
Someplace Else: Paintings by Erika Navarrete Art Exhibit
Krannert Gallery March 1 - April 5, 2020
Reception: Thursday, March 5, 6:30pm
Bring a Friend!
Krannert Gallery, located in Krannert Hall of Fine Arts
Gallery Hours
Monday - Saturday: 8:00a.m. - 8:00 p.m.
Sunday: Noon - 8:00 p. m.
Corliss Chastain
cc270@evansville.edu
Eykamp Prize: Call for Nominations
The Eykamp Prize was established by Richard and Rita Eykamp in 2015 to honor Faculty Achievement at the University of Evansville. Recipients of the prize will receive a one-time award of $10,000 in recognition of extraordinary contributions to the University of Evansville as University Citizens. Examples of such contributions include deep and successful involvement in recruiting students; expanding the number, scope, and competitiveness of grant funding for their department; bringing positive public awareness to the University through scholarship, knowledge, and understanding of their discipline. Up to two prizes a year may be awarded.
Nominations for the Eykamp Prize may come from any member of the University of Evansville Community. Nominees should be tenured or tenure-track faculty members at the University of Evansville who have not received the award in the previous five years. Nominations can be submitted in writing or via e-mail to Michael Austin, Executive Vice President for Academic Affairs/Provost, at ma352@evansville.edu by March 13, 2020. Nominations should include the name of the faculty member and a brief statement of the reasons that he or she is being nominated.
Recipients of the Eykamp Prize will be selected by an Awards Committee, appointed by the EVPAA/Provost that includes members of the faculty and staff, academic administrators, and at least one member of the Board of Trustees. Awards will be announced and presented at the May Commencement Ceremony.
Previous Recipients: 2016 – Dr. Mark Valenzuela; 2017 – Dr. Lora Becker; 2018 – Dr. David Dwyer; and 2019 – Dr. Kristy Miller.
Paula Heldt
ph28@evansville.edu
Wellness Wednesday Lunch and Learn
The Office of Health Education is hosting its 2nd Wellness Wednesday Lunch and Learn of the Spring semester!
This week's topic is "Spring into Action." In this session you will learn the effects physical activity has on the brain and it's ability to affect our mood. A representative from the fitness center will also be present to make you aware of everything they have to offer!
Come to Eykamp 254 from 12-1pm! Bring your lunch and join the discussion!
Jennifer Hargus
jh693@evansville.edu
Nerd Wars Champions Crowned
The Honors Activity Board wishes to thank everyone who attended Nerd Wars last Tuesday, February 25. The event was a great success and lots of fun for all team participants and spectators. Twenty-three teams of students, faculty, administrators and staff battled in the trivia competition. The overall champion, taking home the coveted Nerd Wars trophy, was the faculty team of Dr. Daniel Byrne, Dr. Kristie Hochwender, Dr. Ann Powell, Dr. John Stamm, and Dr. Joyce Stamm. The winning student team was ChiO Dream Team Extreme with members Katelyn Brannam, Alexa Butler, Tessa Hemmerlein, Jessica Miller, and Maddie Roche. Congratulations!
The Honors Activity Board raised a total of $623 in proceeds at this event which will benefit HACER, the Honors Program's community service initiative.
Thanks to all for a fun evening, and we'll see you again next year!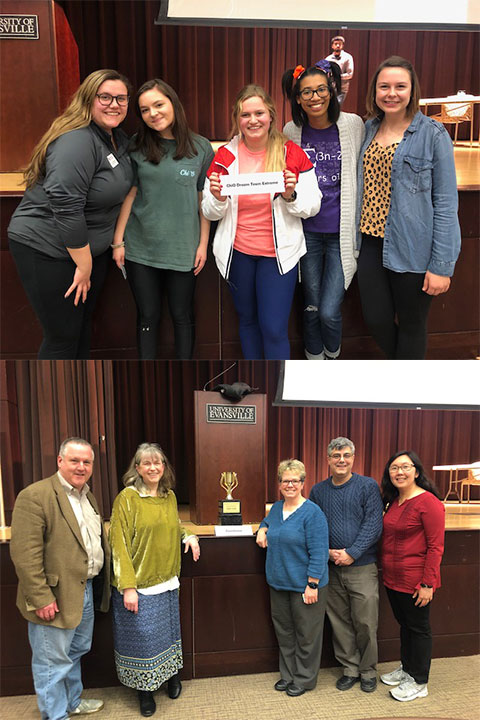 Jayme Williams
jw504@evansville.edu
Annual Engineers Week Celebration and Awards
The College of Engineering and Computer Science held its annual celebration for Engineers Week at a reception in Eykamp Hall on February 19, 2020. Several engineering majors were announced as new inductees in the Tau Delta Kappa engineering honor society by Dr. Jared Fulcher, assistant professor of mechanical engineering. Other engineering students were recognized by the college and the Office of Development.
Linh Trinh, a junior computer engineering major received the Paul "PR" Brown Spirit Award. This award is presented annually to an engineering major who has been nominated by the faculty and has completed at least four semesters in good academic standing, who is an encouragement and help to his/her fellow students, and who demonstrates leadership in fostering cooperation and camaraderie among the engineering students.
Jesse Batronis, a junior mechanical engineering major received the James M. Hall, Jr. Memorial Award. This award is presented annually to a student of the junior engineering class who is considered by the faculty to be the most outstanding based on scholastic achievement, extra-curricular activities, character, responsibility, attitude, and potential for professional growth.
The Engineers Week Reception was hosted by the Dean's Advisory Council for the College of Engineering and Computer Science. The College is appreciative of generous donations supporting the banquet by Lead Sponsor ALCOA and Table Sponsors, Control Specialists, Inc., Embry Automation & Controls, IEEE, Lochmueller Group, PCI Skanska, and the UE Student Government Association.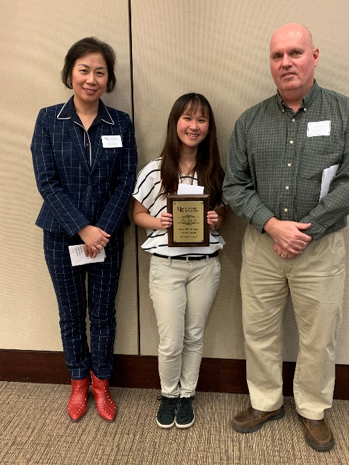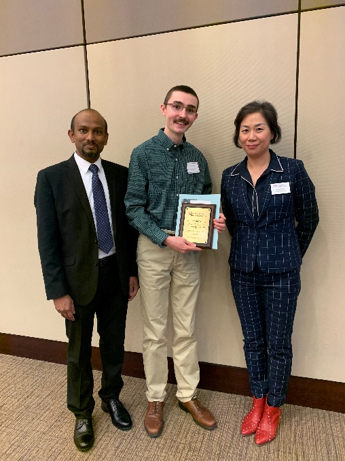 Softball Finishes with Weekend Split in Memphis
Jessica Fehr continued to add to her numbers, posting a bases clearing double, but an offensive showdown saw Memphis defeat the University of Evansville softball team by an 8-7 final on Sunday in the final game of the Blues City Classic.
Fehr had two hits on the day in four plate appearances. Katie McLean and Eryn Gould added two hits apiece. McLean was 2-for-4 with a pair of runs scored while Gould went 2-3 with a run and RBI.
UE got the day started with a pair of runs in the first. Back-to-back doubles from McLean and Gould gave the Purple Aces a 1-0 lead. With two outs, Halie Fain singled to center to score Gould for the second score of the frame. Memphis got the runs right back in the bottom half of the first.
Following a scoreless second, Evansville's bats got the job done in the third with all four runs coming with two outs. Alyssa Barela drew a leadoff walk and was pinch run for by Mackenzie McFeron. Halie Fain would later walk before Jenna Lis loaded the bases on an infield single. With two outs, Kat Mueller would record the third walk of the inning to score McFeron. Next up was Jessica Fehr, who came through in the clutch, hitting a bases clearing double to bring in three runs and give the Aces a 6-2 lead.
Memphis took control with three runs in both the fourth and fifth innings. The six runs came on a total of seven hits. Two UE errors helped the Tigers as they jumped in front by an 8-6 score. Evansville rallied in the sixth with McLean and Gould reaching to start the inning. McLean scored on a double play, but UE would not be able to add to the tally with Memphis finishing with the 8-7 win.
Emily Lockhart made the start for UE, allowing five runs on 11 hits in four innings of work. Izzy Vetter allowed three runs, two earned, in two frames.
The final non-conference tournament is set for next weekend when the Aces make the short trip to Louisville for the Red & Black Challenge. Evansville will face Oakland twice while taking on Northwestern, Illinois and Louisville in single games.
UE Wraps Up MVC Indoors with Another Historic Day
The University of Evansville men's and women's track and field teams closed out the indoor season at the 2020 Missouri Valley Conference Championship.
Following up with another record-breaking performance, Anna Lowry produced another remarkable day, finishing in third place in the 3,000-meter run (9:50.99), just .08 seconds behind the next runner, knocking almost 15 seconds off the school record to earn her second all-conference honor of the weekend.
Stanley Chepchieng took home fifth place in the triple jump with a school record 14.51-meter leap. Izzy Dawson put points up for the Aces with an eighth place 2:25.90 in the 800-meter run. Dawson and Chepchieng both earned MVC honorable mention.
Joey Rucinski took 10th place in the heptathlon, setting a new school record with 3,922 points, while Justus Donaldson came in 11th at 3,619 points.
Baylee Geng (8.93m) and Brittany Corley (8.86m) competed in the women's shot put for UE, while Michael Boots (14.01m), Zach Dove (13.77m) and Andrew Schuler (13.00m) took on the shot put on the men's side.
The Aces finished the day with the 4x400-meter relay, teamed by Haylee Harmeyer, Skylar Tucker, Gwyn Gorley and Sierra Kelley, finishing at 4:15.99. The men finished in 3:34.46, with a team of Brendon Smith, Chepchieng, Phil Dzienciol and Peter Blok.
As a team both the men and the women posted program best point finishes at MVC indoors with 15 points and an eighth-place finish for the women, while the men finished ninth with 4.50 points.
The Purple Aces return in outdoor season at the Margaret Simmons Invite on March 13 in Murray Ky.

Aces to Face Valpo in Arch Madness Opener
With the release of the latest NCAA Evaluation Tool (NET) ratings, the Missouri Valley Conference has announced the seedings for the 2020 State Farm MVC Tournament.
The University of Evansville enters as the #10 seed and will be pitted against #7 seed Valparaiso. Game time will be 8:35 p.m. inside the Enterprise Center in St. Louis. The MVC TV Network will carry the contest with fans in Evansville being able to watch on Fox Sports Midwest. ESPN3 will also have the live stream.
Evansville and Valparaiso played a pair of entertaining games in the regular season with the Crusaders clinching their two wins by a combined four points. In the first meeting at the Ford Center on January 4, Valpo rallied late to force overtime before edging the Purple Aces by a final of 81-79. In the January 26 meeting at the ARC, its was the Aces who staged the rally. Trailing by as many as 18 points, UE fought back before dropping a close 67-65 decision.
Tickets remain available for the entire tournament. Fans can purchase their tournament packages at the Carson Center Ticket Office on the UE campus or by calling 812-488-ACES. These can be purchased in the ticket office Monday morning through 5 p.m. on Wednesday. If you are heading to St. Louis and look to purchase tickets on Thursday any time prior to the 8:35 p.m. tip, you can do so by emailing UE Assistant AD for Ticketing and Game Operations Jake Hill at jh690@evansville.edu.
Aces Complete Series Sweep with Thrilling Victory
Wrapping-up its first home weekend, the University of Evansville baseball team secured a series sweep of Butler with a 4-3 victory on Sunday afternoon at Bosse Field.
"It was great to come back home and play well and play good baseball," said Aces head baseball coach Wes Carroll. "For us to get a sweep against a good quality Butler team that was coming in 6-0 is a great turning point for our club early in the season."
With the win, Evansville moved to 3-8 on the season, while the Bulldogs dropped to 6-3.
Senior David Ellis captured the win on the mound for Evansville, holding the Bulldogs without a run and recording the last two outs in the top of the ninth inning.
After the lead fell into the hands of the Bulldogs for the first time this weekend in the ninth inning, it was a nearly flawless bottom of the ninth for the Aces that earned the sweep for Evansville.
In the bottom of the ninth, senior Troy Beilsmith took his base to begin the inning after being hit by a pitch. Following three wild pitches in the next at-bat, Beilsmith scored the game-tying run while freshman Brent Widder earned first with a walk. Pinch hitting, sophomore Danny Borgstrom was also walked putting runners on first and second with no outs.
Senior Craig Shepherd dribbled the ball to the shortstop, who threw Borgstrom out at second, but set up runners on the corners for Evansville. After Shepherd took second on a wild pitch, Wilkes came through, ripping a shot through the left side that scored Widder and earned a 4-3 walk-off win for the Aces.
""(This win) was huge. It was absolutely huge," said Wilkes. "To bounce back like that, I'm really proud of these guys. We're going to take it into next week and the weekend, too, and I think we've got a good thing going here."
Evansville is back on the road this week with a midweek contest against UT Martin on Tuesday at 6 PM in Martin, Tenn.
Gray's Career Day Earns Series Win for Aces
After an impressive pitching performance on Friday, the University of Evansville baseball team again got a gem from its starter in a 4-1 victory over Butler at Bosse Field on Saturday afternoon.
"What electric stuff tonight from Shane Gray. Just his fastball all night, both sides of the plate, up, down," said Aces head baseball coach Wes Carroll. "I thought him and Max were in sync the entire game and he was able to get a swing and miss whenever he needed to late in the count and it was a special overall performance for our sophomore and a much-needed series win. Just an overall great performance from out club."
Sophomore Shane Gray took a no-hitter through 6.2 innings, finishing with seven Ks in seven innings and allowing just two hits and one run in his outing.
Gray got the Aces going in the top of the first, inducing a fly-out to left field and back-to-back groundouts to end the Butler half of the first. Evansville took the lead in the bottom of the first as senior Craig Shepherd smashed a single up the middle and junior Robbie Wilkes followed suit with a base hit to left field. Two batters later, sophomore Indiana Stanley cracked a single through the left side, scoring Shepherd and Wilkes to give Evansville a 2-0 lead.
It was Gray again who sat the Bulldogs down in order, this time including a strikeout to end the inning. In the bottom of the second, the Aces repeated their effort from the first, scoring twice more as senior Troy Beilsmith led off the inning by taking first base after being hit by a pitch. Freshman Max Malley joined Beilsmith on base and the two stole second and third, respectively. With runners in scoring position, Shepherd delivered a two-RBI single up the middle to push the Aces lead to 4-0.
The Aces looked to strike for more runs in the third inning as junior Mark Shallenberger ripped a double down the line and junior Mason Brinkley singled to third with one out. After a wild pitch moved Brinkley to second, Butler ended the Aces threat with two strikeouts to end the inning.
The middle innings were quiet for both teams as neither side registered a hit from the fourth through the sixth inning. Butler got its first and only tally in the top of the seventh inning as a pair of hits got the Bulldogs within three runs at 4-1.
Coming on in relief, freshman Jace Kressin got the job done for the Aces, shutting down the Bulldogs, with two spotless innings, including three strikeouts.
Riley Leads Aces in Senior Day Game
University of Evansville senior K.J. Riley shined in his final home game as a member of the Purple Aces men's basketball team, scoring 18 points in a 71-60 loss to Illinois State on Saturday inside the Ford Center.
Riley hit 10 of his 12 free throw attempts and also led the Aces (9-22, 0-18 MVC) with eight rebounds and four assists. Evan Kuhlman and Sam Cunliffe registered 10 points apiece with each hitting a pair of 3-pointers.
"In these games, there are three or four possessions that make the difference, you never know which ones they will be. That is why you have to play every possession and that is demanding," Aces head coach Todd Lickliter said. "Our team has the confidence that we can play with any team in this league and we are excited to head to St. Louis to make a run."
During his postgame press conference, Lickliter took time to recognize K.J. Riley and his contributions to the program on and off the court.
"K.J. has made coaching really enjoyable for me. He is going to do everything you need as a coach and is going to be successful doing whatever he wants in his life," Lickliter exclaimed. "K.J. has an open invitation to come back whenever he wants; he will always be part of this program and is an Ace forever."
UE finished the game shooting 32.8% overall and 30.3% from long range. Illinois state (10-20, 5-13 MVC) shot 46.4%. The Aces defense forced 15 turnovers and turned those into 18 points.
It was a defensive showdown in the opening moments. After Evansville scored the opening bucket, Illinois State knocked down a pair of threes to take a 6-2 lead. Sam Cunliffe registered two assists on baskets by Evan Kuhlman and Noah Frederking to put UE back on top, 7-6. The Redbirds reassumed the lead, scoring eight of the next 11 to go up 14-10. Sam Cunliffe ended the stretch with a triple, but Illinois State kept rolling.
ISU hit four out of five field goals in a 7-0 run to take a 21-13 lead near the halfway point of the opening 20 minutes. After UE reeled off the next four, ISU had another big run, adding 10 in a row to go up by a 31-17 score with five minutes left in the half. During the run, the Redbirds hit eight of their nine field goal tries.
Facing their largest deficit, the Aces rallied in the final moments of the half. Four points both from Cunliffe and Noah Frederking was the start of a 10-0 stretch. K.J. Riley added the last two points, knocking down two free throws following a technical foul issued on Illinois State. ISU added a late triple, but UE's rally saw them head to the break trailing by seven – 34-27.
The first bucket of the second half saw ISU hit the first shot to push the lead back to nine before UE fought back. Over the first 10 minutes of the half, Evansville stayed within two possessions before the senior from the Bronx converted a 4-point play. With 9:07 on the clock, K.J. Riley made it a 46-45 game in favor of ISU before Jawaun Newton continued the run a minute later.
Newton drained a triple on the feed from Frederking to put the Aces on top at 48-46. Illinois State countered with four in a row to retake the lead before a John Hall layup knotted the score at 50-50 with game nearing the six-minute mark.
Over the final moments, the Redbirds put the game away as they finished the game on a 21-11 run to finish with the 71-60 victory.
Leading ISU was D.J. Horne, who posted 24 points. He was 8-for-16 from the field and hit all eight free throws. Horne and Matt Chastain finished with seven rebounds apiece.
Arch Madness is next for the Aces. UE heads to St. Louis as the #10 seed for the sixth time in program history. Evansville opens the tournament on Thursday evening at 8:35 p.m. against the #7 seed. The final standings and seeds will be determined following Saturday's league games.
Haley Woolf Hits Three Home runs in Saturday Action
Purple Aces sophomore Haley Woolf hit three home runs in Saturday's opener to highlight a 12-3 victory over Northern Illinois at the Blues City Classic. The University of Evansville fell in its second game of the day by a 13-3 final versus Northwestern State.
"Our bats were hot today. We had a great week of practice working on some adjustments offensively," UE head coach Mat Mundell said. "I thought that work really paid off. Even our outs are well hit."
The bats came alive in Saturday's opener with the Purple Aces earning a 12-3 win over Northern Illinois in six innings. UE wasted little time in getting on the board, scoring four times in the bottom of the first. Eryn Gould singled with one out to bring home Jessica Fehr for the first run of the frame. Fehr led the game off with a walk and stole second.
After Alyssa Barela reached on a fielder's choice, Haley Woolf hit a home run to right-center to extend the lead to 4-0. Katie McLean continued the scoring with a solo home run in the second. Northern Illinois plated a single run in the second before scoring twice in the third to get within two runs, but the Aces kept the bats going.
Lindsay Renneisen hit an RBI double in the third to score Kat Mueller before the offense erupted for four runs in the fifth and two more in the sixth. Barela led off with a single and was pinch run for by Mackenzie McFeron. She would score on Woolf's second long ball of the game. Mueller followed up with a single before Renneisen hit the fourth homer of the game for UE, pushing the lead to 10-3.
Haley Woolf put the finishing touches on her career game, hitting her third ball out of the park to help UE clinch the 12-3 win. Woolf was 3-4 with her three homers, seven RBI and three runs scored. Barela and Renneisen each had two hits. In the circle, Emily Lockhart earned the win, pitching three innings while allowing three earned runs. Erin Kleffman picked up the save, tossing the final three frames. Her scoreless effort saw her give up two hits while striking out three.
A quick turnaround saw UE face Northwestern State directly after the first contest. The Lady Demons scored five runs in the second and two in the third on their way to a 13-3 win in six frames. Kat Marshall and Kaitlyn St. Clair notched three RBI apiece.
Evansville added its first run in the second when Hannah Hood scored on a wild pitch. Eryn Gould was responsible for UE's second run, hitting a solo shot in the third. The final run also came from the bat of Gould. Her 1-out double scored Fehr, who doubled to lead off the inning. NSU clinched the game with five scores in the sixth on their way to the 13-3 win.
Gould had two of UE's five hits to go along with two RBI. Gould, Fehr and Hood recorded the runs. Izzy Vetter made the start, allowing seven runs, six earned, in 2 1/3 frames. Erin Kleffman tossed three innings and allowed six runs while Jaime Nurrenbern threw the final 2/3 of an inning. She held NSU scoreless.
Croner Hurls Gem in Aces Victory Over Butler
In its first game in Evansville this season, the University of Evansville baseball team secured an 8-3 victory over Butler at Bosse Field on Friday afternoon.
"Really proud of Nathan Croner's start. He really competed," said Aces head baseball coach Wes Carroll. "Obviously, from an offensive standpoint, we were aggressive with the barrel today and got 16 hits and put ourselves in a good position in winning time to win the ball game. Its great to get our first win and to get a crooked number in the win column is always a good thing to build off of."
Senior Nathan Croner's impressive outing began fast in the top of the first inning, as Croner retired the side and struck-out a pair. In the Aces half of the first, senior Craig Shepherd opened the inning with a base hit to center field. Two batters later, junior Tanner Craig singled up the middle, scoring Shepherd to give Evansville a 1-0 lead.
Croner faced the minimum in the second inning, striking out two more to tame the Bulldogs. Evansville's offense continued to roll, scoring two more runs as Shepherd and Wilkes each tallied an RBI single.
Evansville added two more runs with one in the fifth and one in the sixth as the Aces lead grew to 5-1 heading into the sixth.
The two sides each scored a run in the seventh as Evansville's advantage sat at four runs through seven innings. After Butler got back within three runs with a run in the top of the eighth, it was again the Aces turn to answer.
The Aces got back-to-back hits to open the bottom of the eighth, but then saw two-straight batters go down via strike-out. With runners on the corners, Mason Brinkley earned a walk, loading the bases. Following Brinkley's walk, Troy Beilsmith earned a walk, pushing a run across and giving Evansville an 8-3 lead.
Evansville ended the game in style in the top of ninth as David Ellis induced a fly out to open the inning. After walking a batter, Ellis forced a double play, earning Evansville's first win of the season.

Fehr and Gould Homer in Win Over North Alabama
With the score knotted at 4-4 heading into the sixth inning, Jessica Fehr and Eryn Gould hit solo home runs in the final two innings to lift the University of Evansville softball team to a 6-4 victory over North Alabama in Friday's opener of the Blues City Classic.
Fehr finished the game with two hits, two runs and two RBI for UE (7-7) while Gould picked up two hits on the day. Kat Mueller added two hits of her own while Alyssa Barela led the team with three RBI.
North Alabama led the game off with a pair of runs in the bottom half of the first. Evansville responded with four runs in the second, all coming with two outs. After the first two batters were retired via strikeouts, Katie McLean reached on a single before Lindsay Renneisen reached on a walk. Mueller added the second single of the frame to load the bases up for Jessica Fehr, who was hit by a pitch to bring in the first UE run.
That brought Barela to the plate, who hit a bases-clearing single to give the Aces a 4-2 advantage. The Lions knotted the score with two more scores in the bottom of the second.
The score would remain knotted at 4-4 until UE batted in the sixth and used some more 2-out magic. With the first two batters striking out, Fehr came to the plate and hit a solo home run to put the Aces on top. Eryn Gould added some insurance in the seventh, hitting a leadoff home run to extend the advantage to 6-4.
Pitching three innings of relief, Izzy Vetter shut the door on UNA in the final innings to clinch the win. Vetter struck out five batters and gave up just one hit in her three frames of work to earn her third win of the season. Starter Emily Lockhart tossed four innings and allowed four unearned runs.
Tomorrow, UE will be back on the diamond to face Northern Illinois in a 9 a.m. game before tangling with Northwestern State at 11:30 a.m.
Contribute to AceNotes
To have content considered for inclusion in AceNotes, please submit a Marketing Request Form. Deadline for submission to AceNotes is 10:00 a.m. on the requested date of publication. Only articles concerning UE related/sponsored activities will be accepted. Articles submitted to AceNotes may be edited for length and clarity. Submitter contact information is at the end of each article.