| | |
| --- | --- |
| AceNotes Today | Thursday, February 27, 2020 |
2019 1095-C's Processed
1095-C forms have been processed for benefit eligible employees. If you have provided consent for electronic 1095-C's, you can view/print your 1095-C for your records now.
Simply log into Self-Service, and go to "Tax Information".
Click the option "1095-C Information" and then click on "2019 1095-C Statement".
1095-C's have been mailed for those employees who did not provide their electronic consent.
If you have any questions, please contact Dawn Bury at ext. 2159 or db287@evansville.edu.
UE to Host Post-show Discussion on Race and Representation in the Arts Following the Performance of Musical VIOLET
• The musical VIOLET begins tonight at 7:30 p.m in UE's Shanklin Theatre.
• Post-show discussion begins after the show at approximately 9:15 p.m. in Shanklin Theater.
The Tony-nominated musical VIOLET is the story of a devout young woman who embarks upon a cross-country quest in hopes of finding a miracle to heal her facial disfigurement. Set against the backdrop of America's Civil Rights Act of 1964, Violet's reflections on her own childhood are intertwined with the invaluable lessons she learns from those she meets along the way on her life-changing pilgrimage. This heart-stirring musical soars with emotion and features a lively score heavily flavored with country, gospel, blues, and honky-tonk rock.
Dr. Rob Shelby, UE's Chief Diversity Officer, will moderate discussions on the topic of "Race and Representation in the Arts" after the show concludes. The post-show discussion is open to the public, and a ticket to that evening's performance is not required for admission.
Final Health Risk Assessment Event
For those enrolled in the university's HSA Medical Plan and have not completed a Health Risk Assessment for this benefit year, please schedule your HRA today! The deadline is March 31st!
March 11th 7:30-10:30AM - Held in the Employee Health Clinic
Those who do not complete this screening will be subject to an increase in your medical premiums for the 2020-2021 benefit year.
To Schedule please click the link below.
1. https://booknow.appointment-plus.com/b1zkk4c6/
2. Select Wellness Screening/HRA
3. Select University of Evansville
3. Scroll and Click on March 11th
4. Select your desired appointment time
5. Enter in your personal information
Please remember an 8-10 hr. fast is required for this appointment. Water and black coffee are allowed during your fasting period. Please take all maintenance medications as long as they are not required to be taken with food. Please email ac375@evansville.edu with questions.
Ashley Chipps
ac375@evansville.edu
Federal Loan Repayment Counseling Session Required for Students Graduating or Transferring
Students who have used Federal Direct (subsidized/unsubsidized) Loans or the Grad PLUS Loan and plan to graduate in the spring or summer (or transfer after the spring semester) are required to attend a Loan Repayment Counseling Session. The Office of Student Financial Services will hold the first session of the semester on Mon., 3/2 @ 6:00 pm in Eykamp 252. Additional sessions will be held on 4/30 @ 2:00 pm and 5/8 @ 11:30 am.
Amy Sowders
as560@evansville.edu
Veterans Affairs Open House
The Student Veterans Organization will host an open house on Monday, March 2, 2020, from 11-3 pm at the Major General Verna Fairchild Lounge located on the 4th floor of the Bower-Suhrheinrich Library. Question: Contact Tracey Folden at tf91@evansville.edu.
Tracey Folden
tf91@evansville.edu
Hiring Summer Counselors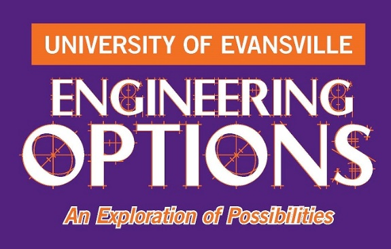 WHAT is OPTIONS?
• Every summer UE offers camps that introduce middle school boys and girls and high school girls to disciplines within engineering and computer science via hands-on activities and field trips.
WHO can be a counselor?
• Current College of Engineering and Computer Science students (or other STEM majors) who want to participate in an outreach program that supports diversity in STEM, allows you to demonstrate your motivation to hold a leadership position, and encourages people to explore STEM (science, technology, engineering, and mathematics) fields.
WHEN and WHERE are the camps?
• High School Girls - June 14-19 (residential camp) • Middle School Girls - June 21-24 (residential camp) • Middle School Boys - June 22-26 (day camp) • All camps are held on the UE campus
Other Information
• The counselor position is a paid position for all camps. • All counselors will be helping lead various activities, assisting faculty-led workshops, and inspiring young people. • The residential camps for girls will include room and board during the duration of the camp. Counselors will be staying in a dorm with the campers.
HOW to apply?
• If you are interested in being a counselor, please apply in person in Koch Center 250 or email kh209@evansville.edu by no later than FEB. 28. Interviews and selections will take place before Spring Break.
For more information about the camps, go to: https://www.evansville.edu/options/
Kimberly Higgins
kh209@evansville.edu
Building Resilience Lecture
Please join us for an exclusive presentation designed for university and college students featuring National Resiliency expert Dr. Ken Ginsburg. Dr. Ginsburg is known around the world for his work on fostering resilience in young people by building on their strengths. Dr. Ginsburg's presentation will help you look differently at your profession as you learn about stress and trauma. You will leave with the knowledge and skills you need to nurture strength in others and in yourself.
What: Why Resilience Matters in Your World: A Strengths-Informed Approach to Medicine and Youth Development
Where: University of Evansville, Ridgway University Center, Eykamp Hall
When: March 3, 2020
Time: 8:00-9:30
Who: Open to All Students, Pre-Professionals, and Faculty from IU, Ivy Tech, UE, and USI
Details: Free Admission and Free Parking on UE's Campus
Can't make it to this event? You have other opportunities to hear Dr. Ginburg. For more information on those, or more information on Dr. Ginsburg, please visit http://resilientevansville.org/
Sharon Selby
ss299@evansville.edu
Crafting for the Kids
Come learn more about Phi Mu while crafting for children at Riley Children's Hospital! We will be in Grabil Lounge (the basement of Neu Chapel) on February 29, 2-4 pm. If you have any questions please contact Jasmine Jones (jj206) or Hannah Fife (hf56)
Olivia Ault
oa41@evansville.edu
RecyceMania and Recycling at UE
UE is once again participating in RecycleMania, a recycling tournament for universities. The tournament runs from February through the end of March.
At UE, the following items can be placed in an appropriate recycling bin:
• Empty aluminum and steel cans
• Empty plastic containers and drink bottles
• Paper products such as newspapers, office paper, magazines and empty cereal boxes
• Note: Please place books and used toner cartridges and cardboard next to the recycle bins
Please do NOT put the following items in UE's recycling bins:
• Glass
• Pizza boxes – these can contain food or grease
• Trash such as leftover food and candy wrappers
• Styrofoam
• Full or partially full plastic or aluminum drink containers
• Plastic bags or bubble wrap
• Used tissues and paper towels
To find out where to drop off recyclables at UE, why it's important to recycle and more, check out the UE Recycling Guide at https://www.evansville.edu/residencelife/services/greenGuide.cfm. Call 2697 or email ae152@evansville.edu with questions.
Amber Elkins
ae152@evansville.edu
Entrepreneurship Club Game Night
Join the Entrepreneurship Club on Thursday, February 27th for GAME NIGHT! Get to know your fellow club members and invite a friend to help grow the club! Some games will be provided, but if you have a favorite bring it along. Pizza, drinks and dessert will all be covered.
When: February 27th at 5:00 pm
Where: SOBA Room 173
All students are invited to attend, including new club participants.
Please RSVP to Rebecca Oates at ro32@evansville.edu.
Rebecca Oates
ro32@evansvill.edu
UE Theatre Presents VIOLET
The University of Evansville opens the 2020 semester with the Tony-nominated musical VIOLET, lyrics and book by Brian Crawley, and music by Jeanine Tesori. Based on Doris Betts' short story THE UGLIEST PILGRIM, it is the story of a young, disfigured woman who journeys on a bus from her farm in North Carolina, to Tulsa, Oklahoma, in order to be healed. This production opens Friday, Feb. 21, at 7:30 p.m., in Shanklin Theatre. Additional performances are at 7:30 p.m., on Feb. 22, 27, 28, 29 and at 2:00 p.m. on Feb. 23, and Mar. 1.
Resident Director Wes Grantom directs VIOLET. Austin C. Kuhn, a senior from Evansville, Ind., serves as the scenic designer; Hannah Mattingly, a senior from Shelbyville, Ky., serves as the costume designer; Nicholas McCulloch, a junior from Seattle, Wash., serves as the lighting designer; Guest Artist Richard Ingraham serves as the sound designer; Brock McCullough, a senior from Omaha, Neb., serves as the dramaturg; Megan Sizemore, a junior from Cypress, Texas, serves as the stage manager, and Professor Chuck Meacham serves as the technical director.
The cast features first-year Elizabeth Dye from Frisco, Texas, as Violet; first-year David Akinwande from Houston, Texas, as Flick; junior Ethan Davenport from Minneapolis, Minn., as Monty; junior Jack Russell from Montgomery, Texas, as Father; junior Cole Lannert from Evansville, Ind., as Preacher; first-year Allie Forte from New Albany, Ind., as Ameta/Lula; guest actor Colleen Meacham, age 14, from Evansville, Ind., as Young Violet; junior Hannah Stevens, from Arlington, Texas, as Old Lady; junior Amanda Cowan from Mansfield, Texas, as Music Hall Singer; first-year Gabriel Smothers from Casper, Wyo., as Billy Dean; first-year Jimmy Guest from Bettendorf, Iowa, as Leroy Evans; junior Theodore J. Esten from Cedarburg, Wis., as Radio Singer; sophomore Kayleigh Doyle from McKinney, Texas, as Hotel Singer. The ensemble includes sophomore Claire Himstedt from St. Louis, Mo.; first-years Jake Conrad from Olympia, Wash.; Marie Reilly from Spring Hill, Fla.; Amelia Overholt from Fort Collins, Colo.; Brevan Crawford from Houston, Texas; and Nathan Viscaino from Redmond, Ore.
The UE Theatre Society hosts a Pre-Play Chat 30 minutes prior to the show on Saturday, Feb. 22 and Thursday, Feb. 27. All are welcome to attend the presentation and discussion with a student designer about their process on the production. Ticket prices for VIOLET are $20 for adults and $18 for senior adults, students, and UE faculty and staff. UE students may obtain one free student rush ticket beginning at 12 noon on the day of the performance they wish to attend. Tickets may be purchased by calling (812) 488–2031, Monday through Friday, 12 noon to 5 p.m.
SigEp-A-Popstar
SigEp-A-Popstar is Sigma Phi Epsilon's Spring Philanthropy which benefits the organization Big Brothers Big Sisters. This year, it will take place on February 28th at 6:30 PM. Come join us for a night of fun and laughter! Please sign your team up or buy tickets at our table in Ridgeway.
Jack Patmore
jp330@evansville.edu
Andiron Lecture March 4, 2020 by Roberta Heiman (Votes for Women - and Then What)
Roberta Heiman's career in journalism spanned 42 years, most of it in Evansville. Her work as an investigative reporter won state and national awards for shedding light on community issues as varied as air pollution and jail overcrowding, the failed child welfare system and medical malpractice. In retirement she has tackled another issue – the fact that women's contributions to our community have been left out of local history books, which of course, were written by men. She was instrumental in creating "Herstory," a play about women in 20th Century Evansville, and she has written extensively about Albion Fellows Bacon, Dr. Stella Boyd and other local heroines in history (including women in UE's history.) In addition, she resurrected the Southwestern Indiana League of Women Voters, which had disbanded in the 1990s, and she was among the founders of Women Stepping Up, which encourages and helps prepare women to seek elective office and be active civically. In 2013 she was a recipient of the Torchbearer Award by the Indiana Commission for Women. She attended Purdue University.
Much has been written about the beginning and end of the women's suffrage movement – the historic Seneca Falls convention in 1848 and the dramatic ratification of the 19th Amendment in 1920. But we know little about the seven decades in between, when the battle for the right to vote was fought by women across the country, in hometowns like Evansville and Newburgh where the idea was radical, indeed. Who were the local suffragists? What did they do, and how did the community respond? Local history books make almost no mention of them. To find the answers, retired journalist Roberta Heiman searched through 150 years of Evansville newspapers to uncover the story in time for 2020, the 100th anniversary of "the biggest expansion of democracy in United States history."

The lecture begins at 4:00 p.m.
Wednesday, March 4, 2020
Eykamp Hall (Room 252), Ridgway University Center
A social gathering with beverages begins at 3:45 p.m.
For further information, call Annette Parks at 812-488-1070
or the William L. Ridgway College of Arts and Sciences at 812-488-2589
Free HIV testing by Matthew 25
Free, confidential HIV testing performed by Matthew 25 at the UE Student Health Center on Tuesday, March 3rd from 9-11am. No appointment necessary!
Tara Ulrich
tu19@evansville.edu
Entrepreneurship Club Game Night Changed to March 2nd
Join the Entrepreneurship Club on Monday, March 2nd for GAME NIGHT! Get to know your fellow club members and invite a friend to help grow the club!
Some games will be provided, but if you have a favorite bring it along. Pizza, drinks and dessert will all be covered.
When: March 2nd at 5:00 pm
Where: SOBA Room 250
Please RSVP to Rebecca Oates at ro32@evansville.edu.
Club is open to all majors.

Rebecca Oates
ro32@evansville.edu
This Week in Religious Life
Theological Thursdays
On Thursday at 5:30PM, meet at Honeymoon Cafe to discuss big philosophical and ethical questions. The first seven students to arrive will receive a free coffee or tea.
Ashes to Go
In honor of Ash Wednesday, ashes will be offered by the Office of Religious Life on the first floor of Ridgeway, 4-5PM.
Sunday Worship
Join us on Sundays, 7:30PM, in Neu Chapel for a time of prayer, singing, and meditation. Dress is casual. All are welcome.
JillAnn Knonenborg
jk383@evansville.edu
Medical Spanish Practice
Medical Spanish practice is designed to help students practice communication skills in Spanish for medical settings. Students may arrive and leave at any time. The next session is Sunday, March 1st from 4:30-6:00 p.m. in Room 64 in the Schroeder School of Business Building. Please contact associate professor of Spanish Diana Rodríguez Quevedo at dr130@evansville.edu for more details. ¡Nos vemos el domingo!
Diana Rodriguez Quevedo
dr130@evansville.edu
Plisky Presents Research at APTA Meeting
Dr. Phil Plisky, associate professor and sports residency program director, gave two research presentations this month at the 2020 APTA Combined Sections meeting in Denver. The presentations included the extensive research that Dr. Kyle Kiesel and he have conducted in a multi-year, prospective injury prediction study with the military. Dr. Plisky presented the findings that 44% of soldiers who returned to full duty have pain with the simple top tier movement patterns of the SFMA and 70% of the soldiers had 5 or more risk factors for future injury (making them 2-10 times at greater risk of injury). The clinical bottom line is that physical therapists need to not only treat the condition, but check and attempt to correct other musculoskeletal risk factors regardless if they relate to the original injury.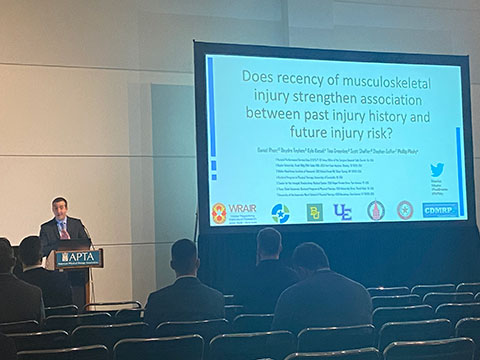 Jennifer Simon
js698@evansville.edu
IM Inner Tube Bball Registration Deadline
Registration for Intramural Inner Tube Basketball closes this Thursday, 2/27 at 2pm. All equipment will be provided, all skill levels welcome. Make sure to get your teams signed up before the deadline so you can participate and compete to win a Champion's shirt!
Drew Hawkins
ah519@evansville.edu
IM Floor Hockey Registration Deadline
Registration for Intramural Floor Hockey closes this Thursday, 2/27 at 2pm. All equipment will be provided, all skill levels welcome. Make sure to get your teams signed up before the deadline so you can participate and compete to win a Champion's shirt!
Drew Hawkins
ah519@evansville.edu
NATE and Tower Family Foundation Announce the 2020 Recipient of the Ernie Jones Memorial Civil Engineering Scholarship
University of Evansville Civil Engineering Scholarship is Funded Annually by NATE; Honors Jones' Legacy as a Structural Engineer, Industry Icon
(Raleigh, North Carolina) - NATE: The Communications Infrastructure Contractors Association and Tower Family Foundation today jointly announced that Elijah Sullivan, a junior civil engineering student from Evansville, Indiana has been named as the 2020 recipient of the Ernie Jones Memorial Civil Engineering Scholarship at the University of Evansville in Evansville, Indiana. The official announcement was made at the NATE Awards & Sponsor Recognition Luncheon on Wednesday, February 19 during the annual NATE UNITE 2020 Conference in Raleigh, North Carolina.
Elijah is at the top of his class academically but especially excels in his major courses related to construction and UE's structural analysis and design sequences. In addition to his civil engineering major, Elijah is now pursuing minors in both Mathematics and Engineering Management with an anticipated graduation date of May 2021. Ever curious about the way things work, Elijah has participated in the University of Evansville's steel bridge project, and has been involved with the Aces Concrete Canoe team since his sophomore year. Most recently, he interned with the Indiana Department of Transportation's (INDOT) bridge inspection unit in the summer of 2019. For the summer of 2020, Elijah is actively seeking to obtain a structural design internship.
"Elijah is a dedicated student who demonstrates an eagerness to learn as much as possible about structural design and construction," stated Dr. James Allen, Associate Professor of Civil Engineering at the University of Evansville. "In my structural analysis and design classes I can always count on Elijah to ask insightful questions that lead to an increased understanding by not only himself, but also his classmates. He has a unique ability to frame his questions in a way that leads to deeper discussions of practical design and construction issues. We think this diligence and continuous pursuit for deeper understanding of the behavior of his designs embodies the spirit of Ernie Jones as the recipient of his named memorial scholarship," added Dr. Allen.
Ernie Jones was a structural engineer who worked in the broadcast tower industry for 30 years. During his career, Mr. Jones served as a Professional Engineer and President of Consolidated Engineering, Inc. and as Vice-President of Structural Engineering at Electronics Research, Inc. Ernie was also a participating member of the TR-14.7 Committee of the Telecommunications Industry Association and Electronics Industry Association since 1986 where he assisted with writing and approving the ANSI-TIA/EIA 222 Standard which is the American National Standard for Steel Antenna Towers and Antenna Supporting Structures.
The Ernie Jones Memorial Civil Engineering Scholarship awards a $2,500 NATE-funded scholarship annually to a junior or senior level civil engineering student at the University of Evansville's College of Engineering and Computer Science.
For more information on NATE, visit www.natehome.com. Visit www.towerfamilyfoundation.org to learn more about the Tower Family Foundation.
Village Request Cards Available
Students interested in living in the Villages for 2020-21 should pick up Village request cards in the Office of Residence Life.
The Villages are reserved primarily for students with 60 plus credit hours. In order to apply to live in the Villages, each person in your group must have at least 44 credit hours on file with the University by the end of the Fall 2019 semester.
Village request cards are due back to the Office of Residence Life by 5:00 p.m., Friday, February 28.
More information on the housing assignments process can be found on the residence life section of the University website at www.evansville.edu/residencelife/whereWillYouLive.cfm.
Brian Russell Conner
bc32@evansville.edu
Catholic Mass
All are welcome! Join us for Catholic Mass this Sunday! Mass will be held in Neu Chapel at 1pm.
Kathryn Williams
kw354@evansville.edu
Championship Ballroom Dancer Teacher is Back
Thur. 2/27 Champion Ballroom Dancer Back! UE Ballroom is happy to bring back World Champion* ballroom dancer Jonah Schneider on Thursday, 2/27. He's in town for a performance and is once again available for private lessons prior to it.
Lessons are in 45 minute blocks, and the first lesson starts at 12:00pm, with the last one at 3:45pm. $85 a lesson and it can be a private lesson, or split with partners, spouses, significant others, friends or a group! Take advantage of this opportunity – no experience necessary! He teaches all levels and all styles.
To book a slot, text 812-449-1044. *2016 Top Latin Teacher, Fred Astaire World Championships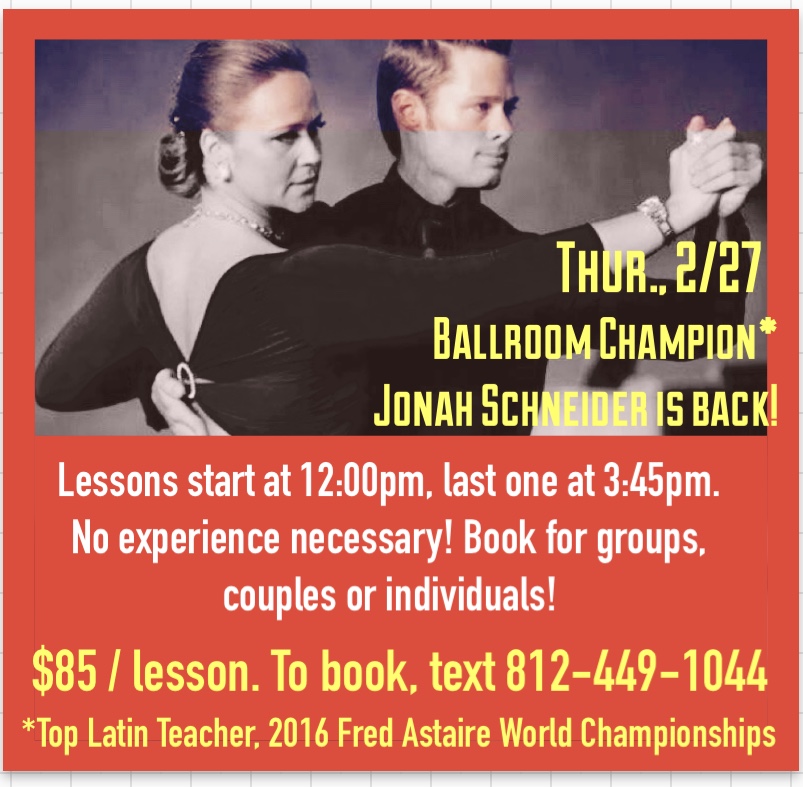 Erin Lewis
el131@evansville.edu
Village Housing Request Cards Available
Students interested in living in the Villages for 2020-21 should pick up Village request cards in the Office of Residence Life.
Students can apply to live in a single apartment or with up to 5 friends in the Villages. Village units consist of on-campus houses, apartments, Jones Hall apartments, and Townhouses. The Villages are reserved primarily for students with 60 plus credit hours. In order to apply to live in the Villages, each person in your group must have at least 44 credit hours on file with the University by the end of the Fall 2019 semester.
Village request cards are due back to the Office of Residence Life by 5:00 p.m., Friday, February 28.
More information on the housing assignments process can be found on the residence life section of the University website.
Brian Conner
bc32@evansville.edu


Need a passport?
Representatives from the US Postal Service will be on campus processing passports on Friday, February 28 from 11:00am to 2:00pm in the Eades Music Room (Room 153) in the School of Business building! If you bring all the required documents, you can get your passport photos taken and your passport processed at this event right here on campus. You can also bring your current passport to be renewed at this event.
Here is what you will need to bring to the event in order to get your passport processed:
Photo Identification: US drivers license, and if not from Indiana, a credit or debit card
Proof of Citizenship: Original or certified copy of long form birth or citizenship certificate
Passport Application: Available online at travel.state.gov, at the study abroad office, or at this event
Payments: Two checks, money orders, or cashiers checks:
$110 to the US Department of State
$35 to the USPS
Photos On Site: Passport photos can be taken during the event for an additional $15 to the USPS
All members of the UE community-faculty, staff, and students-are welcome to come to this event! Feel free to contact Kaylynn McCalister in the study abroad office at kc205@evansville.edu or 812-488-2039 for more information about the event or requirements.
Kaylynn McCalister
kc205@evansville.edu
Summer Sessions Payment Plan
Payment plans for summer session courses including Early Summer, Harlaxton Summer, Summer I, and Summer II are available now. Contact the cashiers in the Office of Student Financial Services (Olmsted rm. 105G) to set-up a payment plan. Payments can be arranged from the point of set-up to the due date of the session. There is no fee for the payment plan.
Students should contact the Office of Student Financial Services no later than Reading-Study Day, May 7, 2020 to determine if financial aid is available for their summer courses.
Submitted by Amy Sowders as560@evansville.edu.
Nikolidakis Wins Short Story Contest
Congratulations to Creative Writing's Dr. Nik... whose short story, "With Mercy to the Stars," took first place in the Lamar York Prize at The Chattahoochee Review.

Judge Anthony Varallo had this to say about the story: "A wonderful and surprising coming-of-age story about two Greek teenage girls, an unwanted pregnancy, and a dancing bear named Callisto. I was totally drawn in from the first page, happy to be in the company of a young narrator who is just starting to glimpse the limitations of the adulthood that awaits her, as confining as the cage that houses her father's prized bear. The story forces the narrator to make a choice that will have ramifications for her, her best friend, and her family—and fully initiate her into the world of choice and consequence. A powerful story that is a pleasure to read from the opening sentence to the harrowing last line."
Lisa Nikolidakis
ln43@evansville.edu

Annual Engineers Week Celebration and Awards
The College of Engineering and Computer Science held its annual celebration for Engineers Week at a reception in Eykamp Hall on February 19, 2020. Several engineering majors were announced as new inductees in the Tau Delta Kappa engineering honor society by Dr. Jared Fulcher, assistant professor of mechanical engineering. Other engineering students were recognized by the college and the Office of Development.
Linh Trinh, a junior computer engineering major received the Paul "PR" Brown Spirit Award. This award is presented annually to an engineering major who has been nominated by the faculty and has completed at least four semesters in good academic standing, who is an encouragement and help to his/her fellow students, and who demonstrates leadership in fostering cooperation and camaraderie among the engineering students.
Jesse Batronis, a junior mechanical engineering major received the James M. Hall, Jr. Memorial Award. This award is presented annually to a student of the junior engineering class who is considered by the faculty to be the most outstanding based on scholastic achievement, extra-curricular activities, character, responsibility, attitude, and potential for professional growth.
The Engineers Week Reception was hosted by the Dean's Advisory Council for the College of Engineering and Computer Science. The College is appreciative of generous donations supporting the banquet by Lead Sponsor ALCOA and Table Sponsors, Control Specialists, Inc., Embry Automation & Controls, IEEE, Lochmueller Group, PCI Skanska, and the UE Student Government Association.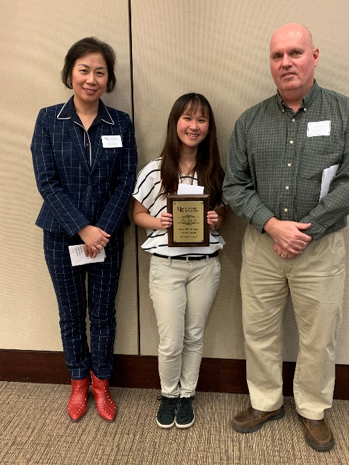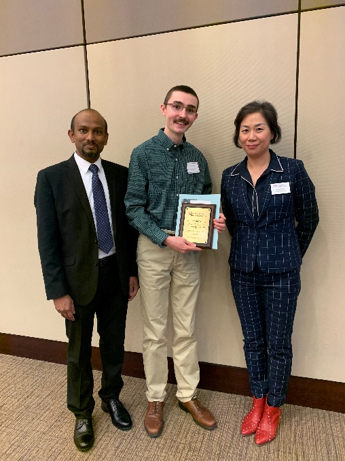 Newton Sets Career Scoring Mark at UNI
University of Evansville sophomore Jawaun Newton scored a career-high 13 points to lead the Purple Acers in an 84-64 loss to UNI on Wednesday inside the McLeod Center.
Newton hit six of his ten attempts on the night for UE (9-21, 0-17 MVC). Evan Kuhlman also recorded 13 points. He knocked down three triples. Sam Cunliffe chipped in nine points. Newton was the leading rebounder for Evansville, posting five caroms.
"I think that this group has been very in tune and have picked up things as easy as any group I have been around," Aces head coach Todd Lickliter said. "We have not been able to spend as much time on our own team when we are taking on the type of Valley teams we play in each game. UNI makes you pay for any mistakes you make; they are such a well-balanced team."
"They have a great balance, every time we clawed back into the game, they made a big play."
A 6-for-7 start saw UNI (24-5, 13-4 MVC) take an 14-8 lead five minutes into the contest. After missing their initial 3-pointer of the game, the Panthers hit two in a row. Evansville fought back with four in a row including a three-point play by Jawaun Newton. K.J. Riley led a comeback that saw Evansville tie the score at 19-19. His 3-pointer cut the deficit to one before a pair of free throws tied the game with just under 12 minutes left in the first half.
UNI countered with a 7-0 stretch while holding the Aces scoreless for over three minutes. Shamar Givance put UE back on the board with a layup. Trailing by nine with 6:11 on the clock, Evansville picked up back-to-back triples courtesy of Sam Cunliffe and Evan Kuhlman to get back within six at 37-31, but the Panthers controlled the remainder of the half.
A 9-2 run sent UNI to the half with a game-high 46-33 lead. They shot 64% in the first half while controlling the free throw line, hitting nine out of 11 tries. Newton paced the Aces with nine tallies in the opening half, hitting four of his five shots.
A basket on their initial possession of the second half pushed the Panther lead to 15 before DeAndre Williams got the Aces on the board with his first triple since his return from injury. His triple was part of a 13-4 run that got Evansville within two possessions at 52-46 with 15 minutes remaining. Kuhlman drained consecutive triples in the rally.
The hot-shooting Panther squad kept the pressure on, extending their lead back to double figures – 58-48 – at the 12-minute mark. What turned into a 10-0 run gave the Panthers their largest lead of 64-48 with the second half reaching its midway point. Two Givance free throws ended the run; Evansville missed six field goals in a row while turning it over once. UNI hit four out of five shots on the way to the 16-point lead.
Over the final moments, the Panthers led by as many as 23 points before wrapping up the evening with the 84-64 victory. AJ Green was one of five double figure scorers for UNI, scoring 21. Trae Berhow added 16. UNI had a 30-21 rebounding edge on the night while shooting 62.7%. UE shot 43.4%.
Senior Day is set for Saturday's regular season finale. UE welcomes Illinois State to the Ford Center for a 1 p.m. game with senior K.J. Riley being recognized at his final home contest.
Contribute to AceNotes
To have content considered for inclusion in AceNotes, please submit a Marketing Request Form. Deadline for submission to AceNotes is 10:00 a.m. on the requested date of publication. Only articles concerning UE related/sponsored activities will be accepted. Articles submitted to AceNotes may be edited for length and clarity. Submitter contact information is at the end of each article.