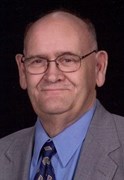 Dr. Jerry D. Kendall, 79, of Evansville, Indiana, passed away on Tuesday, February 18, 2020 at Evansville Protestant Home.
He was a graduate of Ben Davis High School and received his Bachelor's and Master's Degrees from Indiana State University. He taught in South Bend and Mishawaka before returning to do graduate work. After receiving his doctorate at Indiana University, he began teaching at the University of North Dakota and then moved back to Indiana to teach at the University of Evansville. Dr. Kendall taught physical and political geography, and climatology. He had an interest in tornadoes and his master's thesis was on the Palm Sunday tornadoes and his doctoral thesis was on Washburn University (Topeka, Kansas) where a tornado destroyed the campus.
Before retiring in 2002, he taught at Harlaxton, England. Dr. Kendall had a love of traveling all over the world (Russia, Africa, Spain, Middle East, Greece, and Egypt to name a few). Jerry and his wife Karen, especially enjoyed their trips to Australia and New Zealand. They both had a love for miniature schnauzers. After retirement, they spent some winter months in Florida. They both loved trout fishing in Bennet Springs, Missouri. And they enjoyed many trips to the Smokies. He was a member of the Methodist Temple, Red Brush, American Meteorology Association, and the NRA.
Jerry was preceded in death by his sister, Betty Kendall-Rheinhart.
He is survived by his wife of 57 years, Karen; sons, Jeffrey of Evansville and Andrew of Plainfield, Indiana; two granddaughters, Reese and Taylor; brother, Michael of New London, NC.
Funeral Services will be held at 11:00 a.m. on Friday, February 21, 2020 at Methodist Temple with Pastor Andy Payton officiating. Entombment will follow at Alexander Memorial Park. Friends may visit on Thursday from 3:00-7:00 p.m. at Alexander East Chapel and on Friday from 10:00 a.m. until service time at the church.
Memorial contributions may be made to the University of Evansville Scholarship Fund or the American Diabetes Association.
Condolences may be offered at www.AlexanderEastChapel.com.