| | |
| --- | --- |
| AceNotes Today | Friday, February 21, 2020 |
Happy 166th Birthday UE - Celebrate With Purple Cake Today
The University of Evansville celebrates its 166th birthday today, during Founders Day Weekend. The Student Alumni Ambassadors along with the Office of Alumni and Parent Relations invites campus to celebrate tonight with purple birthday cake. There will be cake, punch, games, and music. All are welcome to stop by. Students are encouraged to bring their road-trippers along to share in the festivities.
UE Purple Birthday Party
Friday, February 21
First Floor, Ridgway University Center
6:45 - 8:30 p.m.
UE was founded in 1854 by John Collins Moore as Moores Hill Male and Female Collegiate Institute. In 1917, the citizens of Evansville raised $500,000 in less than a month to move the college to Evansville, and Evansville College was born. UE's name officially changed to the University of Evansville in 1967. Today, we celebrate our continued mission to empower each student to think critically, act bravely, serve responsibly, and live meaningfully in a changing world.
Questions or comments? Contact Nichole Coffey at ns50@evansville.edu.
Nichole L Coffey
ns50@evansville.edu
Prepare for Weather Emergencies Ahead of the Storm
While the temperature today may not feel like it, spring is right around the corner. As the temperatures rise, so do the chances of severe weather. Please visit the Safety and Security section of the University of Evansville web page for information that will help keep you safe during a weather emergency. Be sure to click on the "Shelter Locations and Areas page" for a listing of safe spaces on campus.
Jason Cullum
jc647@evansville.edu
Final Health Risk Assessment Event
For those enrolled in the university's HSA Medical Plan and have not completed a Health Risk Assessment for this benefit year, please schedule your HRA today! The deadline is March 31st!
March 11th 7:30-10:30AM - Held in the Employee Health Clinic
Those who do not complete this screening will be subject to an increase in your medical premiums for the 2020-2021 benefit year.
To Schedule please click the link below.
1. https://booknow.appointment-plus.com/b1zkk4c6/
2. Select Wellness Screening/HRA
3. Select University of Evansville
3. Scroll and Click on March 11th
4. Select your desired appointment time
5. Enter in your personal information
Please remember an 8-10 hr. fast is required for this appointment. Water and black coffee are allowed during your fasting period. Please take all maintenance medications as long as they are not required to be taken with food. Please email ac375@evansville.edu with questions.
Ashley Chipps
ac375@evansville.edu
Federal Loan Repayment Counseling Session Required for Students Graduating or Transferring
Students who have used Federal Direct (subsidized/unsubsidized) Loans or the Grad PLUS Loan and plan to graduate in the spring or summer (or transfer after the spring semester) are required to attend a Loan Repayment Counseling Session. The Office of Student Financial Services will hold the first session of the semester on Mon., 3/2 @ 6:00 pm in Eykamp 252. Additional sessions will be held on 4/30 @ 2:00 pm and 5/8 @ 11:30 am.
Amy Sowders
as560@evansville.edu
RecyceMania and Recycling at UE
UE is once again participating in RecycleMania, a recycling tournament for universities. The tournament runs from February through the end of March.
At UE, the following items can be placed in an appropriate recycling bin:
• Empty aluminum and steel cans
• Empty plastic containers and drink bottles
• Paper products such as newspapers, office paper, magazines and empty cereal boxes
• Note: Please place books and used toner cartridges and cardboard next to the recycle bins
Please do NOT put the following items in UE's recycling bins:
• Glass
• Pizza boxes – these can contain food or grease
• Trash such as leftover food and candy wrappers
• Styrofoam
• Full or partially full plastic or aluminum drink containers
• Plastic bags or bubble wrap
• Used tissues and paper towels
To find out where to drop off recyclables at UE, why it's important to recycle and more, check out the UE Recycling Guide at https://www.evansville.edu/residencelife/services/greenGuide.cfm. Call 2697 or email ae152@evansville.edu with questions.
Amber Elkins
ae152@evansville.edu
Diversity Coffee Break Black History Month Event
Happy Black History Month everyone! Diversity Coffee Break will be doing a celebration at the Diversity House Monday, Feb. 24 from 3-4 to celebrate the last week of February. We encourage you to think of a memorable figure in Black History who you feel doesn't get enough recognition. We'll be playing Black History Month Jeopardy and having tea and coffee! After Jeopardy, we'll talk more about Black History Month, and why it's important to recognize historical Black figures. We hope to see you there!
If you would like to represent your group/org, please email hb119@evansville.edu for more info!

HarMonee Baltzell
hb119@evansville.edu
Entrepreneurship Club Game Night
Join the Entrepreneurship Club on Thursday, February 27th for GAME NIGHT! Get to know your fellow club members and invite a friend to help grow the club! Some games will be provided, but if you have a favorite bring it along. Pizza, drinks and dessert will all be covered.
When: February 27th at 5:00 pm
Where: SOBA Room 173
All students are invited to attend, including new club participants.
Please RSVP to Rebecca Oates at ro32@evansville.edu.
Rebecca Oates
ro32@evansvill.edu
Newman Club Events (February 24-March 1)
Newman Night
Come to our weekly Newman Night for dinner and discussion! Fr. Christian will be talking about Sin. Discussion starts at 5pm at Newman Center with a delicious dinner to follow!
Rosary Group
Come and pray the Rosary with us! Every Wednesday at noon in Library Room 208. No experience needed!
Small Group
Join or try out a small group this Wednesday or Thursday at Newman Center! Wednesdays are with Annie at 7pm discussing the topic of Cultivating Fruits of the Spirit. Thursdays are with Michaela and Lesley at 8:30pm discussing How To Build Your Spiritual Armor.
Men's Group
Join or try out the Men's Group! Wednesdays at 7pm at Newman Center.
Ash Wednesday
There will be an Ash Wednesday mass offered on February 26 in Neu Chapel at 5pm. Following mass, there will be dinner in Grabil Lounge (basement of Neu Chapel). Join us so you too can get a nice ash!
Catholic Mass
All are welcome! Join us for Catholic Mass this Sunday! Mass will be held in Neu Chapel at 1pm.
Spiritual Pilgrimage
The Harlaxton Office is offering a unique spiritual pilgrimage to England and Rome. This summer, you can journey to England and Rome, following in the footsteps of St. John Henry Newman. Author of 'The Idea of the University' and numerous other spiritual classics, this recently canonized Catholic saint has a lot to teach us about conversion, forgiveness, friendship, the modern world, faith and reason and MORE! Students will read about these topics, with the potential to earn a 3hr credit while traveling. Dates are May 30-June 7th. Email Kaiylnn McCallister (kc205) for more information on travel or Jenny Koch (je46) for information on the class.
Kathryn Williams
kw354@evansville.edu
UE Theatre Presents VIOLET
The University of Evansville opens the 2020 semester with the Tony-nominated musical VIOLET, lyrics and book by Brian Crawley, and music by Jeanine Tesori. Based on Doris Betts' short story THE UGLIEST PILGRIM, it is the story of a young, disfigured woman who journeys on a bus from her farm in North Carolina, to Tulsa, Oklahoma, in order to be healed. This production opens Friday, Feb. 21, at 7:30 p.m., in Shanklin Theatre. Additional performances are at 7:30 p.m., on Feb. 22, 27, 28, 29 and at 2:00 p.m. on Feb. 23, and Mar. 1.
Resident Director Wes Grantom directs VIOLET. Austin C. Kuhn, a senior from Evansville, Ind., serves as the scenic designer; Hannah Mattingly, a senior from Shelbyville, Ky., serves as the costume designer; Nicholas McCulloch, a junior from Seattle, Wash., serves as the lighting designer; Guest Artist Richard Ingraham serves as the sound designer; Brock McCullough, a senior from Omaha, Neb., serves as the dramaturg; Megan Sizemore, a junior from Cypress, Texas, serves as the stage manager, and Professor Chuck Meacham serves as the technical director.
The cast features first-year Elizabeth Dye from Frisco, Texas, as Violet; first-year David Akinwande from Houston, Texas, as Flick; junior Ethan Davenport from Minneapolis, Minn., as Monty; junior Jack Russell from Montgomery, Texas, as Father; junior Cole Lannert from Evansville, Ind., as Preacher; first-year Allie Forte from New Albany, Ind., as Ameta/Lula; guest actor Colleen Meacham, age 14, from Evansville, Ind., as Young Violet; junior Hannah Stevens, from Arlington, Texas, as Old Lady; junior Amanda Cowan from Mansfield, Texas, as Music Hall Singer; first-year Gabriel Smothers from Casper, Wyo., as Billy Dean; first-year Jimmy Guest from Bettendorf, Iowa, as Leroy Evans; junior Theodore J. Esten from Cedarburg, Wis., as Radio Singer; sophomore Kayleigh Doyle from McKinney, Texas, as Hotel Singer. The ensemble includes sophomore Claire Himstedt from St. Louis, Mo.; first-years Jake Conrad from Olympia, Wash.; Marie Reilly from Spring Hill, Fla.; Amelia Overholt from Fort Collins, Colo.; Brevan Crawford from Houston, Texas; and Nathan Viscaino from Redmond, Ore.
The UE Theatre Society hosts a Pre-Play Chat 30 minutes prior to the show on Saturday, Feb. 22 and Thursday, Feb. 27. All are welcome to attend the presentation and discussion with a student designer about their process on the production. Ticket prices for VIOLET are $20 for adults and $18 for senior adults, students, and UE faculty and staff. UE students may obtain one free student rush ticket beginning at 12 noon on the day of the performance they wish to attend. Tickets may be purchased by calling (812) 488–2031, Monday through Friday, 12 noon to 5 p.m.
Crafting for the Kids
Come learn more about the sisters of Phi Mu while crafting for the children at Riley Children's Hospital. Phi Mu is crafting teddy bears and canvases for Children's Miracle Network Hospitals, and you're invited!
We will be in Grabil Lounge, basement of Neu Chapel on February 29 2-4 pm.
Olivia Ault
oa41@evansville.edu
UE Theatre Presents Post-Show Discussions on "Race and Representation in the Arts"
The University of Evansville Theatre will hold post-show discussions following the Saturday, Feb. 22 and Thursday, Feb. 27, performances of the musical VIOLET, in Shanklin Theatre. Dr. Rob Shelby, UE's Chief Diversity Officer, will moderate these discussions on the topic of "Race and Representation in the Arts."
All are welcome and a ticket to that evening's performance is not required for admission to the post-show discussion, which will commence at approximately 9:15 pm.
VIOLET, music by Jeanine Tesori, book and lyrics by Brian Crawley, opens this Friday, Feb. 21, at 7:30 p.m., in Shanklin Theatre. Additional performances are at 7:30 p.m., on Feb. 22, 27, 28, 29 and at 2:00 p.m. on Feb. 23, and Mar. 1. Call 812.488.2031 for tickets to the production.
Sharla Cowden
sc75@evansville.edu
Nerd Wars - Spectators Invited to Enjoy Pizza, Giveaways and More
The campus community is invited to attend Nerd Wars on Tuesday, February 25 at 7:00pm in Eykamp Hall. Don't miss your chance to watch teams of students, faculty, administrators, and staff battle it out in a trivia competition for prizes and bragging rights. Spectators and participants can enjoy pizza and snacks throughout the event, as well as the opportunity to win prizes including restaurant gift cards, an Amazon Firestick, a Roku Premiere, a Keurig, waterproof speakers, and more!
We hope to see you there!
For more information, contact Jayme Williams (jw504) or Blake Elliott (be80).
Jayme Williams
jw504@evansville.edu
Championship Ballroom Dancer Teacher is Back
Thur. 2/27 Champion Ballroom Dancer Back! UE Ballroom is happy to bring back World Champion* ballroom dancer Jonah Schneider on Thursday, 2/27. He's in town for a performance and is once again available for private lessons prior to it.
Lessons are in 45 minute blocks, and the first lesson starts at 12:00pm, with the last one at 3:45pm. $85 a lesson and it can be a private lesson, or split with partners, spouses, significant others, friends or a group! Take advantage of this opportunity – no experience necessary! He teaches all levels and all styles.
To book a slot, text 812-449-1044. *2016 Top Latin Teacher, Fred Astaire World Championships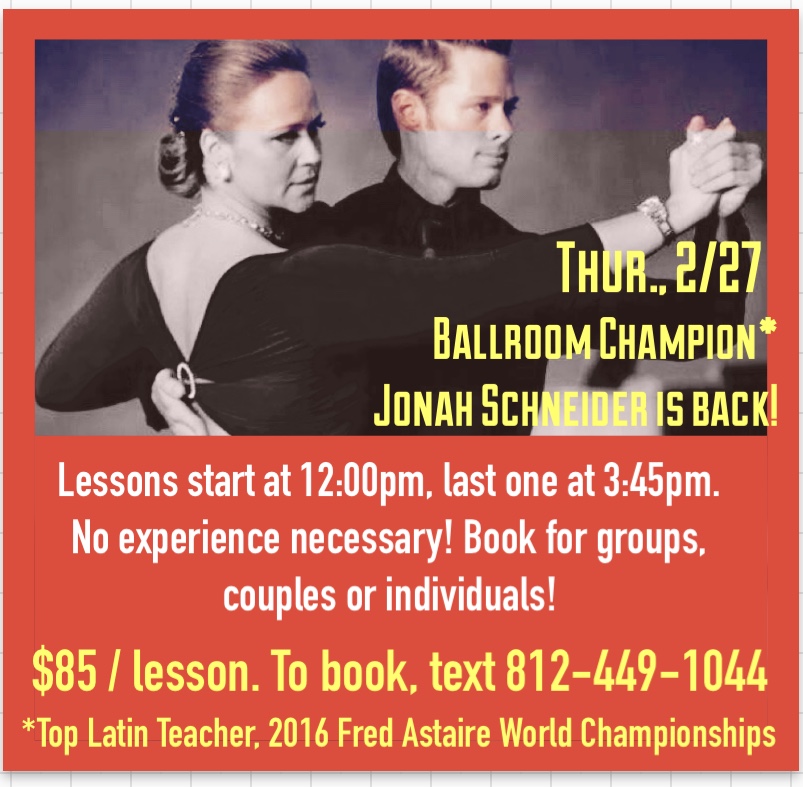 Erin Lewis
el131@evansville.edu
Experiential Learning in Action at Harlaxton
This week at Harlaxton Dr Nicola Boyle's Shakespeare class had the opportunity to visit the PrintLab at De Montfort University's Centre for Textual Studies (CTS) for a printing workshop. The director of the CTS Professor Gabriel Egan, a renowned Shakespearean scholar and general editor of New Oxford Shakespeare, led the class through the process of setting the text of sonnets ready for printing using techniques unchanged from Shakespeare's time.
The class will return to Leicester next week to use the handpress to print out the work that they accomplished this week.
One of the students described their workshop as a 'once in a lifetime experience.'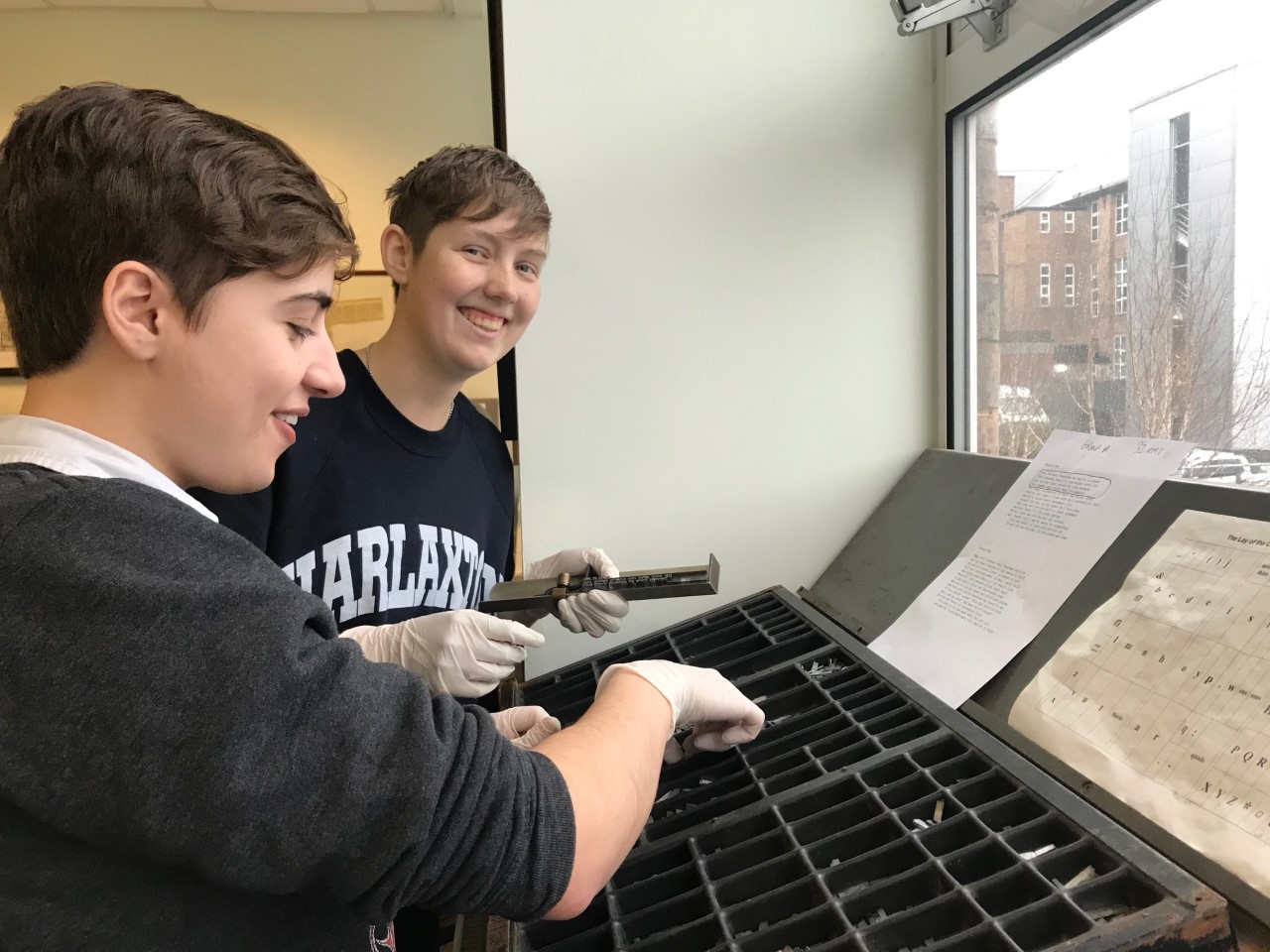 Nicola Boyle
nb113@evansville.edu
Sunday Worship
This Sunday night, 7:30PM, come to Neu Chapel as we reflect on the life and lessons of Elie Wiesel. All identities welcome. Dress is casual.
JillAnn Knonenborg
jk383@evansville.edu
Catholic Mass
Join us for Catholic Mass this Sunday! Mass will be held in Neu Chapel at 1pm.
Kathryn Williams
kw354@evansville.edu
Do You Still Need Textbooks for Your Spring Classes
The bookstore will begin returning textbooks to the publishers starting next week, so if you still need something for one of your classes, please come in no later than next Friday, February 21st. Have a late-starting class or your professor has notified us that you'll need something for later in the semester? We'll have those books available until March 27th.
Becky Lamont
sm8342@bncollege.com
Eykamp Prize: Call for Nominations
The Eykamp Prize was established by Richard and Rita Eykamp in 2015 to honor Faculty Achievement at the University of Evansville. Recipients of the prize will receive a one-time award of $10,000 in recognition of extraordinary contributions to the University of Evansville as University Citizens. Examples of such contributions include deep and successful involvement in recruiting students; expanding the number, scope, and competitiveness of grant funding for their department; bringing positive public awareness to the University through scholarship, knowledge, and understanding of their discipline. Up to two prizes a year may be awarded.
Nominations for the Eykamp Prize may come from any member of the University of Evansville Community. Nominees should be tenured or tenure-track faculty members at the University of Evansville who have not received the award in the previous five years. Nominations can be submitted in writing or via e-mail to Michael Austin, Executive Vice President for Academic Affairs/Provost, at ma352@evansville.edu by March 13, 2020. Nominations should include the name of the faculty member and a brief statement of the reasons that he or she is being nominated.
Recipients of the Eykamp Prize will be selected by an Awards Committee, appointed by the EVPAA/Provost that includes members of the faculty and staff, academic administrators, and at least one member of the Board of Trustees. Awards will be announced and presented at the May Commencement Ceremony.
Previous Recipients: 2016 – Dr. Mark Valenzuela; 2017 – Dr. Lora Becker; 2018 – Dr. David Dwyer; and 2019 – Dr. Kristy Miller.
Paula Heldt
ph28@evansville.edu
Need a passport?
Representatives from the US Postal Service will be on campus processing passports on Friday, February 28 from 11:00am to 2:00pm in the Eades Music Room (Room 153) in the School of Business building! If you bring all the required documents, you can get your passport photos taken and your passport processed at this event right here on campus. You can also bring your current passport to be renewed at this event.
Here is what you will need to bring to the event in order to get your passport processed:
Photo Identification: US drivers license, and if not from Indiana, a credit or debit card
Proof of Citizenship: Original or certified copy of long form birth or citizenship certificate
Passport Application: Available online at travel.state.gov, at the study abroad office, or at this event
Payments: Two checks, money orders, or cashiers checks:
$110 to the US Department of State
$35 to the USPS
Photos On Site: Passport photos can be taken during the event for an additional $15 to the USPS
All members of the UE community-faculty, staff, and students-are welcome to come to this event! Feel free to contact Kaylynn McCalister in the study abroad office at kc205@evansville.edu or 812-488-2039 for more information about the event or requirements.
Kaylynn McCalister
kc205@evansville.edu
Kiesel Presents Research at International Conference
Dr. Kyle Kiesel, PT professor and program director, was recently part of an international panel presentation on injury prevention at the 5th International Congress on Soldiers' Physical Performance held in Quebec City, Canada. Dr. Kiesel presented work related to injury prevention in soldiers "Screening for Musculoskeletal Risk Factors: The Evolution of Individualized Risk Categories and Self-Screening." He highlighted research on a self-screening process performed with UE DPT students.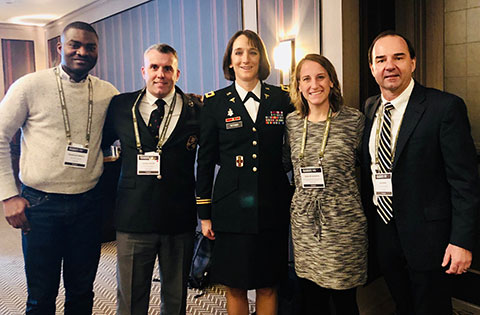 Jennifer Simon
js698@evansville.edu
K.J. Riley Reaches 1,000 Points in Road Contest
K.J. Riley became the 50th player in University of Evansville men's basketball history to reach the 1,000-point mark in his career on Thursday in a 70-53 loss to Southern Illinois inside the Banterra Center.
Riley led the Purple Aces (9-19, 0-15 MVC) with 10 points while Sam Cunliffe and DeAndre Williams finished with eight apiece. Williams led UE with seven boards in his return. Marcus Domask led the Salukis (16-12, 10-5 MVC) with 19 points and seven boards. Eric McGill scored 18 while Lance Jones had 15.
"We tried to generate good shots. If they do not go down, you have to guard very well and we were unable to do that," UE head coach Todd Lickliter said. "I need to look at the schemes and see what we could have done different. It was good to have DeAndre back tonight; it will take some time to get his rhythm back, but we are excited to have him on the floor."
Williams made his return to the starting lineup after missing 12 games due to injury, but picked up two fouls in the opening two minutes while seeing five minutes of action in the opening 20 minutes. Jawaun Newton got the scoring started with a putback before SIU rattled off five in a row.
In a competitive opening half that featured 13 lead changes, the Aces and Salukis did not let the other get too far in front with SIU being the first to lead by more than a possession. With just under six minutes left in the half, a free throw from Eric McGill pushed their lead to 27-22. Evansville pushed right back, utilizing an 11-5 run to go back in front with 2:25 on the clock. In that stretch, K.J. Riley connected on his third field goal of the night to reach the 1,000-point mark.
Shamar Givance gave UE its first lead of more than one possession when his trey in the final two minutes gave his squad a 36-32 edge. Southern Illinois rallied one more time, posting the final five points of the half to take a 40-37 lead into the break.
Held scoreless in the first half, Williams knocked down his first shot of the second half to cut the SIU lead to 42-39. Fouls plagued the sophomore again, though, as he picked up two more fouls in the first 93 seconds. The Salukis defense stood tall over the next sequence, holding Evansville to 1-of-9 shooting and three turnovers over the next six minutes. A 7-2 run gave them their largest lead at 49-41 inside of the 14-minute mark.
Noah Frederking ended the drought, connecting on a triple before a John Hall basket got UE right back within three – 49-46 – with 11 minutes on the clock. Despite the Evansville rally, Southern Illinois gradually added to their lead. An 8-1 stretch by the Salukis gave them their first 10-point lead of the contest (57-47) with 5:30 remaining. Another defensive stretch saw them hold UE to 1-of-12 from the field.
Following two Williams free throws, SIU added a 9-0 stretch to put the game out of reach and would finish the evening with the 70-53 victory. After shooting 75% in the first half of play, the Salukis finished the game at 65.8%. Evansville had the rebounding advantage by a 27-26 final.
Just two more home games remain in the 2019-20 season with Indiana State making its way to the Ford Center on Sunday for a 1 p.m. game. Following a trip to UNI on 2/26, the Aces host Illinois State for Senior Day on Saturday, Feb. 29 in another 1 p.m. match-up

UE Softball in Georgia for Weekend Tournament
Week three of the season for the University of Evansville softball team will see them in Statesboro, Ga. for the Eagle Round Robin. Originally scheduled for five games, the schedule will now see four contests being played due to record low temperatures.
UE too part in the Jaguar Challenge last weekend in Mobile, Ala. Despite going 1-3 in the tournament, the Purple Aces have been competitive in each and every game this season. The five losses on the season have been by a combined six runs. The victory for UE at the Jaguar Challenge came against defending Conference USA champion Louisiana Tech on Friday. Emily Lockhart earned her third win of the season while Jessica Fehr, Katie McLean and Lindsay Renneisen had two hits apiece.
Jessica Fehr continued her outstanding start to the 2020 season, batting .385 in the Jaguar Challenge. Over the course of her four games, Fehr registered five hits in 13 at-bats while finishing with four RBI, three doubles, three runs and two walks. Fehr began the weekend with a 2-3 game in the win over Louisiana Tech. She added a run, RBI and a double. Her single in the fourth inning proved to be the game-winning hit as her knock scored Eryn Gould in a 5-4 win. She got Saturday started with a 1-4 game with an RBI and double in the rematch against the Lady Techsters before going 2-3 with two runs, two RBI, a double and walk versus South Alabama.
The bat of sophomore Alyssa Barela continued to come alive at the Jaguar Challenge as she finished the weekend batting .417 while reaching base 53.3% of the time. She had five hits, four RBI and three walks. Friday's second game saw her go 2-4 against Austin Peay while the opener on Saturday had her check in with two more hits in three at-bats along with a RBI. In the weekend finale against South Alabama, Barela add three RBI and her third walk of the weekend.
Georgia Southern is the first opponent of the weekend. The tournament hosts are 8-2 on the season and were 4-1 in last weekend's Citrus Classic in Orlando. They are led by Mekhia Freeman, who is batting .469 while scoring a team-best 12 runs.
Saturday's action begins against Furman. The Paladins are 1-7 and have lost their last seven games after defeating Ohio University in the opener. Natalie Morgan is batting a team-best .444 and leads the squad with six RBI. Maryland is 2-7 through their first nine games, but came away with a 10-9 win in last weekend's finale against Pittsburgh. The duo of Regan Kerr and Taylor Liguori are batting .333.
Monmouth will mark the final opponent on Sunday morning. The Hawks begin the weekend with a 2-4 mark, but picked up a big win over Purdue in last weekend's Madeira Beach Invitational. Their top batter is Kayla Rosado, who has hit .450 while leading the team with five RBI and a .750 slugging percentage.
Contribute to AceNotes
To have content considered for inclusion in AceNotes, please submit a Marketing Request Form. Deadline for submission to AceNotes is 10:00 a.m. on the requested date of publication. Only articles concerning UE related/sponsored activities will be accepted. Articles submitted to AceNotes may be edited for length and clarity. Submitter contact information is at the end of each article.