| | |
| --- | --- |
| AceNotes Today | Thursday, February 20, 2020 |
University of Evansville Board of Trustees | Front Oval Parking
The University of Evansville Board of Trustees will be on campus for February Board meetings on Friday, February 21, and Saturday, February 22. Front oval parking will be reserved by the Office of Safety and Security for members of the Board. Employee parking on the front oval will be limited on both days.
Newman Club Events (February 24-March 1)
Newman Night
Come to our weekly Newman Night for dinner and discussion! Fr. Christian will be talking about Sin. Discussion starts at 5pm at Newman Center with a delicious dinner to follow!
Rosary Group
Come and pray the Rosary with us! Every Wednesday at noon in Library Room 208. No experience needed!
Small Group
Join or try out a small group this Wednesday or Thursday at Newman Center! Wednesdays are with Annie at 7pm discussing the topic of Cultivating Fruits of the Spirit. Thursdays are with Michaela and Lesley at 8:30pm discussing How To Build Your Spiritual Armor.
Men's Group
Join or try out the Men's Group! Wednesdays at 7pm at Newman Center.
Ash Wednesday
There will be an Ash Wednesday mass offered on February 26 in Neu Chapel at 5pm. Following mass, there will be dinner in Grabil Lounge (basement of Neu Chapel). Join us so you too can get a nice ash!
Catholic Mass
All are welcome! Join us for Catholic Mass this Sunday! Mass will be held in Neu Chapel at 1pm.
Spiritual Pilgrimage
The Harlaxton Office is offering a unique spiritual pilgrimage to England and Rome. This summer, you can journey to England and Rome, following in the footsteps of St. John Henry Newman. Author of 'The Idea of the University' and numerous other spiritual classics, this recently canonized Catholic saint has a lot to teach us about conversion, forgiveness, friendship, the modern world, faith and reason and MORE! Students will read about these topics, with the potential to earn a 3hr credit while traveling. Dates are May 30-June 7th. Email Kaiylnn McCallister (kc205) for more information on travel or Jenny Koch (je46) for information on the class.
Kathryn Williams
kw354@evansville.edu
UE Theatre Presents VIOLET
The University of Evansville opens the 2020 semester with the Tony-nominated musical VIOLET, lyrics and book by Brian Crawley, and music by Jeanine Tesori. Based on Doris Betts' short story THE UGLIEST PILGRIM, it is the story of a young, disfigured woman who journeys on a bus from her farm in North Carolina, to Tulsa, Oklahoma, in order to be healed. This production opens Friday, Feb. 21, at 7:30 p.m., in Shanklin Theatre. Additional performances are at 7:30 p.m., on Feb. 22, 27, 28, 29 and at 2:00 p.m. on Feb. 23, and Mar. 1.
Resident Director Wes Grantom directs VIOLET. Austin C. Kuhn, a senior from Evansville, Ind., serves as the scenic designer; Hannah Mattingly, a senior from Shelbyville, Ky., serves as the costume designer; Nicholas McCulloch, a junior from Seattle, Wash., serves as the lighting designer; Guest Artist Richard Ingraham serves as the sound designer; Brock McCullough, a senior from Omaha, Neb., serves as the dramaturg; Megan Sizemore, a junior from Cypress, Texas, serves as the stage manager, and Professor Chuck Meacham serves as the technical director.
The cast features first-year Elizabeth Dye from Frisco, Texas, as Violet; first-year David Akinwande from Houston, Texas, as Flick; junior Ethan Davenport from Minneapolis, Minn., as Monty; junior Jack Russell from Montgomery, Texas, as Father; junior Cole Lannert from Evansville, Ind., as Preacher; first-year Allie Forte from New Albany, Ind., as Ameta/Lula; guest actor Colleen Meacham, age 14, from Evansville, Ind., as Young Violet; junior Hannah Stevens, from Arlington, Texas, as Old Lady; junior Amanda Cowan from Mansfield, Texas, as Music Hall Singer; first-year Gabriel Smothers from Casper, Wyo., as Billy Dean; first-year Jimmy Guest from Bettendorf, Iowa, as Leroy Evans; junior Theodore J. Esten from Cedarburg, Wis., as Radio Singer; sophomore Kayleigh Doyle from McKinney, Texas, as Hotel Singer. The ensemble includes sophomore Claire Himstedt from St. Louis, Mo.; first-years Jake Conrad from Olympia, Wash.; Marie Reilly from Spring Hill, Fla.; Amelia Overholt from Fort Collins, Colo.; Brevan Crawford from Houston, Texas; and Nathan Viscaino from Redmond, Ore.
The UE Theatre Society hosts a Pre-Play Chat 30 minutes prior to the show on Saturday, Feb. 22 and Thursday, Feb. 27. All are welcome to attend the presentation and discussion with a student designer about their process on the production. Ticket prices for VIOLET are $20 for adults and $18 for senior adults, students, and UE faculty and staff. UE students may obtain one free student rush ticket beginning at 12 noon on the day of the performance they wish to attend. Tickets may be purchased by calling (812) 488–2031, Monday through Friday, 12 noon to 5 p.m.
Aces Set for Trip to Carbondale on Thursday
Following the weekend trip to Des Moines, the University of Evansville men's basketball team remains on the road for a Thursday evening contest at Southern Illinois with tip set for 7 p.m. ESPN+ and the Purple Aces Radio Network have the broadcast.
Setting the Scene
- With the regular season winding down, the Aces trek to Carbondale for their second-to-last road game
- The newly renamed Banterra Center has been kind to the Purple Aces with UE winning four of the last six games
- Entering the 2014 meeting, Evansville dropped 12 road games in a row at SIU before reeling off four in a row between 2014 and 2017
- Despite falling in its last two visits to the facility, the Aces have played well, losing by just 3.5 points per game
- UE hopes to end a 14-game losing streak, which is tied for the longest in its time at the Division I level (2009-10); the largest winless stretch in program history was a 15-game span in 1928-29
Last Time Out
- Two UE player set the career scoring marks on Sunday in an 85-80 loss at Drake inside the Knapp Center
- Sam Cunliffe and Evan Kuhlman each registered their top offensive games with the program
- Cunliffe scored 25 points on 9-of-16 shooting while Kuhlman hit five triples on his way to 17 points
- The Aces led by as many as nine tallies in the first half, but a 15-0 run in the final minute of the first half through the opening four minutes of the second half changed the complexion of the contest
- Evansville knocked down 13 3-pointers in the game, but Drake countered with 32 free throw makes in 42 trips to the line
Just Six Away
- Senior K.J. Riley enters Thursday's game with 994 points in his UE career
- He is 6 points away from becoming the 50th player in program history to score 1,000 in his career
Stepping Up
- In his biggest performance of the season, Sam Cunliffe scored a career-high 25 points and grabbed six rebounds in the contest at Drake
- Cunliffe passed both his UE scoring mark (21 pts) and career high (23) with the effort
- He converted nine field goals, also a high
- Over the last seven games, Cunliffe leads the squad with 6.0 rebounds per game; he recorded 3.3/game in the first 20 games
- Aside from that number, he has played 33 minutes per game and has recorded 15.0 points; he has seen the floor for at least 26 minutes in each of those contests and set his career mark with 38 versus Loyola
- He has shot 40% or higher in nine of the last 14 games with his most efficient effort coming at Indiana State where he was 5-of-7 from the field
Putting up the Numbers
- Junior Evan Kuhlman joined Sam Cunliffe in posting his career scoring mark against the Bulldogs with 17 points
- He drained six of his 12 attempts overall and was 5-of-9 from outside
- His last six games have seen him post 10.7 points, 5.0 rebounds and 2.2 blocks
- Kuhlman's low scoring game in the stretch was a 5-point showing against SIU, but he picked his game up in every other way, totaling seven blocks, six rebounds, four steals and three assists
Scouting the Opponent
- Southern Illinois enters Thursday's game with a 15-12 mark and stand at 9-5 in MVC play
- The Salukis have dropped their last two games following a 7-game win streak; last time out, they fell by a 69-67 final against Bradley
- Marcus Domask continues to pace the Salukis with 14.6 points per game while playing 35.2 minutes
- Domask scored 22 points and had 9 rebounds in the first meeting against UE
- Eric McGill stands with 11.1 points while Barret Benson has 10.8 points and a team-best 5.7 caroms per game
- Benson led everyone with 10 boards in the contest at the Ford Center
Crafting for the Kids
Come learn more about the sisters of Phi Mu while crafting for the children at Riley Children's Hospital. Phi Mu is crafting teddy bears and canvases for Children's Miracle Network Hospitals, and you're invited!
We will be in Grabil Lounge, basement of Neu Chapel on February 29 2-4 pm.
Olivia Ault
oa41@evansville.edu
UE Theatre Presents Post-Show Discussions on "Race and Representation in the Arts"
The University of Evansville Theatre will hold post-show discussions following the Saturday, Feb. 22 and Thursday, Feb. 27, performances of the musical VIOLET, in Shanklin Theatre. Dr. Rob Shelby, UE's Chief Diversity Officer, will moderate these discussions on the topic of "Race and Representation in the Arts."
All are welcome and a ticket to that evening's performance is not required for admission to the post-show discussion, which will commence at approximately 9:15 pm.
VIOLET, music by Jeanine Tesori, book and lyrics by Brian Crawley, opens this Friday, Feb. 21, at 7:30 p.m., in Shanklin Theatre. Additional performances are at 7:30 p.m., on Feb. 22, 27, 28, 29 and at 2:00 p.m. on Feb. 23, and Mar. 1. Call 812.488.2031 for tickets to the production.
Sharla Cowden
sc75@evansville.edu
Movie Night: 13th
Students of Color and Empowerment welcomes Students, Faculty, and Community members to come watch the documentary 13th, February 20, 2020 in SOBA 170 from 7-9pm. The Documentary 13th is film that explains the effect of the 13th Amendment on the African American community after the Civil War and how it led to mass incarceration. Directly after viewing the film, we will have a panel discussion.
Lindsay Sullivan
ls292@evansville.edu
Nerd Wars - Spectators Invited to Enjoy Pizza, Giveaways and More
The campus community is invited to attend Nerd Wars on Tuesday, February 25 at 7:00pm in Eykamp Hall. Don't miss your chance to watch teams of students, faculty, administrators, and staff battle it out in a trivia competition for prizes and bragging rights. Spectators and participants can enjoy pizza and snacks throughout the event, as well as the opportunity to win prizes including restaurant gift cards, an Amazon Firestick, a Roku Premiere, a Keurig, waterproof speakers, and more!
We hope to see you there!
For more information, contact Jayme Williams (jw504) or Blake Elliott (be80).
Jayme Williams
jw504@evansville.edu
Experiential Learning in Action at Harlaxton
This week at Harlaxton Dr Nicola Boyle's Shakespeare class had the opportunity to visit the PrintLab at De Montfort University's Centre for Textual Studies (CTS) for a printing workshop. The director of the CTS Professor Gabriel Egan, a renowned Shakespearean scholar and general editor of New Oxford Shakespeare, led the class through the process of setting the text of sonnets ready for printing using techniques unchanged from Shakespeare's time.
The class will return to Leicester next week to use the handpress to print out the work that they accomplished this week.
One of the students described their workshop as a 'once in a lifetime experience.'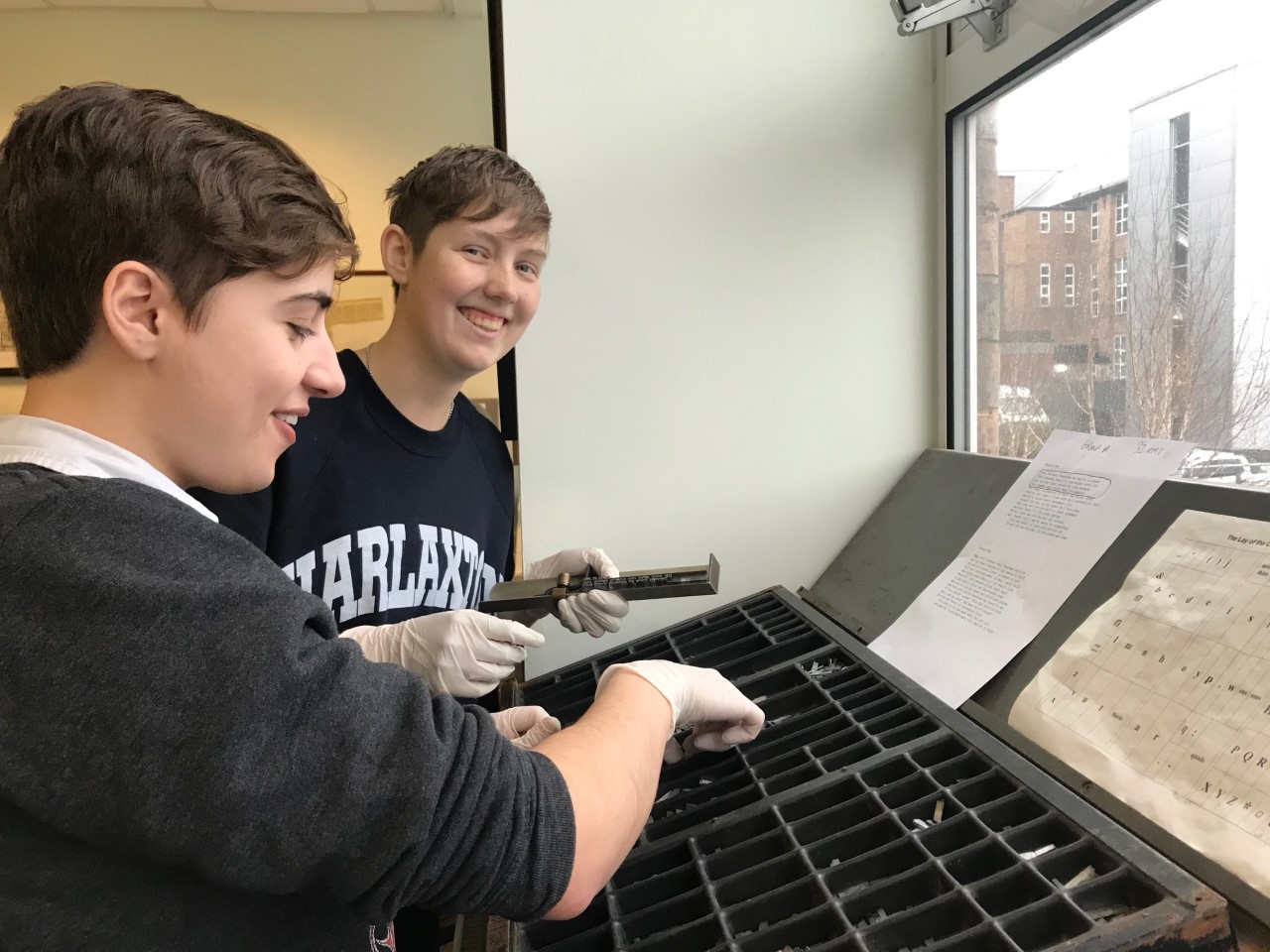 Nicola Boyle
nb113@evansville.edu
Sunday Worship
This Sunday night, 7:30PM, come to Neu Chapel as we reflect on the life and lessons of Elie Wiesel. All identities welcome. Dress is casual.
JillAnn Knonenborg
jk383@evansville.edu
Theological Thursdays
Theological Thursdays continue tonight, 5:30PM, at Honeymoon Cafe. Join for casual conversation about philosophical, ethical, and moral questions. All perspectives and identities welcome. The first seven students to arrive will receive a free coffee or tea.
JillAnn Knonenborg
jk383@evansville.edu
Global Scholar Deadline Extended
The deadline for full consideration has been extended until Monday, February 24 at 8 am. The Global Scholars Program offers support for faculty engaged in scholarship or curriculum development that helps prepare our students and community for global leadership, citizenry, and success. The Global Scholars Program is administered by the Center for Innovation and Change and is made possible by the John H. Schroeder Global Scholar Endowed Fund.
Current funding will support 3-4 awards of up to $4000 each. Awards may be used for travel, research materials, conference fees, and/or other related expenses. Although any global topic will be considered, priority will be given to proposals related to social innovation or changemaking, UN Sustainable Development Goals, projects which encourage cross-disciplinary collaboration (joint proposals are welcome), and projects promoting global experiential opportunities for students.
The deadline for full consideration is February 24 by 8 AM. Visit the Global Scholars webpage for more details.
Cindy Kelley
ck116@evansville.edu
Catholic Mass
Join us for Catholic Mass this Sunday! Mass will be held in Neu Chapel at 1pm.
Kathryn Williams
kw354@evansville.edu
Cultural Communications: "Living in Evansville" from Diverse Youth
Cultural Communications is a non-profit organization which was founded by senior, Summer El-Khodary. The objective is to amplify the voices of marginalized communities. One of the ways in which we are doing that is through a discussion panel series with people of diverse cultures and backgrounds. We really want to open the conversation and normalize it. Our second event is being hosted at the University of Evansville with the sponsorship of the Center for Diversity, Equity, and Inclusion and College Mentors for Kids on February 20 from 6-7:30 pm in the second floor boardroom in the library. Our second talk will be young people from diverse backgrounds about their experiences living in Evansville. Refreshments will be provided and the opportunity to engage in discussion. Come be a part of the conversation!
Summer El-Khodary
se111@evansville.edu
Spring Healthy Behavior Challenge
Earn Additional HRA Credits for the 2019-2020 Benefit year! Successfully complete the 8 week challenge and earn an extra $150 in HRA credits. The challenge consists of tracking fruit and vegetable consumption and tracking minutes of weekly exercise. Please email ac375@evansville.edu to sign-up!
All are welcome to participate in this challenge! Only those enrolled in the UE HRA Medical Benefit Plan are eligible to earn HRA credits. If you have previously earned HRA credits for the Summer or Fall Healthy Behavior Challenge in the 2019-2020 benefit year, you are ineligible to earn this credit again.
Ashley Chipps
ac375@evansville.edu
Summer Sessions Payment Plan
Payment plans for summer session courses including Early Summer, Harlaxton Summer, Summer I, and Summer II are available now. Contact the cashiers in the Office of Student Financial Services (Olmsted rm. 105G) to set-up a payment plan. Payments can be arranged from the point of set-up to the due date of the session. There is no fee for the payment plan.
Students should contact the Office of Student Financial Services no later than Reading-Study Day, May 7, 2020 to determine if financial aid is available for their summer courses.
Submitted by Amy Sowders as560@evansville.edu.
Contribute to AceNotes
To have content considered for inclusion in AceNotes, please submit a Marketing Request Form. Deadline for submission to AceNotes is 10:00 a.m. on the requested date of publication. Only articles concerning UE related/sponsored activities will be accepted. Articles submitted to AceNotes may be edited for length and clarity. Submitter contact information is at the end of each article.