The Powerful Moments Taskforce* is excited to invite you to another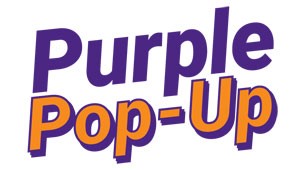 All faculty, staff, and administrators are invited to gather on Wednesday, February 19, anytime between 2:30 – 3:30 p.m. on the 2nd floor of Ridgway, Phillips Alcove, next to the future Center for Diversity, Equity, and Inclusion. In recognition of Black History Month, let's celebrate how we all contribute to making our UE campus inclusive.
Refreshments will be served.
*The Powerful Moments Taskforce was created as a result of the Strategic Planning process. Our purpose is to celebrate the extraordinary and powerfully good work of the members of our campus community. We will continue to host Purple Pop-Ups, a series of celebrations across campus focusing on different corners of our community, each month.