| | |
| --- | --- |
| AceNotes Today | Wednesday, February 19, 2020 |
Final Health Risk Assessment Event
For those enrolled in the university's HSA Medical Plan and have not completed a Health Risk Assessment for this benefit year, please schedule your HRA today! The deadline is March 31st!
March 11th 7:30-10:30AM - Held in the Employee Health Clinic
Those who do not complete this screening will be subject to an increase in your medical premiums for the 2020-2021 benefit year.
To Schedule please click the link below.
1. https://booknow.appointment-plus.com/b1zkk4c6/
2. Select Wellness Screening/HRA
3. Select University of Evansville
3. Scroll and Click on March 11th
4. Select your desired appointment time
5. Enter in your personal information
Please remember an 8-10 hr. fast is required for this appointment. Water and black coffee are allowed during your fasting period. Please take all maintenance medications as long as they are not required to be taken with food. Please email ac375@evansville.edu with questions.
Ashley Chipps
ac375@evansville.edu
University of Evansville Board of Trustees | Front Oval Parking
The University of Evansville Board of Trustees will be on campus for February Board meetings on Friday, February 21, and Saturday, February 22. Front oval parking will be reserved by the Office of Safety and Security for members of the Board. Employee parking on the front oval will be limited on both days.
Federal Loan Repayment Counseling Session Required for Students Graduating or Transferring
Students who have used Federal Direct (subsidized/unsubsidized) Loans or the Grad PLUS Loan and plan to graduate in the spring or summer (or transfer after the spring semester) are required to attend a Loan Repayment Counseling Session. The Office of Student Financial Services will hold the first session of the semester on Mon., 3/2 @ 6:00 pm in Eykamp 252. Additional sessions will be held on 4/30 @ 2:00 pm and 5/8 @ 11:30 am.
Amy Sowders
as560@evansville.edu
UE Theatre Presents Post-Show Discussions on "Race and Representation in the Arts"
The University of Evansville Theatre will hold post-show discussions following the Saturday, Feb. 22 and Thursday, Feb. 27, performances of the musical VIOLET, in Shanklin Theatre. Dr. Rob Shelby, UE's Chief Diversity Officer, will moderate these discussions on the topic of "Race and Representation in the Arts."
All are welcome and a ticket to that evening's performance is not required for admission to the post-show discussion, which will commence at approximately 9:15 pm.
VIOLET, music by Jeanine Tesori, book and lyrics by Brian Crawley, opens this Friday, Feb. 21, at 7:30 p.m., in Shanklin Theatre. Additional performances are at 7:30 p.m., on Feb. 22, 27, 28, 29 and at 2:00 p.m. on Feb. 23, and Mar. 1. Call 812.488.2031 for tickets to the production.
Sharla Cowden
sc75@evansville.edu
Movie Night: 13th
Students of Color and Empowerment welcomes Students, Faculty, and Community members to come watch the documentary 13th, February 20, 2020 in SOBA 170 from 7-9pm. The Documentary 13th is film that explains the effect of the 13th Amendment on the African American community after the Civil War and how it led to mass incarceration. Directly after viewing the film, we will have a panel discussion.
Lindsay Sullivan
ls292@evansville.edu
Nerd Wars - Spectators Invited to Enjoy Pizza, Giveaways and More
The campus community is invited to attend Nerd Wars on Tuesday, February 25 at 7:00pm in Eykamp Hall. Don't miss your chance to watch teams of students, faculty, administrators, and staff battle it out in a trivia competition for prizes and bragging rights. Spectators and participants can enjoy pizza and snacks throughout the event, as well as the opportunity to win prizes including restaurant gift cards, an Amazon Firestick, a Roku Premiere, a Keurig, waterproof speakers, and more!
We hope to see you there!
For more information, contact Jayme Williams (jw504) or Blake Elliott (be80).
Jayme Williams
jw504@evansville.edu
Mindfulness Workshop Series - February 19
The Office of Counseling Services, in collaboration with the Fitness Center, will be hosting a monthly Mindfulness Workshop Series resuming spring semester on February 19 from 4:00 - 5:00 p.m. in the Aerobics Room of the Fitness Center. Attendees to the February session will learn the popular mindfulness technique Body Scanning, in honor of Love Your Body month. Yoga will be available in the gym from 5:00 - 6:00 p.m. immediately following the workshop.
Requested by Liz McCormick em232@evansville.edu
I-House: South Korea
Dear Aces! We are excited for this week's I-House on South Africa. Minseon Kim and Jinwoo are International students from South Korea at UE. Kim is a English & Economics double major. Her hobbies include playing piano and watching Netflix . Her favorite part of UE is nice people, professors, and good communication with international students. She will be sharing more about herself, introduce holidays, intangible cultural assets, food, modern cultures and her life back home at I-House South Korea happening on February 19th (Wednesday) on Class of '59 Gallery and Lounge, Ridgway University Center at 7pm. We hope to see you there!
Hussam Taj
ht70@evansville.edu
Global Scholar Deadline Extended
The deadline for full consideration has been extended until Monday, February 24 at 8 am. The Global Scholars Program offers support for faculty engaged in scholarship or curriculum development that helps prepare our students and community for global leadership, citizenry, and success. The Global Scholars Program is administered by the Center for Innovation and Change and is made possible by the John H. Schroeder Global Scholar Endowed Fund.
Current funding will support 3-4 awards of up to $4000 each. Awards may be used for travel, research materials, conference fees, and/or other related expenses. Although any global topic will be considered, priority will be given to proposals related to social innovation or changemaking, UN Sustainable Development Goals, projects which encourage cross-disciplinary collaboration (joint proposals are welcome), and projects promoting global experiential opportunities for students.
The deadline for full consideration is February 24 by 8 AM. Visit the Global Scholars webpage for more details.
Cindy Kelley
ck116@evansville.edu
Solution Station Wednesday: Thinking About Graduation?
Juniors and seniors - have you been thinking about graduation? If not, you should be!
If you have questions about what happens next, make sure you come to the Solution Station table in Ridgway this Wednesday. Assistant Registrar Ashley Nels will be available to answer questions and help resolve graduation issues. If you have questions about applying to graduate, degree deficiencies, substitutions, and what to expect, please come and see her!
Wednesday: 11:00 a.m. - 1:00 p.m.
Chad Hart
ch299@evansville.edu
Rosary Group
Come and pray the Rosary with us! Every Wednesday at noon in Library Room 208. No experience needed!
Kathryn Williams
kw354@evansville.edu
Catholic Mass
Join us for Catholic Mass this Sunday! Mass will be held in Neu Chapel at 1pm.
Kathryn Williams
kw354@evansville.edu
Small Group
Join or try out a small group this Wednesday or Thursday at Newman Center! Wednesdays are with Annie at 7pm discussing the topic of Cultivating Fruits of the Spirit. Thursdays are with Michaela and Lesley at 8:30pm discussing How To Build Your Spiritual Armor.
Kathryn Williams
kw354@evansville.edu
Men's Group
Join or try out the Men's Group! Wednesdays at 7pm at Newman Center.
Kathryn Williams
kw354@evansville.edu
Newman Night
Come to our weekly Newman Night for dinner and discussion! Fr. Brian Emmick will be talking about Relics of Saint John Henry Newman. Discussion starts at 5pm at Newman Center with a delicious dinner to follow!
Kathryn Williams
kw354@evansville.edu
Do You Still Need Textbooks for Your Spring Classes
The bookstore will begin returning textbooks to the publishers starting next week, so if you still need something for one of your classes, please come in no later than next Friday, February 21st. Have a late-starting class or your professor has notified us that you'll need something for later in the semester? We'll have those books available until March 27th.
Becky Lamont
sm8342@bncollege.com
Need a passport?
Representatives from the US Postal Service will be on campus processing passports on Friday, February 28 from 11:00am to 2:00pm in the Eades Music Room (Room 153) in the School of Business building! If you bring all the required documents, you can get your passport photos taken and your passport processed at this event right here on campus. You can also bring your current passport to be renewed at this event.
Here is what you will need to bring to the event in order to get your passport processed:
Photo Identification: US drivers license, and if not from Indiana, a credit or debit card
Proof of Citizenship: Original or certified copy of long form birth or citizenship certificate
Passport Application: Available online at travel.state.gov, at the study abroad office, or at this event
Payments: Two checks, money orders, or cashiers checks:
$110 to the US Department of State
$35 to the USPS
Photos On Site: Passport photos can be taken during the event for an additional $15 to the USPS
All members of the UE community-faculty, staff, and students-are welcome to come to this event! Feel free to contact Kaylynn McCalister in the study abroad office at kc205@evansville.edu or 812-488-2039 for more information about the event or requirements.
Kaylynn McCalister
kc205@evansville.edu
Rania Mousa Publishes a Chapter in the Encyclopedia of Organizational Knowledge, Administration, and Technology
Rania Mousa, an associate professor of accounting has a peer-reviewed Chapter accepted for publication in a 5-Volume Encyclopedia of Organizational Knowledge, Administration and Technology. The Chapter is titled "The Risk Assessment Enhancement Process at the Federal Deposit Insurance Corporation." The Chapter examines how the FDIC developed a bank examination tool application to support its risk assessment process. The Chapter explains the challenges, benefits and development stages through the application of the "Rational Unified Process" which is founded in the System Development Life Cycle methodology. The study is of particular importance to Chief Information Officers and Data Strategists involved in implementing and developing technology solutions in regulatory banking authorities. Publisher: IGI Global. The release date is July 2020.
Rania Mousa
rm190@evansville.edu
Smashing Success!
Soupalooza 2020 was a Smashing Success! We sold 15 cookbooks, 87 bowls of soup and raised $527 in 2 hours for the SAA Student Scholarship! The Best Soup Winner was #21, Tortellini by Carleen Barnes!! Congratulations, Carleen!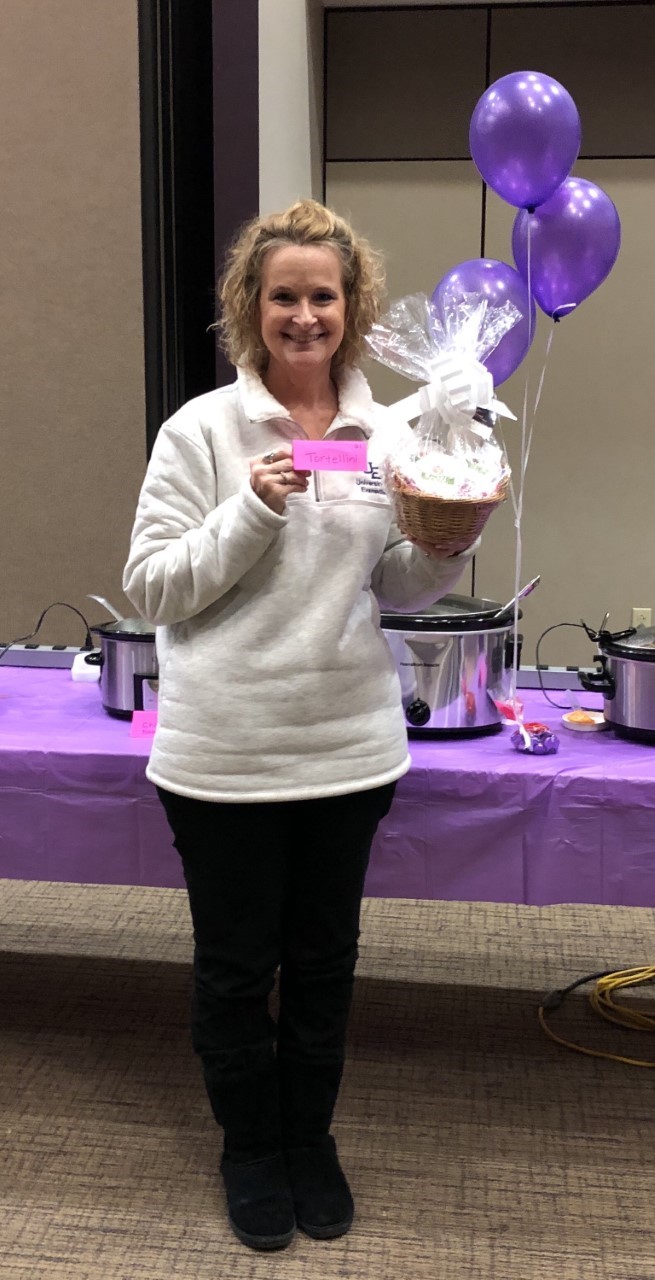 Brooksie Smith
bs267@evansville.edu
Contribute to AceNotes
To have content considered for inclusion in AceNotes, please submit a Marketing Request Form. Deadline for submission to AceNotes is 10:00 a.m. on the requested date of publication. Only articles concerning UE related/sponsored activities will be accepted. Articles submitted to AceNotes may be edited for length and clarity. Submitter contact information is at the end of each article.