| | |
| --- | --- |
| AceNotes Today | Tuesday, February 18, 2020 |
University of Evansville Board of Trustees | Front Oval Parking
The University of Evansville Board of Trustees will be on campus for February Board meetings on Friday, February 21, and Saturday, February 22. Front oval parking will be reserved by the Office of Safety and Security for members of the Board. Employee parking on the front oval will be limited on both days.
This Week in Music (February 17-23)
Faculty Recital Tuesday, February 18
Beethoven 250
7:30pm, Neu Chapel

Garnet Ungar (piano), along with Eykamp String Quartet members Jia-Rong Gan (violin) and Graham Cullen (cello), will perform the second recital in a series celebrating the 250th anniversary of Beethoven's birth. Dr. Ungar will play three virtuosic piano works, followed by a trio also featuring Gan and Cullen.

Evansville Jazz Society Sunday, February 23
4:00pm, Neu Chapel
Kristen Strandberg
ks532@evansville.edu
Happy 166th Birthday UE - Campus is Invited to Celebrate With Purple Cake
Join the Office of Alumni and Parent Relations and Student Alumni Ambassadors on Founders Day Weekend at the UE Purple Birthday Party in celebration as UE turns 166! Enjoy purple birthday cake and purple punch, music, party games, and fun!
Friday, February 21, 2019
6:45 - 8:30p.m.
Ridgway University Center, First Floor
Hosting a Roadtripper for the weekend? Bring them along for the fun and to showcase a piece of UE culture. Show your support for UE by wearing your favorite UE purple - "On Fridays, we wear purple!"
For questions contact Nichole Coffey at 812-488-2900 or ns50@evansville.edu.
Nichole L Coffey
ns50@evansville.edu

I-House: South Korea
Dear Aces! We are excited for this week's I-House on South Africa. Minseon Kim and Jinwoo are International students from South Korea at UE. Kim is a English & Economics double major. Her hobbies include playing piano and watching Netflix . Her favorite part of UE is nice people, professors, and good communication with international students. She will be sharing more about herself, introduce holidays, intangible cultural assets, food, modern cultures and her life back home at I-House South Korea happening on February 19th (Wednesday) on Class of '59 Gallery and Lounge, Ridgway University Center at 7pm. We hope to see you there!
Hussam Taj
ht70@evansville.edu
Global Scholar Deadline Extended
The deadline for full consideration has been extended until Monday, February 24 at 8 am. The Global Scholars Program offers support for faculty engaged in scholarship or curriculum development that helps prepare our students and community for global leadership, citizenry, and success. The Global Scholars Program is administered by the Center for Innovation and Change and is made possible by the John H. Schroeder Global Scholar Endowed Fund.
Current funding will support 3-4 awards of up to $4000 each. Awards may be used for travel, research materials, conference fees, and/or other related expenses. Although any global topic will be considered, priority will be given to proposals related to social innovation or changemaking, UN Sustainable Development Goals, projects which encourage cross-disciplinary collaboration (joint proposals are welcome), and projects promoting global experiential opportunities for students.
The deadline for full consideration is February 24 by 8 AM. Visit the Global Scholars webpage for more details.
Cindy Kelley
ck116@evansville.edu
Solution Station Wednesday: Thinking About Graduation?
Juniors and seniors - have you been thinking about graduation? If not, you should be!
If you have questions about what happens next, make sure you come to the Solution Station table in Ridgway this Wednesday. Assistant Registrar Ashley Nels will be available to answer questions and help resolve graduation issues. If you have questions about applying to graduate, degree deficiencies, substitutions, and what to expect, please come and see her!
Wednesday: 11:00 a.m. - 1:00 p.m.
Chad Hart
ch299@evansville.edu
Rosary Group
Come and pray the Rosary with us! Every Wednesday at noon in Library Room 208. No experience needed!
Kathryn Williams
kw354@evansville.edu
Small Group
Join or try out a small group this Wednesday or Thursday at Newman Center! Wednesdays are with Annie at 7pm discussing the topic of Cultivating Fruits of the Spirit. Thursdays are with Michaela and Lesley at 8:30pm discussing How To Build Your Spiritual Armor.
Kathryn Williams
kw354@evansville.edu
Men's Group
Join or try out the Men's Group! Wednesdays at 7pm at Newman Center.
Kathryn Williams
kw354@evansville.edu
Newman Night
Come to our weekly Newman Night for dinner and discussion! Fr. Brian Emmick will be talking about Relics of Saint John Henry Newman. Discussion starts at 5pm at Newman Center with a delicious dinner to follow!
Kathryn Williams
kw354@evansville.edu
Cultural Communications: "Living in Evansville" from Diverse Youth
Cultural Communications is a non-profit organization which was founded by senior, Summer El-Khodary. The objective is to amplify the voices of marginalized communities. One of the ways in which we are doing that is through a discussion panel series with people of diverse cultures and backgrounds. We really want to open the conversation and normalize it. Our second event is being hosted at the University of Evansville with the sponsorship of the Center for Diversity, Equity, and Inclusion and College Mentors for Kids on February 20 from 6-7:30 pm in the second floor boardroom in the library. Our second talk will be young people from diverse backgrounds about their experiences living in Evansville. Refreshments will be provided and the opportunity to engage in discussion. Come be a part of the conversation!
Summer El-Khodary
se111@evansville.edu
Campus is Invited to UE Connect Lunch and Learn - Gearing Up for Graduate Programs
Campus is Invited to UE Connect Lunch and Learn - Gearing Up for Graduate Programs
Join us at the UE Connect Lunch and Learn: Gearing Up for Graduate Programs on Wednesday, February 19, 2020 from 12:00 - 1:00 p.m. in Eykamp Hall 253-255, Ridgway University Center. A panel of UE alumni and professionals discuss how their UE degrees set them up for success in applying for and completing graduate school and beyond. Speakers include:
Jill Snyder '02
University of Evansville, BS Electrical Engineering
Indiana University Kelley School of Business, MBA
Abraham Traore '18, M'19
University of Evansville, BS Public Health
University of Evansville, MPH Public Health
David Provost '81
University of Evansville, BS Business Administration – Marketing
Notre Dame, MBA
Complimentary lunch is provided. Registration deadline is February 17.
To register, visit: https://www.uealumnionline.com/lunchandlearnfeb2020
For questions contact Nichole Coffey at 812-488-2900 or ns50@evansville.edu.
Nichole L Coffey
ns50@evansville.edu
Spring Healthy Behavior Challenge
Earn Additional HRA Credits for the 2019-2020 Benefit year! Successfully complete the 8 week challenge and earn an extra $150 in HRA credits. The challenge consists of tracking fruit and vegetable consumption and tracking minutes of weekly exercise. Please email ac375@evansville.edu to sign-up!
All are welcome to participate in this challenge! Only those enrolled in the UE HRA Medical Benefit Plan are eligible to earn HRA credits. If you have previously earned HRA credits for the Summer or Fall Healthy Behavior Challenge in the 2019-2020 benefit year, you are ineligible to earn this credit again.
Ashley Chipps
ac375@evansville.edu
Village Housing Information Meetings
Students interested in living in Village housing (Jones Hall, Townhouses, Apartments, or Houses) next year should plan to attend an information meeting. The Villages are reserved primarily for students with 60 plus credit hours. In order to apply to live in the Villages, each person in your group must have at least 44 credit hours on file with the University by the end of the Fall 2019 semester.
Information meetings will be Tuesday, February 18, at 4:30pm and 9:30pm in Eykamp Hall, Room 252, Ridgway University Center. During the meetings, we will discuss how you can apply for Village housing for 2020-21.
If you have questions, please contact Residence Life or view our housing assignments flowchart.
Brian Conner
bc32@evansville.edu
Eykamp Prize: Call for Nominations
The Eykamp Prize was established by Richard and Rita Eykamp in 2015 to honor Faculty Achievement at the University of Evansville. Recipients of the prize will receive a one-time award of $10,000 in recognition of extraordinary contributions to the University of Evansville as University Citizens. Examples of such contributions include deep and successful involvement in recruiting students; expanding the number, scope, and competitiveness of grant funding for their department; bringing positive public awareness to the University through scholarship, knowledge, and understanding of their discipline. Up to two prizes a year may be awarded.
Nominations for the Eykamp Prize may come from any member of the University of Evansville Community. Nominees should be tenured or tenure-track faculty members at the University of Evansville who have not received the award in the previous five years. Nominations can be submitted in writing or via e-mail to Michael Austin, Executive Vice President for Academic Affairs/Provost, at ma352@evansville.edu by March 13, 2020. Nominations should include the name of the faculty member and a brief statement of the reasons that he or she is being nominated.
Recipients of the Eykamp Prize will be selected by an Awards Committee, appointed by the EVPAA/Provost that includes members of the faculty and staff, academic administrators, and at least one member of the Board of Trustees. Awards will be announced and presented at the May Commencement Ceremony.
Previous Recipients: 2016 – Dr. Mark Valenzuela; 2017 – Dr. Lora Becker; 2018 – Dr. David Dwyer; and 2019 – Dr. Kristy Miller.
Paula Heldt
ph28@evansville.edu
Summer Sessions Payment Plan
Payment plans for summer session courses including Early Summer, Harlaxton Summer, Summer I, and Summer II are available now. Contact the cashiers in the Office of Student Financial Services (Olmsted rm. 105G) to set-up a payment plan. Payments can be arranged from the point of set-up to the due date of the session. There is no fee for the payment plan.
Students should contact the Office of Student Financial Services no later than Reading-Study Day, May 7, 2020 to determine if financial aid is available for their summer courses.
Submitted by Amy Sowders as560@evansville.edu.
Rania Mousa Publishes a Chapter in the Encyclopedia of Organizational Knowledge, Administration, and Technology
Rania Mousa, an associate professor of accounting has a peer-reviewed Chapter accepted for publication in a 5-Volume Encyclopedia of Organizational Knowledge, Administration and Technology. The Chapter is titled "The Risk Assessment Enhancement Process at the Federal Deposit Insurance Corporation." The Chapter examines how the FDIC developed a bank examination tool application to support its risk assessment process. The Chapter explains the challenges, benefits and development stages through the application of the "Rational Unified Process" which is founded in the System Development Life Cycle methodology. The study is of particular importance to Chief Information Officers and Data Strategists involved in implementing and developing technology solutions in regulatory banking authorities. Publisher: IGI Global. The release date is July 2020.
Rania Mousa
rm190@evansville.edu
Smashing Success!
Soupalooza 2020 was a Smashing Success! We sold 15 cookbooks, 87 bowls of soup and raised $527 in 2 hours for the SAA Student Scholarship! The Best Soup Winner was #21, Tortellini by Carleen Barnes!! Congratulations, Carleen!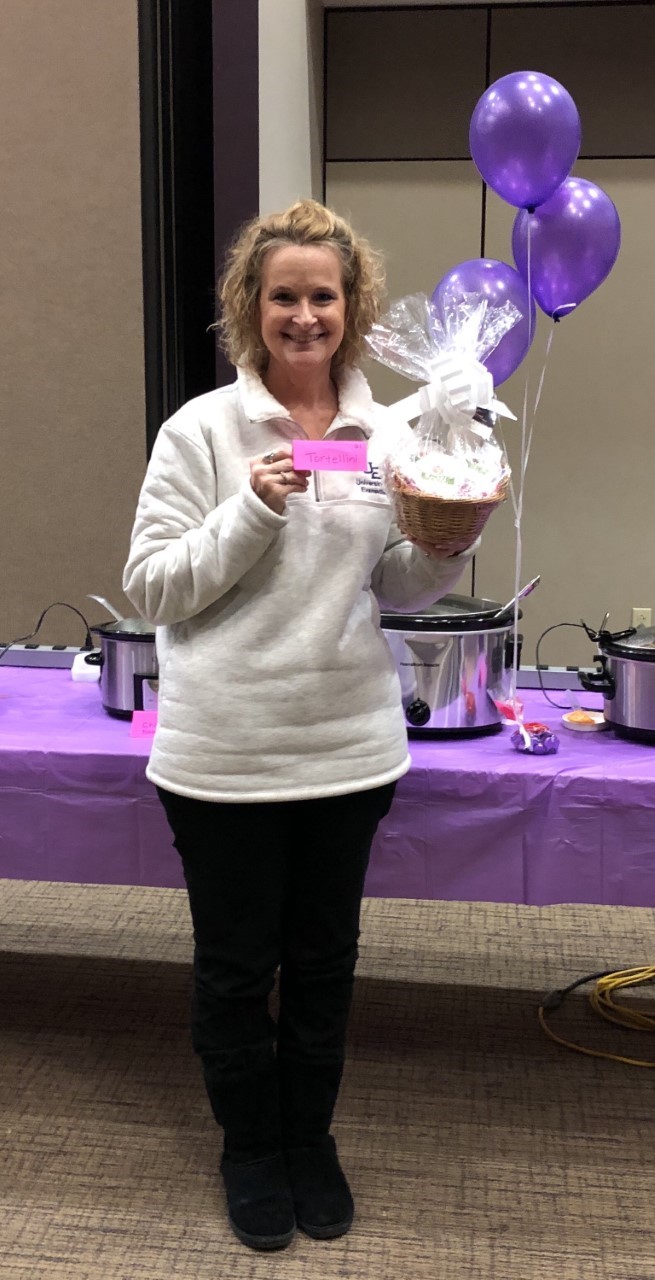 Brooksie Smith
bs267@evansville.edu
Contribute to AceNotes
To have content considered for inclusion in AceNotes, please submit a Marketing Request Form. Deadline for submission to AceNotes is 10:00 a.m. on the requested date of publication. Only articles concerning UE related/sponsored activities will be accepted. Articles submitted to AceNotes may be edited for length and clarity. Submitter contact information is at the end of each article.