| | |
| --- | --- |
| AceNotes Today | Monday, February 17, 2020 |
University of Evansville Board of Trustees | Front Oval Parking
The University of Evansville Board of Trustees will be on campus for February Board meetings on Friday, February 21, and Saturday, February 22. Front oval parking will be reserved by the Office of Safety and Security for members of the Board. Employee parking on the front oval will be limited on both days.
Federal Loan Repayment Counseling Session Required for Students Graduating or Transferring
Students who have used Federal Direct (subsidized/unsubsidized) Loans or the Grad PLUS Loan and plan to graduate in the spring or summer (or transfer after the spring semester) are required to attend a Loan Repayment Counseling Session. The Office of Student Financial Services will hold the first session of the semester on Mon., 3/2 @ 6:00 pm in Eykamp 252. Additional sessions will be held on 4/30 @ 2:00 pm and 5/8 @ 11:30 am.
Amy Sowders
as560@evansville.edu
This Week in Music (February 17-23)
Faculty Recital Tuesday, February 18
Beethoven 250
7:30pm, Neu Chapel

Garnet Ungar (piano), along with Eykamp String Quartet members Jia-Rong Gan (violin) and Graham Cullen (cello), will perform the second recital in a series celebrating the 250th anniversary of Beethoven's birth. Dr. Ungar will play three virtuosic piano works, followed by a trio also featuring Gan and Cullen.

Evansville Jazz Society Sunday, February 23
4:00pm, Neu Chapel
Kristen Strandberg
ks532@evansville.edu
Happy 166th Birthday UE - Campus is Invited to Celebrate With Purple Cake
Join the Office of Alumni and Parent Relations and Student Alumni Ambassadors on Founders Day Weekend at the UE Purple Birthday Party in celebration as UE turns 166! Enjoy purple birthday cake and purple punch, music, party games, and fun!
Friday, February 21, 2019
6:45 - 8:30p.m.
Ridgway University Center, First Floor
Hosting a Roadtripper for the weekend? Bring them along for the fun and to showcase a piece of UE culture. Show your support for UE by wearing your favorite UE purple - "On Fridays, we wear purple!"
For questions contact Nichole Coffey at 812-488-2900 or ns50@evansville.edu.
Nichole L Coffey
ns50@evansville.edu

Mindfulness Workshop Series - February 19
The Office of Counseling Services, in collaboration with the Fitness Center, will be hosting a monthly Mindfulness Workshop Series resuming spring semester on February 19 from 4:00 - 5:00 p.m. in the Aerobics Room of the Fitness Center. Attendees to the February session will learn the popular mindfulness technique Body Scanning, in honor of Love Your Body month. Yoga will be available in the gym from 5:00 - 6:00 p.m. immediately following the workshop.
Requested by Liz McCormick em232@evansville.edu
Jeff Bender: Fishing for Plankton - Efroymson Exhibition & Visiting Artist
Artist's Exhibition: January 15 – February 29, 2020
Artist in Residence: February 5 - 6
Student Gallery Lecture: Wednesday, February 5, 10:00am
Student Workshop: Thursday, February 6, 9:30am
Artist's Reception & Public Gallery Lecture: Thursday, February 6
Reception: 6:30pm, Lecture: 7:00
All events will take place in the Melvin Peterson Gallery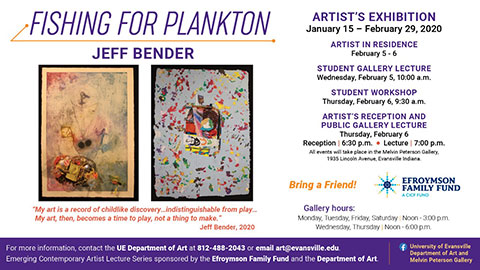 Solution Station Wednesday: Thinking About Graduation?
Juniors and seniors - have you been thinking about graduation? If not, you should be!
If you have questions about what happens next, make sure you come to the Solution Station table in Ridgway this Wednesday. Assistant Registrar Ashley Nels will be available to answer questions and help resolve graduation issues. If you have questions about applying to graduate, degree deficiencies, substitutions, and what to expect, please come and see her!
Wednesday: 11:00 a.m. - 1:00 p.m.
Chad Hart
ch299@evansville.edu
Rosary Group
Come and pray the Rosary with us! Every Wednesday at noon in Library Room 208. No experience needed!
Kathryn Williams
kw354@evansville.edu
Small Group
Join or try out a small group this Wednesday or Thursday at Newman Center! Wednesdays are with Annie at 7pm discussing the topic of Cultivating Fruits of the Spirit. Thursdays are with Michaela and Lesley at 8:30pm discussing How To Build Your Spiritual Armor.
Kathryn Williams
kw354@evansville.edu
Men's Group
Join or try out the Men's Group! Wednesdays at 7pm at Newman Center.
Kathryn Williams
kw354@evansville.edu
Newman Night
Come to our weekly Newman Night for dinner and discussion! Fr. Brian Emmick will be talking about Relics of Saint John Henry Newman. Discussion starts at 5pm at Newman Center with a delicious dinner to follow!
Kathryn Williams
kw354@evansville.edu
Do You Still Need Textbooks for Your Spring Classes
The bookstore will begin returning textbooks to the publishers starting next week, so if you still need something for one of your classes, please come in no later than next Friday, February 21st. Have a late-starting class or your professor has notified us that you'll need something for later in the semester? We'll have those books available until March 27th.
Becky Lamont
sm8342@bncollege.com
Cultural Communications: "Living in Evansville" from Diverse Youth
Cultural Communications is a non-profit organization which was founded by senior, Summer El-Khodary. The objective is to amplify the voices of marginalized communities. One of the ways in which we are doing that is through a discussion panel series with people of diverse cultures and backgrounds. We really want to open the conversation and normalize it. Our second event is being hosted at the University of Evansville with the sponsorship of the Center for Diversity, Equity, and Inclusion and College Mentors for Kids on February 20 from 6-7:30 pm in the second floor boardroom in the library. Our second talk will be young people from diverse backgrounds about their experiences living in Evansville. Refreshments will be provided and the opportunity to engage in discussion. Come be a part of the conversation!
Summer El-Khodary
se111@evansville.edu
Campus is Invited to UE Connect Lunch and Learn - Gearing Up for Graduate Programs
Campus is Invited to UE Connect Lunch and Learn - Gearing Up for Graduate Programs
Join us at the UE Connect Lunch and Learn: Gearing Up for Graduate Programs on Wednesday, February 19, 2020 from 12:00 - 1:00 p.m. in Eykamp Hall 253-255, Ridgway University Center. A panel of UE alumni and professionals discuss how their UE degrees set them up for success in applying for and completing graduate school and beyond. Speakers include:
Jill Snyder '02
University of Evansville, BS Electrical Engineering
Indiana University Kelley School of Business, MBA
Abraham Traore '18, M'19
University of Evansville, BS Public Health
University of Evansville, MPH Public Health
David Provost '81
University of Evansville, BS Business Administration – Marketing
Notre Dame, MBA
Complimentary lunch is provided. Registration deadline is February 17.
To register, visit: https://www.uealumnionline.com/lunchandlearnfeb2020
For questions contact Nichole Coffey at 812-488-2900 or ns50@evansville.edu.
Nichole L Coffey
ns50@evansville.edu
Village Housing Information Meetings
Students interested in living in Village housing (Jones Hall, Townhouses, Apartments, or Houses) next year should plan to attend an information meeting. The Villages are reserved primarily for students with 60 plus credit hours. In order to apply to live in the Villages, each person in your group must have at least 44 credit hours on file with the University by the end of the Fall 2019 semester.
Information meetings will be Tuesday, February 18, at 4:30pm and 9:30pm in Eykamp Hall, Room 252, Ridgway University Center. During the meetings, we will discuss how you can apply for Village housing for 2020-21.
If you have questions, please contact Residence Life or view our housing assignments flowchart.
Brian Conner
bc32@evansville.edu
Need a passport?
Representatives from the US Postal Service will be on campus processing passports on Friday, February 28 from 11:00am to 2:00pm in the Eades Music Room (Room 153) in the School of Business building! If you bring all the required documents, you can get your passport photos taken and your passport processed at this event right here on campus. You can also bring your current passport to be renewed at this event.
Here is what you will need to bring to the event in order to get your passport processed:
Photo Identification: US drivers license, and if not from Indiana, a credit or debit card
Proof of Citizenship: Original or certified copy of long form birth or citizenship certificate
Passport Application: Available online at travel.state.gov, at the study abroad office, or at this event
Payments: Two checks, money orders, or cashiers checks:
$110 to the US Department of State
$35 to the USPS
Photos On Site: Passport photos can be taken during the event for an additional $15 to the USPS
All members of the UE community-faculty, staff, and students-are welcome to come to this event! Feel free to contact Kaylynn McCalister in the study abroad office at kc205@evansville.edu or 812-488-2039 for more information about the event or requirements.
Kaylynn McCalister
kc205@evansville.edu
Rania Mousa Publishes a Chapter in the Encyclopedia of Organizational Knowledge, Administration, and Technology
Rania Mousa, an associate professor of accounting has a peer-reviewed Chapter accepted for publication in a 5-Volume Encyclopedia of Organizational Knowledge, Administration and Technology. The Chapter is titled "The Risk Assessment Enhancement Process at the Federal Deposit Insurance Corporation." The Chapter examines how the FDIC developed a bank examination tool application to support its risk assessment process. The Chapter explains the challenges, benefits and development stages through the application of the "Rational Unified Process" which is founded in the System Development Life Cycle methodology. The study is of particular importance to Chief Information Officers and Data Strategists involved in implementing and developing technology solutions in regulatory banking authorities. Publisher: IGI Global. The release date is July 2020.
Rania Mousa
rm190@evansville.edu
Smashing Success!
Soupalooza 2020 was a Smashing Success! We sold 15 cookbooks, 87 bowls of soup and raised $527 in 2 hours for the SAA Student Scholarship! The Best Soup Winner was #21, Tortellini by Carleen Barnes!! Congratulations, Carleen!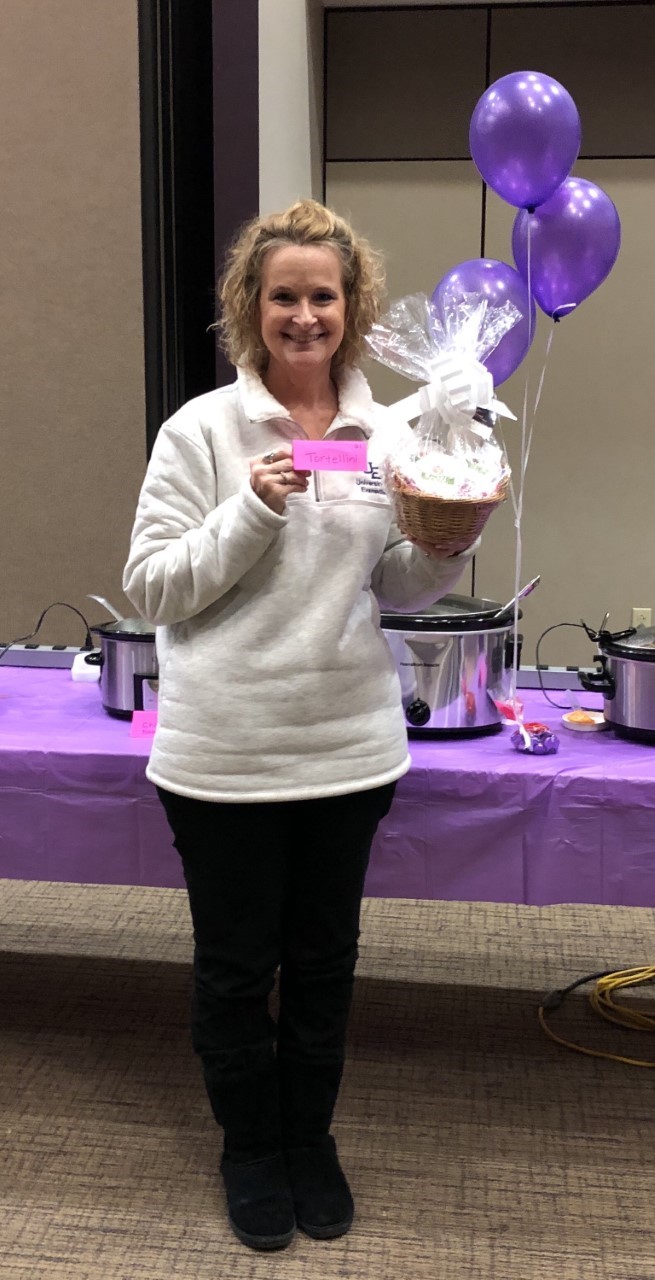 Brooksie Smith
bs267@evansville.edu
Jenna Lis Named to All-Tournament Team
University of Evansville freshman Jenna Lis was named to the Jaguar Challenge All-Tournament Team on Sunday with the final day of action being cancelled due to weather conditions.
Lis led the Purple Aces with a .429 batting average over the weekend. Seeing action in three games, Lis recorded three hits in seven at-bats. The Newburgh, Ind. Native drew a pair of walks and had an RBI.
Her top effort came against Austin Peay as she went 2-4 with an RBI. In Saturday's game versus Louisiana Tech, Lis added two walks to her weekend tally.
Statesboro, Ga. is the scene of the next non-conference tournament for the Aces. Running from Friday through Sunday of next week, the Eagle Round Robin will pit the Aces against Furman, Georgia Southern, Maryland and Monmouth.
Cunliffe and Kuhlman Set Career Scoring Marks at Drake
A pair of University of Evansville men's basketball players set their career scoring marks on Sunday with the Purple Aces losing an 85-80 contest against Drake inside the Knapp Center.
"We played as good of a first half as we have played over the recent stretch, I thought the passing and ball movement was better to start the game," UE head coach Todd Lickliter said. "Sam (Cunliffe) did a great job today and was able to score in several different ways. He is someone that has a lot of dimensions to his game. We are going to just keep working and try to continue making progress."
Sam Cunliffe finished the game with 25 points on 9-of-16 shooting. He drained three triples and all four free throw tries while adding six rebounds before fouling out in the final minute. His previous scoring mark of 23 points came in 2016 against The Citadel when he played at Arizona State. Evan Kuhlman surpassed his scoring high with 17 points. Fifteen of those came from outside with five of his nine long range tries finding the bottom of the net. Jawaun Newton and K.J. Riley finished with 11 and 10 points, respectively.
Newton got Evansville (9-18, 0-14 MVC) on the board with a 4-point play. The triple was his ninth make in his last 13 attempts over the last seven contests. Evansville drilled three triples in a row with Sam Cunliffe and Evan Kuhlman adding two of their own to give UE a 10-2 lead. With the Aces continuing to lead by a 12-4 margin, the Bulldogs (17-10, 7-7 MVC) countered with a 7-0 run over the next three minutes to cut the deficit to one.
Artur Labinowicz knocked down his first outside shot of the day to push the lead to 17-11 eight minutes into the game before another spurt by the Bulldogs got them within a possession once again at 17-15. That is when Evan Kuhlman took over, connecting on consecutive triples to extend the lead to 26-18 with 8:11 on the clock.
Evansville's lead reached nine points at 37-28 on a Shamar Givance layup inside of two minutes remaining but was trimmed down to six at the break when an Anthony Murphy basket cut UE's edge to 40-34 at the half. Cunliffe led everyone with 13 points in the period with the Aces converting eight of their 16 3-point tries in the first 20 minutes.
Out of the break, Drake reeled off 13 points in a row over the first four minutes to go up by a 47-40 margin. The Bulldogs hit their first five attempts while the Aces missed their first five tries and turned it over twice. Cunliffe ended the stretch with a 3-point play. His bucket helped UE get back within a pair at the 13-minute mark when Labinowicz found Riley streaking to the basket to make it a 51-49 game. After missing their first five attempts of the second half, UE hit three out of four while Drake hit one of their next four attempts after making five in a row.
With 11:27 left in the game, Noah Frederking hit his first triple go make it a 54-52 deficit for UE. That is when Drake slowly started to pull away. Their advantage was pushed to double figures for the first time at 65-54 inside of seven minutes remaining. The Bulldogs hit four out of five attempts in the run while UE was mired in a 1-for-8 shooting drought.
When his team needed him most, Frederking delivered. Following a time out, the junior made it a 2-for-2 day from outside to end the drought. With just over five minutes remaining, Kuhlman connected on his fourth triple of the day to cut the gap to 67-62, but over the next 100 seconds, the Bulldogs responded. A 6-2 span made it a 9-point game.
The 15th point of the day for Kuhlman made it a 2-possession game before a pair of Riley free throws with 90 seconds remaining got the Aces within four. Riley struck again with two more from the line to make it a 3-point game (77-74) with 48 ticks remaining, but the Bulldogs hung on with late free throws clinching the win.
Leading DU was Anthony Murphy, who tallied 20 points and 13 boards. He was 10-of-13 from the free throw line. As a team, Drake hit 32 out of 42 from the charity stripe; the last time UE allowed the opponent to shoot 40 or more free throws was at North Carolina in December of 2011. For the game, DU shot 55.6% with the Aces finishing at 48.2%.
Thursday evening will see the Aces make the short trip to Carbondale, Ill. for a rematch against Southern Illinois. Game time is 7 p.m. inside the Banterra Center.
Evansville Softball Defeats Defending C-USA Champs
Week two for the University of Evansville softball team got off to an excellent with the Purple Aces earning a win over defending Conference USA champion Louisiana Tech on its way to a split in the opening day of the Jaguar Challenge.
"It was awesome to finally be playing outside. We have only had two practices on the dirt this spring, so today was more about getting our feet under us," UE head softball coach Mat Mundell said. "It was a really windy day, so it presented some challenges for all of the teams. I thought we did a great job of competing in the circle in both games. This team continues to get better; we created some great scoring chances but left too many baserunners stranded today."
Emily Lockhart earned her third victory of the season, tossing a complete game in a 5-4 win over Louisiana Tech top begin the day. She allowed four runs, three earned, on nine hits. The Lady Techsters struck first with two runs in the top of the first before the Aces cut the deficit in half in the bottom of the frame. Jessica Fehr reached on a 1-out double and would come home on an error.
Katie McLean got the second inning started with a double to left and scored on a Lindsay Renneisen base knock to tie the score up at 2-2. The big inning for UE came in the fourth when the duo of McLean and Renneisen struck again, each hitting a single to lead off the inning. Kat Mueller advanced the pair on a sacrifice to put them in scoring position. Renneisen would score the go-ahead run on a single by Eryn Gould before Halie Fain came home on a La. Tech error. Gould would wrap up the scoring as she crossed the plate on a Jessica Fehr single.
Louisiana Tech inched back with a single run in both the fifth and sixth innings, but Lockhart would not let them get any closer, finishing off the win. UE had nine hits with Fehr, McLean and Renneisen posting two apiece.
Austin Peay scored first in the second contest of the day for the Aces. A single run crossed the plate in the bottom half of the second before UE tied it up in the third. Alyssa Barela reached on a 1-out single before Haley Woolf (HBP) and McLean (walk) would load the bases. Hannah Hood picked up the RBI when she was hit by a pitch with the bases loaded to score Halie Fain, who pinch ran for Barela.
The Governors struck again in the bottom of the third, plating three runs to go up 4-1. Evansville made an effort to come back, scoring a single run in the fifth on a Jenna Lis RBI single, but APSU hung on for the 4-2 victory. They posted 11 hits while the Aces finished the game with six. Izzy Vetter tossed three innings and allowed the four runs with three being earned. Erin Kleffman went three scoreless inning and allowed three hits.
Softball Wraps Up Second day of Jaguar Challenge
Day two of the Jaguar Challenge saw the University of Evansville softball team drop a pair of contests, opening the day with a 4-3 loss to Louisiana Tech before a late South Alabama rally led them to a 7-6 win in the evening match-up.
GAME ONE
A 3-run fifth inning by Louisiana Tech was the difference in game one with the Lady Techsters defeating the Aces by a 4-3 final. In the second inning, Louisiana Tech scored the opening run before UE tied it up in the third. Jenna Lis drew a leadoff walk and was pinch run for by Mackenzie McFeron. The sophomore stole second and would cross the plate on a double by Jessica Fehr.
The game remained knotted at 1-1 until the fifth when the Techsters plated three runs with Lin Edwards highlighting the frame with a home run. Trailing by a 4-1 margin, the Aces fought back with a run in the sixth. Alyssa Barela walked with one out and Mea Adams came in to run. Next up was Haley Woolf, who doubled to left to bring Adams in for the second run of the day.
Evansville made one more comeback attempt in the seventh putting runners on second and third to lead off the inning. With one out, Halie Fain attempted to score on a fielder's choice, but was thrown out at the plate. Barela followed up with a single that scored Kat Mueller before a strikeout ended the game with Louisiana Tech taking the win. Evansville finished with five hits, led by two from Barela. Izzy Vetter made the start. She gave up just two hits, but walked four batters. Of the four runs she allowed, three were earned. Erin Kleffman pitched a scoreless sixth inning.
GAME TWO
South Alabama struck first with a pair of runs in the second inning. The Aces pushed back, scoring six of the next eight runs. Hannah Hood got UE on the board in the top half of the third with an RBI single. Her hit scored Jessica Fehr, who reached on an error earlier in the inning.
Two more runs crossed the plate for UE in the fourth. Lindsay Renneisen and Eryn Gould reached base to lead off the frame before advancing on a sacrifice bunt from Jenna Lis. The big hit came off the bat of Alyssa Barela, whose double to center put two more runs on the board and gave UE its first lead at 3-2.
The lead went right back in the hands of the Jaguars with a pair of runs in the bottom of the fourth, but UE rallied in the sixth. It was Fehr coming through with a 2-RBI double that scored Toni Galas and Eryn Gould. Galas pinch ran for Lis, who singled in the inning while Gould reached via a walk. Up by one, the Aces added an insurance run when Barela registered her third RBI of the game to score Fehr.
Down to their final three outs, the Jaguars rallied in the seventh, scoring two runs with one out to tie the game. UE starter Emily Lockhart got the second out, but with a runner on third, South Alabama infielder Allie Hughen doubled to left to send USA to a 7-6 walk-off win. The Jaguars out-hit UE by an 11-6 margin. Fehr had two of the Aces hits and registered two RBI and scored twice. Barela had three RBI in the game while Gould scored two runs. Lockhart took the loss, allowing seven runs on 11 hits. She fanned five batters.
Contribute to AceNotes
To have content considered for inclusion in AceNotes, please submit a Marketing Request Form. Deadline for submission to AceNotes is 10:00 a.m. on the requested date of publication. Only articles concerning UE related/sponsored activities will be accepted. Articles submitted to AceNotes may be edited for length and clarity. Submitter contact information is at the end of each article.