| | |
| --- | --- |
| AceNotes Today | Wednesday, February 12, 2020 |
UE Theatre VIOLET Pop-Up Event
On Thursday, Feb. 13, at 12:30 p.m., there will be a FREE Pop-Up Event for UE Theatre's production of VIOLET at Rademacher's Café on the University of Evansville Campus. This pop-up will consist of the cast of VIOLET singing three songs from the production. VIOLET, lyrics and books by Brian Crawley, and music by Jeanine Tesori is based on Doris Betts's short story THE UGLIEST PILGRIM. It is the story of a young, disfigured woman who journeys on a bus from her farm in North Carolina, to Tulsa, Oklahoma, to seek the help of a faith-healer. This production opens Friday, Feb. 21, at 7:30 p.m., in Shanklin Theatre. Additional performances are at 7:30 p.m., on Feb. 22, 27, 28, 29 and at 2:00 p.m. on Feb. 23, and Mar. 1. Please join us for this sneak preview of VIOLET.
Sharla Cowden
sc75@evansville.edu
I-House: International Romantic Comedy Night
Dear Aces! For this week, come celebrate Valentine's Day with your I-House friends or your significant other with popcorn and a movie. Our movie selection is a romantic comedy which will teach us about another culture in a fun way. This event will be happening on this Wednesday (February 12th), on the second floor of Ridgway University Center at 7pm. We hope you will join us.
Hussam Taj
ht70@evansville.edu
Catholic Mass
Join us for Catholic Mass this Sunday! Mass will be held in Neu Chapel at 1pm.
Kathryn Williams
kw354@evansville.edu
Men's Group
Join or try out the Men's Group! Wednesdays at 7pm at Newman Center.
Kathryn Williams
kw354@evansville.edu
Rosary Group
Come and pray the Rosary with us! Every Wednesday at noon in Library Room 208.
Kathryn Williams
kw354@evansville.edu
Newman Night
Come to our weekly Newman Night for dinner and discussion! Fr. Godfrey Mullen will be talking about The Church: Mother and Teacher. Discussion starts at 5pm at Newman Center with a delicious dinner to follow!
Kathryn Williams
kw354@evansville.edu
Small Group
Join or try out a small group this Wednesday or Thursday at Newman Center! Wednesdays are with Annie at 7pm discussing the topic of Cultivating Fruits of the Spirit. Thursdays are with Michaela and Lesley at 8:30pm discussing How To Build Your Spiritual Armor.
Kathryn Williams
kw354@evansville.edu
UE Ballroom Partners with Lamasco Bring Back The Academy of Flamenco Arts
UE Ballroom partners with Lamasco bring back The Academy of Flamenco Arts! Saturday, February 15th from 7-9pm at Lamasco. Family friendly, all ages welcome! Limited seats left. Tickets Only $30, and includes show and dessert. The Academy of Flamenco Arts is an incredibly diverse team, with expertise from Argentina, Venezuela and other parts of the world. In addition, famous local bakery Panaderia San Miguel is providing their wonderful Tres Leches cake for the dessert. This event sold out last year, so don't delay in getting tickets to this incredibly moving and exciting experience. Tickets can be found at the Lamasco Facebook Page in their events section, or online.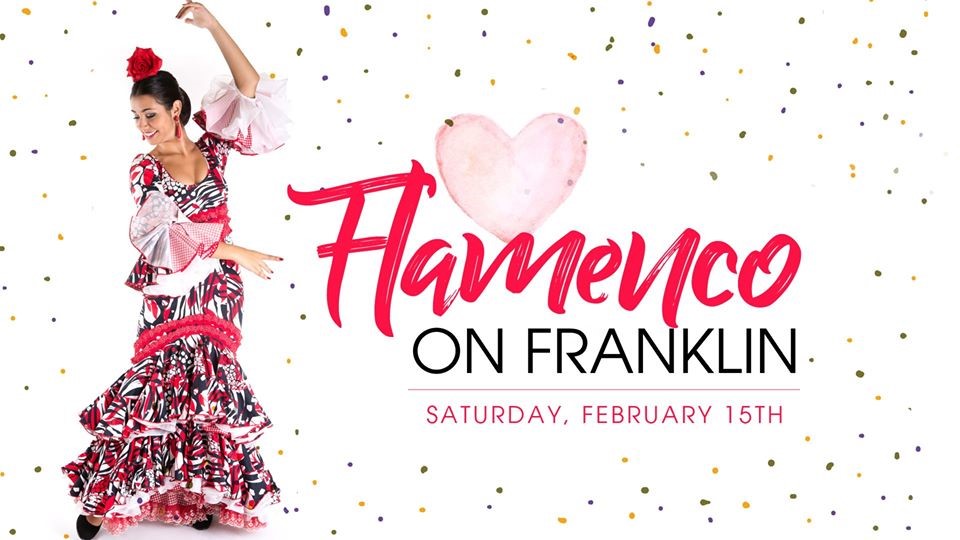 Student Leadership Conference
The 2020 SLC Conference will be held on Saturday, February 29, 9:00 a.m. to 12:30 p.m. in Eykamp Hall.
This year's theme is Diversity in the Workplace: How to take the first steps, expand the pathway, and build bridges with those you encounter in the community. The conference is focused on understanding differences, exploring one's ideals, and relationship building with others.
The conference registration includes refreshments, lunch, and a long-sleeved t-shirt.
Kaitlyn Luczak
kl241@evansville.edu
UE Health and Fitness Fair
The UE Health and Fitness Fair will be held on Thursday, February 13th from 11:00 am - 2:00 pm in the Fitness Center gym. This is a FREE event for all students, staff and faculty. Great giveaway and prizes.
Lori Adams
la87@evansville.edu
Medical Spanish Practice
Medical Spanish practice is designed to help students practice communication skills in Spanish for medical settings. Students may arrive and leave at any time. The next session is Sunday, February 16, from 4:30-6:00 p.m. in Room 64 in the Schroeder School of Business Building. Please contact associate professor of Spanish Diana Rodríguez Quevedo at dr130@evansville.edu for more details. ¡Nos vemos el domingo!
Diana Rodriguez Quevedo
dr130@evansville.edu
Solution Station Wednesday: Technology Help
Are you having any issues with technology at the University of Evansville? Do you have questions about how to setup your devices and accounts? Email, WiFi, or Blackboard blues? Let's talk! Come by the Solution Station table in Ridgway this Wednesday to talk about it with someone from OTS! We'll be ready to help.
As always, let us know if there's anything else you need help with or if you have questions that you need the answer to.
Wednesday: 11:00 a.m. - 1:00 p.m
Chad Hart
ch299@evansville.edu
School of Education Receives Grant from Project Lead the Way
The School of Education received another STEM grant that will allow all elementary education majors to receive certification in Project Lead the Way Curriculum. This PreK-5 curriculum taps into the exploratory and engaging nature of effective elementary classrooms. The program empowers students to adopt a design-thinking mindset through projects and problems that relate to real world activities centered around computer science, engineering, and biomedical science. Dr. Amy McBride and Mr. Jeremy Buente, School of Education instructors for elementary math and science methods courses, successfully completed PLTW Launch Pre-service Faculty Training. This additional certification for our elementary education students will enhance the STEM knowledge of our graduates and impact student performance in their future classrooms.
Amy McBride
am85@evansville.edu
Village Housing Information Meetings
Students interested in living in Village housing (Jones Hall, Townhouses, Apartments, or Houses) next year should plan to attend an information meeting. The Villages are reserved primarily for students with 60 plus credit hours. In order to apply to live in the Villages, each person in your group must have at least 44 credit hours on file with the University by the end of the Fall 2019 semester.
Information meetings will be Tuesday, February 18, at 4:30pm and 9:30pm in Eykamp Hall, Room 252, Ridgway University Center. During the meetings, we will discuss how you can apply for Village housing for 2020-21.
If you have questions, please contact Residence Life or view our housing assignments flowchart.
Brian Conner
bc32@evansville.edu
Eykamp Prize: Call for Nominations
The Eykamp Prize was established by Richard and Rita Eykamp in 2015 to honor Faculty Achievement at the University of Evansville. Recipients of the prize will receive a one-time award of $10,000 in recognition of extraordinary contributions to the University of Evansville as University Citizens. Examples of such contributions include deep and successful involvement in recruiting students; expanding the number, scope, and competitiveness of grant funding for their department; bringing positive public awareness to the University through scholarship, knowledge, and understanding of their discipline. Up to two prizes a year may be awarded.
Nominations for the Eykamp Prize may come from any member of the University of Evansville Community. Nominees should be tenured or tenure-track faculty members at the University of Evansville who have not received the award in the previous five years. Nominations can be submitted in writing or via e-mail to Michael Austin, Executive Vice President for Academic Affairs/Provost, at ma352@evansville.edu by March 13, 2020. Nominations should include the name of the faculty member and a brief statement of the reasons that he or she is being nominated.
Recipients of the Eykamp Prize will be selected by an Awards Committee, appointed by the EVPAA/Provost that includes members of the faculty and staff, academic administrators, and at least one member of the Board of Trustees. Awards will be announced and presented at the May Commencement Ceremony.
Previous Recipients: 2016 – Dr. Mark Valenzuela; 2017 – Dr. Lora Becker; 2018 – Dr. David Dwyer; and 2019 – Dr. Kristy Miller.
Paula Heldt
ph28@evansville.edu
V-Day 2020 Tee Shirts: Until the Violence Stops
Women's Rights Awareness selling tee shirts commemorating their 2020 Production of Eve Ensler's The Vagina Monologues. The shirts feature a logo by UE student Jules Iradukunda and will cost $15. You may order your shirt at the WRA tables in Ridgeway between Feb 10-14, at the event on Feb 14 or 15, or contact Dr. Annette Parks. Profits from the tee shirts and ticket sales will go to the Evansville Albion Fellows Bacon Center.
Annette Parks
ap3@evansville.edu
Joe Atkinson Directs Play for Evansville Civic Theatre Underground Series
Evansville Civic Theatre's Underground series will open "Circle Mirror Transformation," by Annie Baker, on Thursday, February 13, at 7:30 p.m. The production, which run four days at Studio 321 (321 N. Congress), is directed by Assistant Professor of Communication Joe Atkinson.
"Circle Mirror Transformation" follows four lost New Englanders who enroll in Marty's six-week-long community-center drama class. When the class begins to experiment with harmless games, hearts are quietly torn apart, and tiny wars of epic proportions are waged and won. The play is a beautifully crafted diorama, a petri dish in which we see, with hilarious detail and clarity, the antic sadness of a motley quintet.
Performances begin at 7:30 p.m. on February 13, 14, and 15, with a 2:00 matinee on Sunday, February 16.
Joe Atkinson
ja122@evansville.edu
Congratulations to Todd Matteson
Prof Todd Matteson's piece, Mountain Pass (wall bowl), was selected by Juror, Eric Knoche, to be included in the National Ceramic Exhibition titled 'Off the Table: Clay for the Wall' sponsored by the Missouri Western State University Clay Guild. The Exhibition opens February 21, 2020 in the Potter Fine Arts Gallery located on the Missouri Western State University Campus in St. Joseph, Missouri.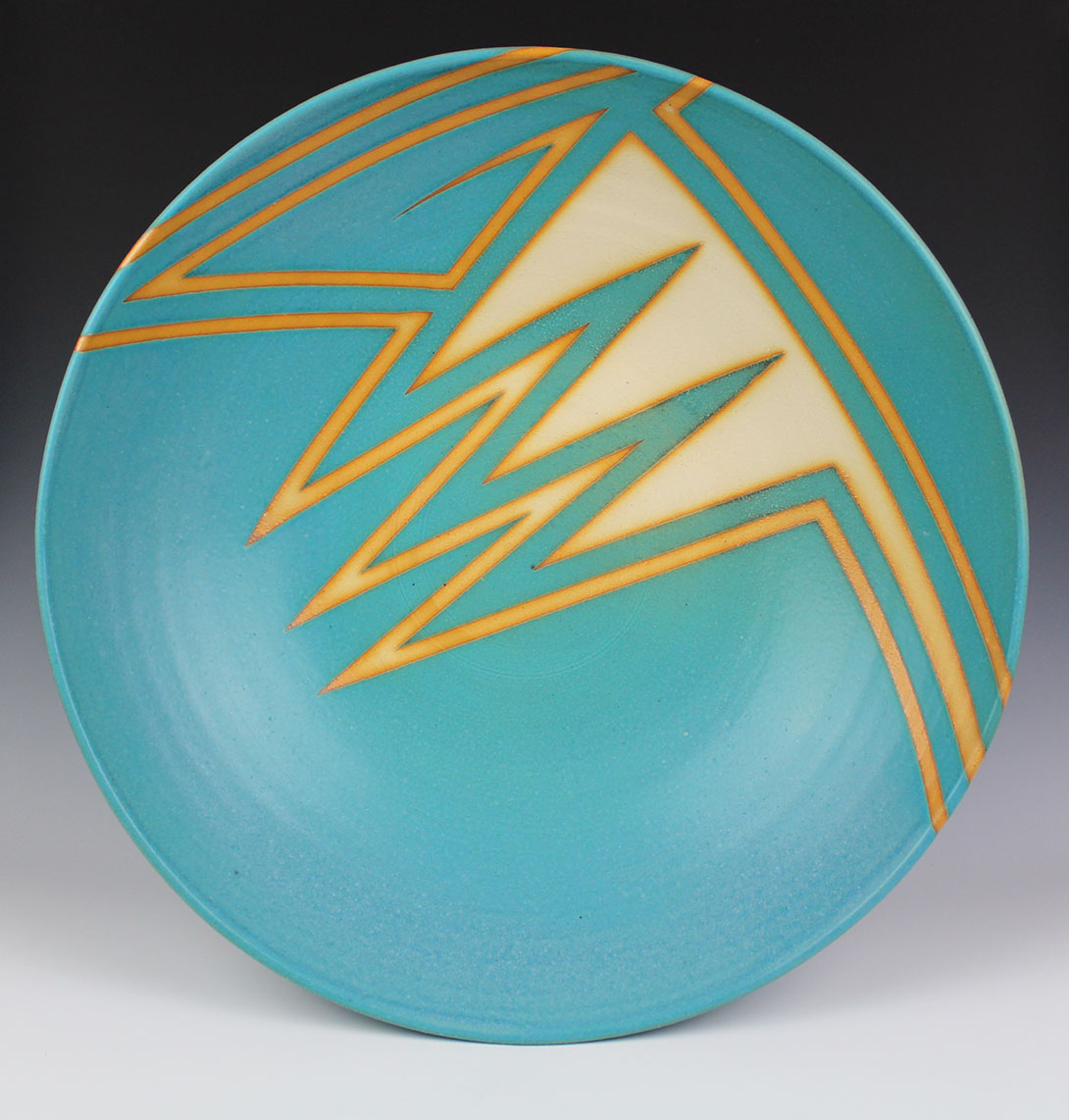 Brooksie Smith
bs267@evansville.edu
Men's Basketball Hosts Loyola on Wednesday
The University of Evansville men's basketball team returns home to the Ford Center on Wednesday for a 6 p.m. game against Loyola. The game will be carried on ESPN+ along with the Purple Aces Radio Network.
Setting the Scene
- Evansville has come extremely close to their elusive first conference win in the last two games; following an overtime game against Southern Illinois last week, the Aces held a 1-point lead inside of four minutes remaining on Sunday at Bradley
- In the first contest between UE and Loyola, the Ramblers outscored the Aces by a 54-16 margin in the paint on their way to a 78-44 victory
- Marquise Kennedy led LUC with 20 points on an efficient 8-for-9 shooting day
- When you look at the series, the Ramblers have won four of the last five games, but Evansville held strong on its home floor last season, dealing the Ramblers a 67-48 loss on January 8, 2019
- K.J. Riley was the top performer in that game, posting 15 points while hitting six of his nine attempts; he added seven assists and five rebounds
Last Time Out
- On Sunday at Bradley, the Purple Aces opened up an early 6-2 lead before the Braves would go up by as many as 14 points in the second half
- Evansville battled back each time and took a 1-point lead inside of four minutes remaining before a late run by the Braves saw them take a 69-58 win
- Leading the Aces was Evan Kuhlman, who chipped in 13 points and a career-high nine rebounds
- John Hall finished with 12 points while Jawaun Newton and K.J. Riley added 11 and 10, respectively
- Trailing by a 44-30 margin in the opening minutes of the second half, the Aces used a 16-2 run to get back into it and would take a 54-53 lead with 3:56 on the clock
- An and-one by the Braves got them started on a game-ending 16-4 run that saw them take the 11-point win
Up-Tempo Sophomore
- Taking care of the ball has been a specialty of UE sophomore Shamar Givance, who is back on top of the MVC in assist-to-turnover ratio with a tally of 2.9 for the season
- In his last five games, Givance has recorded 16 assists and just four turnovers in 99 minutes of work
- Givance is starting to find his groove from outside as he converted all three attempts on his way to nine points against Drake and is 4-of-9 from long range in the last seven games
- He has 58 assists against just 20 turnovers in his 510 minutes on the floor
Locked In
- UE has excelled over the last three games in limiting assists and forcing turnovers - the opposition has 20 assists against 36 turnovers over that stretch
- The three games prior to that opponents them finish with 50 helpers and 22 turnovers
Scouting the Opponent
- Loyola has posted a 16-9 record through its first 25 games while accumulating an 8-4 record in Valley games
- Cameron Krutwig continues to rank among the top players in the conference and paces the Ramblers with 15.2 points and 8.0 rebounds per game
- Aside from those numbers, Krutwig has a team-best 108 assists, which ranks second in the league and has 18 blocks
- Tate Hall has notched 13 points and 3.9 boards, both second on the team
- Marquise Kennedy is third with 9.1 PPG, but in the first meeting against the Aces, was 8-of-9 from the field on his way to 20 points
Lowry Earns MVC Track Athlete of the Week
Junior long-distance runner Anna Lowry was recognized by the Missouri Valley Conference as the female track athlete of the week.
Lowry smashed her fourth program record during the indoor season, including two at the Marshall Invitational last weekend. She broke her own record in the 5,000-meter run, earning second place at a 17:26.92 clip.
Lowry followed that up by picking up a second-place finish in the mile run at 5:02.10, almost eight seconds faster than the previous record.
Next up for the Purple Aces is the IU Hoosier Hills Open on Feb. 14 in Bloomington, Ind.
Contribute to AceNotes
To have content considered for inclusion in AceNotes, please submit a Marketing Request Form. Deadline for submission to AceNotes is 10:00 a.m. on the requested date of publication. Only articles concerning UE related/sponsored activities will be accepted. Articles submitted to AceNotes may be edited for length and clarity. Submitter contact information is at the end of each article.