| | |
| --- | --- |
| AceNotes Today | Monday, February 10, 2020 |
Men's Group
Join or try out the Men's Group! Wednesdays at 7pm at Newman Center.
Kathryn Williams
kw354@evansville.edu
Rosary Group
Come and pray the Rosary with us! Every Wednesday at noon in Library Room 208.
Kathryn Williams
kw354@evansville.edu
Newman Night
Come to our weekly Newman Night for dinner and discussion! Fr. Godfrey Mullen will be talking about The Church: Mother and Teacher. Discussion starts at 5pm at Newman Center with a delicious dinner to follow!
Kathryn Williams
kw354@evansville.edu
Small Group
Join or try out a small group this Wednesday or Thursday at Newman Center! Wednesdays are with Annie at 7pm discussing the topic of Cultivating Fruits of the Spirit. Thursdays are with Michaela and Lesley at 8:30pm discussing How To Build Your Spiritual Armor.
Kathryn Williams
kw354@evansville.edu
UE Ballroom Partners with Lamasco Bring Back The Academy of Flamenco Arts
UE Ballroom partners with Lamasco bring back The Academy of Flamenco Arts! Saturday, February 15th from 7-9pm at Lamasco. Family friendly, all ages welcome! Limited seats left. Tickets Only $30, and includes show and dessert. The Academy of Flamenco Arts is an incredibly diverse team, with expertise from Argentina, Venezuela and other parts of the world. In addition, famous local bakery Panaderia San Miguel is providing their wonderful Tres Leches cake for the dessert. This event sold out last year, so don't delay in getting tickets to this incredibly moving and exciting experience. Tickets can be found at the Lamasco Facebook Page in their events section, or online.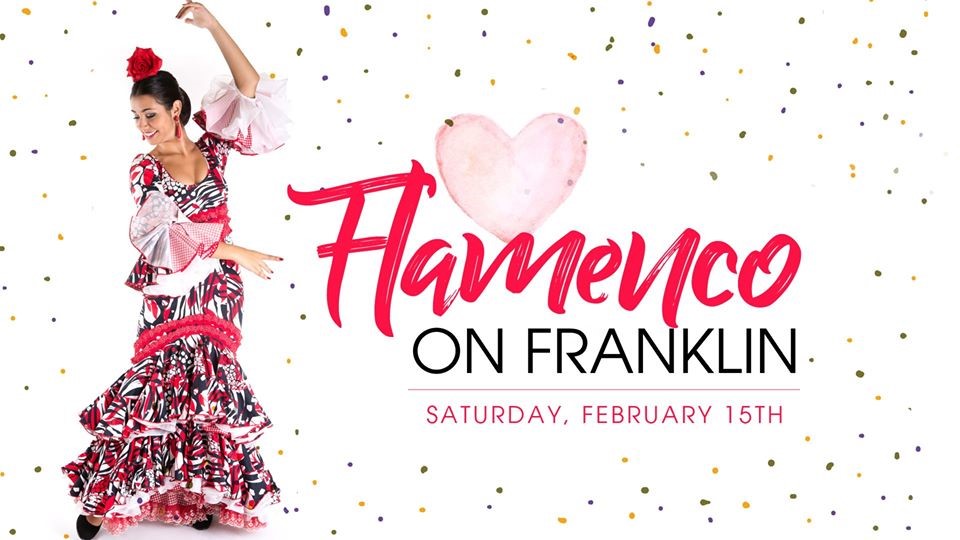 Diversity Coffee Break featuring Dr. Parks
Diversity Coffee Break is here, but we've changed the meeting day and time! We now meet on Mondays at 3 at the Diversity House. We've got coffee, tea, and friendly conversations about diversity around campus. Feel free to come and hang out with us for an hour! Our guest for Monday, Feb. 10 is Dr. Annette Parks from the History and Gender/Women's Studies departments. We'll be talking about Black History Month and Women's History Month, so this is a two-for-one! Hope to see you there!
If you would like to represent your group/organization on campus, please email HarMonee Baltzell at hb119@evansville.edu for more info!
HarMonee Baltzell
hb119@evansville.edu
This Week in Music (February 10-16)
Faculty Recital, Tuesday, February 11
Graham Cullen, cello
7:30pm, Neu Chapel
Graham Cullen, cello, will perform a recital including the sixth of Bach's popular cello suites, as well as a suite by twentieth-century composer Benjamin Britten. Come for a rare opportunity to hear these unique works. The concert is free and open to the public.
Kristen Strandberg
ks532@evansville.edu
Student Leadership Conference
The 2020 SLC Conference will be held on Saturday, February 29, 9:00 a.m. to 12:30 p.m. in Eykamp Hall.
This year's theme is Diversity in the Workplace: How to take the first steps, expand the pathway, and build bridges with those you encounter in the community. The conference is focused on understanding differences, exploring one's ideals, and relationship building with others.
The conference registration includes refreshments, lunch, and a long-sleeved t-shirt.
Kaitlyn Luczak
kl241@evansville.edu
UE Health and Fitness Fair
The UE Health and Fitness Fair will be held on Thursday, February 13th from 11:00 am - 2:00 pm in the Fitness Center gym. This is a FREE event for all students, staff and faculty. Great giveaway and prizes.
Lori Adams
la87@evansville.edu
Women's Rights Awareness Presents The Vagina Monologues
The Vagina Monologues is a series of monologues, written by Eve Ensler, that is performed globally every February to raise awareness of domestic abuse towards women. The Vagina Monologues will take place in Eykamp 251 on Feb. 14 & 15. Doors open at 6:30 pm and the show begins at 7:00 pm.
The price for tickets are the following:
Couples: $10
Singles: $8
During the performance, items from campus organizations will be on sale. All proceeds will go to the Albion Fellows Bacon Center of Evansville.
A donation drive for Borrowed Hearts Foundation will be taking place. Please bring gently used women's and junior's clothing. WRA members will take your donation to their store.
Women's Rights Awareness is so excited to present such a phenomenal performance!
KeYanla Cleckley
kc285@evansville.edu
Pulling Back the Curtain on Campus Diversity - Lecture and Breakout Sessions
On Monday, February 10th, join the Center for Diversity, Equity, and Inclusion for a keynote lecture with featured guest for Black History Month, Dr. Derrick Brooms. The lecture, "Pulling Back the Curtain on Campus Diversity," will be Monday, February 10 at 6:00 p.m. in SOBA 170.
Additional opportunities to meet Dr. Brooms and discuss the culture around diversity at UE will be offered Tuesday, February 11th.
8:00-9:00 a.m. – Breakfast Open Chat with Derrick in Café Court (use meal plan or pay your own way)
9:30-10:30 a.m. – Workshop Session I: Staff and Administrators – Eykamp 252
1:15-2:15 p.m. – Workshop Session II: Faculty – Eykamp 252
2:30-4:00 p.m. – Student Wrap Session – Eykamp 253-254
Dr. Brooms serves as faculty in sociology and Africana studies and also serves as a youth worker. Dr. Brooms specializes in the sociology of African Americans in urban environments, particularly Black males, with research and activism that focus on educational equity, race and racism, diversity and inequality, and identity. His education research primarily centers on Black male schooling experiences in both secondary and postsecondary institutions. At the secondary level, his work examines the impact of school culture on academic aspirations, resilience, motivation, and sense of self. At the collegiate levels, he investigates the impact of campus climate, mentoring, and involvement on the academic performances and educational experiences of African American men. Additionally, his education research examines Black males' identity development and expression. In his museum research, developed under the guidance of Ayana Karanja of Loyola University Chicago, he explores racial representation and how museum exhibits and sites play a role in maintaining narratives and counter-narratives.???
Dr. Brooms is the author of?Being Black, Being Male on Campus: Understanding and Confronting Black Male Collegiate Experiences?(SUNY Press, 2017).
The Mosaic Speaker Series is a program of the Center for Diversity, Equity, and Inclusion and aims to recognize and celebrate the many representations of diversity found within and around the University of Evansville community.
Megan Sicard
ms331@evansville.edu
Build-A-Bear
Join SAB and RSA for our annual Build-A-Bear at 6pm in Rademacher's on Feb. 10! Event will go while supplies last!
Lily Renfro
lr156@evansville.edu
Jeff Bender: Fishing for Plankton - Efroymson Exhibition & Visiting Artist
Artist's Exhibition: January 15 – February 29, 2020
Artist in Residence: February 5 - 6
Student Gallery Lecture: Wednesday, February 5, 10:00am
Student Workshop: Thursday, February 6, 9:30am
Artist's Reception & Public Gallery Lecture: Thursday, February 6
Reception: 6:30pm, Lecture: 7:00
All events will take place in the Melvin Peterson Gallery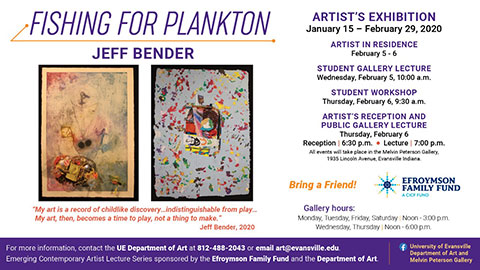 Solution Station Wednesday: Technology Help
Are you having any issues with technology at the University of Evansville? Do you have questions about how to setup your devices and accounts? Email, WiFi, or Blackboard blues? Let's talk! Come by the Solution Station table in Ridgway this Wednesday to talk about it with someone from OTS! We'll be ready to help.
As always, let us know if there's anything else you need help with or if you have questions that you need the answer to.
Wednesday: 11:00 a.m. - 1:00 p.m
Chad Hart
ch299@evansville.edu
School of Education Receives Grant from Project Lead the Way
The School of Education received another STEM grant that will allow all elementary education majors to receive certification in Project Lead the Way Curriculum. This PreK-5 curriculum taps into the exploratory and engaging nature of effective elementary classrooms. The program empowers students to adopt a design-thinking mindset through projects and problems that relate to real world activities centered around computer science, engineering, and biomedical science. Dr. Amy McBride and Mr. Jeremy Buente, School of Education instructors for elementary math and science methods courses, successfully completed PLTW Launch Pre-service Faculty Training. This additional certification for our elementary education students will enhance the STEM knowledge of our graduates and impact student performance in their future classrooms.
Amy McBride
am85@evansville.edu
Village Housing Information Meetings
Students interested in living in Village housing (Jones Hall, Townhouses, Apartments, or Houses) next year should plan to attend an information meeting. The Villages are reserved primarily for students with 60 plus credit hours. In order to apply to live in the Villages, each person in your group must have at least 44 credit hours on file with the University by the end of the Fall 2019 semester.
Information meetings will be Tuesday, February 18, at 4:30pm and 9:30pm in Eykamp Hall, Room 252, Ridgway University Center. During the meetings, we will discuss how you can apply for Village housing for 2020-21.
If you have questions, please contact Residence Life or view our housing assignments flowchart.
Brian Conner
bc32@evansville.edu
Eykamp Prize: Call for Nominations
The Eykamp Prize was established by Richard and Rita Eykamp in 2015 to honor Faculty Achievement at the University of Evansville. Recipients of the prize will receive a one-time award of $10,000 in recognition of extraordinary contributions to the University of Evansville as University Citizens. Examples of such contributions include deep and successful involvement in recruiting students; expanding the number, scope, and competitiveness of grant funding for their department; bringing positive public awareness to the University through scholarship, knowledge, and understanding of their discipline. Up to two prizes a year may be awarded.
Nominations for the Eykamp Prize may come from any member of the University of Evansville Community. Nominees should be tenured or tenure-track faculty members at the University of Evansville who have not received the award in the previous five years. Nominations can be submitted in writing or via e-mail to Michael Austin, Executive Vice President for Academic Affairs/Provost, at ma352@evansville.edu by March 13, 2020. Nominations should include the name of the faculty member and a brief statement of the reasons that he or she is being nominated.
Recipients of the Eykamp Prize will be selected by an Awards Committee, appointed by the EVPAA/Provost that includes members of the faculty and staff, academic administrators, and at least one member of the Board of Trustees. Awards will be announced and presented at the May Commencement Ceremony.
Previous Recipients: 2016 – Dr. Mark Valenzuela; 2017 – Dr. Lora Becker; 2018 – Dr. David Dwyer; and 2019 – Dr. Kristy Miller.
Paula Heldt
ph28@evansville.edu
Spring 2020 Online Learning Workshops
Video Discussions with Flipgrid:
Thursday, Feb. 20, 12:30-1:00 pm
In this quick workshop, we will walk through how to easily incorporate student video discussions into your classes. We'll talk about how to set up grids, create topics and topic videos, and discuss possible applications for all subject areas. Find out more about adding another level of engagement to your online or in-person courses!
Capturing Lectures with Panopto:
Friday, Mar. 20, 1:30-2:00 pm
Learn how to easily add your own videos to any of your classes! Panopto is a fantastic tool that lets us efficiently record and manage course videos on our own devices. In this session we'll discuss various recording options as well as built-in features like discussions, quizzes, and statistics.
Teaching through the Lightboard
Thursday, April 30, 2:00-2:30
Come find out why lightboard users say that "this is just like teaching." In this session we will cover lightboard setup, use strategies, and simple video editing. What is a lightboard?
Leslie of Barton
lb261@evansville.edu
UE Faculty, Students Team for Addiction-Themed Documentary on Channel 9
"Epidemic: Addiction in Middle America," a five-part documentary series produced and directed by Assistant Professor of Communication Joe Atkinson and narrated by Assistant Professor of Acting Amelia McClain, will premiere on WNIN Tri-State Public Media this Thursday, February 13, at 7:00 p.m. The series also features work by Visual Communication student Michaela Kunkler '21, who served as Visual Effects Supervisor. Department of Communication students Amanda Ackerman '21 and Brea Mullen '21 contributed cinematography to the film, while Ackerman and fellow Communication student Connor Cleary '21 worked as production assistants.
The series' first two episodes will air this week; Episodes 3 & 4 will begin at 7:00 p.m. on February 20, and the series will conclude February 27 at 7:00 p.m.
Funding for the project was provided by UE Arts & Sciences' "See the Reaching" Fund, the UE Alumni Research and Scholarly Activity Fellowship, and the UE Art, Research and Teaching Fund.
Joe Atkinson
ja122@evansville.edu
Dr Edward Bujak Becomes Senior Fellow
Dr Edward Bujak has been appointed as a Senior Fellow of the United Kingdom's Higher Education Academy in recognition of his contribution to teaching and learning support in Higher Education. Dr Bujak is Chair of the Department of British Studies at Harlaxton College.
Edward Bujak
ebujak@harlaxton.ac.uk
DPT Faculty, Alumni, and Students Publish Research
UE Doctor of Physical Therapy faculty, students and alumni recently published a study "Exercise Intervention for Individuals with Dysfunctional Breathing: A Matched Controlled Trial" in the International Journal of Sports Physical Therapy. This study was supported by the UE Ridgway grant.
The research team included Dr. Kyle Kiesel, professor and program director of physical therapy and students Gabby Stubblefield and Daniel Waskiewicz along with DPT alumni Madison Burklow, Mary Beth Garner, Josh Hayden, AJ Hermann, Elizabeth Kingshott, Greg McCullough, Risa Ricard, Jessika Volz, and Alyssa Englert.
Jennifer Simon
js698@evansville.edu
Sympathy for Kevin Smith and Family
We extend our condolences to Kevin Smith, the Director of Housekeeping (WFF), on the loss his mother, Charlene Smith, on Friday, February 7 following a lengthy illness. Please keep Kevin and his family in your thoughts and prayers during this difficult time.
Bats Erupt for 10 Runs to Lead UE Softball to 10-4 Win
The bats came alive for the University of Evansville softball team on Sunday with the Purple Aces scoring 10 runs to defeat Green Bay by a final of 10-4 in the finale of the Total Control Sports Invitational at The Dome.
"It was great to be back playing softball. I am really proud of how we played this weekend," Evansville head softball coach Mat Mundell said. "We have a lot to be positive about and to build off of. I love the way the ladies have responded to adversity."
Jessica Fehr had another great game for UE, drawing four walks and turning those into three runs scored. Alyssa Barela went 2-4 with a home run and two RBI while Eryn Gould added a home run of her own. Haley Woolf was 1-4 and scored twice.
Green Bay had the early momentum, scoring three times in the first and once in the second to chase UE starter Emily Lockhart after 1 2/3 innings. The Phoenix notched five hits off of the Aces starter.
Lockhart's teammates picked her right up with a pair of runs in the second. Mackenzie McFeron crossed the plate for the first Evansville run of the day. McFeron pinch ran for Barela before adding some excellent baserunning. The sophomore stole second before advancing to third on a wild pitch. Hannah Hood reached on a Green Bay error, which scored McFeron. Mea Adams added an RBI knock, plating Fehr, who walked earlier in the frame.
Two more runs came home in the third with Hannah Hood singling with two outs to score Fehr and Woolf. An Eryn Gould home run led off the fourth and gave UE the lead for good. With one out, Woolf reached on a walk before Alyssa Barela homered for the second time of the weekend to push the lead to 7-4. Hood would later reach on an error that scored Jessica Fehr. The scoring was capped off by Kat Mueller's bases loaded walk and a Gould HBP that plated Hood.
That would be the final scoring of the game with the Aces cruising to a 10-4 win. Izzy Vetter tossed 4 1/3 scoreless innings of relief before Erin Kleffman threw a scoreless seventh.
Next weekend, the Aces are back in action in Mobile, Ala. at the Jaguar Challenge. UE will face Louisiana Tech, Austin Peay and South Alabama from the 14th through the 16th.
Aces Stage Another Late Rally Before Falling at Bradley
Trailing by 14 points in the second half, the University of Evansville men's basketball team went on a 16-2 run to tie it up before a late Bradley run lifted them to a 69-58 win on Sunday afternoon inside Carver Arena.
Four UE (9-16, 0-12 MVC) players reached double figures, led by Evan Kuhlman's 13 points. He added a career-high of nine rebounds and has recorded at least four caroms in each of the last six games. John Hall scored 12 points while hitting a pair of 3-pointers. Jawaun Newton added 11 tallies while K.J. Riley scored 10. For Newton – it was his third double figure scoring game in the last five outings.
"I thought we kept playing throughout the entire possession. There were a few times that they got pretty good looks, but we stayed in position and grabbed the rebound on their misses," Aces head coach Todd Lickliter said after the game. "Bradley has some really good weapons and are a nice team. There are a lot of things you have to cover with them. Our guys were doing enough to hang in there."
"I continue to be very proud of our guys, they are doing everything that we ask of them. We are getting very close and I know our hard work will pay off."
An and-one by K.J. Riley and a 3-pointer from John Hall got the Aces started with a 6-2 lead. At the 4-minute mark, Bradley (16-9, 7-5 MVC) tied it up at 8-8 for the first time before taking their first lead of 10-8 a minute later. Riley added a triple of his own to give his team a 13-12 lead seven minutes into the game.
Bradley clamped down at that point, keeping the Aces scoreless for a span of five minutes, limiting UE to 0-for-3 shooting and three turnovers. The Braves scored eight in a row to open up a 20-13 advantage.
The run for the Braves continued as they added eight more points, outscoring Evansville by a total mark of 16-2 over nine minutes of action to take their largest lead of the half at 28-15 with 4:37 left in the half. The Aces quickly clawed back with Noah Frederking nailing his first triple to make it a 10-point game.
Evan Kuhlman added a pair of free throws before Frederking was true from outside again, getting his team within five – 28-23 – inside of two minutes remaining. A Ja'Shon Henry dunk ended the stretch, but Jawaun Newton connected on another Aces triple to make it a 4-point game with 1:26 on the clock. Bradley scored the final four points of the period to hold a 34-26 halftime lead.
With 16:18 remaining in the contest, Darrell Brown hit a jumper that pushed the lead to a game-high 14 points (44-30). Once again, Evansville did not relent with Kuhlman accounting for seven points in an 11-2 rally that got UE within five at the 13-minute mark, forcing a Bradley time out. Despite the stoppage, the Aces continued their rally with John Hall hitting another shot from downtown before Newton posted a layup to tie the game at 46-46 with 11 minutes on the clock.
A 16-run game-tying run by UE was countered by a 5-0 stretch from the Braves. Sam Cunliffe got on the board with consecutive scores for UE. His second one was a slam dunk on a nice feed from Shamar Givance. Riley would tie it up at 52-52 with under seven minutes left. The defense for Evansville kept Bradley scoreless for a stretch of nearly four minutes before a free throw put the Braves on top as the four-minute mark approached.
Newton put the Aces on top with his 11th point of the day, finding a spot in the middle of a zone defense that gave UE a 54-53 edge, its first lead since 13-12. It did not last long with the Braves converting a 3-point play on the ensuing trip down the floor. It was the start of a 12-0 stretch that gave them a 65-54 lead with under two minutes remaining. They finished the day with the 69-58 win.
Darrell Brown was the leading scorer for the Braves, finishing with 22 while Elijah Childs added 19 points and 11 boards. The Braves shot 49% from the field in the game with the Aces hitting 39.7% of their tries.
Loyola is up next for UE with the teams set to square off on Wednesday at 6 p.m. at the Ford Center.
Aces Defeat Western Illinois in Saturday Action
In the second day of the season-opening Total Control Sports Invitational, the University of Evansville softball team split its two contests, defeating Western Illinois before falling just short against IUPUI at The Dome.
"Last night we challenged the team to be better tomorrow than we were today. The ladies met that challenge," UE head softball coach Mat Mundell said. "We continue to get great pitching and defense. Those are two keys to good teams. I love how we are battling on every pitch. Excited to play one more tomorrow."
Evansville got the day started with its second win of the weekend, defeating Western Illinois by a 4-1 final in a morning contest. Following a scoreless opening frame, the Purple Aces erupted for three runs in the bottom of the second. With one out, Jessica Fehr reached on an infield single before scoring the first run of the game on a Hannah Hood triple. Katie McLean stepped to the plate and delivered the third hit in a row and second consecutive triple to plate Hood.
Kat Mueller reached on a walk before stealing second. On that play, McLean came home on the throw to push the lead to 3-0. The Leathernecks scored a run in the top half of the third before Evansville got it right back in the fourth when Alyssa Barela hit a 1-out home run to left field. That is where the scoring would end as the Aces clinched the 4-1 win thanks to stellar pitching from Emily Lockhart. She threw a complete game 3-hitter allowing just three hits and one walk. UE recorded eight hits with Fehr, Hood and McLean posting two apiece. Lindsay Renneisen added two walks.
Game two of the day pitted the Aces against IUPUI where the first three innings saw dominant pitching keep the game scoreless. That changed in the top of the fourth when the Aces pushed the first run across the plate thanks to a big 2-out hit from Jessica Fehr. Renneisen got the inning started with a single before advancing to second on a strikeout. With two outs, Fehr singled down the right field line to send Renneisen home.
The lead did not hold for long as the Jaguars scored twice in the fourth and once in the sixth to go up 3-1. Down to their final three outs, the Aces did their best to tie it up. With two outs, it was Renneisen reaching on a double to left. Haley Woolf followed up with a single that scored Renneisen to cut the deficit to a run, but IUPUI recorded the final out to clinch the 3-2 victory.
Izzy Vetter was in the circle for the contest and pitched all six innings. She gave up three runs on six hits and struck out seven batters. UE had eight hits in the game with Fehr going 3-for-3.
Softball Defeats Miami Ohio to Earn Opening Day Split
Taking on one of the best teams the Mid-American Conference has to offer, the University of Evansville softball team opened its season with a 2-1 win over Miami Ohio before falling in a 3-2 contest to Butler at the Total Control Sports Invitational at The Dome.
"I am extremely proud of how the team played today," Purple Aces head softball coach Mat Mundell said. "Our pitching staff set the tone for us in both games. We had great starting and relief pitching."
"We had some great baserunning and defense to complement the pitching. Offensively, we are getting there," Mundell added. "We took some great swings and will get the bats rolling."
Game one saw Evansville face the RedHawks, who were the MAC regular season champs last season. Pitching dominated the contest with both staffs limiting the opposition to just two hits. Emily Lockhart made the start, going 5 2/3 innings while allowing one run on two hits. She fanned five batters on her way to the win. Izzy Vetter was credited with the save, tossing the final four innings. Vetter struck out three. Brianna Pratt made the start for Miami and threw four frames. She gave up two runs on two hits.
UE broke through in the fourth with Eryn Gould crossing the plate on a passed ball. Halie Fain plated the second run on a bases loaded walk. From there, Lockhart and Vetter got the job done, allowing one MU run in the sixth before hanging on for the 2-1 win. Haley Woolf and Jenna Lis had the hits for the Aces while Gould, Jessica Fehr and Lindsay Renneisen each drew a pair of walks.
Another pitchers duel took place in the second game of the day with Butler finishing with a 3-2 win. The Bulldogs scored twice in the top of the third inning before Evansville got on the board in the bottom half of the fourth. Junior Eryn Gould connected on her first home run of the season to cut the deficit in half.
Butler added an insurance run in the top of the seventh and it proved to be a big one. Down to their final three outs, the Aces were primed for a comeback with Haley Woolf starting the inning with a triple before scoring on a sacrifice fly by Renneisen. With two outs, Katie McLean reached on a double, but the Bulldogs got out of the jam to finish off the game.
Vetter made the start for the Aces, throwing five innings of 4-hit, 2-run ball. She recorded nine strikeouts. Freshman Erin Kleffman made her debut in the circle, pitching the final two frames, allowing one run on one hit. As a team, the Aces notched four hits with Gould, Woolf, McLean and Toni Galas registering one apiece.
Two more games are on the docket for tomorrow with UE facing Western Illinois at 10 a.m. before taking on IUPUI at 3 p.m.
Contribute to AceNotes
To have content considered for inclusion in AceNotes, please submit a Marketing Request Form. Deadline for submission to AceNotes is 10:00 a.m. on the requested date of publication. Only articles concerning UE related/sponsored activities will be accepted. Articles submitted to AceNotes may be edited for length and clarity. Submitter contact information is at the end of each article.