| | |
| --- | --- |
| AceNotes Today | Wednesday, February 5, 2020 |
TIAA Individual Counseling Appointments
Please welcome Tim Stout as the new TIAA-CREF representative for our employees and retirees. Tim will be on the UE campus for individual counseling sessions on Wednesday, February 19 and Thursday, February 20. Lori Matthews served UE for several years as our TIAA representative, but she has recently resigned. We are confident that our employees and retirees will find that Tim will provide the same high level of service that they have become accustomed to with Lori.
To schedule an appointment, call TIAA-CREF at 1-800-732-8353.
Tim will hold appointments in SOBA room 153, Eades Music Room.
Deadline to Sign up to be a Road Trip Host is February 7
The Office of Admission needs current UE students who live in the residence halls to host prospective high school seniors for Road Trip February 21-23. If you are available, you can apply to host online or by emailing Ashley Jackson (aj53@evansville.edu) or Jordan Hall (jh590@evansville.edu), or stopping by the Office of Admission (OH 104).
Jordan Hall
jh590@evansville.edu
I-House: Brazil - This Wednesday
Dear Aces! We are excited for this week's I-House on Brazil. Patrick Sewell and Lucas Macena are International students from Brazil at UE. Patrick is a senior Economics and Cognitive Science double major and Lucas is a sophomore Economics and Marketing double major. They both love playing soccer and travel. Their favorite part of UE is the friendships they made and the relationships they built over their time here. They will be sharing more about themselves, their culture, and their life back home at I-House Brazil happening on February 5th (Wednesday) on Class of '59 Gallery and Lounge, Ridgway University Center at 7pm. We hope to see you there!
Hussam Taj
ht70@evansville.edu
Career Day 2020
Looking for a full-time professional position?
Cooperative education opportunity? Internship? Summer Job?
Don't miss this opportunity to network with up to 75 employers!
Tuesday, February 11, 2020
11:00 am – 2:00 pm
Fitness Center Gym, Carson Center
Business professional attire recommended.
Bring many copies of your resume!
Donna Schmitt
ds120@evansville.edu
RSA Bingo - Women's History Month
Join us for Bingo this month on Feb. 6 at 9pm as we celebrate Women's History Month! Win some great prizes, including a Polaroid camera, and some great snacks!
Lily Renfro
lr156@evansville.edu
Build-A-Bear
Join SAB and RSA for our annual Build-A-Bear at 6pm in Rademacher's on Feb. 10! Event will go while supplies last!
Lily Renfro
lr156@evansville.edu
Re-Start Workshop Series: Study Skills
Get a new start to the year! The Re-Start Workshop series will focus on starting the year strong and exploring new directions for the new year!
Come to one workshop - or come to them all! Each Thursday the workshop starts at 11:00 a.m and then repeats again at 1:00 p.m.
Thursday February, 6 - Study Skills
Thursday February, 13 - Major Change Workshop
11:00 a.m. - 12:00 p.m.
1:00 p.m. - 2:00 p.m.
Ridgway Center - Eykamp 253
Chad Hart
ch299@evansville.edu
V-Day 2020 Tee Shirts: Until the Violence Stops
Women's Rights Awareness selling tee shirts commemorating their 2020 Production of Eve Ensler's The Vagina Monologues. The shirts feature a logo by UE student Jules Iradukunda and will cost $15. You may order your shirt at the WRA tables in Ridgeway between Feb 10-14, at the event on Feb 14 or 15, or contact Dr. Annette Parks. Profits from the tee shirts and ticket sales will go to the Evansville Albion Fellows Bacon Center.
Annette Parks
ap3@evansville.edu
Spring 2020 Online Learning Workshops
Video Discussions with Flipgrid:
Thursday, Feb. 20, 12:30-1:00 pm
In this quick workshop, we will walk through how to easily incorporate student video discussions into your classes. We'll talk about how to set up grids, create topics and topic videos, and discuss possible applications for all subject areas. Find out more about adding another level of engagement to your online or in-person courses!
Capturing Lectures with Panopto:
Friday, Mar. 20, 1:30-2:00 pm
Learn how to easily add your own videos to any of your classes! Panopto is a fantastic tool that lets us efficiently record and manage course videos on our own devices. In this session we'll discuss various recording options as well as built-in features like discussions, quizzes, and statistics.
Teaching through the Lightboard
Thursday, April 30, 2:00-2:30
Come find out why lightboard users say that "this is just like teaching." In this session we will cover lightboard setup, use strategies, and simple video editing. What is a lightboard?
Leslie of Barton
lb261@evansville.edu
You're Invited to Columbia Sportswear Employee Store
The Columbia Sportswear Company has invited all University of Evansville employees to shop at their exclusive employee store Feb 14 – March 8, 2020. The invitation, which is required to shop, is located on MyUE at https://bit.ly/2MtxS9K under Documents and Information Links, Employee Discounts. The store hours and address can be found on the invitation. Happy shopping!
Employee Excellence Nominations
Nominate Individuals for Employee Excellence!
The University of Evansville, in pursuit of excellence in service, wishes to recognize monthly a non-faculty employee displaying records of achievement as a leader. Leadership may be demonstrated in any of the following categories:
• Service to the University community
• Service to students
• Job performance and attitude to fellow employees
One award is presented each month. To be eligible, an employee must be a full-time member of the administration or staff. Nominations are due before the 15th of each month. Nominations are now being accepted for the month of March!
To nominate someone, or to find out more information about the Employee Excellence Award, go to http://acelink.evansville.edu/Tools/EmployeeAward/
Catholic Mass
Join us for Catholic Mass with Fr. Christian Raab. Mass will be held in Neu Chapel at 1pm.
Kathryn Williams
kw354@evansville.edu
Newman Night
Join us for discussion and prayer for the unborn with a delicious dinner to follow! Come by Newman Center at 5pm on Wednesday! Any questions, email Kathryn Williams at kw354@evansville.edu
Kathryn Williams
kw354@evansville.edu
Solution Station Wednesday: Major Change?
Are you thinking about changing your major? Considering adding a minor? Let's talk! Come by the Solution Station table in Ridgway this Wednesday to talk it through and hear about your next steps!
As always, let us know if there's anything you need help with or if you have questions that you need the answer to.
Wednesday: 11:00 a.m. - 1:00 p.m
Chad Hart
ch299@evansville.edu
Habitat for Humanity Global Village Build in Guatemala
Are you interested in traveling and working to make the world a better place? If so, please consider applying to our May trip to Guatemala to build homes, smokeless stoves, and latrines. Students do not have to have any special skills or tools, but a heart for hard work and meeting new people. Over the week of May 10-17th, a group will travel and build with time to experience local culture and food. It is a wonderful way to contribute to a better world and to learn a lot about yourself.
You can apply for this opportunity at https://studyabroad.evansville.edu/index.cfm?FuseAction=Programs.ViewProgramAngular&id=11568.
Please contact hc110 for more information.
Holly Carter
hc110@evansville.edu
Alternative Spring Break Habitat for Humanity Trip to Ohio
Interested in making a difference this spring break? Travel with a team of UE students to Athens, Ohio to build homes with Habitat for Humanity. There is no experience required or special skills, just a willingness to learn and work hard. This adventure will allow you to see a new part of the country, meet local volunteers, and spend time with others over the spring break week. And the best part- it's free and all meals are included!
You can apply on UEngage or contact HC110 for more information.
Holly Carter
hc110@evansville.edu
Apply to be a Resident Assistant for Fall 2020
Applications are open on UEngage.evansville.edu under "Forms" or click here: https://uengage.evansville.edu/submitter/form/start/380776.
Applications are due Monday, February 10th at 8:00am.
Please fill out the application to the best of your ability and answer all questions with as much detail as possible. You will be required to submit a résumé as well as two references.
Interview times should be chosen through the link at the end of the application. Individual interviews are between February 17th and February 19th. We will have one group interview on February 20th. Interviews are mandatory, unless you have an emergency, class, or prior conflict. Please let us know ASAP if that is the case so we can schedule a different time for your interview.
Dress is business casual for all interviews.
If you have any questions or concerns please feel free to contact Megan King at mk255@evansville.edu or Karyssa Vasquez at kv54@evansville.edu.
Thank you for your interest in becoming a part of the Residence Life team!
Karyssa L Vasquez
kv54@evansville.edu
Wellness Wednesday Lunch and Learn
The Office of Health Education is hosting its 1st Wellness Wednesday Lunch and Learn of the Spring semester!
This week's topic is "Healthy Relationships." In this session you will learn the importance of healthy relationships for overall well-being as well as characteristics of a healthy vs unhealthy relationship.
Come to Eykamp 254 from 12-1pm! Bring your lunch and join the discussion!
Jennifer Hargus
jh693@evansville.edu
DPT Faculty, Alumni, and Students Publish Research
UE Doctor of Physical Therapy faculty, students and alumni recently published a study "Exercise Intervention for Individuals with Dysfunctional Breathing: A Matched Controlled Trial" in the International Journal of Sports Physical Therapy. This study was supported by the UE Ridgway grant.
The research team included Dr. Kyle Kiesel, professor and program director of physical therapy and students Gabby Stubblefield and Daniel Waskiewicz along with DPT alumni Madison Burklow, Mary Beth Garner, Josh Hayden, AJ Hermann, Elizabeth Kingshott, Greg McCullough, Risa Ricard, Jessika Volz, and Alyssa Englert.
Jennifer Simon
js698@evansville.edu
Wandel Receives Second Grant This Year
Tamara L. Wandel, associate professor in the Department of Communication, recently received her second grant of the academic year for continued work with the First Amendment on college campuses. The grant is funded through 1 For All, a nonprofit educational effort to build understanding and respect for the five freedoms of the First Amendment. Dr. Wandel is one of only three professors in the U.S. to receive multiple campaign grants from the nonpartisan organization in 2019-2020.
Mark Shifflet
ms83@evansville.edu
Congratulations to Todd Matteson
Prof Todd Matteson's piece, The Archer, was selected by Juror, Liz Publika, to be included in the 2020 Working Together exhibit.
The 27th Annual Working Together Exhbition is a collaborative exhibit presented by the Arts Council of Southwestern Indiana and the Evansville Museum of Arts, History & Science. The artwork is displayed at the Evansville Museum from Sunday, January 19th thru Sunday, April 12th.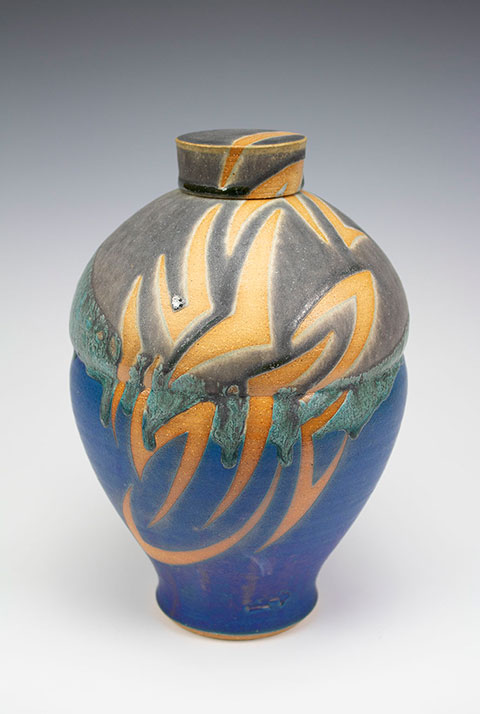 Brooksie Smith
bs267@evansville.edu
Brooksie Smith Receives February 2020 Employee Excellence Award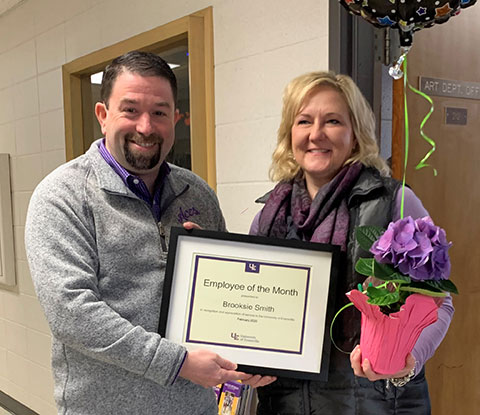 The campus community may know Brooksie as the Administrative Assistant in the Department of Art or as the Program Coordinator for the Center for Innovation and Change. Brooksie is a valued and deeply appreciated employee for both departments. Brooksie also simultaneously serves the UE Board of Trustee Spouses as Liaison, UE Friends of Art Board of Directors, UE Parents Council, UE Welcome Committee, UE Social Committee, UE Secret Ace Originator, and UE Book Club Originator, UE Gives Back Day and UE United Way Gives Back Day. Brooksie has also supported 10 of our incoming students through the 'Connect An Ace' retention program. Brooksie is known as an encourager to everyone around her and is a very worthy recipient of the February 2020 Employee Excellence Award!
Aces Head Coach Mat Mundell Previews 2020 Softball Season
With the 2020 softball season just a few days away for the University of Evansville softball team, head coach Mat Mundell previewed the season and his roster, which brings back a wealth of experience despite his team still being pretty young.
"We lost just one starter from last year – Bailee Bostic," Mundell said. "This year, we return the majority of our experience and are still relatively young with just three seniors. Our lineup has several girls who have played a lot of games for us."
Last season, the Aces won 19 games, but with the amount of experience coming back, there is a reason for optimism. Eight position players return who saw action in at least 38 games a season ago with seven of them seeing 42 games of action. Junior Eryn Gould was UE's top hitter last year, finishing at .306 with team highs in home runs (10), RBI (31), runs (30), hits (41) and walks (35). She earned her second nod on the All-Missouri Valley Conference First Team.
Senior Katie McLean had a strong debut season as a junior in 2019, hitting .305 while accumulating 34 walks and a .454 on-base percentage. Allison Daggett and Mea Adams batted .260 and .257, respectively.
On the pitching side, the Aces return starters Emily Lockhart and Izzy Vetter while the team is set to welcome back a healthy Jaime Nurrenbern. The team also added freshman Erin Kleffman from Lockport, Ill.
"It is great to have Emily and Izzy back with Jaime back healthy once again," Mundell continued. "We also brought in Erin, who has a lot of promise. I feel really good with where we are at."
Along with the returning players, the Aces welcome three transfers as well as three freshmen. Alyssa Barela, Kat Mueller and Bella Coffey each join the UE squad as sophomore transfers. Barela comes to Evansville from New Mexico State University while Mueller is a native of Evansville and played her freshman season at USI. Infielder Bella Coffey joins the Aces from Parkland College.
Hannah Hood and Jenna Lis join Erin Kleffman as UE's freshman class. Hood and Lis each come from Newburgh, Ind. where they played at Castle High School. Hood was an infielder while Lis served as the catcher.
"Our transfers each had really good fall seasons and we look forward to what they bring to our lineup," Mundell exclaimed. "Our freshmen have also shown a lot of promise."
"This is the deepest team that I have coached at UE when you combine the returning players and the newcomers. We have added some very talented pieces to go along with the talent that is already on the roster," he said. "I feel like we have depth at every spot. Every practice is competitive with our girls competing to earn their spots."
The Dome in Rosemont, Ill. will be the host of the opening weekend of action when UE heads to the Total Control Sports Invitational. The Aces open up on Friday at 12:30 p.m. against Miami Ohio. UE also faces Butler, Western Illinois, IUPUI and Green Bay in the tournament.
Aces and Salukis to Tangle on Wednesday at Ford Center
On Wednesday, the University of Evansville men's basketball team opens its season series against Southern Illinois with a 6 p.m. game inside the Ford Center. The game will be carried on ESPN+ along with the Purple Aces Radio Network.
Setting the Scene
- The first meeting of the season between the Aces and Salukis sees both teams on opposing streaks - SIU has won five in a row while the Aces have dropped their last 10
- Last season, the Salukis swept the season series and have won four of the last six games against UE; in the home finale last year, SIU grabbed a 98-91 win
- Despite its record, UE continues to progress each game and finished the second half of Saturday's game versus UNI with 52 points, its second-highest scoring half of the season
- Evan Kuhlman has evolved over the last two games, tying his career mark with 14 points against the Panthers; he has hit 8 of his last 14 attempts
- Following Wednesday's game, the Aces will have just three more home games on the schedule
Last Time Out
- It was a tale of two halves on Saturday when the Aces took on the Panthers - UE had its lowest scoring half with 16 to begin the game, but rebounded with its second-highest tally of 52 points in the second half as UNI earned an 80-68 win
- Three UE players had 14 points with Sam Cunliffe, Evan Kuhlman and K.J. Riley tying for the team scoring high
- Kuhlman's effort tied his career high - he connected on five out of seven attempts
- Evansville trailed by as many as 16 in the opening moments of the second half, but clawed their way back within four tallies before UNI was able to pull away in the final minutes
- The first nine Evansville shots in the second half found the bottom of the net with UE shooting 69.2% (18/26) in the final stanza
Showing his Accuracy
- John Hall is starting to find a nice rhythm for Evansville, recording at least six points in the last five games averaging 8.2 points
- His rebounding has also improved. In his last nine outings, Hall has recorded an average of 4.1 per game with his season mark of seven caroms coming versus Drake
- Hall is shooting 50% overall (12/24) in the last three contests but has hit 15 of last 22 shots inside the arc in the last five outings
- Over the first seven MVC games this season, Hall averaged 4.4 points per game while shooting 23.6% from the field; the last three games have seen those numbers jump to 10.0 points and 50% shooting
Back in Action
- Junior Evan Kuhlman had an excellent week for the Aces, culminating in a 14-point game against UNI, tying his career scoring mark
- Making the start in both games, Kuhlman knocked down eight of his 14 field goal tries while playing 24.5 minutes per game
- He was 3-for-7 at Illinois State while posting four assists and two blocks while his 14-point game against the Panthers saw him hit five out of seven attempts while going 3-3 from the free throw line to go with a pair of steals
Scouting the Opponent
- Winners of their last five games, Southern Illinois enters Wednesday's game with a 13-10 record and are 7-3 in conference games
- The Salukis picked up a 79-72 win at Drake on Saturday to sweep the season series and own victories over UNI and Loyola
- Marcus Domask leads the way for SIU with 15.0 points per game; he is a 50.9% shooter and has one of the top outside shooting tallies on the squad - hitting 42.6% of his outside tries (46/108)
- Eric McGill checks in with 11.5 points while Barret Benson has averaged 10.1 points
- Benson, a graduate transfer from Northwestern, leads the team with 5.6 rebounds per contest

Contribute to AceNotes
To have content considered for inclusion in AceNotes, please submit a Marketing Request Form. Deadline for submission to AceNotes is 10:00 a.m. on the requested date of publication. Only articles concerning UE related/sponsored activities will be accepted. Articles submitted to AceNotes may be edited for length and clarity. Submitter contact information is at the end of each article.