| | |
| --- | --- |
| AceNotes Today | Tuesday, February 4, 2020 |
TIAA Individual Counseling Appointments
Please welcome Tim Stout as the new TIAA-CREF representative for our employees and retirees. Tim will be on the UE campus for individual counseling sessions on Wednesday, February 19 and Thursday, February 20. Lori Matthews served UE for several years as our TIAA representative, but she has recently resigned. We are confident that our employees and retirees will find that Tim will provide the same high level of service that they have become accustomed to with Lori.
To schedule an appointment, call TIAA-CREF at 1-800-732-8353.
Tim will hold appointments in SOBA room 153, Eades Music Room.
I-House: Brazil - This Wednesday
Dear Aces! We are excited for this week's I-House on Brazil. Patrick Sewell and Lucas Macena are International students from Brazil at UE. Patrick is a senior Economics and Cognitive Science double major and Lucas is a sophomore Economics and Marketing double major. They both love playing soccer and travel. Their favorite part of UE is the friendships they made and the relationships they built over their time here. They will be sharing more about themselves, their culture, and their life back home at I-House Brazil happening on February 5th (Wednesday) on Class of '59 Gallery and Lounge, Ridgway University Center at 7pm. We hope to see you there!
Hussam Taj
ht70@evansville.edu
Soupapalooza!
Please join the SAA, (Staff and Administrators Assembly) on February 14 from 11:00 a.m.-1:00 p.m. in Eykamp Hall, Ridgway University Center. Soup, dessert, and a water for $5! Proceeds help fund the SAA Scholarship Fund!
Thank you so very much your willingness to support Soupalooza! Your kind heart and willing spirit are very much appreciated.
Plan to vote for a winning soup. Winners have the opportunity to win a special prize! Door prizes will be handed out too!
Laura Connors
lr23@evansville.edu
This Week in Music (February 3-9)
First Tuesday Concert Series, February 4
Beethoven 250
7:30pm, Neu Chapel
University of Evansville faculty will perform an all-Beethoven recital in celebration of the 250th anniversary of the composer's birth. The performance will feature chamber music by Beethoven, including music for winds, violin, piano, and voice. The concert is free and open to the public.

Kristen Strandberg
ks532@evansville.edu
Career Day 2020
Looking for a full-time professional position?
Cooperative education opportunity? Internship? Summer Job?
Don't miss this opportunity to network with up to 75 employers!
Tuesday, February 11, 2020
11:00 am – 2:00 pm
Fitness Center Gym, Carson Center
Business professional attire recommended.
Bring many copies of your resume!
Donna Schmitt
ds120@evansville.edu
Mosaic Speaker Series Invites Dr. Derrick Brooms to Campus for Black History Month
The Mosaic Speaker Series is a program of the Center for Diversity, Equity, and Inclusion and aims to recognize and celebrate the many representations of diversity found within and around the University of Evansville community. On Monday, February 10th, join us for a keynote lecture with our Black History Month guest, Dr. Derrick Brooms. The lecture will be at 6:00pm in SOBA 170.
Additional opportunities to learn from and meet Dr. Brooms are also scheduled. We hope you can attend!
Tuesday, February 11th
8:00-9:00 a.m. – Breakfast Open Chat with Derrick in Café Court (use meal plan or pay your own way)
9:30-10:30 a.m. – Workshop Session I: Staff and Administrators – Eykamp 252
1:15-2:15 p.m. – Workshop Session II: Faculty – Eykamp 252
2:30-4:00 p.m. – Student Wrap Session – Eykamp 253-254
Dr. Brooms serves as faculty in sociology and Africana studies and also serves as a youth worker. Dr. Brooms specializes in the sociology of African Americans in urban environments, particularly Black males, with research and activism that focus on educational equity, race and racism, diversity and inequality, and identity. His education research primarily centers on Black male schooling experiences in both secondary and postsecondary institutions. At the secondary level, his work examines the impact of school culture on academic aspirations, resilience, motivation, and sense of self. At the collegiate levels, he investigates the impact of campus climate, mentoring, and involvement on the academic performances and educational experiences of African American men. Additionally, his education research examines Black males' identity development and expression. In his museum research, developed under the guidance of Ayana Karanja of Loyola University Chicago, he explores racial representation and how museum exhibits and sites play a role in maintaining narratives and counter-narratives.???
Dr. Brooms is the author of?Being Black, Being Male on Campus: Understanding and Confronting Black Male Collegiate Experiences?(SUNY Press, 2017).
Megan Sicard
ms331@evansville.edu
Andiron Lecture by Kristen Strandberg on February 5
Constructing Otherness: Critical Representation of Musicians in the Press
By Kristen Strandberg
Assistant Professor of Music History
Kristen Strandberg is assistant professor of music history at the University of Evansville. She holds a PhD in musicology from the Indiana University Jacobs School of Music and a BM in cello performance from the University of Minnesota. She has presented her research at numerous national and international conferences, such as the North American Conference on Nineteenth-Century Music, as well as meetings of the Society for French Historical Studies, Francophone Music Criticism Network, Research Group for the Study of Music in the Press (Portugal), and the Fryderyk Chopin Institute (Poland). Dr. Strandberg's publications have appeared in several journals and conference proceedings, including the Journal of Musicological Research and the Journal of Music History Pedagogy. Her research focuses primarily on the ways in which music critics discussed violinists in 19th-century France using language that highlights cultural and political tensions of the period.
Nineteenth-century French critics frequently asserted the superiority of French musicians, often discussing marginalized performers in language that implied their inferiority. Critics especially targeted foreign and female performers by pointing out their "mechanical" playing style to demonstrate a performer's lack of artistry and nuance. In this lecture, Strandberg will demonstrate the range of cultural meaning behind assertions of "mechanical" playing. Critical and philosophical writings of the period reveal anxieties about the increased mechanization of culture following the Industrial Revolution and the ways those anxieties affected the arts. Meanwhile, the popularity of automata in stage shows and contemporary literature demonstrates a new and widespread fascination with technology as entertainment. In exploring the cultural assumptions and meanings of mechanized performance, we see these simultaneous anxieties and fascinations.
The lecture begins at 4:00 p.m.
Wednesday, February 5, 2020
Eykamp Hall (Room 252), Ridgway University Center
A social gathering with beverages begins at 3:45 p.m.
For further information, call Annette Parks at 812-488-1070
or the William L. Ridgway College of Arts and Sciences at 812-488-2589
Submitted by Cheryl Emmons ce36@evansville.edu
You're Invited to Columbia Sportswear Employee Store
The Columbia Sportswear Company has invited all University of Evansville employees to shop at their exclusive employee store Feb 14 – March 8, 2020. The invitation, which is required to shop, is located on MyUE at https://bit.ly/2MtxS9K under Documents and Information Links, Employee Discounts. The store hours and address can be found on the invitation. Happy shopping!
Employee Excellence Nominations
Nominate Individuals for Employee Excellence!
The University of Evansville, in pursuit of excellence in service, wishes to recognize monthly a non-faculty employee displaying records of achievement as a leader. Leadership may be demonstrated in any of the following categories:
• Service to the University community
• Service to students
• Job performance and attitude to fellow employees
One award is presented each month. To be eligible, an employee must be a full-time member of the administration or staff. Nominations are due before the 15th of each month. Nominations are now being accepted for the month of March!
To nominate someone, or to find out more information about the Employee Excellence Award, go to http://acelink.evansville.edu/Tools/EmployeeAward/
Decades Fashion Show Call-out Meetings
Students of Color and Empowerment along with The Epsilon Iota Chapter of Kappa Alpha Psi Fraternity Inc., are having a Decades Fashion Show on April 4, 2020. Fashion trends from the 1950s- 2000s will be highlighted. If anyone is interested in being in the Decades Fashion show, please make sure to attend one of our call-out meetings. The call-out meetings will be.
•February 4, 2020 from 5-6:30 pm in SOBA 170.
•February 6,2020 from 5-7 pm in Koch 100
•February 7, 2020 from 5-7 pm in SOBA 162.
Lindsay Sullivan
ls292@evansville.edu
Newman Night
Join us for discussion and prayer for the unborn with a delicious dinner to follow! Come by Newman Center at 5pm on Wednesday! Any questions, email Kathryn Williams at kw354@evansville.edu
Kathryn Williams
kw354@evansville.edu
Solution Station Wednesday: Major Change?
Are you thinking about changing your major? Considering adding a minor? Let's talk! Come by the Solution Station table in Ridgway this Wednesday to talk it through and hear about your next steps!
As always, let us know if there's anything you need help with or if you have questions that you need the answer to.
Wednesday: 11:00 a.m. - 1:00 p.m
Chad Hart
ch299@evansville.edu
Thank you
I would like to thank my UE family for your thoughts, prayers, and physical presence following the recent tragic loss my family suffered. To know I have the support of such amazing people helps me through the dark moments which continue to creep in unexpectedly. I wish you could have each know Elli, she was a ray of sunshine. She loved visiting campus, she thought the building looked like castles. Again, thank you all, your support means more to me than my words can express.
Donna Cobb
dc153@evansville.edu
Flush Flash Reminder
The Center for Student Engagement would love to start getting the Flush Flash out earlier each week. In order to do so, we need our campus community to make sure all Flush Flash requests for the coming week are submitted by Friday at noon! All events on the Flush Flash are pulled from UEngage, so making sure your event is submitted and approved is required before it will be advertised. If you have any questions about Flush Flash advertisement, please email Lydia at ls280@evansville.edu or Jane at jm727@evansville.edu for more information.
Lydia Skaggs
ls280@evansville.edu
Ally Training
Come learn about how to be a better ally with this training! Everyone is welcome to come! We have faculty training Thursday, Jan. 30th from 4-6pm in SOBA 173, and student training Friday, Feb. 7th from 5-7pm in SOBA 172!
Paige Kirkey
pk55@evansville.edu
Wellness Wednesday Lunch and Learn
The Office of Health Education is hosting its 1st Wellness Wednesday Lunch and Learn of the Spring semester!
This week's topic is "Healthy Relationships." In this session you will learn the importance of healthy relationships for overall well-being as well as characteristics of a healthy vs unhealthy relationship.
Come to Eykamp 254 from 12-1pm! Bring your lunch and join the discussion!
Jennifer Hargus
jh693@evansville.edu
Summer Sessions Payment Plan
Payment plans for summer session courses including Early Summer, Harlaxton Summer, Summer I, and Summer II are available now. Contact the cashiers in the Office of Student Financial Services (Olmsted rm. 105G) to set-up a payment plan. Payments can be arranged from the point of set-up to the due date of the session. There is no fee for the payment plan.
Students should contact the Office of Student Financial Services no later than Reading-Study Day, May 7, 2020 to determine if financial aid is available for their summer courses.
Submitted by Amy Sowders as560@evansville.edu.
Congratulations to Todd Matteson
Prof Todd Matteson's piece, The Archer, was selected by Juror, Liz Publika, to be included in the 2020 Working Together exhibit.
The 27th Annual Working Together Exhbition is a collaborative exhibit presented by the Arts Council of Southwestern Indiana and the Evansville Museum of Arts, History & Science. The artwork is displayed at the Evansville Museum from Sunday, January 19th thru Sunday, April 12th.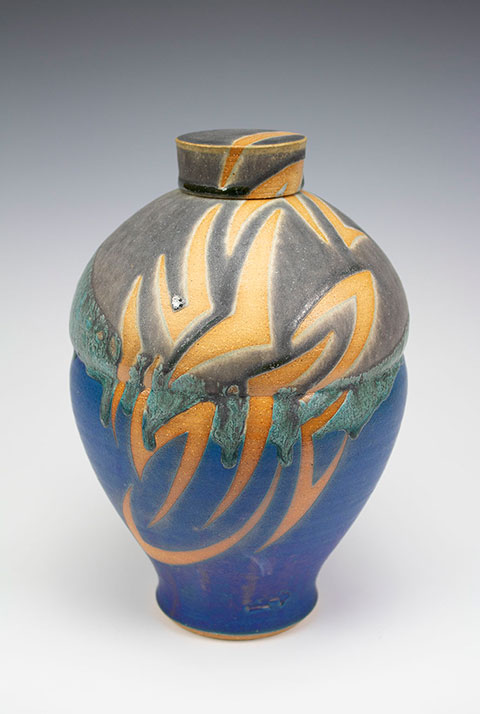 Brooksie Smith
bs267@evansville.edu
Professor Azarian Speaks at National Conference and Serves as a Judge for Undergraduate Research
Mohammad K. Azarian, Professor of Mathematics, presented a paper, entitled, "On Convergence of Some Infinite Series Involving Fibonacci Numbers and Identities" at the joint annual meetings of the American Mathematical Society and Mathematical Association of America in Denver, Colorado, January 15-18, 2020. Also, at this conference he served as a judge for undergraduate poster sessions, sponsored by Mathematical Association of America and funded by the National Science Foundation.
Mohammad K. Azarian
ma3@evansville.edu
Brooksie Smith Receives February 2020 Employee Excellence Award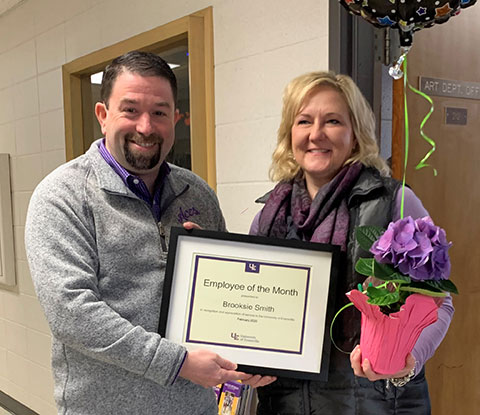 The campus community may know Brooksie as the Administrative Assistant in the Department of Art or as the Program Coordinator for the Center for Innovation and Change. Brooksie is a valued and deeply appreciated employee for both departments. Brooksie also simultaneously serves the UE Board of Trustee Spouses as Liaison, UE Friends of Art Board of Directors, UE Parents Council, UE Welcome Committee, UE Social Committee, UE Secret Ace Originator, and UE Book Club Originator, UE Gives Back Day and UE United Way Gives Back Day. Brooksie has also supported 10 of our incoming students through the 'Connect An Ace' retention program. Brooksie is known as an encourager to everyone around her and is a very worthy recipient of the February 2020 Employee Excellence Award!
Nicholas Harmon Publishes Research
Nicholas Harmon, assistant professor of physics, published a paper entitled "Observation of Radiation Induced Leakage Current in MOS Oxides with Multi-Frequency Electrically Detected Magnetic Resonance and Near Zero Field Magnetoresistance" in the IEEE journal "Transactions on Nuclear Science". The work, collaboration with Penn State, U of Iowa, and Intel, studied leakage currents in essentially transistors that had been damaged with radiation. Radiation produces defects which allows electrons to hop across a barrier and reduces the quality of the device. The research used a magnetic resonance technique (kind of like MRI) to study the defects. It also used a new technique called Near Zero Field Magnetoresistance.
Nicholas Harmon
nh140@evansville.edu
Publication Featured in The Nurse Practitioner for Dr. Angie Wooton
Dr. Angie Wooton and coauthor, Lynne Melchior, Diabetes Educator have just published an article, Diabetes-associated cardiac autonomic neuropathy or CAN featured in The Nurse Practitioner. 45(2):24-31, February 2020. Cardiac autonomic neuropathy (CAN) is an under diagnosed cardiovascular complication associated with diabetes. This is the third publication in a series focused on diabetic neuropathy.
Angela Wooton
aw43@evansville.edu
Contribute to AceNotes
To have content considered for inclusion in AceNotes, please submit a Marketing Request Form. Deadline for submission to AceNotes is 10:00 a.m. on the requested date of publication. Only articles concerning UE related/sponsored activities will be accepted. Articles submitted to AceNotes may be edited for length and clarity. Submitter contact information is at the end of each article.