| | |
| --- | --- |
| AceNotes Today | Monday, February 3, 2020 |
Deadline to Sign up to be a Road Trip Host is February 7
The Office of Admission needs current UE students who live in the residence halls to host prospective high school seniors for Road Trip February 21-23. If you are available, you can apply to host online or by emailing Ashley Jackson (aj53@evansville.edu) or Jordan Hall (jh590@evansville.edu), or stopping by the Office of Admission (OH 104).
Jordan Hall
jh590@evansville.edu
TKE Towers
Come support St. Jude Children's research hospital with TKE's philanthropy. It costs $10 for a team of 4 before the event or $15 at the door.
The goal for the participants is to build the tallest structure made of dry pasta and marshmallows. Hindrances can be purchased for other teams.
From Saturday, February 8, 2020 6:00 p.m. to 8:00 p.m. CST at Rademacher's Lounge, Ridgway.
Brett Jenkins
bj100@evansville.edu
Soupapalooza!
Please join the SAA, (Staff and Administrators Assembly) on February 14 from 11:00 a.m.-1:00 p.m. in Eykamp Hall, Ridgway University Center. Soup, dessert, and a water for $5! Proceeds help fund the SAA Scholarship Fund!
Thank you so very much your willingness to support Soupalooza! Your kind heart and willing spirit are very much appreciated.
Plan to vote for a winning soup. Winners have the opportunity to win a special prize! Door prizes will be handed out too!
Laura Connors
lr23@evansville.edu
This Week in Music (February 3-9)
First Tuesday Concert Series, February 4
Beethoven 250
7:30pm, Neu Chapel
University of Evansville faculty will perform an all-Beethoven recital in celebration of the 250th anniversary of the composer's birth. The performance will feature chamber music by Beethoven, including music for winds, violin, piano, and voice. The concert is free and open to the public.

Kristen Strandberg
ks532@evansville.edu
RSA Bingo - Women's History Month
Join us for Bingo this month on Feb. 6 at 9pm as we celebrate Women's History Month! Win some great prizes, including a Polaroid camera, and some great snacks!
Lily Renfro
lr156@evansville.edu
Build-A-Bear
Join SAB and RSA for our annual Build-A-Bear at 6pm in Rademacher's on Feb. 10! Event will go while supplies last!
Lily Renfro
lr156@evansville.edu
Mosaic Speaker Series Invites Dr. Derrick Brooms to Campus for Black History Month
The Mosaic Speaker Series is a program of the Center for Diversity, Equity, and Inclusion and aims to recognize and celebrate the many representations of diversity found within and around the University of Evansville community. On Monday, February 10th, join us for a keynote lecture with our Black History Month guest, Dr. Derrick Brooms. The lecture will be at 6:00pm in SOBA 170.
Additional opportunities to learn from and meet Dr. Brooms are also scheduled. We hope you can attend!
Tuesday, February 11th
8:00-9:00 a.m. – Breakfast Open Chat with Derrick in Café Court (use meal plan or pay your own way)
9:30-10:30 a.m. – Workshop Session I: Staff and Administrators – Eykamp 252
1:15-2:15 p.m. – Workshop Session II: Faculty – Eykamp 252
2:30-4:00 p.m. – Student Wrap Session – Eykamp 253-254
Dr. Brooms serves as faculty in sociology and Africana studies and also serves as a youth worker. Dr. Brooms specializes in the sociology of African Americans in urban environments, particularly Black males, with research and activism that focus on educational equity, race and racism, diversity and inequality, and identity. His education research primarily centers on Black male schooling experiences in both secondary and postsecondary institutions. At the secondary level, his work examines the impact of school culture on academic aspirations, resilience, motivation, and sense of self. At the collegiate levels, he investigates the impact of campus climate, mentoring, and involvement on the academic performances and educational experiences of African American men. Additionally, his education research examines Black males' identity development and expression. In his museum research, developed under the guidance of Ayana Karanja of Loyola University Chicago, he explores racial representation and how museum exhibits and sites play a role in maintaining narratives and counter-narratives.???
Dr. Brooms is the author of?Being Black, Being Male on Campus: Understanding and Confronting Black Male Collegiate Experiences?(SUNY Press, 2017).
Megan Sicard
ms331@evansville.edu
Andiron Lecture by Kristen Strandberg on February 5
Constructing Otherness: Critical Representation of Musicians in the Press
By Kristen Strandberg
Assistant Professor of Music History
Kristen Strandberg is assistant professor of music history at the University of Evansville. She holds a PhD in musicology from the Indiana University Jacobs School of Music and a BM in cello performance from the University of Minnesota. She has presented her research at numerous national and international conferences, such as the North American Conference on Nineteenth-Century Music, as well as meetings of the Society for French Historical Studies, Francophone Music Criticism Network, Research Group for the Study of Music in the Press (Portugal), and the Fryderyk Chopin Institute (Poland). Dr. Strandberg's publications have appeared in several journals and conference proceedings, including the Journal of Musicological Research and the Journal of Music History Pedagogy. Her research focuses primarily on the ways in which music critics discussed violinists in 19th-century France using language that highlights cultural and political tensions of the period.
Nineteenth-century French critics frequently asserted the superiority of French musicians, often discussing marginalized performers in language that implied their inferiority. Critics especially targeted foreign and female performers by pointing out their "mechanical" playing style to demonstrate a performer's lack of artistry and nuance. In this lecture, Strandberg will demonstrate the range of cultural meaning behind assertions of "mechanical" playing. Critical and philosophical writings of the period reveal anxieties about the increased mechanization of culture following the Industrial Revolution and the ways those anxieties affected the arts. Meanwhile, the popularity of automata in stage shows and contemporary literature demonstrates a new and widespread fascination with technology as entertainment. In exploring the cultural assumptions and meanings of mechanized performance, we see these simultaneous anxieties and fascinations.
The lecture begins at 4:00 p.m.
Wednesday, February 5, 2020
Eykamp Hall (Room 252), Ridgway University Center
A social gathering with beverages begins at 3:45 p.m.
For further information, call Annette Parks at 812-488-1070
or the William L. Ridgway College of Arts and Sciences at 812-488-2589
Submitted by Cheryl Emmons ce36@evansville.edu
Jeff Bender: Fishing for Plankton - Efroymson Exhibition & Visiting Artist
Artist's Exhibition: January 15 – February 29, 2020
Artist in Residence: February 5 - 6
Student Gallery Lecture: Wednesday, February 5, 10:00am
Student Workshop: Thursday, February 6, 9:30am
Artist's Reception & Public Gallery Lecture: Thursday, February 6
Reception: 6:30pm, Lecture: 7:00
All events will take place in the Melvin Peterson Gallery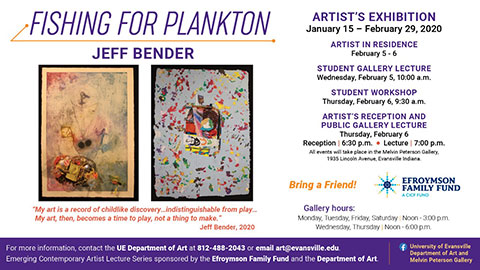 Newman Night
Join us for discussion and prayer for the unborn with a delicious dinner to follow! Come by Newman Center at 5pm on Wednesday! Any questions, email Kathryn Williams at kw354@evansville.edu
Kathryn Williams
kw354@evansville.edu
Solution Station Wednesday: Major Change?
Are you thinking about changing your major? Considering adding a minor? Let's talk! Come by the Solution Station table in Ridgway this Wednesday to talk it through and hear about your next steps!
As always, let us know if there's anything you need help with or if you have questions that you need the answer to.
Wednesday: 11:00 a.m. - 1:00 p.m
Chad Hart
ch299@evansville.edu
Thank you
I would like to thank my UE family for your thoughts, prayers, and physical presence following the recent tragic loss my family suffered. To know I have the support of such amazing people helps me through the dark moments which continue to creep in unexpectedly. I wish you could have each know Elli, she was a ray of sunshine. She loved visiting campus, she thought the building looked like castles. Again, thank you all, your support means more to me than my words can express.
Donna Cobb
dc153@evansville.edu
Habitat for Humanity Global Village Build in Guatemala
Are you interested in traveling and working to make the world a better place? If so, please consider applying to our May trip to Guatemala to build homes, smokeless stoves, and latrines. Students do not have to have any special skills or tools, but a heart for hard work and meeting new people. Over the week of May 10-17th, a group will travel and build with time to experience local culture and food. It is a wonderful way to contribute to a better world and to learn a lot about yourself.
You can apply for this opportunity at https://studyabroad.evansville.edu/index.cfm?FuseAction=Programs.ViewProgramAngular&id=11568.
Please contact hc110 for more information.
Holly Carter
hc110@evansville.edu
Alternative Spring Break Habitat for Humanity Trip to Ohio
Interested in making a difference this spring break? Travel with a team of UE students to Athens, Ohio to build homes with Habitat for Humanity. There is no experience required or special skills, just a willingness to learn and work hard. This adventure will allow you to see a new part of the country, meet local volunteers, and spend time with others over the spring break week. And the best part- it's free and all meals are included!
You can apply on UEngage or contact HC110 for more information.
Holly Carter
hc110@evansville.edu
Would You Like to Sell Something at The Vagina Monologues?
Would you like to sell something at The Vagina Monologues? Whether it's a receipe you would like to share with the campus or a t-shirt, we will have tables set up in Eykamp 251 on Feb. 14 and 15 from 5:00 pm - 10:00 pm. After the second night, we will ask that your organization comes to pick up your items by 10:00 pm.
Please contact us through uengage or email ap3@evansville.edu, kc285@evansville.edu, and mf223@evansville.edu on what your organization will be bringing or selling. We ask that you contact us by Feb. 3. Pricing and handling is all up to your organization.
KeYanla Cleckley
kc285@evansville.edu
Apply to be a Resident Assistant for Fall 2020
Applications are open on UEngage.evansville.edu under "Forms" or click here: https://uengage.evansville.edu/submitter/form/start/380776.
Applications are due Monday, February 10th at 8:00am.
Please fill out the application to the best of your ability and answer all questions with as much detail as possible. You will be required to submit a résumé as well as two references.
Interview times should be chosen through the link at the end of the application. Individual interviews are between February 17th and February 19th. We will have one group interview on February 20th. Interviews are mandatory, unless you have an emergency, class, or prior conflict. Please let us know ASAP if that is the case so we can schedule a different time for your interview.
Dress is business casual for all interviews.
If you have any questions or concerns please feel free to contact Megan King at mk255@evansville.edu or Karyssa Vasquez at kv54@evansville.edu.
Thank you for your interest in becoming a part of the Residence Life team!
Karyssa L Vasquez
kv54@evansville.edu
Wellness Wednesday Lunch and Learn
The Office of Health Education is hosting its 1st Wellness Wednesday Lunch and Learn of the Spring semester!
This week's topic is "Healthy Relationships." In this session you will learn the importance of healthy relationships for overall well-being as well as characteristics of a healthy vs unhealthy relationship.
Come to Eykamp 254 from 12-1pm! Bring your lunch and join the discussion!
Jennifer Hargus
jh693@evansville.edu
Brooksie Smith Receives February 2020 Employee Excellence Award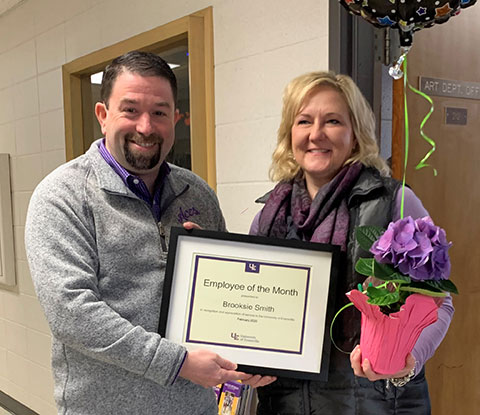 The campus community may know Brooksie as the Administrative Assistant in the Department of Art or as the Program Coordinator for the Center for Innovation and Change. Brooksie is a valued and deeply appreciated employee for both departments. Brooksie also simultaneously serves the UE Board of Trustee Spouses as Liaison, UE Friends of Art Board of Directors, UE Parents Council, UE Welcome Committee, UE Social Committee, UE Secret Ace Originator, and UE Book Club Originator, UE Gives Back Day and UE United Way Gives Back Day. Brooksie has also supported 10 of our incoming students through the 'Connect An Ace' retention program. Brooksie is known as an encourager to everyone around her and is a very worthy recipient of the February 2020 Employee Excellence Award!
Publication Featured in The Nurse Practitioner for Dr. Angie Wooton
Dr. Angie Wooton and coauthor, Lynne Melchior, Diabetes Educator have just published an article, Diabetes-associated cardiac autonomic neuropathy or CAN featured in The Nurse Practitioner. 45(2):24-31, February 2020. Cardiac autonomic neuropathy (CAN) is an under diagnosed cardiovascular complication associated with diabetes. This is the third publication in a series focused on diabetic neuropathy.
Angela Wooton
aw43@evansville.edu
Kuhlman Ties Career Scoring High Against UNI
A trio of Purple Aces led the way with 14 points with the University of Evansville men's basketball team putting up a stellar fight before finishing the day with an 80-68 loss to MVC-leading UNI on Saturday at the Ford Center.
Trailing by 14 at halftime, Evansville (9-14, 0-10 MVC) made its first eight attempts in the second half to get within four points before UNI (19-3, 8-2 MVC) overcame the challenge to finish off the win.
Evan Kuhlman tied his career mark with 14 points, knocking down an efficient five out of seven field goal attempts. Sam Cunliffe and K.J. Riley matched his point total, combining to hit 11 shots. Riley added four free throws to his season tally with his squad combining to his 13 out of 16 attempts. UE shot 26.9% in the opening 20 minutes before knocking down 69.2% of their tries in the latter period.
"I am very thankful to be part of it and coach these guys - they are really good people," Aces head coach Todd Lickliter explained following the game. "I did not think the first half was all that bad, we generated some good shots and if they went down, it would have been a better half."
"At the break, I told them that I was thankful that they guarded so hard because the way things were going offensively, the only chance we had was to guard and we did a nice job of that," Lickliter added. "I knew that the shots would start to fall."
A defensive struggle ensued in the first half with UNI making a late rally to go to the half with a 30-16 advantage. The teams combined for a 1-6 offensive start before the Panthers got on track with six in a row to go up 8-2. UNI got on track and used a 6-for-12 start to go up 14-5 as the midway point of the half approached.
Evansville cut into the deficit with an Evan Kuhlman free throw and a bucket by John Hall that made it a 14-8 contest. That is when defense took over. For a stretch of five minutes, the squads hit just two out of 22 attempts before UNI snapped out of the stretch with back-to-back layups that gave them their first double digit lead with 4:11 left, forcing an Aces time out.
Jawaun Newton and Sam Cunliffe responded with baskets that got the Aces back within seven points (19-12), but over the final 2:35 of the half, the Panthers outscored the Aces by an 11-4 margin to take the 14-point halftime lead.
The offense for the Purple Aces came out on fire in the second half, hitting its first eight shots while getting within four points of the Panthers. UNI posted the first two points of the half before Evan Kuhlman nailed UE's first 3-pointer of the game. Cunliffe followed up with another before a pair of Kuhlman free throws cut the deficit back to single digits – 35-26 – just over two minutes in.
UE got even closer, utilizing a 7-0 run that was capped off by a 3-point play from Riley two minutes later that made it a 38-33 game. With 14:52 left in the contest, Jawaun Newton added to Evansville's blazing second half, hitting a triple that brought UE within four at 40-36. Evansville did not miss its first shot of the half until 7:13 had gone by.
One of the defining moments for UNI came right after UE made it a 4-point game. A Trae Berhow 3-pointer started an 8-0 run that pushed their lead back out to 12. The lead for the Panthers was pushed out to 13 points with just over eight minutes left before the Aces made another push. A quick 6-0 run saw the gap trimmed to seven points with 6:16 on the clock, but the Panthers answered each time.
In the end, UNI was able to fend off the challenge to take the 80-68 victory. Evansville overcame a tough first half that saw them shoot 26.9%, rebounding to hit 18 out of 26 attempts in the final 20 minutes – 69.2% - to finish the game at 48.1%. The Panthers wrapped up the day shooting 50%. UNI had a slight 30-28 edge in the final rebounding tally. Austin Phyfe was 6-for-6 from the field on his way to a team-high 16 points while AJ Green and Berhow notched 15 each.
On Wednesday, UE is back home to welcome Southern Illinois to the Ford Center for a 6 p.m. game.
Two UE Volleyball Alums Ink Professional Deals
On January 4, 2020, a pair of former University of Evansville volleyball players advanced their careers as Joselyn Coronel and Mildrelis Rodriguez were selected to play in the Puerto Rico Volleyball Professional League.

Coronel was selected with the 8th pick in the first round by the Corozal Pinkin while Rodriguez was selected as the 13th pick of the second round by the Mayagüez Indians.

"I am very proud of what both of them have accomplished after graduating from UE. I knew they could do big thinks on and off the court," UE head volleyball coach Fernando Morales said. "I followed them when they were playing the semi-pro league during the fall when they took their team to the finals. That was the perfect set up for both of them being selected in the draft. We will follow their career and be cheering on them from here. Hopefully we can see them in the national team program soon."

Following her graduation from Evansville, Coronel arrived in Puerto Rico and began playing in the Puerto Rican Volleyball Confederation (COPUVO) with Humacao. She played and trained on a regular basis. Coronel will be teaming up with another former Aces player – Gabriela Roman. Roman graduated from UE in 2016 and is in her fourth season as a pro in Puerto Rico.

"It feels like a goal accomplished; I am very happy to have achieved another of my dreams," Coronel exclaimed. "I hope to gain a lot of experience from my teammates, my coach, Angel Perez, and progress day by day as it is a new team."

Rodriguez also started her career with COPUVO. As a rookie, she led her team to a runner-up finish. Aside from her work on the court, she served as a coach in July of 2019 with the Coamo High School Volleyball Academy in Coamo.

"Being officially in the league is a dream come true," Rodriguez explained. "I am about to live the dream that I had for a long time, like every girl who grows up in Puerto Rico in the world of volleyball, because we all yearn to get there one day and it is being given to me. I feel proud of myself for having come here and grateful to all those people who helped me get here."

Practice for both began in the second week of January with the first matches taking place on February 12.
UE Men Ready for Orange Out on Saturday Against UNI
Three of the next four games will take place at home for the University of Evansville men's basketball team with the stretch beginning on Saturday with a 1 p.m. game against UNI inside the Ford Center. It will be an Orange Out with fans encouraged to wear their orange.
The MVC TV Network and Purple Aces Radio Network will have the broadcast with fans in the Evansville area being able to catch the game on Fox Sports Midwest; for those outside of the Midwest, the game will be carried on ESPN3.
It will be a reunion weekend with the 1991-92 and 1992-93 NCAA Tournament Teams in attendance. Players from the teams along with head coach Jim Crews will be recognized at halftime. For those who would like the opportunity to catch up with the teams, they will be in the concourse of the Ford Center at 12:15 p.m. on Saturday.
Setting the Scene
- Evansville returns to the Ford Center following a busy week that saw the team take on Valparaiso on Sunday afternoon before taking to the road once again on Wednesday at Illinois State
- While the team continues to search for its first conference victory, the Aces have shown improvement in each game under the leadership of head coach Todd Lickliter
- After shooting 30.2% against Drake, UE has improved to shoot 40.0% at Valparaiso before registering a 47.2% effort against the Redbirds
- From January 8-15, UE was outrebounded by 11.7 per game but over the last four games, UE has finished with the exact number of rebounds as the opposition
- UNI has won the last four meetings in the series and nine of the last 11 games overall against UE; Evansville has performed better at home against the Panthers, winning seven of the last 10 match-ups
Last Time Out
- A late rally by Illinois State saw them take a 77-66 win over the Aces inside Redbird Arena on Wednesday night
- Evansville led for over 14 minutes in the game, including a 37-36 edge at the break, but ISU outscored the Aces by an 18-3 margin over a six-minute stretch on their way to a 77-66 win
- UE got within three tallies at 59-56 when Sam Cunliffe converted a field goal, but the Redbirds quickly rebounded with the big run to put the game out of reach
- Cunliffe was the leading scorer for UE, tallying 15 points while John Hall (13) and K.J. Riley (10) also reached double figures
- Hall had his best game in six weeks, hitting five of his eight attempts including three triples on his way to the 13-point game
- For Cunliffe - he continued to see his overall game evolve, grabbing a season-high nine rebounds
Showing his Accuracy
- Redshirt junior John Hall entered the game at Illinois State mired in an 0-for-15 slump from 3-point range, but his fortunes quickly turned against the Redbirds
- Hall connected on three of his six outside attempts on the way to 13 points - his top scoring effort since Dec. 7 against Miami Ohio
- Over the last two games, Hall has drained 9 of his 16 field goal attempts while averaging 11 points per game
- Evansville's top rebounder a season ago has worked to regain his touch, hauling in at least three in seven of UE's last eight games
Scouting the Opponent
- UNI sits atop the conference standings with an 18-3 record overall and a 7-2 mark over the first half of the conference season
- One of the top offenses in the season - the Panthers are 7th in the nation shooting 48.9% on the season while 3-point shooting is 6th in the NCAA, hitting 39.7% of their attempts
- A.J. Green ranks second in the MVC averaging 19.6 points per game; the sophomore paces the team with 65 assists and ranks fourth in the country hitting 93% (83/89) of his free throw tries
- Trae Berhow averages 14.1 points while Austin Phyfe has posted 10.6 points and a team-best 7.5 rebounds
Contribute to AceNotes
To have content considered for inclusion in AceNotes, please submit a Marketing Request Form. Deadline for submission to AceNotes is 10:00 a.m. on the requested date of publication. Only articles concerning UE related/sponsored activities will be accepted. Articles submitted to AceNotes may be edited for length and clarity. Submitter contact information is at the end of each article.