| | |
| --- | --- |
| AceNotes Today | Monday, January 27, 2020 |
Presentation for Employees with Meritain Health Insurance
The Office of Human Resources is happy to provide an opportunity for our employees on the university health insurance to learn more about one of the more recently added enhancements.
Meritain Health Insurance will have a representative on campus Wednesday, January 29 to give a presentation on the Healthcare Bluebook from 2 – 3 pm in Eykamp 252. If you are not yet utilizing this tool for your medical care decisions, come find out how this could save you money!
Lori LeDuc
LL138@evansville.edu
Indiana University School of Medicine Student Speaker
Please join the health professions club in welcoming local 3rd year Indiana University medical student, Aaron Costlow. Aaron is going to discuss what it is like being a medical student here in Evansville and answer questions from the application process to surviving the first two years of medical school. This is event is open to all UE students.
Wednesday, January 29 at 6:00 p.m. in KC 100.
Frances Renschler
fr25@evansville.edu
This Week in Music (January 27 – February 2)
Faculty and Guest Artist Recital, Tuesday, January 28
Alanna Keenan, soprano
Lori Bade, mezzo-soprano
7:30pm, Neu Chapel
Drs. Alanna Keenan and Lori Bade will perform in a recital including solos and duets from a variety of time periods and nationalities. Dr. Keenan is Associate Professor of Music at the University of Evansville, while Dr. Bade is Nell S. & Boyd H. McMullan Distinguished Professor of Music and Associate Dean for Graduate Studies in the College of Music & Dramatic Arts at Louisiana State University. Anne Fiedler will accompany on piano. The event is free and open to the public.
Kristen Strandberg
ks532@evansville.edu

All Welcome for Diversity Coffee Break
Step away from the class and work day at Diversity Coffee Break! Each Monday from 3-4pm, come to the Diversity Resource Center (aka Diversity House, 436 S. Weinbach across from Hughes Hall) for coffee, tea, and casual conversation on a diversity topic. Each week features a special guest or topic; today we welcome Dr. Rob Shelby, Chief Diversity Officer, to teach us about his work so far in his new role, what's going on with diversity on campus, and to take ideas and suggestions from the UE community!
Megan Sicard
ms331@evansville.edu
Beauty of Engineering Event set for April 4
Join the Tri-State Women in STEM for The Beauty of Engineering!, sponsored by twiSTEM and the University of Evansville College of Engineering and Computer Science.
The event will be held on Saturday, April 4, 2020 from 8:00 – 11:15 a.m. Check-in begins at 7:45 a.m. The location will be the Koch Center for Engineering and Science on the University of Evansville campus at 1800 Lincoln Ave, Evansville, IN (the first building on the right after one-way entrance).
Beauty of Engineering is an experience in engineering and computing science for girls in 4th through 8th grades. Activities are executed in a rotation through various STEM-related stations staffed by professional women and college students in the fields of engineering and computing science.
The cost is $10.00 per attendee and is non-refundable except in the case of event cancellation or fill to capacity. Enrollment is limited to the first 200 girls and registration is open until March 27, 2020. Individuals and organizations are welcome. Participants may register online at https://twistem_beauty_of_engineering_2020.eventbrite.com. For questions, please e-mail twiSTEM.evv@gmail.com.
Kimberly Higgins
kh209@evansville.edu
UE Leadership Academy Blood Drive
UE Leadership Academy will be hosting an American Red Cross Blood Drive on January 28, 2020 from 11:30-6pm in Eykamp Hall. You have the opportunity to sign-up this week and next week! Sign-ups will be from 11 until 7 January 15-16 and 21-22 in Ridgway by Cafe Court.
Kaitlyn Luczak
kl241@evansville.edu
Jeff Bender: Fishing for Plankton - Efroymson Exhibition & Visiting Artist
Artist's Exhibition: January 15 – February 29, 2020
Artist in Residence: February 5 - 6
Student Gallery Lecture: Wednesday, February 5, 10:00am
Student Workshop: Thursday, February 6, 9:30am
Artist's Reception & Public Gallery Lecture: Thursday, February 6
Reception: 6:30pm, Lecture: 7:00
All events will take place in the Melvin Peterson Gallery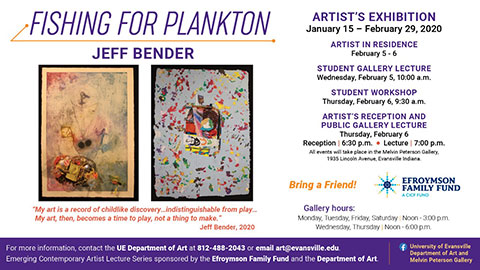 Solution Station This Wednesday: Post-It and Highlighter Giveaway
Do you want to improve your study time? You might start by adding some new tools to your routine. Come by the Solution Station table in Ridgway this Wednesday to receive some free Post-Its and Sharpie highlighters!
As always, let us know if there's anything you need help with or if you have questions that you need the answer to.
Wednesday: 11:00 a.m. - 1:00 p.m
Chad Hart
ch299@evansville.edu
Newman Night
Join us at Newman Center at 5pm for Wednesday night Dinner and Discussion! Fr. Tyler Tenbarge will be discussing the First Commandment with dinner to follow.
Kathryn Williams
kw354@evansville.edu
Men's Group
Join Men's Group starting Wednesday January 29 at 7pm at Newman Center. It will be held weekly on Wednesdays. Some topics include "What does it mean to be a Christian Man?", Saints, and Fatherhood.
Kathryn Williams
kathrynw271@gmail.com
Writing Center to Open Wednesday, january 29
The Writing Center will be open starting Wednesday, January 29th! The hours will be: 10 AM - 8 PM on Monday, Tuesday, Thursday, and Friday; 10 AM - 4 PM on Wednesday; and 12 PM - 4 PM on Sunday. Remember to bring a prompt, sign in, and we look forward to seeing you all soon!
Katie Mullins
kd60@evansville.edu
New Resource for Exploring off Campus Mental Health Services
The office of Counseling Services and Health Education want to make you aware of a new online resource available for students who may need off campus mental health services. We recently partnered with Thriving Campus, a company that maintains a website for off campus referrals to local therapists, psychologists, psychiatrists, and other mental health services. Off campus providers may be preferred if a student needs weekly counseling, medication interventions, or is even looking for ongoing therapy over school breaks. This can be beneficial as well for our students that may travel out of the area/state for practicums or clinical placements. Students can search for providers by specialty, insurances accepted, distance, etc. There are even tutorials explaining insurance terms, what questions to ask, and even what you might say in an email or phone message to the provider, all things that can seem confusing or overwhelming. The website is evansville.thrivingcampus.com and is also linked on our web page.
Jennifer Hargus
jh693@evansville.edu
Ally Training
Come learn about how to be a better ally with this training! Everyone is welcome to come! We have faculty training Thursday, Jan. 30th from 4-6pm in SOBA 173, and student training Friday, Feb. 7th from 5-7pm in SOBA 172!
Paige Kirkey
pk55@evansville.edu
Academic Success Lab is Open
Are you struggling to get organized this semester? Do you need a little help with time management or study skills? The Academic Success Lab in room 259 of the Clifford Memorial Library is staffed with Academic Coaches ready to assist you with all things academic. The lab is a great place to visit a few times to get a strong start! Academic Success Lab hours may be found on the Academic Advising website under the tab "Academic Success Lab" or found following this link.
https://www.evansville.edu/advising/academic-success-lab.cfm
No appointment necessary, Walk-ins Welcome!
Please see Francie Renschler in Academic Advising if you have any questions.
Frances Renschler
fr25@evansville.edu
Register for Nerd Wars by Thursday, January 30
The deadline to register your team for Nerd Wars is Thursday, January 30. Don't miss your chance to participate in this fun evening, show off your trivia expertise, and possibly win some great prizes!
Nerd Wars will be held Tuesday, February 25 at 7:00pm in Eykamp Hall. The Honors Program invites you to form your team of five competitors (students, faculty, administrators, or staff) to battle in a competition of wits for prizes and bragging rights. All competitors will receive a free Nerd Wars T-shirt!
Both spectators and competitors can enjoy pizza, popcorn and snacks at the event, as well as the chance to receive giveaway prizes!
Register online now: https://forms.gle/zRwL5NCmmRtixrSV6
The entry fee is $5 per person (Honors Program students may register for free!), which can be paid to Jayme Williams in Room 238, Koch Center for Engineering and Science. Those who are unable to compose a team of five may still register and will be matched to form a team.
All proceeds from the event benefit the Honors Program's community service initiative (HACER).
Please contact Blake at be80@evansville.edu with any questions.
Jayme Williams
jw504@evansville.edu
Would You Like to Sell Something at The Vagina Monologues?
Would you like to sell something at The Vagina Monologues? Whether it's a receipe you would like to share with the campus or a t-shirt, we will have tables set up in Eykamp 251 on Feb. 14 and 15 from 5:00 pm - 10:00 pm. After the second night, we will ask that your organization comes to pick up your items by 10:00 pm.
Please contact us through uengage or email ap3@evansville.edu, kc285@evansville.edu, and mf223@evansville.edu on what your organization will be bringing or selling. We ask that you contact us by Feb. 3. Pricing and handling is all up to your organization.
KeYanla Cleckley
kc285@evansville.edu
Spotlight: UE Musical Showcase and Talent Show
On January 31st in Eykamp 251 (Upstairs Ridgway) at 7pm, the UE Music Therapy Association is hosting Spotlight!
Spotlight is a talent show, where acts from all around campus display their talents in support of a good cause. Proceeds from this event will go to support local music therapists through the Isaac Miller Music Matters Foundation. The audience favorite acts will receive a prize. If you are interested in performing, please email uemta54@gmail.com! Entry fee for participating and admission to the event are both $5. Hope to see you there!
Jessica Smith
js829@evansville.edu
Faculty Scholarship Display and Reception
The Libraries are currently hosting the FACULTY SCHOLARSHIP DISPLAY until February 2, 2020. Works produced or published or grants received from August 2018 until July 2019 were eligible for inclusion. You should wander over and take at look at your colleagues' impressive scholarship!
A reception in honor of all Faculty Scholars will be held on January 30th @ 4 pm in the Libraries' Boardroom. I hope you can attend.

Meg Atwater-Singer
ma35@evansville.edu
Reminder for all new incoming fall 2019 students~ Second dose of Meningitis B DUE by JANUARY 31st 2020!!
REMINDER! If you were a new incoming student to UE this 2019 fall semester, you must have your Meningitis B series completed and submitted to your MedProctor account by January 31st 2020. If you are going home during Thanksgiving or winter break, schedule your second dose to complete your Meningitis B series that is part of the admission requirements. This is only required for new students who entered University of Evansville FALL 2019 who has submitted only one dose of Meningitis B to MedProctor. Please call the Student Health Center at 812-488-2033 for any questions/concerns.
Trumenba- 2 doses required at least 6 months apart
Bexsero- 2 doses required at least 1 month apart
Submitted by Tara Ulrich tu19@evansville.edu.
Aces Show Resiliency in 67-65 Loss at Valparaiso
Trailing by as many as 18 points, the University of Evansville men's basketball team staged a furious rally, getting within two points in the final minute before Valparaiso hung on for a 67-65 win on Sunday afternoon at the ARC.

Valparaiso (11-10, 4-4 MVC) held a 31-13 lead in the first half before the Purple Aces (9-12, 0-8 MVC) cut the gap to 13 at the half. UE continued to rally, getting within two with 1:08 remaining before the Crusaders fended off the challenge for the win.

"I think we made a couple of adjustments that were helpful. As I have told the guys, none of it is magical, they have to execute and make it happen," UE head coach Todd Lickliter explained after his second game leading the program. "Tonight, they just kept fighting and trying to figure it out. There is a lot to be said for that."

Sam Cunliffe tied for the game high with 16 points. He was 3-for-6 from outside and set his season mark with eight rebounds. Jawaun Newton set his career scoring high with 12 points. He connected on four of his five field goal attempts along with both 3-point tries. K.J. Riley matched Newton's final tally of 12 while Artur Labinowicz finished with 11. Riley and Shamar Givance tied for the game's top assist total with four apiece.

In the first half, it was Jawaun Newton leading the way with nine points while playing a pivotal role in UE overcoming an 18-point deficit. The Crusaders jumped out to an 11-4 lead while their defense held the Aces to a 2-of-12 shooting start to open the game. With Valpo up 16-8, Noah Frederking ended Evansville's 0-5 start from outside, connecting on a triple that made it a 16-11 game.

That is when the Crusaders used a 13-0 run to open up their largest lead of the game at 29-11. UE was held off the board for a period of 6:17 while missing four shots and turning it over four times. A layup by K.J. Riley put an end to the stretch and got the Aces pointed back in the right direction.

Following a basket that pushed the Valparaiso lead to 31-13, the Aces reeled off nine points in a row with Newton providing most of the offense. Sam Cunliffe got the team rolling with his second field goal of the game before Newton knocked down a triple, two free throws and a layup to bring Evansville back within nine at 31-22 inside of three minutes remaining. UE's run came over the span of just 2:08. Valparaiso regrouped and hit a big triple at the buzzer with Ryan Fazekas connecting from downtown to send the Crusaders to the locker room with a 36-23 lead. They shot 50% in the opening stanza.

Valpo pushed its lead back to 15 in the first two minutes of the second half before Evansville made another rally. Cunliffe drilled his first long ball before John Hall and Riley picked up scores to get back within 10 points at 42-32 with 15 minutes on the clock.

Frederking added two more triples over the next segment, but at the midway point of the half, the Crusader lead stood at 54-43. After chipping away just a bit at a time, the Aces got even closer. An and-one by John Hall was followed by a 3-pointer from Artur Labinowicz that cut the deficit to 54-49 at the 8:36 mark.

Over the next three minutes, Valpo kept Evansville scoreless while extending the lead to nine. Riley moved into double figures with a basket that ended the drought, but the VU lead remained at nine with 3:05 on the clock. A resilient effort by UE continued thanks to timely outside shooting from Sam Cunliffe. Following an Evan Kuhlman free throw, Cunliffe recorded two triples that cut the gap to a pair – 63-61 – with 68 ticks left.

Evansville's defense buckled down over the stretch, forcing a pair of missed shots and a turnover. The Aces had a chance to get even closer after Valparaiso missed the front end of a one-and-one. Riley drove to the basket, but his shot was blocked and the Crusaders turned into a pair of free throw makes at the other end. UE made every effort to complete the comeback, but Valparaiso finished with the 67-65 win.

Mileek McMillan's 6-of-9 shooting day saw him match the game high of 16 points with Javon Freeman-Liberty and Daniel Sackey checking in with 12 points each.

Several positives can be taken from the contest, beginning with the rebounding. UE completed the game with a 36-31 edge on the boards while grabbing 11 on the offensive end – one off of its season-high. The Aces also finished the game shooting 40% for the first time since January 4. In two games under Coach Lickliter, the opposition has failed to shoot over 37% in the final 20 minutes.

The road trip continues for the Aces when they travel to Normal, Ill. on Wednesday evening for a 6 p.m. game at Illinois State.
Road Trip Begins on Sunday for Men's Basketball
A busy week featuring two games in four days starts on Sunday when the University of Evansville men's basketball team travels to Valparaiso for a 4 p.m. game. The Missouri Valley Conference and the Purple Aces Radio Network have the coverage. Fans in Evansville can watch on Fox Sports Midwest while those in other areas will be able to access the game on ESPN3.
Lickliter takes the helm
- On January 21, it was announced that Todd Lickliter inked a multi-year deal to become the Aces head coach
- An assistant with UE last season, Lickliter has been a head coach at Butler, Iowa and Marian and was honored as the 2007 NABC National Coach of the Year while at Butler
- He led his alma mater to a pair of Sweet 16 appearances
Setting the Scene
- Sunday's contest takes place in a venue that has been kind to the Purple Aces - the Athletics-Recreation Center
- UE has won four of the last five road contests against the Crusaders and both games since Valpo joined the MVC
- Last year, the Aces picked up a 65-63 win over VU in the regular season finale at the ARC with Marty Hill scoring 21
- The Aces look to right the ship following an 0-7 start to its MVC slate; UE is trying to avoid the 0-13 start to the 2009-10 league schedule
Last Time Out
- Drake scored the first nine points of the game and finished with a 73-50 win on Wednesday evening at the Ford Center
- Evansville got within five points in the first half and after trailing by 20 at the break, UE trimmed its deficit to 14, but the Bulldogs countered both times
- Shamar Givance used a 3-for-3 performance from long range to lead the team with nine points; it marked the first time since 12/8/10 against North Carolina that the team did not have a double digit scorer
- Jawaun Newton tallied eight points while John Hall scored seven while grabbing a team-best seven boards
- After allowing Drake to shoot 56.3% in the first half, the Aces buckled down in the final 20 minutes, holding them to 33.3%
Adapting to the Next Level
- Freshman Marcus Henderson has done a nice job of filling his role, which continues to grow as the season evolves
- Henderson played a season-high 22 minutes on Wednesday against Drake and responded with six points and three assists
- Over the last two games, Henderson has drained four of his seven 3-point attempts
Coach vs. Valpo
- UE head coach Todd Lickliter is 2-0 in a pair of meetings against the Crusaders, both coming while at Butler
- The Bulldogs defeated Valpo, 72-69, in the 2005 Bracket Buster games at Hinkle Fieldhouse before taking a 60-47 victory at the ARC in 2006
Scouting the Opponent
- Valparaiso heads into Sunday's game with an overall mark of 10-10 while going 3-4 in Valley action
- The Crusaders dropped a 67-60 contest at Missouri State on Thursday but have won their last two home games against Drake and Indiana State
- Javon Freeman-Liberty continues to be the top player for Valpo
- Freeman-Liberty leads the squad in points (20.7/game), rebounds (5.6/game) and steals (47)
- In the first match-up against the Aces, Freeman-Liberty had 25 points
- Donovan Clay and Ben Krikke added 10 points apiece in the January 4 game at the Ford Center
Contribute to AceNotes
To have content considered for inclusion in AceNotes, please submit a Marketing Request Form. Deadline for submission to AceNotes is 10:00 a.m. on the requested date of publication. Only articles concerning UE related/sponsored activities will be accepted. Articles submitted to AceNotes may be edited for length and clarity. Submitter contact information is at the end of each article.