| | |
| --- | --- |
| AceNotes Today | Friday, January 24, 2020 |
Presentation for Employees with Meritain Health Insurance
The Office of Human Resources is happy to provide an opportunity for our employees on the university health insurance to learn more about one of the more recently added enhancements.
Meritain Health Insurance will have a representative on campus Wednesday, January 29 to give a presentation on the Healthcare Bluebook from 2 – 3 pm in Eykamp 252. If you are not yet utilizing this tool for your medical care decisions, come find out how this could save you money!
Lori LeDuc
LL138@evansville.edu
Deadline to Sign up to be a Road Trip Host is February 7
The Office of Admission needs current UE students who live in the residence halls to host prospective high school seniors for Road Trip February 21-23. If you are available, you can apply to host online or by emailing Ashley Jackson (aj53@evansville.edu) or Jordan Hall (jh590@evansville.edu), or stopping by the Office of Admission (OH 104).
Jordan Hall
jh590@evansville.edu
Events Kicking Off in the Diversity House this Sunday
Spring semester programming in the Diversity Resource Center (aka Diversity House, 436 S. Weinbach across from Hughes Hall) kicks off this weekend!
First up is Flavor of the Month China, Sunday 1/26 from 5-7pm. Come socialize while Chinese international student Xinyue Bi prepares a meal to celebrate Chinese New Year! Limited to 10 guests, first come first served.
On Monday, the weekly Diversity Coffee Break begins. Each Monday from 3-4pm, come to the house for coffee, tea, and casual conversation on a diversity topic. Each week features a special guest or topic; on Monday 1/27, we welcome Dr. Rob Shelby, Chief Diversity Officer, to teach us about his work so far in his new role, what's going on with diversity on campus, and take ideas and suggestions from the UE community!
Megan Sicard
ms331@evansville.edu
Catholic Mass
Join us for Catholic Mass with Fr. Godfrey in Neu Chapel at 1pm on Sunday!
Kathryn Williams
kw354@evansville.edu
Academic Success Lab is Open
Are you struggling to get organized this semester? Do you need a little help with time management or study skills? The Academic Success Lab in room 259 of the Clifford Memorial Library is staffed with Academic Coaches ready to assist you with all things academic. The lab is a great place to visit a few times to get a strong start! Academic Success Lab hours may be found on the Academic Advising website under the tab "Academic Success Lab" or found following this link.
https://www.evansville.edu/advising/academic-success-lab.cfm
No appointment necessary, Walk-ins Welcome!
Please see Francie Renschler in Academic Advising if you have any questions.
Frances Renschler
fr25@evansville.edu
Off-Campus Access to Library Databases
Did you know that you can access the library's databases (like JSTOR and Taylor & Francis) from anywhere in the world? All you need is a library barcode. Staff at the Information Desk can easily add a barcode to your UE ID and library account. Once you have a barcode, simply go to https://www.evansville.edu/libraries/login.cfm and log in.
Questions? Ask A Librarian!
Meg Atwater-Singer
ma35@evansville.edu
Register for Nerd Wars by Thursday, January 30
The deadline to register your team for Nerd Wars is Thursday, January 30. Don't miss your chance to participate in this fun evening, show off your trivia expertise, and possibly win some great prizes!
Nerd Wars will be held Tuesday, February 25 at 7:00pm in Eykamp Hall. The Honors Program invites you to form your team of five competitors (students, faculty, administrators, or staff) to battle in a competition of wits for prizes and bragging rights. All competitors will receive a free Nerd Wars T-shirt!
Both spectators and competitors can enjoy pizza, popcorn and snacks at the event, as well as the chance to receive giveaway prizes!
Register online now: https://forms.gle/zRwL5NCmmRtixrSV6
The entry fee is $5 per person (Honors Program students may register for free!), which can be paid to Jayme Williams in Room 238, Koch Center for Engineering and Science. Those who are unable to compose a team of five may still register and will be matched to form a team.
All proceeds from the event benefit the Honors Program's community service initiative (HACER).
Please contact Blake at be80@evansville.edu with any questions.
Jayme Williams
jw504@evansville.edu
Faculty Scholarship Display and Reception
The Libraries are currently hosting the FACULTY SCHOLARSHIP DISPLAY until February 2, 2020. Works produced or published or grants received from August 2018 until July 2019 were eligible for inclusion. You should wander over and take at look at your colleagues' impressive scholarship!
A reception in honor of all Faculty Scholars will be held on January 30th @ 4 pm in the Libraries' Boardroom. I hope you can attend.

Meg Atwater-Singer
ma35@evansville.edu
Free Peer Tutoring
Free peer group tutoring is available for many classes and subjects beginning Tuesday, Jan. 21. See the tutoring schedule posted on the MyUe and the Academic Advising webpage:
https://www.evansville.edu/advising/academic-peer-tutoring.cfm
Check back regularly for new additions and updates to the schedule. For questions, contact Cherie Leonhardt at CL29 or call 812-488-2141.
Cherie Leonhardt
CL29@evansville.edu
Apply to be a Resident Assistant for Fall 2020
Applications are open on UEngage.evansville.edu under "Forms" or click here: https://uengage.evansville.edu/submitter/form/start/380776.
Applications are due Monday, February 10th at 8:00am.
Please fill out the application to the best of your ability and answer all questions with as much detail as possible. You will be required to submit a résumé as well as two references.
Interview times should be chosen through the link at the end of the application. Individual interviews are between February 17th and February 19th. We will have one group interview on February 20th. Interviews are mandatory, unless you have an emergency, class, or prior conflict. Please let us know ASAP if that is the case so we can schedule a different time for your interview.
Dress is business casual for all interviews.
If you have any questions or concerns please feel free to contact Megan King at mk255@evansville.edu or Karyssa Vasquez at kv54@evansville.edu.
Thank you for your interest in becoming a part of the Residence Life team!
Karyssa L Vasquez
kv54@evansville.edu
Safe Zone Training Sessions for LGBTQ+ Allies
The Center for Diversity, Equity, and Inclusion and UE P.R.I.D.E. have scheduled two Safe Zone training sessions for this semester. Ally training is an important opportunity for us to learn more about our campus friends, neighbors, and students. All are encouraged to attend to learn and share!
Faculty and Staff Training - Thursday, January 30th - 4-6pm - SOBA 173
Student Training - Friday, February 7th - 5-7pm - SOBA 172
Megan Sicard
ms331@evansville.edu
The Vagina Monologues: Auditions and Rehearsal Dates
Women's Rights Awareness will be hosting a presentation of The Vagina Monologues on February 14 and 15. Auditions will be held 6:00 - 9:00 pm on January 23 and 24 in Koch 100.
All students and faculty members are welcomed to audition. Experience is not necessary! Please contact kc285@evansville.edu, ap3@evansville.edu, and ji32@evansvill.edu for information regarding the script and the scenes we will be using for the audition.
The Vagina Monologues is a series of monologues, written by Eve Ensler, that is performed globally every February to raise awareness of domestic abuse towards women. WRA will be donating a portion of the profits from their production to Albion Fellows Bacon Center of Evansville.
Rehearsal Dates are Jan. 28, Jan. 30, Feb. 4, Feb. 6, Feb. 11, Feb. 13 at 6:00 - 9:00 pm in SOBA 73.
KeYanla Cleckley
kc285@evansville.edu
Reminder for all new incoming fall 2019 students~ Second dose of Meningitis B DUE by JANUARY 31st 2020!!
REMINDER! If you were a new incoming student to UE this 2019 fall semester, you must have your Meningitis B series completed and submitted to your MedProctor account by January 31st 2020. If you are going home during Thanksgiving or winter break, schedule your second dose to complete your Meningitis B series that is part of the admission requirements. This is only required for new students who entered University of Evansville FALL 2019 who has submitted only one dose of Meningitis B to MedProctor. Please call the Student Health Center at 812-488-2033 for any questions/concerns.
Trumenba- 2 doses required at least 6 months apart
Bexsero- 2 doses required at least 1 month apart
Submitted by Tara Ulrich tu19@evansville.edu.
Huebner Named Chair of the Department of Physical Therapy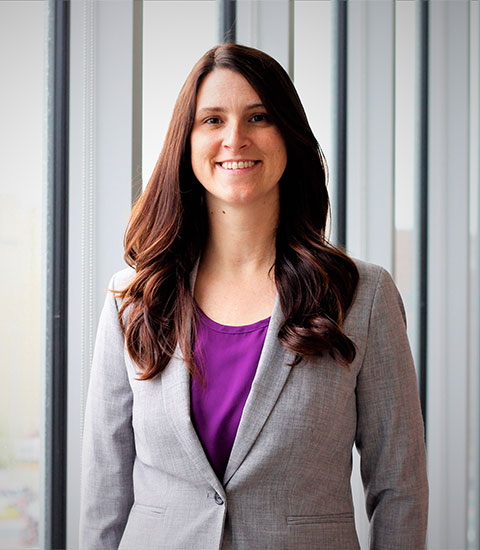 University of Evansville's Department of Physical Therapy announces the appointment of Bethany Huebner, PT, DPT as chair of the department.
Huebner has been a dedicated member of the UE DPT faculty since 2014 and served as the director of clinical education in 2017-19. She earned her Doctor of Physical Therapy degree from Indiana University in 2009 and her bachelor's degree in biology from the University of Alabama in Huntsville in 2006. Huebner graduated from the ProRehab and University of Evansville's Sports Residency program in 2010 and is currently pursuing her PhD in health professions education at Bellarmine University.
A board-certified clinical specialist in sports physical therapy through the American Board of Physical Therapy Specialties, Huebner also received her Manual Therapy Certification through Evidence in Motion's program in 2014. In addition, she is actively engaged in patient care at ProRehab, PC in Evansville, Indiana, and is the residency program coordinator for ProRehab and University of Evansville's Sports Residency Program. Huebner teaches within the area of musculoskeletal and foundational science in the DPT program. Her research interest is in teaching effectiveness and the use of feedback in health professions education.
"We appreciate Dr. Huebner's willingness to assume responsibility and leadership for the physical therapy department," said Mary Kessler, dean of the college of education and health sciences. "She is an extremely passionate educator who is committed to professional excellence and to her students, faculty and staff. She is a valuable member of the college's leadership team and an engaged and dedicated University citizen. I am looking forward to continuing to work with this gifted colleague in her new role."
Huebner will carry on the leadership and vision of Kyle Kiesel, who has served the department for 20 years as a professor, program director, and chair, and led the program through significant growth and transition to the Stone Family Center for Health Sciences.
The UE Physical Therapy Program has been continually accredited since 1981 and is internationally recognized for providing excellence in physical therapy education and clinical training.
Jennifer Simon
js698@evansville.edu
Basketball Refs Wanted
The Intramural department is hiring Basketball Referees and Scorekeepers for the 2020 season. Starting pay is $8/game for Officials and $7.25 for scorekeepers, all equipment will be provided. Training starts Wednesday 1/22 at 7pm in Meeks Gym. Feel free to stop by and check it out or contact Drew at AH519 with any questions.
Drew Hawkins
ah519@evansville.edu
Contribute to AceNotes
To have content considered for inclusion in AceNotes, please submit a Marketing Request Form. Deadline for submission to AceNotes is 10:00 a.m. on the requested date of publication. Only articles concerning UE related/sponsored activities will be accepted. Articles submitted to AceNotes may be edited for length and clarity. Submitter contact information is at the end of each article.