| | |
| --- | --- |
| AceNotes Today | Thursday, January 23, 2020 |
Consent to Receive Electronic W-2s
The Office of Accounting/Payroll will be issuing W-2s for 2019 no later than January 31, 2020. You may choose 1 of 2 options to receive your W-2:
• Electronic W-2 – If you provide your consent, you will be able to view/print in Self-Service as soon as they are ready. Notification will be sent through Ace Notes.
• Paper W-2 – If you prefer, you can continue to receive your W-2 in the mail.
An electronic W-2 will give you earlier access than a mailed copy. It is IRS compliant and can be submitted with your tax return as usual.
To give consent for the electronic W-2, log in to Self-Service, and go to "Tax Information". Select "Receive my W-2 only in electronic form" and save.
If you are eligible to participate in the university's health plans, you may also give consent to receive your 1095-C form electronically here also. If you choose to withhold your consent to view/print your online W-2 and 1095-C, a paper copy will be mailed to your home address.
If you have questions, please contact Dawn Bury at ext 2159 or db287@evansville.edu.
Events Kicking Off in the Diversity House this Sunday
Spring semester programming in the Diversity Resource Center (aka Diversity House, 436 S. Weinbach across from Hughes Hall) kicks off this weekend!
First up is Flavor of the Month China, Sunday 1/26 from 5-7pm. Come socialize while Chinese international student Xinyue Bi prepares a meal to celebrate Chinese New Year! Limited to 10 guests, first come first served.
On Monday, the weekly Diversity Coffee Break begins. Each Monday from 3-4pm, come to the house for coffee, tea, and casual conversation on a diversity topic. Each week features a special guest or topic; on Monday 1/27, we welcome Dr. Rob Shelby, Chief Diversity Officer, to teach us about his work so far in his new role, what's going on with diversity on campus, and take ideas and suggestions from the UE community!
Megan Sicard
ms331@evansville.edu
Beauty of Engineering Event set for April 4
Join the Tri-State Women in STEM for The Beauty of Engineering!, sponsored by twiSTEM and the University of Evansville College of Engineering and Computer Science.
The event will be held on Saturday, April 4, 2020 from 8:00 – 11:15 a.m. Check-in begins at 7:45 a.m. The location will be the Koch Center for Engineering and Science on the University of Evansville campus at 1800 Lincoln Ave, Evansville, IN (the first building on the right after one-way entrance).
Beauty of Engineering is an experience in engineering and computing science for girls in 4th through 8th grades. Activities are executed in a rotation through various STEM-related stations staffed by professional women and college students in the fields of engineering and computing science.
The cost is $10.00 per attendee and is non-refundable except in the case of event cancellation or fill to capacity. Enrollment is limited to the first 200 girls and registration is open until March 27, 2020. Individuals and organizations are welcome. Participants may register online at https://twistem_beauty_of_engineering_2020.eventbrite.com. For questions, please e-mail twiSTEM.evv@gmail.com.
Kimberly Higgins
kh209@evansville.edu
Would You Like to Sell Something at The Vagina Monologues?
Would you like to sell something at The Vagina Monologues? Whether it's a receipe you would like to share with the campus or a t-shirt, we will have tables set up in Eykamp 251 on Feb. 14 and 15 from 5:00 pm - 10:00 pm. After the second night, we will ask that your organization comes to pick up your items by 10:00 pm.
Please contact us through uengage or email ap3@evansville.edu, kc285@evansville.edu, and mf223@evansville.edu on what your organization will be bringing or selling. We ask that you contact us by Feb. 3. Pricing and handling is all up to your organization.
KeYanla Cleckley
kc285@evansville.edu
Faculty Scholarship Display and Reception
The Libraries are currently hosting the FACULTY SCHOLARSHIP DISPLAY until February 2, 2020. Works produced or published or grants received from August 2018 until July 2019 were eligible for inclusion. You should wander over and take at look at your colleagues' impressive scholarship!
A reception in honor of all Faculty Scholars will be held on January 30th @ 4 pm in the Libraries' Boardroom. I hope you can attend.

Meg Atwater-Singer
ma35@evansville.edu
Free Peer Tutoring
Free peer group tutoring is available for many classes and subjects beginning Tuesday, Jan. 21. See the tutoring schedule posted on the MyUe and the Academic Advising webpage:
https://www.evansville.edu/advising/academic-peer-tutoring.cfm
Check back regularly for new additions and updates to the schedule. For questions, contact Cherie Leonhardt at CL29 or call 812-488-2141.
Cherie Leonhardt
CL29@evansville.edu
The new UE license plate design is available in Indiana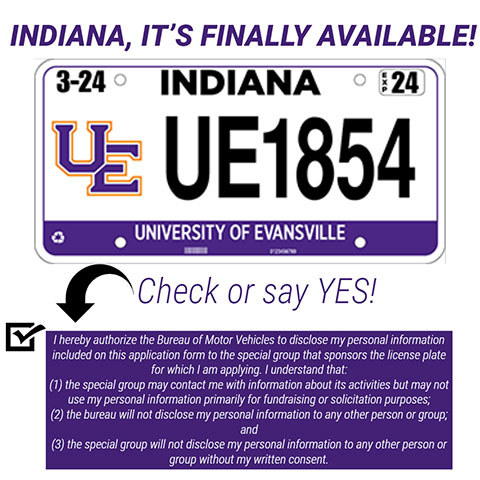 License plates are on a 7-year cycle. If you are not due for a plate when you renew, you will not receive the new design. We are receiving mixed messages from the BMV about getting the new UE plate design when renewing online. To ensure you receive the new design, we suggest you visit your local BMV branch and ASK for the new UE design.
UE receives $25 of every plate registered! And you become a donor, BUT we need to know that you have a UE plate. When the BMV asks you if you would like to share your information with UE, please say YES! If you are renewing online, please check the box for EACH plate to allow the BMV to send us your information.
Let's show our UE spirit all over Indiana and the country! #GivingInspiresChange #TrueandLoyal
Jennifer J Calderone
jj130@evansville.edu
Safe Zone Training Sessions for LGBTQ+ Allies
The Center for Diversity, Equity, and Inclusion and UE P.R.I.D.E. have scheduled two Safe Zone training sessions for this semester. Ally training is an important opportunity for us to learn more about our campus friends, neighbors, and students. All are encouraged to attend to learn and share!
Faculty and Staff Training - Thursday, January 30th - 4-6pm - SOBA 173
Student Training - Friday, February 7th - 5-7pm - SOBA 172
Megan Sicard
ms331@evansville.edu
Spring 2020 Purple Friday Patrol Sign Ups Now Available!
Purple Friday Patrol: Wear Purple—Get Prizes!
Be on the lookout for the Purple Friday Patrol every week and sign up here to pass out the purple praise!
On Fridays, we wear purple, and each week, the PFP will reward students to promote school spirit both on campus and online through the use of the hashtag, #UEPurpleFriday.
Purple Friday Patrol Teams are made up of members of the campus community including faculty, administrators, and other interested parties, usually from the same department or group.
PFP Teams can sign up for one or more Fridays per semester and the Office of University Relations will supply Purple Swag Packs to the designated PFP Team for the week. PFP Teams are invited to add a personal touch to the swag packs, if desired. (ex. departmental swag, promo for an upcoming event, etc.)
Purple Friday Patrol Teams: What's my responsibility?
1. Sign up for at least one Friday per semester.
2. Visit the office of University Relations in Sampson Hall during the week of your assigned Friday to pick up your Purple Swag Packs
3. Pass out the purple praise. The distribution format is up to you. You can pass out swag packs to the first few purple people you see, or you can stagger the rewards throughout the day. If you'd prefer to reward online participants, you're free to promote on official UE social media accounts.
4. Pics or it didn't happen. Remember, we're trying to promote school spirit both on campus and online through the use of the hashtag, #UEPurpleFriday, so be sure to snap a picture with your purple people! You can either share them online through an official UE social media account if you run one, or send them to uerelations@evansville.edu to post on the main UE social media accounts.
Summer Sessions Payment Plan
Payment plans for summer session courses including Early Summer, Harlaxton Summer, Summer I, and Summer II are available now. Contact the cashiers in the Office of Student Financial Services (Olmsted rm. 105G) to set-up a payment plan. Payments can be arranged from the point of set-up to the due date of the session. There is no fee for the payment plan.
Students should contact the Office of Student Financial Services no later than Reading-Study Day, May 7, 2020 to determine if financial aid is available for their summer courses.
Submitted by Amy Sowders as560@evansville.edu.
Huebner Named Chair of the Department of Physical Therapy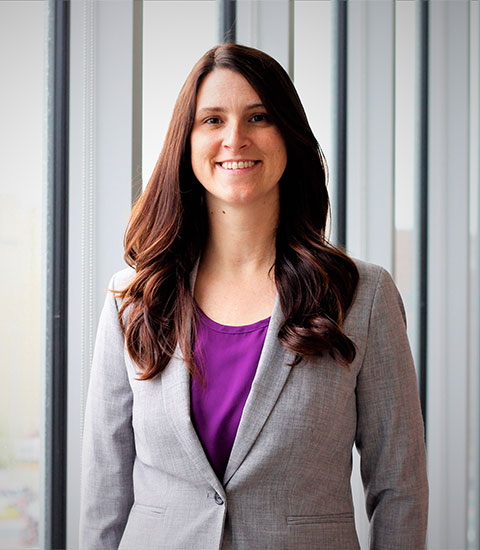 University of Evansville's Department of Physical Therapy announces the appointment of Bethany Huebner, PT, DPT as chair of the department.
Huebner has been a dedicated member of the UE DPT faculty since 2014 and served as the director of clinical education in 2017-19. She earned her Doctor of Physical Therapy degree from Indiana University in 2009 and her bachelor's degree in biology from the University of Alabama in Huntsville in 2006. Huebner graduated from the ProRehab and University of Evansville's Sports Residency program in 2010 and is currently pursuing her PhD in health professions education at Bellarmine University.
A board-certified clinical specialist in sports physical therapy through the American Board of Physical Therapy Specialties, Huebner also received her Manual Therapy Certification through Evidence in Motion's program in 2014. In addition, she is actively engaged in patient care at ProRehab, PC in Evansville, Indiana, and is the residency program coordinator for ProRehab and University of Evansville's Sports Residency Program. Huebner teaches within the area of musculoskeletal and foundational science in the DPT program. Her research interest is in teaching effectiveness and the use of feedback in health professions education.
"We appreciate Dr. Huebner's willingness to assume responsibility and leadership for the physical therapy department," said Mary Kessler, dean of the college of education and health sciences. "She is an extremely passionate educator who is committed to professional excellence and to her students, faculty and staff. She is a valuable member of the college's leadership team and an engaged and dedicated University citizen. I am looking forward to continuing to work with this gifted colleague in her new role."
Huebner will carry on the leadership and vision of Kyle Kiesel, who has served the department for 20 years as a professor, program director, and chair, and led the program through significant growth and transition to the Stone Family Center for Health Sciences.
The UE Physical Therapy Program has been continually accredited since 1981 and is internationally recognized for providing excellence in physical therapy education and clinical training.
Jennifer Simon
js698@evansville.edu
UE Men Drop Final game of Homestand
John Hall posted a solid evening, registering seven points and seven rebounds to lead the University of Evansville men's basketball team on Wednesday in a 73-50 loss to Drake inside the Ford Center.

Hall's final carom tally marked his season high. Leading the Purple Aces (9-11, 0-7 MVC) on the scoreboard was Shamar Givance. The sophomore had his best game in nearly two months going a perfect 3-for-3 from long range on his way to nine points. Jawaun Newton finished with eight points.

Less than 24 hours after his introduction as Evansville's new head coach, Todd Lickliter was on the bench to lead the team. Following a first half that saw the UE defense allow Drake (14-6, 4-3 MVC) to shoot 56.3% and score 46 points, the Aces were much better in the final 20 minutes, holding the Bulldogs to 33.3% shooting and 27 points.

"I see a lot of hope. If you struggle offensively, it usually impacts other areas, but we guarded and defended well; I see the potential and the positives," Lickliter said after the game. "I am a firm believer in practice and I am looking forward to getting some practice in and moving along in that way, then we will have more to build on."

"It is great to be back in the Ford Center and great to be an Ace."

A 4-for-7 start from the field saw the Bulldogs open up a 9-0 lead. Jawaun Newton got the Aces on the board with a triple, ending a 0-for-7 start to the game, but the Bulldogs continued their hot start, taking a 14-3 advantage.

Evansville used the long ball to trim into the deficit, getting within five points at 25-19 on a Sam Cunliffe jumper with under six minutes remaining. Evan Kuhlman and Shamar Givance connected on triples in the run with Marcus Henderson assisting on both. The freshman added a trey of his own.

Over the final five minutes of the half, the Bulldogs outscored the Aces by a 21-7 tally as they took their largest lead of the game to that point – 46-26 – at the break. Four 3-pointers found the bottom of the net in that rally. Over the opening 20 minutes, the Bulldogs hit 56.3% of their attempts while going 8-of-13 from long range (61.5%). Evansville was held to seven field goals in the half with 15 of their 24 attempts coming from outside.

In the second half, the Aces worked to get the ball inside and found success with John Hall knocking down consecutive baskets at the rim. Five minutes into the period, a 6-0 stretch saw UE made it a 50-36 game with Artur Labinowicz, K.J. Riley and Newton hitting field goals. While the Aces did a much better job of getting to the rim in the final 20 minutes, the Bulldogs countered with a 13-5 rally that pushed their advantage to 63-41 with eight minutes on the clock.

Drake's lead reached 24 points with 2:40 remaining before finishing the night with the 73-50 win. The defense for the Aces performed much better in the latter half, holding Drake to just 33.3% shooting.

The final rebounding tally went in Drake's favor, 38-33. Liam Robbins paced the Bulldogs with 16 points and 8 boards. Roman Penn had 14 points while Garrett Sturtz finished with 10.

Evansville is back on the road for its next two games with the first contest set for Sunday when the Aces take on Valparaiso in a 4 p.m. tilt. On Wednesday, UE heads to Illinois State.
Intramural Basketball Registration Open
Registration for Intramural Basketball is open now through Thursday, January 23rd at 2pm.
We have Competitive A league along with B and C leagues, so any level of talent is welcome to play! Sign up by visiting imleagues.com and registering your team before the deadline.
Drew Hawkins
ah519@evansville.edu
Contribute to AceNotes
To have content considered for inclusion in AceNotes, please submit a Marketing Request Form. Deadline for submission to AceNotes is 10:00 a.m. on the requested date of publication. Only articles concerning UE related/sponsored activities will be accepted. Articles submitted to AceNotes may be edited for length and clarity. Submitter contact information is at the end of each article.