| | |
| --- | --- |
| AceNotes Today | Wednesday, January 22, 2020 |
Save the Date: Soupalooza
Please join the SAA, (Staff and Administrators Assembly) on
February 14 from 11:00 a.m.-1:00 p.m. in Eykamp Hall, Ridgway University Center.
Soup, dessert, and a water for $5!
Proceeds help fund the SAA Scholarship Fund!
Thank you so very much your willingness to support Soupalooza!
Your kind heart and willing spirit are very much appreciated.
Plan to vote for a winning soup.
Winners have the opportunity to win a special prize!
Door prizes will be handed out too!
Soupapalooza Team
Tobi Audas- Academic Affairs
Carol Blair- Security
Kelly Bargeloh- Career Development
Laura Connors- Nursing
Dianna Cundiff- Career Development
Michelle Lehman- Creative Writing, English, and History
Wendy Marx- Development & Alumni Relations
Megan McCombs- Alumni & Parent Relations
Brooksie Smith- Art & Center for Innovation & Change
Brooksie Smith
bs267@evansville.edu
UE Leadership Academy Blood Drive
UE Leadership Academy will be hosting an American Red Cross Blood Drive on January 28, 2020 from 11:30-6pm in Eykamp Hall. You have the opportunity to sign-up this week and next week! Sign-ups will be from 11 until 7 January 15-16 and 21-22 in Ridgway by Cafe Court.
Kaitlyn Luczak
kl241@evansville.edu
SALT (Service and Leadership) Retreat
This is a retreat from the evening of Friday, January 31st to the afternoon of Saturday, February 1st. It's an overnight trip to St. Meinrad's that's based off of the 99 program with Fr. Mike and many more! Please pray about it and or email Jenny at je46@evansville.edu if you have any questions. Sign up or read more about it.
Kathryn Williams
kw354@evansville.edu
Faculty Scholarship Display and Reception
The Libraries are currently hosting the FACULTY SCHOLARSHIP DISPLAY until February 2, 2020. Works produced or published or grants received from August 2018 until July 2019 were eligible for inclusion. You should wander over and take at look at your colleagues' impressive scholarship!
A reception in honor of all Faculty Scholars will be held on January 30th @ 4 pm in the Libraries' Boardroom. I hope you can attend.

Meg Atwater-Singer
ma35@evansville.edu
Free Peer Tutoring
Free peer group tutoring is available for many classes and subjects beginning Tuesday, Jan. 21. See the tutoring schedule posted on the MyUe and the Academic Advising webpage:
https://www.evansville.edu/advising/academic-peer-tutoring.cfm
Check back regularly for new additions and updates to the schedule. For questions, contact Cherie Leonhardt at CL29 or call 812-488-2141.
Cherie Leonhardt
CL29@evansville.edu
The new UE license plate design is available in Indiana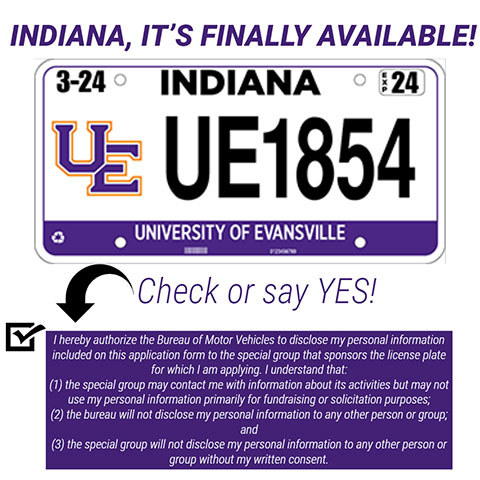 License plates are on a 7-year cycle. If you are not due for a plate when you renew, you will not receive the new design. We are receiving mixed messages from the BMV about getting the new UE plate design when renewing online. To ensure you receive the new design, we suggest you visit your local BMV branch and ASK for the new UE design.
UE receives $25 of every plate registered! And you become a donor, BUT we need to know that you have a UE plate. When the BMV asks you if you would like to share your information with UE, please say YES! If you are renewing online, please check the box for EACH plate to allow the BMV to send us your information.
Let's show our UE spirit all over Indiana and the country! #GivingInspiresChange #TrueandLoyal
Jennifer J Calderone
jj130@evansville.edu
Solution Station This Wednesday: Planner Giveaway
Do you feel like you never have enough time? Come by the Solution Station table in Ridgway this Wednesday to receive a free UE student planner! Start the semester right by getting your time to work for you.
As always, let us know if there's anything you need help with or if you have questions that you need the answer to.
Wednesday: 11:00 a.m. - 1:00 p.m
Chad A Hart
ch299@evansville.edu
Calling all Trivia Buffs - Register for Nerd Wars Today
Team sign-ups are now open for this year's Nerd Wars trivia competition, scheduled for Tuesday, February 25 at 7:00pm in Eykamp Hall. The Honors Program invites you to form your team of five competitors to battle in a competition of wits for prizes and bragging rights. Teams of students, faculty, administrators, and staff are welcome to register. All competitors will receive a free Nerd Wars T-shirt!
Both spectators and competitors can enjoy pizza, popcorn and snacks at the event, as well as the chance to receive giveaway prizes!
The entry fee is $5 per person (Honors Program students may register for free!), which can be paid to Jayme Williams in Room 238, Koch Center for Engineering and Science. Those who are unable to compose a team of five may still register and will be matched to form a team. The registration deadline is Thursday, January 30.
All proceeds from the event benefit the Honors Program's community service initiative (HACER).
Please contact Blake at be80@evansville.edu with any questions.
Jayme Williams
jw504@evansville.edu
Apply to be a Resident Assistant for Fall 2020
Applications are open on UEngage.evansville.edu under "Forms" or click here: https://uengage.evansville.edu/submitter/form/start/380776.
Applications are due Monday, February 10th at 8:00am.
Please fill out the application to the best of your ability and answer all questions with as much detail as possible. You will be required to submit a résumé as well as two references.
Interview times should be chosen through the link at the end of the application. Individual interviews are between February 17th and February 19th. We will have one group interview on February 20th. Interviews are mandatory, unless you have an emergency, class, or prior conflict. Please let us know ASAP if that is the case so we can schedule a different time for your interview.
Dress is business casual for all interviews.
If you have any questions or concerns please feel free to contact Megan King at mk255@evansville.edu or Karyssa Vasquez at kv54@evansville.edu.
Thank you for your interest in becoming a part of the Residence Life team!
Karyssa L Vasquez
kv54@evansville.edu
Dancers Wanted
The UE Ballroom Club is looking for teaching partners for its President, Joseph Shoup, who just returned from Harlaxton. No experience with Ballroom needed (lessons provided at no cost), just a love for dance and engaging personality! Dancers will help lead clinics on campus and have access to optional performance opportunities. Dancers of all backgrounds welcome (his previous partner was a ballet dancer!). If interested, email or text Erin Lewis (EL131@evansville.edu or 812-449-1044), UE's Ballroom Club Advisor.
Brooksie Smith
bs267@evansville.edu
Harlaxton Fall and Summer 2020 Deposit Deadlines Approaching!
If you have been accepted to study at Harlaxton in the summer or fall of this year, don't forget that your deposit is due next week to Student Financial Services! Deposits for summer are $250 and are due on January 22. Deposits for fall are $100 and are due on January 24. You can pay your deposit in person in Olmstead 105 or over the phone at 812-488-2565. Questions about the Harlaxton application process? Contact harlaxton@evansville.edu!
Kaylynn McCalister
kc205@evansville.edu
Now Recruiting Harlaxton Ambassadors
Are you a recent Harlaxton alumni who loves to share your experience with others? Or do you know a student who fits that description?
The Harlaxton office is currently taking applications for students who want to volunteer as Harlaxton Ambassadors to recruit, prepare, and encourage Harlaxton applicants and to represent Harlaxton at various recruitment events and other campus activities. Harlaxton Ambassadors have the opportunity to develop professional skills, stay connected with Harlaxton, and receive exclusive Harlaxton apparel.
More information and applications are available on myHarlaxton.
Kaylynn McCalister
kc205@evansville.edu
Spring 2020 Purple Friday Patrol Sign Ups Now Available!
Purple Friday Patrol: Wear Purple—Get Prizes!
Be on the lookout for the Purple Friday Patrol every week and sign up here to pass out the purple praise!
On Fridays, we wear purple, and each week, the PFP will reward students to promote school spirit both on campus and online through the use of the hashtag, #UEPurpleFriday.
Purple Friday Patrol Teams are made up of members of the campus community including faculty, administrators, and other interested parties, usually from the same department or group.
PFP Teams can sign up for one or more Fridays per semester and the Office of University Relations will supply Purple Swag Packs to the designated PFP Team for the week. PFP Teams are invited to add a personal touch to the swag packs, if desired. (ex. departmental swag, promo for an upcoming event, etc.)
Purple Friday Patrol Teams: What's my responsibility?
1. Sign up for at least one Friday per semester.
2. Visit the office of University Relations in Sampson Hall during the week of your assigned Friday to pick up your Purple Swag Packs
3. Pass out the purple praise. The distribution format is up to you. You can pass out swag packs to the first few purple people you see, or you can stagger the rewards throughout the day. If you'd prefer to reward online participants, you're free to promote on official UE social media accounts.
4. Pics or it didn't happen. Remember, we're trying to promote school spirit both on campus and online through the use of the hashtag, #UEPurpleFriday, so be sure to snap a picture with your purple people! You can either share them online through an official UE social media account if you run one, or send them to uerelations@evansville.edu to post on the main UE social media accounts.
Reminder for all new incoming fall 2019 students~ Second dose of Meningitis B DUE by JANUARY 31st 2020!!
REMINDER! If you were a new incoming student to UE this 2019 fall semester, you must have your Meningitis B series completed and submitted to your MedProctor account by January 31st 2020. If you are going home during Thanksgiving or winter break, schedule your second dose to complete your Meningitis B series that is part of the admission requirements. This is only required for new students who entered University of Evansville FALL 2019 who has submitted only one dose of Meningitis B to MedProctor. Please call the Student Health Center at 812-488-2033 for any questions/concerns.
Trumenba- 2 doses required at least 6 months apart
Bexsero- 2 doses required at least 1 month apart
Submitted by Tara Ulrich tu19@evansville.edu.
Huebner Named Chair of the Department of Physical Therapy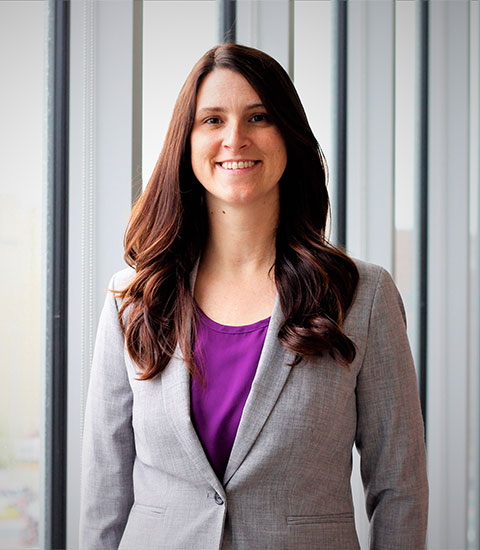 University of Evansville's Department of Physical Therapy announces the appointment of Bethany Huebner, PT, DPT as chair of the department.
Huebner has been a dedicated member of the UE DPT faculty since 2014 and served as the director of clinical education in 2017-19. She earned her Doctor of Physical Therapy degree from Indiana University in 2009 and her bachelor's degree in biology from the University of Alabama in Huntsville in 2006. Huebner graduated from the ProRehab and University of Evansville's Sports Residency program in 2010 and is currently pursuing her PhD in health professions education at Bellarmine University.
A board-certified clinical specialist in sports physical therapy through the American Board of Physical Therapy Specialties, Huebner also received her Manual Therapy Certification through Evidence in Motion's program in 2014. In addition, she is actively engaged in patient care at ProRehab, PC in Evansville, Indiana, and is the residency program coordinator for ProRehab and University of Evansville's Sports Residency Program. Huebner teaches within the area of musculoskeletal and foundational science in the DPT program. Her research interest is in teaching effectiveness and the use of feedback in health professions education.
"We appreciate Dr. Huebner's willingness to assume responsibility and leadership for the physical therapy department," said Mary Kessler, dean of the college of education and health sciences. "She is an extremely passionate educator who is committed to professional excellence and to her students, faculty and staff. She is a valuable member of the college's leadership team and an engaged and dedicated University citizen. I am looking forward to continuing to work with this gifted colleague in her new role."
Huebner will carry on the leadership and vision of Kyle Kiesel, who has served the department for 20 years as a professor, program director, and chair, and led the program through significant growth and transition to the Stone Family Center for Health Sciences.
The UE Physical Therapy Program has been continually accredited since 1981 and is internationally recognized for providing excellence in physical therapy education and clinical training.
Jennifer Simon
js698@evansville.edu
Retirement Reception for Janice Kidder
Please join us for Janice Kidder's retirement reception on Wednesday, January 22, 3:30-4:30 pm, in Graves Hall Room 240. Janice provided dedicated service for over 6 years to the Physical Therapy Program faculty and students as the administrative assistant for the department. We thank Janice for her support and wish her well in retirement.
Jennifer Simon
js698@evansville.edu
Todd Lickliter Named Head Men's Basketball Coach at UE
The University of Evansville has announced the hiring of former National Coach of the Year Todd Lickliter as head coach of the Purple Aces men's basketball team. Lickliter inked a multiyear deal with the university and will assume the position immediately. He will be on the sideline when the Aces face Drake on Wednesday evening.
"My family and I are excited to have the opportunity to rejoin the Evansville community," Lickliter said. "I am humbled by the chance to lead the Purple Aces program and thankful to reunite with this outstanding group of student-athletes. It is a privilege to be a part of a program with a rich history and tradition."
Lickliter is familiar with the Evansville program and players after spending the 2018-19 season as an assistant coach. He took an active role in coaching a young Aces squad last season. Facing a great deal of turnover while assisting the staff in the implementation of a new system, Lickliter helped guide Evansville to the best record for a first-year staff since 1978. The Aces began Missouri Valley Conference play with a double overtime win against Drake before earning their most decisive win of the season when they defeated defending Final Four participant Loyola by a 67-48 final at the Ford Center.
As the head coach at Butler University from 2001 through 2007, Lickliter brought record-breaking success to the Bulldog program. In his first season at the helm, he directed the team to a then-school record of 26 victories and its third Horizon League regular season championship in a row. His squad also reached the Associated Press Top 25 for the first time in 53 years. Lickliter's success only got better as he led Butler to a pair of Sweet 16 appearance in 2003 and 2007. In 2007, his team fell to eventual National Champion Florida by just eight points.
Over his first two seasons at the helm of the Bulldog squad, Lickliter won a total of 53 games. It marked the third-most wins in NCAA history by a men's head coach in the first two years of work, trailing only Bill Guthridge (58 wins) of North Carolina and NC State's Everett Case, who posted 55 wins.

His top honor came in 2007 as he was named the National Association of Basketball Coaches (NABC) National Coach of the Year. CollegeHoops.net named him as the High-Major Coach of the Year that same season. He left the program with the top three single-season win totals in school history. Lickliter became the head coach at the University of Iowa in 2007 and led the program at Marian University in 2012. In his second season with the Knights, he led them to the most conference wins in school history along with the #1 scoring defense in NAIA Division II. After leaving Marian, he joined the Boston Celtics as a scout.
Prior to assuming the head coaching position at Butler, Lickliter worked two stints as an assistant at Butler while serving as an assistant coach at Eastern Michigan from 1997-99. In his initial period at Butler, Lickliter worked with his college coach – Joe Sexson for the 1988-89 campaign and returned to the program from 1999 through 2001, working with Barry Collier and Thad Matta. At EMU, he assisted on the 1998 team that won the Mid-American Conference Championship behind future NBA star Earl Boykins.
The 1979 graduate of Butler University is a native of Indianapolis, where he played for his father Arlan at North Central High School. He played one season at Central Florida before transferring to Butler. Todd and wife Joez have three sons – Ry, Garrett and John.
"I would like to thank President Christopher M. Pietruszkiewicz, Mark Spencer and the administration at the University of Evansville for the opportunity to coach these young men. We will strive to uphold the Aces rich tradition and bring pride to the UE community," Lickliter added.
Men's Basketball Ready for Wednesday Contest Against Drake
With several positives to take away from Saturday's game against Missouri State, the University of Evansville men's basketball team has its sights set on Wednesday's 6 p.m. contest against Drake inside the Ford Center. Tickets are still available and fans out of town can follow via ESPN+ and the Purple Aces Radio Network.
Setting the Scene
- UE looks for its 8th consecutive home victory over the Bulldogs; last season, the Aces faced Drake in the MVC opener and finished the night with an 82-77 double overtime victory
- Home court advantage between the squads has been pivotal in recent years with the home team winning 14 of the last 15 contests; the only road team to pick up a win since February of 2012 was Evansville, who earned an 80-74 win at the Knapp Center in 2016
- Last year's home win saw K.J. Riley post what was at the time a career high; he scored 25 points while hitting 13 out of 17 free throw tries
- In Saturday's game against MSU, Evansville's offense ended a 2-game stretch of scoring 44 points or fewer, finishing with 58 tallies
Last Time Out
- It was a tale of two halves on Saturday with the Aces holding a 35-30 halftime lead before Missouri State rallied back to outscore the Aces by a 38-23 total in the final 20 minutes to take a 68-58 win
- Ball control was a pivotal stat in the game - in the first half, UE recorded eight assists and three turnovers - the final 20 minutes saw the Aces credited with two helpers and 10 turnovers
- K.J. Riley had his best conference outing since Jan. 2, 2019 as he totaled 21 points; Riley was 7-of-14 from the field and knocked down all six free throw tries
Returning to Form
- In Saturday's game against Missouri State, senior K.J. Riley recorded 21 points on 7-of-14 shooting while adding six free throws
- It marked Riley's first 20-point game since scoring 36 points against Morgan State in November
- The final tally was Riley's second-best conference game in his 3-year career; his top output was 25 points in last season's MVC opener against Drake
- Riley continues to rank in the top 25 nationally in free throw makes and attempts while connecting on 27 out of 35 free throws in the last five games
Improving Each Day
- Sophomore Jawaun Newton chipped in a total of 12 rebounds over the last two games for the Aces
- In his first 15 games of the 2019-20 season, Newton posted a total of 30 boards, an average of 2.0 per game
- That average jumps to 6.0 over his last two outings. He had a career mark of seven rebounds at Indiana State with five coming on the offensive end
- Over his final four non-conference outings, Newton did not play more than 12 minutes but in his last five contests, Newton has played at least 14 minutes while averaging over 17 minutes
Scouting the Opponent
- Drake owns a 13-6 record through their first 19 games and have split their first six conference games with a 3-3 mark
- The Bulldogs excel at home, posting a perfect 10-0 record, but are 1-5 in road games
- Liam Robbins paces the team with 13.6 points, 6.3 rebounds and 50 blocked shots on the season
- Sunday's game at Southern Illinois saw Robbins add 17 points and 10 rebounds, both team bests, in a 66-49 loss at the Banterra Center
- Roman Penn averages 11.7 points and a team-high 114 assists; he is a 51.6% shooter


Intramural Basketball Registration Open
Registration for Intramural Basketball is open now through Thursday, January 23rd at 2pm.
We have Competitive A league along with B and C leagues, so any level of talent is welcome to play! Sign up by visiting imleagues.com and registering your team before the deadline.
Drew Hawkins
ah519@evansville.edu
Basketball Refs Wanted
The Intramural department is hiring Basketball Referees and Scorekeepers for the 2020 season. Starting pay is $8/game for Officials and $7.25 for scorekeepers, all equipment will be provided. Training starts Wednesday 1/22 at 7pm in Meeks Gym. Feel free to stop by and check it out or contact Drew at AH519 with any questions.
Drew Hawkins
ah519@evansville.edu
Contribute to AceNotes
To have content considered for inclusion in AceNotes, please submit a Marketing Request Form. Deadline for submission to AceNotes is 10:00 a.m. on the requested date of publication. Only articles concerning UE related/sponsored activities will be accepted. Articles submitted to AceNotes may be edited for length and clarity. Submitter contact information is at the end of each article.