| | |
| --- | --- |
| AceNotes Today | Tuesday, January 21, 2020 |
Consent to Receive Electronic W-2s
The Office of Accounting/Payroll will be issuing W-2s for 2019 no later than January 31, 2020. You may choose 1 of 2 options to receive your W-2:
• Electronic W-2 – If you provide your consent, you will be able to view/print in Self-Service as soon as they are ready. Notification will be sent through Ace Notes.
• Paper W-2 – If you prefer, you can continue to receive your W-2 in the mail.
An electronic W-2 will give you earlier access than a mailed copy. It is IRS compliant and can be submitted with your tax return as usual.
To give consent for the electronic W-2, log in to Self-Service, and go to "Tax Information". Select "Receive my W-2 only in electronic form" and save.
If you are eligible to participate in the university's health plans, you may also give consent to receive your 1095-C form electronically here also. If you choose to withhold your consent to view/print your online W-2 and 1095-C, a paper copy will be mailed to your home address.
If you have questions, please contact Dawn Bury at ext 2159 or db287@evansville.edu.
Deadline to Sign up to be a Road Trip Host is February 7
The Office of Admission needs current UE students who live in the residence halls to host prospective high school seniors for Road Trip February 21-23. If you are available, you can apply to host online or by emailing Ashley Jackson (aj53@evansville.edu) or Jordan Hall (jh590@evansville.edu), or stopping by the Office of Admission (OH 104).
Jordan Hall
jh590@evansville.edu
Kappa Alpha Psi Spring Informational
All the men interested in exploring membership in Kappa Alpha Psi Fraternity, Inc are invited to attend the Spring Informational meeting on January 21, 2020. The meeting will start promptly at 7:11 pm in the Schroeder School of Business building, room 270. Please come dressed in business attire (suit and tie) and bring a notebook and something to write with.
Javien Langley
jl308@evansville.edu
Jeff Bender: Fishing for Plankton - Efroymson Exhibition & Visiting Artist
Artist's Exhibition: January 15 – February 29, 2020
Artist in Residence: February 5 - 6
Student Gallery Lecture: Wednesday, February 5, 10:00am
Student Workshop: Thursday, February 6, 9:30am
Artist's Reception & Public Gallery Lecture: Thursday, February 6
Reception: 6:30pm, Lecture: 7:00
All events will take place in the Melvin Peterson Gallery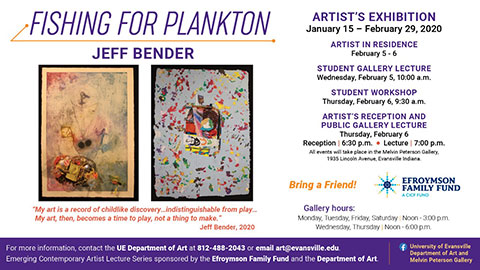 Free Peer Tutoring
Free peer group tutoring is available for many classes and subjects beginning Tuesday, Jan. 21. See the tutoring schedule posted on the MyUe and the Academic Advising webpage:
https://www.evansville.edu/advising/academic-peer-tutoring.cfm
Check back regularly for new additions and updates to the schedule. For questions, contact Cherie Leonhardt at CL29 or call 812-488-2141.
Cherie Leonhardt
CL29@evansville.edu
The new UE license plate design is available in Indiana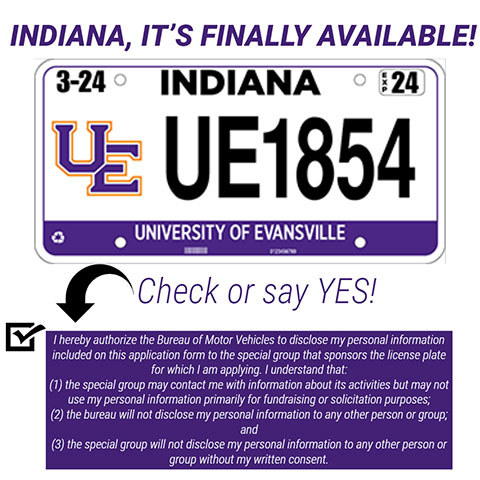 License plates are on a 7-year cycle. If you are not due for a plate when you renew, you will not receive the new design. We are receiving mixed messages from the BMV about getting the new UE plate design when renewing online. To ensure you receive the new design, we suggest you visit your local BMV branch and ASK for the new UE design.
UE receives $25 of every plate registered! And you become a donor, BUT we need to know that you have a UE plate. When the BMV asks you if you would like to share your information with UE, please say YES! If you are renewing online, please check the box for EACH plate to allow the BMV to send us your information.
Let's show our UE spirit all over Indiana and the country! #GivingInspiresChange #TrueandLoyal
Jennifer J Calderone
jj130@evansville.edu
Solution Station This Wednesday: Planner Giveaway
Do you feel like you never have enough time? Come by the Solution Station table in Ridgway this Wednesday to receive a free UE student planner! Start the semester right by getting your time to work for you.
As always, let us know if there's anything you need help with or if you have questions that you need the answer to.
Wednesday: 11:00 a.m. - 1:00 p.m
Chad A Hart
ch299@evansville.edu
Calling all Trivia Buffs - Register for Nerd Wars Today
Team sign-ups are now open for this year's Nerd Wars trivia competition, scheduled for Tuesday, February 25 at 7:00pm in Eykamp Hall. The Honors Program invites you to form your team of five competitors to battle in a competition of wits for prizes and bragging rights. Teams of students, faculty, administrators, and staff are welcome to register. All competitors will receive a free Nerd Wars T-shirt!
Both spectators and competitors can enjoy pizza, popcorn and snacks at the event, as well as the chance to receive giveaway prizes!
The entry fee is $5 per person (Honors Program students may register for free!), which can be paid to Jayme Williams in Room 238, Koch Center for Engineering and Science. Those who are unable to compose a team of five may still register and will be matched to form a team. The registration deadline is Thursday, January 30.
All proceeds from the event benefit the Honors Program's community service initiative (HACER).
Please contact Blake at be80@evansville.edu with any questions.
Jayme Williams
jw504@evansville.edu
The Vagina Monologues: Auditions and Rehearsal Dates
Women's Rights Awareness will be hosting a presentation of The Vagina Monologues on February 14 and 15. Auditions will be held 6:00 - 9:00 pm on January 23 and 24 in Koch 100.
All students and faculty members are welcomed to audition. Experience is not necessary! Please contact kc285@evansville.edu, ap3@evansville.edu, and ji32@evansvill.edu for information regarding the script and the scenes we will be using for the audition.
The Vagina Monologues is a series of monologues, written by Eve Ensler, that is performed globally every February to raise awareness of domestic abuse towards women. WRA will be donating a portion of the profits from their production to Albion Fellows Bacon Center of Evansville.
Rehearsal Dates are Jan. 28, Jan. 30, Feb. 4, Feb. 6, Feb. 11, Feb. 13 at 6:00 - 9:00 pm in SOBA 73.
KeYanla Cleckley
kc285@evansville.edu
Spring 2020 Purple Friday Patrol Sign Ups Now Available!
Purple Friday Patrol: Wear Purple—Get Prizes!
Be on the lookout for the Purple Friday Patrol every week and sign up here to pass out the purple praise!
On Fridays, we wear purple, and each week, the PFP will reward students to promote school spirit both on campus and online through the use of the hashtag, #UEPurpleFriday.
Purple Friday Patrol Teams are made up of members of the campus community including faculty, administrators, and other interested parties, usually from the same department or group.
PFP Teams can sign up for one or more Fridays per semester and the Office of University Relations will supply Purple Swag Packs to the designated PFP Team for the week. PFP Teams are invited to add a personal touch to the swag packs, if desired. (ex. departmental swag, promo for an upcoming event, etc.)
Purple Friday Patrol Teams: What's my responsibility?
1. Sign up for at least one Friday per semester.
2. Visit the office of University Relations in Sampson Hall during the week of your assigned Friday to pick up your Purple Swag Packs
3. Pass out the purple praise. The distribution format is up to you. You can pass out swag packs to the first few purple people you see, or you can stagger the rewards throughout the day. If you'd prefer to reward online participants, you're free to promote on official UE social media accounts.
4. Pics or it didn't happen. Remember, we're trying to promote school spirit both on campus and online through the use of the hashtag, #UEPurpleFriday, so be sure to snap a picture with your purple people! You can either share them online through an official UE social media account if you run one, or send them to uerelations@evansville.edu to post on the main UE social media accounts.
Summer Sessions Payment Plan
Payment plans for summer session courses including Early Summer, Harlaxton Summer, Summer I, and Summer II are available now. Contact the cashiers in the Office of Student Financial Services (Olmsted rm. 105G) to set-up a payment plan. Payments can be arranged from the point of set-up to the due date of the session. There is no fee for the payment plan.
Students should contact the Office of Student Financial Services no later than Reading-Study Day, May 7, 2020 to determine if financial aid is available for their summer courses.
Submitted by Amy Sowders as560@evansville.edu.
Retirement Reception for Janice Kidder
Please join us for Janice Kidder's retirement reception on Wednesday, January 22, 3:30-4:30 pm, in Graves Hall Room 240. Janice provided dedicated service for over 6 years to the Physical Therapy Program faculty and students as the administrative assistant for the department. We thank Janice for her support and wish her well in retirement.
Jennifer Simon
js698@evansville.edu
Contribute to AceNotes
To have content considered for inclusion in AceNotes, please submit a Marketing Request Form. Deadline for submission to AceNotes is 10:00 a.m. on the requested date of publication. Only articles concerning UE related/sponsored activities will be accepted. Articles submitted to AceNotes may be edited for length and clarity. Submitter contact information is at the end of each article.