| | |
| --- | --- |
| AceNotes Today | Monday, January 20, 2020 |
Save the Date: Soupalooza
Please join the SAA, (Staff and Administrators Assembly) on
February 14 from 11:00 a.m.-1:00 p.m. in Eykamp Hall, Ridgway University Center.
Soup, dessert, and a water for $5!
Proceeds help fund the SAA Scholarship Fund!
Thank you so very much your willingness to support Soupalooza!
Your kind heart and willing spirit are very much appreciated.
Plan to vote for a winning soup.
Winners have the opportunity to win a special prize!
Door prizes will be handed out too!
Soupapalooza Team
Tobi Audas- Academic Affairs
Carol Blair- Security
Kelly Bargeloh- Career Development
Laura Connors- Nursing
Dianna Cundiff- Career Development
Michelle Lehman- Creative Writing, English, and History
Wendy Marx- Development & Alumni Relations
Megan McCombs- Alumni & Parent Relations
Brooksie Smith- Art & Center for Innovation & Change
Brooksie Smith
bs267@evansville.edu
UE Leadership Academy Blood Drive
UE Leadership Academy will be hosting an American Red Cross Blood Drive on January 28, 2020 from 11:30-6pm in Eykamp Hall. You have the opportunity to sign-up this week and next week! Sign-ups will be from 11 until 7 January 15-16 and 21-22 in Ridgway by Cafe Court.
Kaitlyn Luczak
kl241@evansville.edu
University of Evansville to Celebrate Martin Luther King Jr. Day
The University of Evansville will celebrate Martin Luther King Jr. Day 2020 on January 20. This year's theme is "2020: King's Vision and Legacy in Modern America." The schedule of events follows. All events are free and open to the public.
Monday, January 20
11:45 a.m. – 1:00 p.m., Meeks Family Fieldhouse
Symbolic March: Civil Rights March on Washington and Pre-March Rally
Speakers include Christopher M. Pietruszkiewicz, UE president; Rob Shelby, UE chief diversity officer; JillAnn Knonenborg, UE director of religious life; and members of the Black Student Union.
7:00 p.m., Eykamp Hall, Room 251, Ridgway University Center
William G. and Rose M. Mays Martin Luther King Jr. Lectureship and Reception
Keynote speaker is Theo Wilson, executive director of Shop Talk Live, Inc., and founding member of the Denver Slam Nuba team, winners of the National Poetry Slam in 2011.
Wilson began his speaking career in the NAACP at the age of 15 and has always had a passion for social justice. He attended Florida A&M University, where he earned his BA in theater performance. He returned to Denver and is now the Executive Director of Shop Talk Live, Inc. The organization uses the barber shop as a staging ground for community dialogue and healing. Due to audience demand, he published his first book in 2017, The Law of Action. In 2017, his TED Talk entitled "A Black Man Goes Undercover in the Alt Right" was seen worldwide, amassing a total of over 12 million views.
The generosity of William G. and Rose M. Mays funds the keynote speaker during UE's Martin Luther King Jr. Day celebration.
Megan Sicard
ms331@evansville.edu
Calling all Trivia Buffs - Register for Nerd Wars Today
Team sign-ups are now open for this year's Nerd Wars trivia competition, scheduled for Tuesday, February 25 at 7:00pm in Eykamp Hall. The Honors Program invites you to form your team of five competitors to battle in a competition of wits for prizes and bragging rights. Teams of students, faculty, administrators, and staff are welcome to register. All competitors will receive a free Nerd Wars T-shirt!
Both spectators and competitors can enjoy pizza, popcorn and snacks at the event, as well as the chance to receive giveaway prizes!
The entry fee is $5 per person (Honors Program students may register for free!), which can be paid to Jayme Williams in Room 238, Koch Center for Engineering and Science. Those who are unable to compose a team of five may still register and will be matched to form a team. The registration deadline is Thursday, January 30.
All proceeds from the event benefit the Honors Program's community service initiative (HACER).
Please contact Blake at be80@evansville.edu with any questions.
Jayme Williams
jw504@evansville.edu
Apply to be a Resident Assistant for Fall 2020
Applications are open on UEngage.evansville.edu under "Forms" or click here: https://uengage.evansville.edu/submitter/form/start/380776.
Applications are due Monday, February 10th at 8:00am.
Please fill out the application to the best of your ability and answer all questions with as much detail as possible. You will be required to submit a résumé as well as two references.
Interview times should be chosen through the link at the end of the application. Individual interviews are between February 17th and February 19th. We will have one group interview on February 20th. Interviews are mandatory, unless you have an emergency, class, or prior conflict. Please let us know ASAP if that is the case so we can schedule a different time for your interview.
Dress is business casual for all interviews.
If you have any questions or concerns please feel free to contact Megan King at mk255@evansville.edu or Karyssa Vasquez at kv54@evansville.edu.
Thank you for your interest in becoming a part of the Residence Life team!
Karyssa L Vasquez
kv54@evansville.edu
Dancers Wanted
The UE Ballroom Club is looking for teaching partners for its President, Joseph Shoup, who just returned from Harlaxton. No experience with Ballroom needed (lessons provided at no cost), just a love for dance and engaging personality! Dancers will help lead clinics on campus and have access to optional performance opportunities. Dancers of all backgrounds welcome (his previous partner was a ballet dancer!). If interested, email or text Erin Lewis (EL131@evansville.edu or 812-449-1044), UE's Ballroom Club Advisor.
Brooksie Smith
bs267@evansville.edu
Now Accepting Global Scholar Applications for 2020-2021
The Global Scholars Program offers support for faculty engaged in scholarship or curriculum development that helps prepare our students and community for global leadership, citizenry, and success. The Global Scholars Program is administered by the Center for Innovation and Change and is made possible by the John H. Schroeder Global Scholar Endowed Fund.
Current funding will support 3-4 awards of up to $4000 each. Awards may be used for travel, research materials, conference fees, and/or other related expenses. Although any global topic will be considered, priority will be given to proposals related to social innovation or changemaking, UN Sustainable Development Goals, projects which encourage cross-disciplinary collaboration (joint proposals are welcome), and projects promoting global experiential opportunities for students.
The deadline for full consideration is February 20 by 5pm. Visit the Global Scholars webpage for more details.
Cindy Kelley
ck116@evansville.edu
UE SAA Secret Aces: It's Not Too Late
'This is the best thing happening on campus!'
'I receive more joy from giving, than receiving.'
'THIS just makes my day!'
The UE SAA Secret Aces kicked off the new year with a meet & greet gift exchange.
We will get together again in April for the big REVEAL!
We will find out then who has been showering us with spontaneous surprises and unlimited powerful moments.
UE SAA Members... It's not too late!
If you would like to be part of UE SAA Secret Aces from now until April, then please contact Brooksie Smith.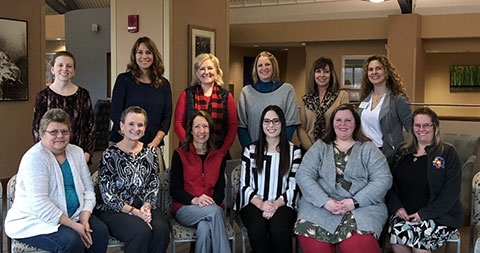 Brooksie Smith
bs267@evansville.edu
Harlaxton Fall and Summer 2020 Deposit Deadlines Approaching!
If you have been accepted to study at Harlaxton in the summer or fall of this year, don't forget that your deposit is due next week to Student Financial Services! Deposits for summer are $250 and are due on January 22. Deposits for fall are $100 and are due on January 24. You can pay your deposit in person in Olmstead 105 or over the phone at 812-488-2565. Questions about the Harlaxton application process? Contact harlaxton@evansville.edu!
Kaylynn McCalister
kc205@evansville.edu
Now Recruiting Harlaxton Ambassadors
Are you a recent Harlaxton alumni who loves to share your experience with others? Or do you know a student who fits that description?
The Harlaxton office is currently taking applications for students who want to volunteer as Harlaxton Ambassadors to recruit, prepare, and encourage Harlaxton applicants and to represent Harlaxton at various recruitment events and other campus activities. Harlaxton Ambassadors have the opportunity to develop professional skills, stay connected with Harlaxton, and receive exclusive Harlaxton apparel.
More information and applications are available on myHarlaxton.
Kaylynn McCalister
kc205@evansville.edu
Reminder for all new incoming fall 2019 students~ Second dose of Meningitis B DUE by JANUARY 31st 2020!!
REMINDER! If you were a new incoming student to UE this 2019 fall semester, you must have your Meningitis B series completed and submitted to your MedProctor account by January 31st 2020. If you are going home during Thanksgiving or winter break, schedule your second dose to complete your Meningitis B series that is part of the admission requirements. This is only required for new students who entered University of Evansville FALL 2019 who has submitted only one dose of Meningitis B to MedProctor. Please call the Student Health Center at 812-488-2033 for any questions/concerns.
Trumenba- 2 doses required at least 6 months apart
Bexsero- 2 doses required at least 1 month apart
Submitted by Tara Ulrich tu19@evansville.edu.
Retirement Reception for Janice Kidder
Please join us for Janice Kidder's retirement reception on Wednesday, January 22, 3:30-4:30 pm, in Graves Hall Room 240. Janice provided dedicated service for over 6 years to the Physical Therapy Program faculty and students as the administrative assistant for the department. We thank Janice for her support and wish her well in retirement.
Jennifer Simon
js698@evansville.edu
Big Second Half lifts Bears to win over Aces
Senior K.J. Riley had his best outing since November, tallying 22 points on Saturday with the University of Evansville men's basketball team falling by a 68-58 final to Missouri State inside the Ford Center.

Riley was a perfect 6-for-6 from the line and hit 7 of his 14 field goal attempts. Sam Cunliffe finished the day with 11 points. John Hall, Artur Labinowicz and Jawaun Newton led Evansville (9-10, 0-6 MVC) with five rebounds apiece. The duo of Isiaih Mosley and Keandre Cook were the top performers for the Bears (9-10, 3-3 MVC), recording 23 and 19 points, respectively. Mosley led all players with 10 field goal makes and a total of eight boards.

In Saturday's contest, the Aces outscored the Bears by a 35-30 tally in the first half while posting eight assists against three turnovers. The final 20 minutes saw UE get outscored by a 38-23 tally while registering two assists and turning it over 10 times. The December 31 meeting in Springfield was a similar outing with UE having a 31-23 edge in the first half before MSU outscored Evansville by a 42-21 tally in the latter half.

"We did a really good job of sharing the basketball in the first half but got away from that in the second. We have to continue to work and that is exactly what we will do going forward," Aces interim head coach Bennie Seltzer said. "What we are preaching as a staff is if you are open, knock it down. Our shots are just not falling; that is not an excuse, but they are just not falling right now."

Evansville had a solid first half, shooting 43.3% on its way to a 35-30 lead at the half. K.J. Riley posted 17 points in the opening stanza while hitting all six free throws. After the teams swapped triples to start the game, UE utilized a 6-of-8 shooting start to take a 14-9 advantage in the opening six minutes.

Missouri State rallied back to take a 17-16 lead on a triple from Isiaih Mosley before the Aces retook the lead for the remainder of the period. Sam Cunliffe found Evan Kuhlman open under the basket to put the lead back in the Aces hands. Up by a pair, Riley was fouled on a 3-point try and converted all three attempts to push the lead to 26-21.

With 17 seconds on the clock, Riley knocked down his fifth basket of the game and hit the ensuing free throw attempts to make it a 35-28 game before an MSU basket at the buzzer cut the lead to 35-30 at the break.

Riley opened the second half just as he did in the first half, connecting on another bucket to make it a 7-point game. That is when the Bears kicked it into high gear, holding UE scoreless for a stretch of five minutes while their offense ran off eight points in a row to retake a 38-37 edge. Cunliffe had a 4-point stretch on his own to put Evansville back on top, but the rally for MSU continued. They outscored the Aces by an 18-4 margin to go up by a 48-41 margin.

A huge basket at the midway point of the half saw Shamar Givance drain a triple before a Jawaun Newton layup got the Aces within two (48-46) at the 9:40 mark. Missouri State countered with a 5-0 rally of their own before Marcus Henderson hit his first triple of the game to cut the gap to four at 53-49. With just under four minutes left, the Bear lead reached nine before Henderson's second trey got Evansville back within six at 60-54. The Bears fended off the Aces over the final minutes and finished with the 68-58 win.

"In the first half, they had a hard time of guarding our offense. In the second half, they switched stuff up and would not allow us to kick it out and get into our lanes," UE junior Sam Cunliffe said. "We need to do a better job of making adjustments."

Cunliffe came off the bench on Saturday with Newton and Noah Frederking making the start. Coach Seltzer explained the move after the game.

"I was looking at defense. Those guys (Jawaun/Noah) played really well together at Indiana State and I wanted to have them on the floor to start the game," Seltzer explained. "With Sam and Shamar coming in off the bench, that gave us some offensive firepower to change the tempo."

The Bears defense held the Aces to 38.6% shooting while their offense shot 47.3% including an even 50% in the second half. Both teams totaled 33 rebounds.

Evansville has its sights set on another home game on Wednesday with Drake coming to the Ford Center for a 6 p.m. game.
Intramural Basketball Registration Open
Registration for Intramural Basketball is open now through Thursday, January 23rd at 2pm.
We have Competitive A league along with B and C leagues, so any level of talent is welcome to play! Sign up by visiting imleagues.com and registering your team before the deadline.
Drew Hawkins
ah519@evansville.edu
Basketball Refs Wanted
The Intramural department is hiring Basketball Referees and Scorekeepers for the 2020 season. Starting pay is $8/game for Officials and $7.25 for scorekeepers, all equipment will be provided. Training starts Wednesday 1/22 at 7pm in Meeks Gym. Feel free to stop by and check it out or contact Drew at AH519 with any questions.
Drew Hawkins
ah519@evansville.edu
Contribute to AceNotes
To have content considered for inclusion in AceNotes, please submit a Marketing Request Form. Deadline for submission to AceNotes is 10:00 a.m. on the requested date of publication. Only articles concerning UE related/sponsored activities will be accepted. Articles submitted to AceNotes may be edited for length and clarity. Submitter contact information is at the end of each article.