| | |
| --- | --- |
| AceNotes Today | Friday, January 17, 2020 |
Partial Front Oval Closure
A portion of the front oval will be closed on Monday, January 20, until 9:30 a.m. for the Office of Admission Open House. We are excited to welcome over 90 visiting families to campus to meet with faculty, students, and departments. Please offer a warm welcome to these families. Thank you for your help in recruiting these future Aces.
Purple Patrol Will Be on the Move Today
We hope you are wearing purple!
The Center for Innovation & Change will be out and about today with Purple Swag promoting school spirit both on campus and online.
#UEPurpleFriday
Brooksie Smith
bs267@evansville.edu
Consent to Receive Electronic W-2s
The Office of Accounting/Payroll will be issuing W-2s for 2019 no later than January 31, 2020. You may choose 1 of 2 options to receive your W-2:
• Electronic W-2 – If you provide your consent, you will be able to view/print in Self-Service as soon as they are ready. Notification will be sent through Ace Notes.
• Paper W-2 – If you prefer, you can continue to receive your W-2 in the mail.
An electronic W-2 will give you earlier access than a mailed copy. It is IRS compliant and can be submitted with your tax return as usual.
To give consent for the electronic W-2, log in to Self-Service, and go to "Tax Information". Select "Receive my W-2 only in electronic form" and save.
If you are eligible to participate in the university's health plans, you may also give consent to receive your 1095-C form electronically here also. If you choose to withhold your consent to view/print your online W-2 and 1095-C, a paper copy will be mailed to your home address.
If you have questions, please contact Dawn Bury at ext 2159 or db287@evansville.edu.
Save the Date: Soupalooza
Please join the SAA, (Staff and Administrators Assembly) on
February 14 from 11:00 a.m.-1:00 p.m. in Eykamp Hall, Ridgway University Center.
Soup, dessert, and a water for $5!
Proceeds help fund the SAA Scholarship Fund!
Thank you so very much your willingness to support Soupalooza!
Your kind heart and willing spirit are very much appreciated.
Plan to vote for a winning soup.
Winners have the opportunity to win a special prize!
Door prizes will be handed out too!
Soupapalooza Team
Tobi Audas- Academic Affairs
Carol Blair- Security
Kelly Bargeloh- Career Development
Laura Connors- Nursing
Dianna Cundiff- Career Development
Michelle Lehman- Creative Writing, English, and History
Wendy Marx- Development & Alumni Relations
Megan McCombs- Alumni & Parent Relations
Brooksie Smith- Art & Center for Innovation & Change
Brooksie Smith
bs267@evansville.edu
Admission Open House- Monday, January 20
The Office of Admission will be welcoming around 90 families this upcoming Monday, January 20th at the Open House. They will be dining in Cafe Court around noon, meeting with department, and touring campus. Please help us welcome these families to campus!
Catie Taylor
ct37@evansville.edu
Women's March
Women's March on the Front Oval on this Saturday (January 18) at 2:00 pm.
Please make signs, poems, rants, speeches, and etc. We want women's voices heard.
Signs from Women's Rights Awareness' project "Unsung Heroes" will be provided.
If you want to help, please be there fifteen minutes earlier.
KeYanla Cleckley
kc285@evansville.edu
Annual Women's March this Saturday
The Women's March is a national movement uniting people of all genders, ages, races, political affiliations, abilities, cultures, and economic backgrounds, with the common focus of human rights and inclusion. On Saturday, Women's Marches will take place around the country. Our local march will focus on positive action in our own community. After we walk around the perimeter of campus, anyone may speak briefly about a local organization or effort and how people may help or get involved.
This event takes place Saturday, January 18, 2:00 p.m. in front of Olmstead.
Kristen Strandberg
ks532@evansville.edu
SALT (Service and Leadership) Retreat
This is a retreat from the evening of Friday, January 31st to the afternoon of Saturday, February 1st. It's an overnight trip to St. Meinrad's that's based off of the 99 program with Fr. Mike and many more! Please pray about it and or email Jenny at je46@evansville.edu if you have any questions. Sign up or read more about it.
Kathryn Williams
kw354@evansville.edu
Spanish Mass at Neu Chapel
First mass of the semester! To celebrate, it will be a Spanish Mass. Come by New Chapel at 1pm to try it!
Kathryn Williams
kw354@evansville.edu
University of Evansville to Celebrate Martin Luther King Jr. Day
The University of Evansville will celebrate Martin Luther King Jr. Day 2020 on January 20. This year's theme is "2020: King's Vision and Legacy in Modern America." The schedule of events follows. All events are free and open to the public.
Monday, January 20
11:45 a.m. – 1:00 p.m., Meeks Family Fieldhouse
Symbolic March: Civil Rights March on Washington and Pre-March Rally
Speakers include Christopher M. Pietruszkiewicz, UE president; Rob Shelby, UE chief diversity officer; JillAnn Knonenborg, UE director of religious life; and members of the Black Student Union.
7:00 p.m., Eykamp Hall, Room 251, Ridgway University Center
William G. and Rose M. Mays Martin Luther King Jr. Lectureship and Reception
Keynote speaker is Theo Wilson, executive director of Shop Talk Live, Inc., and founding member of the Denver Slam Nuba team, winners of the National Poetry Slam in 2011.
Wilson began his speaking career in the NAACP at the age of 15 and has always had a passion for social justice. He attended Florida A&M University, where he earned his BA in theater performance. He returned to Denver and is now the Executive Director of Shop Talk Live, Inc. The organization uses the barber shop as a staging ground for community dialogue and healing. Due to audience demand, he published his first book in 2017, The Law of Action. In 2017, his TED Talk entitled "A Black Man Goes Undercover in the Alt Right" was seen worldwide, amassing a total of over 12 million views.
The generosity of William G. and Rose M. Mays funds the keynote speaker during UE's Martin Luther King Jr. Day celebration.
Megan Sicard
ms331@evansville.edu
Dancers Wanted
The UE Ballroom Club is looking for teaching partners for its President, Joseph Shoup, who just returned from Harlaxton. No experience with Ballroom needed (lessons provided at no cost), just a love for dance and engaging personality! Dancers will help lead clinics on campus and have access to optional performance opportunities. Dancers of all backgrounds welcome (his previous partner was a ballet dancer!). If interested, email or text Erin Lewis (EL131@evansville.edu or 812-449-1044), UE's Ballroom Club Advisor.
Brooksie Smith
bs267@evansville.edu
Now Accepting Global Scholar Applications for 2020-2021
The Global Scholars Program offers support for faculty engaged in scholarship or curriculum development that helps prepare our students and community for global leadership, citizenry, and success. The Global Scholars Program is administered by the Center for Innovation and Change and is made possible by the John H. Schroeder Global Scholar Endowed Fund.
Current funding will support 3-4 awards of up to $4000 each. Awards may be used for travel, research materials, conference fees, and/or other related expenses. Although any global topic will be considered, priority will be given to proposals related to social innovation or changemaking, UN Sustainable Development Goals, projects which encourage cross-disciplinary collaboration (joint proposals are welcome), and projects promoting global experiential opportunities for students.
The deadline for full consideration is February 20 by 5pm. Visit the Global Scholars webpage for more details.
Cindy Kelley
ck116@evansville.edu
UE SAA Secret Aces: It's Not Too Late
'This is the best thing happening on campus!'
'I receive more joy from giving, than receiving.'
'THIS just makes my day!'
The UE SAA Secret Aces kicked off the new year with a meet & greet gift exchange.
We will get together again in April for the big REVEAL!
We will find out then who has been showering us with spontaneous surprises and unlimited powerful moments.
UE SAA Members... It's not too late!
If you would like to be part of UE SAA Secret Aces from now until April, then please contact Brooksie Smith.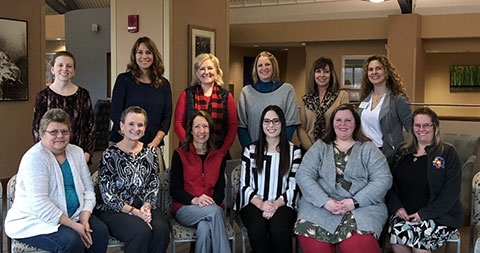 Brooksie Smith
bs267@evansville.edu
Worship Returns
This Sunday, January 19, evening worship returns at Neu Chapel. Join us 7:30-8:15pm for a time of reflection, prayer, and singing. All identities and perspectives welcome.
JillAnn Knonenborg
jk383@evansville.edu
The Vagina Monologues: Auditions and Rehearsal Dates
Women's Rights Awareness will be hosting a presentation of The Vagina Monologues on February 14 and 15. Auditions will be held 6:00 - 9:00 pm on January 23 and 24 in Koch 100.
All students and faculty members are welcomed to audition. Experience is not necessary! Please contact kc285@evansville.edu, ap3@evansville.edu, and ji32@evansvill.edu for information regarding the script and the scenes we will be using for the audition.
The Vagina Monologues is a series of monologues, written by Eve Ensler, that is performed globally every February to raise awareness of domestic abuse towards women. WRA will be donating a portion of the profits from their production to Albion Fellows Bacon Center of Evansville.
Rehearsal Dates are Jan. 28, Jan. 30, Feb. 4, Feb. 6, Feb. 11, Feb. 13 at 6:00 - 9:00 pm in SOBA 73.
KeYanla Cleckley
kc285@evansville.edu
Writing Center Opens January 27!
UE's Writing Center, located adjacent to the library and the student success lab and the library, will be open for students to work on their papers with peer tutors starting at 10 a.m. on Monday, January 27.
Katie Mullins
kd60@evansville.edu
Harlaxton Fall and Summer 2020 Deposit Deadlines Approaching!
If you have been accepted to study at Harlaxton in the summer or fall of this year, don't forget that your deposit is due next week to Student Financial Services! Deposits for summer are $250 and are due on January 22. Deposits for fall are $100 and are due on January 24. You can pay your deposit in person in Olmstead 105 or over the phone at 812-488-2565. Questions about the Harlaxton application process? Contact harlaxton@evansville.edu!
Kaylynn McCalister
kc205@evansville.edu
Now Recruiting Harlaxton Ambassadors
Are you a recent Harlaxton alumni who loves to share your experience with others? Or do you know a student who fits that description?
The Harlaxton office is currently taking applications for students who want to volunteer as Harlaxton Ambassadors to recruit, prepare, and encourage Harlaxton applicants and to represent Harlaxton at various recruitment events and other campus activities. Harlaxton Ambassadors have the opportunity to develop professional skills, stay connected with Harlaxton, and receive exclusive Harlaxton apparel.
More information and applications are available on myHarlaxton.
Kaylynn McCalister
kc205@evansville.edu
Orientation Leader Application Now Available
We are currently seeking applicants for the Orientation Leaders for 2020. Applicants must first complete and submit the OL application at https://uengage.evansville.edu/submitter/form/start/357487 by January 31st. After your submission has been received, you will be invited to sign up for three different interviews. If you have any questions about the application process, feel free to speak with a current orientation leader or with Geoff Edwards in Student Engagement.
Geoff Edwards
ge21@evansville.edu
At The Solution Station This Week: Schedule Shortcomings? Registration Re-Do?
Does your spring semester schedule need some help? Don't wait for it to get better - take action! Waitlisted? Time conflicts? Part-time? Need to make a new plan? Need to change your major? Confused about what you should do next? Come to the Solution Station table in Ridgway!
The Office of the Registrar and Academic Advising will be on hand to help you.
Monday: 11:00 a.m. - 1:00 p.m and 4:00 p.m - 6:00 p.m
Tuesday: 11:00 a.m - 1:00 p.m and 4:00 p.m - 6:00 p.m
Wednesday: 11:00 a.m - 1:00 p.m
Thursday: 11:00 a.m - 1:00 p.m
Friday: 11:00 a.m - 1:00 p.m
Chad Hart
ch299@evansville.edu
Catholic Theology Courses Offered at Newman Center
A new series of classes -- Catholic Thought and Culture -- is now being offered at the Newman Catholic Student Center. The first of these one-hour, for-credit courses will be offered during the Spring 2020 semester, on Mondays from 10:00-10:50am. All participants can receive a 1 hr credit from Marian University, transferrable to the University of Evansville. Cost is $250 for a 12 week course. Participants can also choose to pay $150 if you do not wish to receive credit. If you are interested or have questions, please contact instructor and Catholic Campus Minister Jenny Koch at 812-454-0062.
Kathryn Williams
kw354@evansville.edu
Men's Basketball Returns Home on Saturday
A 2-game home stretch awaits the University of Evansville men's basketball team, beginning on Saturday with a 1 p.m. game against Missouri State inside the Ford Center. Tickets are still available and fans out of town can follow via ESPN+ and the Purple Aces Radio Network.
Setting the Scene
- Evansville's regular season series against the Bears comes to an early and in the third week of Missouri Valley Conference play as MSU picked up a 65-52 win over the Aces in the conference opener on Dec. 31
- UE has had the upper hand against the Bears in Evansville, winning seven of the last nine homes games in the series
- Sam Cunliffe was the top scorer for UE in that contest, posting 13 points; he has been the Aces points leader in three out of five conference outings
- The offense looks to get back on track; in non-conference games, the team posted an average of 78.1 points per game, but that number has dropped to 53.8 in five MVC contests
Last Time Out
- On Wednesday at Indiana State, the Aces jumped out to an early 6-2 lead, but a pair of first-half rallies sent the Sycamores to the half with a 34-19 lead and they would finish the night with a 65-42 victory
- Evansville made a furious rally in the second half - trailing by a 43-21 tally, the Aces scored 13 in a row to cut their deficit to nine points before Indiana State fended off the challenge while finishing the game on a 22-8 run
- Despite playing just 13 minutes, Sam Cunliffe as the Aces top scorer, hitting five of his seven attempts on his way to 12 points while Artur Labinowicz finished with nine
- Sophomore Jawaun Newton hauled in a career-high seven rebounds with five of those coming on the offensive end
Upping his game
- Sam Cunliffe continues to improve his shooting efficiency, adding a 5-of-7 effort at Indiana State to improve his season tally to 40.8%
- Over the last five games, Cunliffe has shot over 40% each time out, hitting 24 of his 48 attempts while leading the team in scoring in three of the five MVC games
- From long range, Cunliffe has been just as impressive, knocking down seven of his 16 3-point tries in the last four games; prior to that, he connected on two out of 19 attempts beyond the arc
- In the final 10 non-conference games, Cunliffe shot over 40% from the field just twice
- He has 11 double figure efforts in 18 contests
Making the Effort
- Sophomore Jawaun Newton has worked to overcome a tough December stretch that saw him miss two games while playing an average of 5 minutes per contest over a 3-game stretch
- In the last four games, Newton has been on the floor for at least 14 minutes in each game while contributing in different ways
- His hard work culminated in a career-high of seven rebounds at Indiana State with five of those caroms coming on the offensive end
Scouting the Opponent
- Missouri State enters the second meeting of the season against the Aces with an 8-10 mark while going 2-3 through their first five MVC outings
- Keandre Cook continues to pace the Bears with 14.8 points per game; he is their leading shooter from outside, knocking down 37 triples
- Gaige Prim checks in with 12.8 points while Tulio Da Silva is averaging 10.1 PPG along with a team-high 7.3 rebounds
- In the first meeting in Springfield on New Year's Eve, the Bears opened conference play with a 65-52 win with Da Silva leading MSU with 14 points with Lamont West and Isiaih Mosley each finishing with 13


Contribute to AceNotes
To have content considered for inclusion in AceNotes, please submit a Marketing Request Form. Deadline for submission to AceNotes is 10:00 a.m. on the requested date of publication. Only articles concerning UE related/sponsored activities will be accepted. Articles submitted to AceNotes may be edited for length and clarity. Submitter contact information is at the end of each article.