| | |
| --- | --- |
| AceNotes Today | Thursday, January 16, 2020 |
Deadline to Sign up to be a Road Trip Host is February 7
The Office of Admission needs current UE students who live in the residence halls to host prospective high school seniors for Road Trip February 21-23. If you are available, you can apply to host online or by emailing Ashley Jackson (aj53@evansville.edu) or Jordan Hall (jh590@evansville.edu), or stopping by the Office of Admission (OH 104).
Jordan Hall
jh590@evansville.edu
UE Leadership Academy Blood Drive
UE Leadership Academy will be hosting an American Red Cross Blood Drive on January 28, 2020 from 11:30-6pm in Eykamp Hall. You have the opportunity to sign-up this week and next week! Sign-ups will be from 11 until 7 January 15-16 and 21-22 in Ridgway by Cafe Court.
Kaitlyn Luczak
kl241@evansville.edu
Admission Open House- Monday, January 20
The Office of Admission will be welcoming around 90 families this upcoming Monday, January 20th at the Open House. They will be dining in Cafe Court around noon, meeting with department, and touring campus. Please help us welcome these families to campus!
Catie Taylor
ct37@evansville.edu
Women's March
Women's March on the Front Oval on this Saturday (January 18) at 2:00 pm.
Please make signs, poems, rants, speeches, and etc. We want women's voices heard.
Signs from Women's Rights Awareness' project "Unsung Heroes" will be provided.
If you want to help, please be there fifteen minutes earlier.
KeYanla Cleckley
kc285@evansville.edu
Annual Women's March this Saturday
The Women's March is a national movement uniting people of all genders, ages, races, political affiliations, abilities, cultures, and economic backgrounds, with the common focus of human rights and inclusion. On Saturday, Women's Marches will take place around the country. Our local march will focus on positive action in our own community. After we walk around the perimeter of campus, anyone may speak briefly about a local organization or effort and how people may help or get involved.
This event takes place Saturday, January 18, 2:00 p.m. in front of Olmstead.
Kristen Strandberg
ks532@evansville.edu
Spanish Mass at Neu Chapel
First mass of the semester! To celebrate, it will be a Spanish Mass. Come by New Chapel at 1pm to try it!
Kathryn Williams
kw354@evansville.edu
University of Evansville to Celebrate Martin Luther King Jr. Day
The University of Evansville will celebrate Martin Luther King Jr. Day 2020 on January 20. This year's theme is "2020: King's Vision and Legacy in Modern America." The schedule of events follows. All events are free and open to the public.
Monday, January 20
11:45 a.m. – 1:00 p.m., Meeks Family Fieldhouse
Symbolic March: Civil Rights March on Washington and Pre-March Rally
Speakers include Christopher M. Pietruszkiewicz, UE president; Rob Shelby, UE chief diversity officer; JillAnn Knonenborg, UE director of religious life; and members of the Black Student Union.
7:00 p.m., Eykamp Hall, Room 251, Ridgway University Center
William G. and Rose M. Mays Martin Luther King Jr. Lectureship and Reception
Keynote speaker is Theo Wilson, executive director of Shop Talk Live, Inc., and founding member of the Denver Slam Nuba team, winners of the National Poetry Slam in 2011.
Wilson began his speaking career in the NAACP at the age of 15 and has always had a passion for social justice. He attended Florida A&M University, where he earned his BA in theater performance. He returned to Denver and is now the Executive Director of Shop Talk Live, Inc. The organization uses the barber shop as a staging ground for community dialogue and healing. Due to audience demand, he published his first book in 2017, The Law of Action. In 2017, his TED Talk entitled "A Black Man Goes Undercover in the Alt Right" was seen worldwide, amassing a total of over 12 million views.
The generosity of William G. and Rose M. Mays funds the keynote speaker during UE's Martin Luther King Jr. Day celebration.
Megan Sicard
ms331@evansville.edu
Now Accepting Global Scholar Applications for 2020-2021
The Global Scholars Program offers support for faculty engaged in scholarship or curriculum development that helps prepare our students and community for global leadership, citizenry, and success. The Global Scholars Program is administered by the Center for Innovation and Change and is made possible by the John H. Schroeder Global Scholar Endowed Fund.
Current funding will support 3-4 awards of up to $4000 each. Awards may be used for travel, research materials, conference fees, and/or other related expenses. Although any global topic will be considered, priority will be given to proposals related to social innovation or changemaking, UN Sustainable Development Goals, projects which encourage cross-disciplinary collaboration (joint proposals are welcome), and projects promoting global experiential opportunities for students.
The deadline for full consideration is February 20 by 5pm. Visit the Global Scholars webpage for more details.
Cindy Kelley
ck116@evansville.edu
UE SAA Secret Aces: It's Not Too Late
'This is the best thing happening on campus!'
'I receive more joy from giving, than receiving.'
'THIS just makes my day!'
The UE SAA Secret Aces kicked off the new year with a meet & greet gift exchange.
We will get together again in April for the big REVEAL!
We will find out then who has been showering us with spontaneous surprises and unlimited powerful moments.
UE SAA Members... It's not too late!
If you would like to be part of UE SAA Secret Aces from now until April, then please contact Brooksie Smith.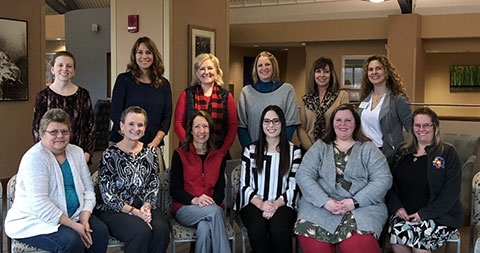 Brooksie Smith
bs267@evansville.edu
Worship Returns
This Sunday, January 19, evening worship returns at Neu Chapel. Join us 7:30-8:15pm for a time of reflection, prayer, and singing. All identities and perspectives welcome.
JillAnn Knonenborg
jk383@evansville.edu
Writing Center Opens January 27!
UE's Writing Center, located adjacent to the library and the student success lab and the library, will be open for students to work on their papers with peer tutors starting at 10 a.m. on Monday, January 27.
Katie Mullins
kd60@evansville.edu
At The Solution Station This Week: Schedule Shortcomings? Registration Re-Do?
Does your spring semester schedule need some help? Don't wait for it to get better - take action! Waitlisted? Time conflicts? Part-time? Need to make a new plan? Need to change your major? Confused about what you should do next? Come to the Solution Station table in Ridgway!
The Office of the Registrar and Academic Advising will be on hand to help you.
Monday: 11:00 a.m. - 1:00 p.m and 4:00 p.m - 6:00 p.m
Tuesday: 11:00 a.m - 1:00 p.m and 4:00 p.m - 6:00 p.m
Wednesday: 11:00 a.m - 1:00 p.m
Thursday: 11:00 a.m - 1:00 p.m
Friday: 11:00 a.m - 1:00 p.m
Chad Hart
ch299@evansville.edu
Vote on the Best of UE!
Help the Crescent magazine with our Feb. 2020 cover story — the Best of UE! We live, eat and go to school here everyday and inevitably form patterns and preferences. Whether its what bathroom we use or the printer we scramble to in-between classes, these small decisions affect us everyday. The Crescent would like to highlight these little things that make students and UE tick by honoring the Best of UE! Cast your votes online, and look out for our Feb. issue to see if your #1 made it to the top!
Submitted by Dallas Carter dc178@evansvill.edu.
Summer Sessions Payment Plan
Payment plans for summer session courses including Early Summer, Harlaxton Summer, Summer I, and Summer II are available now. Contact the cashiers in the Office of Student Financial Services (Olmsted rm. 105G) to set-up a payment plan. Payments can be arranged from the point of set-up to the due date of the session. There is no fee for the payment plan.
Students should contact the Office of Student Financial Services no later than Reading-Study Day, May 7, 2020 to determine if financial aid is available for their summer courses.
Submitted by Amy Sowders as560@evansville.edu.
Aces Drop Road Contest at Indiana State
Sam Cunliffe was once again the leading scorer for the University of Evansville men's basketball team, posting 12 points on Wednesday evening as the Purple Aces fell to Indiana State by a final of 65-42 inside the Hulman Center.

Cunliffe was 5-of-7 from the field and hit both 3-point tries in the game. Artur Labinowicz finished with nine points, connected on four buckets. Jawaun Newton was the top rebounder for Evansville (9-9, 0-5 MVC), setting his career mark with seven. Five of the seven came on the offensive end.

Tyreke Key was the top performer for the Sycamores (10-6, 3-2 MVC), registering 13 points while hitting five out of six free throws. Cooper Neese scored 12 points.

"It is not a ton of mistakes in the whole game that hurt us, it is pockets of mistakes," UE interim head coach Bennie Seltzer said. "We went from being down 9 to 15. We are right there except for the runs we are giving up. Everybody has to be dedicated to making this right."

In the early moments of the game, it was the Purple Aces who had the upper hand, knocking down three of its first four attempts to take a 6-2 lead just over three minutes in. Sam Cunliffe added his third basket of the game to push the lead to 8-5 a minute later.

Indiana State responded with a 12-0 stretch, taking their first lead at 9-8 at the 14:22 mark. The Sycamores held the Aces scoreless for a period of 7:11 with the UE offense missing eight shots in a row and turning it over three times. Cunliffe knocked down a pull up triple to end the stretch with the Aces scoring four in a row.

The Aces stayed within two possessions with the second triple of the night for Cunliffe cutting the gap to 24-19 with 4:11 remaining in the half. That is when Indiana State had its second big rally of the period, reeling off ten points in a row to finish the half as they took a 34-19 lead at the break.

Their rally continued at the start of the second half with ISU starting on a 9-2 run in the opening three minutes as they pushed their lead to a game-high 22 points (43-21). Facing the deficit, the Aces showed their grit, pushing back to score the next 13 points. A triple by John Hall got it started before Jawaun Newton had an and-one to cut the deficit to 16.

Evansville was just getting started as 3-pointers by Noah Frederking and Artur Labinowicz finished off the run with UE getting back within single figures at 43-34. The Aces defense was the story – holding the Sycamores scoreless for 5:36 with them missing nine shots in a row while turning it over on two occasions.

That is as close as the Sycamores would let the Aces get as they outscored UE by a 22-8 margin to close out a 65-42 victory. ISU shot 45.8% in the win with Evansville checking in at 30.4%. The rebounding tally also went the Sycamores way by a final of 43-33.

Following its 2-game road swing, the Aces return to the Ford Center for the next two games, beginning on Saturday with a 1 p.m. match up against Missouri State.
Intramural Basketball Registration Open
Registration for Intramural Basketball is open now through Thursday, January 23rd at 2pm.
We have Competitive A league along with B and C leagues, so any level of talent is welcome to play! Sign up by visiting imleagues.com and registering your team before the deadline.
Drew Hawkins
ah519@evansville.edu
Basketball Refs Wanted
The Intramural department is hiring Basketball Referees and Scorekeepers for the 2020 season. Starting pay is $8/game for Officials and $7.25 for scorekeepers, all equipment will be provided. Training starts Wednesday 1/22 at 7pm in Meeks Gym. Feel free to stop by and check it out or contact Drew at AH519 with any questions.
Drew Hawkins
ah519@evansville.edu
Contribute to AceNotes
To have content considered for inclusion in AceNotes, please submit a Marketing Request Form. Deadline for submission to AceNotes is 10:00 a.m. on the requested date of publication. Only articles concerning UE related/sponsored activities will be accepted. Articles submitted to AceNotes may be edited for length and clarity. Submitter contact information is at the end of each article.