| | |
| --- | --- |
| AceNotes Today | Wednesday, January 15, 2020 |
Celebrate MLK Day at the Annual Symbolic March and Lecture
Enjoy your break from classes by participating in the annual Martin Luther King Jr. Day Celebration! This year's theme is "20/20: King's Vision and Legacy in Modern America." Schedule of events is listed below:
Rally - 11:45 a.m. - Meeks Family Fieldhouse
Symbolic March - Noon - led by Black Student Union following rally
Mays Martin Luther King Jr. Lectureship Keynote Speaker Theo Wilson - 7:00 p.m. - Eykamp 251
Theo Wilson is a founding member of the Denver Slam Nuba team, who won the National Poetry Slam in 2011. He began his speaking career in the N.A.A.C.P. at the age of 15 and has always had a passion for social justice. He attended Florida A&M University, where he obtained his B.A. in Theater Performance. He returned to Denver and is now the Executive Director of Shop Talk Live, inc. The organization uses the barber shop as a staging ground for community dialogue and healing. Due to audience demand, he published his first book in 2017, "The Law of Action." In 2017, his TED Talk entitled, "A Black Man Goes Undercover in the Alt Right," was seen worldwide, amassing a total of over 12 million views
Megan Sicard
ms331@evansville.edu
Consent to Receive Electronic W-2s
The Office of Accounting/Payroll will be issuing W-2s for 2019 no later than January 31, 2020. You may choose 1 of 2 options to receive your W-2:
• Electronic W-2 – If you provide your consent, you will be able to view/print in Self-Service as soon as they are ready. Notification will be sent through Ace Notes.
• Paper W-2 – If you prefer, you can continue to receive your W-2 in the mail.
An electronic W-2 will give you earlier access than a mailed copy. It is IRS compliant and can be submitted with your tax return as usual.
To give consent for the electronic W-2, log in to Self-Service, and go to "Tax Information". Select "Receive my W-2 only in electronic form" and save.
If you are eligible to participate in the university's health plans, you may also give consent to receive your 1095-C form electronically here also. If you choose to withhold your consent to view/print your online W-2 and 1095-C, a paper copy will be mailed to your home address.
If you have questions, please contact Dawn Bury at ext 2159 or db287@evansville.edu.
Enrollment Growth – Open Sessions on January 16
Please join us for the kickoff of our Strategic Enrollment Management (SEM) Plan. There are two sessions on Thursday, January 16 for all campus members to provide input and engage in dialogue.
Planning for Future Success: Embracing the UE Community and Best Practices of Strategic Enrollment Management
8:30 am - 10:30 am, Eykamp Hall, 253
Enrollment of 3000: Utilizing High Impact Recruitment Practices for Growth
10:45 am - 12:15 pm, Eykamp Hall, 253
See the campus email for more details.
Emily Wilderman
ew159@evansville.edu
Women's March
Women's March on the Front Oval on this Saturday (January 18) at 2:00 pm.
Please make signs, poems, rants, speeches, and etc. We want women's voices heard.
Signs from Women's Rights Awareness' project "Unsung Heroes" will be provided.
If you want to help, please be there fifteen minutes earlier.
KeYanla Cleckley
kc285@evansville.edu
Annual Women's March this Saturday
The Women's March is a national movement uniting people of all genders, ages, races, political affiliations, abilities, cultures, and economic backgrounds, with the common focus of human rights and inclusion. On Saturday, Women's Marches will take place around the country. Our local march will focus on positive action in our own community. After we walk around the perimeter of campus, anyone may speak briefly about a local organization or effort and how people may help or get involved.
This event takes place Saturday, January 18, 2:00 p.m. in front of Olmstead.
Kristen Strandberg
ks532@evansville.edu
Newman Night
This week, Dr. Jim Ware will be presenting a talk about Life In Christ: The New Creation at Newman House. It will begin at 5pm at Newman House. Following the talk, there will be dinner at 5:45, consisting of chicken tetrazzini with garlic bread, That Good Salad, and confetti cookies. Come hungry for Jesus, food, and good company!
Kathryn Williams
kw354@evansville.edu
Jeff Bender: Fishing for Plankton - Efroymson Exhibition & Visiting Artist
Artist's Exhibition: January 15 – February 29, 2020
Artist in Residence: February 5 - 6
Student Gallery Lecture: Wednesday, February 5, 10:00am
Student Workshop: Thursday, February 6, 9:30am
Artist's Reception & Public Gallery Lecture: Thursday, February 6
Reception: 6:30pm, Lecture: 7:00
All events will take place in the Melvin Peterson Gallery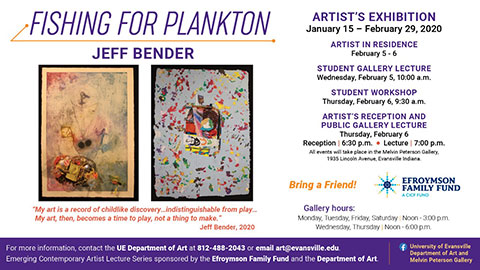 I-House: Spain - TODAY
Dear Aces! Welcome back! We hope you had an amazing winter break filled with relaxation and fun! We are very excited to be back and start the semester with a our first I-House this Wednesday. Sonsoles Munoz and Andrea Ruiz are International students from Spain at University of Evansville. They are part of the swim team at UE, they will be presenting about themselves and their home at I-House Spain on January 15th on Second Floor of Ridgway Student Center at 7pm. We are very excited to see you there!
Hussam Taj
ht70@evansville.edu
The Vagina Monologues: Auditions and Rehearsal Dates
Women's Rights Awareness will be hosting a presentation of The Vagina Monologues on February 14 and 15. Auditions will be held 6:00 - 9:00 pm on January 23 and 24 in Koch 100.
All students and faculty members are welcomed to audition. Experience is not necessary! Please contact kc285@evansville.edu, ap3@evansville.edu, and ji32@evansvill.edu for information regarding the script and the scenes we will be using for the audition.
The Vagina Monologues is a series of monologues, written by Eve Ensler, that is performed globally every February to raise awareness of domestic abuse towards women. WRA will be donating a portion of the profits from their production to Albion Fellows Bacon Center of Evansville.
Rehearsal Dates are Jan. 28, Jan. 30, Feb. 4, Feb. 6, Feb. 11, Feb. 13 at 6:00 - 9:00 pm in SOBA 73.
KeYanla Cleckley
kc285@evansville.edu
Writing Center Opens January 27!
UE's Writing Center, located adjacent to the library and the student success lab and the library, will be open for students to work on their papers with peer tutors starting at 10 a.m. on Monday, January 27.
Katie Mullins
kd60@evansville.edu
Harlaxton Fall and Summer 2020 Deposit Deadlines Approaching!
If you have been accepted to study at Harlaxton in the summer or fall of this year, don't forget that your deposit is due next week to Student Financial Services! Deposits for summer are $250 and are due on January 22. Deposits for fall are $100 and are due on January 24. You can pay your deposit in person in Olmstead 105 or over the phone at 812-488-2565. Questions about the Harlaxton application process? Contact harlaxton@evansville.edu!
Kaylynn McCalister
kc205@evansville.edu
Now Recruiting Harlaxton Ambassadors
Are you a recent Harlaxton alumni who loves to share your experience with others? Or do you know a student who fits that description?
The Harlaxton office is currently taking applications for students who want to volunteer as Harlaxton Ambassadors to recruit, prepare, and encourage Harlaxton applicants and to represent Harlaxton at various recruitment events and other campus activities. Harlaxton Ambassadors have the opportunity to develop professional skills, stay connected with Harlaxton, and receive exclusive Harlaxton apparel.
More information and applications are available on myHarlaxton.
Kaylynn McCalister
kc205@evansville.edu
Orientation Leader Application Now Available
We are currently seeking applicants for the Orientation Leaders for 2020. Applicants must first complete and submit the OL application at https://uengage.evansville.edu/submitter/form/start/357487 by January 31st. After your submission has been received, you will be invited to sign up for three different interviews. If you have any questions about the application process, feel free to speak with a current orientation leader or with Geoff Edwards in Student Engagement.
Geoff Edwards
ge21@evansville.edu
At The Solution Station This Week: Schedule Shortcomings? Registration Re-Do?
Does your spring semester schedule need some help? Don't wait for it to get better - take action! Waitlisted? Time conflicts? Part-time? Need to make a new plan? Need to change your major? Confused about what you should do next? Come to the Solution Station table in Ridgway!
The Office of the Registrar and Academic Advising will be on hand to help you.
Monday: 11:00 a.m. - 1:00 p.m and 4:00 p.m - 6:00 p.m
Tuesday: 11:00 a.m - 1:00 p.m and 4:00 p.m - 6:00 p.m
Wednesday: 11:00 a.m - 1:00 p.m
Thursday: 11:00 a.m - 1:00 p.m
Friday: 11:00 a.m - 1:00 p.m
Chad Hart
ch299@evansville.edu
Spring 2020 Purple Friday Patrol Sign Ups Now Available!
Purple Friday Patrol: Wear Purple—Get Prizes!
Be on the lookout for the Purple Friday Patrol every week and sign up here to pass out the purple praise!
On Fridays, we wear purple, and each week, the PFP will reward students to promote school spirit both on campus and online through the use of the hashtag, #UEPurpleFriday.
Purple Friday Patrol Teams are made up of members of the campus community including faculty, administrators, and other interested parties, usually from the same department or group.
PFP Teams can sign up for one or more Fridays per semester and the Office of University Relations will supply Purple Swag Packs to the designated PFP Team for the week. PFP Teams are invited to add a personal touch to the swag packs, if desired. (ex. departmental swag, promo for an upcoming event, etc.)
Purple Friday Patrol Teams: What's my responsibility?
1. Sign up for at least one Friday per semester.
2. Visit the office of University Relations in Sampson Hall during the week of your assigned Friday to pick up your Purple Swag Packs
3. Pass out the purple praise. The distribution format is up to you. You can pass out swag packs to the first few purple people you see, or you can stagger the rewards throughout the day. If you'd prefer to reward online participants, you're free to promote on official UE social media accounts.
4. Pics or it didn't happen. Remember, we're trying to promote school spirit both on campus and online through the use of the hashtag, #UEPurpleFriday, so be sure to snap a picture with your purple people! You can either share them online through an official UE social media account if you run one, or send them to uerelations@evansville.edu to post on the main UE social media accounts.
Vote on the Best of UE!
Help the Crescent magazine with our Feb. 2020 cover story — the Best of UE! We live, eat and go to school here everyday and inevitably form patterns and preferences. Whether its what bathroom we use or the printer we scramble to in-between classes, these small decisions affect us everyday. The Crescent would like to highlight these little things that make students and UE tick by honoring the Best of UE! Cast your votes online, and look out for our Feb. issue to see if your #1 made it to the top!
Submitted by Dallas Carter dc178@evansvill.edu.
Men's Basketball Travels to Indiana State on Wednesday
On Wednesday, the University of Evansville men's basketball team travels north to Terre Haute to take on Indiana State for a 6 p.m. CT game inside the Hulman Center. Wednesday's game will be carried on ESPN+ and the Purple Aces Radio Network.
Setting the Scene
- Evansville looks to break two streaks on Wednesday; UE has dropped its last four contests overall while falling in its last eight trips to the Hulman Center
- In last year's road game, the Sycamores defeated the Purple Aces by a final of 85-62
- The Sycamore defense held the Aces to shooting percentages of 35.0% and 36.2% in last year's regular season meetings
- Following the trip to Terre Haute, the Aces are at the Ford Center for their next two games with Missouri State and Drake coming to town
Last Time Out
- Saturday's game at Loyola saw the Aces hang tough, taking a 15-14 lead in the first half, but the Ramblers finished the first half on a 13-2 run before taking a 78-44 victory
- The Ramblers shot 70.5% in the game, including 75% (18/24) in the first half
- Sam Cunliffe was the leader for UE, scoring 11 points on 5-of-12 shooting
- K.J. Riley finished with seven tallies
- It marked the fourth consecutive defeat for the Aces inside Gentile Arena
Leader of the Pack
- With the absence of DeAndre Williams, Sam Cunliffe has stepped up and recorded a team-high 11 points at Loyola
- Over the last four games, Cunliffe has started to shoot better, hitting 19 of his 41 attempts to improve his season shooting to 39.5%
- In the final 10 non-conference games, Cunliffe shot over 40% from the field just twice, but has reached that mark in all four MVC games
- He has ten double figure efforts in 17 contests
Looking at the numbers
- When comparing the stats for UE in non-conference play versus MVC contests, there are a few disparities
- In non-conference contests, UE averaged 78.1 points per game while shooting 45.5%
- Through four league games, the Aces have averaged 56.8 points while shooting 39.2%
- The numbers in 3-point shooting drop from 35.7% to 24.4% in the Valley
- Evansville has scored under 60 points in three out of four conference games; the team was held under 60 on two occasions in 13 non-conference games
Scouting the Opponent
- Indiana State enters its first match-up against the Purple Aces with a 9-6 record while splitting their first two MVC games
- The Sycamores are coming off of a 65-52 home win over Illinois State on Saturday and have held three of their first four league opponents to 68 points or less.
- ISU is 9-2 in its last 11 games
- Tyreke Key paces the Sycamores with 17.9 points and 5.5 rebounds per game
- Key has excelled in his chances at the line, shooting 87.9%
- Jordan Barnes averages 12.2 points and has a team-best 56 assists
- Sycamore assistant coach Kareem Richardson played at Evansville from 1995 through 1997

Contribute to AceNotes
To have content considered for inclusion in AceNotes, please submit a Marketing Request Form. Deadline for submission to AceNotes is 10:00 a.m. on the requested date of publication. Only articles concerning UE related/sponsored activities will be accepted. Articles submitted to AceNotes may be edited for length and clarity. Submitter contact information is at the end of each article.