| | |
| --- | --- |
| AceNotes Today | Monday, January 13, 2020 |
Enrollment Growth – Open Sessions on January 16
Please join us for the kickoff of our Strategic Enrollment Management (SEM) Plan. There are two sessions on Thursday, January 16 for all campus members to provide input and engage in dialogue.
Planning for Future Success: Embracing the UE Community and Best Practices of Strategic Enrollment Management
8:30 am - 10:30 am, Eykamp Hall, 253
Enrollment of 3000: Utilizing High Impact Recruitment Practices for Growth
10:45 am - 12:15 pm, Eykamp Hall, 253
See the campus email for more details.
Emily Wilderman
ew159@evansville.edu
Deadline to Sign up to be a Road Trip Host is February 7
The Office of Admission needs current UE students who live in the residence halls to host prospective high school seniors for Road Trip February 21-23. If you are available, you can apply to host online or by emailing Ashley Jackson (aj53@evansville.edu) or Jordan Hall (jh590@evansville.edu), or stopping by the Office of Admission (OH 104).
Jordan Hall
jh590@evansville.edu
This Week in Music (January 13-19)
Patricia H. Snyder Concert Series, January 14
Bobby McFerrin
7:30pm, Old National Events Plaza
The University of Evansville will host musician Bobby McFerrin at the Old National Events Plaza on Tuesday, January 14 at 7:30 p.m. The "Don't Worry, Be Happy" singer will perform with members of the UE Department of Music Choral Program as part of the Patricia H. Snyder Concert and Lecture Series. The concert is free and open to the public.
Aces Instrumental Music Festival, January 19
12pm, Krannert Hall of Art and Music
This free event is open to all high school students wanting to hone their musical skills in a college environment with UE Music Faculty. Students may perform a solo for a panel of experienced judges for an opportunity to win cash awards and UE scholarships. Activities run from 12:00-5:00 pm with registration at 11:30 am in the Krannert Hall lobby.
For additional information, please contact Greg Keith, Music Outreach Director and Adjunct Professor of Music Education at gk7@evansville.edu. Please pre-register at https://forms.gle/kEEMDwGi5FK1VvZdA.
Kristen Strandberg
ks532@evansville.edu
Save the Date: Nerd Wars is Coming on Tuesday, February 25
Nerd Wars is coming! The Honors Program invites you to save the date for this year's Nerd Wars competition on Tuesday, February 25 at 7:00pm in Eykamp Hall. Teams of students, faculty, administrators, and staff are encouraged to battle it out in this year's trivia contest for prizes and more importantly, bragging rights. The evening will also feature pizza, popcorn, soda and giveaways.
Mark your calendars and be thinking about gathering your team. Be on the lookout in Acenotes for information about team sign-ups soon!
Jayme Williams
jw504@evansville.edu
Orientation Leader Application Now Available
We are currently seeking applicants for the Orientation Leaders for 2020. Applicants must first complete and submit the OL application at https://uengage.evansville.edu/submitter/form/start/357487 by January 31st. After your submission has been received, you will be invited to sign up for three different interviews. If you have any questions about the application process, feel free to speak with a current orientation leader or with Geoff Edwards in Student Engagement.
Geoff Edwards
ge21@evansville.edu
At The Solution Station This Week: Schedule Shortcomings? Registration Re-Do?
Does your spring semester schedule need some help? Don't wait for it to get better - take action! Waitlisted? Time conflicts? Part-time? Need to make a new plan? Need to change your major? Confused about what you should do next? Come to the Solution Station table in Ridgway!
The Office of the Registrar and Academic Advising will be on hand to help you.
Monday: 11:00 a.m. - 1:00 p.m and 4:00 p.m - 6:00 p.m
Tuesday: 11:00 a.m - 1:00 p.m and 4:00 p.m - 6:00 p.m
Wednesday: 11:00 a.m - 1:00 p.m
Thursday: 11:00 a.m - 1:00 p.m
Friday: 11:00 a.m - 1:00 p.m
Chad Hart
ch299@evansville.edu
UE Wind Ensemble Auditions
Spring 2020 semester auditions for UE Wind Ensemble will be held Tuesday, January 14 and Thursday, January 16, 3:00-6:00pm. Sign up for a time on the "Bands" bulletin board across from FA 103. Information and excerpts can be found at: https://www.evansville.edu/majors/music/ensIntro.cfm
For more information contact Dr. Kenneth Steinsultz (ks306).
Kenneth Steinsultz
ks306@evansville.edu
Catholic Theology Courses Offered at Newman Center
A new series of classes -- Catholic Thought and Culture -- is now being offered at the Newman Catholic Student Center. The first of these one-hour, for-credit courses will be offered during the Spring 2020 semester, on Mondays from 10:00-10:50am. All participants can receive a 1 hr credit from Marian University, transferrable to the University of Evansville. Cost is $250 for a 12 week course. Participants can also choose to pay $150 if you do not wish to receive credit. If you are interested or have questions, please contact instructor and Catholic Campus Minister Jenny Koch at 812-454-0062.
Kathryn Williams
kw354@evansville.edu
Spring 2020 Purple Friday Patrol Sign Ups Now Available!
Purple Friday Patrol: Wear Purple—Get Prizes!
Be on the lookout for the Purple Friday Patrol every week and sign up here to pass out the purple praise!
On Fridays, we wear purple, and each week, the PFP will reward students to promote school spirit both on campus and online through the use of the hashtag, #UEPurpleFriday.
Purple Friday Patrol Teams are made up of members of the campus community including faculty, administrators, and other interested parties, usually from the same department or group.
PFP Teams can sign up for one or more Fridays per semester and the Office of University Relations will supply Purple Swag Packs to the designated PFP Team for the week. PFP Teams are invited to add a personal touch to the swag packs, if desired. (ex. departmental swag, promo for an upcoming event, etc.)
Purple Friday Patrol Teams: What's my responsibility?
1. Sign up for at least one Friday per semester.
2. Visit the office of University Relations in Sampson Hall during the week of your assigned Friday to pick up your Purple Swag Packs
3. Pass out the purple praise. The distribution format is up to you. You can pass out swag packs to the first few purple people you see, or you can stagger the rewards throughout the day. If you'd prefer to reward online participants, you're free to promote on official UE social media accounts.
4. Pics or it didn't happen. Remember, we're trying to promote school spirit both on campus and online through the use of the hashtag, #UEPurpleFriday, so be sure to snap a picture with your purple people! You can either share them online through an official UE social media account if you run one, or send them to uerelations@evansville.edu to post on the main UE social media accounts.
Vote on the Best of UE!
Help the Crescent magazine with our Feb. 2020 cover story — the Best of UE! We live, eat and go to school here everyday and inevitably form patterns and preferences. Whether its what bathroom we use or the printer we scramble to in-between classes, these small decisions affect us everyday. The Crescent would like to highlight these little things that make students and UE tick by honoring the Best of UE! Cast your votes online, and look out for our Feb. issue to see if your #1 made it to the top!
Submitted by Dallas Carter dc178@evansvill.edu.
Strobel Awarded Grant
Heidi Strobel, Professor of Art History, has been awarded a Council of Independent Colleges Art History Faculty Development Grant. She will use half of the funds to take a group of art history and archaeology majors to research objects in the Ringling Museum of Art in the spring of 2020. The other half of the funds will be used for Strobel's research on textile artist Mary Linwood (1755-1845).
Heidi Strobel
hs40@evansville.edu
Two University of Evansville Civil Engineering Students Awarded Scholarships by the Asphalt Pavement Association of Indiana
The Asphalt Pavement Association of Indiana (APAI) has named Dalton Selvidge (BSCE '21) and Holli Buretta (BSCE '21) as 2019 APAI Scholars. The two Civil Engineering students were awarded with scholarships at the APAI Hall of Fame Induction Ceremony and Scholarship Awards Banquet on Dec. 12th, 2019 in Indianapolis.
Scholarships are awarded by the APAI Scholarship Committee to students studying construction management, civil engineering, and construction engineering and management at six nationally accredited Indiana universities, including University of Evansville. Students must complete an in-person interview with members of the Scholarship Committee to receive an award. The total amount of scholarships awarded in 2019 by the association totaled more than $52,000 to deserving scholars, in anticipation that many recipients will remain in Indiana and seek employment opportunities with APAI's member contractors.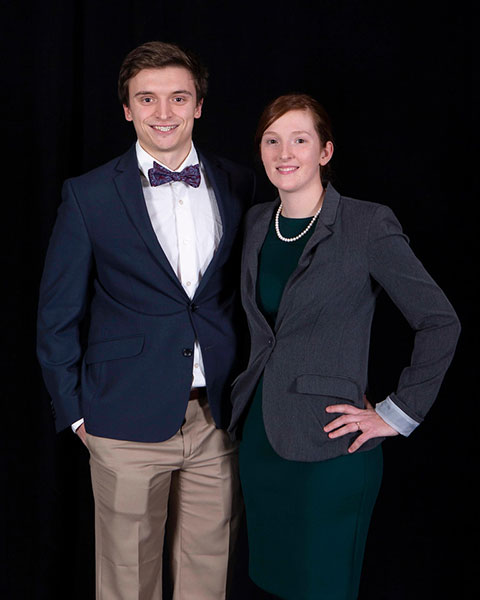 Suresh Immanuel
ss476@evansville.edu
UE Men Fall in Road Matchup at Loyola
Despite falling into an early hole, the University of Evansville men's basketball team rallied back twice, but Loyola's offense was too much to handle, shooting 70.5% on their way to a 78-44 win over the Purple Aces on Saturday inside Gentile Arena.

Sam Cunliffe recorded a team-high 11 points with K.J. Riley going 3-for-4 from the field on his way to seven points. Three players recorded six tallies for Evansville (9-8, 0-4 MVC).

"We were right there in the middle of the first half. When things are not going quite right, it is tough for our guys to get it going," UE interim coach Bennie Seltzer said. "When a team shoots 75% in the first half and 70% for the game, it will be hard to overcome. We are going to work on some things and change some stuff on defense moving forward."

In the first half, Loyola (11-6, 3-1 MVC) shot an unbelievable 75%, hitting 18 of their 24 shots to lead by a 43-24 margin at the break. After the Ramblers jumped out to a 7-2 lead, the Aces quickly fought back within one with a pair of John Hall free throws making it a 7-6 game. After Loyola pushed its lead back out to five points at 14-9, Noah Frederking changed the complexion of the game.

The junior from Okawville, Ill. drained back-to-back triples to give Evansville its first lead at 15-14. Loyola responded with an 11-0 run over a span of six minutes to open up their first double digit lead at 25-15. UE missed four shots in a row while turning it over four times. Cunliffe got the Aces back on track with a field goal at the 6:59 mark.
Evansville fought back within eight points on another Cunliffe field goal with 4:02 remaining, making it a 30-22 deficit, but the Ramblers finished the half on fire, going on a 13-0 run to take the 43-24 halftime lead. Cunliffe had nine points in the half. Points in the paint were a huge difference as Evansville was outscored by a 30-4 margin in the opening 20 minutes.

Over the opening five minutes of the second half, the Aces were able to cut into the deficit, going on a 9-4 run to get within 14. K.J. Riley had seven of the first nine UE points. Included in that was his first 3-pointer since Dec. 4 against Western Illinois.

Loyola overcame the stretch and was able to push the lead back over 20 points. An 18-4 run saw the Ramblers take a 65-37 lead with 8:27 left in the game. Two minutes later, the lead would reach 69-39 on a pair of free throws. From there, the Ramblers held strong and finished the day with a 78-44 win.

Pacing Loyola was Marquise Kennedy, who totaled 20 points while connecting on eight of his nine attempts. Aher Uguak recorded 12 points while Cameron Krutwig scored 11. Evansville finished the game shooting 39.1%.

UE remains on the road this week, traveling to Indiana State on Wednesday evening for a 6 p.m. CT game at the Hulman Center.
Contribute to AceNotes
To have content considered for inclusion in AceNotes, please submit a Marketing Request Form. Deadline for submission to AceNotes is 10:00 a.m. on the requested date of publication. Only articles concerning UE related/sponsored activities will be accepted. Articles submitted to AceNotes may be edited for length and clarity. Submitter contact information is at the end of each article.