| | |
| --- | --- |
| AceNotes Today | Thursday, December 5, 2019 |
Bookstore to Reopen Under Barnes & Noble College Management on Friday, December 6
The University bookstore is currently closed in preparation for the transition to Barnes & Noble College management. The bookstore will reopen on Friday, December 6 and will be open late for Christmastime on Campus. A 20 percent discount will be offered to everyone who visits the store during the event.
Under our new contract with Barnes & Noble College, employees will receive a 15 percent discount (up from 10 percent!) and departments will receive a 20 percent discount on all items in the store.
Students can take advantage of the Barnes & Noble Price Match Program, which matches the advertised price on textbooks offered from local brick-and-mortar stores or online retailers. This program excludes online marketplace prices.
Student Financial Services will have a link for student funds for books, as we had previously. This will be available before the spring semester and details are forthcoming.
The bookstore will be open regular hours on December 20, the last day that UE is open before the winter break. In addition, the bookstore will be open Saturday, December 21 from 10:00 a.m. to 2:00 p.m. for holiday shopping needs.
Book buybacks will take place in the Student Media Center in Ridgway University Center, Room 274. Students should bring their UE ID during buybacks:
• Friday, December 6, from 9:00 a.m. – 4:00 p.m.
• Saturday, December 7, from 10:00 a.m. – 2:00 p.m.
• Monday – Thursday, December 9-12, from 9:00 a.m. – 5:00 p.m.
• Friday, December 13, from 9:00 a.m. – 4:00 p.m.
Please join us in welcoming Barnes & Noble College to our UE family!

The 4th Day of Harlaxton Christmas-guess the Harlaxton facts and win a prize!
It's the 10 days of Harlaxton Christmas! Each day we will give you a chance to guess at the gifts the UE Harlaxton team has gotten this year in our work with Harlaxton to win a prize. We will present a question each day, and the person who emails the closest answer first to harlaxton@evansville.edu will get some Harlaxton swag! We will post answers the following day, so check back here each day for the 10 days of Harlaxton Christmas final facts.
Yesterday's answer was 512 total applications for Spring, Fall, and Summer 2019 at Harlaxton!
On the 4th day of Harlaxton Christmas, my true love gave to me four new partner universities this fall! Guess one of these new Harlaxton partner schools.
Submitted by Kaylynn McCalister kc205@evansville.edu.
Pancakes Are Coming!
Take a break from studying for finals to join some of your favorite Aces at the Pancake Study Break! This event is free of charge for UE students. A UE ID is required. Pancakes and more will be available on Thursday, December 5 from 9:00-11:00 p.m. in Cafe Court. Door prizes will be given out throughout the event.
Submitted by Chad Hart ch299@evansville.edu.
Relaxation Event
Finals got you stressed and need a break from studying??? Counseling Services, with the help of SAB and RSA, is having our bi-annual relaxation event before finals! We'll have 3 chair massage stations from Bodyworks Massage, aromatherapy, yoga, coloring, puzzles, and other relaxing activities. Come and go as you like and move at your own pace. We always have a great time and hope you'll join us!
Thursday, December 5, 1:00 - 4:00 p.m. Eykamp 253-255
New this year: Who likes line dancing??? (Think electric slide, cupid shuffle, etc.) Join us in Eykamp 251 at 1pm and 3:30pm to get your groove on!
Submitted by Jennifer Hargus jh693@evansville.edu.
UE Theatre Presents A Performance By Their Traveling Shakespeare Troupe, The Rogue and Peasant Aces
The University of Evansville Theatre's traveling Shakespeare troupe, The ROGUE & PEASANT ACES will perform at 11 am, on Saturday, Dec. 7, in Shanklin Theatre. The event is free and open to the general public. The performance is family-friendly and geared toward middle and high school students.
Reviving a tradition that began in 1962, with a high school touring production of THE COMEDY OF ERRORS, the University of Evansville Department of Theatre has reached beyond the walls of Shanklin to present free Shakespeare for the broader Evansville community. The ROGUE & PEASANT ACES is a mobile Shakespeare company that toured to eight schools in the Tri-State performing Shakespeare for over 1500 students this semester.
The performance includes scenes and speeches from William Shakespeare's most beloved plays and directed by Assistant Professor of Voice and Speech Janel Miley. "It has been a privilege for me to work with UE Theatre students on creating this project and taking it out to area schools.
From contacting organizations to designing costumes to working on the text and devising the narrative, the students have been committed and dedicated to realizing the idea of the piece and achieving our mission."
Nate Viscaino is a first-year theatre performance major from Redmond, Ore., and he says this of his experience in the troupe, "As an incoming student, I think this production was a great way for me to become more immersed in the department and to learn the different process styles of creating a play. Touring the final product around to schools was such a joy, and the laughter and engagement everyone showed was incredible. Overall, through working with such amazing people and seeing the kids' reactions, I have learned so much and have enjoyed this experience
tremendously."
TIAA Individual Counseling Appointments Available
The TIAA-CREF representative will be on the UE campus for individual counseling sessions on Wednesday, December 11, 2019. To schedule an appointment, call TIAA-CREF at 1-800-732-8353.
Please note that the meeting location has been changed to SOBA room 153, Eades Music Room.
Submitted by Lori LeDuc LL138@evansville.edu.
THIS Saturday, December 7th! - Holiday Art and Craft Sale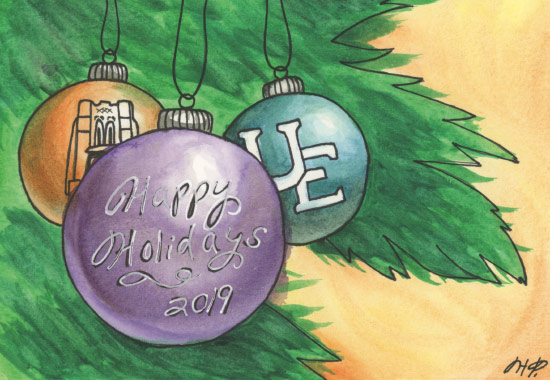 Holiday Arts and Craft Sale
Saturday, December 7, 9:00 a.m. - 5:00 p.m.
Melvin Peterson Gallery
The perfect opportunity to find unusual holiday gifts made by local artists, crafts people, and our very own UE family!
From the Department of Art and the Friends of Art.
This Week in Music (December 2-8)
First Tuesday Concert Series, December 3
Holiday Pops
7:30pm, Victory Theatre
Celebrate the final First Tuesday concert series of the semester with Holiday Pops at the Victory Theatre! Hear the Wind Ensemble, Symphony Orchestra, University Choir, Choral Society, and Women's Chorus perform a variety of holiday music from beautiful choral works to pop favorites. The concert is free and open to the public.

Vespers, December 6
7:30pm, Neu Chapel
Join us for this beautiful holiday tradition of choral music, hymns, and readings held in Neu Chapel.
Student Health Clinic Winter Break Hours
The Student Health Center will be CLOSED for Winter break.
CLOSED December 16th- January 10th
The STUDENT Health Clinic will reopen for students on Monday, January 13th at 8:00am and resume the normal clinic hours. In case of emergency, call UE Security at 488-6911 or dial 911.
Submitted by Tara Ulrich tu19@evansville.edu.
Employee Health Clinic Winter Hours
The EMPLOYEE Health Clinic will operate on normal business hours during the Winter break.
Clinic will be CLOSED for Christmas Eve, Christmas Day, and New Year's Day
Monday: 8-11am and 3-6pm
Tuesday: 7-11am
Wednesday: 2-6pm
Thursday: 7-11am
Friday: CLOSED (Reminder- Extra Care 4U open 7-11am at TSCC Mt. Pleasant office for acute visits only, no appointment necessary)
Please call 888-492-8722 or visit www.tscommunityclinics.com to schedule at the Employee Clinic.
The Student Health clinic phone line (488-2033) is not consistently monitored during Winter break. Please call the main TSCC phone line for all UE employee clinic needs.
Submitted by Tara Ulrich tu19@evansville.edu.
Front Oval Parking on Friday
Friday, December 6th is Christmastime on Campus. We ask that all vehicles parked on the front oval be removed by 5pm so that the horse and carriage rides can be set up for our annual Christmas Celebration.
Submitted by Geoffrey M Edwards ge21@evansville.edu.
Requests for Official Excused Absences During Finals
Please note that the Dean of Students office will not grant official excused absences during finals except for extreme circumstances (i.e.: death of an immediate family member, emergency surgery, etc.). Students who feel they are unable to take a scheduled final exam should work directly with their professors to discuss other possible options.
Do You Have a Problem? Need Help with Next Semester? Come to the Solution Station!
Do you feel stuck? Unsure about what you next steps are? Waitlisted in your classes? Still only part-time? Need a new plan (or a new major) for next semester? Confused about what you should do? Come to the Solution Station table in Ridgway! You'll be able talk with someone about what your next steps should be. We'll direct you where you need to go!
Wednesday: 11:00 a.m - 1:00 p.m
Thursday: 11:00 a.m - 1:00 p.m
Don't leave campus with your spring semester plans still up in the air!
Submitted by Chad Hart ch299@evansville.edu.
UE Theatre Holding Auditions for Child Role in Upcoming Musical, VIOLET
The University of Evansville Theatre will be holding auditions for young actors on Monday, Dec. 9, in Shanklin Theatre, from 6:30 p.m. to 8:30 p.m.. They are looking for a female actor, between the ages of ten to fourteen, to play the role of Young Violet in the musical VIOLET, music by Jeanine Tesori, lyrics & book by Brian Crawley, directed by Wes Grantom '03, and music direction by Dana Taylor.
The role description is as follows:
A young, female born and raised in the Blue Ridge Mountains of North Carolina.
Having been raised by her father, she has a wild curiosity and is tough and stubborn.
She has a deep emotional well and longs for a connection to her mother.
Range: Mezzo soprano
Young actors should prepare 16 bars of a country song or a selection from a musical of a similar style and bring a headshot and resume to the audition. Actors email theatre@evansville.edu for an audition confirmation and to receive sides to be read at the audition. Rehearsals begin on Jan. 16 and the musical opens on Feb. 21 and runs through Mar. 1. If you have any questions contact the University of Evansville Theatre at 812-488-2744.
Early Start Education Certificate Program
We are excited to announce that UE's Center for the Advancement of Learning (CAL) has partnered with the UE School of Education to offer an Early Start Education Certificate Program for high school students. Eligible high school students can take online courses and earn up to 13 credit hours towards an Education degree at UE!

High school students may begin classes in the summer following their sophomore year and continue through the last semester of their senior year. Courses cost just $125 per credit hour, plus book fees for some courses; this is a great value financially, as well as, a great way for students to lighten their load while attending UE. Please help us spread the work about this awesome opportunity as we are launching the program in the Spring 2020!

Eligibility criteria and a FAQ link can be found online or please don't hesitate to reach out to cal@evansville.edu or (812) 488-5021 with any questions you have about this exciting new program.
Fitness Center Winter Break Hours
The Fitness Center Winter Hours:
Thursday, December 5 and Friday, December 6 from 8:00 a.m.- 7:00 p.m.
Saturday, December 7 and Sunday, December 8 from 11:30 a.m.- 5:30 p.m.
Monday, December 9- Wednesday, December 11 from 8:00 a.m.- 7:00 p.m.
Thursday, December 12- Friday, December 13 from 8:00 a.m.- 6:00 p.m.
Closed Saturday, December 14 and Sunday, December 15
Monday, December 16- Thursday, December 19 from 8:00 a.m.- 6:00 p.m.
Friday, December 20 from 8:00 a.m.-5:00 p.m.
Closed Saturday, December 21-Wednesday, January 1
Thursday, January 2- Friday, January 3 from 8:00 a.m.- 6:00 p.m.
Submitted by Lori Adams la87@evansville.edu.
New Crescent is out now!
The Crescent, University of Evansville's student magazine, is available for FREE right now to all students at magazine stands across the campus! This issue we put free speech on center stage. Pick up an issue on magazine racks across campus. The Crescent is a student magazine - by and for the students of the University of Evansville - that is published six times during the academic year. The Crescent serves as an open forum for the UE community. Copies are free to students and the goal is to present relevant content in a fair, accurate, and unbiased manner.
Also, be sure to cast your vote for the Best of UE online. The Crescent would like to highlight these little things that make students and UE tick by honoring the Best of UE! Look out for our Feb. issue to see if your #1 made it to the top!
Submitted by Tim Young ty32@evansville.edu
Catholic Theology courses offered at Newman Center
A new series of classes – Catholic Thought and Culture – is now being offered at the Newman Catholic Student Center. The first of these one-hour, for-credit courses will be offered during the Spring 2020 semester, on Mondays from 10:00-10:50 am. All participants can receive a 1 hr credit from Marian University, transferrable to the University of Evansville. Cost is $250 for a 12 week course. Participants can also choose to pay $150 if you do not wish to receive credit. If you are interested or have questions, please contact Instructor and Catholic Campus Minister Jenny Koch at 812-454-0062.
Submitted by Savannah Leigh Cyr sc315@evansville.edu.
Winter Window Competition
Come vote for your favorite winter window in the Center for Student Engagement on the second floor of Ridgway! Windows have been decorated with a winter or holiday theme with a touch of UE pride!
To vote, stop by the Residence Life desk to pick up a ballot and may the best window win!
Submitted by Kaitlyn Luczak kl241@evansville.edu.
Study space in Chapel
From Tuesday, December 3, through Tuesday, December 10, the Neu Chapel offices will be open during the day to use as a quiet study space. Cookies provided and the coffee machine is available for use.
Submitted by JillAnn Knonenborg jk383@evansville.edu.
Bookstore Buyback
Book buybacks will take place in the Student Media Center, Room 274, Ridgway University Center. Bring your ID
Fri, Dec 6, from 9:00 a.m. – 4:00 p.m.
Sat, Dec 7, from 10:00 a.m. – 2:00 p.m.
Mon – Thur, Dec 9-12, from 9:00 a.m. – 5:00 p.m.
Fri, Dec 13, from 9:00 a.m. – 4:00 p.m.
Summer Sessions Payment Plan
Payment plans for summer session courses including Early Summer, Harlaxton Summer, Summer I, and Summer II are available now. Contact the cashiers in the Office of Student Financial Services (Olmsted rm. 105G) to set-up a payment plan. Payments can be arranged from the point of set-up to the due date of the session. There is no fee for the payment plan.
Students should contact the Office of Student Financial Services no later than Reading-Study Day, May 7, 2020 to determine if financial aid is available for their summer courses.
Submitted by Amy Sowders as560@evansville.edu.
Reminder for all new incoming fall 2019 students~ Second dose of Meningitis B DUE by JANUARY 31st 2020!!
REMINDER! If you were a new incoming student to UE this 2019 fall semester, you must have your Meningitis B series completed and submitted to your MedProctor account by January 31st 2020. If you are going home during Thanksgiving or winter break, schedule your second dose to complete your Meningitis B series that is part of the admission requirements. This is only required for new students who entered University of Evansville FALL 2019 who has submitted only one dose of Meningitis B to MedProctor. Please call the Student Health Center at 812-488-2033 for any questions/concerns.
Trumenba- 2 doses required at least 6 months apart
Bexsero- 2 doses required at least 1 month apart
Submitted by Tara Ulrich tu19@evansville.edu.
Wylie wins prestigious award
At the recent conference of the American Music Therapy Association (AMTA), Professor of Music Mary Ellen Wylie received the prestigious Service Award from the American Music Therapy Association. Recipients of the Service Award are recognized for their work at the national, regional, and state levels. Wylie served 12 years on the AMTA Board of Directors. She earned a seat on the National Board because of her roles as Assistant Speaker and Speaker of the Assembly of Delegates, and as National President Elect, President, and Past President of AMTA. She also served the Great Lakes Region as Editor of the regional journal, and as Regional Vice President, President Elect, President, and Past President. Finally, Wylie's committee work was also recognized (including the position of Chair of the Master's Level Entry Subcommittee).
Submitted by Kristen Strandberg ks532@evansville.edu.
Scholars Chosen for the Institute for Public Health
The Institute for Public Health Scholar Program aims to provide support to promote collaborative work in the field of public health. This year's scholars have been chosen and they are:
Kelsey Preocanin (Student Scholar) - Kelsey, a Public Health major, will develop and implement effective strategies to reduce the prevalence of viral infections while at Harlaxton.
Abraham Dalen Traore (Community Scholar) - Dalen, a current MPH student and Deaconess employee, will strive to implement a lactation program at UE to show support to the health of its employees and students who are nursing mothers.
Diana Rodriguez Quevdeo (Faculty Scholar) - Diana, Associate Professor of Spanish, will examine medical/therapy services and barriers to accessing these services for Hispanic Latinx families of children with special needs especially relating to autism spectrum disorder.
Congratulations to this year's Institute for Public Health Scholars!
Submitted by Payal Patel-Dovlatabadi pp42@evansville.edu.
Xyan Adkisson from OTS Receives December 2019 Employee Excellence Award!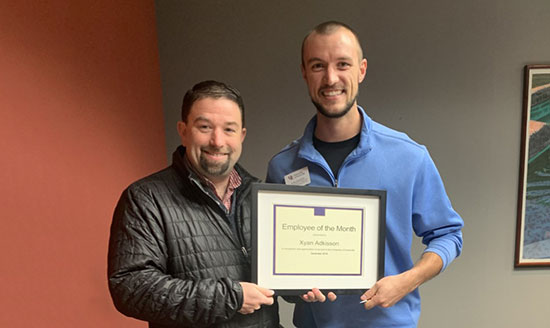 Xyan is deeply knowledgeable about the various technology systems and has been crafting brilliant tools for use by the campus community. Xyan always strives for the best possible experience for every user. His dedication and skills clearly show in the tools that he has delivered. Xyan is most recently credited with developing the online parking permit system that we were able to use this past fall for employees and students. He took feedback meeting after meeting, test after test, never once exhausting his "can do" approach, never once cringing, never once hesitating to make the system exactly what multiple departments needed it to be. His willingness to dive into projects and ability to automate the vision from start to vision is commended. Please help us congratulate Xyan on his recognition of excellence!
Submitted by Lori LeDuc LL138@evansville.edu.
Contribute to AceNotes
To have content considered for inclusion in AceNotes, please submit a Marketing Request Form. Deadline for submission to AceNotes is 10:00 a.m. on the requested date of publication. Only articles concerning UE related/sponsored activities will be accepted. Articles submitted to AceNotes may be edited for length and clarity. Submitter contact information is at the end of each article.