| | |
| --- | --- |
| AceNotes Today | Monday, November 25, 2019 |
UE THEATRE PRESENTS NEW PLAY READING BY ALUMNUS MAT SMART '03, FEATURING JOHN DAVID LUTZ '64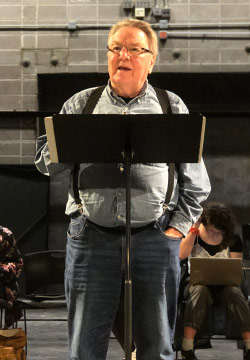 The University of Evansville Theatre presents a new play reading, THE LIFE OF JOHN JAMES AUDUBON PART ONE, by 2001 alumnus Mat Smart, at 3:00 pm, on Saturday, November 23, and at 7:30 pm, on Monday, November 25, in Shanklin Theatre. The reading is free and open to the public and will feature a post-reading question-and-answer session with the playwright.
This new work is the first in a tetralogy of plays chronicling the life of American ornithologist, naturalist, and painter John James Audubon and is inspired by Shakespeare's HENRY V. Playwright Mat Smart, known for bringing historical figures from the page to the stage, feels a deep connection to Evansville and is excited to have written a vehicle to welcome back to the stage former UE Department of Theatre Chair John David '64.
The developmental reading is directed by UE Theatre Resident Director Wes Grantom '01. In addition to John David Lutz, the cast also includes UE Theatre students, juniors Jackson Burnham, Hannah Stevens, and Fiona Peterson-Quinn, and first-years Allie Forte, Xavier Warner, Hannah Stevens, Amelia Overholt, Ben Bravard, Cassie Dunn, Bryce Galvan, and Marie Reilly.
In addition, junior design and technology major Dinah Ferguson has created several puppets to reflect birds based on Audubon's drawings. First-year theatre studies major, Jimmy Guest, serves as the assistant director.
All are welcome to attend and be involved in this developmental workshop. This piece has been submitted to the American Shakespeare Center, in Washington, DC, for consideration for the Shakespeare's New Contemporaries playwright's award. FREE tickets may be reserved by calling the Shanklin Theatre ticket office at 812.488.2031. Tickets may also be obtained at the door.
Submitted by Sharla Cowden sc75@evansville.edu.
Wellness Wednesday Lunch and Learn
The Office of Health Education is hosting its 3rd Wellness Wednesday Lunch and Learn!
This topic is "Beating the Wintertime Blues." In this session you will explore tools for combating seasonal effective disorder and feeling blue during the winter months.
Come to Eykamp 253-254 on Monday 11/25 from 12-1pm! Bring your lunch and join the discussion!
Submitted by Jennifer Hargus jh693@gmail.com.
MARK YOUR CALENDAR - Friends of Art Holiday Art and Craft Sale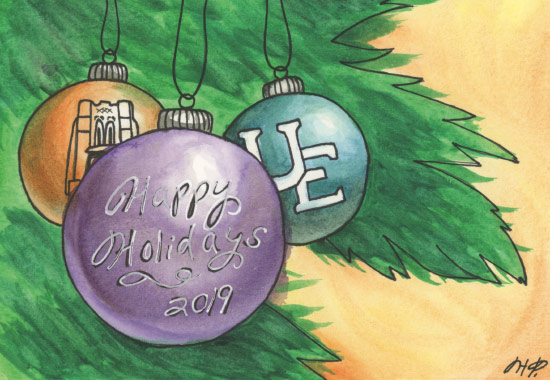 The University of Evansville Department of Art and the University of Evansville Friends of Art are pleased to announce their Holiday Art and Craft Sale. The sale will be held in the Melvin Peterson Gallery on Saturday, December 7, from 9:00 a.m.-5:00 p.m. This a perfect opportunity to find unusual holiday gifts made by local artists, crafts people and our very own UE Family!
Friends of Art volunteers and gallery staff will be on site to handle the sales.
All new UE Friends of Art Memberships received during the Holiday Arts and Craft Sale will receive a $3 Honey Moon Coffee Coupon, good for $3 off any item!
If you would like more information, email Joyce Powell at j.powell0159@gmail.com or by phone at 812-455-0159.
December 4 Andiron Lecture by Valerie Stein
When God is Father: The Unjust Theology of the Evangelical Orphan Care Movement
by Valerie Stein
Valerie Stein is an associate professor of religion and chair of the Department of Philosophy & Religion at the University of Evansville. She has been at UE since 2002. She holds a ThD from Harvard University in Hebrew Bible / Old Testament. Her teaching and research interests focus on the intersection of religion and culture. Much of her work has centered on the history of biblical interpretation, particularly examining the ways in which the biblical text has functioned to marginalize or oppress certain groups. She uses social identities such as race, religion, and gender as lenses through which to critically engage religion as a structural force in both contemporary society and throughout history.
Adoption and foster care have become especially popular over the past decade within evangelical Christian circles, as evidenced by the establishment and growing popularity of Orphan Sunday and by the extensive promotion of adoption by evangelical religious groups, such as the Southern Baptist Convention and Focus on the Family. This call to adopt or foster is not fundamentally about providing options for infertile couples or promoting humanitarianism; rather, evangelicals draw on the Bible and Christian theology to frame adoption and foster care as a missionary activity that both symbolizes and accomplishes the salvific message of the Gospel. The patriarchal theology behind the framework privileges the interests of the male "father" god over those of the birth mother. The resulting Christian rhetoric empowers the perspective of the adoptive parents by aligning them with God as pater familias while rendering the birth mother invisible and theologically irrelevant. God the Father's "heart for adoption" thus promotes an Evangelical Orphan Care Movement that allows the desires of wealthy, privileged (and Christian) members of society to take precedence over the needs, wishes, and interests of vulnerable women.
The lecture begins at 4:00 p.m.
Wednesday, December 4, 2019
Eykamp Hall (Room 252), Ridgway University Center
A social gathering with beverages begins at 3:45 p.m.
For further information, call Annette Parks at 812-488-1070
or the William L. Ridgway College of Arts and Sciences at 812-488-2589
Academic Success Lab Updated Hours
The Academic Success Lab will be closed due to the Thanksgiving break Monday, November 25 through Sunday, December 1.
It will reopen for drop in hours beginning Monday, December 2 with regular hours 4-8 PM, and a final session on Wednesday, December 4 with hours 6-8 PM.
Please feel free to stop in for extra help studying for finals!
Submitted by Frances Renschler fr25@evansville.edu.
UE Bookstore Barnes & Noble Partnership Information
As Barnes & Noble College takes over the management of the UE Bookstore on Friday, December 6, please note the following information:
• UE Pcards will become the primary payment tool for departmental purchases from the UE Bookstore. Since the UE Bookstore is being outsourced to a third-party provider, the Internal Charge Authorization form (ICA) will no longer be used for departmental bookstore purchases.
• Barnes & Noble College will offer a 20% discount on all authorized departmental purchases except adopted textbooks, special orders, sale books, class and alumni rings, computer software, periodicals, discounted merchandise, computer hardware, stamps, health and beauty aids, food snacks, and beverages.
• Coursepacks being sold through the UE Bookstore will require processing and assembly by XanEdu, a partner of Barnes & Noble College. Only coursepacks issued by XanEdu will be sold through the UE Bookstore.
Submitted by Kim Winsett kw83@evansville.edu.
Help SGA Stock the New AcesHaven
It's the season of giving! Please join SGA in collecting items for our newly established student resource center--AcesHaven! We are looking for non-perishable food items, hygiene products, new/un-used cold-weather gear, and other miscellaneous items such as laundry detergent and school supplies. AceBuck donations will also be accepted grow our online food pantry fund. Donations may be brought to SGA table in Ridgway the 21st-26th of November.
Submitted by Hannah Richards hr80@evansville.edu.
Tree Decorations/Donations for Children K-12 - Graves Hall Lobby
Please consider donating new gloves, mittens, hats, scarves, and socks for community children grades K-12 this season. These items can be placed on the tree in the lobby of Graves Hall from now until Friday, December 13. The Center for Family, School and Community Partnerships will then distribute the items to EVSC schools. Thank you so much for your support!
Submitted by Karen Doss kd56@evansville.edu.
YWCA Goods Drive
The YWCA of Evansville strives to eliminate racism and empower women. Among the many services the YWCA offers is a domestic violence shelter, youth programs and scholarships, and multiple education programs on the effects of racism and how to eliminate it.
The YWCA provides a wishlist, found below, of items that they collect to distribute to the women and children that they work with. Delta Omega Zeta will be hosting a Goods Drive throughout the month of November to collect these items to donate to women and children in need for the Holiday season. Boxes are located in the Ridgway University Center, the Olmsted Administration Hall, Schroeder School of Business, and the Koch Center for Engineering and Science.
YWCA Wish List*
Body was/gel
Deodorant
Feminine Hygiene Products
Umbrellas
Laundry Baskets
Dish Towels
Shower Caddies
Paper Towels
Bath Towels/Washcloths
Twin Bed-in-a-Bag Sets
Craft and School Supplies
Lightweight blankets
Diapers (all sizes)
Sweat/Yoga Pants for Women (all sizes)
*Please note that we will only be accepting new, unused items
Submitted by Jessica Elmore je146@evansville.edu.
Winter Housing
Residence Hall Students - do you need a place to stay this winter? The residence life office has limited winter housing available. Only students participating in official University functions or with approved reasons will be considered for winter housing.
Winter housing is located on the fourth floor of Morton Residence Hall. Students will not have access to their permanent rooms during winter break. Approvals are subject to room availability. Students are charged a flat fee of $400 for winter housing.
Students seeking winter housing must submit a Winter Housing Request Form by noon on Reading and Study Day, available through this link - https://uesurvey.evansville.edu/WinterHousing.
Students who live in Village housing can stay in their apartment or house at no additional cost but we do ask that you let us know when you will be on campus by filling out this form - https://www.surveymonkey.com/r/villagewinterhousing.
Submitted by Brian Conner bc32@evansville.edu.
Music Department Awarded Another Grant
The William E. Schmidt Foundation has renewed it's commitment to UE's Department of Music's Opera program with a gift of $23,000. The long-term generosity of the Foundation lead to the establishment of the Schmidt Opera Series and the Schmidt Opera Collaborative. The series presents two mainstage productions annually, and the collaborative provides supplemental music education to local elementary, middle and high schools and other outreach activities.
Submitted by Sylvia DeVault sy5@evansville.edu.
Thankful and Grateful! THANK YOU, ACES!
The Office of Counseling Services would like to thank everyone who stopped by our table in Ridgway University Center Friday to talk about being thankful and grateful this holiday season. Your kind words, thoughts, and gratitude play a large part in keeping the spirit of thankfulness alive on campus! THANK YOU, ACES, AND HAVE A WONDERFUL THANKSGIVING BREAK!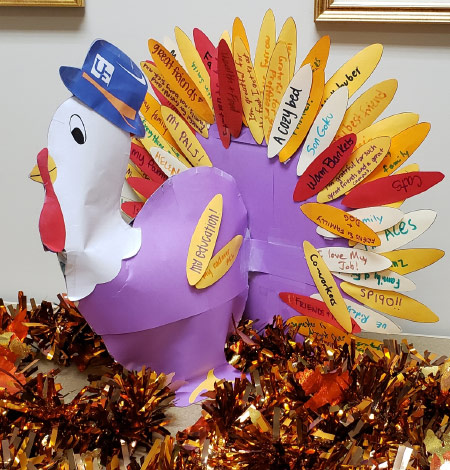 Submitted by Liz McCormick em232@evansville.edu.
Vazquez and Tam lead volleyball in regular season finale
Rachel Tam and Alondra Vazquez recorded 12 kills apiece as the University of Evansville volleyball team finished the regular season with a 3-0 loss at Illinois State on Saturday evening.

UE's duo combined for 24 kills in the contest. Allana McInnis had 19 assists while Rachel Tam lead the team with 10 digs. Gabriela Macedo added eight to her single season record tally. Kaylee Martin had a game-high 14 kills for the Redbirds.

Illinois State had its most dominant set to begin the evening, taking a 25-15 win. UE had a nice start to the set, jumping out to a 6-3 lead with Tam notching her first kill of the night. The defining moment came with the set tied at 11-11. ISU recorded five points in a row and pulled away to take a 1-0 lead.

Evansville stood strong in the second frame, holding a 14-12 advantage with Tam notching consecutive kills. It was another 5-0 run that helped the Redbirds; with the score knotted at 18-18, Illinois State would post the next five scores on their way to a 25-22 victory and a 2-0 lead.

In the third game, the Redbirds scooted out to a 15-8 lead on a Kendee Hilliard kill. Their lead would grow to as many as 10- points at 21-11 before the Aces made a comeback. Rachel Tam did the serving and Vazquez added a kill as UE cut the deficit to just five points at 21-16. ISU countered with a Kendal Meier ace and they would hang on to clinch the match on the strength of a 25-20 win.

For the first time since 2008, the Aces will be preparing for the Missouri Valley Conference Tournament. UE has clinched either the #5 or #6 seed. The final spot, opponent and match time will be determined following the final conference matches tonight.
Men's basketball rallies for triple overtime win
Trailing by 11 points in the final minutes of regulation, the University of Evansville men's basketball team tie the game with 1.5 seconds remaining on a K.J. Riley three-pointer before defeating Morgan State in triple overtime by a final of 115-112 in the Islands of the Bahamas Showcase at Baha Mar.

For the second day in a row, Riley reset his career scoring mark, pouring in 36 on 12-of-19 shooting while adding 10 free throws. Artur Labinowicz was 6-of-9 from the floor on his way to 17. Shamar Givance and Sam Cunliffe recorded 15 points apiece while DeAndre Williams had 14. Morgan State was led by Troy Baxter, who had 30 points and 10 rebounds.

"I am really proud of our guys, they never gave up today. We really came together at the end of the game and in overtime," Aces head coach Walter McCarty said. "This shows what we are capable of when we play the right way. We are excited to get back home tomorrow and get off our feet before heading to IUPUI next week."

Morgan State scored the first five points of the game with Troy Baxter hitting a triple and one from inside. The Bears would open up a 7-2 lead before the UE offense got rolling, scoring nine in a row. Most of that was attributed to Artur Labinowicz. The redshirt junior hit a game-tying triple before finding John Hall on a nice feed to give UE its first lead at 9-7 at the 16:12 mark.

Labinowicz finished the run with a layup before the Bears got back on the board. He continued to battle, scoring what would be seven points in a row that gave Evansville a 16-11 lead just over seven minutes into the contest.

The Bears were able to make their way back, scoring nine in a row to retake the lead at 20-14. David Syfax Jr. capped the rally off with consecutive baskets. Jawaun Newton put UE back in front with six minutes left before bookending the run with a layup that saw the Aces match their largest lead of seven – 32-25. Over the final four minutes, the Bears would outscore the Aces by a 14-6 tally to take a 39-38 halftime lead.

Out of the locker room, an and-one by MSU pushed the lead back to four in the opening minute. They would extend their advantage to six points at 49-43, but it was Labinowicz converting a 4-point play that got UE within a pair. DeAndre Williams made his presence known, hitting a pair of field goals that saw Evansville keep the game within a possession.

The sixth triple of the day for MSU pushed the lead back to five at 56-51 and the advantage would grow to eight on a pair of transition baskets with under 13 minutes remaining. They would open their first double figure lead of 67-55 on a Baxter three at the midway point of the half. Riley quickly cut the deficit back to nine with a 3-point play on the ensuing trip.

Sam Cunliffe blocked the next Bear attempt and would drain a triple that got Evansville back within six tallies. Credit on that possession goers to Noah Frederking, who saved the ball from going out of bounds, leading to the triple. On the other end, UE blocked a shot that went right back to Morgan State, who drained another trey that reestablished their nine-point lead.

Shamar Givance drained his first 3-pointer of the game to bring his team within five and the Bears were able to counter with another triple that made it a 75-67 game with six minutes remaining. MSU would take an 80-69 advantage with three minutes remaining, but UE staged one final rally. Labinowicz drew a charge that turned into a Riley three on the other side as the deficit was trimmed to six.

After forcing a quick turnover, Shamar Givance found Williams for a slam that made it an 80-76 Morgan State lead with the clock going into the final two minutes. With 1:43 left, Riley struck again as the squad got within a pair. Givance put the pressure on the Bears with 40 ticks left, forcing a turnover and hitting a bucket to get even closer at 81-80.

Trailing by three in the final possession, K.J. Riley was the hero. Facing immense pressure, he nailed the game-tying three. He was off balance due to the pressure but was still able to hit the shot and force overtime with an 85-85 score.

Givance knocked down a triple to open the extra period before the Bears tied it up at 92-92 two minutes in. They would go back in front on a pair of free throws with 96 seconds remaining with Riley tying it back up at 96-96 seconds later. Both teams would add two more tallies, leading to double overtime tied at 98-98. UE looked to take the lead with five seconds left in the first overtime, but a goaltend was overturned.

A pair of MSU free throws opened the scoring in the second extra period before Riley continued another career effort, putting the Aces in front with a 3-point play at 102-100. The Bears fought their way back in front at 105-102 with the second overtime going into the final two minutes. Their lead would stand until Cunliffe reached 15 points on the day with a triple that tied it up with 25.4 seconds left. On MSU's next trip, lockdown defense by Cunliffe saw him block the potential game-winner and send it to a third OT knotted at 105-105.

In the third overtime, two more free throws saw the Bears add two more from the charity stripe to go back in front. As the clock went under 50 seconds, Evansville took its first lead as Riley took on three Bear players to grab his own offensive board and turn it into a field goal that made it a 112-111 game in favor of the Aces. Following a Bear miss, the Aces corralled the rebound and Shamar Givance hit both free throws. A final MSU shot fell short, giving Evansville the 115-112 win. The Aces shot 56.5% for the game while holding MSU to 46.9%. The Bears finished with a 44-35 rebounding advantage.

Today's game marked the first time UE has scored 100 or more since Nov. 15, 2014 when the team posted 116 against Earlham. It marked the first triple overtime game for UE since Feb. 6, 1958 when the Aces defeated St. Joseph's (Indiana), 78-70.

With the completion of the tournament, the Aces will travel back to Evansville on Monday and will be on the floor Saturday at IUPUI for a 6 p.m. CT contest in Indianapolis.
Volleyball earns first MVC Tournament berth since 2008
With the results of the other Missouri Valley Conference matches on Friday evening, the University of Evansville volleyball team has officially clinched a berth in next week's conference tournament.

Evansville will finish in the top six and head to the tournament for the first time since the 2008 campaign.

"The girls have done so much for the program this year," Aces head coach Fernando Morales said. "They deserved this. I am so happy and proud of them and excited about the future of this program."

The Aces (16-12, 7-10 MVC) dropped a 3-0 decision on the road at Bradley (14-14, 10-7 MVC) on Friday. Rachel Tam led UE with 10 kills while Alondra Vazquez finished with nine. Gabriela Macedo finished with 18 digs and officially holds the single-season program record. Allana McInnis had 21 assists. The Braves were led by a 15-kill effort from Hannah Thompson.

Bradley got the evening started on a strong note, taking a 25-14 win. Up 6-5, the Braves scored six of the next seven to take a 12-6 lead. From there, they continued to add to it before winning by 11.

Evansville regrouped and had a much better start to the second frame, taking a 7-1 lead. After notching three kills in the first set, Chloe Bontrager added her fourth before Rachel Tam had three in a row. The Braves pushed back with five in a row to get within one, but the Aces continued to hold the lead until late in the match. Bradley was finally able to tie it at 19-19 before taking a 2-0 lead on the strength of a 25-21 win.

In the third set, the Braves scored six of the opening seven points and would go on to take a 25-16 win to clinch the 3-0 match.

Tomorrow, the regular season comes to an end with a 5 p.m. match at Illinois State.
Contribute to AceNotes
To have content considered for inclusion in AceNotes, please submit a Marketing Request Form. Deadline for submission to AceNotes is 10:00 a.m. on the requested date of publication. Only articles concerning UE related/sponsored activities will be accepted. Articles submitted to AceNotes may be edited for length and clarity. Submitter contact information is at the end of each article.