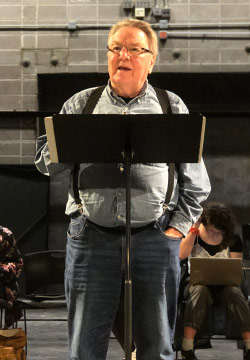 The University of Evansville Theatre presents a new play reading, THE LIFE OF JOHN JAMES AUDUBON PART ONE, by 2001 alumnus Mat Smart, at 3:00 pm, on Saturday, November 23, and at 7:30 pm, on Monday, November 25, in Shanklin Theatre. The reading is free and open to the public and will feature a post-reading question-and-answer session with the playwright.
This new work is the first in a tetralogy of plays chronicling the life of American ornithologist, naturalist, and painter John James Audubon and is inspired by Shakespeare's HENRY V. Playwright Mat Smart, known for bringing historical figures from the page to the stage, feels a deep connection to Evansville and is excited to have written a vehicle to welcome back to the stage former UE Department of Theatre Chair John David '64.
The developmental reading is directed by UE Theatre Resident Director Wes Grantom '01. In addition to John David Lutz, the cast also includes UE Theatre students, juniors Jackson Burnham, Hannah Stevens, and Fiona Peterson-Quinn, and first-years Allie Forte, Xavier Warner, Hannah Stevens, Amelia Overholt, Ben Bravard, Cassie Dunn, Bryce Galvan, and Marie Reilly.
In addition, junior design and technology major Dinah Ferguson has created several puppets to reflect birds based on Audubon's drawings. First-year theatre studies major, Jimmy Guest, serves as the assistant director.
All are welcome to attend and be involved in this developmental workshop. This piece has been submitted to the American Shakespeare Center, in Washington, DC, for consideration for the Shakespeare's New Contemporaries playwright's award. FREE tickets may be reserved by calling the Shanklin Theatre ticket office at 812.488.2031. Tickets may also be obtained at the door.
Submitted by Sharla Cowden sc75@evansville.edu.