| | |
| --- | --- |
| AceNotes Today | Friday, November 22, 2019 |
UE Book Club hosts Linda E Minton, The Harlaxton Heist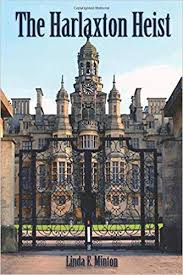 UE Book Club is hosting guest author, Linda E. Minton, today at 12:00 p.m. in the Melvin Peterson Gallery!

Linda E. Minton is bringing signed copies of her book, The Harlaxton Heist.
If you would like to join us, and purchase a book, then you are more than welcome.
The books are $15.00 each.
Submitted by Brooksie Smith bs267@evansville.edu.
UNIVERSITY OF EVANSVILLE BSU, FELLOWS & ALL!
Chili Supper, Rap Session, Music, Games
UE African American Alumni Association (UEA3)
When: Friday, November 22, 2019 @ 6:30 pm
Where: The Diversity House on Weinbach
We are excited we get to spend some time with you!
Menu: Chili, Salads, Desserts, Drinks, Music, Games, Good conversation
Call UEAAA @ 812.204.4997 or see Dalisa McCallum (BSU President) for more information.
Thankful and Grateful - Holiday Thankfulness Activities!
Join the Office of Counseling Services in Ridgway University Center on Friday, November 22 from 11-12pm to start the holiday season the right way! Stop by our table of resources and let us know what you are thankful for by writing it on a feather and adding it to our school-spirited Thanksgiving turkey! Not everyone celebrates the U.S. holiday, but everyone can be included in embracing gratefulness during the upcoming festivities! Resources and gratefulness take-home activities will also be available. See you there!
Submitted by Liz McCormick em232@evansville.edu.
Wellness Wednesday Lunch and Learn
The Office of Health Education is hosting its 3rd Wellness Wednesday Lunch and Learn!
This topic is "Beating the Wintertime Blues." In this session you will explore tools for combating seasonal effective disorder and feeling blue during the winter months.
Come to Eykamp 253-254 on Monday 11/25 from 12-1pm! Bring your lunch and join the discussion!
Submitted by Jennifer Hargus jh693@gmail.com.
All Students Welcome! Events at Diversity House This Weekend
Don't miss two special events at the Diversity Resource Center (the "Diversity House" across Weinbach from Hughes Hall with a purple sign out front) this weekend! First, we wrap up Diversity Coffee Hour Friday at 4pm with coffee, tea, talking about holiday traditions, and setting up the Diversity House Christmas tree.
Sunday, we will host Flavor of the Month South Africa, our last Flavor of the Month of the semester, a monthly initiative to build community, make friends, and try foods from around the world! Flavor of the Month is open for all students to participate, BUT we have limited space!
We will meet at 5:00 in the Diversity Resource Center to help cook, play games, listen to music, and talk, with the meal served at 6:00. The sooner you join for the hangout, the more likely you can join for the meal! We have space for 10 guests.
Submitted by Megan Sicard ms331@evansville.edu.
MARK YOUR CALENDAR - Friends of Art Holiday Art and Craft Sale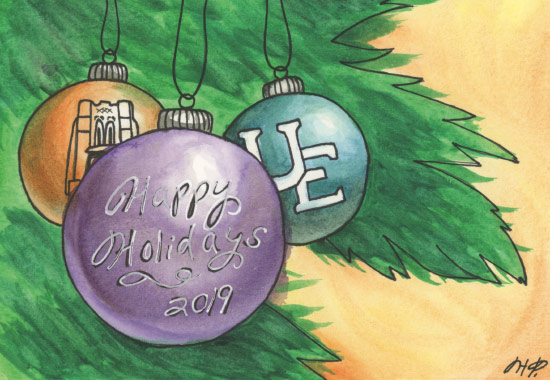 The University of Evansville Department of Art and the University of Evansville Friends of Art are pleased to announce their Holiday Art and Craft Sale. The sale will be held in the Melvin Peterson Gallery on Saturday, December 7, from 9:00 a.m.-5:00 p.m. This a perfect opportunity to find unusual holiday gifts made by local artists, crafts people and our very own UE Family!
Friends of Art volunteers and gallery staff will be on site to handle the sales.
All new UE Friends of Art Memberships received during the Holiday Arts and Craft Sale will receive a $3 Honey Moon Coffee Coupon, good for $3 off any item!
If you would like more information, email Joyce Powell at j.powell0159@gmail.com or by phone at 812-455-0159.
December 4 Andiron Lecture by Valerie Stein
When God is Father: The Unjust Theology of the Evangelical Orphan Care Movement
by Valerie Stein
Valerie Stein is an associate professor of religion and chair of the Department of Philosophy & Religion at the University of Evansville. She has been at UE since 2002. She holds a ThD from Harvard University in Hebrew Bible / Old Testament. Her teaching and research interests focus on the intersection of religion and culture. Much of her work has centered on the history of biblical interpretation, particularly examining the ways in which the biblical text has functioned to marginalize or oppress certain groups. She uses social identities such as race, religion, and gender as lenses through which to critically engage religion as a structural force in both contemporary society and throughout history.
Adoption and foster care have become especially popular over the past decade within evangelical Christian circles, as evidenced by the establishment and growing popularity of Orphan Sunday and by the extensive promotion of adoption by evangelical religious groups, such as the Southern Baptist Convention and Focus on the Family. This call to adopt or foster is not fundamentally about providing options for infertile couples or promoting humanitarianism; rather, evangelicals draw on the Bible and Christian theology to frame adoption and foster care as a missionary activity that both symbolizes and accomplishes the salvific message of the Gospel. The patriarchal theology behind the framework privileges the interests of the male "father" god over those of the birth mother. The resulting Christian rhetoric empowers the perspective of the adoptive parents by aligning them with God as pater familias while rendering the birth mother invisible and theologically irrelevant. God the Father's "heart for adoption" thus promotes an Evangelical Orphan Care Movement that allows the desires of wealthy, privileged (and Christian) members of society to take precedence over the needs, wishes, and interests of vulnerable women.
The lecture begins at 4:00 p.m.
Wednesday, December 4, 2019
Eykamp Hall (Room 252), Ridgway University Center
A social gathering with beverages begins at 3:45 p.m.
For further information, call Annette Parks at 812-488-1070
or the William L. Ridgway College of Arts and Sciences at 812-488-2589
Academic Success Lab Updated Hours
The Academic Success Lab will be closed due to the Thanksgiving break Monday, November 25 through Sunday, December 1.
It will reopen for drop in hours beginning Monday, December 2 with regular hours 4-8 PM, and a final session on Wednesday, December 4 with hours 6-8 PM.
Please feel free to stop in for extra help studying for finals!
Submitted by Frances Renschler fr25@evansville.edu.
November Pcard Cycle Ending Reminder
Cardholders are reminded that the November Pcard cycle that began on 10/22/19 is ending at midnight on 11/21/19. Cardholders are reminded that November reconciliation of transactions should be completed before 11/28/19 when the system lock out will occur for the general ledger upload. November cycle reports may be ran and submitted beginning 11/23/19.
Submitted by Kim Winsett kw83@evansville.edu.
UE Bookstore Barnes & Noble Partnership Information
As Barnes & Noble College takes over the management of the UE Bookstore on Friday, December 6, please note the following information:
• UE Pcards will become the primary payment tool for departmental purchases from the UE Bookstore. Since the UE Bookstore is being outsourced to a third-party provider, the Internal Charge Authorization form (ICA) will no longer be used for departmental bookstore purchases.
• Barnes & Noble College will offer a 20% discount on all authorized departmental purchases except adopted textbooks, special orders, sale books, class and alumni rings, computer software, periodicals, discounted merchandise, computer hardware, stamps, health and beauty aids, food snacks, and beverages.
• Coursepacks being sold through the UE Bookstore will require processing and assembly by XanEdu, a partner of Barnes & Noble College. Only coursepacks issued by XanEdu will be sold through the UE Bookstore.
Submitted by Kim Winsett kw83@evansville.edu.
Barnes & Noble College to Manage Campus Bookstore
The University has partnered with Barnes & Noble College to manage the campus bookstore operations. The store will be closed Monday, November 25 to Thursday, December 5 for the transition process. The bookstore will reopen under Barnes & Noble College management on Friday, December 6.
Rental returns and book buybacks are scheduled for December 6 to December 13 and will be offered in the Crescent Offices on the second floor of Ridgway University Center.
As part of the bookstore transition, members of the campus community will begin receiving emails from the bookstore to help save time and make the textbook adoption process seamless. These emails will include adoption reminders as well as quarterly faculty digests, filled with informative articles of interest in higher education, faculty-focused webcasts, and more.
The Barnes & Noble College bookstore will provide a social and academic hub to drive success for the campus community. Through an extensive offering of affordable learning materials, including new, used and digital books, a robust textbook rental program and a Price Match program, Barnes & Noble College will drive significant cost savings for UE students. Barnes & Noble College will also offer an enhanced assortment of school merchandise including apparel, gifts, school supplies, and more, which students, faculty and alumni can browse both in-store and online.
"We're thrilled about the Barnes & Noble College partnership," said Donna Teague, Vice President for Fiscal Affairs and Administration. "Perhaps most exciting are the new access tools for students and faculty, along with cost saving opportunities for our entire campus community."
The bookstore will further drive access and affordability on campus through its offering of open educational resources (OER) and OER-based digital courseware.
Additionally, faculty will gain access to Barnes & Noble College's new Adoption & Insights Portal (AIP). The adoption portal was developed by Barnes & Noble College to solve challenges faced by higher education administrators and faculty in the areas of discovering, selecting, and managing course material adoptions. With AIP, faculty and staff can easily manage and submit course material adoptions each term, and academic leadership can view real-time adoption rates and submission progress at the school or departmental level and communicate directly with faculty from within the portal.
"At Barnes & Noble College, our mission is to act as a complete support system for the schools we serve. We are incredibly excited to join the University of Evansville campus community, driving affordability, access and achievement for UE students and faculty," said Barry Brover, Executive Vice President, Barnes & Noble College.
Barnes & Noble College currently operates more than 770 campus stores nationwide. For more information about Barnes & Noble College's services and locations, visit www.bncollege.com.

Help SGA Stock the New AcesHaven
It's the season of giving! Please join SGA in collecting items for our newly established student resource center--AcesHaven! We are looking for non-perishable food items, hygiene products, new/un-used cold-weather gear, and other miscellaneous items such as laundry detergent and school supplies. AceBuck donations will also be accepted grow our online food pantry fund. Donations may be brought to SGA table in Ridgway the 21st-26th of November.
Submitted by Hannah Richards hr80@evansville.edu.
Early Timecard Entry for November 29 Payroll
In order to process payroll before Thanksgiving Break, the Office of Accounting and Audit/Payroll is asking all students and staff members to enter and submit their time on WebAdvisor by the end of the day on Friday, November 22, for the pay period of November 10-23.
Supervisors are asked to approve timecards by 8:00 am Monday, November 25. Payroll will be processed before noon on Monday, so please be sure to submit your time so your pay is not delayed. If you have questions, please call Dawn Bury at 2159 or email db287@evansville.edu. Thank you for your cooperation.
Submitted by Dawn Bury db287@evansville.edu.
Tree Decorations/Donations for Children K-12 - Graves Hall Lobby
Please consider donating new gloves, mittens, hats, scarves, and socks for community children grades K-12 this season. These items can be placed on the tree in the lobby of Graves Hall from now until Friday, December 13. The Center for Family, School and Community Partnerships will then distribute the items to EVSC schools. Thank you so much for your support!
Submitted by Karen Doss kd56@evansville.edu.
YWCA Goods Drive
The YWCA of Evansville strives to eliminate racism and empower women. Among the many services the YWCA offers is a domestic violence shelter, youth programs and scholarships, and multiple education programs on the effects of racism and how to eliminate it.
The YWCA provides a wishlist, found below, of items that they collect to distribute to the women and children that they work with. Delta Omega Zeta will be hosting a Goods Drive throughout the month of November to collect these items to donate to women and children in need for the Holiday season. Boxes are located in the Ridgway University Center, the Olmsted Administration Hall, Schroeder School of Business, and the Koch Center for Engineering and Science.
YWCA Wish List*
Body was/gel
Deodorant
Feminine Hygiene Products
Umbrellas
Laundry Baskets
Dish Towels
Shower Caddies
Paper Towels
Bath Towels/Washcloths
Twin Bed-in-a-Bag Sets
Craft and School Supplies
Lightweight blankets
Diapers (all sizes)
Sweat/Yoga Pants for Women (all sizes)
*Please note that we will only be accepting new, unused items
Submitted by Jessica Elmore je146@evansville.edu.
Winter Housing
Residence Hall Students - do you need a place to stay this winter? The residence life office has limited winter housing available. Only students participating in official University functions or with approved reasons will be considered for winter housing.
Winter housing is located on the fourth floor of Morton Residence Hall. Students will not have access to their permanent rooms during winter break. Approvals are subject to room availability. Students are charged a flat fee of $400 for winter housing.
Students seeking winter housing must submit a Winter Housing Request Form by noon on Reading and Study Day, available through this link - https://uesurvey.evansville.edu/WinterHousing.
Students who live in Village housing can stay in their apartment or house at no additional cost but we do ask that you let us know when you will be on campus by filling out this form - https://www.surveymonkey.com/r/villagewinterhousing.
Submitted by Brian Conner bc32@evansville.edu.
Flu Vaccines available at Student Health Center!
Protect yourself from the flu this season and get vaccinated! Flu vaccines are available at Student Health Center.
$20 Cash/Card payment options. No appointment necessary.
SHC Hours: Monday-Friday 8am-5pm
Other ways to protect yourself from the flu this season: use good hand hygiene, drink plenty of water, increase rest, take a daily multivitamin along with eating a well balanced diet, quit smoking and disinfect common surface areas daily.
Submitted by Tara Ulrich taraulrich4@gmail.com.
Ebeling gives lecture in Tucson
Associate Professor of Archaeology Jennie Ebeling presented 'Drink Your Wine With a Merry Heart: Wine in the Hebrew Bible and Archaeology' as part of the Pozez Memorial Lecture Series at the University of Arizona on November 18. A graduate of the University of Arizona, Dr Ebeling spoke about the results of recent excavations at Jezreel, the excavation project in Israel sponsored by UE.
Dr. Stein Presents at National Conference
Dr. Valerie Stein, Associate Professor of Religion, was an invited participant on the panel "Choice Without Justice: Protesting the Neoliberal Politics of Reproduction" at the National Women's Studies Association annual conference in San Francisco. Her paper was entitled "Making Orphans: White Savior Syndrome as God's Answer to Oppressive Politics".
Contribute to AceNotes
To have content considered for inclusion in AceNotes, please submit a Marketing Request Form. Deadline for submission to AceNotes is 10:00 a.m. on the requested date of publication. Only articles concerning UE related/sponsored activities will be accepted. Articles submitted to AceNotes may be edited for length and clarity. Submitter contact information is at the end of each article.