| | |
| --- | --- |
| AceNotes Today | Thursday, November 14, 2019 |
FREE Shuttle To Tonight's Men's Basketball Game
A FREE shuttle will be available to students for tonight's men's basketball game vs. IU Kokomo at 6:00 p.m. in The Ford Center.
The shuttle will leave from outside of Ridgway beginning at 5:15 p.m., and will make as many trips necessary to get all students to the game.
Entrance to the game is FREE for students with a UE ID.
Following the game, the shuttle will leave from in front of The Ford Center to return students to campus. Again, the shuttle will make as many trips necessary to get everyone back.
Learn more about tonight's game here.
GO ACES!
University Worship
University worship returns on Sunday, November 17, 7:30PM. Join us for prayer, singing, and meditation. All identities and perspectives are welcome.
Submitted by JillAnn Knonenborg jk383@evansville.edu
How can you know if something is real?
How can we know if something is true? How can we know if something is right or wrong? Is anything certain? On Thursday, November 14, 6:15PM, drop by Honeymoon Cafe for conversation on these questions and more. The first eight students to arrive will receive a free coffee or tea.
Guest Art History Lecture by Dr. Chrystine Keener
Dr. Chrystine Keener, assistant professor of Renaissance and Baroque Art at the Ringling College of Art and Design will be giving a guest lecture this Thursday, 11/14 at 6p in Hyde 14. Her presentation will examine the lactation imagery of the Virgin Mary and Venus in late Medieval and early Renaissance Italian churches. The lecture is free and open to the public.
Submitted by Heidi Strobel hs40@evansville.edu.
33rd Annual International Bazaar - THIS FRIDAY!
FREE ADMISSION
The biggest event on campus is just around the corner! Come celebrate the diversity at UE in the most fun and exciting way on November 15th, 5-8 PM, at Ridgway University Center!
There will be many cultural booths and amazing performances, and you will be able to start your holiday shopping at our International Marketplace, where several non-profit organizations will be selling products to raise money for their respective causes!
The first 300 people will get an awesome souvenir!
Get more details about the International Bazaard on our Facebook page.
Submitted by Hussam Taj ht70@evansville.edu.
Supply Chain & Logistics Career Connection
Movers & Makers: Emerging Logistics and Manufacturing Leaders
Delivered By
SOBA LSCM Program in partnership with Conexus Indiana Logistics Council
Join us for the executive panel presentation and discussion to learn about high paying careers in this growing industry.
Executive networking opportunities will be available after the panel discussion!

Represented companies include: Lean Driven Reliability, Alcoa, Spot Inc, Infor & Berry Global
Date:
Tuesday, November 19th
Time:
5:00—6:00 pm Panel Discussion, Schroeder School of Business Room 162
6:00—6:30 pm Networking with Panel, Schroeder School of Business Dunigan Lounge

This event is open to business, engineering, and UE students interested in the logistics and manufacturing field.
Submitted by Rebecca Oates ro32@evansville.edu.
Sing, Perform, or Read a Poem at SAB's Open Mic Night, Friday Nov 15th!
Are you a talented or aspiring singing, songwriter, or poet? If you can say it or sing it into a mic, then SAB's Open Mic Night is the perfect place to showcase your talents or step out of your comfort zone. All are welcome to enjoy the supportive environment in Rademacher's Lounge on November 15th at 7:30 pm! If you would like to participate, please email nl72@evansville.edu, and we'll work out the logistics! We hope to see you there!
PS: Stick around to the end for a performance from our emcee, local musician Hudsy!
Submitted by Nick Lewis nl72@evansville.edu.
UE Theatre Opens LONE STAR SPIRITS in the May Studio Theatre
The University of Evansville Theatre opens Josh Tobiessen's LONE STAR SPIRITS, at 7:30 p.m. Monday, Nov.18, in the May Studio Theatre. At times hilarious and at times heartbreaking, this family drama is a poignant story about a small-town life, the haunting feeling one experiences by returning to their childhood hometown, and the spooky surprises life always seems to have in store. Additional performances are at 7:30 p.m., Nov. 19, 20, 21, 22, 23, and at 2:00 p.m. on Nov. 24.
Blake Ware, a senior from Evansville, Ind., directs LONE STAR SPIRITS; Theodora Soldatou, a senior from Athens, Greece, serves as the scenic designer; Gillian Herold, a senior from Spokane, Wash., is the costume designer; Meaghan Stanley, a senior from Middlebury, Vt., is the lighting designer; Jackson Pitt, a junior from McKinney, Texas, serves as the sound designer; Brock McCullough, a senior from Omaha, Neb., is the dramaturg; Lauren Ward, a junior from Fort Worth, Texas, is the stage manager, and UE Assistant Technical Director Adam Rager serves as the technical director.
The cast features junior Cole Lannert, from Evansville, Ind., as Drew; senior Luke Lowrance, from Arlington, Texas, as Walter; sophomore Kyla Clift, from Arlington, Texas, as Jessica; sophomore Delanie Kitzman, from Tomball, Texas, as Marley, and junior Beau Wilcox, from Broomfield, Colo., as Ben.
The UE Theatre Society hosts a Pre-Play Chat 30 minutes prior to the show on Saturday, Nov. 23. All are welcome to attend the presentation and discussion with a student designer about their process on the production. Ticket prices are $12 for adults and $9 for senior adults, students, and UE employees. UE students may obtain one free student rush ticket beginning at 12 noon on the day of the performance they wish to attend. Seating is limited, and tickets are available by calling 812.488.2031.
Submitted by Sharla Cowden sc75@evansville.edu.
33rd Annual International Bazaar
FREE ADMISSIONS
The biggest event on campus is just around the corner! Come celebrate the diversity at UE in the most fun and exciting way on November 15th, 5-8 PM, at Ridgway University Center!
There will be many cultural booths and amazing performances, and you will be able to start your holiday shopping at our International Marketplace, where several non-profit organizations will be selling products to raise money for their respective causes!
The first 300 people will get an awesome souvenir!
Submitted by Hussam Taj ht70@evansville.edu.
Jazz Concert
The UE Jazz Ensemble I will be presenting a free concert on Tuesday November 19 at 7:30 PM in Eykamp Hall featuring UE Alumni Keith Farny '01 on drum set. The concert will feature music from the Buddy Rich Big Band library. A Buddy Rich Tribute Band made up of UE Faculty, UE Alumni and area music educators will also perform on the concert.
Submitted by Timothy J Zifer tz3@evansville.edu.
Final Flush Flash is Coming!
As we are winding down the semester in the Center for Student Engagement, we will be sending out our final Flush Flash! This Flush Flash will be for November 20-27th and will end right before Thanksgiving Break.
In order to get this final posting out efficiently, we will be finalizing all information for it early Monday morning. Please be sure to have all events and activities in UEngage and approved by Sunday night (November 17th) if you would like your information to be included.
If you have any questions or concerns, please reach out to Jane Meyer at jm727@evansville.edu.
Tree Decorations/Donations for Children K-12 - Graves Hall Lobby
Please consider donating new gloves, mittens, hats, scarves, and socks for community children grades K-12 this season. These items can be placed on the tree in the lobby of Graves Hall from now until Friday, December 13. The Center for Family, School and Community Partnerships will then distribute the items to EVSC schools. Thank you so much for your support!
Submitted by Karen Doss kd56@evansville.edu.
Study abroad photo contest-submit your pictures this week!
The Harlaxton/study abroad office is running a photo contest over the next two weeks to celebrate International Education Week! If you have studied abroad at Harlaxton or anywhere else in the world, submit your photos for a chance to win some study abroad swag and the honor of having your photo displayed in the study abroad office hallway.
You can submit 1 photo per category below:
Purple Goes Global: We want to see how you showed your school spirit abroad! Share your photos wearing purple or UE gear!
The Great Outdoors: We'd love any pictures that highlight the environment and capture the beauty of where you studied!
Harlaxton: Harlaxton gets its own category because it's so popular and photogenic! Send us photos of your time at Harlaxton and around the manor.
Live Like a Local: Do you have any pictures of you engaging in local activities or participating in cultural traditions? Send them over!
Artistic Eye: Have any unique pictures that capture something special about your trip? Did you take a picture you think is particularly artistic? Send them in!
We will take submissions through Saturday, November 16, then voting will take place on social media throughout International Education Week, November 18-22 with the winners being announced on that Friday afternoon.
Ask any questions and submit your photos to Kaylynn McCalister in the study abroad office at kc205@evansville.edu or the office in SB 262.
Reminder for all new incoming fall 2019 students~ Second dose of Meningitis B DUE by JANUARY 31st 2020!!
REMINDER! If you were a new incoming student to UE this 2019 fall semester, you must have your Meningitis B series completed and submitted to your MedProctor account by January 31st 2020. If you are going home during Thanksgiving or winter break, schedule your second dose to complete your Meningitis B series that is part of the admission requirements. This is only required for new students who entered University of Evansville FALL 2019 who has submitted only one dose of Meningitis B to MedProctor. Please call the Student Health Center at 812-488-2033 for any questions/concerns.
Trumenba- 2 doses required at least 6 months apart
Bexsero- 2 doses required at least 1 month apart
Submitted by Tara Ulrich tu19@evansville.edu.
YWCA Goods Drive
The YWCA of Evansville strives to eliminate racism and empower women. Among the many services the YWCA offers is a domestic violence shelter, youth programs and scholarships, and multiple education programs on the effects of racism and how to eliminate it.
The YWCA provides a wishlist, found below, of items that they collect to distribute to the women and children that they work with. Delta Omega Zeta will be hosting a Goods Drive throughout the month of November to collect these items to donate to women and children in need for the Holiday season. Boxes are located in the Ridgway University Center, the Olmsted Administration Hall, Schroeder School of Business, and the Koch Center for Engineering and Science.
YWCA Wish List*
Body was/gel
Deodorant
Feminine Hygiene Products
Umbrellas
Laundry Baskets
Dish Towels
Shower Caddies
Paper Towels
Bath Towels/Washcloths
Twin Bed-in-a-Bag Sets
Craft and School Supplies
Lightweight blankets
Diapers (all sizes)
Sweat/Yoga Pants for Women (all sizes)
*Please note that we will only be accepting new, unused items
Submitted by Jessica Elmore je146@evansville.edu.
WBB Male Practice Players Needed!
The women's basketball team is looking for male practice players. Practices are weekdays from 3:30-5:30. The coaches ask you to come to a few practices a week and help scrimmage against the team to prepare them for upcoming opponents. If you are interested please contact Coach KP at kp204@evansville.edu.
Submitted by Kaitlynn Pacholke kp204@evansville.edu.
Flu Vaccines available at Student Health Center!
Protect yourself from the flu this season and get vaccinated! Flu vaccines are available at Student Health Center.
$20 Cash/Card payment options. No appointment necessary.
SHC Hours: Monday-Friday 8am-5pm
Other ways to protect yourself from the flu this season: use good hand hygiene, drink plenty of water, increase rest, take a daily multivitamin along with eating a well balanced diet, quit smoking and disinfect common surface areas daily.
Submitted by Tara Ulrich taraulrich4@gmail.com.
School of Education Presents at IACTE Innovation in Teacher Education Conference
School of Education students and faculty presented at the IACTE Innovation in Teacher Education Conference held on Butler University's campus, November 7-8. The conference highlighted innovations, initiatives, and best practices in teacher education. Davies Bellamy, Sharon Gieselmann, Melinda Hopf, Louis Kersh, DaLisa McCallum, and UE graduate, Rocky Alderman shared experiences responsible for increasing their growth in cultural competence. Hammer (2012) defines cultural competence as the capability to shift perspective and adapt behavior to cultural difference and commonality. Furthermore, it reflects the degree to which cultural differences and commonalities in values, expectations, beliefs and practices are effectively bridged. The Intercultural Development Inventory is a tool used in the School of Education to assess baseline cultural competence. During the presentation, the group emphasized three essentials: the importance of achieving intercultural competence, the need for understanding the transformative process involved, and taking intentional steps towards becoming interculturally competent. The presentation is an extension of an upcoming publication written by Amy McBride, Davies Bellamy, and Matthew Knoester.
Submitted by Sharon Gieselmann sg78@evansville.edu.
Honors Program Students Give Back to Community
Students from the Honors Program's community service initiative (known as HACER) helped make a difference in the Evansville community last Saturday, November 9. Thank you to the following Honors Program students who volunteered their time to serve at the Ronald McDonald House and the Evansville United Caring Services: Kelsey Breneman, Quentin Yoder, Vaishnavi Ravipati, Elisa Cardona, Sarah Curtin, Lauren Stevenson, Savannah Cook, Ian Alberts, Aditi Sood, Jordan Bradley, Abby Schubert, and Meghana Bhaskara. Students also enjoyed lunch at Azzip Pizza following their volunteer work. Money raised during the annual Nerd Wars event on campus helps HACER fund these amazing opportunities to give back to the community, so thank you to all who have participated in making Nerd Wars a success in the past.
Submitted by Jayme Williams jw504@evansville.edu.
Black Death comes to Harlaxton
On Thursday 12 November Harlaxton we will be co-hosting an event with Lincoln University. Carenza Lewis, who you might remember as one of the archeologists from the TV show TimeTeam, is coming to give a lecture as part of the 2019 'Being Human' festival. This is the UK's only national festival of the humanities, and it brings together universities, museums, galleries, libraries with community and commercial partners in events held throughout November. Carenza's talk will be about the origins and impact of the Black Death.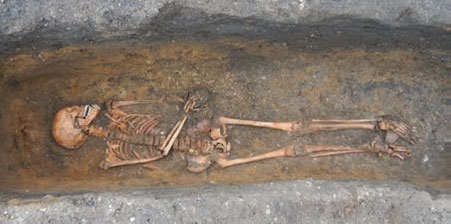 Carenza explains 'Being Human' is all about making world-class university research accessible to people across the UK and this year the University of Lincoln is a hub for the festival in the East Midlands. I'm delighted it's giving me the chance to come to Harlaxton to talk about the Black Death – one of History's greatest killers – to find out about the impact it had on our region, and how and where it survives today… I'm looking forward to hearing what questions the audience will be asking!'
Submitted by Nicola Boyle nb113@evansville.edu.
Aces ready to take on IU Kokomo on Thursday
Less than 48 hours after defeating #1 Kentucky, the University of Evansville men's basketball team is back on the floor, welcoming IU Kokomo to the Ford Center on Thursday evening at 6 p.m. ESPN3 will have the broadcast.

Setting the Scene
- The Purple Aces look to improve to 3-0 as they take on the IU Kokomo Cougars for the first time
- Evansville is coming off of the biggest win in the program's Division I history, defeating top-ranked Kentucky on Tuesday evening at Rupp Arena
- Despite being a 25-point underdog, the Aces led the Wildcats for 29:34 of the 40 minutes while trailing for just under six minutes
- K.J. Riley led everyone with 18 points as he was 2-2 from outside and 8-8 from the free throw line
- For the second game in a row, Sam Cunliffe recorded 17 points; he drained six buckets but his most important points came in the final seconds as his two free throws put the finishing touches on the 67-64 win

Last Time Out
- One of the biggest days in program history saw the Purple Aces take down #1 Kentucky by a 67-64 final on Tuesday night
- Evansville held the lead for nearly 75% of the game; the Aces held a 34-30 lead at the half and went up by as many as eight points in the game; UK never led by more than three
- Senior K.J. Riley led by example, pouring in a game-high 18 points; he was 2-2 from outside and 8-8 from the line
- Sam Cunliffe posted another 17-point outing and hit the two biggest free throws of the game with six seconds left

Leftovers from Kentucky
- In his first trip to the arena he called home as a player, Aces head coach Walter McCarty led his UE squad to the 3-point win over the Wildcats
- In the second half of the contest, the Aces were a perfect 6-for-6 from the charity stripe; for the game, UE was 12/13 from the line
- Evansville's defense held the Wildcats to just 37% shooting; last season - just one team fared better - that came on March 2, 2019 when #7 Tennessee held Kentucky to 31.8%
- K.J. Riley and Sam Cunliffe have both posted double figures in both contests; they are a combined 17-for-19 from the line on the season
- UE attacked the offensive glass, hauling in 11 offensive rebounds while holding UK to just eight; this season - 24.6% of the Aces rebounds have come on the offensive side, last year that number stood at 20%

Scouting the Opponent
- IU Kokomo stands at 6-1 overall, but have only played five true games; the additional two wins come from games scheduled later in the season against Cincinnati Christian that were forfeited
- Trequan Spivey is the leading scorer for the Cougars, averaging 18.8 points per game; he is a solid shooter, checking in at 53.3% while playing over 36 minutes per game
- Allante Harper averages 12.4 points and has hit a team-high 13 triples
- Desean Hampton paces IU Kokomo with 9.6 rebounds per contest
Contribute to AceNotes
To have content considered for inclusion in AceNotes, please submit a Marketing Request Form. Deadline for submission to AceNotes is 10:00 a.m. on the requested date of publication. Only articles concerning UE related/sponsored activities will be accepted. Articles submitted to AceNotes may be edited for length and clarity. Submitter contact information is at the end of each article.