| | |
| --- | --- |
| AceNotes Today | Tuesday, November 12, 2019 |
UE Operating on a 2 Hour Delay Today, November 12
Due to inclement weather, the University of Evansville will operate on a two hour delay today, Tuesday, November 12.
University employees will report to work at 10:00 a.m. Essential personnel are still required to report for normal duty unless otherwise arranged with your supervisor.
Classes will begin at 11:00 a.m. The regular Tuesday/Thursday morning class schedule calls for classes to begin at 8:00 and 9:30 a.m. Therefore, any classes before 11:00 a.m. are cancelled.
Café Court will be open on a reduced basis as there may be limited staff able to travel to campus this morning. Aces Place will be open for self checkout. Other dining venues will be closed until later in the day. Details regarding adjusted schedules will be posted on the Residence Life Facebook Page and follow-up messages will be communicated through digital media and/or printed signs on the first floor of Ridgway.
Students, faculty, staff, and visitors should use personal discretion when deciding to travel in inclement weather and should contact the appropriate persons in case of an anticipated delay or absence from work, class, or event.
Guest Art History Lecture by Dr. Chrystine Keener
Dr. Chrystine Keener, assistant professor of Renaissance and Baroque Art at the Ringling College of Art and Design will be giving a guest lecture this Thursday, 11/14 at 6p in Hyde 14. Her presentation will examine the lactation imagery of the Virgin Mary and Venus in late Medieval and early Renaissance Italian churches. The lecture is free and open to the public.
Submitted by Heidi Strobel hs40@evansville.edu.
Medical Spanish Practice
Medical Spanish practice is designed to help students practice communication skills in Spanish for medical settings. Students may arrive and leave at any time. The next session is this Wednesday, November 13, from 5:30-7:00 p.m. in Room 64 in the Schroeder School of Business Building. Please contact associate professor of Spanish Diana Rodríguez Quevedo at dr130@evansville.edu for more details. ¡Nos vemos el miércoles!
Submitted by Diana Rodriguez Quevedo dr130@evansville.edu.
Guest Lecturer to Speak on Free Will this Wednesday
James Petrik, PhD, from Ohio University, will be delivering a Crick Lecture on the topic of free will this Wednesday, November 13th at 4pm in the Smythe Lecture Hall on the first floor of SOBA. His talk, "Spinoza's Dream Argument: A Response to Introspective Arguments for Freedom," will examine the 17th-century thinker's views on inferring free will based on dream experiences and how we might consider responding to them. The lecture is open to any member of the campus community.
Submitted by Anthony Beavers tb2@evansville.edu.
I-House: Pre-Bazaar Event
I-House is a weekly presentation and event series where international students talk about their home countries and other cultural topics are explored. This Wednesday (November 13th) on 2nd floor Ridgway at 7 pm, we prepare for the International Bazaar, a celebration of culture, by exploring what makes up culture beyond the flags, music, clothing, and languages we experience at Bazaar. This is an interactive event!
There will be Mediterranean food present as well! We hope to see you there!
Submitted by Hussam Taj ht70@evansville.edu.
33rd Annual International Bazaar - THIS FRIDAY!
FREE ADMISSION
The biggest event on campus is just around the corner! Come celebrate the diversity at UE in the most fun and exciting way on November 15th, 5-8 PM, at Ridgway University Center!
There will be many cultural booths and amazing performances, and you will be able to start your holiday shopping at our International Marketplace, where several non-profit organizations will be selling products to raise money for their respective causes!
The first 300 people will get an awesome souvenir!
Get more details about the International Bazaard on our Facebook page.
Submitted by Hussam Taj ht70@evansville.edu.
Sing, Perform, or Read a Poem at SAB's Open Mic Night, Friday Nov 15th!
Are you a talented or aspiring singing, songwriter, or poet? If you can say it or sing it into a mic, then SAB's Open Mic Night is the perfect place to showcase your talents or step out of your comfort zone. All are welcome to enjoy the supportive environment in Rademacher's Lounge on November 15th at 7:30 pm! If you would like to participate, please email nl72@evansville.edu, and we'll work out the logistics! We hope to see you there!
PS: Stick around to the end for a performance from our emcee, local musician Hudsy!
Submitted by Nick Lewis nl72@evansville.edu.
This Week In Music (November 11-17)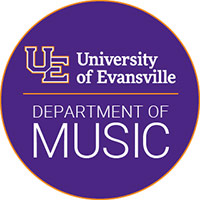 Wind Ensemble and Symphony Orchestra, Tuesday, November 12
7:30pm, Preston Arts Center, Henderson, KY
The UE Wind Ensemble and University Symphony Orchestra, conducted by Dr. Kenneth Steinsultz and Dr. Chun-Ming Chen, will perform on Tuesday Nov. 12. The program includes well-known film music, Dvorak's cello concerto, and a recent work entitled Elegy for Anne Frank. The performance will feature Jennifer Farny (cello) and Anne Fiedler (piano), along with Alanna Keenan as narrator. The concert is free and open to the public and will take place at the Preston Arts Center (2660 S. Green St. in Henderson).

Upcoming student recitals:
Saturday, November 16
Kristyn Grimwood, clarinet, senior recital, Neu Chapel, 4:00pm
Sunday, November 17
Griffin DeVoy, tenor, senior recital, Neu Chapel, 2:30pm
RESCHEDULED - Wellness Wednesday Lunch and Learn
The Office of Health Education encourages you to attend the Pep Rally at noon today, so we are rescheduling our Wellness Wednesday Lunch and Learn!
Th "Beating the Wintertime Blues" session will take place Monday 11/25 from 12-1pm in Eykamp 253-254.
Submitted by Jennifer Hargus jh693@evansville.edu.
Study abroad photo contest-submit your pictures this week!
The Harlaxton/study abroad office is running a photo contest over the next two weeks to celebrate International Education Week! If you have studied abroad at Harlaxton or anywhere else in the world, submit your photos for a chance to win some study abroad swag and the honor of having your photo displayed in the study abroad office hallway.
You can submit 1 photo per category below:
Purple Goes Global: We want to see how you showed your school spirit abroad! Share your photos wearing purple or UE gear!
The Great Outdoors: We'd love any pictures that highlight the environment and capture the beauty of where you studied!
Harlaxton: Harlaxton gets its own category because it's so popular and photogenic! Send us photos of your time at Harlaxton and around the manor.
Live Like a Local: Do you have any pictures of you engaging in local activities or participating in cultural traditions? Send them over!
Artistic Eye: Have any unique pictures that capture something special about your trip? Did you take a picture you think is particularly artistic? Send them in!
We will take submissions through Saturday, November 16, then voting will take place on social media throughout International Education Week, November 18-22 with the winners being announced on that Friday afternoon.
Ask any questions and submit your photos to Kaylynn McCalister in the study abroad office at kc205@evansville.edu or the office in SB 262.
Khan will give a presentation on , " Global Economic Outlook: Moving into 2020 and Beyond."
Walayet A. Khan, Professor of Finance, will give a presentation titled, "Global Economic Outlook: Moving into 2020 and Beyond" in the annual Economic Outlook Luncheon (2019) on November 12.00 at the Tropicana Hotel in the Walnut room. The description of the event in the words of the chamber is as follows.
The time of the event is 11:30am – 1pm. This is an annual Southwest Indiana Chamber event where seasoned professionals will predict what they feel the future holds for the world, country, state, and regional economy.
This event attracts chamber members, elected and appointed officials, key community leaders, and our strategic partners, SOLD-OUT for several years. For a sponsorship at this event or individual ticket sales, please contact Karen Robinson at Southwest Indiana Chamber office by calling 812-425-8147.
Reminder for all new incoming fall 2019 students~ Second dose of Meningitis B DUE by JANUARY 31st 2020!!
REMINDER! If you were a new incoming student to UE this 2019 fall semester, you must have your Meningitis B series completed and submitted to your MedProctor account by January 31st 2020. If you are going home during Thanksgiving or winter break, schedule your second dose to complete your Meningitis B series that is part of the admission requirements. This is only required for new students who entered University of Evansville FALL 2019 who has submitted only one dose of Meningitis B to MedProctor. Please call the Student Health Center at 812-488-2033 for any questions/concerns.
Trumenba- 2 doses required at least 6 months apart
Bexsero- 2 doses required at least 1 month apart
Submitted by Tara Ulrich tu19@evansville.edu.
Physical Therapy Research Participants Needed
Interested in learning more about your movement, core function, and balance?
Participants are needed for a research study conducted by University of Evansville Physical Therapy
faculty and students. This study is designed to collect information about basic movement and balance. You must be an adult at least 18 years old to participate.
It will take place on Saturday, November 16 at Stone Family Center for Health Sciences.

Click here to sign up
Appointments are limited!

Moving well keeps us going, propels us forward, and is the foundation for everything we do.
Submitted by Jennifer Simon js698@evansville.edu.
YWCA Goods Drive
The YWCA of Evansville strives to eliminate racism and empower women. Among the many services the YWCA offers is a domestic violence shelter, youth programs and scholarships, and multiple education programs on the effects of racism and how to eliminate it.
The YWCA provides a wishlist, found below, of items that they collect to distribute to the women and children that they work with. Delta Omega Zeta will be hosting a Goods Drive throughout the month of November to collect these items to donate to women and children in need for the Holiday season. Boxes are located in the Ridgway University Center, the Olmsted Administration Hall, Schroeder School of Business, and the Koch Center for Engineering and Science.
YWCA Wish List*
Body was/gel
Deodorant
Feminine Hygiene Products
Umbrellas
Laundry Baskets
Dish Towels
Shower Caddies
Paper Towels
Bath Towels/Washcloths
Twin Bed-in-a-Bag Sets
Craft and School Supplies
Lightweight blankets
Diapers (all sizes)
Sweat/Yoga Pants for Women (all sizes)
*Please note that we will only be accepting new, unused items
Submitted by Jessica Elmore je146@evansville.edu.
WBB Male Practice Players Needed!
The women's basketball team is looking for male practice players. Practices are weekdays from 3:30-5:30. The coaches ask you to come to a few practices a week and help scrimmage against the team to prepare them for upcoming opponents. If you are interested please contact Coach KP at kp204@evansville.edu.
Submitted by Kaitlynn Pacholke kp204@evansville.edu.
Flu Vaccines available at Student Health Center!
Protect yourself from the flu this season and get vaccinated! Flu vaccines are available at Student Health Center.
$20 Cash/Card payment options. No appointment necessary.
SHC Hours: Monday-Friday 8am-5pm
Other ways to protect yourself from the flu this season: use good hand hygiene, drink plenty of water, increase rest, take a daily multivitamin along with eating a well balanced diet, quit smoking and disinfect common surface areas daily.
Submitted by Tara Ulrich taraulrich4@gmail.com.
Congratulations
Congratulations to the students in the Electrical Engineering and Computer Science department who competed in the ICPC Mid-Central Regional Programming Contest on Saturday, November 2, at the University of Louisville site. The Evansville Purple team (pictured left to right), Justin Banks, Abdullah Aljandali, and Nhan Cao solved 4 problems to place 20th out of 123 teams in the Mid-Central region and 2nd out of 15 teams at the University of Louisville site. They won Raspberry Pi 3 kits for their efforts and placement. The Evansville Orange team consisting of Ruikun Wang, Darwin Yadav, and Linh Trinh solved 2 problems to place 86th in the region and 11th at the site.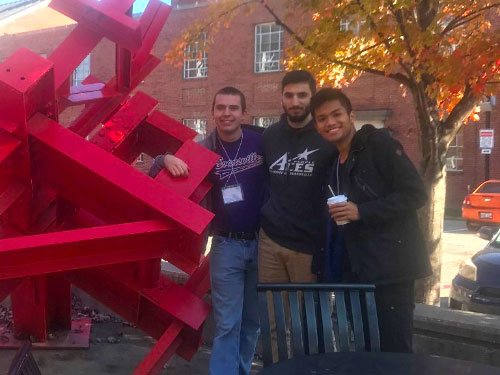 The Mid-Central region consists of Missouri, Arkansas, Illinois, Kentucky, and Tennessee plus schools near the boundary like UE that petition to compete in the region. The five-hour contest consisted of a total of 12 problems to be solved, and the goal is to solve as many problems as possible. University of Illinois won the contest solving all 12 problems. UIUC teams also placed 2nd, 4th, 6th, and 7th in the contest. University of Chicago placed 3rd and Truman State University placed 5th. University of Kentucky won the University of Louisville site also solving 4 problems, but faster than the Evansville Purple team.
Submitted by Vicky Hasenour vh12@evansville.edu.
UE Recognized for Internationalization Award
The University of Evansville is featured in the NAFSA: Association of International Educators 2019 edition of Internationalizing the Campus – Profiles of Success at Colleges and Universities (pp. 64-69). NAFSA is the world's largest nonprofit organization dedicated to international education and exchange. NAFSA's 10,000 members are located at more than 3,500 institutions worldwide, in over 150 countries. The Senator Paul Simon Spotlight Award was earned for UE Builds: Local and Global program where UE has successfully fostered global leadership through service-learning. The award commends the close university collaboration with both the local Habitat for Humanity chapter and Habitat's International Global Village initiative.
Congratulations to all involved with the prestigious award.
Submitted by Paula Heldt ph28@evansville.edu.
The Claybaugh Family
The School of Education family extends our deepest sympathies to the family of Pat Claybaugh.
Mrs. Claybaugh was an exceptional mentor teacher for many UE student interns and student teachers. Mrs. Pat was the recipient of the Outstanding Elementary Teacher of the Year Award in 2012, a teacher at Scott Elementary School for 44 years until her retirement, and a UE graduate. She will truly be missed.
Information regarding her services is listed below.
Funeral services will be held at 10:00 a.m. on Tuesday, November 12, 2019, at Trinity United Methodist Church, 216 SE 3rd Street, Evansville, IN 47713, officiated by Rev. Dr. Todd Gile, with entombment in Alexander Memorial Park. Friends may visit Monday, from 3:00 to 7:00 p.m. at Alexander West Chapel.
Black Death comes to Harlaxton
On Thursday 12 November Harlaxton we will be co-hosting an event with Lincoln University. Carenza Lewis, who you might remember as one of the archeologists from the TV show TimeTeam, is coming to give a lecture as part of the 2019 'Being Human' festival. This is the UK's only national festival of the humanities, and it brings together universities, museums, galleries, libraries with community and commercial partners in events held throughout November. Carenza's talk will be about the origins and impact of the Black Death.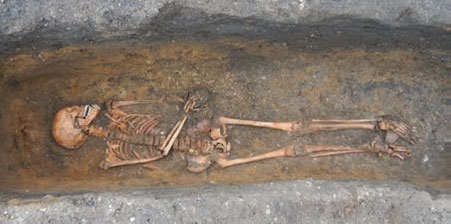 Carenza explains 'Being Human' is all about making world-class university research accessible to people across the UK and this year the University of Lincoln is a hub for the festival in the East Midlands. I'm delighted it's giving me the chance to come to Harlaxton to talk about the Black Death – one of History's greatest killers – to find out about the impact it had on our region, and how and where it survives today… I'm looking forward to hearing what questions the audience will be asking!'
Submitted by Nicola Boyle nb113@evansville.edu.
DeAndre Williams named MVC Newcomer of the Week
Scoring 26 points in his debut for the University of Evansville, sophomore DeAndre Williams was named the Missouri Valley Conference Newcomer of the Week on Monday.
Williams made a debut for the ages as the University of Evansville men's basketball team faced Ball State in the season opener on Saturday. Williams recorded a game-high 26 points on 11-of-14 shooting. He was 3-for-4 from outside.
He also led all players with 9 rebounds while recording 3 assists and a pair of steals in 28 minutes of work. Williams' effort was the best for an Evansville player in their program debut since December 1, 1986. That night, Marty Simmons scored 27 points versus Montana State. Interestingly enough, teammate Scott Haffner also made his debut that evening and scored 26.
"I am very proud and excited for his future as an Ace," UE head coach Walter McCarty said. "Knowing him, I know he will continue to challenge himself to continue getting better. He loved making plays for his teammates, so it is awesome that he is recognized for the award. It is very fitting."
Tomorrow, the Aces will be tanking on top-ranked Kentucky at 6 p.m. CT at Rupp Arena.
Contribute to AceNotes
To have content considered for inclusion in AceNotes, please submit a Marketing Request Form. Deadline for submission to AceNotes is 10:00 a.m. on the requested date of publication. Only articles concerning UE related/sponsored activities will be accepted. Articles submitted to AceNotes may be edited for length and clarity. Submitter contact information is at the end of each article.