| | |
| --- | --- |
| AceNotes Today | Thursday, November 7, 2019 |
UE Celebrates First Generation Students on November 8: Submit Your First Gen Story!
Are you the first in your family to go to college? If so, submit a paragraph and about what college means to you as a first generation student to uerelations@evansville.edu along with a selfie and we'll feature your story on UE social media on Friday, November 8!
The University of Evansville will participate in the third annual First Generation College Student Celebration on Friday, November 8. This event, hosted by the Council for Opportunity for Education (COE) in partnership with the Center for First-generation Student Success, is celebrated by institutions nation-wide.
November 8 marks the 54th anniversary of the signing of the 1965 Higher Education Act, which has helped millions of poor students become the first members of their families to earn college degrees.
Science, faith, or both?
Stop at Honeymoon Cafe, 6:15PM, on Thursday for an informal conversation about the relationship between science and religious faith. All perspectives are welcome. The first eight students to arrive will receive a free coffee or tea.
Submitted by JillAnn Knonenborg jk383@evansville.edu.
Tonight - Pulitzer-Prize Winning Author Eli Saslow Discusses "Rising Out of Hatred"
The Honors Program invites the campus community to join us for our common read speaking event, a presentation by Pulitzer-prize winning author Eli Saslow, today, November 7 at 7:00pm in Eykamp Hall. Mr. Saslow will be discussing his book, Rising Out of Hatred, which was the common read for Honors Program freshmen this year. The book tells the powerful story of former white supremacist Derek Black, son of Don Black, who founded the white supremacist website Stormfront, and godson of former KKK Grand Wizard David Duke. Derek was poised to become a leader in the white supremacist movement until his experiences at a small liberal arts college forced him to confront his beliefs. Rising Out of Hatred traces Derek's story from his foundations in white supremacy to his life-changing college friendships to the ultimate transformation in his belief system that led him to denounce white nationalism publicly in 2013. This event is free and open to the public.
Submitted by Jayme Williams jw504@evansville.edu.
Azzip Give-Back Night
On November 7, the UE Senior Nursing class is hosting an give-back night at Azzip pizza on North Green River Road to help benefit Borrowed Hearts Foundation. Borrowed Hearts is a foundation that was started to help foster children and foster families with basic necessities that may be needed.
Show the following flyer at the register: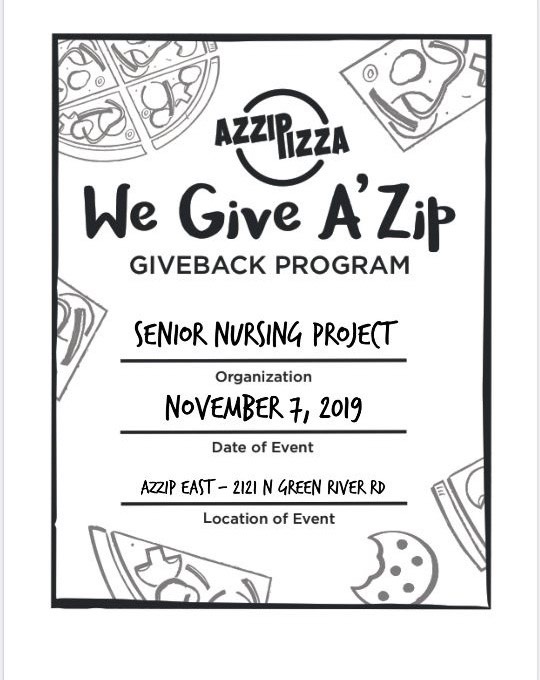 Submitted by Tracy Miles tm201@evansville.edu.
Diversity Coffee Hour featuring Student Government Association!
Diversity Coffee Hour is a fun event hosted by the Center for Diversity, Equity and Inclusion. Every Friday afternoon from 4-5 we'll meet at the Diversity Resource Center (located on Weinbach across from Hughes. The house with the purple door!) We'll have coffee, tea, and conversations about diversity and inclusion with a special guest from different groups represented on campus. This week's special guest is Theda Soldatou, president of Student Government Association. Join us for coffee, tea, and conversations!
If you have any questions or would like to represent a group on campus as a special guest, email me for more info!
Submitted by HarMonee Baltzell hb119@evansville.edu.
Reception for Stacey Shanks
Please join us to say good-bye to Stacey Shanks, Director of Academic Advising on Friday, November 8th noon-2:00pm in the lobby of Olmsted. We will be serving cake and punch.
Submitted by Teresa Haller th227@evansville.edu.
33rd Annual International Bazaar
FREE ADMISSIONS
The biggest event on campus is just around the corner! Come celebrate the diversity at UE in the most fun and exciting way on November 15th, 5-8 PM, at Ridgway University Center!
There will be many cultural booths and amazing performances, and you will be able to start your holiday shopping at our International Marketplace, where several non-profit organizations will be selling products to raise money for their respective causes!
The first 300 people will get an awesome souvenir!
Submitted by Hussam Taj ht70@evansville.edu.
Thinking About Retirement?
The University of Evansville established the Retirement Healthcare Savings Plan (RHSP) as a way to help you prepare
and pay for your medical expenses in retirement. As you get older, healthcare costs are likely to take up a larger
portion of your budget, and Medicare may not be enough.¹ You may also have access to group retiree health insurance
plan options that have no network restrictions and follow you wherever you live in the United States.
We hope you'll join us for a discussion to learn more about what your employer is doing to help you prepare for
healthcare expenses in retirement.
Thursday, November 21, 2019 1 p.m. to 2 p.m. SOBA, Smythe Lecture Hall, Room 170, 1st Floor
Need more information? Call the Emeriti Service Center at 866-363-7484 and press option #2, weekdays,
9 a.m. to 5:30 p.m. (ET).
Submitted by Lori LeDuc LL138@evansville.edu.
18th Annual Thomas C. Fiddick Memorial Lecture is Nov. 8th
Date: Friday, November 8, 2019
Start: 7:00pm
Location: Smythe Lecture Hall, Rm 170, Scroeder School of Business Building
LECTURE IS FREE AND OPEN TO THE PUBLIC
"The Traumatic Effects of the 1918-19 Influenza Epidemic"
The University of Evansville's Department of History is proud to welcome Susan Kent, Arts and Sciences Professor of Distinction at University Colorado, for the 18th Annual Thomas C. Fiddick Memorial Lecture.
Between 1918 and 1919, an influenza pandemic – often called the "Spanish Flu" – ravaged the world, killing at least 30 million people, and perhaps as many as 100 million. Professor Kent has said that "It proved more deadly than any other disease since the Black Death in the fourteenth century, and it killed more people than any other single event of the twentieth century except World War II." Her lecture will examine the worldwide impact of the flu on a variety of people and events and consider how the pandemic had the effect of influencing and even determining some of the most important issues of the interwar period.
Susan Kent is a prolific scholar and an acknowledged expert in several fields, including British History, Imperialism, and Gender History, as well as the history of the Spanish Flu. She is the author of The Global Influenza Pandemic of 1918-1919 (2012).
Submitted by Michelle Lehman ml281@evansville.edu.
Mike Marks: Efroymson Visiting Artist & Exhibition
SOMEWHERE BEHIND US
MIKE MARKS - PRINTMAKER
Melvin Peterson Gallery
Artist's Exhibition: October 28 – December 14, 2019
Artist in Residence: November 6-8
Student Workshop: Wednesday, November 6, 6:00pm
Artist's Reception & Public Gallery Lecture: Thursday, November 7
Reception: 6:30pm, Lecture: 7:00
Student Gallery Lecture: Friday, November 8, 10:00am
Gallery Hours:
Monday, Tuesday, Friday, Saturday: 12:00 – 3:00pm
Wednesday, Thursday: 12:00 – 6:00pm
For more information, contact the UE Art Department of Art at 812-488-2043
email art@evansville.edu, or visit our Facebook page: University of Evansville Department of Art & Melvin Peterson Gallery
Submitted by Corliss Chastain cc270@evansville.edu.
2019-20 CrWrtg Coffee Hour/ Wahnita DeLong Reading Featuring Margaret McMullan
Date: Wednesday, November 6, 2019
Start: 5:30pm
Location: Eykamp Hall, Room 251, Ridgway University Center
Margaret McMullan is the author of eight award-winning books including the novel In My Mother's House and the anthology Every Father's Daughter. Her work has appeared in USA Today, The Washington Post, The Huffington Post, The Los Angeles Times, The Chicago Tribune, among others. She received a NEA Fellowship and a Fulbright in Hungary to research her new book, Where The Angels Lived: One Family's Story of Loss, Exile, and Return.
Historical, authentic and family-oriented, WHERE THE ANGELS LIVED tells the tale of a somewhat parallel universe that exists even in the 21st century—dealings with Soviet-style bureaucracy; skepticism; anti-Semitism; and ironically the same sort of isolation and rejection Margaret McMullan's Jewish Hungarian family experienced in 1944 before they were forced into concentration camps. Straddling memoir and reportage, past and present, this story reminds us all that we can escape a country, but we can never escape history. She taught at the University of Evansville for 25 years, serving as chair of the Department of English, and she helped form the Department of Creative Writing. She was formerly the Melvin Peterson Endowed Chair in Literature and Creative Writing until she retired in 2015 to write full time.
Submitted by Michelle Lehman ml281@evansville.edu.
YWCA Goods Drive
The YWCA of Evansville strives to eliminate racism and empower women. Among the many services the YWCA offers is a domestic violence shelter, youth programs and scholarships, and multiple education programs on the effects of racism and how to eliminate it.
The YWCA provides a wishlist, found below, of items that they collect to distribute to the women and children that they work with. Delta Omega Zeta will be hosting a Goods Drive throughout the month of November to collect these items to donate to women and children in need for the Holiday season. Boxes are located in the Ridgway University Center, the Olmsted Administration Hall, Schroeder School of Business, and the Koch Center for Engineering and Science.
YWCA Wish List*
Body was/gel
Deodorant
Feminine Hygiene Products
Umbrellas
Laundry Baskets
Dish Towels
Shower Caddies
Paper Towels
Bath Towels/Washcloths
Twin Bed-in-a-Bag Sets
Craft and School Supplies
Lightweight blankets
Diapers (all sizes)
Sweat/Yoga Pants for Women (all sizes)
*Please note that we will only be accepting new, unused items
Submitted by Jessica Elmore je146@evansville.edu.
Added Section of Writing 205
The Department of Creative Writing has added a section of Writing 205 (sec. 04) for the spring 2020 semester. This course satisfies Outcome 5 and Overlay E Writing Across the Curriculum.
Submitted by Paul Bone pb28@evansville.edu.
Hiring Intramural Supervisor
Interested in becoming an Intramural Supervisor? Applications are open through this Friday, 11/8. Applications can be picked up outside of the IM office in the Fitness Center, or can be sent to you via email by contacting Drew at ah519.
Brief Intramural Supervisor Job Description
1. Attend all training sessions throughout the year.
2. Attend all weekly staff meetings.
3. Help the director with administrative aspects of the intramural program (event planning, event promotion and marketing, hiring of officials, game scheduling, scheduling of officials, record keeping, etc.)
4. Supervision (including set-up and take-down) of intramural events on assigned nights (typically 1 night per week).
5. Supervise the Fitness Center approximately 2 weekends per semester (Saturday & Sunday 11:15am-5:30pm).
6. Assist the director with all aspects of Bike Race.
7. Other duties as assigned by the director.

Approximate Weekly Time Commitment
The IM Supervisor's weekly time commitment will vary. A typical week may be:
Weekly Meeting - 30 minutes
Weekly Supervision - 3.5 hours to 5 hours (depends on the sport)
TOTAL - 4 to 5.5 hours
**Please keep in mind that extra hours will be worked when it is your turn to cover the Fitness Center and when your assigned sports are going on (captain's meetings, official's training, scheduling, etc.)
Pay
New supervisors are paid $10 per hour. Pay increases per year of experience up to $13 per hour. You will also earn $9 per game you officiate that you were a clinician for. You will receive a check or direct deposit bi-weekly.
Submitted by Drew Hawkins ah519@evansville.edu.
Nominations Are Now Open for December's Employee Excellence Award!
The University of Evansville, in pursuit of excellence in service, wishes to recognize monthly a non-faculty employee displaying records of achievement as a leader. Leadership may be demonstrated in any of the following categories:
• Service to the University community
• Service to students
• Job performance and attitude to fellow employees
One award is presented each month. To be eligible, an employee must be a full-time member of the administration or staff. Nominations are due before the 15th of each month. Nominations are now being accepted for the month of December!
Learn more about the award and submit your nomination online.
Submitted by Lori LeDuc LL138@evansville.edu.

WBB Male Practice Players Needed!
The women's basketball team is looking for male practice players. Practices are weekdays from 3:30-5:30. The coaches ask you to come to a few practices a week and help scrimmage against the team to prepare them for upcoming opponents. If you are interested please contact Coach KP at kp204@evansville.edu.
Submitted by Kaitlynn Pacholke kp204@evansville.edu.
Last day to drop with a "W"
Reminder Friday November the 8th at 5:00pm is the last day to drop a class with a "W". You cannot drop online. You will have to visit the Office of the Registrar. Olmsted Hall Room 116.
Submitted by Teresa Haller th227@evansville.edu.
New issue of the Crescent is out now!
The Crescent, University of Evansville's student magazine, is available for FREE right now to all students at magazine stands across the campus! This issue, LGBTQ+ individuals can legally marry their partners, but their fight for rights and survival isn't over. Pick up an issue on magazine racks across campus. The Crescent is a student magazine - by and for the students of the University of Evansville - that is published six times during the academic year. The Crescent serves as an open forum for the UE community. Copies are free to students and the goal is to present relevant content in a fair, accurate, and unbiased manner.
Submitted by Tim Young ty32@evansville.edu.
Flu Vaccines available at Student Health Center!
Protect yourself from the flu this season and get vaccinated! Flu vaccines are available at Student Health Center.
$20 Cash/Card payment options. No appointment necessary.
SHC Hours: Monday-Friday 8am-5pm
Other ways to protect yourself from the flu this season: use good hand hygiene, drink plenty of water, increase rest, take a daily multivitamin along with eating a well balanced diet, quit smoking and disinfect common surface areas daily.
Submitted by Tara Ulrich taraulrich4@gmail.com.
Winter Intersession Courses
Winter Intersession courses are held between the fall and spring semester from December 13, 2019 to January 3, 2020. Registration begins October 28. Students may register for one Winter Intersession course. For more information visit: www.evansville.edu/registrar.
Class Offerings:
ART 105 Introduction to the Visual Arts - Larmann
CHEM 103 The Chemistry of Adult Beverages - Miller
COMM 130 Introduction to Communication - Wandel
COMM 333 News Copyediting - Wandel
COMM 380 Intercultural Communication - Thomlison
COMM 395 Internship - Wandel
ES 103 Fundamentals of Environmental Science - Thananatthanachon
EXSS 320 Nutrition for Performance and Health - Rodd
EXSS 488 Internship - Rodd
EXSS 488 Internship - Wilson
HIST 112 World History Since 1500 - Gahan
HSA 406-506 Ethics in Health Care - Stroube
PH 190 Introduction to Public Health - Patel-Dovlatabadi
PSCI 100 World Politics - Kim
PSYC 121 Introduction to Psychology - Hennon
PSYC 229 Social Psychology - Stevenson
PSYC 416 Human Sexuality - Becker
SOC 105 Introduction to Sociology - Plikuhn
UE Recognized for Internationalization Award
The University of Evansville is featured in the NAFSA: Association of International Educators 2019 edition of Internationalizing the Campus – Profiles of Success at Colleges and Universities (pp. 64-69). NAFSA is the world's largest nonprofit organization dedicated to international education and exchange. NAFSA's 10,000 members are located at more than 3,500 institutions worldwide, in over 150 countries. The Senator Paul Simon Spotlight Award was earned for UE Builds: Local and Global program where UE has successfully fostered global leadership through service-learning. The award commends the close university collaboration with both the local Habitat for Humanity chapter and Habitat's International Global Village initiative.
Congratulations to all involved with the prestigious award.
Submitted by Paula Heldt ph28@evansville.edu.
Editorial Article on Building Essential CPA Skills with a Modified Monopoly Game in Rania Mousa's Accounting class.
Associate Professor of Accounting Rania Mousa has been featured on an editorial article titled, "Build Essential CPA Skills with a Modified Monopoly Game." The article has been posted on Course Hero website as part of the Faculty Club's Best Lessons initiative.
Course Hero is an online learning platform where over 30 million course-specific study resources are contributed by a community of students and educators. Last July, Mousa was invited by the organizers of Course Hero Summit in San Francisco to deliver an academic presentation on her research paper that has empirically tested the alignment of the game's self-reported learning outcomes with the AICPA Core Competency Framework over the course of five years. The research paper has been published in Accounting Research Journal.
Clark Kimberling publishes Research and Proposals
Clark Kimberling, professor of mathematics, and Peter Moses, an engineer in England, have an article in the Proceedings of the Eighteenth International Conference on Fibonacci Numbers and Their Applications, held at Dalhousie University, Halifax, Nova Scotia, July 2018. The article can be downloaded online, pages 96-110. Entitled "Linear Complementary Equations and Systems," the article introduces a formal definition of "linear complementary equation", along with classifications for such equations and methods for solving them. Dr. Kimberling is also the compiler of Problem Proposals, downloadable at the same URL, pages 170-183. These proposals were presented by participants at the Conference as new unsolved problems, to which have been added notes and a few solutions received during 2018-2019.
Contribute to AceNotes
To have content considered for inclusion in AceNotes, please submit a Marketing Request Form. Deadline for submission to AceNotes is 10:00 a.m. on the requested date of publication. Only articles concerning UE related/sponsored activities will be accepted. Articles submitted to AceNotes may be edited for length and clarity. Submitter contact information is at the end of each article.