| | |
| --- | --- |
| AceNotes Today | Tuesday, November 5, 2019 |
Congratulations to the Peters-Margedant House
The exhibition on the Peters-Margedant House and its architect William Wesley Peterson at the Evansville Museum of Arts, History, and Science has been extended until January 19, 2020. Built in 1934 by Frank Lloyd Wright's apprentice William Wesley Peters, the compact house served a family of six in its early years. Peters attended Evansville College from 1929-1930 before moving to Taliesin to work with Wright.
Submitted by Heidi Strobel hs40@evansville.edu.
This Week In Music (November 4-10)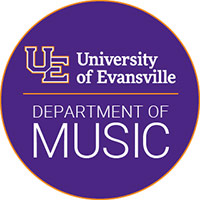 First Tuesday Concert Series, Tuesday, November 5
Music of Clara and Robert Schumann
7:30pm, Neu Chapel
The First Tuesday concert series continues on November 5 with the Music of Clara and Robert Schumann. UE joins many organizations worldwide who are celebrating the 200th anniversary of Clara Schumann's birth. Come to hear some great chamber music performed by UE faculty, as well as a short talk about the lives and works of these two fascinating composers.
UE Choral Ensembles, Sunday, November 10
6:00pm, Neu Chapel
Join us for an evening of beautiful and exciting choral music performed by the Women's Chorus, University Choir, and UE Choral Society. The program consists of numerous and widely varied short works, all written or arranged in the 20th and 21st centuries.
Submitted by Kristen Strandberg ks532@evansville.edu.
UE Graduate Programs Informational Meeting
Have you considered earning a master's degree to increase your career opportunities and earning potential after graduation? Did you know that you can start working towards a graduate degree while completing your undergraduate studies at UE? Please join us for FREE PIZZA on Tuesday, November 5th at 4PM in Graves Hall 240 and learn why now is the perfect time to consider a graduate degree from UE.
Represented programs include:
MS in Athletic Training
Master of Public Health
MS in Health Services Administration
MS in Leadership
For more information, contact Cindy Felts at cf128@evansville.edu.
Reception for Stacey Shanks
Please join us to say good-bye to Stacey Shanks, Director of Academic Advising on Friday, November 8th noon-2:00pm in the lobby of Olmsted. We will be serving cake and punch.
Submitted by Teresa Haller th227@evansville.edu.
33rd Annual International Bazaar
FREE ADMISSIONS
The biggest event on campus is just around the corner! Come celebrate the diversity at UE in the most fun and exciting way on November 15th, 5-8 PM, at Ridgway University Center!
There will be many cultural booths and amazing performances, and you will be able to start your holiday shopping at our International Marketplace, where several non-profit organizations will be selling products to raise money for their respective causes!
The first 300 people will get an awesome souvenir!
Submitted by Hussam Taj ht70@evansville.edu.
I-House: Culture Clash
For this week's I-House, we will be having a conversation on the rise of nationalism around the world. We will be having Dr. Wesley Milner who is the chief international officer at University of Evansville, briefly talk about nationalism and its worldwide perspective. We will also have a panel of International students from US, Brazil, and Pakistan share their thoughts and experiences with nationalism in their Countries. The event will be happening on the 2nd Floor of Ridgway Student Center at 7 pm! We hope to see you there!
Submitted by Hussam Taj ht70@evansville.edu.
TIAA Individual Counseling Appointments
The TIAA-CREF representative will be on the UE campus for individual counseling sessions on Tuesday, November 12 and Thursday, November 14, 2019. To schedule an appointment, call TIAA-CREF at 1-800-732-8353.
Please note that the meeting location has been changed to SOBA room 153, Eades Music Room.
Submitted by Lori LeDuc LL138@evansville.edu.
Thinking About Retirement?
The University of Evansville established the Retirement Healthcare Savings Plan (RHSP) as a way to help you prepare
and pay for your medical expenses in retirement. As you get older, healthcare costs are likely to take up a larger
portion of your budget, and Medicare may not be enough.¹ You may also have access to group retiree health insurance
plan options that have no network restrictions and follow you wherever you live in the United States.
We hope you'll join us for a discussion to learn more about what your employer is doing to help you prepare for
healthcare expenses in retirement.
Thursday, November 21, 2019 1 p.m. to 2 p.m. SOBA, Smythe Lecture Hall, Room 170, 1st Floor
Need more information? Call the Emeriti Service Center at 866-363-7484 and press option #2, weekdays,
9 a.m. to 5:30 p.m. (ET).
Submitted by Lori LeDuc LL138@evansville.edu.
18th Annual Thomas C. Fiddick Memorial Lecture is Nov. 8th
Date: Friday, November 8, 2019
Start: 7:00pm
Location: Smythe Lecture Hall, Rm 170, Scroeder School of Business Building
LECTURE IS FREE AND OPEN TO THE PUBLIC
"The Traumatic Effects of the 1918-19 Influenza Epidemic"
The University of Evansville's Department of History is proud to welcome Susan Kent, Arts and Sciences Professor of Distinction at University Colorado, for the 18th Annual Thomas C. Fiddick Memorial Lecture.
Between 1918 and 1919, an influenza pandemic – often called the "Spanish Flu" – ravaged the world, killing at least 30 million people, and perhaps as many as 100 million. Professor Kent has said that "It proved more deadly than any other disease since the Black Death in the fourteenth century, and it killed more people than any other single event of the twentieth century except World War II." Her lecture will examine the worldwide impact of the flu on a variety of people and events and consider how the pandemic had the effect of influencing and even determining some of the most important issues of the interwar period.
Susan Kent is a prolific scholar and an acknowledged expert in several fields, including British History, Imperialism, and Gender History, as well as the history of the Spanish Flu. She is the author of The Global Influenza Pandemic of 1918-1919 (2012).
Submitted by Michelle Lehman ml281@evansville.edu.
Eli Saslow to Discuss "Rising Out of Hatred" This Thursday
The Honors Program invites the campus community to join us for our common read speaking event, a presentation by Pulitzer-prize winning author Eli Saslow, this Thursday, November 7 at 7:00pm in Eykamp Hall. Mr. Saslow will be discussing his book, Rising Out of Hatred, which was the common read for Honors Program freshmen this year. The book tells the powerful story of former white supremacist Derek Black, son of Don Black, who founded the white supremacist website Stormfront, and godson of former KKK Grand Wizard David Duke. Derek was poised to become a leader in the white supremacist movement until his experiences at a small liberal arts college forced him to confront his beliefs. Rising Out of Hatred traces Derek's story from his foundations in white supremacy to his life-changing college friendships to the ultimate transformation in his belief system that led him to denounce white nationalism publicly in 2013.
Submitted by Jayme Williams jw504@evansville.edu.
Coffee and Careers: Law and Government
Please join the Center for Career Development in the November Coffee and Careers event. Learn more about careers in Law and Government!
November 6 from 4:00-5:00 PM in the Phillips Alcove, Ridgway University Center (across from WUEV)
Submitted by Donna Schmitt ds120@evansville.edu.
November 6th Andiron Lecture by Lesley Pleasant
Hunting my Grandfather's Antlers and other Hibernacula
By Lesley Pleasant
Associate Professor of German
Chair, Department of Foreign Languages and Cultures
Lesley C. Pleasant received her AB in German Studies from Dartmouth College and her PhD in German Literature from the University of Virginia. She teaches all levels of German language, literature, and culture, as well as International Film, First Year Seminar, and the senior capstone course for language majors. Her research interests include German theater/drama, the divided Germany, film, migration and national identity, as well as Animal Studies and Environmental Humanities.
Starting with the haunting self-portrait of Frieda Riess (the "lost" Berlin celebrity photographer of the twenties) with a parrot on her shoulder, this talk collects and shares literary, photographic, filmic, and sculptural depictions of non-human animals. Part reflection on mediated animals, part jaunt through Berlin zoos, part wild goose chase, its method will be tangential, anecdotal and potentially interactive.
Key Words (some of which may apply)
Seidenstücker * Kafka * Kleist * Tucholsky * virtual elephants * Gesine's Katze * Chandos' eel * Lolabelle * Barnum and Hagenbeck * Donkeys/Antidonkeys * Knautschke * Knut * Hertha * Krümmel * Tapsi * invisible hedgehogs * Schwein haben * white ravens * Geweih * glass jellyfish * ladybug collections * ape suits *Oster- and other Hasen * my grandmother's scarab
The lecture begins at 4:00 p.m.
Wednesday, November 6, 2019
Eykamp Hall (Room 252), Ridgway University Center
A social gathering with beverages begins at 3:45 p.m.
For further information, call Annette Parks at 812-488-1070
or the William L. Ridgway College of Arts and Sciences at 812-488-2589
Azzip Give-Back Night
On November 7, the UE Senior Nursing class is hosting an give-back night at Azzip pizza on North Green River Road to help benefit Borrowed Hearts Foundation. Borrowed Hearts is a foundation that was started to help foster children and foster families with basic necessities that may be needed.
Show the following flyer at the register: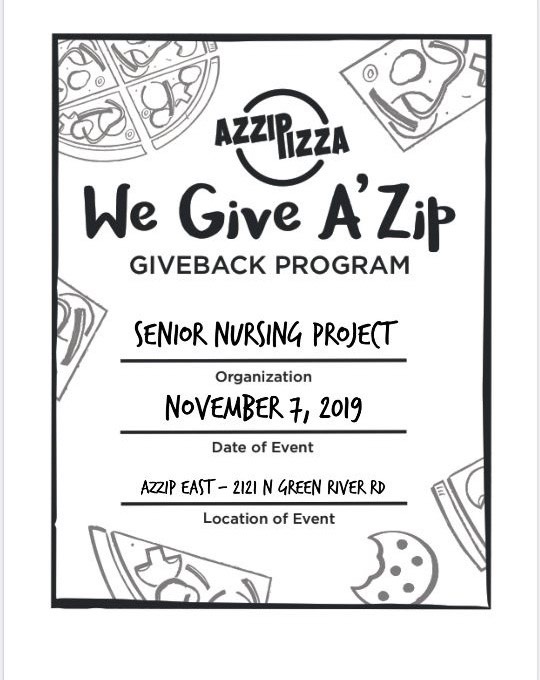 Submitted by Tracy Miles tm201@evansville.edu.
Mike Marks: Efroymson Visiting Artist & Exhibition
SOMEWHERE BEHIND US
MIKE MARKS - PRINTMAKER
Melvin Peterson Gallery
Artist's Exhibition: October 28 – December 14, 2019
Artist in Residence: November 6-8
Student Workshop: Wednesday, November 6, 6:00pm
Artist's Reception & Public Gallery Lecture: Thursday, November 7
Reception: 6:30pm, Lecture: 7:00
Student Gallery Lecture: Friday, November 8, 10:00am
Gallery Hours:
Monday, Tuesday, Friday, Saturday: 12:00 – 3:00pm
Wednesday, Thursday: 12:00 – 6:00pm
For more information, contact the UE Art Department of Art at 812-488-2043
email art@evansville.edu, or visit our Facebook page: University of Evansville Department of Art & Melvin Peterson Gallery
Submitted by Corliss Chastain cc270@evansville.edu.
2019-20 CrWrtg Coffee Hour/ Wahnita DeLong Reading Featuring Margaret McMullan
Date: Wednesday, November 6, 2019
Start: 5:30pm
Location: Eykamp Hall, Room 251, Ridgway University Center
Margaret McMullan is the author of eight award-winning books including the novel In My Mother's House and the anthology Every Father's Daughter. Her work has appeared in USA Today, The Washington Post, The Huffington Post, The Los Angeles Times, The Chicago Tribune, among others. She received a NEA Fellowship and a Fulbright in Hungary to research her new book, Where The Angels Lived: One Family's Story of Loss, Exile, and Return.
Historical, authentic and family-oriented, WHERE THE ANGELS LIVED tells the tale of a somewhat parallel universe that exists even in the 21st century—dealings with Soviet-style bureaucracy; skepticism; anti-Semitism; and ironically the same sort of isolation and rejection Margaret McMullan's Jewish Hungarian family experienced in 1944 before they were forced into concentration camps. Straddling memoir and reportage, past and present, this story reminds us all that we can escape a country, but we can never escape history. She taught at the University of Evansville for 25 years, serving as chair of the Department of English, and she helped form the Department of Creative Writing. She was formerly the Melvin Peterson Endowed Chair in Literature and Creative Writing until she retired in 2015 to write full time.
Submitted by Michelle Lehman ml281@evansville.edu.
Nominations Are Now Open for December's Employee Excellence Award!
The University of Evansville, in pursuit of excellence in service, wishes to recognize monthly a non-faculty employee displaying records of achievement as a leader. Leadership may be demonstrated in any of the following categories:
• Service to the University community
• Service to students
• Job performance and attitude to fellow employees
One award is presented each month. To be eligible, an employee must be a full-time member of the administration or staff. Nominations are due before the 15th of each month. Nominations are now being accepted for the month of December!
Learn more about the award and submit your nomination online.
Submitted by Lori LeDuc LL138@evansville.edu.

WBB Male Practice Players Needed!
The women's basketball team is looking for male practice players. Practices are weekdays from 3:30-5:30. The coaches ask you to come to a few practices a week and help scrimmage against the team to prepare them for upcoming opponents. If you are interested please contact Coach KP at kp204@evansville.edu.
Submitted by Kaitlynn Pacholke kp204@evansville.edu.
Last day to drop with a "W"
Reminder Friday November the 8th at 5:00pm is the last day to drop a class with a "W". You cannot drop online. You will have to visit the Office of the Registrar. Olmsted Hall Room 116.
Submitted by Teresa Haller th227@evansville.edu.
November Goods Drive: YWCA Domestic Violence Shelter
Throughout the month of November, DOZ and Dr. Nikolidakis will be collecting goods for the Domestic Violence Shelter at the YWCA. YWCA pioneered the first safe residence and child care center in the nation, and YWCA is the largest provider of women's shelters and domestic violence services in the country, serving over 500,000 women and children annually.
You will notice collection boxes across campus starting on November 1 and ending on November 30. Goods must be new, and the YWCA's specifically has needs for: deodorant, body wash/gel, bath towels, washcloths, umbrellas, paper towels, feminine products, laundry baskets, shower caddies, school and craft supplies, yoga pants of all sizes, diapers of all sizes, lightweight blankets, and twin size bed-in-a-bag sets.
We really hope that the UE community will join us in making a difference in these women's lives.
Submitted by Lisa Nikolidakis ln43@evansville.edu.

New issue of the Crescent is out now!
The Crescent, University of Evansville's student magazine, is available for FREE right now to all students at magazine stands across the campus! This issue, LGBTQ+ individuals can legally marry their partners, but their fight for rights and survival isn't over. Pick up an issue on magazine racks across campus. The Crescent is a student magazine - by and for the students of the University of Evansville - that is published six times during the academic year. The Crescent serves as an open forum for the UE community. Copies are free to students and the goal is to present relevant content in a fair, accurate, and unbiased manner.
Submitted by Tim Young ty32@evansville.edu.
Flu Vaccines available at Student Health Center!
Protect yourself from the flu this season and get vaccinated! Flu vaccines are available at Student Health Center.
$20 Cash/Card payment options. No appointment necessary.
SHC Hours: Monday-Friday 8am-5pm
Other ways to protect yourself from the flu this season: use good hand hygiene, drink plenty of water, increase rest, take a daily multivitamin along with eating a well balanced diet, quit smoking and disinfect common surface areas daily.
Submitted by Tara Ulrich taraulrich4@gmail.com.
Winter Intersession Courses
Winter Intersession courses are held between the fall and spring semester from December 13, 2019 to January 3, 2020. Registration begins October 28. Students may register for one Winter Intersession course. For more information visit: www.evansville.edu/registrar.
Class Offerings:
ART 105 Introduction to the Visual Arts - Larmann
CHEM 103 The Chemistry of Adult Beverages - Miller
COMM 130 Introduction to Communication - Wandel
COMM 333 News Copyediting - Wandel
COMM 380 Intercultural Communication - Thomlison
COMM 395 Internship - Wandel
ES 103 Fundamentals of Environmental Science - Thananatthanachon
EXSS 320 Nutrition for Performance and Health - Rodd
EXSS 488 Internship - Rodd
EXSS 488 Internship - Wilson
HIST 112 World History Since 1500 - Gahan
HSA 406-506 Ethics in Health Care - Stroube
PH 190 Introduction to Public Health - Patel-Dovlatabadi
PSCI 100 World Politics - Kim
PSYC 121 Introduction to Psychology - Hennon
PSYC 229 Social Psychology - Stevenson
PSYC 416 Human Sexuality - Becker
SOC 105 Introduction to Sociology - Plikuhn
Editorial Article on Building Essential CPA Skills with a Modified Monopoly Game in Rania Mousa's Accounting class.
Associate Professor of Accounting Rania Mousa has been featured on an editorial article titled, "Build Essential CPA Skills with a Modified Monopoly Game." The article has been posted on Course Hero website as part of the Faculty Club's Best Lessons initiative.
Course Hero is an online learning platform where over 30 million course-specific study resources are contributed by a community of students and educators. Last July, Mousa was invited by the organizers of Course Hero Summit in San Francisco to deliver an academic presentation on her research paper that has empirically tested the alignment of the game's self-reported learning outcomes with the AICPA Core Competency Framework over the course of five years. The research paper has been published in Accounting Research Journal.
Scott Peace Receives November's Employee Excellence Award!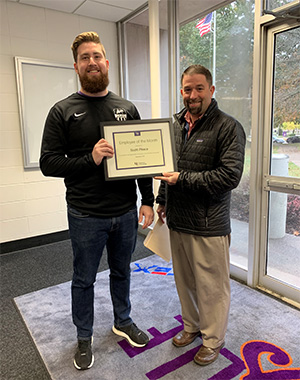 Scott Peace is constantly working with students through Purple Reign and other organizations to help develop a sense of pride in the University of Evansville, and especially UE's athletic teams. Scott strives to deepen the support of the Purple Aces with new and exciting ways to encompass the sense of community we all love about UE. His passion for the students and teams of UE is contagious and very much appreciated!
Submitted by Lori LeDuc LL138@evansville.edu.
Music Department Receives Grants
The Department of Music has seen success with recent grant proposals to help support it's upcoming activities. The George L. Mesker Music Trust will once again fund this year's Holiday Pops Concert, and the Indiana Arts Commission/Regional Arts Partners will help support the 2020 Summer Music Camp. Pictured here is Thomas Josenhans receiving the IAC grant from Anne Shoemaker McKim of the Arts Council of Southwestern Indiana.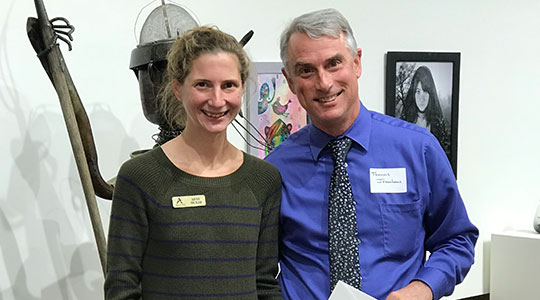 Submitted by Sylvia DeVault sy5@evansville.edu.
WOMEN'S BASKETBALL EDUCATION DAY! *Ticket Office Hours Notice*
The Athletic ticket office will be closed from 8AM until 3PM as staff will be working at the Ford Center. Women's Basketball is hosting Brecia for education day at 11AM! General public tickets are just $5 and faculty and staff are free with their UE ID at the interior box office window.
Students can claim their ticket by entering through the walnut Skybridge entrance!
For immediate assistance please text 812-488-2237.
Contribute to AceNotes
To have content considered for inclusion in AceNotes, please submit a Marketing Request Form. Deadline for submission to AceNotes is 10:00 a.m. on the requested date of publication. Only articles concerning UE related/sponsored activities will be accepted. Articles submitted to AceNotes may be edited for length and clarity. Submitter contact information is at the end of each article.