| | |
| --- | --- |
| AceNotes Today | Friday, November 1, 2019 |
Congratulations to the Peters-Margedant House
The exhibition on the Peters-Margedant House and its architect William Wesley Peterson at the Evansville Museum of Arts, History, and Science has been extended until January 19, 2020. Built in 1934 by Frank Lloyd Wright's apprentice William Wesley Peters, the compact house served a family of six in its early years. Peters attended Evansville College from 1929-1930 before moving to Taliesin to work with Wright.
Submitted by Heidi Strobel hs40@evansville.edu.
UE Hosting We The People on November 4
Over 180 middle and high school students will be on campus on Monday, November 4 to take part in the annual We the People competition. The We The People: The Citizen and the Constitution Program aims to promote civic competence and responsibility among Indiana's elementary, middle and high school students. This year marks the first time UE has hosted this competition. The competitors have been busy studying the U.S. Constitution throughout the semester, and Monday's 8th District winners will advance to the state finals in December. Thanks to everyone on and off campus who has worked to bring this opportunity to the competitors and the University of Evansville. For more information about We The People, visit the Indiana Bar Foundation.
Submitted by Cindy Kelley ck116@evansville.edu.
TIAA Individual Counseling Appointments
The TIAA-CREF representative will be on the UE campus for individual counseling sessions on Tuesday, November 12 and Thursday, November 14, 2019. To schedule an appointment, call TIAA-CREF at 1-800-732-8353.
Please note that the meeting location has been changed to SOBA room 153, Eades Music Room.
Submitted by Lori LeDuc LL138@evansville.edu.
Thinking About Retirement?
The University of Evansville established the Retirement Healthcare Savings Plan (RHSP) as a way to help you prepare
and pay for your medical expenses in retirement. As you get older, healthcare costs are likely to take up a larger
portion of your budget, and Medicare may not be enough.¹ You may also have access to group retiree health insurance
plan options that have no network restrictions and follow you wherever you live in the United States.
We hope you'll join us for a discussion to learn more about what your employer is doing to help you prepare for
healthcare expenses in retirement.
Thursday, November 21, 2019 1 p.m. to 2 p.m. SOBA, Smythe Lecture Hall, Room 170, 1st Floor
Need more information? Call the Emeriti Service Center at 866-363-7484 and press option #2, weekdays,
9 a.m. to 5:30 p.m. (ET).
Submitted by Lori LeDuc LL138@evansville.edu.
Diversity Coffee Hour featuring Muslim Student Association!
Diversity Coffee Hour is a fun event hosted by the Center for Diversity, Equity and Inclusion. Every Friday afternoon from 4-5 we'll meet at the Diversity Resource Center (located on Weinbach across from Hughes. The house with the purple door!) We'll have coffee, tea, and conversations about diversity and inclusion with a special guest from different groups represented on campus. This week's special guest is Abdul Ashraf, president of the Muslim Student Association. Join us for coffee, tea, and conversations!
If you have any questions or would like to represent a group on campus as a special guest, email me for more info!
Submitted by HarMonee Baltzell hb119@evansville.edu.
UE Graduate Programs Informational Meeting
Have you considered earning a master's degree to increase your career opportunities and earning potential after graduation? Did you know that you can start working towards a graduate degree while completing your undergraduate studies at UE? Please join us for FREE PIZZA on Tuesday, November 5th at 4PM in Graves Hall 240 and learn why now is the perfect time to consider a graduate degree from UE.
Represented programs include:
MS in Athletic Training
Master of Public Health
MS in Health Services Administration
MS in Leadership
For more information, contact Cindy Felts at cf128@evansville.edu.
Coffee and Careers: Law and Government
Please join the Center for Career Development in the November Coffee and Careers event. Learn more about careers in Law and Government!
November 6 from 4:00-5:00 PM in the Phillips Alcove, Ridgway University Center (across from WUEV)
Submitted by Donna Schmitt ds120@evansville.edu.
P.R.I.D.E. Walk
Come join in the first ever UE PRIDE Walk and show ya pride! Saturday, November 2, 2-4pm starting on the East Terrace Lawn!
Submitted by Paige Kirkey pk55@evansville.edu.
University Worship
Join us for singing, prayer, and meditation on Sunday, November 3, as we celebrate All Saints Day. Service begins in Neu Chapel at 7:30PM. All perspectives and identities are welcome.
Submitted by JillAnn Knonenborg jk383@evansville.edu.
Veterans Day Program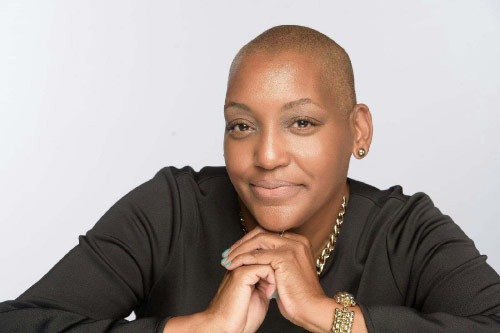 Annual Veterans Day Program
November 11, 2019, at 11 am
Location: Neu Chapel Sanctuary
Speaker: Ms. Melissa C. Moorehead- UE Alumnae and Navy Veteran
The campus community, alumni, and friends are invited to celebrate Veterans Day on campus for our annual
Veterans Day service.
Special Guest: Melissa C. Morehead
Speaker, Community Leader, Mentor, Media Personality
Melissa C. Morehead is a native of Evansville, Indiana, and enjoys serving as a speaker, community leader, mentor, and media personality. She proudly served in the United States Navy and was honorably discharged after serving 9.5 years. Her military career afforded her a life that she will never forget and is so grateful for. From serving alongside men and women who were considered her extended family to a being the first woman in her military division to accomplish goals that men in her division said could not be done. Morehead is a graduate from the University of Evansville with a BS in global leadership development. She is a member of the University of Evansville African American Alumni, where she won the 2017-18 Office of Diversity Initiatives UEAAA Mentor of the Year award and a proud alumna of Leadership Evansville. Currently, Melissa works as a federal government employee with the Social Security Administration with over 20 years as a dedicated public servant. She is also the host of Community Chat, a radio program that can be heard every Saturday morning at 9 AM on 98.5 FM, WEOA. She believes in encouraging, empowering, and educating women in the areas that seem to go unnoticed, and that is SELF.
Sponsored by: Office of Veterans Affairs
Submitted by Dr. Tracey Folden tf91@evansville.edu.
Delta Omega Zeta Presents Family Feud
This year Delta Omega Zeta will be hosting Family Feud this year on November 1st at 6pm in Eykamp 251. This year will be raising money and goods for the YWCA located in Evansville. The YWCA is dedicated to eliminating racism, empowering women and promoting peace, justice, freedom and dignity for all. YWCA provides multiple housing programs and after school and mentoring programs. Housing programs include a domestic violence shelter, emergency housing, and a residential recovery program that help women and families in need. Along with the mentoring program, YWCA provides a scholarship opportunity for children when they reach the college age.
Teams require 4 people and cost $15/teams. Attendance is $5/person, or you may choose to donate a new, unused item from YWCA's wishlist, located below. Ticket tables in Ridgway will begin Monday, October 21st.
Please contact Jessica Elmore at je146@evansville.edu with any quesetions.
November 6th Andiron Lecture by Lesley Pleasant
Hunting my Grandfather's Antlers and other Hibernacula
By Lesley Pleasant
Associate Professor of German
Chair, Department of Foreign Languages and Cultures
Lesley C. Pleasant received her AB in German Studies from Dartmouth College and her PhD in German Literature from the University of Virginia. She teaches all levels of German language, literature, and culture, as well as International Film, First Year Seminar, and the senior capstone course for language majors. Her research interests include German theater/drama, the divided Germany, film, migration and national identity, as well as Animal Studies and Environmental Humanities.
Starting with the haunting self-portrait of Frieda Riess (the "lost" Berlin celebrity photographer of the twenties) with a parrot on her shoulder, this talk collects and shares literary, photographic, filmic, and sculptural depictions of non-human animals. Part reflection on mediated animals, part jaunt through Berlin zoos, part wild goose chase, its method will be tangential, anecdotal and potentially interactive.
Key Words (some of which may apply)
Seidenstücker * Kafka * Kleist * Tucholsky * virtual elephants * Gesine's Katze * Chandos' eel * Lolabelle * Barnum and Hagenbeck * Donkeys/Antidonkeys * Knautschke * Knut * Hertha * Krümmel * Tapsi * invisible hedgehogs * Schwein haben * white ravens * Geweih * glass jellyfish * ladybug collections * ape suits *Oster- and other Hasen * my grandmother's scarab
The lecture begins at 4:00 p.m.
Wednesday, November 6, 2019
Eykamp Hall (Room 252), Ridgway University Center
A social gathering with beverages begins at 3:45 p.m.
For further information, call Annette Parks at 812-488-1070
or the William L. Ridgway College of Arts and Sciences at 812-488-2589
Azzip Give-Back Night
On November 7, the UE Senior Nursing class is hosting an give-back night at Azzip pizza on North Green River Road to help benefit Borrowed Hearts Foundation. Borrowed Hearts is a foundation that was started to help foster children and foster families with basic necessities that may be needed.
Show the following flyer at the register: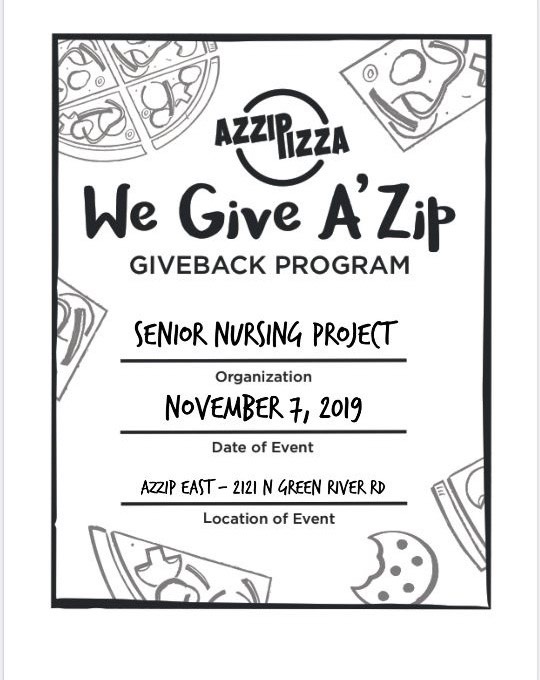 Submitted by Tracy Miles tm201@evansville.edu.
Mike Marks: Efroymson Visiting Artist & Exhibition
SOMEWHERE BEHIND US
MIKE MARKS - PRINTMAKER
Melvin Peterson Gallery
Artist's Exhibition: October 28 – December 14, 2019
Artist in Residence: November 6-8
Student Workshop: Wednesday, November 6, 6:00pm
Artist's Reception & Public Gallery Lecture: Thursday, November 7
Reception: 6:30pm, Lecture: 7:00
Student Gallery Lecture: Friday, November 8, 10:00am
Gallery Hours:
Monday, Tuesday, Friday, Saturday: 12:00 – 3:00pm
Wednesday, Thursday: 12:00 – 6:00pm
For more information, contact the UE Art Department of Art at 812-488-2043
email art@evansville.edu, or visit our Facebook page: University of Evansville Department of Art & Melvin Peterson Gallery
Submitted by Corliss Chastain cc270@evansville.edu.
2019-20 CrWrtg Coffee Hour/ Wahnita DeLong Reading Featuring Margaret McMullan
Date: Wednesday, November 6, 2019
Start: 5:30pm
Location: Eykamp Hall, Room 251, Ridgway University Center
Margaret McMullan is the author of eight award-winning books including the novel In My Mother's House and the anthology Every Father's Daughter. Her work has appeared in USA Today, The Washington Post, The Huffington Post, The Los Angeles Times, The Chicago Tribune, among others. She received a NEA Fellowship and a Fulbright in Hungary to research her new book, Where The Angels Lived: One Family's Story of Loss, Exile, and Return.
Historical, authentic and family-oriented, WHERE THE ANGELS LIVED tells the tale of a somewhat parallel universe that exists even in the 21st century—dealings with Soviet-style bureaucracy; skepticism; anti-Semitism; and ironically the same sort of isolation and rejection Margaret McMullan's Jewish Hungarian family experienced in 1944 before they were forced into concentration camps. Straddling memoir and reportage, past and present, this story reminds us all that we can escape a country, but we can never escape history. She taught at the University of Evansville for 25 years, serving as chair of the Department of English, and she helped form the Department of Creative Writing. She was formerly the Melvin Peterson Endowed Chair in Literature and Creative Writing until she retired in 2015 to write full time.
Submitted by Michelle Lehman ml281@evansville.edu.
UE Students and Employees Receive Discount Offer for THE COLOR PURPLE Musical
UE students and employees can receive discount tickets to the national touring production of THE COLOR PURPLE, playing at 7 pm, Monday, November 4, at the Old National Events Plaza's Aiken Theatre, 715 Locust Street. For special ticket pricing of only $28, call 812.437.8300 and use the code "UE." The ticket office is open Monday through Friday, 10 am to 5 pm. Tickets can also be purchased at the door.
THE COLOR PURPLE received the 2016 Tony Award for Best Musical Revival. Hailed as a "direct hit to the heart" (The Hollywood Reporter), this joyous American classic has conquered Broadway in an all-new "ravishingly re-conceived production that is a glory to behold" (The New York Times). With a soul-raising, Grammy-winning score of jazz, gospel, ragtime and blues, THE COLOR PURPLE gives an exhilarating new spirit to this Pulitzer Prize-winning story. Don't miss this stunning re-imagining of an epic story about a young woman's journey to love and triumph in the American South.
Submitted by Sharla Cowden sc75@evansville.edu.
November Goods Drive: YWCA Domestic Violence Shelter
Throughout the month of November, DOZ and Dr. Nikolidakis will be collecting goods for the Domestic Violence Shelter at the YWCA. YWCA pioneered the first safe residence and child care center in the nation, and YWCA is the largest provider of women's shelters and domestic violence services in the country, serving over 500,000 women and children annually.
You will notice collection boxes across campus starting on November 1 and ending on November 30. Goods must be new, and the YWCA's specifically has needs for: deodorant, body wash/gel, bath towels, washcloths, umbrellas, paper towels, feminine products, laundry baskets, shower caddies, school and craft supplies, yoga pants of all sizes, diapers of all sizes, lightweight blankets, and twin size bed-in-a-bag sets.
We really hope that the UE community will join us in making a difference in these women's lives.
Submitted by Lisa Nikolidakis ln43@evansville.edu.

2 Laser Toner Cartridges Available
The office of residence life has 2 spare laser toner cartridges available. They are office depot brand, compatible with HP CE250A (black) and HP CE253A (magenta). If your department can use them, please contact Brian Conner at bc32 or x1107.
Submitted by Brian Conner bc32@evansville.edu.
Aurora's Holiday Adopt-A-Client
The holiday season is upon us, and Aurora is seeking donors to "adopt" individuals and/or families by purchasing gifts for the holidays. Aurora's mission is "Creating solutions to prevent and striving to end homelessness in our community." The Office of Community Service Initiatives is searching for student organizations, departments, or individuals to "adopt" these families. The individuals are given a sheet to fill out with the items that they are requesting which include two clothing or household items and one specialty item. The individuals range in age and families range between 1-6 individuals. As a general rule, one individual will roughly cost $40.00 to $80.00 dollars, depending on the items requested and the expense range of the items being purchased. In the past, the most requested item was a winter coat.
In order for the Office of Community Service Initiatives to request an accurate amount of clients, please email Karyssa Vasquez at kv54@evansville.edu with the information below by November 4th, 2019.
Please provide this information:
1. The name of the student organization or department
2. The point person for your student organization or department
3. The point person's email
4. The number of individuals you can "adopt" between 1-6
Items are due by Reading/Study Day on December 5th, 2019 at 4:00pm to the Center for Student Engagement.
Aurora is planning to make matches starting next week. Once Aurora sends the matches, then a follow up email will be sent to the point person for the organization or department with the guideline information, the client's requests, and a donation form that needs to be filled out. We appreciate you sharing your joy and warmth this holiday season!
Submitted by Karyssa Vasquez kv54@evansville.edu.
New issue of the Crescent is out now!
The Crescent, University of Evansville's student magazine, is available for FREE right now to all students at magazine stands across the campus! This issue, LGBTQ+ individuals can legally marry their partners, but their fight for rights and survival isn't over. Pick up an issue on magazine racks across campus. The Crescent is a student magazine - by and for the students of the University of Evansville - that is published six times during the academic year. The Crescent serves as an open forum for the UE community. Copies are free to students and the goal is to present relevant content in a fair, accurate, and unbiased manner.
Submitted by Tim Young ty32@evansville.edu.
INTERCULTURAL COMMUNICATION (COMM 380) OFFERED ONLINE IN WINTER SESSION
COMM 380 Intercultural Communication offered ONLINE in Winter Intersession
Would one class that fulfills several general education requirements and teaches you valuable life skills interest you? Do you want to reduce your course load during the regular fall or spring semesters? How would you like to take such a course NO MATTER WHERE you plan to be during winter break?
If you answered yes to any of these questions, you should consider enrolling in COMM 380 ONLINE (Intercultural Communication) in the Winter Intersession.
COMM 380 meets criteria for General Education Outcome 9 (Understanding of Core Concepts of Society, Human Behavior, and Civic Knowledge) and Overlay Component A (Diversity: International Component). It is also the only upper-level course to meet this outcome.
For more information contact Dr. Dean Thomlison at dt4@evansville.edu.
Submitted by Dean Thomlison dt4@evansville.edu.
Scott Peace Receives November's Employee Excellence Award!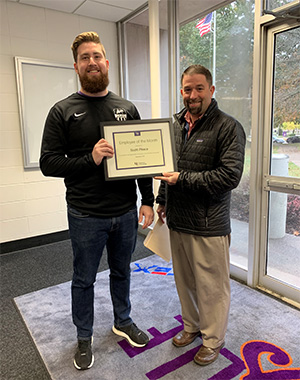 Scott Peace is constantly working with students through Purple Reign and other organizations to help develop a sense of pride in the University of Evansville, and especially UE's athletic teams. Scott strives to deepen the support of the Purple Aces with new and exciting ways to encompass the sense of community we all love about UE. His passion for the students and teams of UE is contagious and very much appreciated!
Submitted by Lori LeDuc LL138@evansville.edu.
Professor Katie Mullins has two essays and a poem come out this week
Outside of having nearly weekly articles coming out at UnderwaterSunshine.com, where she is the executive writer, Katie Mullins had two personal essays picked up— one at "Entropy" contrasting her disorder with Art Alexakis of Everclear's recent record about his MS and one about her stroke at "Hobart"— and a poem about Dr. Phil driving her to the back doctor.
Volleyball set for three matches in four days
A busy weekend is on tap for the University of Evansville volleyball team with three matches in four days. The Purple Aces take to the road on Friday and Saturday for matches at Loyola and Valparaiso before coming home on Monday for a 6 p.m. contest against Bradley inside Meeks Family Fieldhouse.

It's Official
- Fernando Morales was named the full-time head coach at the University of Evansville on October 30, 2019
- Morales joined the program as an assistant in 2018 before being elevated to interim head coach in the spring of 2019
- The native of Puerto Rico led the Aces to their best start in nine seasons while seeing his played break numerous program records

Weekend Recap
- Evansville fell in a pair of weekend matches against Drake and UNI, dropping each match in five sets
- The Bulldogs took a 2-0 lead on Friday before the Aces stormed back with wins in the third and fourth games; Drake clinched the win with a 15-8 decision in the fifth set
- On Saturday, it was the Aces taking the early advantage, winning the first two games against the Panthers
- UNI rallied with two wins to force another fifth set, edging UE by a 15-12 final
- Alondra Vazquez led the offense over the weekend with 4.20 kills while Allana McInnis notched 11.10 assists per set
- Gabriela Macedo broke the program single-match dig mark against Drake, tallying 46

Top Rankings
- UE is not only near the top of the conference rankings in several categories, but is also impressive on a national scale
- With 39.28 attacks per set, the Aces offense ranks fourth in the nation
- Led by Gabriela Macedo's 5.89 digs per set, the Aces average 17.84 per game
- That total is 10th in the NCAA and third in the Valley
- Macedo's tally paces the MVC and is 6th in the country
- Evansville is fourth in the league and 47th in the NCAA with 12.53 assists per set while the teams kill total of 13.38/game is 51st nationally and fourth in the conference
- Individually, Melanie Feliciano is second in the Valley with 4.26 kills per set; she ranks 30th in the nation in that stat and is the #2 freshman
- Feliciano's season total of 395.0 points is 21st in the country
- UE's freshman is 19th in the NCAA in total kills with 362 while Rachel Tam is 23rd with a total of 347
- Allana McInnis is second in the conference with 10.79 assists per set; her average is 30th in the NCAA while her total of 917 helpers in 2019 is the 6th-highest tally in the NCAA
- Hannah Watkins paces UE with 1.04 blocks per game; that is third in the MVC

Digging into the Record Book
- Fresh off of another record-breaking performance, University of Evansville senior Gabriela Macedo was recognized by the Missouri Valley Conference with her third Defensive Player of the Week award.
- Macedo set a program single-match dig record while posting the second-most in MVC history with 46 digs on Friday against Drake; for the weekend, Macedo averaged an unbelievable 6.70 digs per set with a total of 67 in ten sets of work
- Macedo's 46 digs against the Bulldogs was the most in any 5-set match in the NCAA in 2019
- For the season, Macedo is averaging 5.89 per set; her total leads the MVC and is 6th in the country

Scouting the Opposition
- Loyola will be the first opponent of the weekend and comes into the match with a 15-8 overall mark while going 8-2 through their first 10 MVC matches
- Addie Barnes and Taylor Venuto lead the Ramblers with 2.98 and 2.85 kills per set, respectively
- Maddy Moser leads the way with 5.05 digs per game

- Valparaiso starts the weekend with an 8-16 record and stand at 3-7 in the Valley
- Offensively, Peyton McCarthy has a team-best 2.90 kills per set while Rylee Cookerly provides a steady force on the defensive side of the ball, averaging 5.12 digs

- Bradley is 10-11 on the season but have improved in league play, going 6-4 so far
- Hannah Thompson has a team-high 3.17 kills per frame while Rachel Pranger checks in at 2.96
- Hannah Thompson paces the Braves with 4.81 digs
Contribute to AceNotes
To have content considered for inclusion in AceNotes, please submit a Marketing Request Form. Deadline for submission to AceNotes is 10:00 a.m. on the requested date of publication. Only articles concerning UE related/sponsored activities will be accepted. Articles submitted to AceNotes may be edited for length and clarity. Submitter contact information is at the end of each article.