| | |
| --- | --- |
| AceNotes Today | Monday, October 21, 2019 |
Celebrating Student Successes with Merit
The University of Evansville uses Merit, an online service that helps us celebrate and share your accomplishments. From research and academic awards to study abroad, volunteer work and co-curricular activities, our students' Merit page is a verified professional profile that we build for you, and that you can share with prospective employers, graduate schools and others. We'll also use the system to notify your hometown newspaper, high schools, and families about your accomplishments. More than 300 colleges and universities around the country now use Merit.

You don't have to do anything to maintain your Merit page. If you wish, you can enhance it with a photo, bio, other activities or work experience.

You'll get an email each time we update your Merit page. Follow the link in the email to sign into your page and see what you've been recognized for. You can also search for your Merit page at Evansville.meritpages.com

If you prefer not to participate, you can opt out at any time by responding to the email you receive from Merit. Questions can be directed to Amanda Campbell in University Relations. We're excited to promote your success on your Merit page!

Alcohol Awareness Week Table
As part of National Collegiate Alcohol Awareness Week, the office of Health Education is hosting a table downstairs in Ridgway from 11am-2pm. When we have information and feel educated, we can then make better informed decisions when it comes to our drinking. Stop by the table to get information on standard drink sizes, blood alcohol concentration (BAC), and knowing how much is too much.
Submitted by Jennifer Hargus jh693@evansville.edu.
Maximize Your Buzz Alcohol Speaker
This is a seminar about personal values. "Don't Drink" is not a part of the strategy. Rather, they encourage students to understand who they are and what's most important to them. If you HATE lectures, you'll LOVE this!
"Alcohol Is Not About Drinking; It's About Who You Are."
It's about knowing who you are to make better choices
Know why you are drinking so you're not forced into it.
When does a lot become too much?
Design a drinking plan…your five-step plan for maximizing your buzz.
When: Wednesday October 23 from 7-8pm
Where: Eykamp 251
Submitted by Jennifer Hargus jh693@evansville.edu.
Medical Spanish
Medical Spanish practice is designed to help students practice communication skills in Spanish for medical settings. Students may arrive and leave at any time. The next session is this Wednesday, October 23, from 5:30-7:00 p.m. in Room 64 in the Schroeder School of Business Building. Please contact associate professor of Spanish Diana Rodríguez Quevedo at dr130@evansville.edu for more details. ¡Nos vemos el miércoles!
Submitted by Diana Rodriguez Quevedo dr130@evansville.edu.
This Week in Music (October 21-27)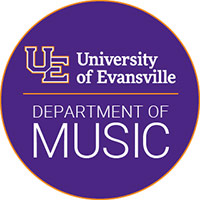 Faculty Recital, Tuesday, October 22
Alan Snow, violin
7:30pm, Neu Chapel
Alan Snow, violin, will perform a recital on Tuesday, October 22, at 7:30 p.m. in Neu Chapel. The program includes an exciting mix of virtuoso repertoire, Latin American music, and recent compositions. Joining Snow will be Alexei Tretick and Joanne Chang on piano, as well as James Hanford on banjo.
Student Recital
Sunday, October 27
Rico Martinez, trumpet, senior recital, Neu Chapel, 4:00pm
Annual Fall Campout
Come join Venturing Crew on our annual fall campout! Explore Lincoln's boyhood home, hiking through the surrounding area, see the fall colors from a fire tower, and camp out under the stars! Sign-ups are in Ridgway, the 22nd-24th, 11am-1pm and 5pm-7pm.
Submitted by Madelyn Reinagel venturing@evansville.edu.
Championship Ballroom Dance Teacher Back on 10/25!
Back by popular demand! The UE Ballroom Club is proud to once again present Jonah Schneider - 2016 Top Latin Teacher at the Fred Astaire World Championships and Rising Star American Rhythm Champion at Ohio Star Ball. He will be in town on 10/25 to offer private and group lessons. If you are interested, email Erin Lewis (EL131@evansville.edu) for more information on available time slots. Don't miss out!
Submitted by Erin Lewis el131@evansville.edu.
Federal loan repayment counseling session for graduating students
Students who have received Federal Direct (sub/unsub) Loans and plan to graduate in the fall (or transfer after the fall semester) are required to attend a loan repayment counseling session. The Office of Student Financial Services will hold the first session of the semester on Wed., November 13th at 11:30 a.m. in Eykamp Hall, Room 252, Ridgway University Center.
Submitted by Amy Sowders as560@evansville.edu.
Founder and CEO of the Empowerment Plan to Speak at UE'S FREE Snyder Lecture on October 29
Founder and CEO of the Empowerment Plan, Veronika Scott, will be the guest speaker for the University of Evansville's Patricia H. Snyder Lecture in October. The lecture is planned for Tuesday, October 29, at 7:00 p.m., in Eykamp Hall, Ridgway University Center, on UE's campus. The event is free and open to the public thanks to the generosity of the Snyder family.
Empowerment Plan is an organization centered around the idea of a specialized coat being made for homeless people. The multipurpose coat is waterproof and self-heated, and can be transformed into a sleeping bag. In addition to the coat initiative, the organization provides jobs for homeless women, allowing them to get back on their feet and find a place to live. These efforts have garnered Scott some recognition, and she was named a "CNN Hero" by the network in 2016.
"Changemaking is engrained in the culture at the University of Evansville, and Veronika Scott's work directly fits into that mindset," said Abigail Werling, UE's vice president for university advancement. "We encourage and empower our students here to make powerful and enduring change, and this story will be an inspiration toward those efforts."
The Patricia H. Snyder Concert and Lecture Series was made possible in 1997 through an endowment from the late Patricia H. Snyder, trustee and longtime friend of the University, to bring speakers or performers of renown to Evansville at no cost to the public.
Reservations are encouraged, but a ticket is not required to enter. Save your seat online today!
2019-20 CrWrtg Coffee Hour/ Wahnita DeLong Reading Featuring Margaret McMullan
Date: Wednesday, November 6, 2019
Start: 5:30pm
Location: Eykamp Hall, Room 251, Ridgway University Center
Margaret McMullan is the author of eight award-winning books including the novel In My Mother's House and the anthology Every Father's Daughter. Her work has appeared in USA Today, The Washington Post, The Huffington Post, The Los Angeles Times, The Chicago Tribune, among others. She received a NEA Fellowship and a Fulbright in Hungary to research her new book, Where The Angels Lived: One Family's Story of Loss, Exile, and Return.
Historical, authentic and family-oriented, WHERE THE ANGELS LIVED tells the tale of a somewhat parallel universe that exists even in the 21st century—dealings with Soviet-style bureaucracy; skepticism; anti-Semitism; and ironically the same sort of isolation and rejection Margaret McMullan's Jewish Hungarian family experienced in 1944 before they were forced into concentration camps. Straddling memoir and reportage, past and present, this story reminds us all that we can escape a country, but we can never escape history. She taught at the University of Evansville for 25 years, serving as chair of the Department of English, and she helped form the Department of Creative Writing. She was formerly the Melvin Peterson Endowed Chair in Literature and Creative Writing until she retired in 2015 to write full time.
Submitted by Michelle Lehman ml281@evansville.edu.
Photographer on campus October 22-24
The Office of Marketing and Communications will have a photographer on campus for a photo shoot Tuesday, October 22, through Thursday, October 24. UE students and faculty have always been very cooperative and accommodating during previous shoots. As a result, many great photos have been taken for the University's website and publications. We will try to notify faculty in advance if photos will be taken in a particular class; however, weather may force the shoot inside, and it is possible that last minute requests will be made. If faculty members know that they will be giving a test or do not wish to have their class photographed any of these days, please inform Emily Wilderman at ext. 2829 and the classroom will be avoided.
Submitted by Kim McDonald km117@evansville.edu.
Honorary Degree Committee Welcomes Your Suggestions
The Honorary Degree Committee looks forward to receiving your recommendations for honorary degrees to be conferred next spring at commencement. We need your help in selecting accomplished individuals to receive one of our university's highest honors. Nominations may be made on the basis of individual service to the University or individual achievement that exemplifies the University's mission. Recently selected persons have excelled in a variety of areas -- law, medicine, education, business, literature, politics, and entertainment. The committee will forward nominations to President Pietruszkiewicz so he can make his recommendations to the faculty for their approval. Please email the following information to Robert Dion, committee chairperson, at rd35@evansville.edu, by Monday, November 11: Your name, the name of your nominee, the rationale for your nomination, biographical information on the nominee, and contact information for the nominee. Thank you in advance for your ideas.
UE Senior Nursing Project T-shirts
The senior nursing class is selling T-shirts to help fund their community project. This years community project will benefit Borrowed Hearts Foundation. This foundation was created to provide basic necessities to children in foster care and the foster families. The order form and payment can either be dropped off in the Nursing Office at Graves Hall or you can contact Emily Sullender via email at es249. Please help us out and order a T-shirt today!
Submitted by Tracy Miles tm201@evansville.edu.
Apply to be a Resident Assistant
Apply to be a Resident Assistant for the Spring 2020 Academic Semester!
Applications are open on UEngage.
Applications are due October 22nd at midnight.
Please fill out the application to the best of your ability and answer all questions with as much detail as possible. You will be required to submit a résumé as well as two references. Interview times should be chosen through the link at the end of the application. Interviews are between October 28th and October 30th and interviews are mandatory, unless you have an emergency, class, or prior conflict. Dress is business casual for interviews. Please let us know ASAP if that is the case so we can schedule a different time for your interview.
If you have any questions or concerns please feel free to contact Megan King at mk255@evansville.edu or Karyssa Vasquez at kv54@evansville.edu.
Submitted by Karyssa Vasquez kv54@evansville.edu.
UE Volleyball opens weekend with road sweep at SIU
In the first stretch of a weekend road trip, the University of Evansville volleyball team picked up a huge victory over Southern Illinois, earning a 3-0 win over the Salukis on Friday evening.

"The girls showed a lot of heart staying in the game and winning the close sets; that gave us the confidents to start strong in the third set," UE coach Fernando Morales said. "After losing the last two games, we really needed this win for our confidence. I think we were putting too much pressure on ourselves and hopefully this win takes that away."

Evansville's (13-5, 4-3 MVC) offense was led by a 16-kill match from senior Rachel Tam. Alondra Vazquez finished the night with 14 while Melanie Feliciano added 10. Allana McInnis recorded 39 assists while Hannah Watkins added six blocks. Vazquez posted a team-high 18 digs while Gabriela Macedo had 16.

Hannah Becker was the top performer for the Salukis (10-11, 2-5 MVC), notching 12 kills. Rachel Maguire tied for the match-high with 18 digs. Alayna Martin added 16.

UE took a 5-2 lead in the first set with Gabriela Macedo registering a leadoff service ace to get the team going. Southern Illinois rallied right back and took their first lead at 9-7. The Aces answered with a 6-1 stretch when Vazquez posted consecutive kills that helped Evansville go up by a 13-10 score. Midway through the set, the Salukis looked like they were in control when an error by the Aces gave SIU a 20-17 edge.

Southern Illinois was on the brink of a win as they continued to hold a 24-22 lead. That is when Evansville turned the tides thanks to some pinpoint serving. Following an SIU service error, Elena Redmond had an ace that tied it up at 24-24. With the score knotted at 25-all, a kill by Vazquez brought up Laura Ruiz to serve. She had the clinching point on an ace of her own to finalize a 27-25.

In game two, SIU reeled off the first three points before the Aces began to inch their way back. Another kill by Vazquez helped UE tie it up for the first time at 6-6. Things continued to be close before the Aces made a late rally and looked to be on the verge of a win. With the score tied at 18-18, UE scored the next four as Tam had a kill while SIU committed three errors. Southern Illinois never gave up and battled back to tie it at 24-24. The teams went back and forth before Vazquez helped UE take the lead for good. Her kill made it a 28-27 lead before an SIU error helped the Aces take a 2-0 match lead with a 29-27 win.

Evansville put its best foot forward to begin the third frame, scoring the first four points before jumping out to a 16-5 advantage. Macedo had another ace in the opening moments before Feliciano recorded her first ace of the night to give UE a 9-2 lead. A pair of Saluki errors marked the final two points of the run. Despite trailing by 11, SIU made a comeback attempt, getting within three points at 20-17 before the Aces clinched the match with a 25-18 victory.

Tomorrow, UE is right back on the floor with a road match at Missouri State. Set for a 6 p.m. start, the match will be carried on ESPN+.
Lowry Continues Win Streak at UE Invitational
The University of Evansville men's and women's cross country team hosted the UE Invitational Saturday morning at Angle Mounds Historical Site.

As a team the women finished in third place with three top-20 finishes, while the men took fifth with also three top-20 finishes.

Winning her fourth consecutive individual title, Anna Lowry took the even by blazing an 18:17.4 time of a tough course. Lowry finished 21 seconds ahead of the next fastest runner giving her a sizable victory.

Bones Parker finished in 16th place with a 19:40.0 pace, followed by Jenna Fehrenbacher at 19:53.0 19th place finish.

Sarah Poltrack (20:15.8) and Izzy Dawson (20:24.4) finished in 21st and 22nd place respectively, rounding out the Aces scoring five.

Dawson Hood marked a new personal best 8K time with a 26:07.3 10th place finish. Ricky Hendrix came up next with a 26:25.0 15th place finish.

Stanley Chepchieng, also finishing in the top-20, ran a 26:39.4 8K, while Kalen Ochs (26:39.4) and Phil Dzienciol (27:45.3) wrapped up the top-five finishers for the Aces.

Evansville has finished out the regular season and will next be in action at the Missouri Valley Conference Championship on November 2, hosted by Valparaiso.
Vazquez and Feliciano Power Aces Past Missouri State
It was a big night for the University of Evansville volleyball team as the Purple Aces earned a 3-1 road win at Missouri State. The win halted a 12-match skid against the Bears while the huge weekend MVC road sweep saw the Purple Aces move into a tie for 4th place in the league with a 3-game lead on 7th place. The top six squads advance to the conference tournament.

"We were expecting a good weekend after what we saw in practice during the week," Aces coach Fernando Morales commented after the win. "I think we were putting too much pressure on ourselves over the last couple of matches. The girls worked hard, had fun and we saw the results."

Leading UE (14-5, 5-3 MVC) was Alondra Vazquez, who recorded 14 kills and had another double-double with 21 digs. Melanie Feliciano notched 13 kills on the night. Gabriela Macedo led everyone with 32 digs while Allana McInnis had a match-high 39 assists. Patricia Joseph added three blocks in the winning effort.

Missouri State (5-17, 2-6 MVC) saw Amelia Flynn finish with 18 kills while Laynie Dake had 17.

Evansville made its first big push in the opening frame, posting seven in a row when trailing 8-7. Feliciano had a pair of kills in the run while McInnis added flawless serving. MSU overcame the 14-8 deficit to tie the match up at 16-16 with an 8-2 run. After the Aces retook a 19-16 advantage on a Cecilia Thon ace, Missouri State rallied once again to tie it at 20-20, but an MSU service error gave UE the lead for good and they hung on for a 25-23 win to open the night.

In the second frame, a furious run by the Bears saw them tie the match at 1-1. With the score tied at 8-8, MSU finished the set on a 17-5 run to take a 25-13 win. The Aces rebounded in a big way in game three, opening up an 8-4 lead. They would never let the Bears threaten in the set as UE retook a 2-1 lead with a 25-18 decision. Missouri State got within a pair at 9-7, but a kill by Vazquez put UE back on track and they pulled away from there.

The fourth set saw the Aces get off to another 8-4 lead with Macedo posting a service ace to open the frame. Missouri State chipped away at the deficit before eventually tying it up at 15-15. Evansville came back to score the next two and never relinquished the lead from there as they took the set by a 25-22 final to clinch a 3-1 win in the match.

Following the road trip, the Aces will return home for another big weekend of league action. UE welcome Drake to Meeks Family Fieldhouse for a 6 p.m. tilt on Friday before facing UNI in a 5 p.m. contest on Saturday.
Faculty & Staff MBB Men's Basketball Ticket Process. *Important Updates*
Basketball season is officially here! Beginning Monday October 21st UE Faculty and Staff are able to request their "2" complimentary tickets for the 10/28/2019 exhibition game against USI at 6pm.
*Staff must present THEIR OWN ID upon requesting their tickets at Carson Center Ticket Office between the hours of 8:30am and 5pm.
**Location of seats is at the sole discretion of UE Athletics
Submitted by Jake Hill jh690@evansville.edu.
Contribute to AceNotes
To have content considered for inclusion in AceNotes, please submit a Marketing Request Form. Deadline for submission to AceNotes is 10:00 a.m. on the requested date of publication. Only articles concerning UE related/sponsored activities will be accepted. Articles submitted to AceNotes may be edited for length and clarity. Submitter contact information is at the end of each article.