| | |
| --- | --- |
| AceNotes Today | Monday, October 14, 2019 |
Active Shooter Drill Planned for Fall Semester – Practice "Run" only
The Evansville Police Department will be conducting an unannounced Active Shooter Drill some time during the fall semester. We will be focusing on the "Run" aspect of Run, Hide, Fight. All members of the campus community are expected to participate in the drill. Note: no simulated gun-fire will be used. The drill will commence via Ace Alert and the Active Threat Siren notification system. DURING THE DRILL, PLEASE DO NOT MOVE VEHICLES AND DO NOT CALL 911.
When responding to the upcoming active shooter drill, we will focus on the "RUN" portion of RUN, HIDE, FIGHT. When running, please stay within the "campus block" ( i.e. don't cross Lincoln, Walnut, Weinbach, Rotherwood) or proceed to safest distance.
How is campus notified of an active shooter?
A special siren (Listen to the siren) will sound if there is an active threat on the campus. Specific information will be relayed via Ace Alerts text messaging, email, and on-campus computer and phone stations.
RUN, HIDE, FIGHT
Unless there are specific instructions to Shelter in Place, each individual should determine for themselves if they should Run, Hide, or Fight. This decision should be made after considering the information available at the time. Note: for this drill, practice Run only.
RUN – If you believe you can safely run away from the danger, law enforcement believes this is the best option.
HIDE – If you cannot run away from the danger, law enforcement encourages individuals to hide from the threat. If a door can be locked, lock the door. If not, consider if there is another way to create a barricade.
FIGHT – If running away or hiding is not an option and the threat is inevitable – don't give up. Fight. Look for make-shift weapons. What can be thrown at the threat that can cause them to become disoriented and disarmed?
VIEW THE "RUN, HIDE, FIGHT" VIDEO
The Best Preparation
The best preparation is to always consider what options are available given your current location. Where are the exits?
Additional information can be obtained from the Safety and Security website.
Entrepreneurship Club - October 14th
Join the Entrepreneurship Club on Monday, October 14th as we welcome local entrepreneur Zac Parsons to speak about his success and experience!
Zac is Co-Owner and Operator of Honey Moon Coffee Co.
Soon to open their THIRD location, Honey Moon has rapidly become a staple in the Evansville coffee community.
When: October 14th at 5:00pm
Where: SOBA Room 162
Please RSVP to Rebecca Oates at ro32@evansville.edu. Pizza will be provided for those students who RSVP.
Submitted by Rebecca Oates ro32@evansville.edu.
UE STUDENTS-- Flu shot Blitz Information
Flu Shots will be available in the Student Health Clinic
October 14th and 16th from 1:00-5:00 PM each day. This event is open to UE Students. The flu shots are $20.00; cash or card payment accepted- unable to charge student account. Appointments are not necessary for this event.
Submitted by Tara Ulrich tu19@evansville.edu.
UExplore Engineering Program
The College of Engineering and Computer Science at the University of Evansville is offering a UExplore Engineering Program for high school students. The program is designed to give participants a better understanding of the fields of civil, mechanical, electrical, and computer engineering and computer science through activities, hands-on projects, and tours of local industry.
The sessions in the program are October 14, November 4, November 25, January 20, February 10, March 2, March 30, and April 20. All sessions will be from 6:00-7:15 p.m. in the Koch Center for Engineering and Science on UE's campus.
James Allen, UE associate professor of mechanical and civil engineering, is the advisor for the program. A registered professional engineer in the states of Indiana and Ohio, Allen has extensive work experience in industry. Allen will be assisted with the program by UE engineering students.
The registration fee for the program is $50.
Register online or contact Kimberly Higgins for more information at 812-488-2661 or kh209@evansville.edu.
Reception for Samantha Scott
Please stop by Fiscal Affairs and Accounting on Friday, October 18, 2019, from 2 to 3:30 to say goodbye to Samantha Scott, the UE Controller and wish her good luck on her next big adventure. There will be cake!
Submitted by Michele Adams ma72@evansville.edu.
Celebrate Embrace's One Year Anniversary!
Join Embrace Marketing and Communications in celebrating our one year anniversary! We will be hosting a booth in Ridgway on Tuesday, October 15th, from 10:00-1:00. Come for free food! We hope to see you there.
Embrace is a student-run marketing agency sponsored by UE's Changemaker program. Under the guidance of marketing expert Joe Ellsworth, we built the agency from scratch. Our first of its kind team is made up of Communications and Business majors; developing real-world marketing skills by working with real clients - and real stakes.
Over the past year, we have worked with almost two dozen clients and are constantly developing new relationships. While most agencies require months to gain footing in their communities, we began working with our first client in our first month of operation and turned a profit in our first year! Currently, Embrace manages accounts for local and regional businesses ranging from small operations to Fortune 500 companies.
To learn more, visit and like our Facebook page and follow our Instagram, @embrace_marcomm!
Submitted by Grant Burnett gb90@evansville.edu.
Investing and Investing Careers Today
Edward A. Burgess, CFA, Senior Vice President and Chief Investment Officer of Equitable Trust Company, Nashville, TN, will be speaking to UE students at 4.00 p.m. in SOBA 170 on October 16,2019. The title of his presentation will be: "Investing and Investing Careers Today".
Ed has 35 years' experience in investment management. Prior to his current position, he worked for SunTrust Bank and Robinson Humphrey. He received a BA in journalism from Washington & Lee University and an MBA from Emory University. He holds the Chartered Financial Analyst's designation.
For questions, please contact Walayet A. Khan, professor of finance. The event is free and open to public.
Submitted by Walayet Khan wk3@evansville.edu.
This Week in Music (October 14-20)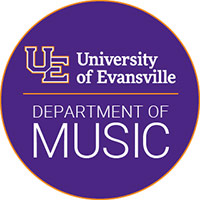 Guest Recital, Tuesday, October 15
Duo Orduz-Garcia, clarinet and piano
7:30 Neu Chapel
The chamber music duo Orduz-Garcia will perform on Tuesday, October 15 at 7:30pm in Neu Chapel. The duo was founded in 2012 in Medellín, Colombia, by pianist Ana María Orduz-Espinal and clarinetist Jose García-Taborda. They aim to research and broadcast the musical heritage of Latin America, as well as commission new repertoire. Their concert, featuring historical and recent works by various Latin America composers, is free and open to the public.

Guest Recital, Friday, October 18
Edwards/Redekopp, duo-pianists
7:30 Neu Chapel
Duo pianists Edwards and Redekopp will perform a recital on Friday, October 18, at 7:30pm in Neu Chapel. Mark Edwards is the organist, pianist, and harpsichordist of Baker Memorial United Methodist Church in St. Charles IL and maintains a studio as an independent teacher of piano, organ, and harpsichord. Karin Redekopp Edwards is professor of piano at Wheaton College, IL. Recognized as accomplished soloists, each performs regularly with orchestra, in recital and in chamber music concerts. As a duo, they have performed and recorded around the world. Their performance at UE includes music by Brahms and Haydn, as well as more recent works including a piece written for the duo in 2014. The concert is free and open to the public.
UE Theatre opens Shanklin Theatre Season with the classic tale "The Three Musketeers"
The University of Evansville Theatre proudly presents THE THREE MUSKETEERS, by Megan Monaghan Rivas, inspired by the novel of Alexandre Dumas. A bold, new version of this beloved classic tale is set in 17th-century France but reimagined in a world where men and women are equally empowered. In the true fashion of "musketeering," these familiar characters engage in daring and romantic adventures with bravado, flamboyance, and valiant ideals. This theatrical re-telling mixes witty wordplay with swashbuckling sword fighting and fast-paced action culminating in a sensational story sure to leave audiences believing in the heroic motto, "One for all, and all for one!" This production opens Friday, Oct. 18, at 7:30 p.m., in the Shanklin Theatre. Additional performances are at 7:30 p.m. on Oct. 19, 24, 25, 26 and at 2:00 p.m. on Oct. 20 and 27.
THE THREE MUSKETEERS is guest directed by Tlaloc Rivas. Department Chair Eric Renschler serves as the scenic designer; Assistant Professor Sarah J. Smith is the costume designer; Associate Professor Stephen Boulmetis serves as the lighting designer; Sidney McCarty, a senior from Clarksville, Tenn., is the sound designer; Professor Diane Brewer serves as the dramaturg; Olivia Bast, a junior from Austin, Texas, is the stage manager; Professor Chuck Meacham serves as the technical director, and Assistant Professor Janel Miley is the vocal/dialect coach.
The cast features Kate Milazzo, from Carmel, Ind., as Aramis; Alexander James Hunter, from Conifer, Colo., as Rochefort; Amanda Cowan, from Mansfield, Texas, as Queen Anne; Grace Maddux, from Dubuque, Iowa, as Milady; Jackson Burnham, from Houston, Texas, as Cardinal-Duke Richelieu; Ethan Davenport, from Minneapolis, Minn., as Athos; Madeline Malinowski, from Pocatello, Idaho, as Planchet; Liam Johnson, from Wardsboro, Vt.., as Bonacieux; Evan Lawson, from Arvada, Colo., as Porthos; Jordan Williams, from, Edmonds, Wash., as D'Artagnan; Bailey Lomax, from Sellersburg, Ind., as Captain Treville; Lillie Kolich, from Albuquerque, N.M., as Constance; David Akinwande, from Houston, Texas, as King Louis XIII; McAllister Stowell, from Lakewood, Colo., as Lord Buckingham. Players include Justin Pappas, from Boulder, Colo.; Luke Moran, from Mount Vernon, Iowa; Kelly Walsh, from Hollywood, Fla.; Connor DeWolfe, from Overland Park, Kan.; Rebecca Alley, from Temple, Texas; and Jake Conrad, from Olympia, Wash.
Ticket prices are $18 for an adult and $16 for a senior adult, child/student, and UE employee. UE students may obtain one free student rush ticket beginning at 12 noon on the day of the performance they wish to attend. The UE Theatre Society hosts a Pre-Play Chat 30 minutes prior to the show on Thursday, Oct. 24, and Saturday, Oct. 19. All are welcome to attend the presentation and discussion with a student designer about their process on the production.
Season subscriptions are on sale now and include the three Shanklin Theatre productions: THE THREE MUSKETEERS, plus, the heart-stirring musical VIOLET, with music by Jeanine Tesori and lyrics and book by Brian Crawley, and THE SEAGULL, by Anton Chekhov, adapted by Tom Stoppard. Subscription prices for the three-play package are $46 for an adult and $40 for a senior adult, child/student, and UE employee. Tickets may be purchased by calling (812) 488–2031, Monday through Friday, 12 noon to 5 p.m.
Submitted by Sharla Cowden sc75@evansville.edu.
Federal loan repayment counseling session for graduating students
Students who have received Federal Direct (sub/unsub) Loans and plan to graduate in the fall (or transfer after the fall semester) are required to attend a loan repayment counseling session. The Office of Student Financial Services will hold the first session of the semester on Wed., November 13th at 11:30 a.m. in Eykamp Hall, Room 252, Ridgway University Center.
Submitted by Amy Sowders as560@evansville.edu.
MOD Give-Back Night
On October 23, the UE Senior Nursing class is hosting an give-back night at MOD pizza, located in the Target plaza, to help benefit Borrowed Hearts Foundation. Borrowed Hearts is a foundation that was started to help foster children and foster families with basic necessities that may be needed.
Show the following flyer at the register to donate 20% of your purchase.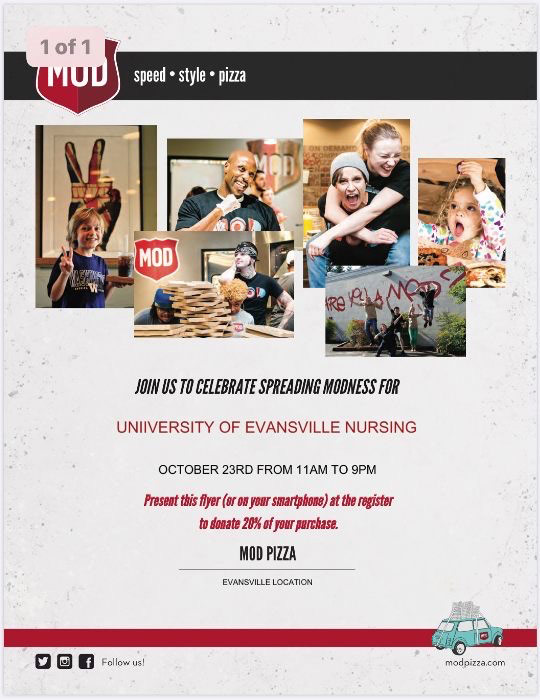 Submitted by Tracy Miles tm201@evansville.edu.
Founder and CEO of the Empowerment Plan to Speak at UE'S FREE Snyder Lecture on October 29
Founder and CEO of the Empowerment Plan, Veronika Scott, will be the guest speaker for the University of Evansville's Patricia H. Snyder Lecture in October. The lecture is planned for Tuesday, October 29, at 7:00 p.m., in Eykamp Hall, Ridgway University Center, on UE's campus. The event is free and open to the public thanks to the generosity of the Snyder family.
Empowerment Plan is an organization centered around the idea of a specialized coat being made for homeless people. The multipurpose coat is waterproof and self-heated, and can be transformed into a sleeping bag. In addition to the coat initiative, the organization provides jobs for homeless women, allowing them to get back on their feet and find a place to live. These efforts have garnered Scott some recognition, and she was named a "CNN Hero" by the network in 2016.
"Changemaking is engrained in the culture at the University of Evansville, and Veronika Scott's work directly fits into that mindset," said Abigail Werling, UE's vice president for university advancement. "We encourage and empower our students here to make powerful and enduring change, and this story will be an inspiration toward those efforts."
The Patricia H. Snyder Concert and Lecture Series was made possible in 1997 through an endowment from the late Patricia H. Snyder, trustee and longtime friend of the University, to bring speakers or performers of renown to Evansville at no cost to the public.
Reservations are encouraged, but a ticket is not required to enter. Save your seat online today!
MAJOR MARKDOWNS AT UE BOOKSTORE
The holiday season will be here before you know it! Visit the UE Bookstore during our Fall Clearance Event to snag some great deals on all some of your favorite UE merchandise. Many new items have been reduced, so visit early for the best selection.
Webelos Engineering Pin Day at UE on October 26
The College of Engineering & Computer Science to host 2019 Webelos Engineering Pin Day
The College of Engineering and Computer Science will host Webelos Engineering Pin Day on Saturday, October 26, 2019. Workshops with activity stations will provide some of the experience required for a Webelos Scout to qualify for an engineering pin. Registration is limited to 200 scouts. Registrations will be taken until the event is full or October 17th.
Registration details are available online.
For further information, contact Kimberly Higgins at kh209@evansville.edu, telephone: 812-488-2651.
Submitted by Kimberly Higgins kh209@evansville.edu.
Health Careers Fair
Come and meet with employers in your field!
Full-time or part-time jobs and internships available!
Tuesday, October 15, 2019
11:00 am – 2:00 pm
Business casual attire recommended.
Bring many copies of your resume!
Submitted by Donna Schmitt ds120@evansville.edu.
UE Majors and Minors Fair
Students – plan to attend the UE Majors and Minors Fair on Wednesday, October 16 from 4:00 to 6:00 p.m. in Eykamp Hall.
The fair will give you the opportunity to make connections with faculty, students in a major, and alumni in order to learn how a major or minor might help lead you in your career path. You will be able to change your major or add a minor right on the spot. It will also help in determining which courses you would like to take before meeting with your advisor for spring registration. Information on graduate programs will also be provided.
Campus support teams will have information on various services provided on campus.
Where can your UE education take you? Contact academicadvising@evansville.edu for more information.
Submitted by Paula Heldt ph28@evansville.edu
2019-20 CrWrtg Coffee Hour/ Wahnita DeLong Reading Featuring Margaret McMullan
Date: Wednesday, November 6, 2019
Start: 5:30pm
Location: Eykamp Hall, Room 251, Ridgway University Center
Margaret McMullan is the author of eight award-winning books including the novel In My Mother's House and the anthology Every Father's Daughter. Her work has appeared in USA Today, The Washington Post, The Huffington Post, The Los Angeles Times, The Chicago Tribune, among others. She received a NEA Fellowship and a Fulbright in Hungary to research her new book, Where The Angels Lived: One Family's Story of Loss, Exile, and Return.
Historical, authentic and family-oriented, WHERE THE ANGELS LIVED tells the tale of a somewhat parallel universe that exists even in the 21st century—dealings with Soviet-style bureaucracy; skepticism; anti-Semitism; and ironically the same sort of isolation and rejection Margaret McMullan's Jewish Hungarian family experienced in 1944 before they were forced into concentration camps. Straddling memoir and reportage, past and present, this story reminds us all that we can escape a country, but we can never escape history. She taught at the University of Evansville for 25 years, serving as chair of the Department of English, and she helped form the Department of Creative Writing. She was formerly the Melvin Peterson Endowed Chair in Literature and Creative Writing until she retired in 2015 to write full time.
Submitted by Michelle Lehman ml281@evansville.edu.
Wellness Wednesday Lunch and Learn
The Office of Health Education is hosting its 2nd Wellness Wednesday Lunch and Learn!
This week's topic is "Perfection Detox" based on the book "The Perfection Detox" by Petra Kolber. We will review tips to tame your inner critic, banish self-judgement, and influse your life with meaning, joy, and success.
Come to Eykamp 253-254 from 12-1pm! Bring your lunch and join the discussion!
Submitted by Jennifer Hargus jh693@evansville.edu.
Harlaxton Book Event
Did you know that there was recently a historical fiction mystery novel written about our favorite manor house? The Harlaxton team is excited to host author Linda E. Minton on campus for an unveiling of her new book The Harlaxton Heist on Thursday, October 17!
Linda has written several books featuring women in World War II, and The Harlaxton Heist is her first fictional work. She has consulted with the Harlaxton office here on campus and explored the manor during her time writing this book.
Come join us in the Dunigan Lounge anytime from 2:30 m to 4:00pm on October 17 to meet Linda and celebrate this new Harlaxton novel!
Linda will also have copies of The Harlaxton Heist available for sale at the event, with 10% of proceeds going to the Harlaxton Society Scholarship, and will be available to sign books as well.
Submitted by Kaylynn McCalister kc205@evansville.edu.
Vote for Homecoming Royalty!
Cast your 2 votes for who you think deserves to be named UE Homecoming Royalty 2019 on UEngage today! Your votes do not have to be based on gender; you can vote for 2 of the same genders if you would like. Voting will take place Monday, Oct. 14-Thursday, Oct. 17 on UEngage. Only full time students will be eligible to vote. Students can click on the banner on the top of their UEngage homepage or can follow the link below to cast their votes. The top 8 individuals will be announced as our finalists at the Homecoming Pep Rally on Oct. 18 at 5pm on the East Terrace Lawn. Our 8 finalists will be presented during halftime of the soccer game on Oct. 19 at 5pm at Arad McCutchan Stadium. The top 2 individuals with the most votes will then be announced as UE Homecoming Royalty 2019. Our nominees are:
Ally Wise
Aniekan Ekanem
Christin Donahoe
DaLisa McCallum
Emile Moura
Emily Schrope
Evan Dowell
Hannah Welsh
Kelsey Sapp
Lauren Perry
Luke Steffe
Mary Dearing
Megan Hawkins
Sarah Leinenbach
Sindi Dlamini
Skip Maas
Submitted by Megan King mk225@evansville.edu.
Register Today for UE Connect Lunch & Learn: Careers Outside the Box
UE Connect Lunch and Learn: Careers Outside the Box
Join us at the UE Connect Lunch and Learn: Careers Outside the Box. A panel of UE alumni and professionals discuss how their UE degrees have impacted their careers outside of the "typical" career path of their majors. Our panel includes Terry Shipley '79, Doug Schoenekase '00, and Madeline Smith '16.
Wednesday, October 16, 2019
12:00 - 1:00 p.m.
Eykamp Hall 253-255, Ridgway University Center
Complimentary box lunch is provided to those who preregister.
Register today.
Submitted by Nichole L Coffey ns50@evansville.edu.
USPS Closed on Monday, October 14, 2019 for Columbus Day
The United States Postal Service (USPS) will be closed Columbus Day, Monday, October 14, 2019. Please note UE Distribution Services/Mail Services (DS/MS) will not be picking up mail from USPS on Monday, since the Post Office will be completely closed. Any mail picked up from UE areas by DS/MS Courier on Monday, October 14, will be transported to Data Mail for metering and mailing on the afternoon of Tuesday, October 15. For mail related questions, please contact Mail Services at extension 2197 or mailservices@evansville.edu.
Submitted by Kim Winsett kw83@evansville.edu.
UE Graduate Programs
Have you considered earning a master's degree to increase your career opportunities and earning potential after graduation? Did you know that you can start working toward a graduate degree while completing your undergraduate studies at UE?
Stop by the Center for the Advancement of Learning's table at the Majors and Minors Fair on Wednesday, October 16, from 4:00 - 6:00 p.m. to learn more about the graduate programs offered at UE!
For more information, contact Cindy Felts at cf128@evansville.edu.
Faculty and Students: Apply to Become an Institute for Public Health Scholar
The Scholar program at UE's Institute for Public Health provides a supportive infrastructure for meaningful physical and virtual collaborative exchanges. A critical part of the program's success is not relying on a one-size-fits-all approach. We are committed to a portfolio of strategies to suit scholars from across the university and community in various disciplines, at different stages in their careers, and with distinctive pathways toward success. We want to work with scholars to spark productive collaborations, remove barriers to collaboration, and make it easier for scholars to broaden their networks for their public health research, practice, advocacy, and teaching activities. Scholars should be interested in collaborating with other disciplines to help expand their own areas, refine research questions, enhance development of public health interventions, improve practice delivery, enrich teaching, etc. Scholars will be awarded $750 to support their proposed project and will be required to present their work at the Fall 2020 Institute for Public Health Board Meeting. Faculty and students are encouraged to apply. One faculty and one student will be chosen.

If you would like to apply or would like more information, please contact Payal Patel-Dovlatabadi at pp42@evansville.edu. The deadline to apply is November 15.
If you are interested in becoming a scholar, please contact Payal Patel-Dovlatabadi at pp42@evansville.edu for more information.
Benefits of Being a Scholar
• Help connecting to one another, or to useful resources and networks, to solve public health challenges
• Assistance planning and implementing unique scholar-driven activities related to public health practice, research, education, and advocacy
• Support from the Institute's communication infrastructure to disseminate news about scholars' public health work through multiple channels including website, email newsletter, social media, or other tailored approaches
• Comprehensive communications about public health events and opportunities
UE Senior Nursing Project T-shirts
The senior nursing class is selling T-shirts to help fund their community project. This years community project will benefit Borrowed Hearts Foundation. This foundation was created to provide basic necessities to children in foster care and the foster families. The order form and payment can either be dropped off in the Nursing Office at Graves Hall or you can contact Emily Sullender via email at es249. Please help us out and order a T-shirt today!
Submitted by Tracy Miles tm201@evansville.edu.
Flush Flash Is Going Digital This Week!
For the week of October 9-16th Flush Flash is going (mostly) digital!
You can access the Flush Flash digitally on the Residence Life Facebook page or on the MyUE portal! All of the information listed on the Flush Flash can also be found at uengage.evansville.edu.
If needed, you can also find printed copies in the Ridgway bathrooms, as well as at the information desk across from Rademacher's in Ridgway.
Honorable mentions for this week include:
- Diversity Coffee Hour with Panhellenic and Interfraternity Councils at 4pm on Friday, Oct. 11
- UE Gives Back Day is Saturday, Oct. 12
- AOPi's Philanthropic event: PIHOP at 10am on Sunday, Oct. 13
- Health Careers Fair at 11am on Tuesday, Oct. 15
- SAB's Magician for Homecoming: Matt the Knife at 7pm on Tuesday, Oct. 15
- UE Major and Minors Fair with Academic Advising at 4pm on Wednesday, Oct. 16
Don't forget to nominate Homecoming Royalty while you're checking out UEngage!
Submitted by Lydia Skaggs ls280@evansville.edu.
Faculty Fall Advising Sessions
Faculty Fall Advising Sessions: This is a great refresher if you've been advising for a while or perfect for the new faculty member. Please join Academic Advising and the Registrar's office for an update in Student Planning and advising tips. Monday, October 14 pick a session from 12:00-12:30 or 3:00-3:30 pm.
Submitted by Stacey Shanks ss581@evansville.edu.
Apply to be a Resident Assistant
Apply to be a Resident Assistant for the Spring 2020 Academic Semester!
Applications are open on UEngage.
Applications are due October 22nd at midnight.
Please fill out the application to the best of your ability and answer all questions with as much detail as possible. You will be required to submit a résumé as well as two references. Interview times should be chosen through the link at the end of the application. Interviews are between October 28th and October 30th and interviews are mandatory, unless you have an emergency, class, or prior conflict. Dress is business casual for interviews. Please let us know ASAP if that is the case so we can schedule a different time for your interview.
If you have any questions or concerns please feel free to contact Megan King at mk255@evansville.edu or Karyssa Vasquez at kv54@evansville.edu.
Submitted by Karyssa Vasquez kv54@evansville.edu.
Help Empower Cancer Patients to be Tech-Savvy
Are you interested in enabling older cancer patients to become more health literate by helping them become more tech-savvy?
If so, the Digital Sherpa Program needs you!
Patient Empowerment Network (PEN)?is?partnering with the?Cancer Support Community?to bring the Digital Sherpa Program to cancer patients and caregivers in?the Evansville area?and we would love to partner with?your students to help make it happen.?To successfully run the workshop, we need?10-15 students?who can volunteer 3-4 hours of their time on?Tuesday, October 22 from 11:30am-2:30pm at the Gilda's Club Evansville (5740 Vogel Rd)?to assist cancer patients and their families with becoming more tech-savvy. PEN staff will supervise the students during the workshop and be available to sign off on volunteer hours. Pre-workshop training will be offered virtually prior to the workshop and can be completed at your convenience.?
Below is a brief summary of the Digital Sherpa Program:
The?Digital?Sherpa?Program aims to help cancer patients (mainly 65 and older) and their families become more tech-savvy. The program's workshops educate patients and care partners in basic internet and social media skills to help them in their search for information about their illness and support for them and their families.?
Cancer patients, known as "Climbers" in the program, are paired with university students, known as "Sherpas", who have been specially trained by the Patient Empowerment Network to offer skills such as:
Internet use (such as opening an email account, navigating Google, and creating and remembering passwords)
Social media skills (including Facebook, Twitter and Instagram)
Creating virtual connections with other cancer patients via on-line patient support communities
How to use apps such as Uber and other ride-share services to get to appointments
By producing this program PEN and CSC want to show what can be done to help?cancer?patients and their families become more tech-savvy, educated, self-confident and in control of their cancer journey. By pairing?digital?natives (you!) with the older generation, we hope to create an empathetic and powerful relationship that is an asset to any community.?
Here's a video that we produced to give potential partners a bit more insight into the positive impact of the program.
For questions for more info please contact: digitalsherpa@powerfulpatients.org
Submitted by Karyssa Vasquez kv54@evansville.edu.
Macedo resets UE dig record against Sycamores
Redshirt senior Gabriela Macedo recorded a University of Evansville program record 43 digs on Friday evening in a 3-1 road loss to Indiana State.
Today marked the second time Macedo has set the Purple Aces mark this season. She recorded 41 in a win over Eastern Illinois in September. Macedo's 43 digs is the third-highest total in a 4-set match in the NCAA in 2019 and is tied for the 4th-highest total in Missouri Valley Conference history.
Melanie Feliciano led the offense with 19 kills while Alondra Vazquez and Rachel Tam posted 17 and 12, respectively. Allana McInnis added 40 assists. Indiana State saw five players record double figure kills, led by Cassie Kawa's total of 11. Melina Tedrow had a strong defensive night of her own, finishing with 44 digs.
Indiana State set the tone early on, jumping out to a 14-7 lead in game one. The Aces roared back when Alondra Vazquez had consecutive kills that cut the deficit to just one – 17-16. ISU was able to record the next point before hanging on for a 25-22 decision.
UE regained its edge in game two, taking an early 5-3 lead on a Hannah Watkins kill. ISU rallied back to tie it up at 7-7 before taking a 16-15 lead. With the score knotted at 17-17, Tam and Vazquez combined for three kills in a row that put UE back in the lead as they would the match, winning by a final of 25-23. The Sycamores tied the set at 23-23, but a Feliciano kill.
Evansville took another lead in the opening moments of the third frame, going up by a 5-3 tally. Indiana State pushed back with four in a row before extending their lead to eight points at 18-10. From there, they would cruse to a 25-20 victory and a 2-1 lead in the match. They clinched the 3-1 match win with a 25-21 win in the fourth set. ISU went up by a 14-10 score before the Aces rallied back. Allana McInnis posted an ace that tied the game at 16-16. The Sycamores responded with three in a row, but the Aces did the same to tie it up at 19-all. Unfortunately, the Sycamores proved to be too much as they scored the final four points, winning by a 25-21 score to win the match.
Next weekend, the Aces remain on the road at Southern Illinois on Friday night before taking on Missouri State on Saturday.
Swimming & Diving Earns Pair of Wins over EIU
The University of Evansville men's and women's swimming and diving teams picked up a pair of team wins at home, Saturday afternoon against Eastern Illinois.

The women's team took the win 162-70, while the men won 121-79. The two winning scores mark the first two home wins for first year head coach Stu Wilson.

Highlighting the meet was a pool record by Sarah Jahns in the 200-yard backstroke. Jahns first place finish, 2:04.53 was almost two seconds faster than the previous record set back in 2013. Jahns also added a second place finish in the 200-yard freestyle with a 2:00.51 time.

Winning three events during the event was Paul Cozzens. The senior took first in the 200-yard IM (1:59.33), the 200-yard butterfly (1:57.34) and in the 200-yard breaststroke (2:13.87).

Sonsoles Aguayo took titles in the 100 (55.02) and 200-yard (1:57.31) freestyle, while also holding down the third leg of the 200-yard medley relay, helping the team earn first place.

Ashton Adams took first place in the 500 (5:23.93) and 1000-yard (11:00.97) freestyle races, while Maya Cunningham earned event championships in the 200 IM (2:12.55) and the 200 butterfly (2:09.93).

Natalie Gerad took first place in the 3-meter diving, while taking second in the 1-meter. Fae Keighley captured first in the 1-meter and second in the 3-meter.

Evansville is back in action next Friday (Oct. 18) as the Aces travel to McKendree University for a dual.
Contribute to AceNotes
To have content considered for inclusion in AceNotes, please submit a Marketing Request Form. Deadline for submission to AceNotes is 10:00 a.m. on the requested date of publication. Only articles concerning UE related/sponsored activities will be accepted. Articles submitted to AceNotes may be edited for length and clarity. Submitter contact information is at the end of each article.