| | |
| --- | --- |
| AceNotes Today | Monday, October 7, 2019 |
University of Evansville Board of Trustees | Front Oval Parking
The University of Evansville Board of Trustees will be on campus for October 2019 meetings on Friday, October 11, and Saturday, October 12. Front oval parking will be reserved by the Office of Safety and Security for members of the Board. Employee parking on the front oval will be limited on both days.
ACM Local Hack Day
MLH's Local Hack Day, October 12, is a global day-long conference that you can share with your community. You can pick up the new skills you need by participating in workshops and talks with a community around the world. At UE's Local Hack Day, over the course of 10 hours, attendees will experience a series of workshops where they'll learn skills such as publishing their first website using AWS, programming with Alexa, and Python for AI.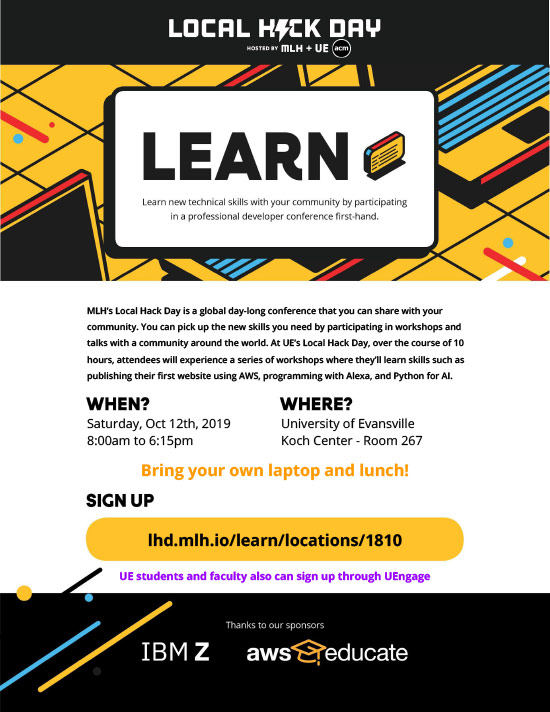 Submitted by Jared Holzmeyer jh642@evansville.edu.
TIAA Individual Counseling Sessions for Employees
The TIAA-CREF representative will be on the UE campus for individual counseling sessions on Wednesday, October 16, 2019. To schedule an appointment, call TIAA-CREF at 1-800-732-8353.
Please note that the meeting location has been changed to SOBA room 153, Eades Music Room.
Submitted by Lori LeDuc LL138@evansville.edu.
UE STUDENTS-- Flu shot Blitz Information
Flu Shots will be available in the Student Health Clinic
October 14th and 16th from 1:00-5:00 PM each day. This event is open to UE Students. The flu shots are $20.00; cash or card payment accepted- unable to charge student account. Appointments are not necessary for this event.
Submitted by Tara Ulrich tu19@evansville.edu.
UExplore Engineering Program
The College of Engineering and Computer Science at the University of Evansville is offering a UExplore Engineering Program for high school students. The program is designed to give participants a better understanding of the fields of civil, mechanical, electrical, and computer engineering and computer science through activities, hands-on projects, and tours of local industry.
The sessions in the program are October 14, November 4, November 25, January 20, February 10, March 2, March 30, and April 20. All sessions will be from 6:00-7:15 p.m. in the Koch Center for Engineering and Science on UE's campus.
James Allen, UE associate professor of mechanical and civil engineering, is the advisor for the program. A registered professional engineer in the states of Indiana and Ohio, Allen has extensive work experience in industry. Allen will be assisted with the program by UE engineering students.
The registration fee for the program is $50.
Register online or contact Kimberly Higgins for more information at 812-488-2661 or kh209@evansville.edu.
Webelos Engineering Pin Day at UE on October 26
The College of Engineering & Computer Science to host 2019 Webelos Engineering Pin Day
The College of Engineering and Computer Science will host Webelos Engineering Pin Day on Saturday, October 26, 2019. Workshops with activity stations will provide some of the experience required for a Webelos Scout to qualify for an engineering pin. Registration is limited to 200 scouts. Registrations will be taken until the event is full or October 17th.
Registration details are available online.
For further information, contact Kimberly Higgins at kh209@evansville.edu, telephone: 812-488-2651.
Submitted by Kimberly Higgins kh209@evansville.edu.
Homecoming Week!
Monday 10/14: Banner Competition
Banners will be hung in Ridgway.
Tuesday 10/15: Matt the Knife Performance
Matt the Knife is a mentalist, magician, and speaker who has performed in 21 countries across 4 continents and has broken more records than any other magician. He will be visiting UE and performing at 7:30pm in Cafe Court!
Wednesday 10/16: Surprise Pop-Up Event
Follow @uesab on Instagram to find out the details of this event when it takes place!
Thursday 10/17: Chili Bowl Sale
UE's Clay Club will be hosting this event from 11:30am-1:00pm between Hyde and Sampson hall.
Friday 10/18: Pep Rally featuring DJ McNaughty
Bring your dancing shoes to the East Terrace Lawn at 5 pm to get hyped up for the Homecoming Game! The Homecoming Court will be announced here, along with the winner of the banner competition. There will also be free t-shirts!
Saturday 10/19: Tailgate and Men's Soccer vs. Drake
From 2-5pm, live music, food trucks, inflatables, and games will all be available on H-Lot. Come hangout with your friends before the big game, which starts at 5.
If you would like to know further details on how to get involved in Homecoming week, please email Crayton Chesnut at cc349@evansville.edu.
GO ACES!
Submitted by Megan King mk225@evansville.edu.
Have Feedback for Dining Services?
Join Chartwells and the Office of Residence Life on Thursday, October 10 at 1 pm for free lunch and good conversation. We want to help make your dining experience on campus the best it can be. If you are interested in joining this committee, please email Megan King at mk225@evansville.edu for further details.
Submitted by Megan King mk225@evansville.edu.
UE Employees-- Flu Shot Blitz Information
Flu Shots will be available in the Employee Health Clinic October 8th and 10th from 2:00-6:00 PM each day. This event is open to UE Employees, Spouses, and Dependents. Those covered on the UE Medical Plan can receive the shot at no cost. Those not covered on the plan can receive the flu shot for $20.00; cash only please. Contact ac375@evansville.edu. Appointments are not necessary for this event.
Submitted by Ashley Chipps achipps@tscommunityclinics.com.
Harlaxton Book Event
Did you know that there was recently a historical fiction mystery novel written about our favorite manor house? The Harlaxton team is excited to host author Linda E. Minton on campus for an unveiling of her new book The Harlaxton Heist on Thursday, October 17!
Linda has written several books featuring women in World War II, and The Harlaxton Heist is her first fictional work. She has consulted with the Harlaxton office here on campus and explored the manor during her time writing this book.
Come join us in the Dunigan Lounge anytime from 2:30 m to 4:00pm on October 17 to meet Linda and celebrate this new Harlaxton novel!
Linda will also have copies of The Harlaxton Heist available for sale at the event, with 10% of proceeds going to the Harlaxton Society Scholarship, and will be available to sign books as well.
Submitted by Kaylynn McCalister kc205@evansville.edu.
Les Miley: Artist - Teacher Exhibition, Reception & Artist's Talk
Les Miley, an Internationally recognized Artist and Art Educator, is Professor Emeritis of Art at UE, where he taught and was the Chair of the Department of Art. This exhibition of Les' work in the Melvin Peterson Gallery has been curated from several collections, and will also include works by previous students Les has invited. Exhibition: September 3 - October 19
Public Reception for the Artist and Artist's Talk: Thursday, September 5 @6:30pm, with the Talk at 7pm.
Submitted by Corliss Chastain cc270@evansville.edu.
Smoke Testing of Pipes in Ridgway
Tuesday, Oct. 8, the Facilities Dept. will conduct smoke testing of bathroom pipes in Ridgway. During the testing the fire monitoring system will be turned off. The Facilities Dept. will coordinate with Security to monitor the building during the testing. Any questions please contact the Facilities Dept. at ext 2775.
UE Participates in JobSpark
The College of Engineering and Computer Science and the Nursing, Physical Therapy, and Physician Assistant programs represented UE at the 2019 JA JobSpark on Tuesday and Wednesday, October 1 and 2, at the Old National Events Plaza. The event was sponsored by Junior Achievement of Southwestern Indiana and the Public Education Foundation of Evansville, Inc. Over 4,000 regional 8-12th grade students attended and were given hands-on experiential activities designed to "spark" an interest in a future career path.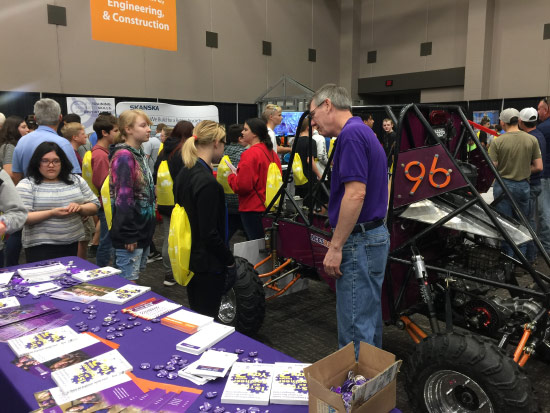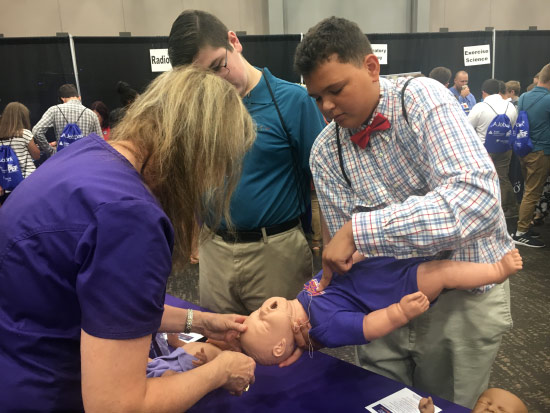 Honors Program Holds First Annual Honors Banquet
Honors students attended the first annual Honors Program Banquet on Tuesday, October 1 in Eykamp Hall. Over 100 honors students enjoyed an evening of fun, food, and community. Highlights included a Mexican-themed buffet and minute-to-win-it competitions for coveted honors swag. Special thanks to the students on the Honors Activity Board for planning a great night!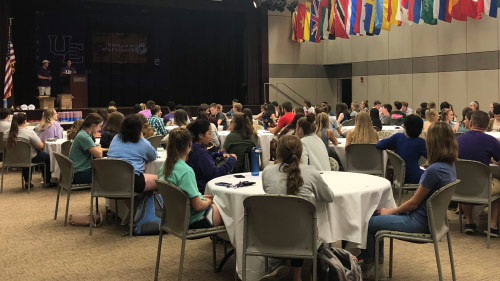 The Honors Program invites the campus community to mark your calendars for these upcoming events:
Honors Program Common Read Speaker – Eli Saslow, author of Rising Out of Hatred, will speak on campus on Thursday, November 7. This event will be free and open to the public. If you are interested in reading the book before the event, we have some extra copies! Contact Jayme Williams at jw504@evansville.edu.
Nerd Wars – One of the Honors Program's favorite traditions returns on Tuesday, February 25. Be sure to join us for trivia, prizes, pizza, and more!
Submitted by Jayme Williams jw504@evansville.edu.
Nominate Individuals for Employee Excellence!
The University of Evansville, in pursuit of excellence in service, wishes to recognize monthly a non-faculty employee displaying records of achievement as a leader. Leadership may be demonstrated in any of the following categories:
• Service to the University community
• Service to students
• Job performance and attitude to fellow employees
One award is presented each month. To be eligible, an employee must be a full-time member of the administration or staff. Nominations are due before the 15th of each month. Nominations are now being accepted for the month of November!
To nominate someone, or to find out more information about the Employee Excellence Award, go to http://acelink.evansville.edu/Tools/EmployeeAward
Submitted by Lori LeDuc LL138@evansville.edu.
New issue of the Crescent is out now
The Crescent, University of Evansville's student magazine, is available for FREE right now to all students at magazine stands across the campus! This issue, we are looking at the psychology of choosing a major and the perceptions that come with it. Pick up an issue on magazine racks across campus. The Crescent is a student magazine - by and for the students of the University of Evansville - that is published six times during the academic year. The Crescent serves as an open forum for the UE community. Copies are free to students and the goal is to present relevant content in a fair, accurate, and unbiased manner.
Submitted by Tim Young ty32@evansville.edu.
Apply to be a Resident Assistant
Apply to be a Resident Assistant for the Spring 2020 Academic Semester!
Applications are open on UEngage.
Applications are due October 22nd at midnight.
Please fill out the application to the best of your ability and answer all questions with as much detail as possible. You will be required to submit a résumé as well as two references. Interview times should be chosen through the link at the end of the application. Interviews are between October 28th and October 30th and interviews are mandatory, unless you have an emergency, class, or prior conflict. Dress is business casual for interviews. Please let us know ASAP if that is the case so we can schedule a different time for your interview.
If you have any questions or concerns please feel free to contact Megan King at mk255@evansville.edu or Karyssa Vasquez at kv54@evansville.edu.
Submitted by Karyssa Vasquez kv54@evansville.edu.
Fall Healthy Behavior Challenge Starting Oct. 6th
Participate in the Fall Healthy Behavior Challenge and earn an additional $150.00 in HSA credits. The challenge begins Oct. 6th- Nov. 30th. Participants will be challenged to track their exercise throughout the challenge. Email ac375@evansville.edu to sign up. Challenge info and logs are attached. Please print logs to get started. Additional information will be sent via email at the start of the challenge.
Submitted by Ashley Chipps achipps@tscommunityclinics.com.
Help Empower Cancer Patients to be Tech-Savvy
Are you interested in enabling older cancer patients to become more health literate by helping them become more tech-savvy?
If so, the Digital Sherpa Program needs you!
Patient Empowerment Network (PEN)?is?partnering with the?Cancer Support Community?to bring the Digital Sherpa Program to cancer patients and caregivers in?the Evansville area?and we would love to partner with?your students to help make it happen.?To successfully run the workshop, we need?10-15 students?who can volunteer 3-4 hours of their time on?Tuesday, October 22 from 11:30am-2:30pm at the Gilda's Club Evansville (5740 Vogel Rd)?to assist cancer patients and their families with becoming more tech-savvy. PEN staff will supervise the students during the workshop and be available to sign off on volunteer hours. Pre-workshop training will be offered virtually prior to the workshop and can be completed at your convenience.?
Below is a brief summary of the Digital Sherpa Program:
The?Digital?Sherpa?Program aims to help cancer patients (mainly 65 and older) and their families become more tech-savvy. The program's workshops educate patients and care partners in basic internet and social media skills to help them in their search for information about their illness and support for them and their families.?
Cancer patients, known as "Climbers" in the program, are paired with university students, known as "Sherpas", who have been specially trained by the Patient Empowerment Network to offer skills such as:
Internet use (such as opening an email account, navigating Google, and creating and remembering passwords)
Social media skills (including Facebook, Twitter and Instagram)
Creating virtual connections with other cancer patients via on-line patient support communities
How to use apps such as Uber and other ride-share services to get to appointments
By producing this program PEN and CSC want to show what can be done to help?cancer?patients and their families become more tech-savvy, educated, self-confident and in control of their cancer journey. By pairing?digital?natives (you!) with the older generation, we hope to create an empathetic and powerful relationship that is an asset to any community.?
Here's a video that we produced to give potential partners a bit more insight into the positive impact of the program.
For questions for more info please contact: digitalsherpa@powerfulpatients.org
Submitted by Karyssa Vasquez kv54@evansville.edu.
Aces softball earns national academic recognition
The National Fastpitch Coaches Association announced its 2019 Easton/NFCA All-America Scholar-Athletes and top team GPA's. The University of Evansville performed exceptionally well with 13 players earning All-America Scholar-Athlete recognition while the program ranked in the top 40 in GPA.
"I am extremely proud of our ladies effort in the classroom. Here at Evansville, we are true examples of student-athletes where our ladies put academics first," UE head softball coach Mat Mundell said. "We let our team major in whatever they want at UE and they pick challenging majors where they can go out and make a positive impact on the community when they graduate."
Earning All-America Scholar-Athlete recognition for UE were: Bailee Bostic, Olivia Cheatham, Allison Daggett, Halie Fain, Morgan Florey, Eryn Gould, McKenzie Johnson, Kristin Koepke, Alex Latoria, Emily Lockhart, Mackenzie McFeron, Jaime Nurrenbern and Lindsay Renneisen.
"To have 13 All-America Scholar-Athletes is a tribute to how serious our team as a whole takes their education," Mundell added.
Evansville finished with a cumulative team GPA of 3.490. That ranked in a tie for 40th in the country out of 297 Division I teams.
Loyola deals volleyball first home loss
Rachel Tam recorded 10 kills, but the offense of Loyola finished with 41 kills as the Ramblers gave the University of Evansville volleyball team its first home loss of the season by a 3-0 final on Saturday at Meeks Family Fieldhouse.
Tam posted 10 kills for UE (12-4, 3-2 MVC) while Alondra Vazquez had six. Allana McInnis led the way with 19 assists and Gabriela Macedo finished the game with 16 digs.
"Loyola is playing great volleyball right now, they outplayed us in every aspect of the game," Aces coach Fernando Morales said. "We may have been tired from yesterday, but that was not the difference. We are still in a good spot and have a really important match next week that will get us closer to our goal."
Taylor Venuto led Loyola (11-6, 4-0 MVC) with 12 kills while Addie Barnes added 10. Maddy Moser led all players with 19 digs.
After jumping out to a 3-1 lead to open the first set, the Ramblers added to their lead, extending it to five points at 12-7. From there, they led by as many as 10 and finished with that advantage, earning a 25-15 win and a 1-0 lead on the night.
Another fast start had Loyola on top by a 10-5 margin in game two. They kept the momentum rolling when a pair of service aces extended their lead to 19-10. Their largest lead was the final of 25-14.
Following the break in between the second and third games, Evansville came out focused in the third frame, scoring the first four points with three different players recording a kill. Gabriela Macedo added a service ace in the opening moments. Loyola withstood the Aces start and battled back to tie it for the first time at 7-7 before grabbing a 10-9 lead. Evansville held a 9-8 edge before LUC reeled off five in a row. The Aces battled back within one at 13-12 when Tam registered her 10th kill of the night, but the Ramblers proved to be too much as they wrapped up the match with a 25-16 win.
Next up for the Aces is a trip to Terre Haute on Friday evening for a match against Indiana State. Game time is 5 p.m. CT.

Aces remain undefeated at home with 3-2 win over Valpo
The undefeated home streak for the University of Evansville volleyball team in 2019 continued as the Purple Aces showed the heart of a champion as they earned a 3-2 win over Valparaiso on Friday night inside Meeks Family Fieldhouse.
UE (12-3, 3-1 MVC) improved its mark to a perfect 6-0 at home this season. Four of the Aces six home wins have come in five sets. The win gave Evansville its third win in four matches to begin the MVC schedule; it is the first 3-1 start for UE since the 2006 season.
"We were expecting them to be very good defensively and that is exactly what kind of match this turned out to be. It is great to pull off this victory," UE coach Fernando Morales said. "The girls have had a lot going this week with classwork and to be able to see them fight through that against a good opponent is a positive sign. We have a lot of confidence heading into tomorrow's match."
Freshman Melanie Feliciano led everyone with 21 kills; she has recorded at least 20 in all four MVC matches so far. Rachel Tam had 15 while Alondra Vazquez registered 14. Gabriela Macedo led the defense with 33 digs while Vazquez notched 14 and Allana McInnis finished the night with 13. McInnis dished out 53 assists. Hannah Watkins continued to rack up the blocks, totaling five block assists in the win.
Valparaiso (5-12, 0-3 MVC) was led by Jillie Grant's 16 kills and Brittany Anderson's 58 assists. As a team, the Crusaders had 34 block assists with Anderson and Peyton McCarthy posting nine apiece.
Evansville found its early success in its serving, posting three aces on its way to a 10-3 lead. Gabriela Macedo, Cecilia Thon and Laura Ruiz had one apiece for UE. The early lead reached as many as seven at 10-3, but the Crusaders hung around, getting within three at 19-16. A block assist by Rachel Tam and Hannah Watkins helped UE go back up by seven at 24-17, but Valparaiso had one more stand as they posted the next six tallies to make it a 24-23 game. UE fended off the challenge and scored the winning points on a VU error.
Melanie Feliciano posted a pair of kills to give Evansville a 4-2 lead before the Crusaders made their way back, taking their first lead of the night at 6-5. They added to it midway through the set, extending their advantage to 19-11. A kill by Tam ended the stretch, but the Crusaders managed to take the set by a 25-18 final and tie the match.
Feliciano added two early kills in the third frame as UE posted the first four points before opening up a 10-3 lead. Valparaiso responded with a 7-1 run that made it an 11-10 game before a block by Patricia Joseph and Allana McInnis temporarily ended the stretch. The Crusaders kept fighting back and managed to tie it up at 14-14. UE regained a 2-point lead, but VU tied it back up at 18-18 and took the lead at 22-21. Evansville rallied back for a 25-22 win. An Elena Redmond ace along with kills from Watkins and Vazquez clinched the win and a 2-1 lead.

It was the Crusaders who had the early momentum in the fourth set, grabbing an 8-2 advantage. They continued to hold the lead at 10-4 when the Aces staged a rally. Back-to-back Tam kills, coupled with an ace from McInnis helped UE get back within a point at 10-9, but VU pushed their lead back to three at 15-12. After UE rallied once again to tie it up at 15, Valpo staged a run of their own, scoring the next four. Still down four at 21-17, Evansville never gave up as another ace from McInnis made it a 21-20 contest, but the Crusaders finished with a 25-22 win to force a fifth and deciding game.
UE scored seven of the first nine points to open up the lead before Valparaiso cut the gap to just a pair at 7-5. Tam got UE back on track with her 13th kill of the night before Vazquez added one of her own to make it a 10-6 game. Valparaiso got within a pair (11-9) before Feliciano took over in the final moments. She finished off the match with three consecutive kills as the Aces won by a 15-9 final.
"We won tonight because of our fight; we did not play our best, but in the end, we fought," Morales added. "If not for the fight that we showed, we would not have won this match."

Contribute to AceNotes
To have content considered for inclusion in AceNotes, please submit a Marketing Request Form. Deadline for submission to AceNotes is 10:00 a.m. on the requested date of publication. Only articles concerning UE related/sponsored activities will be accepted. Articles submitted to AceNotes may be edited for length and clarity. Submitter contact information is at the end of each article.