| | |
| --- | --- |
| AceNotes Today | Monday, September 30, 2019 |
Please Return the Tin City Banner
To whomever took the banner from the Tin City Student Archaeological Project, please return it to the place from which you took it. We won't ask any questions. Due to a recent cut to our department budget, we cannot afford to replace it. This is a project of which our students, department, and university are proud and that banner helped communicate the excellent work our students do to everyone associated with, or visiting, the campus. Without the banner, our excavation trenches look like an ugly hole in the ground. Show pride in your university and help share that pride with the campus community and general public by returning the banner. Thanks.
Submitted by Alan Kaiser ak58@evansville.edu.
Fall Break Adventure with Venturing Crew
Come join venturing crew for our fall break adventure! Sleep in tree houses, hike through Panther Den Wilderness, bike the Tunnel Hill Trail, and canoe through Cache River Wetlands! Signs ups are weekdays in Ridgway, September 26 - October 3. This trip costs $120 dollars, covering transportation, lodging, and gear rentals. Everything you needed for an amazing time!
Email us at venturing@evansville.edu with any questions. We're looking forward to seeing you there!
Submitted by Madelyn Reinagel venturing@evansville.edu.
This Week in Music (Sept 30-Oct 6)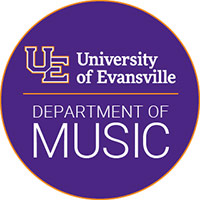 First Tuesday Concert Series: Tuesday, October 1
Hispanic Heritage Month
7:30pm, Neu Chapel
The Department of Music will continue their First Tuesday concert series on October 1 with a tribute to Hispanic Heritage Month. UE music faculty and guests will perform works by Hispanic composers or works with Hispanic themes. Performances will include pieces by Alberto Ginastera, Astor Piazzola, and Pacquito D'Rivera. Dr. Diana Rodriguez Quevedo, Associate Professor of Spanish at UE, will recite poetry selections. The concert will take place in Neu Chapel at 7:30 pm and is free and open to the public.
Submitted by Kristen Strandberg ks532@evansville.edu.
Homecoming Week!
Monday 10/14: Banner Competition
Banners will be hung in Ridgway.
Tuesday 10/15: Matt the Knife Performance
Matt the Knife is a mentalist, magician, and speaker who has performed in 21 countries across 4 continents and has broken more records than any other magician. He will be visiting UE and performing at 7:30pm in Cafe Court!
Wednesday 10/16: Surprise Pop-Up Event
Follow @uesab on Instagram to find out the details of this event when it takes place!
Thursday 10/17: Chili Bowl Sale
UE's Clay Club will be hosting this event from 11:30am-1:00pm between Hyde and Sampson hall.
Friday 10/18: Pep Rally featuring DJ McNaughty
Bring your dancing shoes to the East Terrace Lawn at 5 pm to get hyped up for the Homecoming Game! The Homecoming Court will be announced here, along with the winner of the banner competition. There will also be free t-shirts!
Saturday 10/19: Tailgate and Men's Soccer vs. Drake
From 2-5pm, live music, food trucks, inflatables, and games will all be available on H-Lot. Come hangout with your friends before the big game, which starts at 5.
If you would like to know further details on how to get involved in Homecoming week, please email Crayton Chesnut at cc349@evansville.edu.
GO ACES!
Submitted by Megan King mk225@evansville.edu.
Have Feedback for Dining Services?
Join Chartwells and the Office of Residence Life on Thursday, October 10 at 1 pm for free lunch and good conversation. We want to help make your dining experience on campus the best it can be. If you are interested in joining this committee, please email Megan King at mk225@evansville.edu for further details.
Submitted by Megan King mk225@evansville.edu.
UE Employees-- Flu Shot Blitz Information
Flu Shots will be available in the Employee Health Clinic October 8th and 10th from 2:00-6:00 PM each day. This event is open to UE Employees, Spouses, and Dependents. Those covered on the UE Medical Plan can receive the shot at no cost. Those not covered on the plan can receive the flu shot for $20.00; cash only please. Contact ac375@evansville.edu. Appointments are not necessary for this event.
Submitted by Ashley Chipps achipps@tscommunityclinics.com.
UE Majors and Minors Fair
Students – plan to attend the UE Majors and Minors Fair on Wednesday, October 16 from 4:00 to 6:00 p.m. in Eykamp Hall.
The fair will give you the opportunity to make connections with faculty, students in a major, and alumni in order to learn how a major or minor might help lead you in your career path. You will be able to change your major or add a minor right on the spot. It will also help in determining which courses you would like to take before meeting with your advisor for spring registration. Information on graduate programs will also be provided.
Campus support teams will have information on various services provided on campus.
Where can your UE education take you? Contact academicadvising@evansville.edu for more information.
Submitted by Paula Heldt ph28@evansville.edu
October 2 Andiron Lecture by Sara Petrosillo - Weaponizing Mary: How Sexism Met Racism in a Pre-modern World
Sara Petrosillo is an assistant professor of English at the University of Evansville. She holds a PhD in medieval literature from the University of California, Davis and a BA in English and Italian literature from Colby College. Her research and teaching interests include: medieval and early modern literature, feminist theories, medieval manuscript studies, poetics, and critical animal studies. She is currently working on a book, Hawking Women: Falconry, Gender, and the Poetics of Control in Medieval Literary Culture, and she has published essays in medieval, early modern, and theory journals and in a book on animals in medieval literature. Her Andiron lecture on medieval antisemitism and the literary genre, "Miracles of the Virgin," derives from her interest in examining racial and gender biases in discourses from premodern to modern culture.
The most iconic woman in the Middle Ages graced love poems, the stage, stained glass windows, and even personal wax seals. Medieval depictions of the Virgin Mary offer an extraordinary picture of female power. Women from every social class viewed Mary as an exceptional saint but also—and crucially— as someone who shared something with all of them: she was a woman. Yet, at the height of her popularity in devotional literature, Mary became a violent tool in the hands of authors and audience: the persecutor of non-Christians in the literary genre "The Miracles of the Virgin." How did a figure of motherhood and female power become such a dangerously powerful weapon? This widely popular genre demonstrates how sexism met racism in a premodern world. Tracing the racist weaponization of a female icon sheds light on our own society's trouble with detecting the roots of oppression, especially when those roots are entangled in popular culture.
The lecture begins at 4:00 p.m.
Wednesday, October 2, 2019
Eykamp Hall (Room 252), Ridgway University Center
A social gathering with beverages begins at 3:45 p.m.
For further information, call Annette Parks at 812-488-1070
or the William L. Ridgway College of Arts and Sciences at 812-488-2589
Submitted by Cheryl Emmons ce36@evansville.edu.
Notification of Availability of 2019 Annual Security and Fire Safety Report
The University of Evansville's 2019 Annual Security and Fire Safety repot is available for your review. The report includes statistics for the previous three years concerning crimes that occurred on campus, in certain off-campus buildings or property owned or controlled by the University, and on public property within, or immediately adjacent to and accessible from, the campus.The report also includes institutional policies concerning campus security, such as policies concerning sexual assault, and other matters. Additional information includes the number of fires that have occurred in on-campus housing facilities during the previous three years, fire safety systems in on-campus student housing units, numbers of yearly fire drills conducted in the facilities, policies concerning smoking, open flames and electrical appliances in student housing. Information about fire safety education and training programs available are included as well as where to report fires. You can obtain a copy of this report by contacting the Office of Safety and Security at, 812-488-2051 and requesting a copy. You may also directly access the report online.
UE Offers Review Course for Fundamentals of Engineering Exam
The University of Evansville College of Engineering and Computer Science has announced 2019-20 dates for the annual review and preparation course for those planning to take the Fundamentals of Engineering Exam.
All classes will be held Thursday evenings beginning at 6:30 p.m. in the Koch Center for Engineering and Science on the UE campus. Classes are divided into relevance per discipline. Fees are adjusted accordingly.
- Candidates for civil engineering will attend from October 3 - January 23.
- Candidates for mechanical engineering and other disciplines will attend from October 3 - November 21.
- Electrical and computer engineering candidates will attend October 31-November 21.
Registration forms and payment must be returned by 4:00 p.m. on Thursday, October 3, 2019. Contact Kimberly Higgins at kh209@evansville.edu or at 812-488-2651 for more information on registration. Early registration is encouraged as space as limited.
Submitted by Kimberly Higgins kh209@evansville.edu.
Homecoming Royalty Nominations
Mark your calendars! Homecoming Week is October 14-19! Be sure to join the fun in welcoming our UE Men's Soccer team back home on October 19 at 5pm as they face Drake. Purple treats, magicians, pep rally, free tshirts, tailgates, and more! See attachment for further details.
During Homecoming Weekend, we plan to name our 2 Homecoming Royalty winners. To be eligible, students must be a full time student and member of the senior class. Nominations may be made by anyone on campus, either a student organization, group of friends, team, roommates, cohort members, etc. Please complete the nomination form below by Friday, October 4th to nominate a senior you believe deserves to be named UE Homecoming Royalty 2019.
The 8 Homecoming Royalty finalists will be announced at our Pep Rally on Friday, October 18. Finalists will be presented as the Homecoming Court and our 2 Homecoming Royalty winners will be announced at the Men's Soccer Game on October 19. Nominations do not need to be gender-specific, as our Homecoming Royalty winners will be determined by the top 2 individuals with the most votes.
Submit your nomination online for Homecoming Royalty 2019.
Submitted by Megan King mk225@evansville.edu.

Apply to be a Resident Assistant
Apply to be a Resident Assistant for the Spring 2020 Academic Semester!
Applications are open on UEngage.
Applications are due October 22nd at midnight.
Please fill out the application to the best of your ability and answer all questions with as much detail as possible. You will be required to submit a résumé as well as two references. Interview times should be chosen through the link at the end of the application. Interviews are between October 28th and October 30th and interviews are mandatory, unless you have an emergency, class, or prior conflict. Dress is business casual for interviews. Please let us know ASAP if that is the case so we can schedule a different time for your interview.
If you have any questions or concerns please feel free to contact Megan King at mk255@evansville.edu or Karyssa Vasquez at kv54@evansville.edu.
Submitted by Karyssa Vasquez kv54@evansville.edu.
Fall Healthy Behavior Challenge Starting Oct. 6th
Participate in the Fall Healthy Behavior Challenge and earn an additional $150.00 in HSA credits. The challenge begins Oct. 6th- Nov. 30th. Participants will be challenged to track their exercise throughout the challenge. Email ac375@evansville.edu to sign up. Challenge info and logs are attached. Please print logs to get started. Additional information will be sent via email at the start of the challenge.
Submitted by Ashley Chipps achipps@tscommunityclinics.com.
Help Empower Cancer Patients to be Tech-Savvy
Are you interested in enabling older cancer patients to become more health literate by helping them become more tech-savvy?
If so, the Digital Sherpa Program needs you!
Patient Empowerment Network (PEN)?is?partnering with the?Cancer Support Community?to bring the Digital Sherpa Program to cancer patients and caregivers in?the Evansville area?and we would love to partner with?your students to help make it happen.?To successfully run the workshop, we need?10-15 students?who can volunteer 3-4 hours of their time on?Tuesday, October 22 from 11:30am-2:30pm at the Gilda's Club Evansville (5740 Vogel Rd)?to assist cancer patients and their families with becoming more tech-savvy. PEN staff will supervise the students during the workshop and be available to sign off on volunteer hours. Pre-workshop training will be offered virtually prior to the workshop and can be completed at your convenience.?
Below is a brief summary of the Digital Sherpa Program:
The?Digital?Sherpa?Program aims to help cancer patients (mainly 65 and older) and their families become more tech-savvy. The program's workshops educate patients and care partners in basic internet and social media skills to help them in their search for information about their illness and support for them and their families.?
Cancer patients, known as "Climbers" in the program, are paired with university students, known as "Sherpas", who have been specially trained by the Patient Empowerment Network to offer skills such as:
Internet use (such as opening an email account, navigating Google, and creating and remembering passwords)
Social media skills (including Facebook, Twitter and Instagram)
Creating virtual connections with other cancer patients via on-line patient support communities
How to use apps such as Uber and other ride-share services to get to appointments
By producing this program PEN and CSC want to show what can be done to help?cancer?patients and their families become more tech-savvy, educated, self-confident and in control of their cancer journey. By pairing?digital?natives (you!) with the older generation, we hope to create an empathetic and powerful relationship that is an asset to any community.?
Here's a video that we produced to give potential partners a bit more insight into the positive impact of the program.
For questions for more info please contact: digitalsherpa@powerfulpatients.org
Submitted by Karyssa Vasquez kv54@evansville.edu.
Aces Pep Band
The Aces Pep Band is kicking off their season with rehearsals on Mondays, from 4:00pm-4:50pm in FA110. Any student with former band experience is eligible to attend and participate. For more information, contact Prof. Greg Keith at gk7@evansville.edu.
Submitted by Greg Keith gk7@evansville.edu.
Art Department Receives Grant for the Efroymson Family Fund
The Efroymson Family Fund is renewing its support of the art programs at UE with gifts totaling $20,000 for this year. Through the generosity of the Efroymson's, the two art studios in the Fine Arts Building are getting new furnishings. Also the Efroymson Emerging Contemporary Artist Lecture Series will continue with fall and spring visiting artists thanks to this renewed commitment to UE. The fall artist is Mike Marks, printmaking and drawing, of Minneapolis. He will be on campus to meet with students and give a public lecture November 6 - 8.
The University of Evansville is grateful for the continued support of the Efroymson Family Fund.
Submitted by Sylvia DeVault sy5@evansville.edu.
Aces get back in the win column against Drake
It was a strong finish to the opening weekend of Missouri Valley Conference play for the University of Evansville volleyball team with the Purple Aces earning a 3-1 victory over Drake on Saturday evening at the Knapp Center.
Melanie Feliciano paced everyone with 24 kills with Rachel Tam just behind, posting 20. Alondra Vazquez notched 11 kills and added 32 digs. Gabriela Macedo notched a game-high 30 digs while Allana McInnis continued to rack up assists at one of the top rates in the country, totaling 50 in the victory for the Aces (10-3, 1-1 MVC). Hannah Watkins and Patricia Joseph recorded three block assists apiece.
"We are very happy with the level that we played at this weekend. These girls fight so hard for every point; it is fun to coach and watch," UE coach Fernando Morales said. "My favorite thing that I learned on the trip this weekend was the change in mentality of this team. Last season, they were happy with playing a close match against a top team in the conference. This year, they were made about the loss at UNI even though they know we played a good match."
Drake (7-8, 1-1 MVC) was led by a 17-kill effort from Haley Bush and 11 kills from Elle Tubbs. Paige Aspinwall registered 41 assists. The Bulldogs came out of the gate strong, jumping out to a 6-2 lead on an Aspinwall service ace. The Aces cut the deficit to one (15-14) on a Vazquez kill, but the Bulldogs bounced back and took game one by a final of 25-17.
The Bulldogs had another nice start to game two, opening up a 6-3 lead before Evansville responded with three in a row to tie it up. Drake was able to retake the lead, going up by six at 18-12. That is when freshman Laura Ruiz played a huge role in a turning the tides for UE. A pair of service aces highlighted a 5-0 run. Following a DU point, the Aces came right back with five in a row to go up by a 22-20 tally. UE never looked back and tied the match with a 25-21 win.
Evansville's momentum continued into game three as a Feliciano kill capped off an 8-2 run to begin the set. Drake managed to get within three at 9-6, but Evansville proved to be too much. Up 21-14, the Aces reeled off four of the last five points, including another ace from Ruiz, to take a 25-15 victory and a 2-1 lead in the match.
In game four, the teams swapped the lead in the early going, but with Drake up 9-8, the Aces had another game-changing rally, scoring five in a row before cruising to the match victory with a 25-14 decision. Vazquez had two kills in the 5-0 stretch. The Bulldogs posted a point on a UE error to make it a 16-11 game, but another huge rally – this one a 7-0 stretch – put the game out of reach for Drake as Evansville evened its Valley mark at 1-1.
Next up for UE is the home conference opener on Monday evening when the Aces face Illinois State in a 5 p.m. match inside Meeks Family Fieldhouse.
UE game at Kentucky to be televised by SEC Network
For the second time, the University of Evansville men's basketball program will be featured on the SEC Network when the Purple Aces face the University of Kentucky on Tuesday, November 12.

UE makes its first trip to Rupp Arena to take on the Wildcats in what will be a 7 p.m. ET tip. The SEC Network will have live coverage of the contest. It is the second appearance on the network for the Aces. Evansville was featured on the network in 2015 when the team took on Arkansas in Fayetteville.

"This is an excellent opportunity for our program in every way possible," Aces head coach Walter McCarty said. "To have the chance to play against a program like Kentucky and be featured on the SEC Network are both things that will increase the visibility of our program and help us to continue moving in the right direction."

The Aces have officially started practicing for the 2019-20 campaign. UE faces USI in an exhibition contest on October 28 before opening the home schedule on November 9 versus Ball State in a 6 p.m. game.
Volleyball opens MVC schedule in Iowa
Sitting at 9-2, the University of Evansville volleyball team sits atop the Missouri Valley Conference entering the opening week of league play
The Aces open up on Friday at UNI before heading to Drake Saturday and hosting Illinois State on Monday
Weekend Recap
Evansville went 3-0 in its second-consecutive tournament en route to another championship
The Aces swept the Skyhawk Invitational with a 3-1 win over UT Martin, a 3-0 triumph over Little Rock and a hard-fought 3-1 decision against Mercer
Rachel Tam was named the MVP of the tournament while Melanie Feliciano and Allana McInnis were on the All-Tournament Team
Evansville opened the week with a 3-2 home victory over Tennessee Tech where Tam set the school record with 39 kills; her tally is second all-time in conference history
Top of the Valley
With 13.35 assists and 14.30 kills per set, Evansville leads the MVC; those numbers put UE 16th in the nation in both stats
Evansville ranks third in the league in digs (16.93/set) and hitting percentage (.213)
On the individual side, Allana McInnis continues to pace the conference with 11.09 assists
Hannah Watkins remains second in the Valley with 1.12 blocks per set while Gabriela Macedo is second in the league in digs (4.86/set) and service aces (0.42/set)
Feliciano and Tam rank second and third in kills
Record Breaker
Rachel Tam had one of the best games in MVC history registering 39 kills in the win over Tennessee Tech on Sept. 17 and followed that up with an MVP performance at the Skyhawk Invitational on her way to being named the MVC Player of the Week
Her total set the Evansville program record was second in conference history, just one off of the all-time mark
Tam's 39 kills is second-most for any NCAA Division I player in 2019
Now averaging 4.60 kills/set, Tam is third in the MVC; she has had at least seven kills in all 11 matches in 2019
On her way to the MVP honor in Martin, Tenn., Tam recorded 6.09 kills per set with her top match coming against the Skyhawks where she had 35 kills
Her 35-kill final marked the top UE total in a 4-set match
A Helping Hand
Junior Allana McInnis sits atop the MVC with 11.09 assists per set and is in the top 20 in the country
McInnis has averaged 10+ assists in each of the last eight matches - all Evansville victories
The top two contests of her career saw her post 65 helpers against Eastern Illinois before recording 64 in the win over Tennessee Tech
She has recorded at least 29 assists in ten out of the 11 matches in 2019
McInnis posted 22 or more assists in each of the last 14 matches of 2018 and has done so 10 out of 11 times in 2019
Scouting the Opposition
UNI enters conference play with a 6-8 record, but seven of those eight losses came against Power 5 schools and the BIg East
Karlie Taylor is near the top of the league with 4.73 kills per set and also chips in 3.19 digs per game
Rachel Koop averages 10.4 assists per game and has 542 on the season
Drake starts the weekend with a 6-7 record but halted a 5-match skid last weekend with a 3-2 win over North Carolina A&T
Haley Bush paces the Bulldogs with 3.81 kills per game with Emily Plock just behind at 3.13
Their defense is led by Paige Aspinwall's 6.36 digs per game
Illinois State starts their MVC slate with a 7-5 mark
The Redbirds are led by Maylee Martin's 3.86 kills and 10.22 assists per set from Stef Jankiewicz
They open MVC action against Missouri State and SIU before coming to Evansville on Monday
Contribute to AceNotes
To have content considered for inclusion in AceNotes, please submit a Marketing Request Form. Deadline for submission to AceNotes is 10:00 a.m. on the requested date of publication. Only articles concerning UE related/sponsored activities will be accepted. Articles submitted to AceNotes may be edited for length and clarity. Submitter contact information is at the end of each article.