| | |
| --- | --- |
| AceNotes Today | Friday, August 16, 2019 |
General Auditions for Fall 2019 Productions
The University of Evansville Theatre Department is holding auditions, August 21, for their fall season which consists of SMALL MOUTH SOUNDS, THE THREE MUSKETEERS, and LONE STAR SPIRITS. All non-theatre majors who are interested in auditioning should come to the G. Richard and Rita Eykamp Theatre Suite (HH 109) located in Hyde Hall to pick up audition requirements.
Submitted by Sharla Cowden sc75@evansville.edu.
Student Health Center
Student Health Center will resume normal business hours starting Monday, August 19th: Monday-Friday: 8am-5pm
Please stop by or call 812-488-2033 to schedule an appointment. Provider and Nurse appointments available.
Submitted by Tara Ulrich tu19@evansville.edu.
University of Evansville and Methodist Temple Partner for Expanded Religious Life Offerings
The University of Evansville has partnered with Methodist Temple to provide expanded religious life offerings that are further integrated into the student experience. The partnership includes shared clergy and a newly created organizational structure that is integrated into both the Center for Student Engagement and the Center for Diversity, Equity, and Inclusion.
"This new organizational structure allows us to uphold our longstanding commitment to inclusivity and rich interfaith dialogues while determining the best opportunities of spiritual growth for all of our students," said UE president Christopher M. Pietruszkiewicz.
Shared clergy include JillAnn Knonenborg, Methodist Temple's Associate Pastor, as well as Lead Pastor, Andy Payton.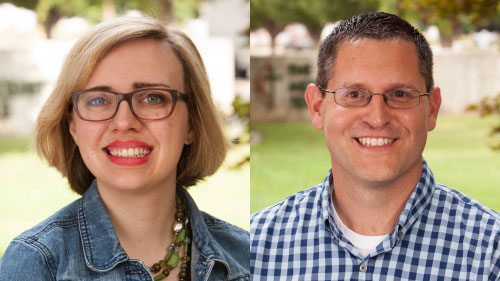 Knonenborg will serve as UE's Director of Religious Life beginning this fall. She will work collaboratively with the Center for Diversity, Equity, and Inclusion, the Center for Innovation and Change, and campus service organizations such as UE Habitat for Humanity. She will also develop programming to promote an inclusive environment, coordinate UE's Alternative Spring Break, advocate for social justice issues, and identify alternative worship experiences that best align with student needs. Knonenborg graduated from Wesley Theological Seminary in Washington, D.C., with a Master of Divinity and recently moved to Evansville.
Payton will serve as the University Chaplain to preside at official ceremonies such as convocation, baccalaureate, and commencement and will serve as the liaison with the United Methodist Church. He will also coordinate the annual Vespers and Christmas worship services, as well as the Edgar M. McKown Lecture and associated worship service. Payton graduated from Indiana Wesleyan University with a degree in Communications and went on to seminary at Christian Theological in Indianapolis where he obtained a Master of Divinity.
"Both JillAnn and Andy bring a fresh perspective to our campus community," said Pietruszkiewicz. "I look forward to watching our students grow under their leadership."
The Newman Center will continue to offer Catholic masses in Neu Chapel, and a newly created campus worship experience will be announced in the fall semester. Students are encouraged to consider opportunities within the community to participate in worship services. Neu Chapel will continue to be available to the community for weddings and other outside rentals.
Otters' Tickets in the Office of Admission
Pick up tickets at the front desk in the Office of Admission for Breast Cancer Awareness Night with the Evansville Otters. The Otters will play on Saturday, August 17, 2019 with gates opening at 5:30 P.M. and the first pitch being thrown at 6:35 P.M. No limit on the number tickets you may pick up. Enjoy your night at the ballgame!
Submitted by Paige James pj32@evansville.edu.
2019-20 Student Parking Permit Registration Available Online
Beginning, Monday, August 12, 2019, Parking Permit registration will be available online. There is a different process for full-time and part-time students.
Full-time Students
Students who are registered full-time (12 hours or more) will be provided a Parking Permit at no additional cost. Please make sure you have completed your class registration process before registering your vehicle online and collecting your permit.
To register your vehicle, go to the UE Self-Service portal and enter your UE username and password.
The Parking Permits link is under "UE Forms." Click on the menu icon (upper left hand corner) > UE Forms > Student > Parking Permits. If you need assistance with accessing self-service, please contact the OTS help desk at 812-488-2077.
Fill out the registration form. Once you have registered your vehicle, proceed to the Permit Distribution location in the box below with your ID.
Part-time Students Students who are registered as part-time (less than 12 hours) will be charged $50 for a 2019-2020 Parking Permit.
To register your vehicle, go to the UE Self-Service portal selfservice.evansville.edu and enter your UE username and password.
The Parking Permits link is under "UE Forms." Click on the menu icon (upper left hand corner) > UE Forms > Student > Parking Permits.
Fill out the registration form, print out the UE vehicle registration confirmation page, and take it to the cashier's window at Student Financial Services. You can pay for the Parking Permit via your student account, or you can pay by cash/ check. Once payment is made, proceed to the Permit Distribution location in the box below with your ID and receipt.
Please note that permits are for the 2019-20 academic year. There are no refunds or pro-rated fees for partial academic years. There are no discounts or refunds for part-time students with UE plates.
Fraternity Parking Permits
All fraternity members who qualify for a Fraternity Parking Permit, must complete the vehicle registration process on-line and follow the same procedures as other students to obtain a parking permit from the Parking Permit Distribution Center. Students living in the Fraternity Complex (Sig Ep, FIJI, & Phi Tau) will be issued a Blue permit. Once the fraternity presidents have provided the Office of Safety and Security with the list of members who are to receive a yellow Fraternity Parking Permit, the student can exchange their assigned blue permit for the yellow Fraternity Parking Permit at the Office of Safety and Security.
All other fraternities (LXA, SAE, and TKE) will receive an orange permit.
Replacement Parking Permits
If you lose your Parking Permit, replacement Permits are $25 and must be paid for at the cashier's window in Student Financial Services. Students can place the replacement charge on their student account, or pay with cash or check. Employees must pay with cash or check. Once the replacement Permit is paid for, you will be assigned a new permit.
Questions
If you have any questions concerning the application process, please contact the Office of Safety & Security at 812-488-2051.
Parking Permit Distribution Center
Ridgway University Center
Saturday, August 17, Noon - 5:00 p.m.
Tuesday, August 20, 8:00 a.m. - 4:00 p.m.
Wednesday, August 21, 8:00 a.m.- 4:00 p.m.
Thursday, August 22, 8:00 a.m. - 4:00 p.m.
After August 23, Parking Permits will be distributed at the Cashier's window in Student Financial Services (Olmsted Hall).
Remember: You must present your UE ID to obtain your permit (after you have registered your vehicle through self-service).
Tropical Ecology Field Course in Costa Rica is coming soon!
Bio & ES majors and other interested students, Tropical Ecology of Costa Rica will be offered in spring 2020! Students in this course will explore an amazing diversity of beautiful habitats, see some of the coolest animals and plants on the planet, and eat some crazy delicious food. Additionally we will spend some time investigating Costa Rica's commitment to sustainability as the country typically gets 95-100% of its (non-transportation) energy from renewable resources. This course has 2 components, a lecture/discussion session that meets typically one night a week during the spring semester, and an approximately 2-week travel component in May (just after graduation, so seniors can still go).
Deposits will be due October 4th. We will need 6 students for this course to be offered, so please contact Dr. Noah Gordon if you are interested ("yes" if you definitely want to go, and "maybe" if you are unsure but want to go). While this course is geared for Biology and ES majors, other majors may be considered, please contact Dr. Gordon to discuss further if you are interested.
Email Dr. Gordon at ng62@evansville.edu or stop by KC 214 with any questions.
UE Ballroom Dance performance opportunity
The UE Ballroom Dance Club is seeking people interested in performing at its Family Weekend Mad Hot Ballroom performance (Friday, 9/20 from 7-8pm in Eykamp). No experience necessary! The Glenwood Dancers will once again perform, and faculty, staff and students are welcome to do a demo as well.
If you've ever wanted to try ballroom, this is a fun and unique opportunity to be part of the program. Ballroom coaches will teach you everything you need to know at no cost to you. UE's Mad Hot Ballroom recently became the first ever student led program to win the Sam Featherstone Youth Award for a project at Evansville's Celebration of Leadership awards.
Come try something new and experience the joy of dance.
For more information, email Erin Lewis at EL131@evansville.edu.
Study abroad class presentations
The Harlaxton/study abroad office would love the chance to come for 5 minutes to your class to inform your students about study abroad opportunities! Please email harlaxton@evansville.edu with the classes and times if you would be interested in having us present to your students!
Kaylynn McCalister kc205@evansville.edu.
Need office organization supplies?
The Harlaxton/study abroad office has a number of binders, file folders, and paper/file organizers available to anyone who needs them! Please contact harlaxton@evansville.edu or come by our offices in SOBA 262-263 this week if you have an interest in these organizational supplies!
Submitted by Kaylynn McCalister kc205@evansville.edu.
William Wesley Peters Exhibit Open at Evansville Museum
The Evansville Museum opened an exhibit that will recall the career of architect and engineer Evansvillian William Wesley Peters, 1912-1991. Peters worked with Frank Lloyd Wright on such famous structures as Fallingwater and the Guggenheim Museum in New York City. The exhibition will focus on Wright's Evansville career – with a special emphasis on the Peters-Margedant House – a prototype for the development of the Usonian style of architecture – that was moved to the University of Evansville's campus in 2016, his career with Frank Lloyd Wright, and his post Wright career.
The exhibition dates are Sunday, August 11-Sunday October 27.
Submitted by Jordan Hall jh590@evansville.edu.
Production Copier Instructions Available on AceLink
Production Copier basic instructions are available and posted on the New AceLink Copy/Print website. Instructions include Copy a Document from the Glass or Document Feeder; Print a File from a Computer to a Copier; Secure Print a File from a Computer to Copier; Print Documents from USB; and Scan to Email. In addition General Information for both the D125 and C70 is posted. Check it out!
If you plan to use the production copiers and didn't sign up for the installation of necessary print drivers. Please submit an OTS Helpdesk ticket.
For questions, please contact distributionservices@evansville.edu.
Bookstore Move in Weekend Hours
The Bookstore will have special hours during Move-In Weekend, August 17 & 18th. On Saturday, August 17th the Bookstore will be open from 10AM to 5PM. On Sunday, August 18 the Bookstore will be open from Noon to 3PM. Stop in and browse and get your textbooks. The Bookstore will also be offering 10% OFF all clothing and gift purchases August 16-18th. Discount taken off the original price of the item.
Submitted by Doug Gustwiller dg57@evansville.edu.
2019-20 Employee Parking Permit Registration is Now Available Online
We are changing things up a bit! Parking Permits are now available online. No need to walk to the Office of Safety and Security, fill out any paperwork, or wait in line for your permit!
How do I register for a Parking Permit?
You can register for your Parking Permit through the UE Self-Service portal using your UE username and password. The Parking Permits link is under "UE Forms." Click on the menu icon (upper left hand corner) > UE Forms > Employee > Parking Permits. If you need assistance with accessing self-service, please contact OTS help desk at 812-488-2077.
How much does a Parking Permit cost and how do I pay for it?
Parking Permits are $50 and can be paid through a quick and easy online payroll deduction of $10 installments over five pay periods or by cash/check at the cashier window in Student Financial Services, Olmsted 105.
What is the process for applying and paying for a Parking Permit?
Employees will go to the appropriate link on UE Self-Service (see instructions above) and follow the processes for registering a vehicle. Once you have registered your vehicle and enrolled for payroll deduction, stop by the cashier window in Student Financial Services and pick up your Parking Permit. That's all there is to it!
What if I don't want to do payroll deduction?
If you opt to pay cash/check at Student Accounts, you will still need to register your vehicle on self-service. Then you will need to print out the registration confirmation sheet and take it to the cashier window in Student Financial Services. The cashier will take your payment, mark your confirmation sheet as paid, and issue your permit. Be advised: If you choose to pay cash/check, the process will take a little longer to prepare the transactions.
What if I am a President's Club member or have a UE license plate - does that make a difference?
President's Club members are asked to register their vehicles online simply for the purposes of being able to provide timely information in the event of an emergency (ie. Someone has damaged your vehicle and we need to notify you). President's Club stickers will be distributed via the Office of Development upon confirmation of the donation.
Discounts for UE license plates are only valid if the plate is active at the time of permit registration. There are no discounts or refunds once the permit is assigned. The discounted fee for employees who have UE license plates is $25.
Where do I pick up my Permit?
Parking Permits will be distributed at Student Financial Services. We strongly encourage all employees to apply and pick up their Parking Permits beginning today (August 1) thru Wednesday, August 14, 8:00 a.m. - 4:00 p.m. to avoid the rush of the distribution of Student Parking Permits.
If you have any questions concerning the application process, please contact the Office of Safety & Security at 812-488-2051.
University of Evansville Announces Berger Awards for 2019
University of Evansville professors Mohammad K. Azarian and Thomas Josenhans were honored recently with the 2019 Sydney and Sadelle Berger Awards for Scholarly Activity and Service. They were presented with the awards by Charlie Berger during UE's Fall Conference.
UE professor of mathematics Mohammad K. Azarian was given the Berger Award for Scholarly Activity. Azarian is a well-published professional who has significantly contributed to the research community and has worked at UE for 34 years.
He has published 42 peer-reviewed journal articles in four different areas of mathematics including group theory, number theory, combinatorics, and the history of mathematics.
He presented his research at 54 international, national, and regional conferences. In addition, he has published 82 problems in peer reviewed general mathematics journals in the United States and made over 1600 contributions to the On-Line Encyclopedia of Integer Sequences, including over 1000 new sequences.
Azarian has earned the respect of mathematics organizations and publications, who value his expertise and trust his judgment. He serves as a referee for the following journals:
Missouri Journal of Mathematical Sciences
Houston Journal of Mathematics
College Mathematics Journal
Jounral of Integer Sequences
Ars Combinatoria
International Journal of Mathematics and Mathematical Sciences
He has served on the editorial boards of many prestigious journals and newsletters, and is a reviewer for the Mathematical Reviews of the American Mathematical Society (MathSciNet), the most prestigious and the authoritative gateway to the scholarly literature of mathematics in the world.
His remarkable research portfolio of 136 publications in the Google Scholar's Citations system, and he was named a University of Evansville Global Scholar in 2007-2008.
From 2001 to 2007, he served on the Executive Board of the Mathematical Association of America- Indiana, where he was solely responsible for the Indiana College Mathematics Competition for all 40 colleges and universities in the state of Indiana.
In 2015, Azarian was one of only seven mathematicians in the United States who was selected to serve as a discipline peer reviewer for the Fulbright Scholar Program, sponsored by the United States Department of State's Bureau of Educational and Cultural Affairs, a position that he is still holding.
He is the recipient of the 2017 Mathematical Association of America-Indiana Distinguished Service Award, which recognizes a member for "extraordinary contributions and outstanding efforts" to mathematical sciences in America.
UE professor of music Thomas Josenhans was the recipient of the Berger Award for Service. Josenhans is fully committed to serving both UE and the greater community. One nominator says that he embodies the definition of a servant leader and truly has a servant's heart.
During his nine years as chair of one of the largest and most diverse groups of faculty on campus, he has worked tirelessly to create opportunities to enhance the faculty and student experience. He has gone above and beyond to create a department that serves as a community resource and a showcase of arts in the community.
As part of this effort, he has cultivated positive relationships with area educators, providing financial and personal support of the Wesley Shepard Summer Music Camp which he has transformed into an annual high-quality experience for local and regional middle and high school students that serves as an invaluable recruiting tool.
Josenhans is an integral part of the Tri-State Community Ensemble Festival regional music educators' conferences, and weekend events such as Brass Day, Woodwind Day, Percussion Day and UE Opera events. He has provided support and found funding for campus appearances of world-class guest artists such as Doc Severinsen, Diane Shur, and Andre Watts. He has worked closely with the Evansville Philharmonic Orchestra to consistently evaluate and improve the interwoven relationship of shared faculty and artists.
In addition, Josenhans has gone beyond his already heavy responsibilities as chair, to represent the University as chair of the Music Director Search Committee for the Evansville Philharmonic Orchestra, a committee charged with selecting from over 200 applicants to find the 5 finalists who will guest conduct during the 2019-2020 season.
Two recent grants have specifically enhanced recruiting and current student opportunities. He wrote the request for a three-year grant to fund the new position of Music Outreach Director, with responsibilities to coordinate camp recruiting school visits. A second grant awarded during his leadership is from the Schmidt Foundation for the UE Opera Series. This grant has been renewed annually and has allowed UE Opera to mount larger productions and schedule outreach visits to area schools.
This year's recipient has also been a dynamic influence in a steady period of growth, positivity, and tangible financial support from the Friends of UE Music. This organization includes a growing membership of alumni, faculty, UE student families, and members of the greater Evansville community.
Nominators also want to specifically recognize this year's recipient for his work in creating and developing the UE Music Strategic Plan. He guided and mentored those working on this collaborative effort for more than a year.
Through all of this, he gives selflessly of his time and energy because of his genuine love and devotion to his department and University. His door is always open to faculty and students where each one is heard compassionately, validated and supported with kindness and integrity.
University of Evansville Twenty-five Year Awards
Congratulations to those who were recognized at Fall Conference for their twenty-five years of dedicated service to UE. Awardees are:
Dale Edwards - Professor of Biology
Dr. Dale Edwards received a BS degree in zoology from Brandon University in Canada, and his MS and PhD degrees in biology from Wake Forest University. He served as a Visiting Assistant Professor at High Point University and the University of Richmond before accepting a full-time faculty position at the University of Evansville in 1994. Edwards is currently Professor and Chair of UE's biology department.
While at UE, he has served on numerous committees and programs, including but not limited to, the Faculty Senate, the General Education Subcommittee, the Athletic Committee, the Admissions and Standards Committee, the Tenure and Promotion Committee, the University's Writing Subcommittee Committee, and Chair of the Search Committee for the Executive Vice President of Academic Affairs.
Locally, Edwards has been a longstanding lecturer for the Indiana Master Naturalist Program at Wesselman Woods Nature Preserve. For the Indiana Academy of Science, he served as Chair of Local Arrangements Committee for one of its annual meetings and as President of the Academy in 2013. He was named an Indiana Academy of Science Fellow in 2016.
Edwards has published twenty-eight peer-reviewed articles over the course of his academic career. Edwards is also the co-author of a book titled Mites of Freshwater Mollusks that was published in 2013.
While at UE, Edwards has been the recipient of Deans' Outstanding Teacher Award for the College of Arts and Science and The Sadelle and Sydney Berger Annual Award for Scholarship.
David Fentress - Physics Lab Supervisor
David Fentress earned a BS from Western Kentucky University and an MS from Murray State University. In his capacity as Physics Lab Supervisor, he has managed all phases of operation of labs for introductory physics courses, as well as being the primary instructor for those labs. During this time, he has written and implemented several new experiments. On a few occasions, he has presented physics demonstrations to the broader science education community beyond UE.
David has participated in UE Barn Blitz and the Spotlight Music Show. In the broader community, he has been active in Evansville CROP Hunger Walk, in Citizens' Climate Lobby, and is an active member of the Unitarian Universalist Church of Evansville.
Tony Holt - Manager of Campus Maintenance
Tony Holt is the Manager of Campus Maintenance for the Office of Facilities Management and Planning. His areas of concentration include all administrative and academic buildings, the Central Plant, and the distribution of utilities serving the entire campus.
Tony began his career at UE as a Staff Electrician on May 23, 1994, at the age of twenty-two. During his twenty years in that position, he is fairly certain that he accessed every closet and cramped space at UE; coincidentally discovering his claustrophobia trigger.
Tony graduated from Harrison High School in 1990, has held his Master Electrician License since 1993, and graduated with a BS in Global Leadership from UE in 2010. As a result of his tenacity and grit, he was promoted to his current position in May of 2014. He is the widowed father of Evan, 14, and Kaelyn, 13. Outside of work, Tony enjoys camping, hunting, and raising cows.
Bryan Lynch - Professor of Chemistry
Dr. Bryan Lynch, Professor of Chemistry, received a B.S. and Ph.D. degrees, both from the University of Pittsburgh, followed by postdoctoral work at Cornell University. His specialty areas are physical chemistry and chemistry for students with a non-science major. Outside the classroom, he has accompanied students on Neu Chapel mission trips to Jamaica, Southern West Virginia, and Juarez, Mexico.
His work has been published in the journals Inorganic Chemistry and the Journal of Chemical Physics. He has taken two sabbaticals at the Massachusetts Institute of Technology where he used both laser and microwave spectroscopy to study molecules thought to exist in the interstellar medium. His third sabbatical will take place this coming Spring semester at the Harvard-Smithsonian Center for Astrophysics, where he will be conducting research in astrochemistry
In 2001, he was given an Award for Excellence in Undergraduate Research by the Indiana University Department of Chemistry. In 2009, he was awarded both the Dean's Outstanding Teaching Award, and the Sadelle and Sydney Berger Award for Scholarship.
Dr. Bryan Lynch has been awarded outside grants by the American Chemical Society and Research Corporation. He has also been awarded numerous internal grants by ART, ARSAF, and UExplore.
James MacLeod - Professor of History
Dr. James MacLeod was educated at the University of Edinburgh in Scotland. He taught History and British Studies at Harlaxton College from 1994-99, and then moved to Evansville. James is currently Professor and Chair of the History Department.
Dr. MacLeod is the author of three books: The Cartoons of Evansville's Karl Kae Knecht [2017]; Evansville in World War Two [2015]; and The Second Disruption [2000]. In 2016, he wrote and co-produced a 2-part documentary in Evansville on World War II for WNIN Public Television entitled Evansville at War. He has also written over thirty scholarly publications.
James has delivered hundreds of public lectures and has won many awards for his teaching and scholarship; including UE's Outstanding Teacher, the United Methodist Outstanding Teacher, the Dean's Teaching Award, and the Berger Prize for Scholarship. James is also an award-winning cartoonist and his editorial cartoons have appeared in the Evansville Courier and Press and the Henderson Gleaner, as well as many other outlets. He is an active local historian, serving on the Boards of the Vanderburgh County Historical Society, the Southwestern Indiana Historical Society, and the Evansville Museum of Art, History and Science. He is currently working on a book on Evansville in the Sixties.
Linda Wulf - Associate Director of Career Development
Linda Wulf joined UE in 1994 as the Coordinator for the Curriculum Center under the School of Education in Hyde Hall. She held this position for fourteen years. After completing her Bachelor of Liberal Studies degree from UE in May 2008, she continued her education earning her Masters in Public Service Administration degree from the Adult Education Department at UE. Linda has served as Assistant Director of Career Services and is now an Associate Director of Career Development.
Linda has been a member of the Office Staff Association, UESAA, served as Chair of the UE United Way campaign, serves on the Board of ANEW (A Network of Evansville Women), is a member of Career Development Professionals of Indiana, Certified in Meyers Briggs Type Indicator, member of the National Association of Colleges and Employers (NACE) completing the NACE Career Coaching Intensive Program, member of the Evansville Human Resource Association, and Completed the Global Community for Academic Advising for the Undeclared Student training.
Submitted by Paulta Heldt ph28@evansville.edu.
UE Welcomes New Faculty
The University community would like to extend a warm welcome to these new 2019-2020 faculty members.
Rachael Alley, Visiting Assistant Professor of Health Sciences, earned a Bachelor of Science in Communications with Emphasis in Journalism from the University of Southern Indiana. She also received a Master of Science in Physical Education with Athletic Training Emphasis from Indiana State University, and a Doctorate in Educational Leadership from Marshall University.
Rebekah Basham, Clinical Assistant Professor of Physician Assistant Science, earned a Bachelor of Science in Dietetics from Ball State University, and a Master of Science in Physician Assistant Studies from the University of Kentucky.
Melissa Fitch Jernigan, Founding Program Administrator, Clinical Assistant Professor of Nursing Anesthesia Program, earned a BSN from Murray State University, an MSN from the Trover Foundation/Murray State University Program of Anesthesia, and a Doctor of Nursing Practice from Murray State University.
Wes Grantom, Visiting Instructor of Theatre, earned a BFA in Theatre Performance from UE.
Demian Kogutek, Assistant Professor of Music Therapy, earned a Bachelor of Honors of Music Therapy from the University of Windsor in Ontario, Canada, a Master of Music Therapy from Wilfrid Laurier University, Waterloo, Ontario, Canada, and a PhD in Rehabilitation Sciences from the University of Western, London, Ontario, Canada.
Susan Laughbaum, Visiting Instructor Clinical Education Coordinator Athletic Training, earned a BA in Physical Education for Secondary Education with a minor in Mathematics from Concordia University. She also earned a Master of Science in Athletic Training from Indiana State University.
Mark Marchino, Director of Clinical Education and Clinical Assistant Professor of Physical Therapy, earned an Associate of Science from Olney Central College, and a Bachelor of Science in Physical Therapy from UE. He also received a Master of Health Science from the University of Indianapolis, and a Doctor of Physical Therapy from the University of Montana.
Amelia McClain, Assistant Professor of Theatre, earned a BFA from UE and an MFA from New York University's graduate acting program.
Katie Thomas, Clinical Assistant Professor of Nursing, earned a Bachelor of Science in Nursing from UE, and a Master of Science in Nursing, Clinical Nurse Specialist, from USI.
Wei Wu, Assistant Professor of Electrical Engineering, earned a Bachelor of Science in Measuring & Control Technology and Instrumentations from Nanjing University of Posts and Telecommunications in China. She also received a Master of Science in Electrical
Engineering from Southern Illinois University Edwardsville, and a PhD in Electrical Engineering from Southern Illinois University Carbondale.
Submitted by Paula Heldt ph28@evansville.edu
Associate Professor Todd A. Matteson Exhibits Artwork
Associate Professor of Art, Todd A. Matteson, will be exhibiting work in the 75th Annual Wabash Valley Exhibition at the SWOPE Museum in Terre Haute. The exhibition runs from September 6 - October 20. The exhibition was juried by David Butler. There were 470 entries submitted by 165 artists! The juror selected a variety of styles and media, choosing 57 works by 45 artists. The piece chosen from Professor Matteson is "Many Paths on a Journey", 2018, clay, stoneware.
Submitted by Todd Matteson tm8@evansville.edu.
Wolak Earns MVC Preseason All-Conference Honors
Sophomore Emily Wolak represents the Purple Aces on the Missouri Valley Preseason All-Conference team, announced by the league Thursday.
Wolak earned second team all-MVC and All-Freshman honors for her performance last season.
The Rochester, N.Y. native saw action in 19 games in 2018, posting her first career goal against Tennessee Tech and added seven shots with six aimed at goal.
The midfielder will set the pace for the Aces, who as a team were picked sixth in the MVC preseason poll, voted for by the coaches.
Evansville opens up the regular season next Thursday at home against Middle Tennessee at 7 p.m.
Submitted by Emily McMillan em296@evansville.edu.
Aces Golf Scramble to take place on September 12
One of the largest events for the University of Evansville men's basketball program and the Aces Assist Club is the Aces Golf Scramble, which will take place on Thursday, September 12 at Rolling Hills Country Club in Newburgh.
Two start times will be on tap with the first shotgun start set for 8 a.m. and the second one heading on course at 1 p.m. Flight preference will be assigned on a first-come, first-serve basis. Your group and start time is reserved with payment. Lunch for both flights will be served at noon.
Cost for a foursome is $750 with individuals set for $200. Aces Assist Club members will receive the single entry fee associated with your giving level. To confirm your group, individual or start time, fill out the form above or contact the UE Basketball Office at 812-488-3800.
Submitted by Bob Pristash rp113@evansville.edu.
Larry Humes named to MVC Hall of Fame
The Missouri Valley Conference will honor its past when the league conducts its annual Hall of Fame induction ceremony in St. Louis on Friday, March 6, 2020. University of Evansville basketball legend Larry Humes will be among the inductees.
The 23rd MVC Hall of Fame class features a two-sport (baseball/football) student-athlete in Mike Prior (Illinois State); a baseball student-athlete in Bill Mueller (Missouri State); a four-time NCAA track & field pole vault champion in Kylie Hutson (Indiana State); coaching legends Richard "Itchy" Jones (Southern Illinois baseball) and Phog Allen (Kansas basketball) and Humes.
Humes left the University of Evansville as the leading scorer in program history with 2,236 points and he currently ranks third on that list, despite not playing in an era with the three-point line. His teams won two NCAA National Championships while Humes averaged 32.5 points per game as a junior and 31.0 during his senior campaign of 1965-66.
"I am honored to be selected to be in the MVC Hall of Fame. I appreciate the committee who thought that I did enough to deserve that honor," Humes said. "My time in Evansville was great. The fans were unbelievable and probably the greatest in the country. To be able to play at Roberts Stadium and win for our fans was a great honor and it remains that way today. I still remember those special nights at Roberts and playing with my teammates."
For Humes, it is the second major honor of the year for him as it was announced earlier in 2019 that he would be in the latest class to enter the Small College Basketball Hall of Fame. That ceremony is set to take place on October 31 in St. Joseph, Mo.
The league will conduct its annual Hall of Fame ceremony as part the State Farm Missouri Valley Conference Men's Basketball Championship next March 5-8. The March 6 festivities will begin with an 8:00 a.m. breakfast, followed by the induction ceremony at 8:30 a.m.
Tickets to the 2020 Hall of Fame event – scheduled to be held at Stifel Theatre (formerly known as the Peabody Opera House), which is adjacent to Enterprise Center (formerly known as Scottrade Center) – can be obtained by calling the league office at (314) 444-4300. Tickets are available on a first-come, first-served basis.
Humes finished his UE career in 1966, leading the team to an overall mark of 73-12, three NCAA Tournament appearances and two National Championships. He was a member of the best team in school history, the 1964-65 NCAA Championship squad, which went a perfect 29-0 with wins over Iowa, Northwestern, Massachusetts and Notre Dame. Humes was a sophomore on the 1963-64 National Championship team. He took the time to reminisce about his time at Evansville and truly enjoyed what his teams were able to accomplish.
"Our 1964 team was a special team. Arad McCutchan used a platoon system where the starters played the first ten minutes, the reserves played the next ten, they then switched off five more minutes each before the best players on the floor saw the final 10 minutes. Coach McCutchan was so far ahead of his time with how he ran his team," Humes explained.
He went on to detail the undefeated 1965 squad.
"That season (1965), we pretty much played five guys unless we got into foul trouble: Russ Grieger, Sam Watkins, Jerry Sloan, Herb Williams and myself. That was a great honor winning back-to-back championships, especially going undefeated," he explained. "We played some great teams in the preseason – Iowa, Northwestern, Notre Dame, Southern Illinois and Kentucky Wesleyan, then played our conference schedule."
"In 1965, we played SIU with Walt Frazier three times. In the game at Roberts, we were down a point and Coach McCutchan called a time out. Russ (Grieger) threw the ball down the court and I caught it and shot it over my shoulder. It hit the front of the rim, then the back and just sat there for a second as time ran out. It eventually went in and we won, 81-80," Humes detailed. "We beat them at their place before winning in overtime in the championship game. Those were some outstanding memories and accomplishment to do those things. We wanted to play the Division I champion, we felt like we could beat anyone in the country."
Following the 1965 season, Humes earned Sporting News Honorable Mention All-America honors, which spanned over all divisions of college basketball. Additionally, he earned First-Team All-America honors (UPI and AP) for the College Division in 1965 and 1966, and he was an honorable mention pick by the AP in 1964. He also earned First-Team All-Indiana Collegiate Conference plaudits in 1965 and 1966; and Humes was an NABC All-District 3rd Team selection in 1965 and 2nd Team in 1966.
"We were a big family, we did not care who scored the points, we just wanted to win. Coach Mac ahead of his time – he got the most out of you and made sure you were in tip top shape. We were in such good shape that we could go out and play two games in one night if we had to. The drills and fundamentals he had you do were unbelievable. He was laying the foundation for your success later in life."
One of Humes' closest friends that he teamed up with at Evansville was the great Jerry Sloan. The pair were the only members of the team who were married at the time and each couple had a child. That parallel saw Humes, Sloan and their families spend a lot of time together.
"Jerry and I have been friends for 50 years, I just talked to him a month ago. Jerry was a leader for the Aces. He was a hard-nosed basketball player, a very dedicated player and person. He did not care who got the limelight. He did things to make the team better. He was a great defensive player, rebounder and a good offensive player," Humes said when referencing Sloan. "He was the backbone of the 65 team along with the other four of us. Jerry just kept everything better and got better as he hit the pros. His game on offense and defense got better. He never forgot where he came from; he was a country boy. Even though he is an NBA Hall of Famer, you would never know it; he treats everyone the same."
Humes went on to explain that the backbone of his life and career is his beloved wife and high school sweetheart Cecele. The couple has been married for 56 years. He also credits his parents for his success.
"My wife is my backbone, if it was not for her encouraging me, I would not have enjoyed the success I have," Humes said. "I also need to credit my parents, they were always there for me and pushing me to be the best."
Following his graduation, Humes went on to enjoy a long teaching and coaching career in Indianapolis both at the high school level and at the University of Indianapolis. He played at Madison High School, which is between Louisville and Cincinnati. In four years as a starter, his squad lost just four regular-season games and five overall. He led his team to the state finals as a senior, falling to Bosse in the 1962 state championship. Madison defeated Bosse in the regular season that year.
"My mentors really made a difference for me in high school and college. You need mentors that see something in you. Coach McCutchan was one of my mentors and my high school coach Bud Ritter was another," Humes exclaimed. "He went to Bosse HS and played on 1944 and 45 state championship teams. Went to Purdue and he was my HS coach and that is the reason I went to Evansville. He thought it would be the right place for me. He said it was a small college, good education, great basketball and great fans and a good place for me."
Humes recently enjoyed an accolade in Madison, Indiana. He grew up on Elm Street and a few years ago when celebrating his 50th High School Reunion, the street which is five blocks long, was named "Humes Way".
Coach Ritter's assistance saw Humes fit right in with the Purple Aces. He continues to be one of the most celebrated and important players in its history. He also added a few tidbits on traditions that live on today with UE.
"Coach McCutchan decided to wear white jerseys at home and orange on the road. The reason for the orange jerseys was because that was the color of the basketball and it was hard for the opponent to see the ball with our bright jerseys," he explained. "I also need to set the record straight on the sleeve jerseys. The reason for that and our robes was to keep us warm. There was a draft on the floor at Roberts Stadium and those helped us to stay warm and be fresh during the games."
Humes was inducted into the Indiana Basketball Hall of Fame in 1991, and he was Indiana's Mr. Basketball in 1962 while going 97-5 in high school, earning Most Valuable Player honors of the ICC in all three seasons.
"I love Evansville, my heart goes out to them and I want the program to get back to where it deserves to be. To have a good basketball team, you need to have players. Our championship teams were able to get guys who had Division I talent and that really made a difference," Humes referenced when talking about his teammates. "Dale Campbell was influential in getting Jerry Sloan to come to UE; Jerry started out at Illinois. Bud Ritter's history in Evansville made a difference in me. Sam Watkins and Ed Smallwood both went to Louisville Central and their coach wanted them to attend Evansville."
"Russ Grieger began his college career at Saint Louis, but came home to Evansville where he played for Bosse High School and Herb Williams' father was a preacher in Illinois and he really liked Coach McCutchan and felt like he was safest at UE."
Humes finished by explaining how special it is to earn this type of recognition and that he looks forward to both ceremonies.
The 2020 State Farm MVC Tournament marks a milestone for the league as it will celebrate 30-straight years in St. Louis. With 30-straight years at the same neutral site, Arch Madness is the second-longest neutral site tenured collegiate tourney in the nation (following only the Big East in New York City).
"The Missouri Valley Conference has always been recognized for the great success of its athletics programs, with a rich history that dates back more than a century," said Commissioner Doug Elgin. "Our MVC Hall of Fame has provided us with an opportunity to honor the student-athletes, coaches, administrators and contributors who have played important roles in the Conference and in intercollegiate athletics.
"The individuals we will be honoring in the Class of 2020 have brought significant honor to themselves, their institutions and to the Conference. We are truly humbled to have this opportunity to salute them for their achievements."
Submitted by Bob Pristash rp113@evansville.edu.
Contribute to AceNotes
To have content considered for inclusion in AceNotes, please submit a Marketing Request Form. Deadline for submission to AceNotes is 10:00 a.m. on the requested date of publication. Only articles concerning UE related/sponsored activities will be accepted. Articles submitted to AceNotes may be edited for length and clarity. Submitter contact information is at the end of each article.