The University of Evansville has partnered with Methodist Temple to provide expanded religious life offerings that are further integrated into the student experience. The partnership includes shared clergy and a newly created organizational structure that is integrated into both the Center for Student Engagement and the Center for Diversity, Equity, and Inclusion.
"This new organizational structure allows us to uphold our longstanding commitment to inclusivity and rich interfaith dialogues while determining the best opportunities of spiritual growth for all of our students," said UE president Christopher M. Pietruszkiewicz.
Shared clergy include JillAnn Knonenborg, Methodist Temple's Associate Pastor, as well as Lead Pastor, Andy Payton.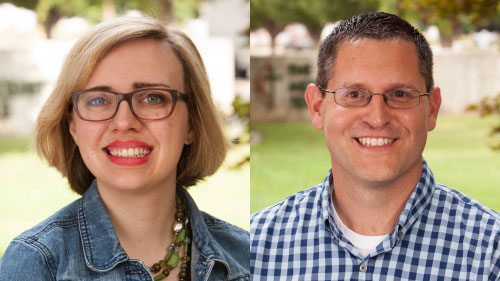 Knonenborg will serve as UE's Director of Religious Life beginning this fall. She will work collaboratively with the Center for Diversity, Equity, and Inclusion, the Center for Innovation and Change, and campus service organizations such as UE Habitat for Humanity. She will also develop programming to promote an inclusive environment, coordinate UE's Alternative Spring Break, advocate for social justice issues, and identify alternative worship experiences that best align with student needs. Knonenborg graduated from Wesley Theological Seminary in Washington, D.C., with a Master of Divinity and recently moved to Evansville.
Payton will serve as the University Chaplain to preside at official ceremonies such as convocation, baccalaureate, and commencement and will serve as the liaison with the United Methodist Church. He will also coordinate the annual Vespers and Christmas worship services, as well as the Edgar M. McKown Lecture and associated worship service. Payton graduated from Indiana Wesleyan University with a degree in Communications and went on to seminary at Christian Theological in Indianapolis where he obtained a Master of Divinity.
"Both JillAnn and Andy bring a fresh perspective to our campus community," said Pietruszkiewicz. "I look forward to watching our students grow under their leadership."
The Newman Center will continue to offer Catholic masses in Neu Chapel, and a newly created campus worship experience will be announced in the fall semester. Students are encouraged to consider opportunities within the community to participate in worship services. Neu Chapel will continue to be available to the community for weddings and other outside rentals.