| | |
| --- | --- |
| AceNotes Today | Tuesday, July 16, 2019 |
Athletics Announcement
The University of Evansville Athletic Department will be hosting a press conference regarding a major announcement for the Aces Baseball Team. The presser will be held on Tuesday, July 16 at 2 p.m. at the Armory behind Charles H. Braun Stadium.
If the rain subsides, the announcement will be just outside the entrance Armory facing the baseball stadium. If it is raining, we will move inside the Armory on the turf field.
Details of the announcement will be distributed shortly before the event. Immediately following the press conference, media will have the opportunity for one-on-one interviews with those in attendance.
Following the baseball announcement, there will be a media opportunity with the UE men's basketball team inside the practice facility. Members of the team will be on hand filling backpacks with supplies to give to students at the EVSC. This opportunity will take place at approximately 2:45 p.m.
Submitted by Bob Pristash rp113@evansville.edu.
Front Oval Closed
The Front Oval will be closed till approximately 12PM on Tuesday, July 16, 2019 for removal of a large tree.
Any questions please contact the Facilities Dept. at ext. 2775.
Submitted by Jayne Schnacke js607@evansville.edu.
Save the Date - United Way Day of Caring is September 13
The United Way Day of Caring will be Friday, September 13. This year, UE will be partnering again with the local council of the Boy Scouts of America, the Buffalo Trace Council. This location is located just down the road off the Lloyd Expressway (behind the State Hospital).
Join us on this exciting day by signing up for one of the listed volunteer opportunities. Employees who choose to participate in the Day of Caring do not need to use a vacation day, but do need to get approval from your supervisor.
To sign up, fill out this online form - https://form.jotform.com/91645777131159.
The deadline to sign up is Friday, August 16.
Please let Brian Conner, bc32@evansville.edu, in residence life know if you have any questions.
Snack Vending Provider Change
On May 23, 2019, UE's local snack vending provider, VendAir, was acquired by Canteen Services Co. Inc. of Kentuckiana. Canteen is a subsidiary of the Compass Group and the nation's largest vending services company.
Over the course of the next several weeks, Canteen will be inspecting, cleaning and servicing machines in preparation for the upcoming fall semester. They will also be adding credit card readers and their name on snack vending machines around campus.
Submitted by Kim Winsett kw83@evansville.edu.
Support UE through AmazonSmile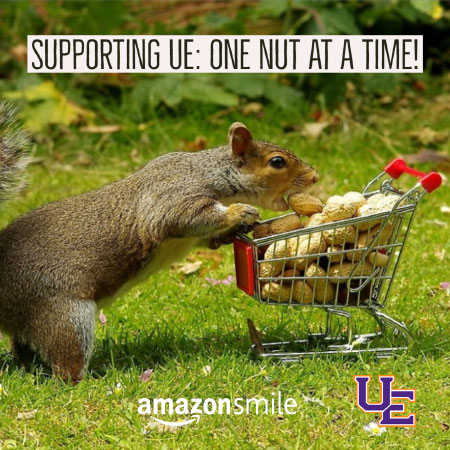 You can make a difference while you shop Amazon Prime Day deals on July 15 and 16!
Every time you shop on AmazonSmile and select the University of Evansville as the charitable organization, the AmazonSmile Foundation will donate 0.5% of the purchase price of any eligible purchases to UE!
To make a gift directly to UE, please visit our giving site at www.evansville.edu/give.
Submitted by Jennifer Calderone jj130@evansville.edu.
United States Postal Service Price Increases
As of June 23, 2019, several U.S.P.S. price changes took effect June 23. These include dimensional weight changes that affect Parcel Select, Priority Mail and Priority Mail Express.
Under the changes, mailers are required to provide dimensions when a parcel measures over 1 cubic foot for Priority Mail Express; Priority Mail (all zones); and Parcel Select (all zones and entries), except Parcel Select Lightweight service.
There also are postage statement updates associated with these price changes.
Additionally, First-Class Mail International flat pieces, which previously were available for up to 4 pounds, are now limited to 15.999 ounces.
Submitted by Kim Winsett kw83@evansville.edu.
Updated Weinbach Closure Schedule
Beginning July 3, Weinbach Avenue will have limited accessibility due to road diet construction. Please be aware of these changes and adjust your travel as necessary.
Access to UE, homes, and businesses will be maintained at all times.
Lincoln intersection closure – 6/10/2019 – 7/14/2019
Lincoln to Mulberry (15 day extended closure) – 7/15/19 – 7/30/2019
Bellemeade Intersection closure– 7/31/2019 – 8/30/2019
UE Alumni Emily Denne and Taylor Petty Publish Article with Margaret Stevenson on Social Worker Compassion Fatigue
Two UE alumni, Emily Denne and Taylor Petty (formerly Wornica) published an article with Dr. Margaret Stevenson in the journal, Child Abuse and Neglect titled "Understanding How Social Worker Compassion Fatigue and Years of Experience Shape Custodial Decisions." Across a series of 2 studies, Denne, Stevenson, and Petty recruited 292 social workers, assessed their compassion fatigue, and presented them with a vignette depicting a neglectful mother attempting to regain custody of her child. As the authors hypothesized, they found that as social workers' years of job experience increased, so too did their compassion fatigue, which in turn increased their recommendations that the neglectful mother receive custody. They also found support for a theoretically derived serial path model that unpacks the relationship between social worker compassion fatigue and custodial decisions, finding that the relationship is serially mediated by secondary traumatic stress, detachment from the child, and job efficacy cynicism, respectively. This is the first study to examine the potential negative consequences of compassion fatigue not just for social workers, but for the vulnerable children they serve.
Submitted by Margaret Stevenson ms446@evansville.edu.
Scripps Howard Foundation/AEJMC Announce Visiting Professor Grant Recipients
Two AEJMC members have been selected as 2019-20 Scripps Howard Foundation Visiting Professors in Media Ad Sales – Yoon-Joo Lee, Washington State University, and Jie Zhang, "Jessica," University of Evansville.
Zhang will have the opportunity to study for two weeks this summer with Scripps Corporate Headquarters in Cincinnati, OH, while Lee will be working with WEWS in Cleveland, OH. They will particularly work with advertising sales that support social media and/or digital marketing, taking updated skills and knowledge back to their schools to share with their students this fall. The second phase of the program funds the travel of a Scripps Corporate representative and WEWS representative to their respective campuses for three- to five-day visits.
The grant provides $3,000 for the Visiting Professor's travel, housing and other expenses for the two-week "externship" and $1,250 for expenses related to the representative's campus visit. AEJMC administers the program for the foundation, selecting a panel of judges to evaluate applications from members based on the value/need of the program for the applicant, impact of the visit on the applicant's home campus, strength of ideas for the professional's visit and the overall quality of the application. The call for applications was issued in February, and the selection process was completed in May.
The Scripps Howard Foundation is the corporate philanthropy of The E.W. Scripps Company, a news and information company with 52 television stations in 36 markets.
AEJMC is a nonprofit, educational association of journalism and mass communication educators, students and media professionals; it was founded 106 years ago in Chicago, IL, by a group of 23 journalism educators and practitioners. For more information, contact Lillian Coleman, AEJMC project manager, aejmcnews@aol.com.
Submitted by Mark Shifflet ms83@evansville.edu.
Sympathy to the Gallman Family
Our deepest sympathy to Bob and Nyla Gallman and family on the death of their grandson, Jonathan Scott. Jon passed away on July 7, 2019. Services were held on Friday, July 12, 2019, at Sunset Memorial Park. Bob Gallman retired from his position as Vice President for Fiscal Affairs and Administration in May of 2003 after more than 25 years of service to the University.
Submitted by Michele Adams ma72@evansville.edu.
Rachel Tam playing for native Hong Kong this week
Looking to be at her best in her final collegiate season, University of Evansville senior volleyball player Rachel Tam is playing for her native Hong Kong in the 2019 Asian Women's U23 Volleyball Championship. The host city for the championships is Hanoi, Vietnam.
"It is absolutely wonderful being able to represent Hong Kong," Tam said. "Having the opportunity to play my old teammates, I'm really grateful. I cherish every moment playing with them."
Action in the tournament began on July 13 and runs through the 21st. Tam and her squad have enjoyed a solid start, opening with a 3-0 sweep of Sri Lanka. Her squad followed a 3-0 loss to Kazakhstan up with a 3-0 win over Macau on Monday.
"I think this tournament can help me prepare my "game day mindset" and practice consistency," Tam explained.
The tournament features 14 countries and regions. Hong Kong is in Group D and has already faced the other three squads in the group (Sri Lanka, Kazakhstan, Macau). Tam played in the same tournament in 2017, helping the team to a 6th place finish. She is motivated to help her team to a better finish in 2019 and also hopes the experience translates to her senior season with the Purple Aces.
"We have been practicing hard since preseason," she exclaimed. "With the experience we had from last season and the input of talented freshmen class, we are looking to get into the MVC tournament."
Tam is coming off of an excellent junior season that saw her rank second in the MVC with 4.21 kills per set on her way to a spot on the All-Missouri Valley Conference Second Team.
Submitted by Bob Pristash rp113@evansville.edu.
Aces Assist Club opens membership for 2019-20 season
The official booster club of the University of Evansville men's basketball team returns in 2019 as the Aces Assist Club is open to all Purple Aces supporters.
There are three levels that you can support the program. Those levels and benefits include:
All-Conference Level - $1,000/year
Aces Assist Club (AAC) NIKE Pullover
AAC NIKE polo shirt
Two in-season open practices with lunch
AAC Exclusive Kickoff Social
Exclusive post-game reception
50% off single golf fundraiser entry (September 12 at Rolling Hills Country Club)
E-newsletters during the year
Name recognition in game program and Ford Center videoboard
Opportunity for road travel with UE team
Membership in University of Evansville President's Club (Visit https://www.evansville.edu/development/presidentsClub.cfm for information)
All-American Level - $2,500/year
ALL benefits of All-Conference level
Exclusive event with Coach McCarty and his coaching staff at a local restaurant (for two people)
One complimentary entry for golf fundraiser (September 12 at Rolling Hills Country Club)
AAC NIKE Jacket
Champions Club Level - $5,000/year
ALL benefits of All-Conference and All-American levels
Courtside seating for two at a UE home game (limited availability)
Charter flight trip for two to MVC road game; includes practices, premium seats, ground transportation with the team and lodging (reservation required)
One VIP parking space at Ford Center (limited availability)
Additional household memberships are available to other people living in your household and is available for $500. This person will receive the All-Conference level benefits. Gear will be branded at primary member's level.
Those interested in joining can do so by filling out the form in the brochure linked above or by calling the men's basketball office at 812-488-2553. A similar club for the women's basketball team is in the process of being created. Details will be available in the near future.
One of the largest events for the club is the Aces Golf Scramble, which will take place on Thursday, September 12 at Rolling Hills Country Club in Newburgh. Two start times will be on tap with the first shotgun start set for 8 a.m. and the second one heading on course at 1 p.m.
Cost for a foursome is $750 with individuals set for $200. Aces Assist Club members will receive the single entry fee associated with your giving level. To confirm your group, individual or start time, fill out the form above or contact the UE Basketball Office at 812-488-3800.
Contribute to AceNotes
To have content considered for inclusion in AceNotes, please submit a Marketing Request Form. Deadline for submission to AceNotes is 10:00 a.m. on the requested date of publication. Only articles concerning UE related/sponsored activities will be accepted. Articles submitted to AceNotes may be edited for length and clarity. Submitter contact information is at the end of each article.