| | |
| --- | --- |
| AceNotes Today | Friday, May 3, 2019 |
SAVE THE DATE: Brand & Identity Platform Overview & Guidelines Open to Campus May 13 & 14
As you know, we launched new University of Evansville institutional and athletic logos on April 12. Now, the campus community is invited to see the next phase of the project—the branding framework and platform that will facilitate how we share the UE story with the world and differentiate ourselves in the marketplace.
Ologie, our branding partner, will offer two opportunities to see the Brand & Identity Platform Overview & Guidelines. Please join us for one of the following sessions:
• Monday, May 13 at 1:00 p.m.
• Tuesday, May 14 at 8:00 a.m.
Each 60-minute session will take place in Eykamp 251 and all University employees are welcome to attend.
Contact Amanda Campbell for more information.
ATTENTION SENIORS: Submissions for Commencement Video due TODAY!
CALLING ALL SENIORS!
Send your favorite memories from your years at UE to mw353@evansville.edu by the end of TODAY to be included in the senior video which will play at commencement on May 11 at the Ford Center.
Photos should be as high-resolution as possible. Videos should be no longer than 30 seconds and horizontal videos are preferred, but not required.
The senior video will also be posted to the UE YouTube channel following the commencement ceremony.
End of year Clearance Sale at the UE Bookstore - 40%
The UE Bookstore announces the End of the Year Clearance Sale during Buyback, May 3 - 10. All imprinted clothing and gift items (excluding Harlaxton and graduation related items) will be 40% OFF the original price. All items on the clearance rack will be bumped up to this discount as well. There will also be a selection of T-shirts available for $5 (final price). Get some cash for your books and take advantage of some big savings on ACES gear and gifts. Gifts include mugs, pennants, auto accessories, pet supplies and other categories.
Submitted by Doug Gustwiller dg57@evansville.edu
Book Buyback at UE Bookstore
Spring semester ending Book Buyback runs Friday, May 3 through Thursday, May 9 at the UE Bookstore during finals week. The Bookstore freely quotes prices on any textbook regardless of where purchased or if used on this campus or not. You must bring your student ID to sell books but you do NOT need your original receipt. If you sell any books you'll get cash. Prices are dependent on a variety of factors including reuse on this campus, edition status, and condition of the book. Make sure workbooks are clean and complete. Bring all components that originally came with the book as it may result in a higher payout. You can sell back books as many times as you want. Look for promotions and discounts during Buyback week as well.
Submitted by Doug Gustwiller dg57@evansville.edu
Inspiring Your Team Workshop
Register and join us for the Inspiring Your Team workshop on May 8 from 6:00-8:00 p.m. at the Stone Family Center for Health Sciences, Downtown Evansville.
Curiosity is a driver for innovation and solving problems. If you can spark curiosity in your employees and/or students, you can engage them to be motivated to learn and create. This curiosity rich environment is the basis of innovation and can be a key to long term happiness in the workplace. This workshop will outline the ways to inspire your team using curiosity to fuel innovation. It will be facilitated by Dr. Bethany Huebner.
To register, please visit: www.evansville.edu/centerforlearning/professional-development-register.cfm.
Submitted by Leslie Barton lb261@evansville.edu
This Week in Music: Jazz Invitational and Horn Choir
UE Jazz Invitational
Sunday, May 5
4:00 pm, Preston Arts Center, Henderson, KY
On Sunday, May 5 at 4:00pm at the Preston Arts Center in Henderson, KY, UE will host a jazz invitational featuring a variety of high school, college, community and professional jazz bands. The featured guest artist this year is Bazurkas, a Brazilian fusion group that features UE alumnae, Meghan Pund.
Evansville Horn Choir
Sunday, May 5
7:30pm, Wheeler Concert Hall
The Evansville Horn Choir, an ensemble comprised of community members and University of Evansville students, will be presenting a concert on May 5, at 7:30 p.m. in Wheeler Concert Hall. This free event will include works by Beethoven, Beckel, Gounod, Whitacre, and the ever-popular Titanic Fantasy.
Submitted by James Sullivan js820@evansville.edu
Retirement reception for Terri Ames
Join us to celebrate with Terri Ames as she retires from the Office of Academic Affairs. A reception will be held on Monday, May 6 from 3:30 to 5:00 p.m. in Dunigan Lounge in the Schroeder School of Business Building.
Submitted by Paula Heldt ph28@evansville.edu
Hiring summer counselors
WHAT is OPTIONS?
• Every summer UE offers camps that introduce middle school boys and girls and high school girls to disciplines within engineering and computer science via hands-on activities and field trips.
WHO can be a counselor?
• Current College of Engineering and Computer Science students (or other STEM majors) who want to participate in an outreach program that supports diversity in STEM, allows you to demonstrate your motivation to hold a leadership position, and encourages people to explore STEM (science, technology, engineering, and mathematics) fields.
WHEN and WHERE are the camps?
• High School Girls - June 9-14 (residential camp)
• Middle School Girls - June 16-19 (residential camp)
• Middle School Boys - June 24-28 (day camp)
• All camps are held on the UE campus
Other Information
• The counselor position is a paid position for all camps.
• All counselors will be helping lead various activities, assisting faculty-led workshops, and inspiring young people.
• The residential camps for girls will include room and board during the duration of the camp. Counselors will be staying in a dorm with the campers.
HOW to apply?
• If you are interested in being a counselor, please apply in person in Koch Center 250 or email kh209@evansville.edu by Friday, May 3.
For more information about the camps, go to: www.evansville.edu/options.
Submitted by Kim Higgins kh209@evansville.edu
Federal loan repayment counseling session required for students graduating or transferring
Students who have used Federal Direct (sub/unsub) Loans and plan to graduate in the spring or summer (or transfer after the spring semester) are required to attend a loan repayment counseling session. The Office of Student Financial Services will hold the next session of the semester on Thursday, May 2, at 2:00 p.m. in Eykamp Hall, Room 251, Ridgway University Center. The last session will be Friday, May 10, at 11:30 a.m. in Neu Chapel's Grabill Lounge.
Submitted by Amy Sowders as560@evansville.edu
Need a box?
The UE Bookstore has limited number of boxes available to students to help take things home. Students are limited to two boxes per person at this time. If interested, please stop in the Bookstore.
Submitted by Doug Gustwiller dg57@evansville.edu
Summer school books are ready
For those students taking Summer Session classes, this is a reminder to get your books at the UE Bookstore before you leave for the summer. You can order them online at https://bookstore.evansville.edu or pick them up in the store. During buyback summer books are sectioned off but just ask store staff and they'll be happy to get your book for you. Don't go home without your book!!
Submitted by Doug Gustwiller dg57@evansville.edu
Fitness Center - Finals Week Hours
The Fitness Center hours during Finals Week will be:
Thursday, May 2-Friday, May 3: 8:00 a.m.-7:00 p.m.
Saturday, May 4-Sunday, May 5: 11:30 a.m.-5:30 p.m.
Monday, May 6-Friday, May 10: 8:00 a.m.-7:00 p.m.
Saturday, May 11-Sunday, May 12: Closed
Submitted by Lori Adams la87@evansville.edu
Library Hours during Finals
The Libraries hours for the remainder of the semester are:
Sunday, April 28: 10:00 a.m. – 4:00 a.m.*
Monday, April 29: 7:45 a.m. – 4:00 a.m.*
Tuesday, April 30: 7:45 a.m. – 4:00 a.m.*
Wednesday, May 1: 7:45 a.m. – 4:00 a.m.*
Thursday, May 2: 7:45 a.m. – 4:00 a.m.*
Friday, May 3: 7:45 a.m. – 10:00 p.m.**
Saturday, May 4: 10:00 a.m. – 6:00 p.m.
Sunday, May 5: 10:00 a.m. – 4:00 a.m.*
Monday, May 6: 7:45 a.m. – 4:00 a.m.*
Tuesday, May 7: 7:45 a.m. – 4:00 a.m.*
Wednesday, May 8: 7:45 a.m. – 4:00 a.m.*
Thursday, May 9: 7:45 a.m. – 4:00 a.m.*
Friday, May 10: 8:00 a.m. – 5:00 p.m.
* Upper floors close at 11:00 p.m.
** Upper floors close at 6:00 p.m.
Direct any questions to Meg Atwater-Singer at ext. 2487 or ma35@evansville.edu.
Submitted by Meg Atwater-Singer ma35@evansville.edu
Request for official excused absences during finals
Please note that the Dean of Students office will not grant official excused absences during finals except for extreme circumstances (i.e.: death of an immediate family member, emergency surgery, etc.). Students who feel they are unable to take a scheduled final exam should work directly with their professors to discuss other possible options.
Submitted by Carleen Barnes cb131@evansville.edu
Textbook Rental Return Reminder
This is a reminder that ALL books rented from the UE Bookstore for the Spring term must be returned no later than 5PM on Thursday, May 9th (the last day of Book Buyback). Rental books returned after the due date are subject to late fees and/or replacement fees if not returned. Please make a reminder on your phone or calendar of this important reminder. Renters will be send emails as well to remind them of which books need to be returned. If you have any questions, please contact the UE Bookstore.
Submitted by Doug Gustwiller dg57@evansville.edu
Summer Books at the UE Bookstore
Summer textbooks are available at the UE Bookstore for Summer Sessions 1 & 2. If you're taking a summer classes be sure to stop by the Bookstore and get your required materials before you leave for the summer. You can also order your books online on the UE Bookstore website at bookstore.evansville.edu or on the link at the UE homepage at the bottom. During buyback summer books may be off limit but just ask store staff and they will be happy to assist you and get the required book you desire.
Submitted by Doug Gustwiller dg57@evansville.edu
Intercultural Communication Offered ONLINE in Summer Session I
Intercultural Communication (COMM 380) will be offered online in Summer Session I. The main purpose of this course is to improve your communication with individuals from different cultures or subcultures. In today's diverse world these important communication skills will be useful in both your personal and professional life.
COMM 380 meets criteria for General Education Outcome 9 (Understanding of Core Concepts of Society, Human Behavior, and Civic Knowledge) and Overlay Component A (Global Diversity: International Component).
For more information, contact professor emeritus of communication Dean Thomlison at dt4@evansville.edu.
Submitted by Dean Thomlison dt4@evansville.edu
Jessie Lofton receives Dean's Teaching Award in College of Engineering and Computer Science
The College of Engineering and Computer Science congratulates Dr. Jessica Lofton on receiving the Dean's Outstanding Teaching Award for 2019. Dr. Lofton is an Assistant Professor of Mechanical Engineering and serves as the UE chapter advisor for the Society of Women Engineers (SWE) and the American Society of Heating, Refrigerating, and Air Conditioning Engineers (ASHRAE). She is also the Girls' Camp Director for UE's Engineering OPTIONS summer camps.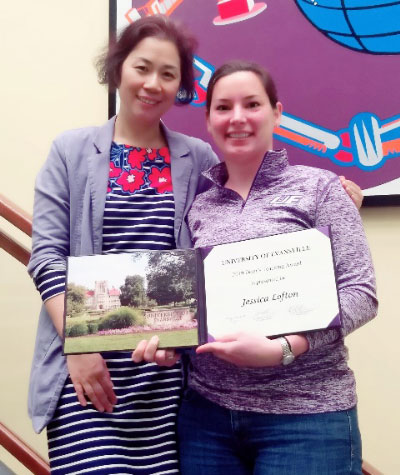 Submitted by Kimberly Higgins kh209@evansville.edu.
Honors Program Holds Annual Senior Banquet
The Honors Program held its annual senior banquet on Wednesday, May 1 at Biaggi's Italian Restaurant, where students received special Honors Program cords and a medallion to be worn at graduation.
Congratulations to the twenty graduating seniors who completed the Honors Program requirements:
Bailey Brandvold, Alexandra Curren, Gina DeLise, Macy Dimmett, Madeline Easley, Paige Hignite, Julia Kalmer, Adam Lonnberg, Sierra Noelle Miller, Mark Mozina, Laci Rowe, Sean Paul Russell, Aimee Savoie, Emily Schmitt, Amanda Suggs, Margaret Sullivan, Julia Toney, Becca Updyke, Grace Vavra, and Kathryn Wolfinger.
Mike Zimmer has article published
Mike Zimmer, Professor Emeritus of Economics, has a paper published in the current issue of Cogent Economics and Finance. The paper, coauthored with Robert Nakosteen of the University of Massachusetts, is entitled "Latent Earning Capacity and the Race Marriage Gap". Mike thanks the University of Evansville for a research sabbatical in 2014 that allowed him to complete the foundation work for this research.
Please Stop by Graves 311 to sign UE Flag for Family of Kelsey Hipp
The University of Evansville Physician Assistant Family invites you to stop by GH311 today until 3 and tomorrow from 8-noon to sign your message to the family of our beloved Kelsey Hipp. Kelsey was an alumni of the University of Evansville and recently completed the UEPA Program with the inaugural cohort of UEPA. Kelsey's mother, Tricia, was employed by the university for several years in the library and her two sisters, Tracy & Julie are also UE alumni.
Contribute to AceNotes
To have content considered for inclusion in AceNotes, please submit a Marketing Request Form. Deadline for submission to AceNotes is 10:00 a.m. on the requested date of publication. Only articles concerning UE related/sponsored activities will be accepted. Articles submitted to AceNotes may be edited for length and clarity. Submitter contact information is at the end of each article.